July 8th, 2019
MacDonald Pass mm 361 to mm 377
Distance in miles: 16
1300-1900
Omelets are on order once again in the morning, courtesy or Relentless. He also makes french press coffee. I need to get out of town, I am becoming so spoiled. Georgia doesn't have to go to work until later in the morning so she graciously drives us to the grocery and then to the outdoor gear store. It's a nice store, filled with fun stuff. We see some other thru-hikers there and Relentless is able to exchange his darn tough socks. Mine have yet to get a hole after 800 some miles, pretty good!
Georgia has to leave for work afterwards (she is a magistrate for the Montana Supreme Court) but leaves us her house to finish up our chores. We are sad to say goodby after such a short but endearing time together. There is another trail angel, Tyler, coming to pick us up and take us to the trailhead, arranged by Barbara, of course. What a hiker-friendly town…I am overwhelmed by the ease and comfort of our visit. I hope they all know how much this helps us in our long journey. Helena is a gift to us hikers, thank you all!
Tyler arrives right on time and we make a stop at the Budget Inn to see if there are more hikers ready to leave. The place is packed with other SOBOs and Flip-floppers…we are calling it the double-bubble of hikers. There are at least 20 hikers, most stuffed into rooms 6 apiece. The guys are all walking around shirt-less and some are wearing towels. One girl deliberates and then decides to stay a little longer when she hears that Tyler is up for making more trips later.
I kind of feel that if you have the opportunity for a free ride, you should take it. I could sure stand to have another hour in town, since I am trying to deal with my credit card number being hacked and consequently my account closed. It's the only card that I'm carrying and also the one that pays my recurring bills…what a royal pain to sort out such a mess while on trail. But we had an agreed upon time and I don't want to inconvenience someone that is already going out of their way so much for us.
Tyler is helping this summer because his brother hiked the CDT and he wants to do so too some day. He is building up a lot of karma credits. Thank you so much Tyler, Georgia, and Barbara. I will always remember Helena with a sense of awe and inspiration.
We hit the trail mid-day and I am still on the phone working out business. I wish I didn't have so many unfinished affairs hanging over my head, but that has just been the nature of this chaotic trail. Upheaval.
On a very good note, my dad has been responding well to his treatment and feeling much better. The cancer appears to have stopped spreading for now. We can all breathe a sigh of relief for a bit.
I finally turn my phone to airplane mode and focus just on walking. It's so peaceful. That is until some more upheaval. Storm clouds gather, lightning flashes in the meadow up ahead, and it begins to hail. About the same time, we accidentally follow a deer trail through the meadow and then have to bushwhack searching for the real trail. It's hard to scramble over infinite deadfall with an umbrella and rain skirt, all while it's hailing and thundering ominously. I have to just stop at laugh at myself. Earlier I was warm and secure and now I am at the mercy of this enchanted forest, which for the moment is playing tricks on us. Ah, the CDT, I say. What can you do?
It eventually stops hailing and we stumble back on the trail. There are puddles of hail and freezing cold water everywhere, so my feet go numb for awhile. So much for dry feet, again. We dump out onto a road for the rest of the day and are just so relieved for some easy walking. The road goes up over a small pass and we fantasize about being invited into one of the many cozy cabins that we pass along the way. But no, we have already been spoiled enough in Helena.
Despite the rain, we are in a jovial mood, singing and laughing and surprising Nikoli, who is camped beside the road. We consider camping next to him but we need water. We continue a bit further when I spy what looks like a shelf up the hill, remnants of an old road. The super-stealth camp is just big enough for 2 tents and is nested perfectly among the pines. We get pitched just before it starts to rain again and I settle in for a full night of pitter-patter white noise, blissfully dry in my cocoon. I am so happy.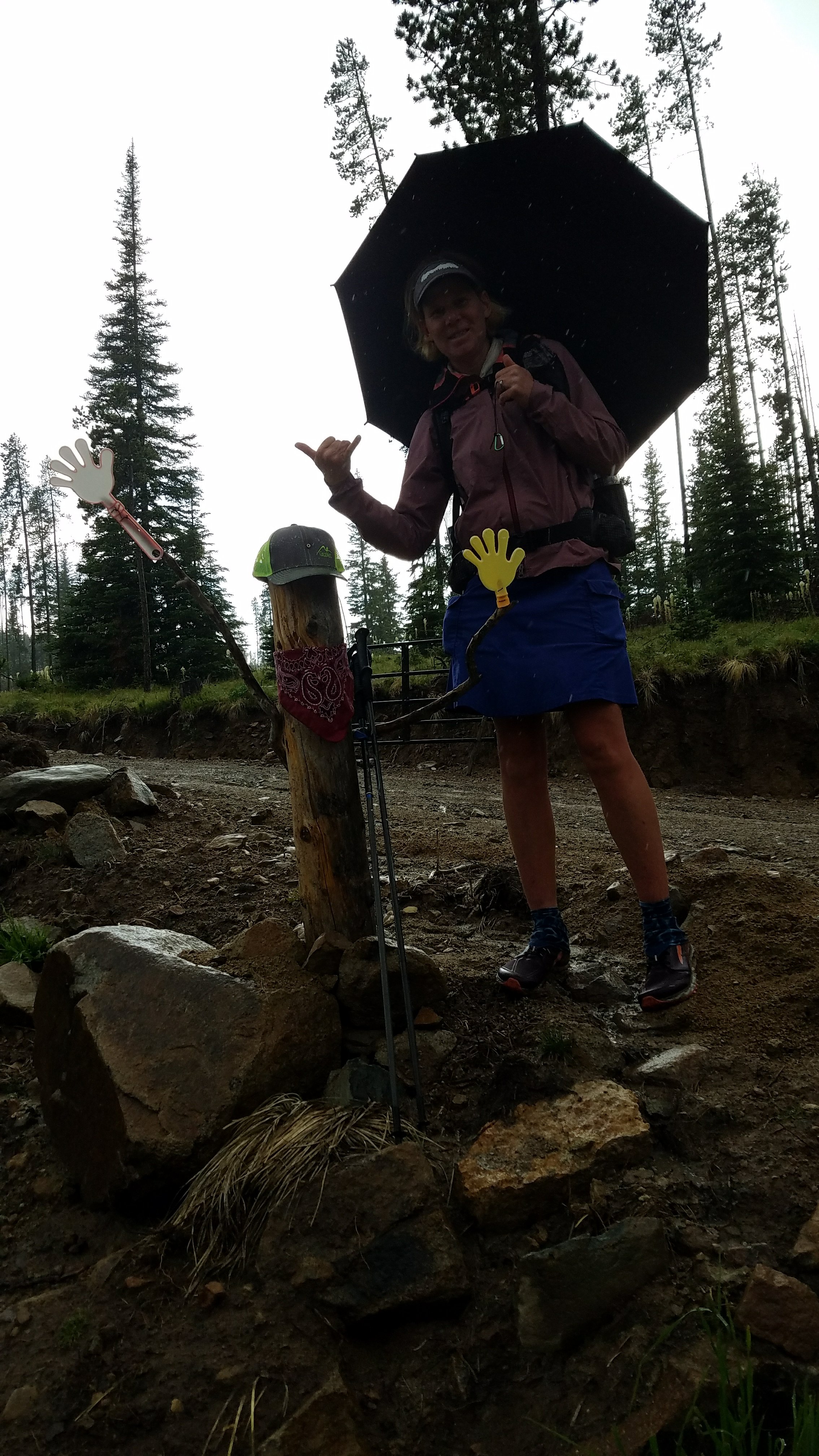 Meeting the locals on the trail.