March 26th, Glenorchy to McKellar Hut, 31 km walked
March 27th, McKellar Hut to trailhead via Greenstone Track, then hitch back to Queenstown, 30 km walked.
I stewed over my hiking options overnight and by the morning, had a completely different plan. Hearing the rain and wind on my tent all night definitely helped change my mind. Forget the Rees Valley and Cascade Saddle…it would probably be too windy and rainy for such an exposed hike. I would instead try to get a ride out to the Caples/Greenstone tracks and walk the 61 km loop over the next 2 days. These are not Great Walks, so the huts were covered by my Backcountry Hut Pass. And I really wanted to stay in a hut overnight, as it was forecasted to rain and blow like crazy. Here is a picture of my route (note that these trails connect to the Routeburn…all the way back to where I started 2 days ago at the Divide).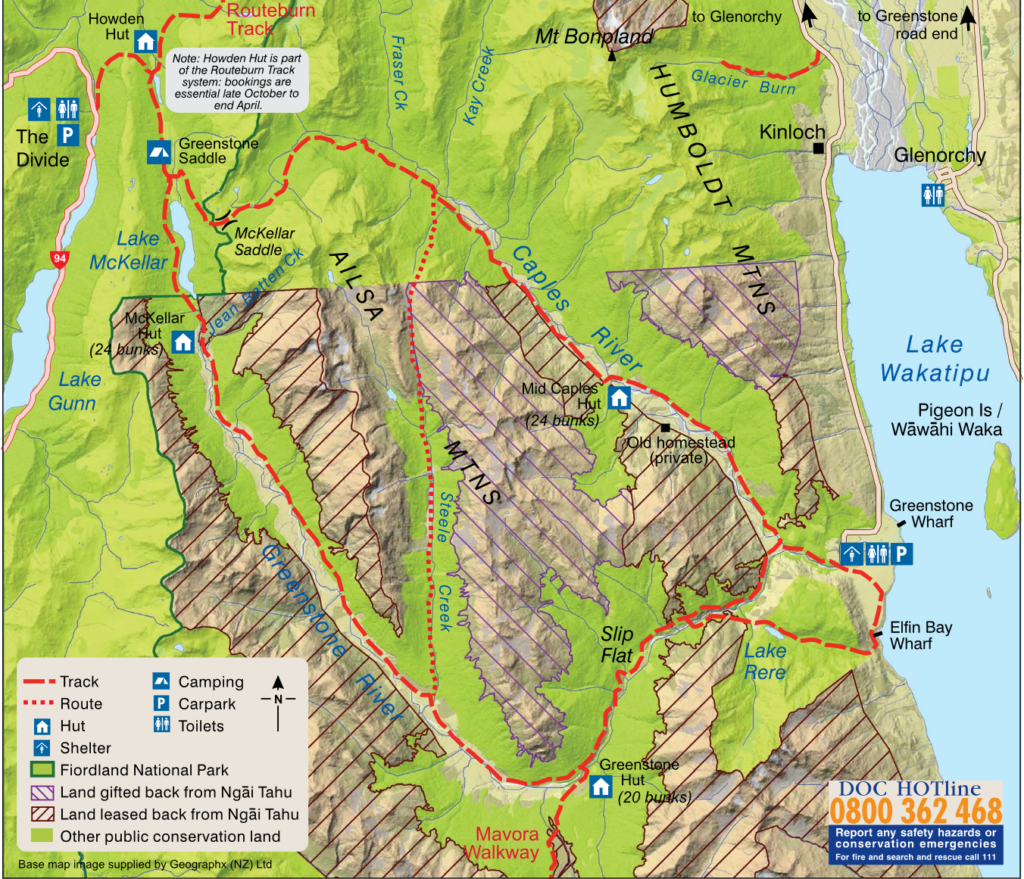 These 2 trails are generally good in all weather, as they stay mostly in the low valleys. The only exposed section is McKellar Saddle, which I would cross in the afternoon, when the weather was supposed to be ok.  The biggest challenge would be getting to the trailhead. I'd already literally been down that road just a few weeks prior and it had taken about 4 rides and half a day, including 3 kms of road walking. I would need to be pretty lucky to get a ride but, as I didn't have much else to do, I walked to the edge of town (which is not far in tiny Glenorchy) and stuck out my thumb.
After only 10 minutes, a truck pulled over. Sam, a local from the eastern side of the South Island, was just out exploring the area. His plan was to first drive up the Rees Valley, then to the Greenstone and/or Routeburn. He quickly changed his itinerary to take me to the Greenstone first and I couldn't believe my luck in getting a ride all the way in one attempt! I was half-temped to change my mind again and just have him drop me off at the Rees trailhead. But no, it was better that I stick with my new plan. Thanks to Sam, I got to the trailhead at a reasonable time and set off towards the first hut, Mid Caples, 9 kms in.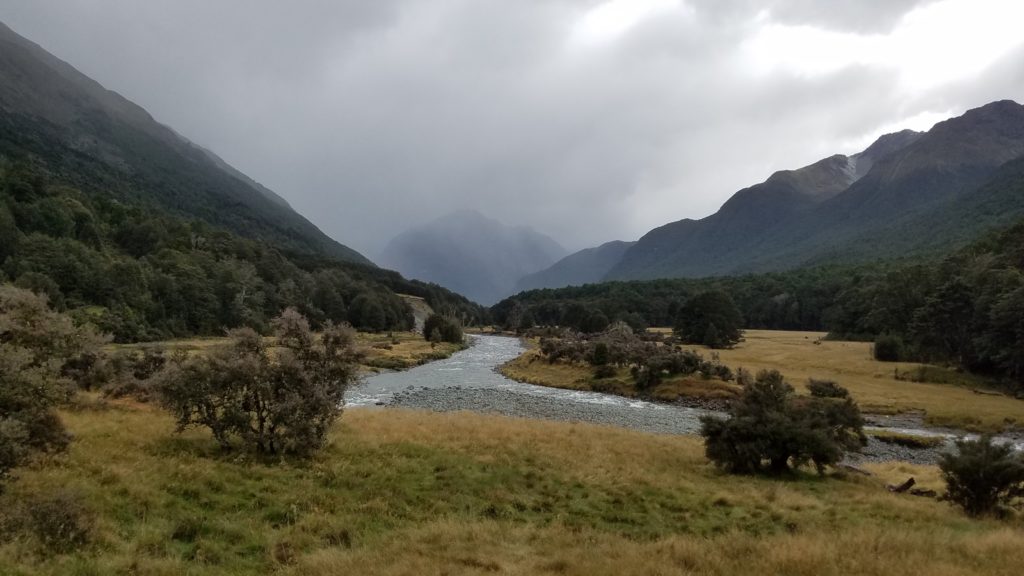 For the first couple kms, I was retracing my steps on the TA. It wasn't that long ago but it sure felt like a lot of time had passed. Or maybe it was just that the circumstances were so different. I no longer had this weighty goal on my shoulders. I was doing all this just as a bonus. Just because I love walking in nature so much. The day was not too bad, just cloudy with rain at the higher elevations. The sun tried to break through at times. I made it to the hut, not seeing anyone else along the way, and took a lunch break. There was no one inside, not even the warden, who must have been out and about doing chores.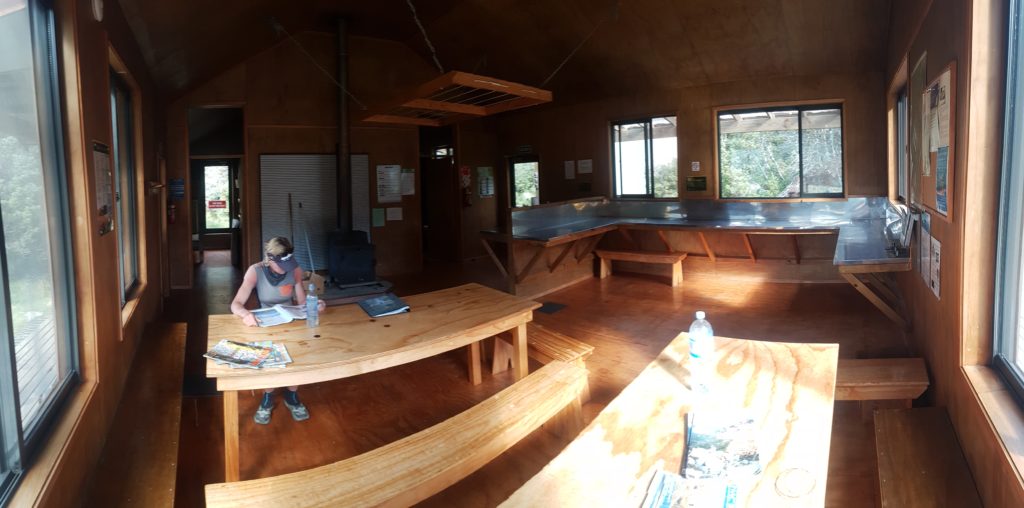 Alone in a hut.
I debated just taking it easy and staying for the night. I could enjoy a quiet and comfortable hut for the rest of the day, then have an easy walk back to the trailhead the next morning. But you know me too well. I wanted to see the whole trail, to keep moving. And I had no excuse, since it wasn't even raining. So I said goodby to the lovely and inviting hut and pushed on.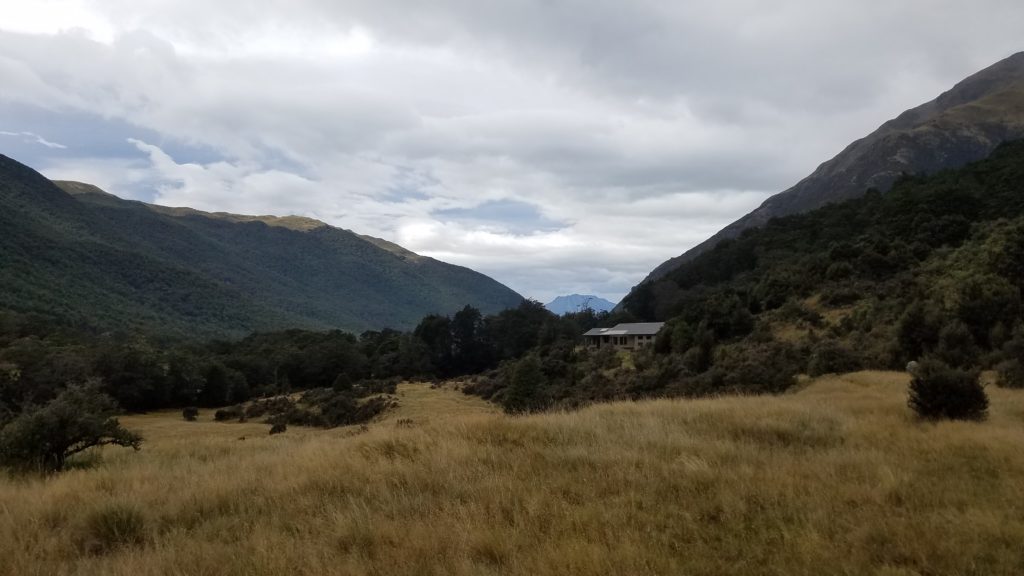 Waving goodby to Mid Caples Hut.
I had another 22 kms to go to get to the next hut, McKellar hut. I knew I wouldn't find it as empty as the first hut, since it sits at a major junction point of 3 trails. It might even be full, which would be a downer, since it was supposed to be very wet and windy overnight. I worried that I might regret pushing on but as I moved further up the valley, I actually felt very happy with my decision. The trail turned into a wide bridle trail through a gorgeous beech forest, with intermittent views of the valley and peaks. It was sprinkling on and off, but just the kind of rain that makes things fresh, not gloomy.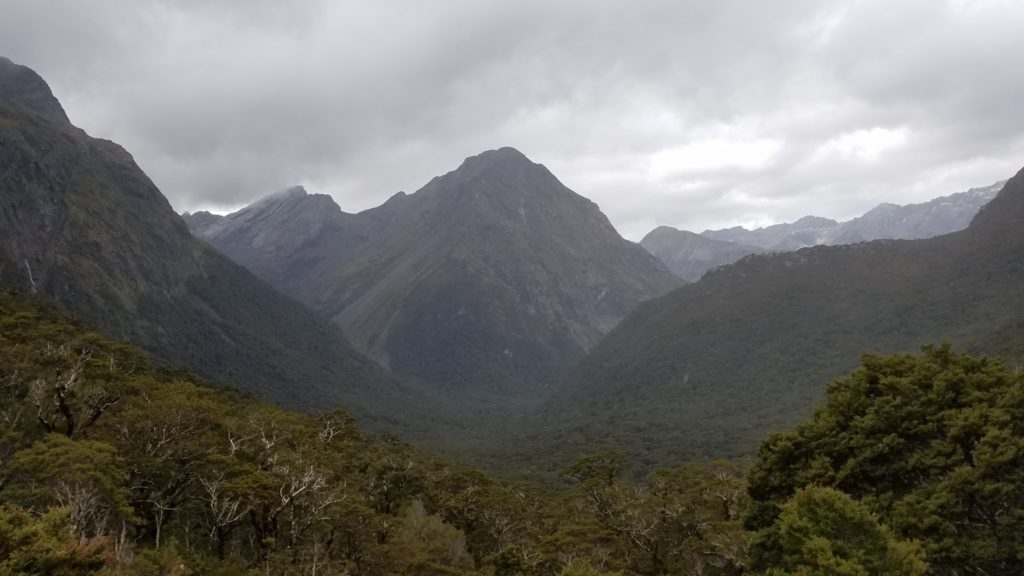 I had the valley all to myself, it seemed. What a difference from the day before. Then just as I rounded a bend, I ran into Rena and Rick, the Hyperlite duo from CA. They had spent the night at McKellar Hut and were on their way to Mid Caples. How funny that the only people I saw all day were two I kind of already knew. They were also quite surprised to see me, since I had nearly doubled back to where I met them the day before, about 40 kms plus a lot of hitches, later. They told me I had quite a bit of climbing yet to do up to the saddle, but the trail was so well graded, I barely noticed the ascent.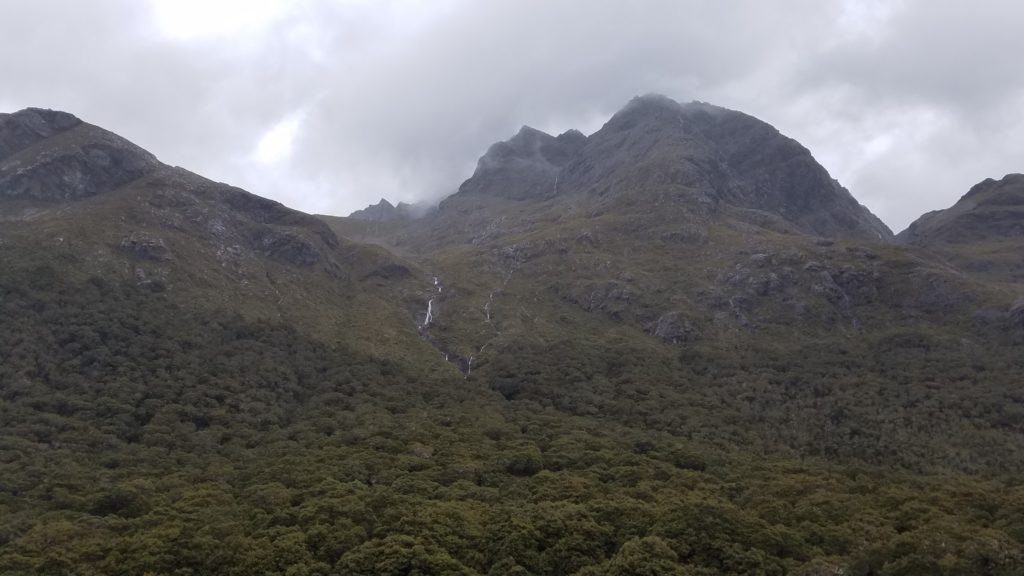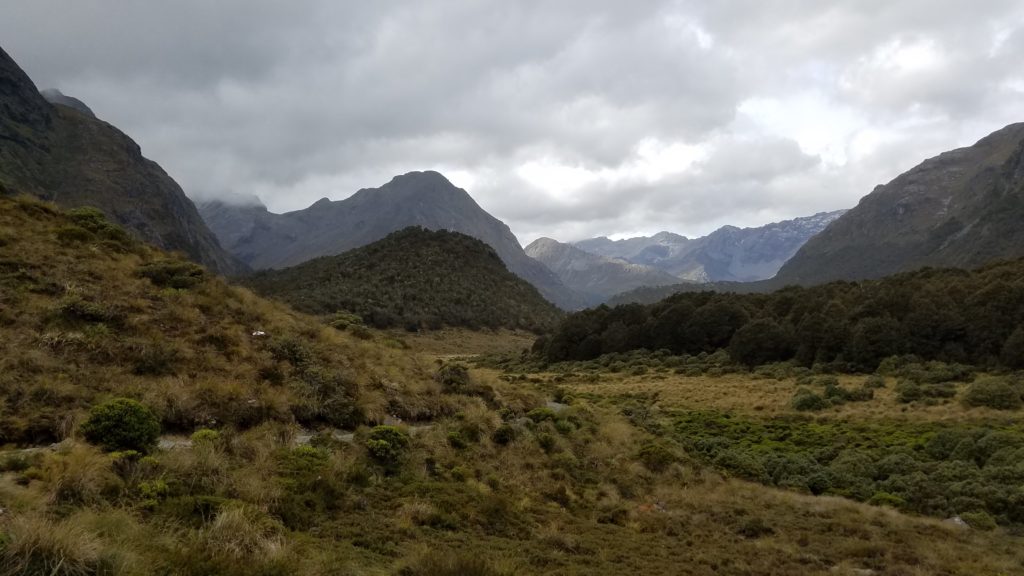 The saddle was really nice. It didn't have the same intensity as the Routeburn's Harris Saddle, but I actually liked it better. It felt more remote and a lot more peaceful. I enjoyed the efforts DOC made in constructing good boardwalk across the marshy bits. It's just too bad the views of the mountains to the south and west were obstructed.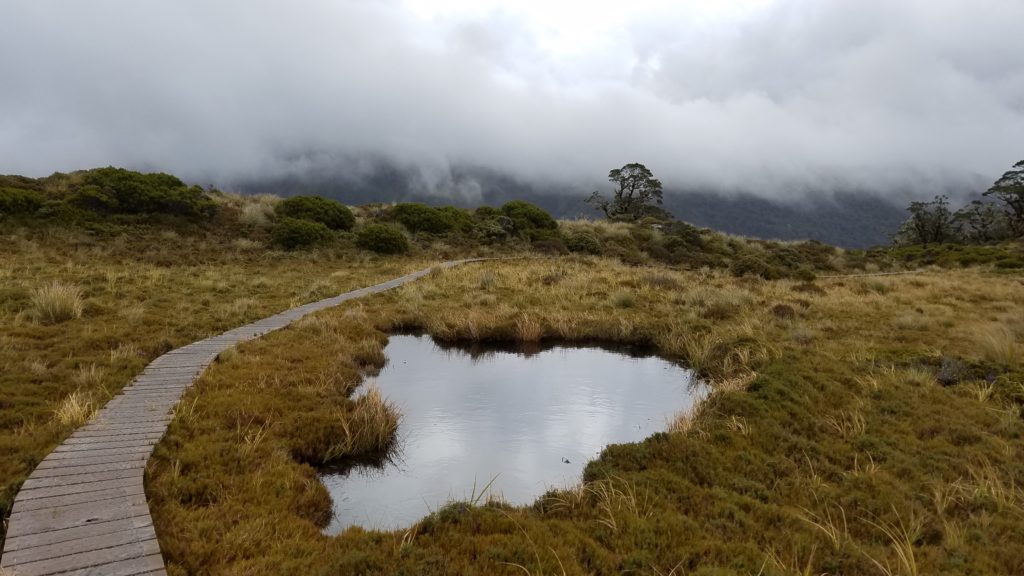 I dropped quickly into the next valley along a set of switchbacks (a rare commodity in NZ) to reach the junction with the Greenstone Track. It finally started to rain heavily, just in time for the last 3 km push to the hut. If I'd have turned north, I could have been back on the Routeburn in about 3 kms. I caught up to one solo hiker, also pushing for the hut. Just in case there was only one bunk left, I hurried on past him. I was relieved to find the large 24 bunk hut to be somewhat crowded but still with plenty of space left.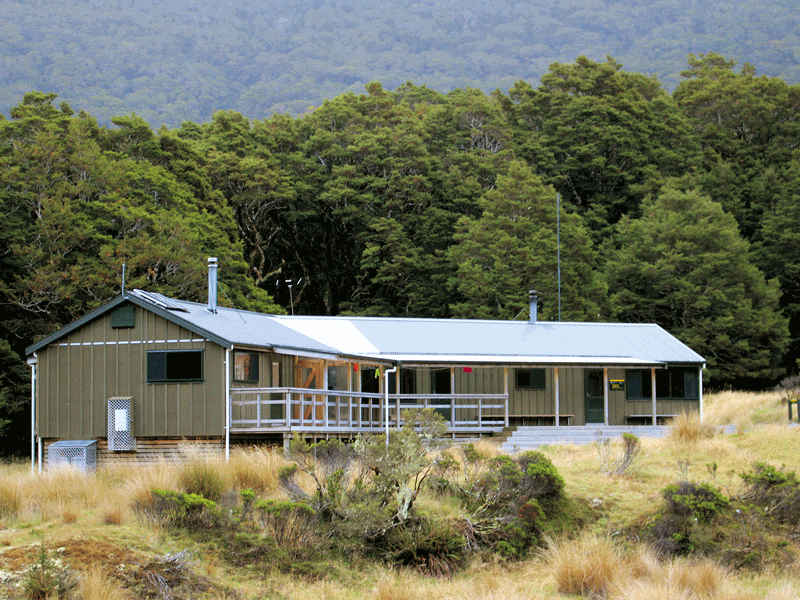 I forgot to take a picture of the hut so here is one I pulled off the internet.
It was already around 6 pm, so many were settled in and napping in their sleeping bags. I made dinner in the overly-warm separate lounge area and quickly spied a fellow TA walker, Rocky. I can't remember what it was exactly that clued me into her status but she had a pretty obvious hikertrash look. I had overtaken her at some point along the trail but never actually met her. We knew a lot of the same people, however. Since she had several days ahead until her next resupply, I gave her all my food that I didn't need, save for breakfast and lunch the next day. It felt great to help another TA walker in need.
We had a great time talking trail gossip late into the night and were the last ones to go to bed. I wonder that we might have even kept people up with all our giggling over chocolate bars, but thankfully there were two separate sleeping areas at this hut. I am never the last to go to bed but on this night, it was like I was on vacation and didn't need to worry about catching up on needed rest. Rocky was also taking it easy, figuring she would take another "hut day" since the weather was supposed to be so crappy the next morning. I was lucky to never be forced to take a hut day (zero day or day off) while hiking the TA but there were many times it would have been nice to do so. It is very common for people to end up staying in huts for days, usually waiting for river levels to go down. Waiting it out in a hut is a luxury unique to the NZ backcountry.
Overnight, there was driving rain and gusty winds. I kept waking, hearing the hut groaning under the blasts and every time, I felt such relief that I wasn't in my tent. I knew I had to face the music early the next morning but starting the day off dry under a roof is so much easier than packing a wet tent in the sh*t. I was the first up at 0630 and it was really dark out. I had to wait until 0745 to get started and even then, I had trouble seeing my footing on the soggy trail. Everyone else was still in bed but I was motivated to knock out the 30 kms by mid-afternoon, since I was concerned about getting a ride back from the trailhead. My best bet was to catch up with someone leaving from Greenstone Hut, 18 kms down the trail from where I was starting. I had a lot of catching-up to do.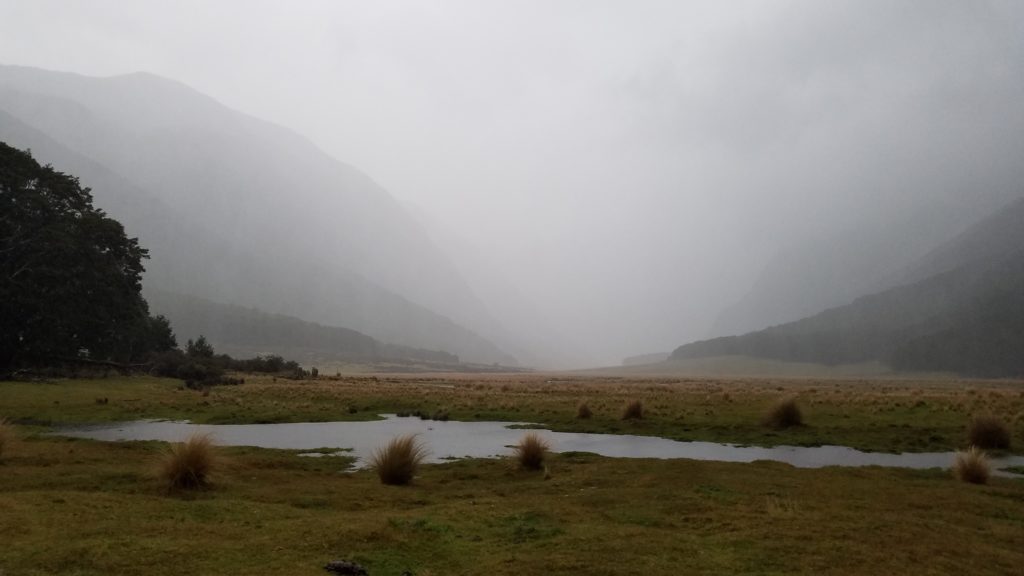 My shoes were soaked within minutes and somehow water was even getting up or through my rain skirt. But my trusty umbrella did it's job on this day…my core stayed dry.  I walked in pretty heavy rain for the whole morning and was surprisingly comfortable. I felt that I had really found my sweet spot in regards to dealing with rain. I was even having fun splashing through all the puddles.  Besides some gusty wind, the valley was dead quiet. And I mean dead!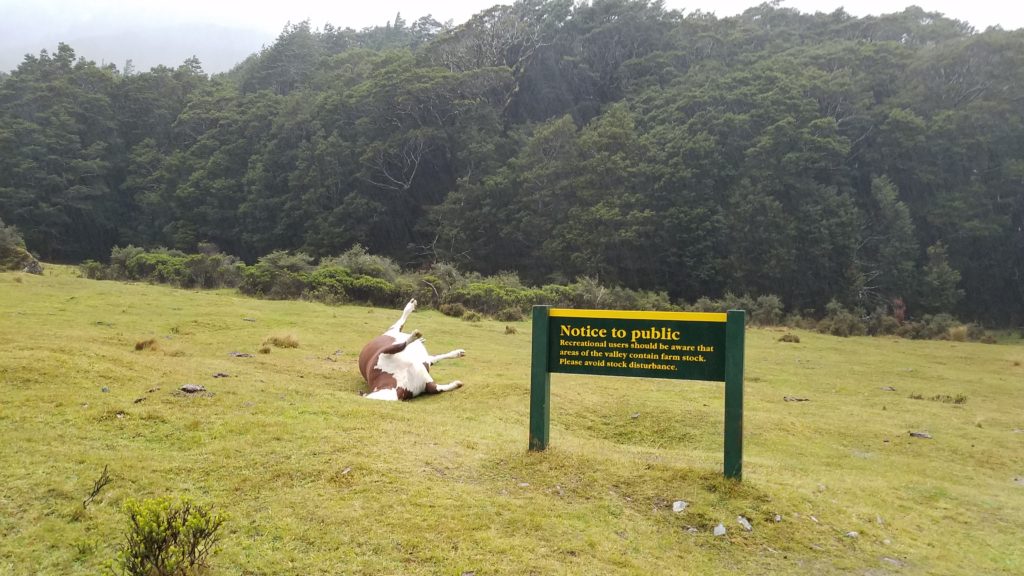 "Notice to public: Recreational users should be aware that areas of the valley contain farm stock. Please avoid stock disturbance." Either someone did not heed this sign or this poor dead cow had quite the sense of irony.
I finally passed a couple heading up the valley just before the Greenstone hut. They looked miserable so I didn't bother to chat. They might have had good intel on how many people had set out from the hut towards the trailhead, but it's not like I could do much different other than try to catch up faster. At the junction to the hut, I decided to forgo a dry rest stop and keep going. The rain was just starting to subside, anyways. I only had 12 kms to go at this point, all of which I had previously hiked on the TA. I knew the trail was good and didn't expect any surprises. Well, NZ trails can be full of surprises!
When I reached a place called Slip Flat, I found the creek to be in flood. I barely remembered crossing a creek here 2 weeks ago but now it was a torrent. Walking in the rain I can deal with, it's just uncomfortable, but flooded streams are downright dangerous.  Luckily this was one of the few that had a flood bridge. I had to go a bit out of the way to reach it, but was sure glad it was there!
I crossed over several more flooded streams, all of which had bridges. Thank goodness! Then I thought about the road to the trailhead, which had 3 stream crossings (no bridges) along the way. I remembered this because I couldn't get a ride and had to walk across a few of those streams….just ankle deep back then but who knows on this day? It didn't bode well for traffic being able to make it to the trailhead, nor for any hikers to be able to drive out. But I couldn't worry about that just yet. First I needed to make it to the trailhead. Just as I got to within 200 meters, I overtook another hiker. I strategically struck up a conversation and bingo! Just like that, I had a ride. Harald had a rental car at the trailhead and was driving back to Queenstown. Did I time that perfectly or what?
So that's my story of the trail but what follows is an antedote for why picking up hitchhikers or sharing rides can be serendipitous. At the car park, Harald changed into dry clothes and I rinsed the mud out of my shoes…so much for new shoes! It happens. I was a bit worried to see that he only had a small rental car. The road might be a real challenge. We arrived at the first stream and as I had feared, it was running pretty high. Harald got out to wade through the stream in his sandals and it came mid-way up his shins. Hmmm. He decided to give it a go with the car, anyways. MISTAKE! We made it to the center and the car just stopped…not enough traction. I've never gotten a car stuck in a running stream and even though it wasn't my rental car, it was very unsettling! We decided quickly that Harald would get out and push while I tried to back the car. This worked and at least we got the car out of harms way. A lot of water was running out from underneath for a long time…rental cars take so much abuse! LOL
We had no choice to wait for the water levels to come down, it seemed. Ironic after all the time and stress over water crossings on the trail that I would finally be stuck in a car on a road. Well, I did have a choice to just abandon poor Harold and keep walking. The streams were no sweat on foot and I could have walked to Kinloch and gotten another ride. But Harold was so nice to offer a ride, I felt committed to staying with him. Fortunately, after only 10 minutes, another guy in a 4WD came by. Again, I was tempted to jump ship to get a ride with the second guy, but we employed some teamwork instead. The second guy easily drove his vehicle through the stream then stopped and walked back. The plan was that I would drive the car while the 2 men pushed. Hey, however sexist it may sound, it boils down to physics. I just don't have the weight to throw into it, so better I employ my driving skills. With this strategy, we easily got the car through the stream, yay! Then we had to do this 2 more times. The last stream was the widest and scariest. I might have gotten a bit antsy, applying a little too much gas at the last because the car suddenly gained traction and jumped ahead. Poor Harald lost his footing and fell face first in the water. Remember, he had just changed into his dry clothes, so now all his clothes were wet. But we were so happy to be past the streams, it didn't matter. And Harald was so happy to have me along to help that he insisted on buying me a pie at the bakery in Glenorchy. I tried to buy him lunch, since he was the one providing the ride, but he wouldn't let me. In such a short time, we had become good friends. Thanks Harald!
I didn't get any pictures of the streams on the road but I did take some pictures and a video of the Dart River in flood. This is a major braided river that flows into the lake by Queenstown. Normally half the riverbed is exposed with sand and rock but it was nearly full with water on this day. The water was just about over the road, in fact. I guess the take-home message is that rivers and streams in NZ are no joke!