March 24th, Kepler Track to Rainbow Flats 10 kms walked, hitch to Te Anau for resupply, hitch to the Divide, and onto the Routeburn for about 10 kms walked.
March 25th,  finish Routeburn track to trailhead, then hitch to Glenorchy, 22.1 walked
This post covers 2 days, so be forewarned, it's a bit long!
My first day back on the trails reinvigorated me so much, I was ready for more. I wonder if others yearn for more walking after just completing a long thru-hike? Well, this is New Zealand and I had to get as much out of it as time would allow.
My plan was to jump from the last 10 kms on the Kepler Track right onto the Routeburn Great Walk, in the same day. But first I had to make another pit stop in Te Anau to resupply and pick up a few items that I left at the backpacker. And before all that, I had to get a ride from the Rainbow Reach trailhead back to town.
I took it pretty leisurely departing from camp. I greatly enjoyed my spot by the river, in peace and solitude. This late in the season, it didn't get light until nearly 8 am, anyways. It was a nice walk through beech forests and along river and lake fronts. I heard a few jetboats and passed a few trampers, but it was otherwise very quiet.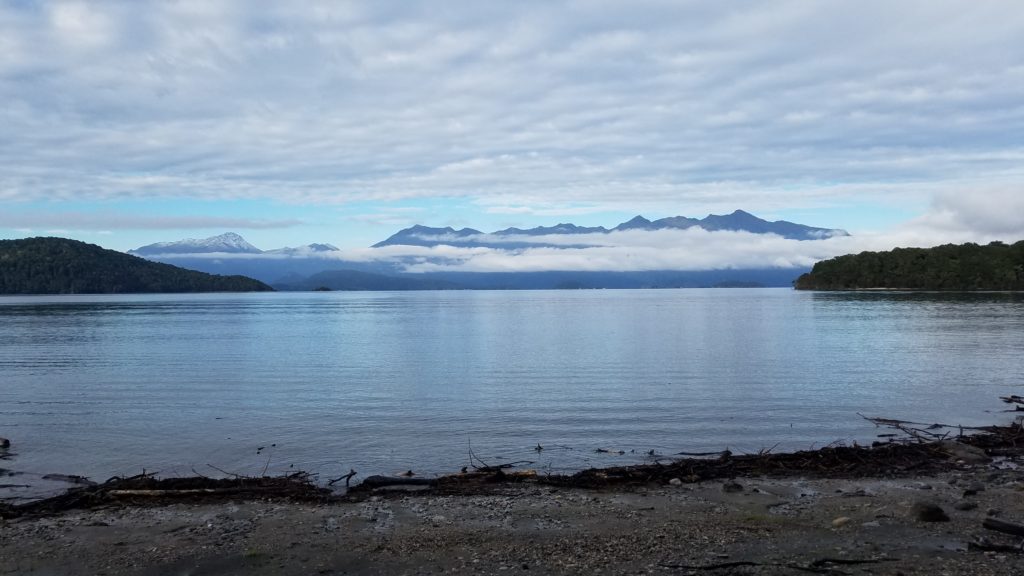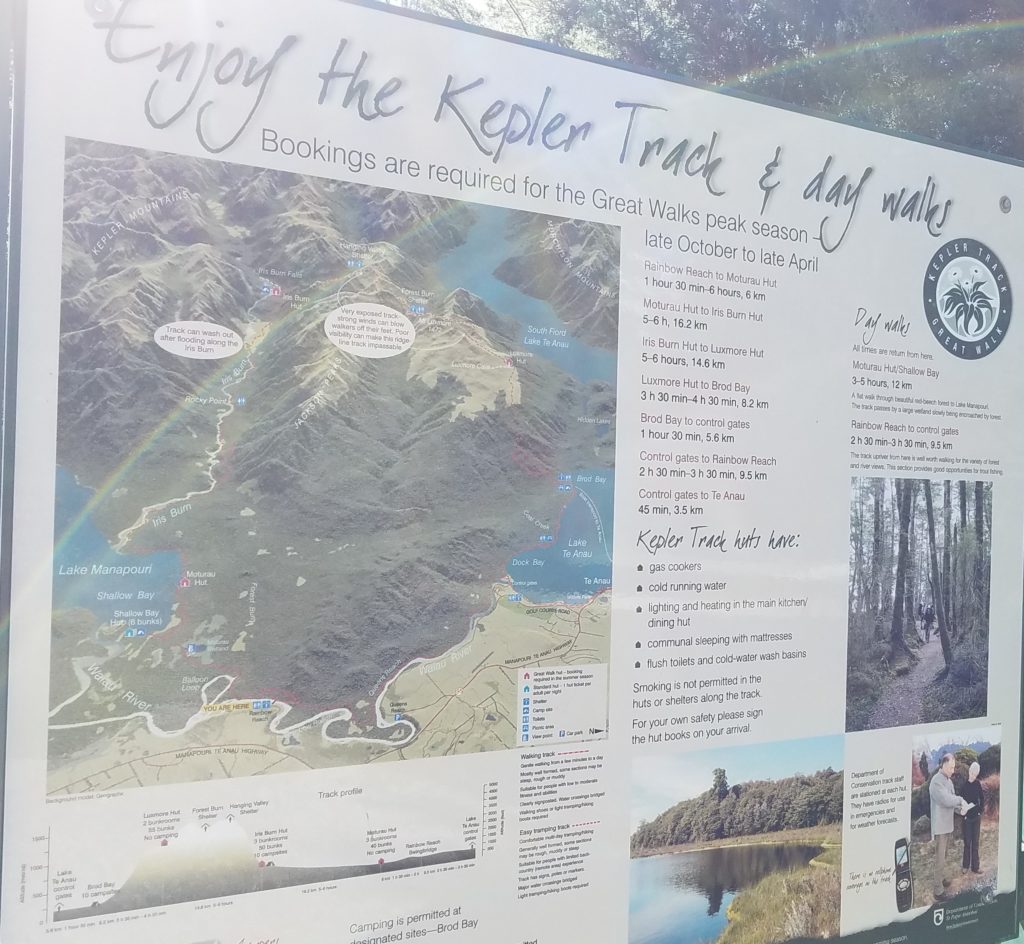 At the trailhead, I didn't like my odds of getting a ride, so I walked another km out to the main highway. Quite a few cars passed, including an SUV. Then I realized that same SUV was coming back my way. A lovely couple from the North Island had debated if they had enough room then decided YES! So they came back for me. People are so nice. It helps a lot that I'm able to fit my backpack on my lap, if space is limited. Turns out, I was the first hitchhiker they had ever picked up. I love being people's first hitchhiker.
I did my chores in Te Anau quickly and walked to the outskirts of town with my thumb out. It wasn't long until a solo Swiss lady in a van pulled over. I was her first ever hitchhiker, too! That's 2 firsts in one day. I guess that just means I look very non-intimidating.
Pia was on her way to go scuba diving in Milford Sound and we had a great time chatting and finding out all the things we had in common on the way to the trailhead. She was also glad to have someone to practice her English with. I really love meeting people in this way. We stopped at a few scenic interest spots along the road and it was like I had a great traveling buddy, just like that. She even gave me some of her fancy chocolates that she had bought at a cafe. Too bad it was so short-lived. Thanks Pia and I hope I was of some help in the English department 🙂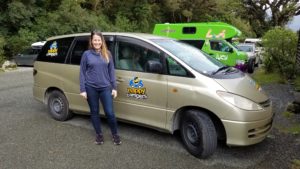 At the trailhead, I met 2 girls (a Kiwi and German couple) that were also planning to camp a few kms off the trail at Howden Lake. It was already late in the afternoon and I was anxious to get a start. The Routeburn is only 32 kms total, so I could hike it in a day, were I starting early in the morning. A single day hike is ideal, in order to avoid the expense of the Great Walk huts and campsites, but I'm glad I broke it up in this way. Here are some pictures from the DOC informational brochure and Wikipedia. This is one of the top 5 most popular trails in NZ, after the Milford track, Abel Tasman track, and Tongariro Crossing. Notice that it's suggested as a 3 day hike…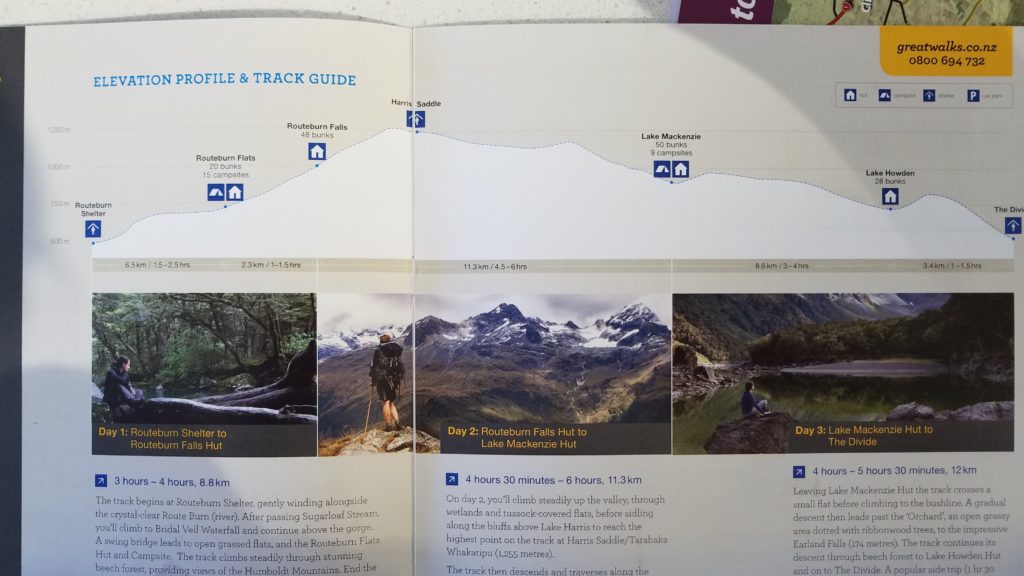 I began up the ridge and shortly broke out of the trees into some great views of the surrounding Hollyford valley. The pictures just don't do it justice. The area is just so spectacular.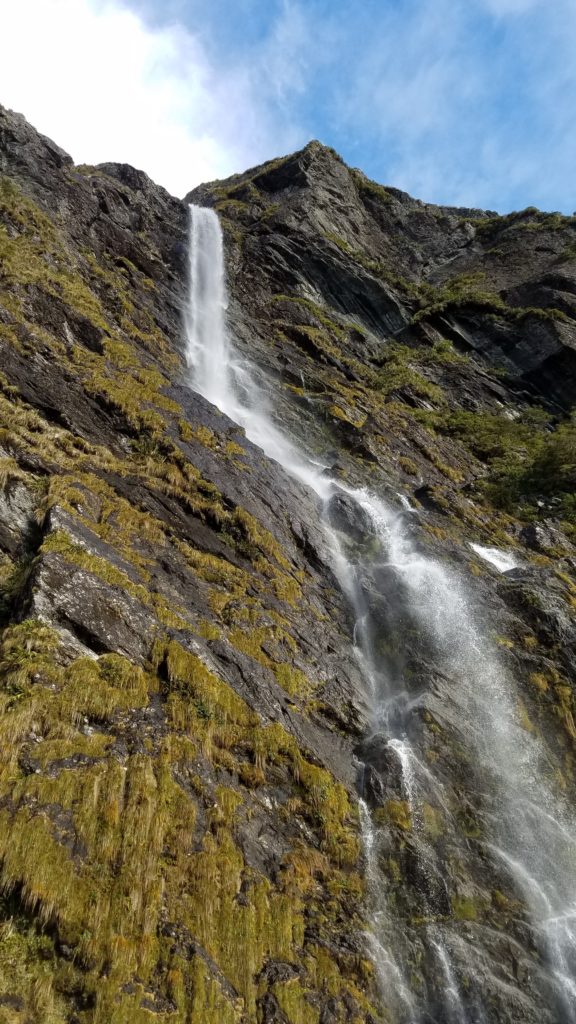 Earland Falls. Just another stunning waterfall…ho hum:)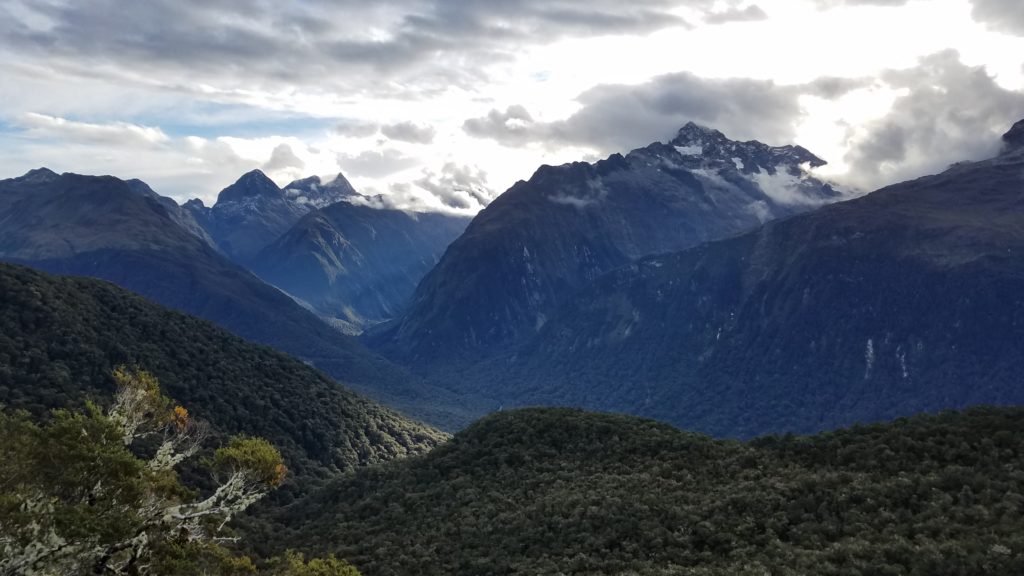 From the western side at the Divide, the Routeburn follows along the Hollyford Valley for quite a ways. This area is part of Fiordland.

With the weather being quite nice and my surroundings so beautiful, I was enticed to hike farther and late into the day. I found the perfect site distanced from the trail for the requisite buffer and spent another night in complete harmony. This was one of my top 5 favorite campsites of the whole trip, and that's saying a lot given all the spectacular places that I have laid my head.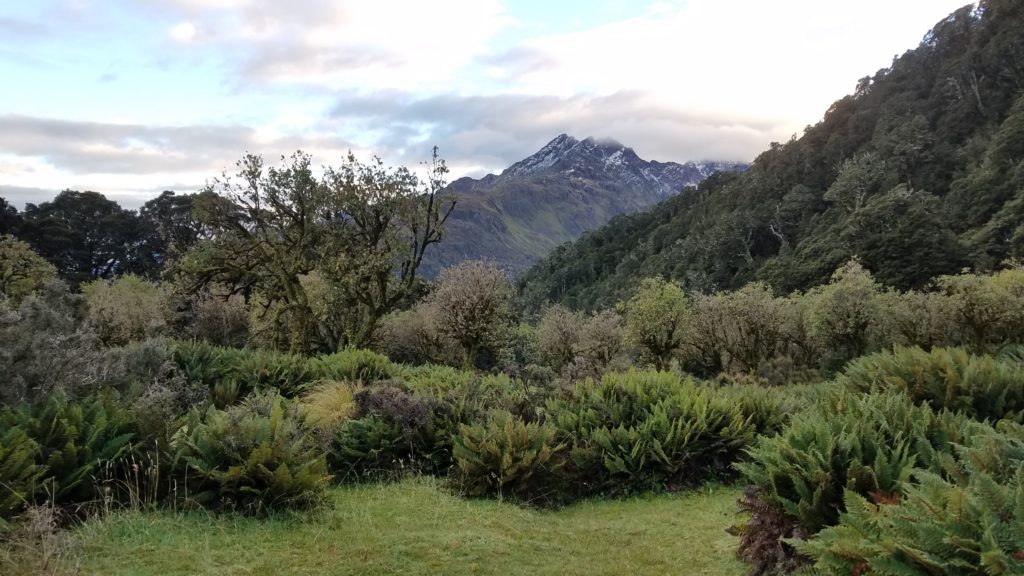 Just as I had settled in, I began hearing what sounded like a dog barking but it was actually a stag. I continued to hear them throughout the night. It was probably my coldest night yet, with some cold spots starting to creep into my quilt by the morning. If I were to continue tramping long into the fall, I would need my warmer quilt. It rained intermittently overnight, as well, so everything was nice and soggy in the morning.
As I was making my morning coffee, a South Island Robin stopped by to inspect my tent. She actually hopped inside briefly, then gave a tug on each one of my guy lines, just as if she were trying to pull a worm from the ground. Rest assured, I did not entice her with food…these birds are just very curious.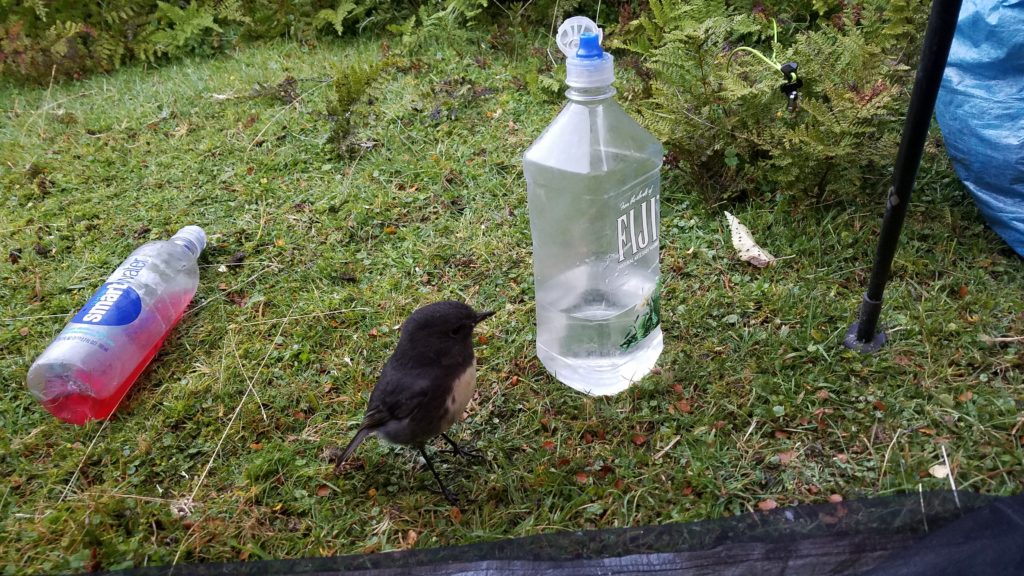 I was immensely happy for such company and pondered this intimate connection I had with my surroundings. Did the people paying $65 or more for the huts hear stags barking or commune with robins while they ate breakfast? Probably not, they instead got to listing to the sound of each other snoring all night. The huts can be extraordinary places to spend a night when the weather is bad but on this lovely night, I was so happy to be a solo human, with only animals and plants as my companions.
I got an early start, quickly coming to Lake Mackenzie and the several huts nearby. One is a private hut, exclusively reserved for guided trampers. Some people pay thousands of dollars to walk this route with a guide, stay in these posh huts and have all their meals provided. Nice if you have the money to spend but obviously not my style.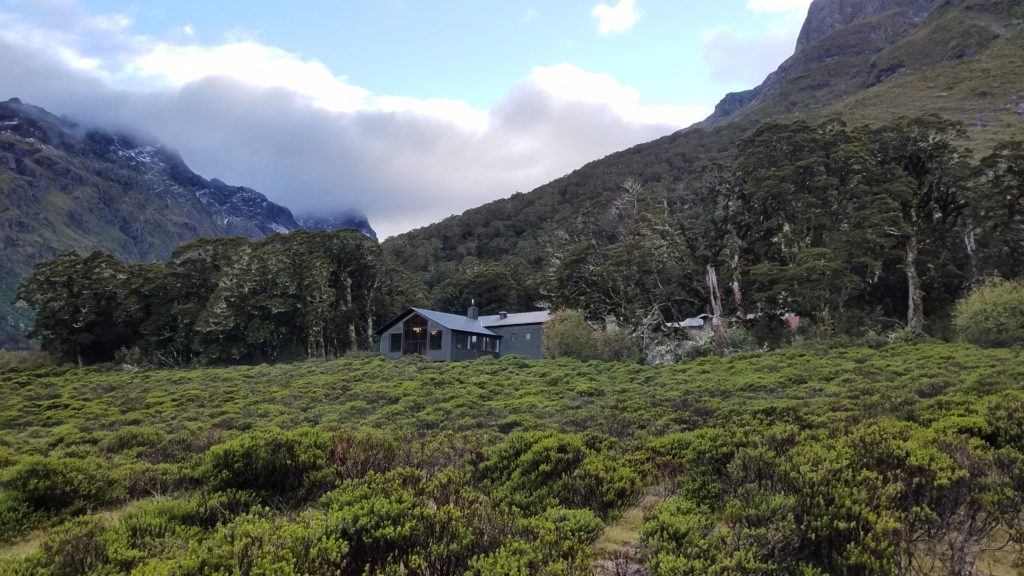 The private hut, complete with lighting and lounges, from what I could tell from this distance. Common hikertrash like me is not allowed inside…LOL!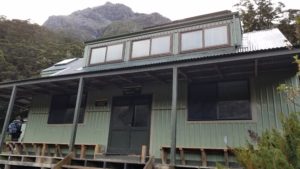 Standard DOC Great Walk hut…still really nice!
At the DOC hut, I met Rena and Rich from California. I chatted with them for awhile, since they both had Hyperlite packs. It's a good bet that anyone with one of these packs is from the States…but the exception to this was about to come walking down the trail.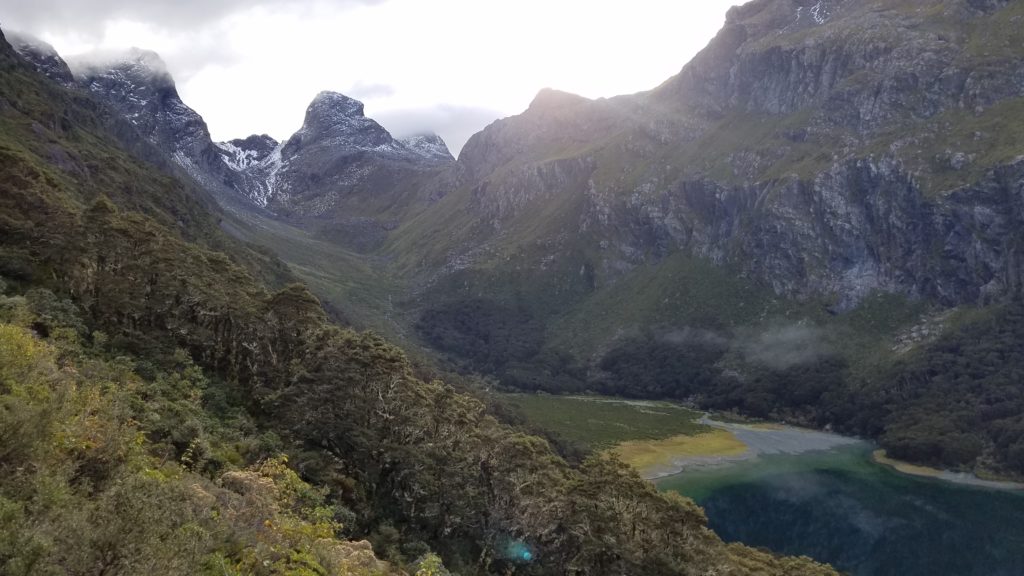 I continued up the ridge past the lake and then to Harris Saddle, highpoint of the trail at 1277m. Above the bushline, I began walking in the clouds, so there weren't many views. These areas  average 5 meters of rainfall per year, so it's not surprising that I hit it on a rainy day. But I was entertained when I ran into TA walker Australian Tobais, going the opposite direction. I last saw him in the Tararuas on the North Island and first met him in week 2 at Nikau Bay Camp. He's also the only non-American I've met with a Hyperlite pack and also a Zpacks tent. On this day, we were even wearing the same type of Altra shoes. He was still on his way to the TA finish line, taking this little detour along the Routeburn, as is commonly done. It was great to see a fellow TA walker again and we spent some time catching up and swapping trail stories. Then it starting raining a little heavier and we both got cold and had to hurry on.
I was looking forward to grabbing a bite to eat at the Harris Saddle shelter but was surprised to open the door and find it jam-packed with people. I had run into the bubble of trampers that had left the Routeburn Falls hut in the morning. So I kept going. Even though it was cloudy and rainy, there were still good views coming down from the saddle.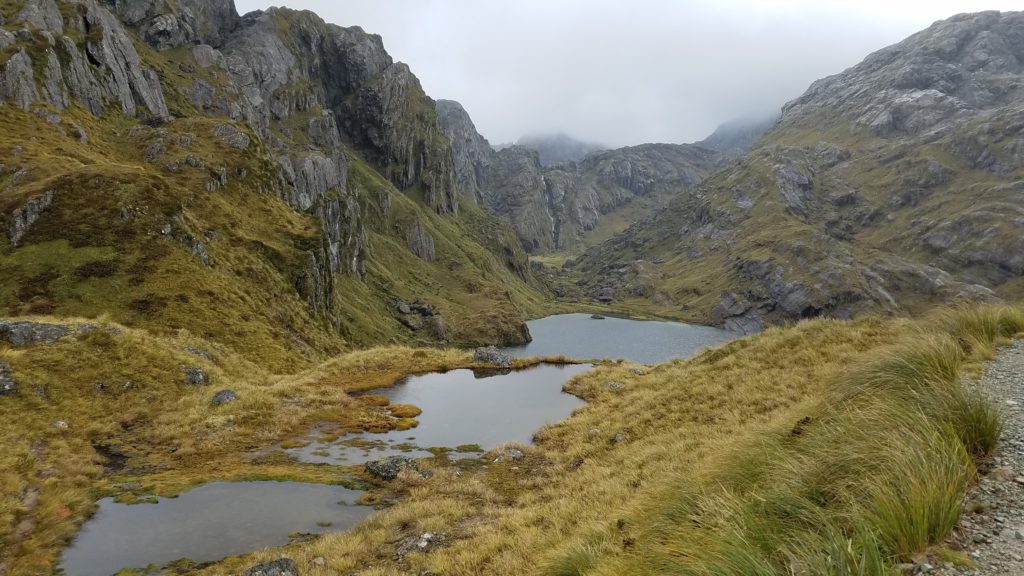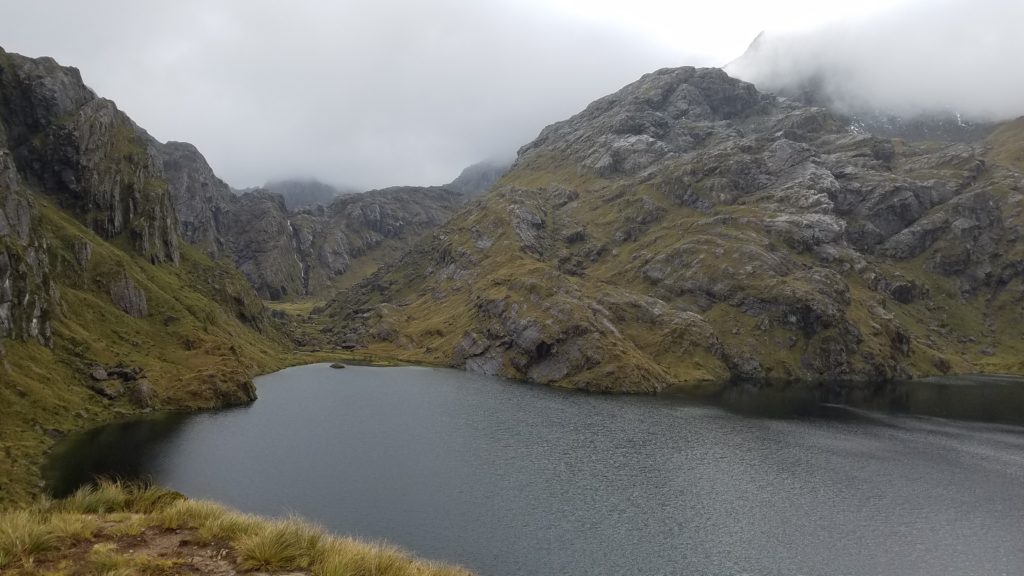 I had time to enjoy these views because I had to step to the side every few seconds to let all the hordes of people going up pass by. It's customary that hikers going downhill give-way to hikers going uphill, but I was going against the grain and there were just so many, it was hard to make any progress! Luckily, the trail became wide enough to allow me to continue on without stopping every few seconds. But it was off-putting to see so many people. I knew this would be the case and it made me reflect on just how nice we had it on the many isolated sections of the TA. True, the scenery is quite breathtaking on the Routeburn, but there are other less-crowded, even desolate, hikes with as much to offer.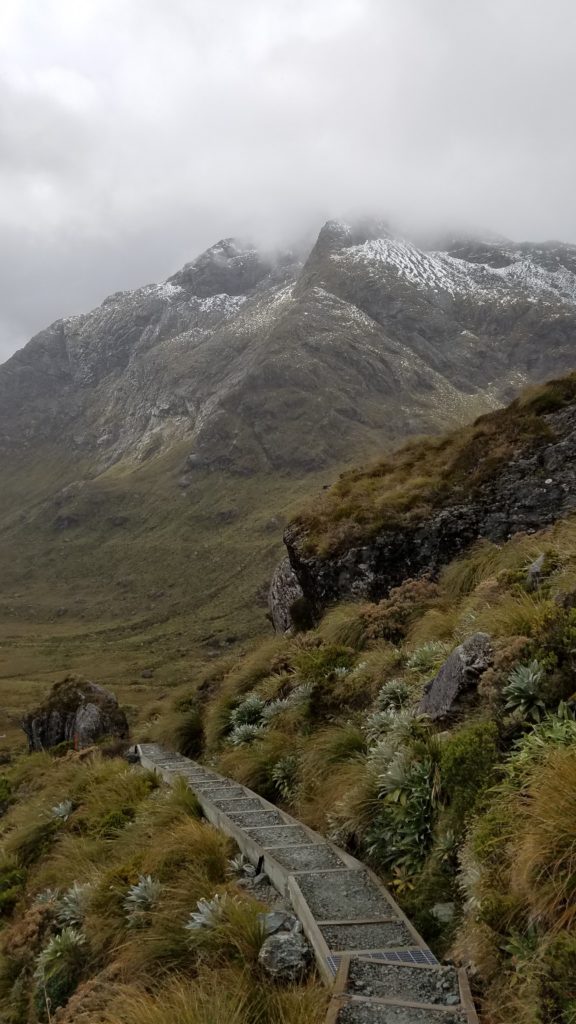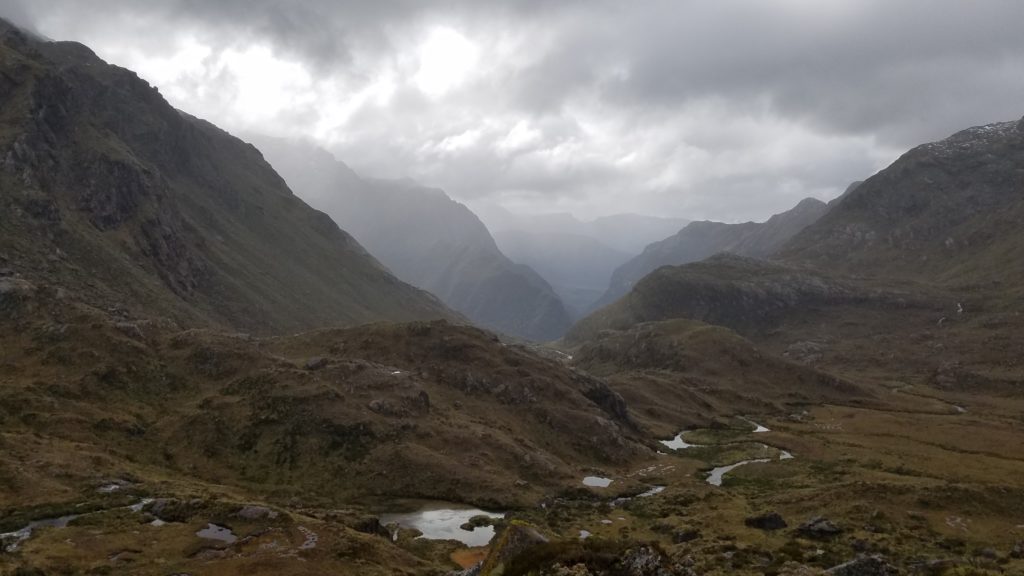 I quickly reached the Falls hut, which made for a perfect lunch spot. There are private huts as well as a very large DOC hut, all with great views of the valley below. Unfortunately there are no campsites in the nearby vicinity, as this would be a great spot to spend a night.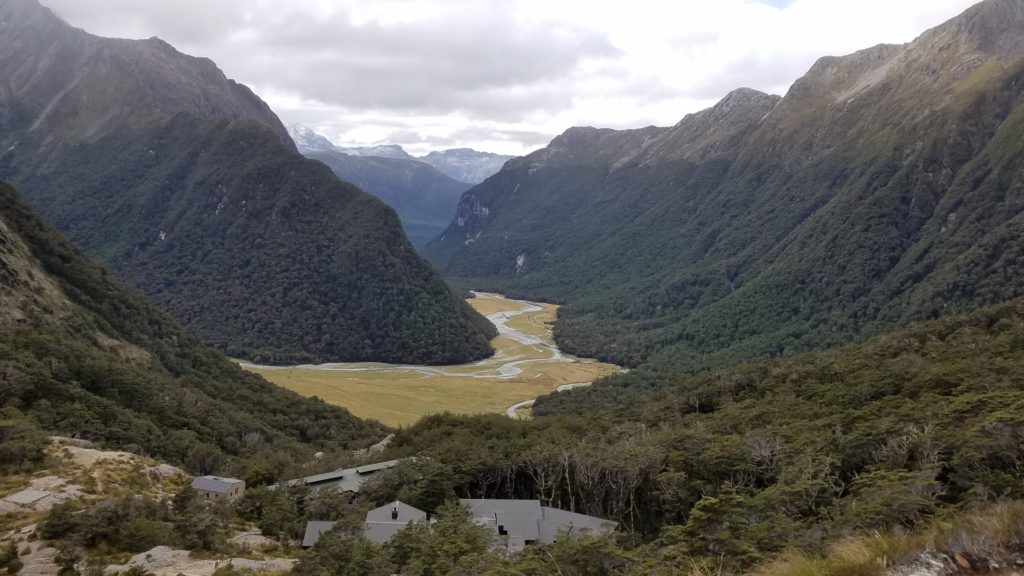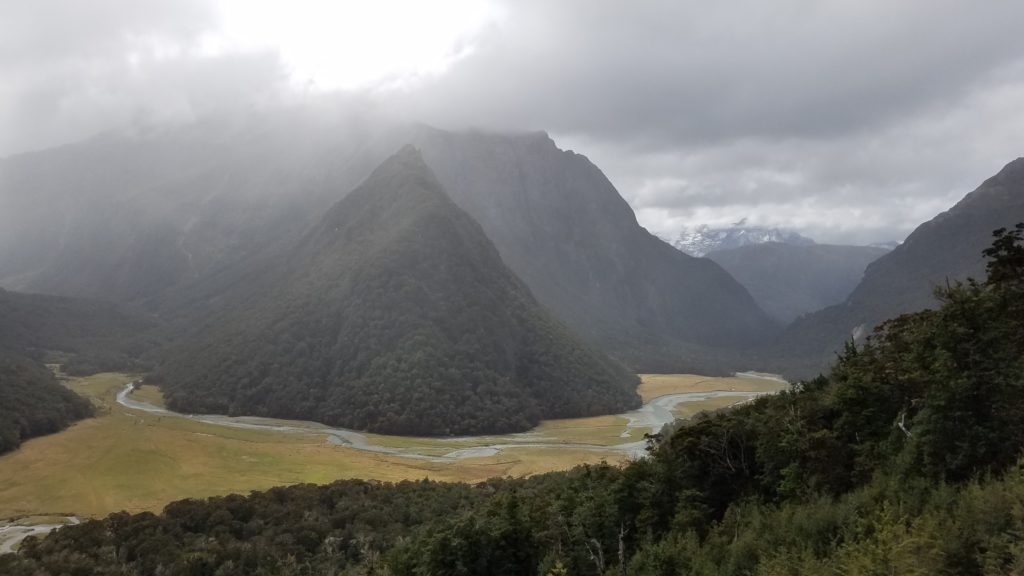 I continued down the valley and the weather got quite warm and pleasant. I stopped for a dip in the Routeburn River and enjoyed a peaceful walk down a wide, flat bridle trail into the afternoon. I had a wild idea of getting a ride out to the start of the Rees track and putting in another 18 kms to make it to Shelter Rock hut. This I knew was a bit over-zealous with regards to my distance already walked and the coordination of several hitches. I still hadn't even committed to doing this next hike, as I wanted to get an update on the weather forecast once I had cell-phone reception again.
I came to the trailhead around 2:30 pm and easily got a ride towards Glenorchy with some day hikers. Incidentally, dealing with the 5 hour shuttle from one end of the Routeburn to the other is the biggest logistical challenge in doing this hike. There are shuttle services but they cost hundreds of dollars. For me, walking and hitching all the way from Bluff, well, really from Cape Reinga, it was not even a concern that crossed my mind. I knew there would be tons of traffic at this trailhead. For those doing the TA SOBO and trying to hitch from Queenstown, it is actually easier to do the Routeburn as a side trip, connecting back to the TA via the Caples or Greenstone Tracks. This is because the Routeburn trailhead gets the majority of the traffic, whereas there are scant cars going the long way to the Caples/Greenstone trailheads. I found this out the hard way on Day 98.
The weather forecast for the next 2 days wasn't great but I thought I'd try to stick to my plan anyways and see how it looked tomorrow. I wanted to hike partway up the Rees Valley on this day, cross over the Cascade saddle the next, and continue out to Wanaka on the 3rd day. That had been my master plan since beginning the Kepler track. But hiking plans are always up for revision. I had my ride drop me off at the intersection to the Rees Valley, where I stood for quite some time, noting that there was virtually no traffic going up the valley at this time of day. A few cars passed, but they all appeared to be locals just going a few kms to their homes up the road. The trailhead was over 15 kms at the end of the road and I didn't like my chances. After an hour and a half, I finally conceded defeat. Not to worry, it was only 1 km and an easy ride into Glenorchy, where I quickly got a tent site at the holiday park for $20. A hot shower was an extra $2 but well worth it. I sat down to dinner to revise my plans for the next few days, depending on the weather. I'd had a good run over the past 3 days, knocking out 2 great walks that take most people 6 days total. I was happy with my accomplishments and I'd seen some nice nature:)