For my 10th long-distance thru-hike, I'm attempting the 1,200 mile PNT, which traverses along the Canadian border from Glacier National Park in Montana to Cape Alava/Pacific Ocean on the Olympic Peninsula of Washington. This route serves as a northern connector of the PCT and CDT, as it shares a brief part of each trail. The majority of the PNT is through Washington…a section I really loved on the PCT, so I'm looking forward to seeing more of this beautiful state. The conditions will be a huge change from my recent time spent in the desert SW and along the east coast on the AT. Water will be plentiful (snowpack is still way above average), bushwhacking will be the REAL DEAL, and I'll be in grizzly bear territory for the first quarter of the hike…yikes!
Around 100 people attempt a thru-hike of the PNT each year, most traveling Westbound. Since I'd like to tie in the Oregon Coast Trail if/once I finish, I too will be going WEBO…yes, that's right, I'm going with the flow for once! I plan to start fairly early (around the end of June) to hopefully avoid fires. This will mean that I'm hiking through a fair bit of snow in the beginning…better to have snow and water than smoky vistas and fire closures, I say. I've heard of quite a few other hikers planning to begin around this time, so hopefully I'll be in some good company.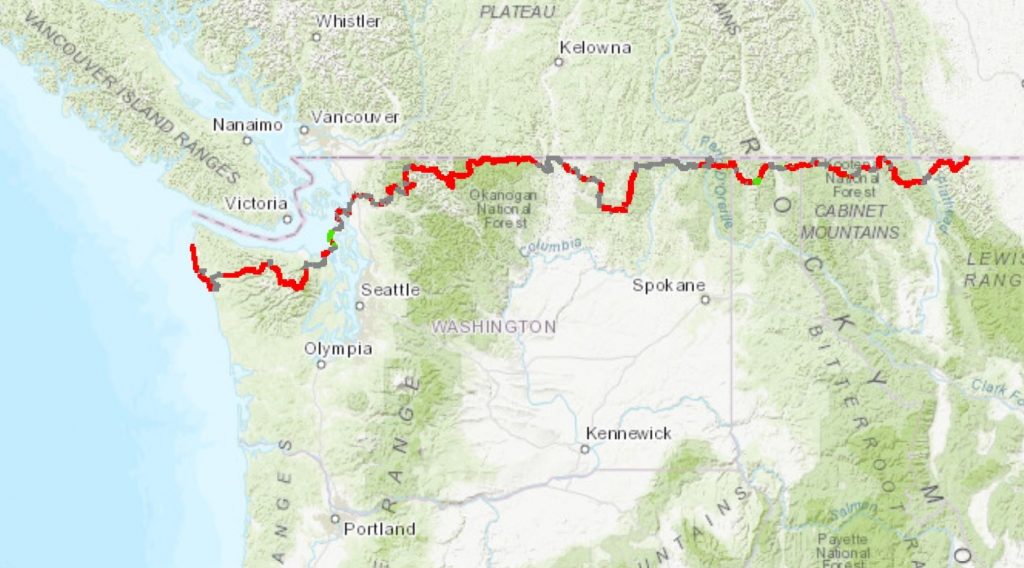 History of the PNT (courtesy of the PNTA webpage): Ron Strickland's concept of a rain drop's journey from the Continental Divide to the Pacific Ocean has been around since the early 1970s. He pioneered the route, piecing together trails and roads. The first thru-hikes, completed in 1977 by Janet Garner and Rex Bakel, proved the route and were documented in Garner's 1979 Backpacker Magazine cover story. That same year, the first guide to hiking the PNT was published. In the decades since, hundreds of people have followed, and the route has been refined. Congress designated the PNT as a National Scenic Trail in 2009.

The PNT is divided into 10 sections, traverses 3 National Parks (Glacier NP, North Cascades NP, Olympic NP), 6 Wilderness areas (1/4 of the route) and 7 National Forests. Unfortunately there remains a lot of road walking to connect these areas. Much of it is on remote dirt forest service / logging roads, but about 100 miles through the Puget Sound area is on paved highways and residential roads. Between the CDT, GET, and Te Araroa, I've already done my fair share of road walking and am not too deterred by this. I know there will be many days that my feet are NOT happy but hopefully the scenery will still be good.
As always, I'll try to post daily blogs and pictures. Stay tuned …