October 12th, 2018
Lake Hughes rd mm 485.5 to Agua Dulce mm 554.5, then Hiker Heaven
Distance: 31 miles plus 2 miles walking back and forth to Hiker Heaven
0545 – 1600
I was awake around 4 am, so I just started my morning routine a bit earlier. It was nice to get such an early start on the trail. It was a cool morning and also partly cloudy most of the day. The desert conditions continued to be easy.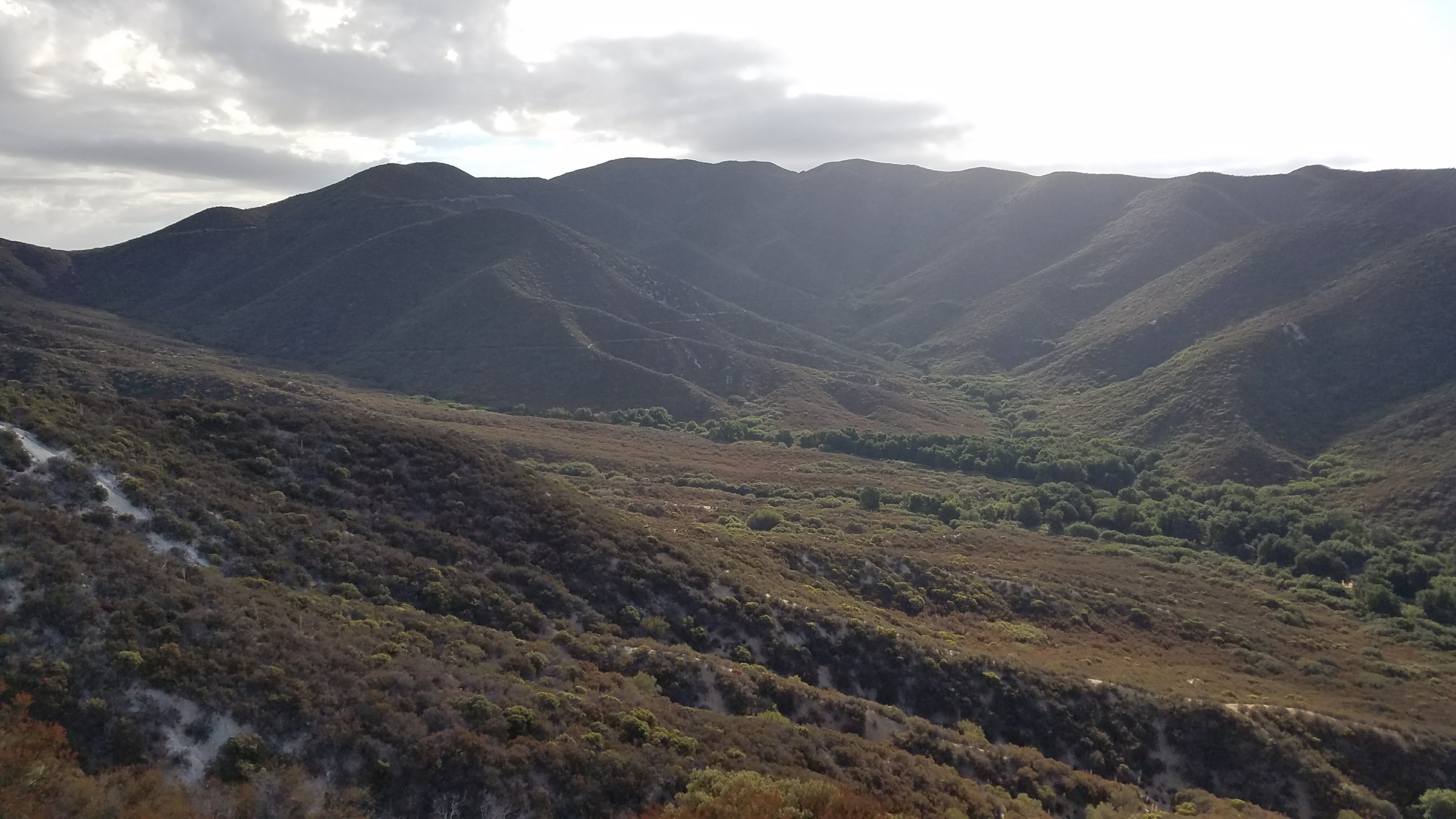 About 10 miles in, there was a fire station with a water spigot. It had a warning about Ecoli, so I filtered the water. This appeared to be the last water source for the next 20 miles but I only grabbed 1.5 liters. Later, there was the remnants of a cache, but the water that was left was green. I passed on it.
I hiked fast and light all day but there was a lot of climbing. The trail went up for over 7500′ and down 8000′. I felt pretty tired walking the last stretch on the road into town. But I think I set a new record doing 31 miles by 4 pm! (Aside from the time that I woke up at 0330 to walk 2 hours in the dark on Hat Creek Rim.)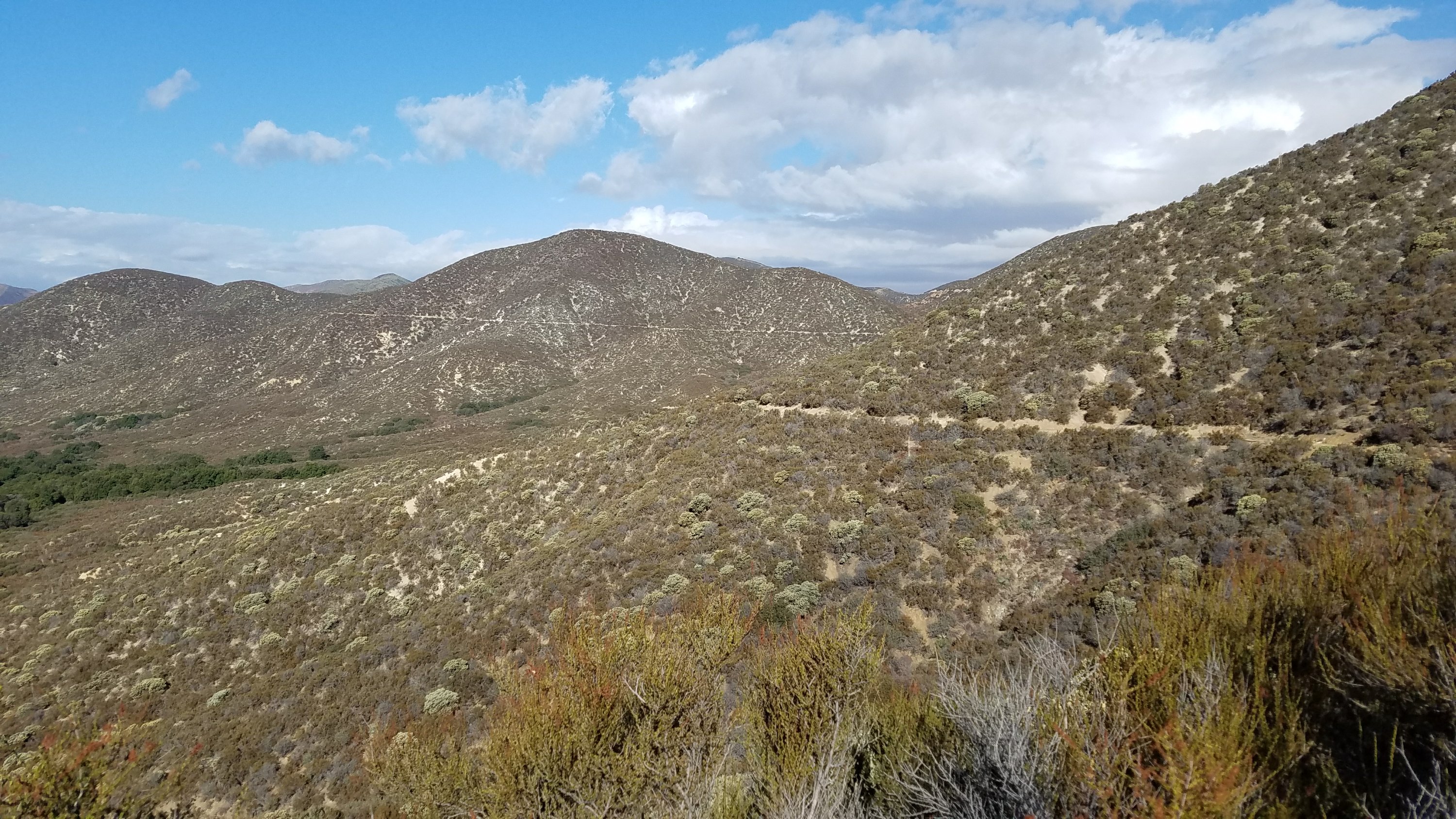 At the town center, I bought a coke and some chips. After a short break, I began walking the mile to Hiker Heaven. Jeff and Donna Saufley had been hosting PCT hikers for over 20 years. Their property was a well-oiled machine for housing us. They had a trailer where about 10 hikers could stay. In the spring, when the northbound herd was coming through, hikers had to camp out in the yard. They once had as many as 80 hikers at one time!
There were 2 others already there, Bees Knee and Flutter, a couple I'd met way back in Stehekin. I remembered them right away and was glad to see them again after such a long time. They told me their story of the Sierra when the first storm hit on Oct 1st. When it began raining, they found that their tent was leaking and all their stuff got wet. They were very cold after that and also there were no views. So they decided to turn around at Muir Pass and go out at VVR. They had to pay $200 for a shuttle to Fresno, then made their way to Tehachapi. After hearing their ordeal, I was so glad that I just dodged the bullet.
At the house, Donna jumped right into showing us the layout and gathering our laundry. She and her magical helpers washed and dried our clothes for us! Amazing! The garage was filled with a series of boxes, all labeled and organized into categories: women's tops, men's pant, etc. Being an organization geek myself, I was immensely impressed by the efficiency of this operation. If hosting dirty thru-hikers were a profession, Hiker Heaven would be the example to follow. We picked out loaner clothes and sifted through some of the other boxes. I found some vitamins, which I was running low on. Kuba found a nice long handled titanium spoon.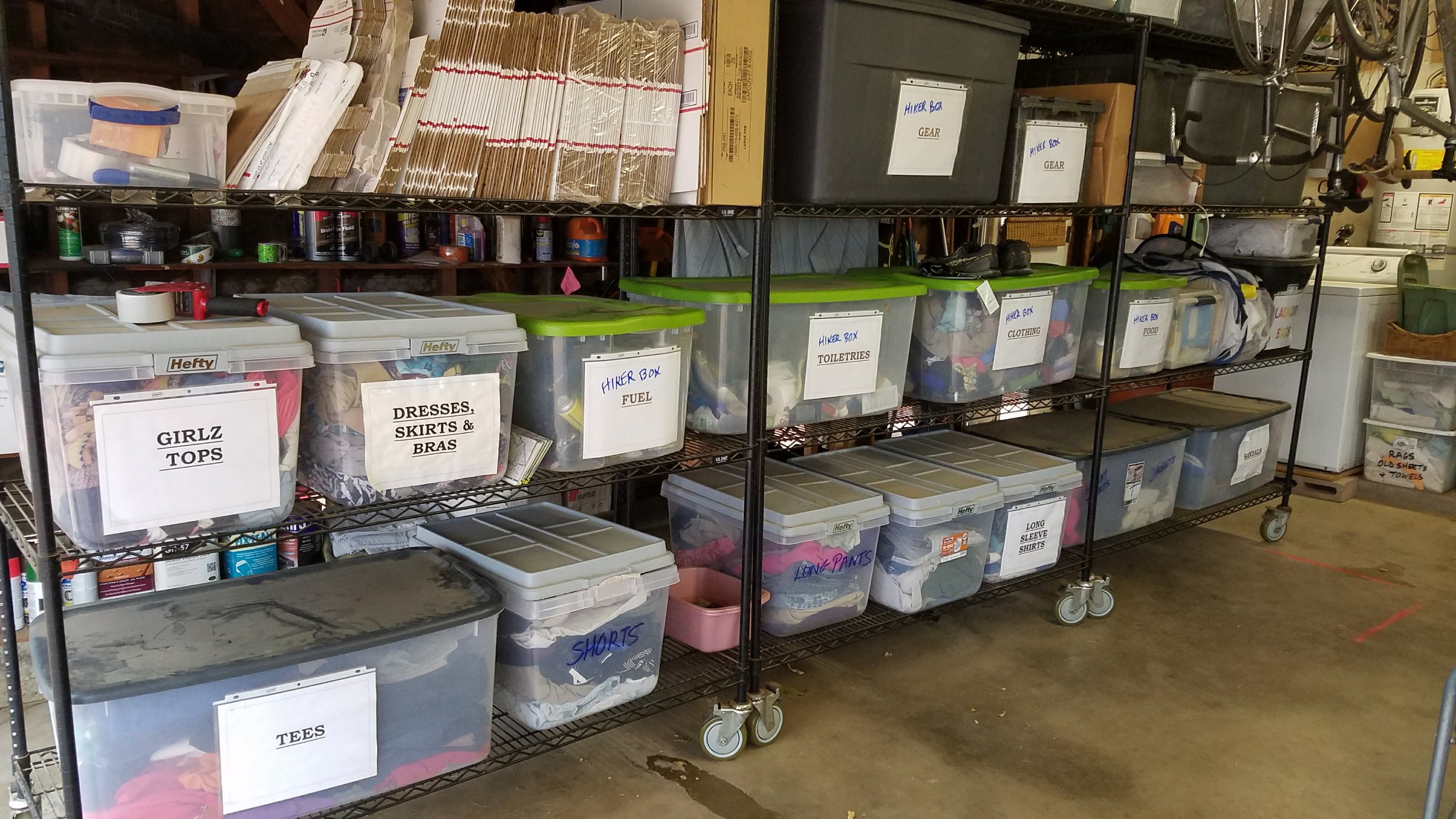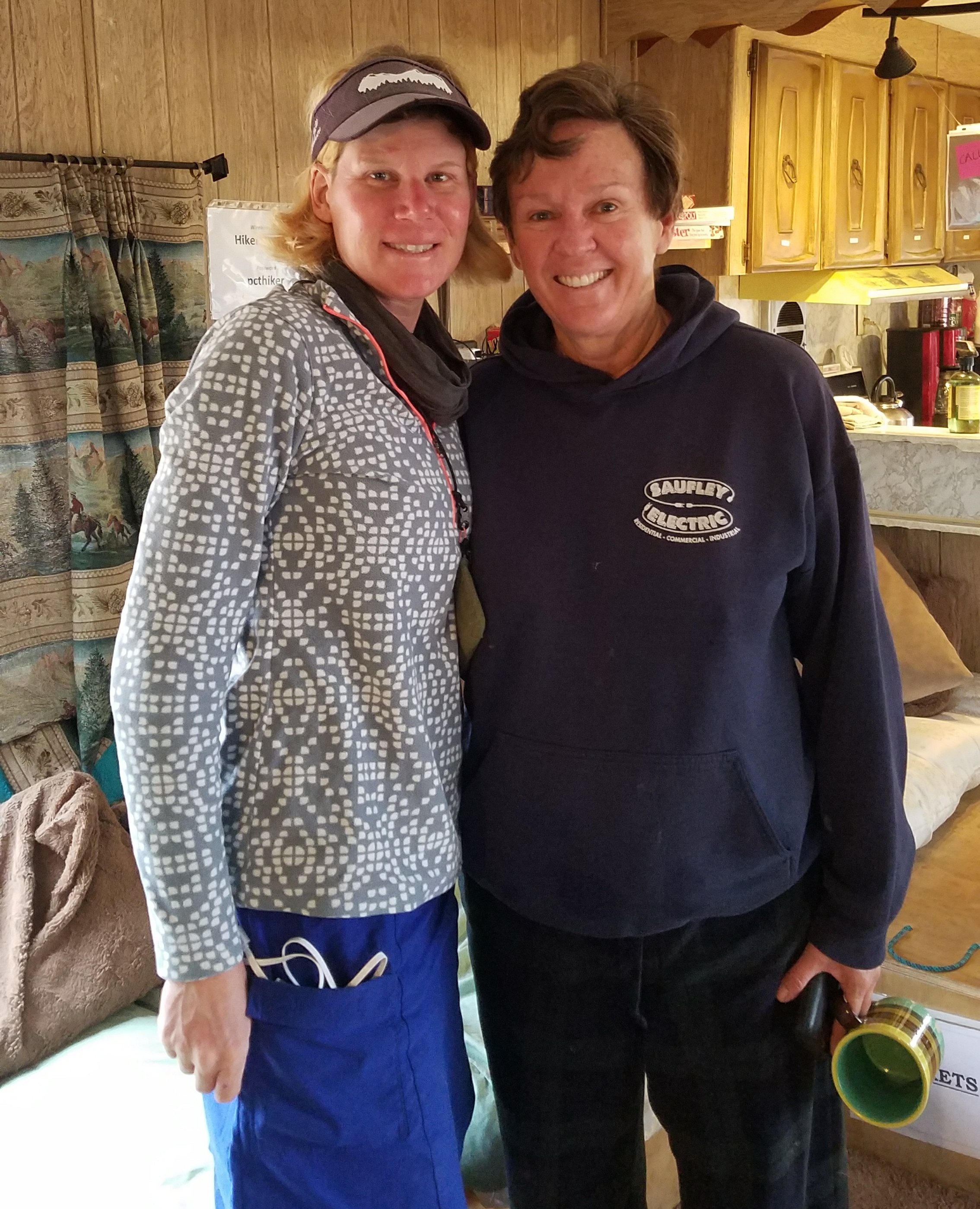 Donna and me
Most treasured, I got my box with new shoes! I'd started on my last pair at Tahoe and the Sierra had been rough on them. They lasted almost 700 miles but it was definitely time to change them. There is nothing quite like the feel of wearing new shoes.
After showering, I walked back to town to have pizza at Big Mouths. Salty was there and we shared a pitcher of beer. I got a 14″ pizza and proceeded to eat all but 2 slices. Not a bad effort. The remaining 2 would make a good starter breakfast. I could honestly say that this was the best pizza that I had on trail and some of the best ever, overall. I really liked the crust. Then again, being hungry all the time, my tastebuds may have been a bit skewed.
It was dark as we were heading back to Hiker Heaven but we were tired of walking (I was now at 33 miles for the day), so we stuck out our thumbs as a truck passed. Amazingly he stopped and we jumped in the back. What a nice break. At the trailer, we found 2 more hikers: The King and Alpine Pat. So that made a total of 8 of us staying that night. There had been none the night before. But there was plenty of room for all.