February 25th
Two Thumbs trailhead (km2350) – Stone Hut (km2368)
Mileage: 11.2mi/18km
Starting off, I thought the only pressing concern for the day was getting to the trailhead. Little did I know that the water crossings 2 days ago were just a warm-up for today.
We had a great night under the pines. It rained just a little but the tents were dry in the morning. It was just windy enough but also protected from the trees. We were on the road at 07:30 am. We walked a few kms up to the top of the ridge, hoping to get cell service to contact J and Klaus about the shuttle. A farmer was the first to come along and stop, but was only going about 1 km further.
The next car to come along had J, Klaus, and a new face but familiar name, Ruslan, in it. Jenny, who runs the farmstay, had offered to take them to the trailhead for $30 pp. There was just room for one more person in the back seat, plus space in the truckbed. Hart immediately volunteered to ride in the truckbed, and who was I to argue?
I had been telling Hart about my experiences of serendipity on this trail and was confident we would get a ride. Though we didn't get a free hitch all the way (I gave Jenny $20 for the ride, even though she didn't ask for anything), I believe the serendipity in this case was bringing us together as a group. A group that was necessary to cross the river multiple times up ahead.
The wind was fierce at the trailhead. Rain was expected for later that night and something was definitely blowing in. The gusts almost blew me off my feet. Thankfully, the wind subsided as we moved up the canyon. At first, we took little notice of how strong Bush Stream was flowing. It was braided at the bottom, its strength divided by many channels. We crossed a few lesser channels with ease, even making light of them. But at the first crossing of the full channel, we quickly realized our dilemma. This was no stream but a swollen torrent of a river. A huge catchment area feeds the waterway and all the melting snow was rapidly making its way to the sea, turning the river completely murky to boot.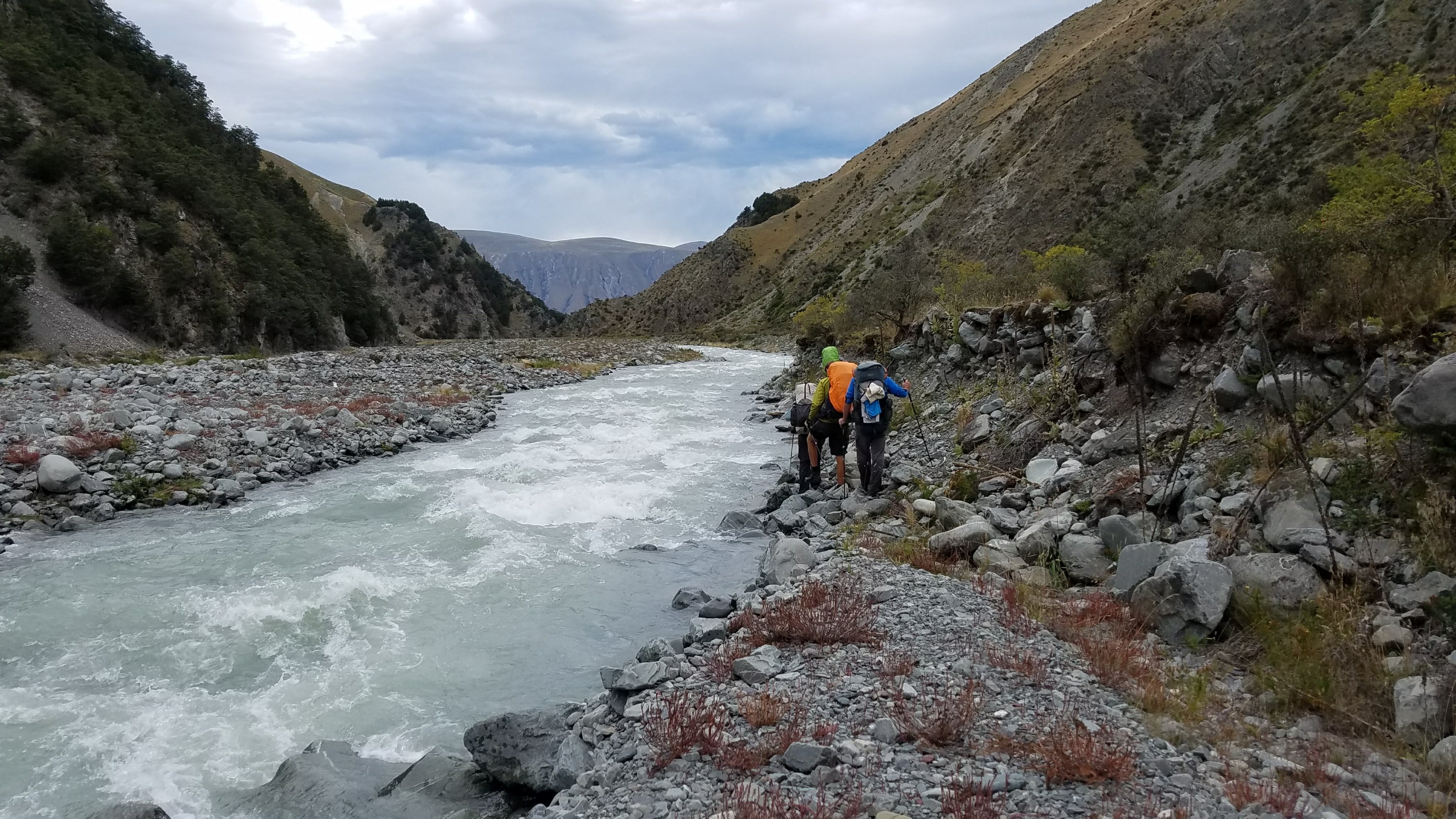 Ruslan was the first to attempt the crossing. You might recall, he was the one that rode out the cyclone alone in A-frame hut. AND then he crossed the swollen stream from Comyns Hut 50 times by himself. He is a pretty tall guy but I also got the impression that he was a bit crazy. I later learned that he is just pretty experienced, confident, and cool-headed. He made it half-way across but appeared to be fighting hard to stay upright. Klaus, just behind him, was also struggling. J, Hart, and I decided to try the crossing as a group. None of us had practiced the technique and it quickly went south. Hart was the up-current person and started loosing his footing. Suddenly he was swept down and J was left clinging onto him and I onto J. We could barely keep our own footing at that point. Ruslan came back out, grabbed my free arm and we were then all able to struggle to the shore. Hart was soaked and a bit shaken, but ok. I'll never forget the look on his face, though. And to think, he was contemplating crossing the Rangitata by himself only the day before. I'm so glad that he changed his mind and that he also ended up ok this time. It could have happened to any one of us.
I previously made a statement to the effect that I didn't fear the rivers. Now I realize that I was being brash. It's like I say about seasickness…if you've never gotten sick before, you just haven't experienced large enough seas or long enough on the open ocean. Obviously there are plenty of waterways just too big to cross. Then there are the ones that are normally doable but are on the verge of being dangerous. Recognizing that limit is the tricky part.
We walked away from this first crossing with a new understanding of the power of the river and how quickly things could go wrong. We had many more crossings to go, since the route once again followed the river canyon. We could see that 2 more crossings would be needed to get around a series of bluffs, aptly named the Sawtooth. So we tried a different strategy in trying to go up and over one of the bluffs.
This proved to be pretty hazardous in its own right, as we did not know the lay of the land and whether we might come to a cliff-end. We did indeed, so we climbed even higher to see if there was another route. At least we got to a ridge with awesome views.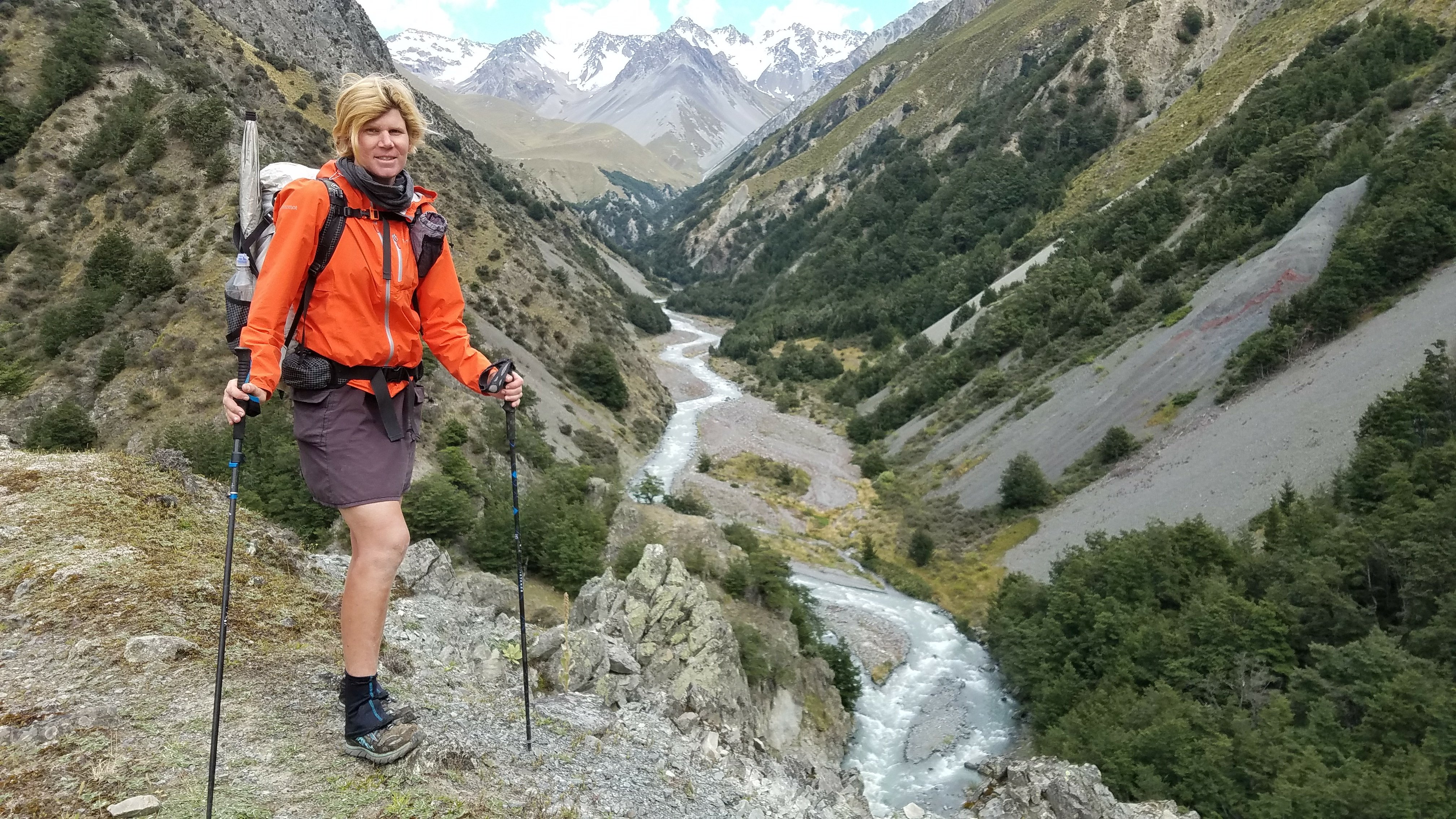 Then we were lucky to find a steep draw with trees growing down it. The route was full of loose shale, but we could grab onto the trees to control our descent. We saved ourselves 2 crossings by doing this but were immediately faced with yet another that couldn't be avoided.
This time Ruslan explained the group technique better and we attempted it 5 strong, with him being the one to break the current. It worked! At one point, his feet began to slide out from underneath him, but the weight of 4 other bodies kept us all grounded. It felt so awesome to have accomplished this, and with basically complete strangers.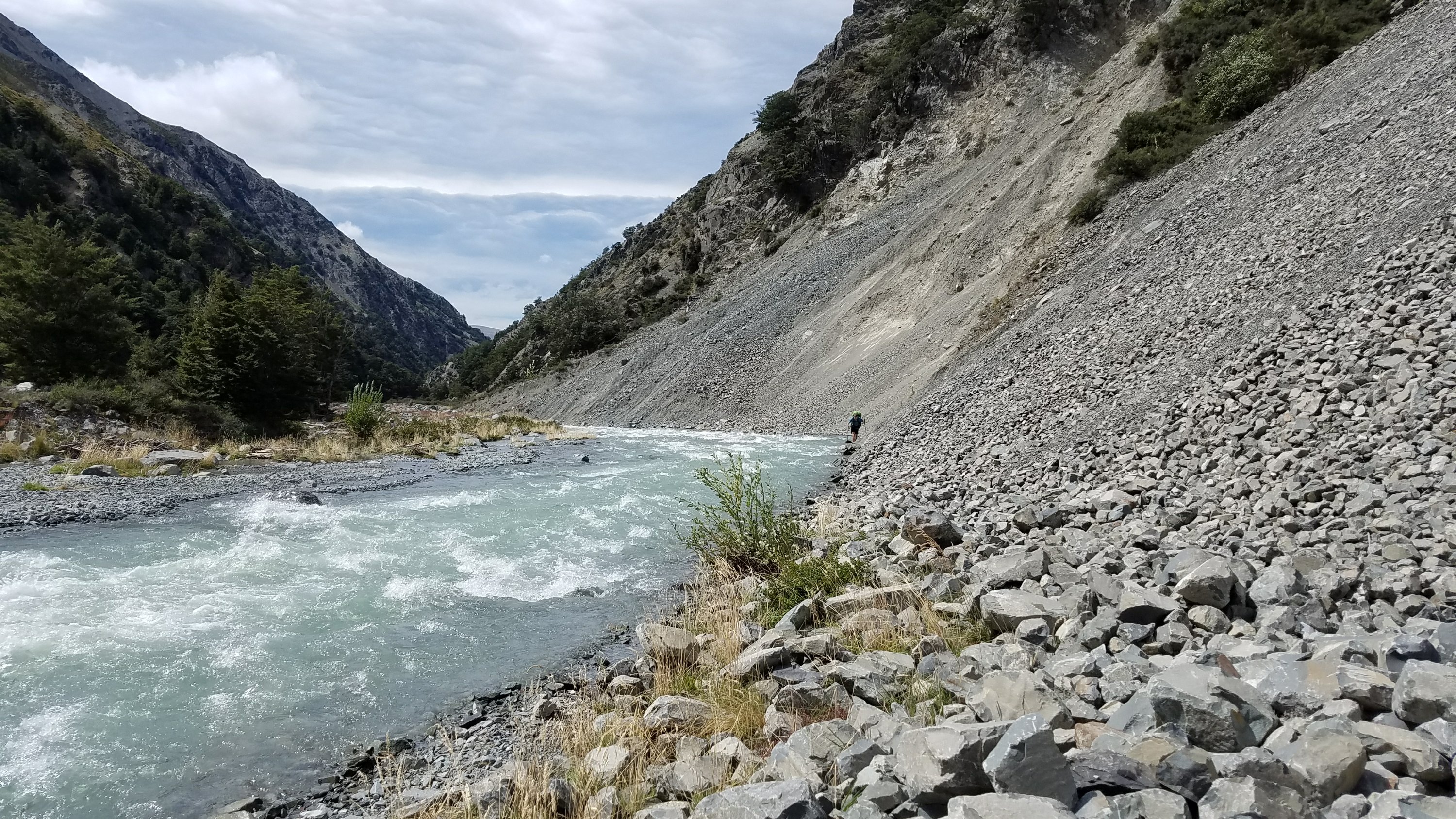 The route then led up and over a large bluff, to similar effect as the bush-whacking we did previously. Unfortunately, it came back down to the river for a final crossing. Being a few kms upstream, we hoped it would be slightly diminished. It was not, in fact, it seemed worse as the section had a steep gradient and the river was running as a swift cascade of pure whitewater. We went up and down as far as we could several times, scouting for the best option. Honestly, just looking at it turned my stomach and filled me with despair. If I were by myself, I would have been at a complete loss as to what to do.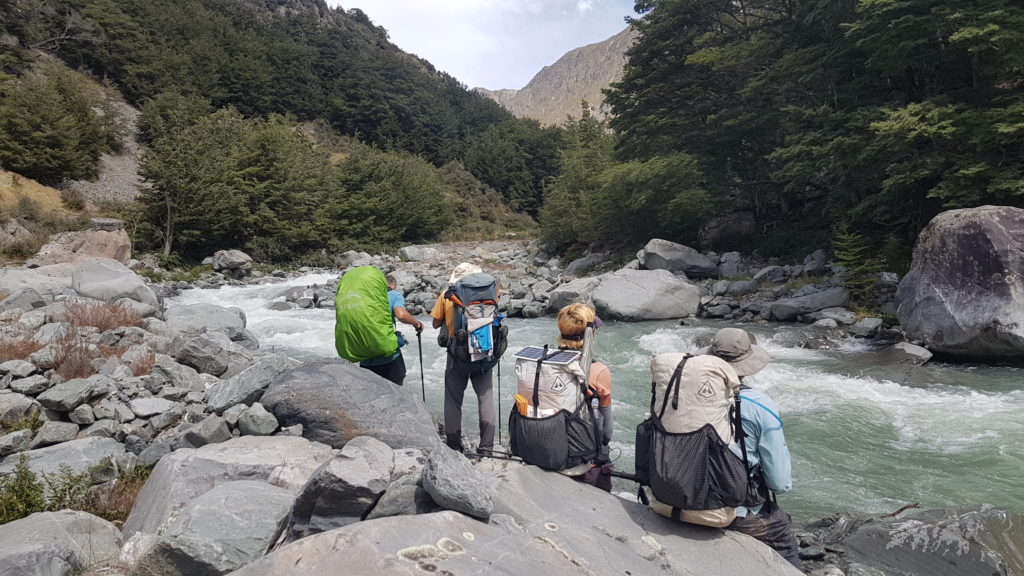 Contemplating a seemingly impossible river crossing, the last one to go.
Finally, J suggested a place far upstream. It was the widest and least swift, but was framed by a cliff on the other side. He had observed that we could walk in the river at the base of the cliff, as it appeared pretty shallow and slow. Suddenly, his proposed path jumped out at us as very plausible. We employed the same technique and this crossing actually ended up being less difficult than the previous. We easily skirted the cliff and sighed with relief on the other side. We were even high-fiving and hugging each other, we were so glad.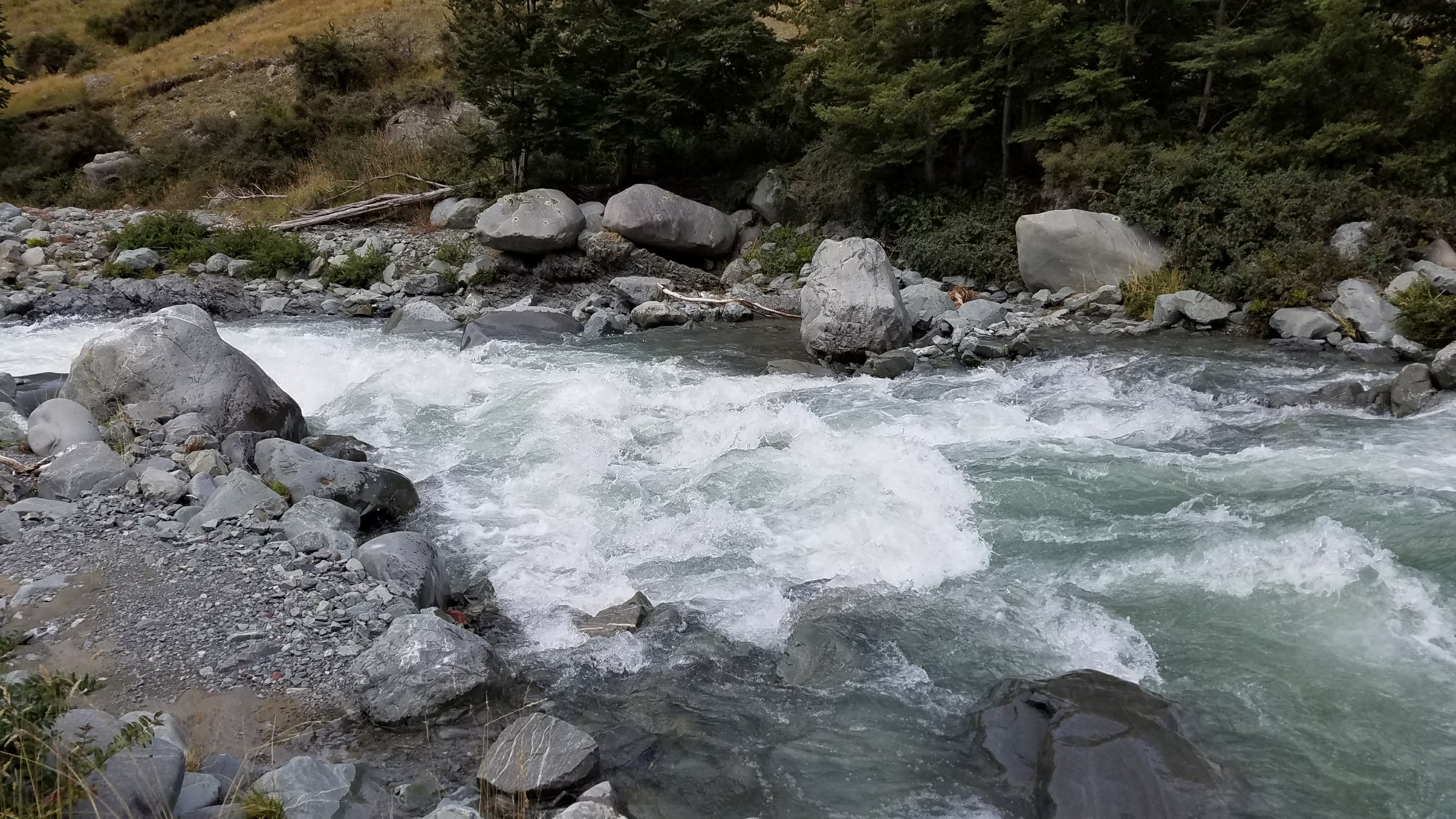 Rapids we would have swam had we gone down. This is where the trail is supposed to cross!
Hart was the first to head up the bank to resume the trail when a boulder rolled on him and smashed his shin pretty good. After all the trouble had seemingly passed, the river still managed to get him. It just was not his day but we got the cut bandaged up well at the hut. I also gave him some meds for the pain.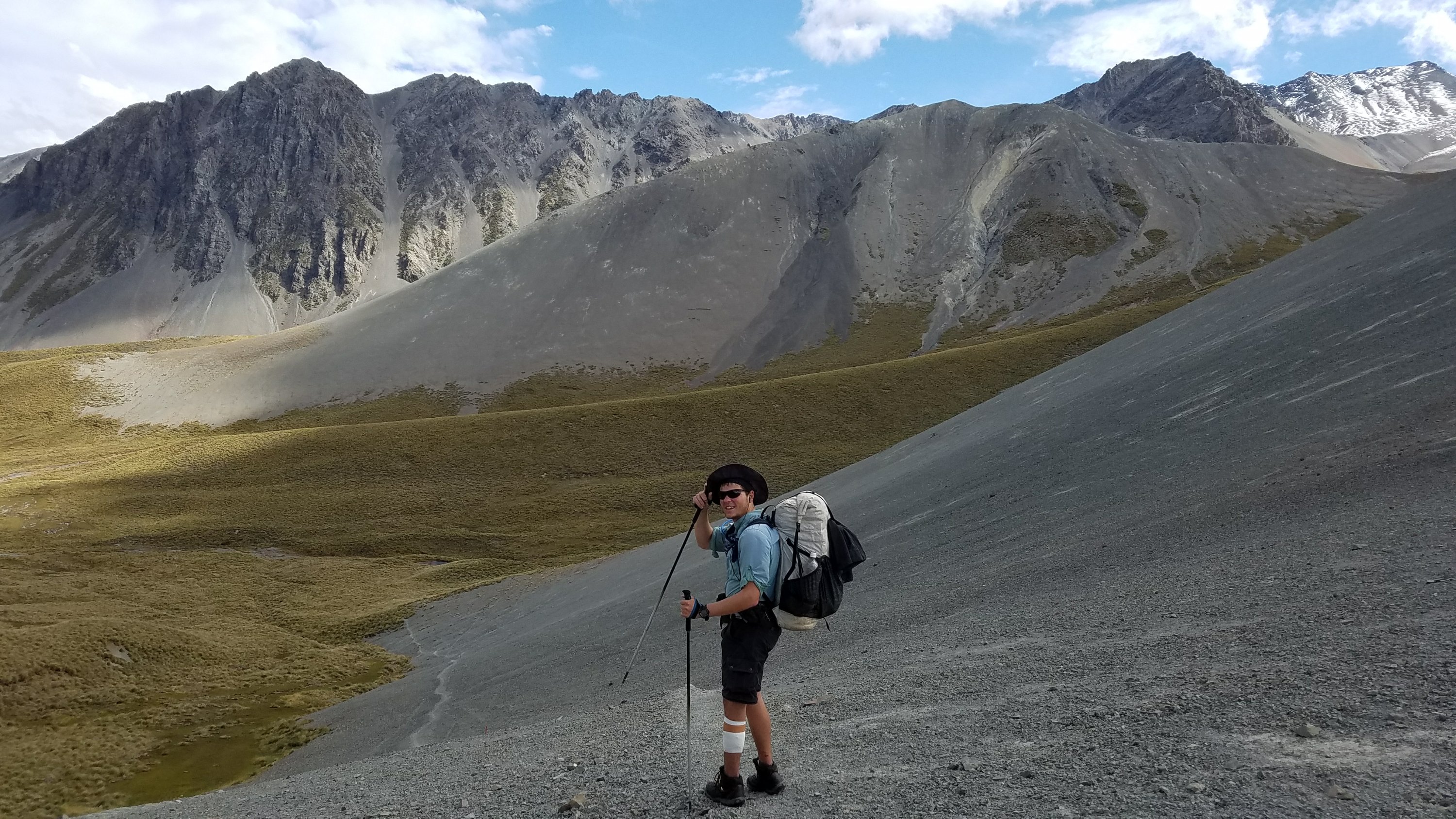 Hart, not his day but none the worse for wear. At least he looked happy again in the high hills.

We made so little progress all that morning and early afternoon that we contemplated just staying at the first hut. But the weather was nice, so we decided to press on. It was a rather uneventful climb to a saddle, then undulating down through the tussock for many kms. We met some hunters along the way and I stopped to talk to them for awhile. They were 4 Australians with one Kiwi guide, all of which had helo-ed in.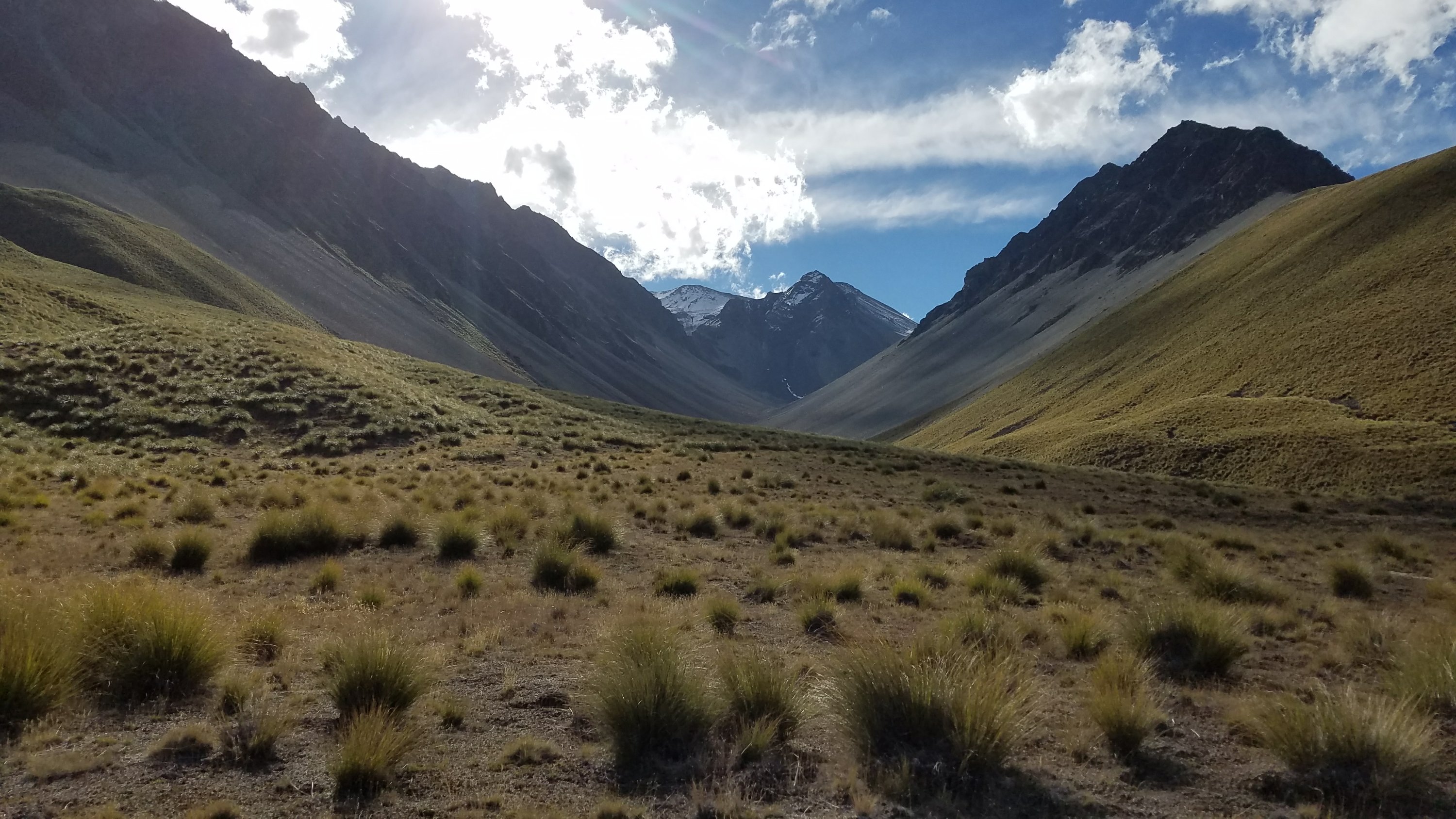 Finally, we got to Stone Hut, all the way back down into the Bush Stream valley. I knew we had to cross it to get to the hut but mercifully, there was a bridge. It would have been easy to cross anyways, being much smaller now that we were nearer the headwaters. Why couldn't there have been a bridge or two further down?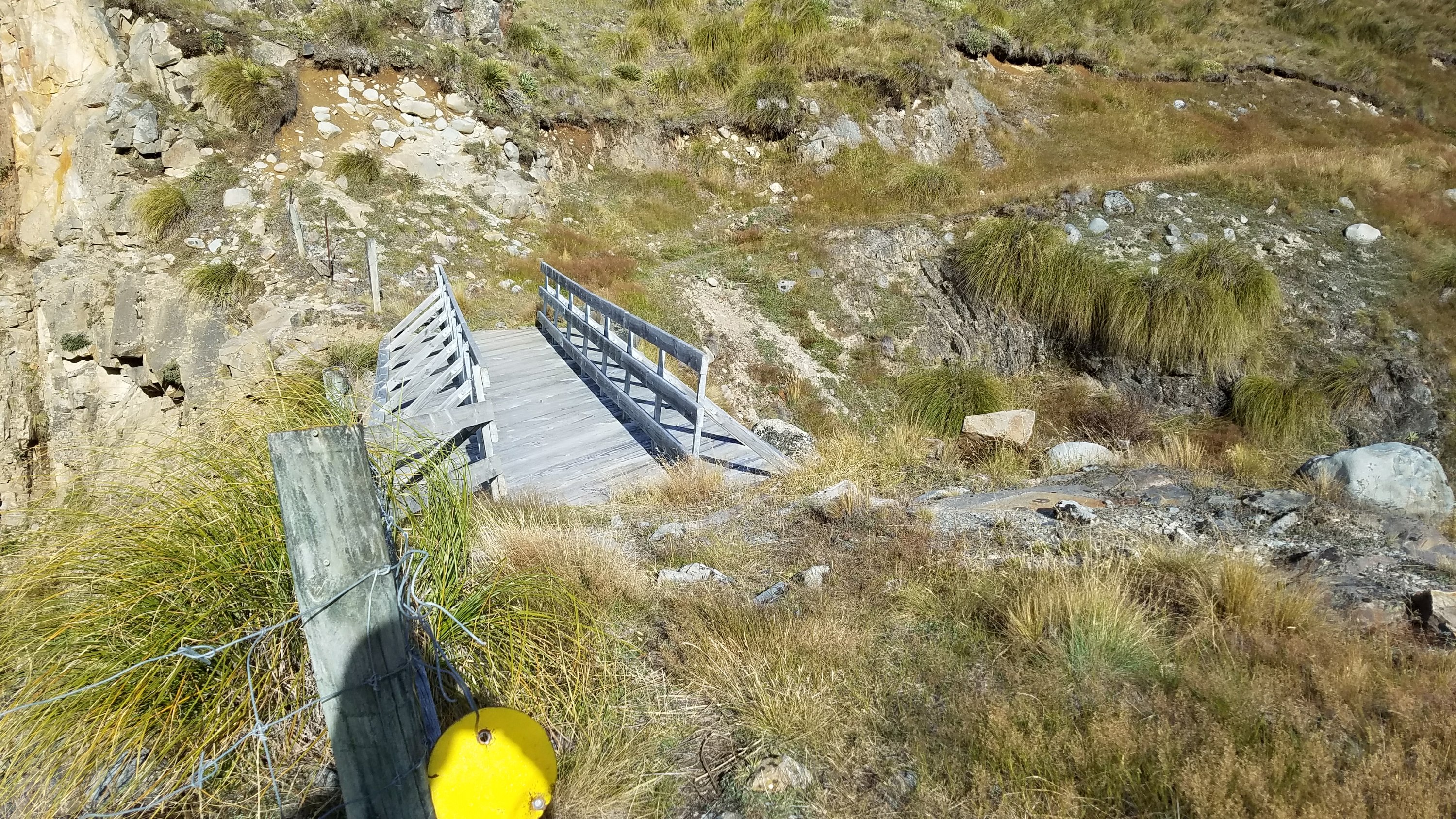 A bridge!
The hut was old but had a lot of character. It felt wonderful to be safe and sound after all the earlier drama and anxiety. And it was great to share the space with just my 4 companions, who I suddenly felt very close to after what we went through. It was a great day overall, as I learned that I can't always get away with being a solo hiker. As much as I like my independence, teamwork is still needed at times.