February 22nd
Double Hill Run rd trailhead (km2280) – Comyns Hut (km2296)
Mileage: 10mi/16km plus 13.7mi/22km walking on the road to the trailhead.
I was up early to cook eggs for breakfast but I was still full from all the pizza, guacamole, and ginger beer the night before. All I could stomach for breakfast was some yogurt. I don't know what happened to my hiker hunger, but the thought of food just put me off. I needed to get back on the trail.
All the TA school kids were at the i-site waiting for the bus. There were 10 of us: Anna and Tuomas, Bertram, American Hart, German J (Jörn), German-Italian Klaus, Danish Michael, and a Japanese couple, Nobu and Kei. Were we all in a great mood, excited to start walking again. We were even giggling like school children as we boarded the bus.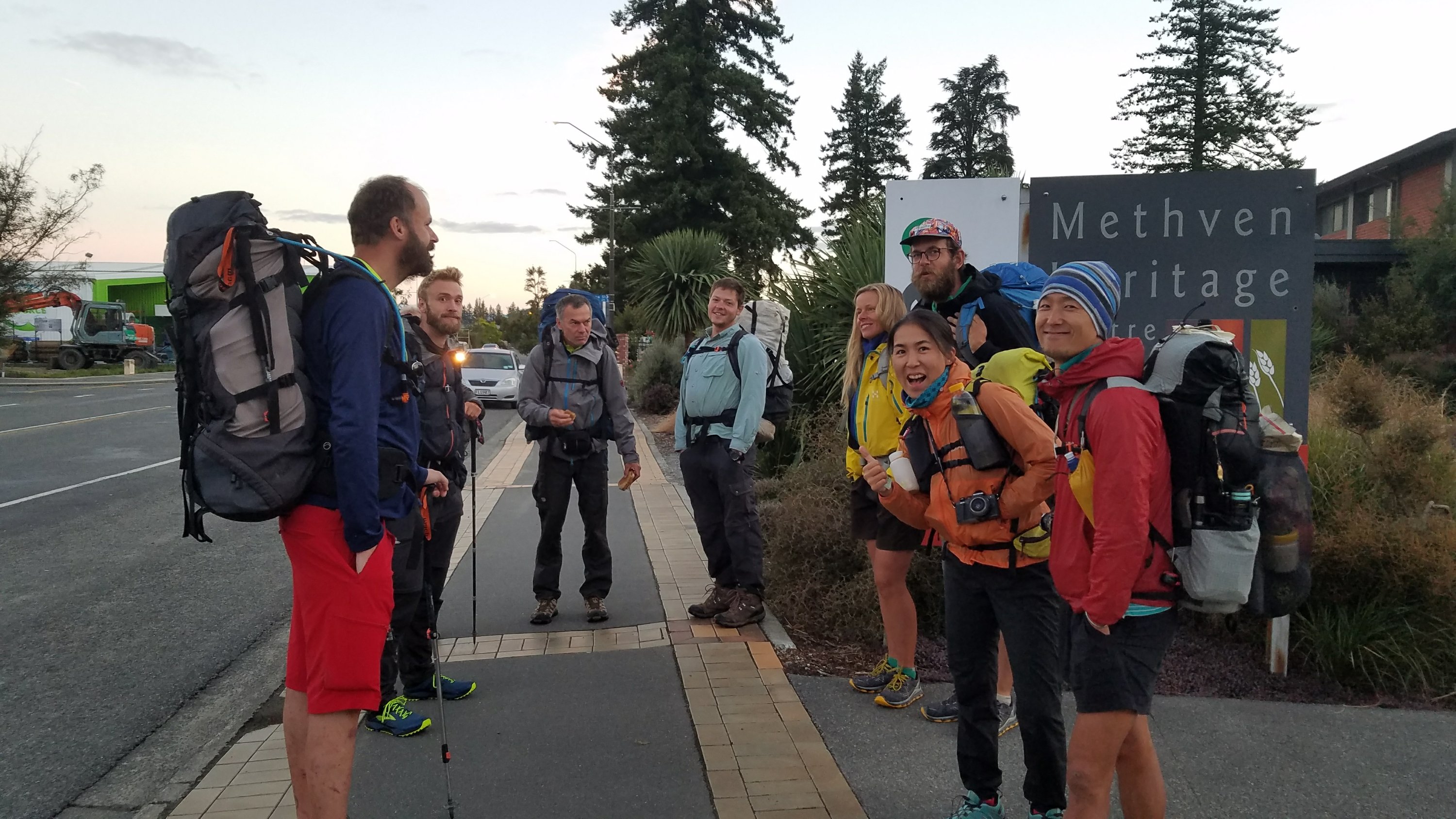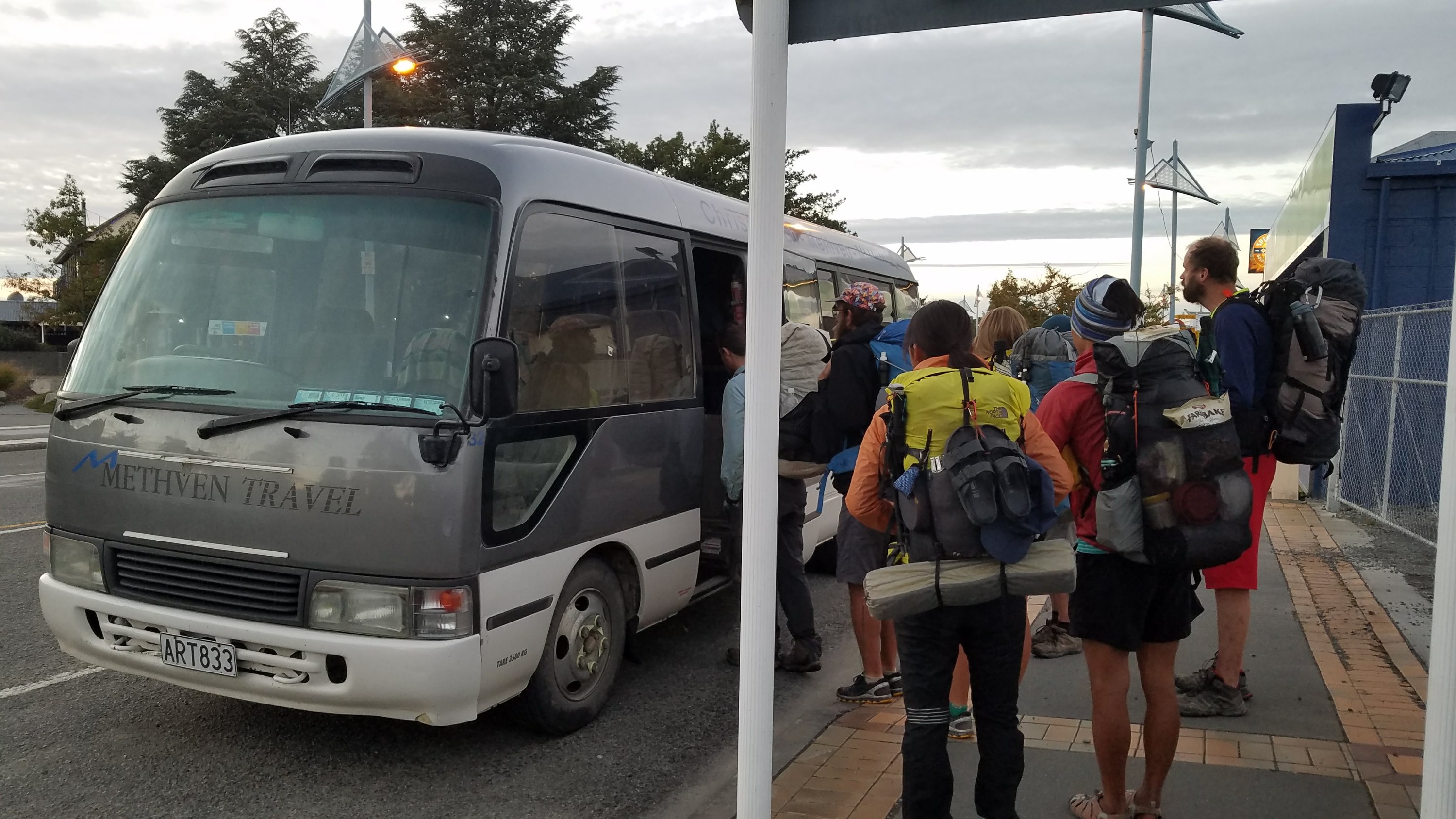 The bus driver, Chris, asked if anyone wanted to sit up front with him and I shouted "me, me, me!" This afforded great views. We were astounded to see all the white-capped mountains after the storm. Some spots may have gotten up to a meter of snow. Chris said some of the locals would be up poaching today, which is out-of-season skiing on Mt Hutt. That is like skiing in August.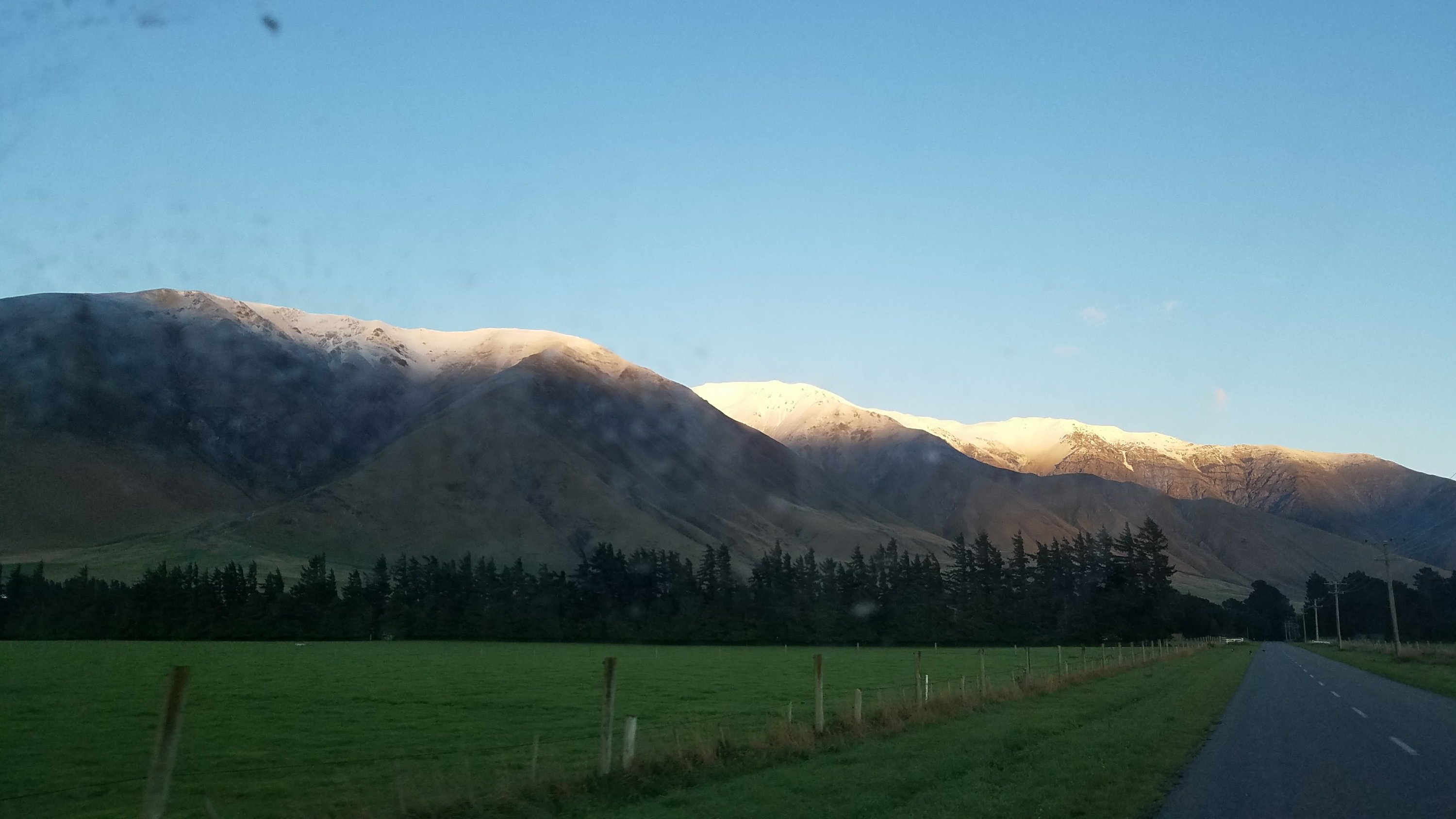 The snow was fantastic to look at, giving the mountains contrast against the blue sky. On the downside, the snow will mean more prolonged flood conditions of the rivers and streams. As we drove along the Rakaia, we could see it had turned from a beautiful aqua blue to chocolate milk brown.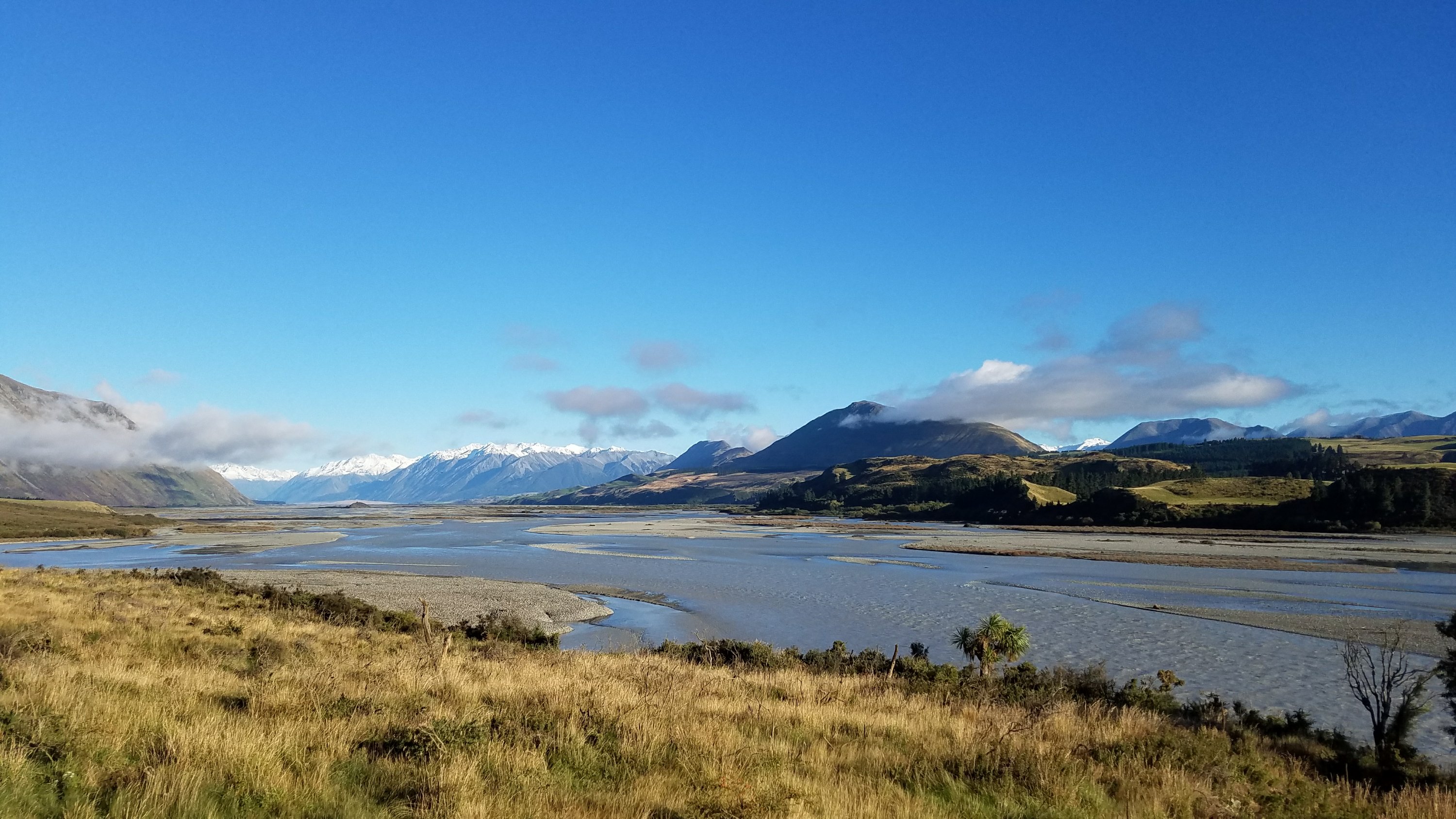 The drive through the countryside was gorgeous and we even had to dodge a few black Angus cows on the road…par for the course when driving in rural New Zealand. Then we came to the road closure and it was time to start walking.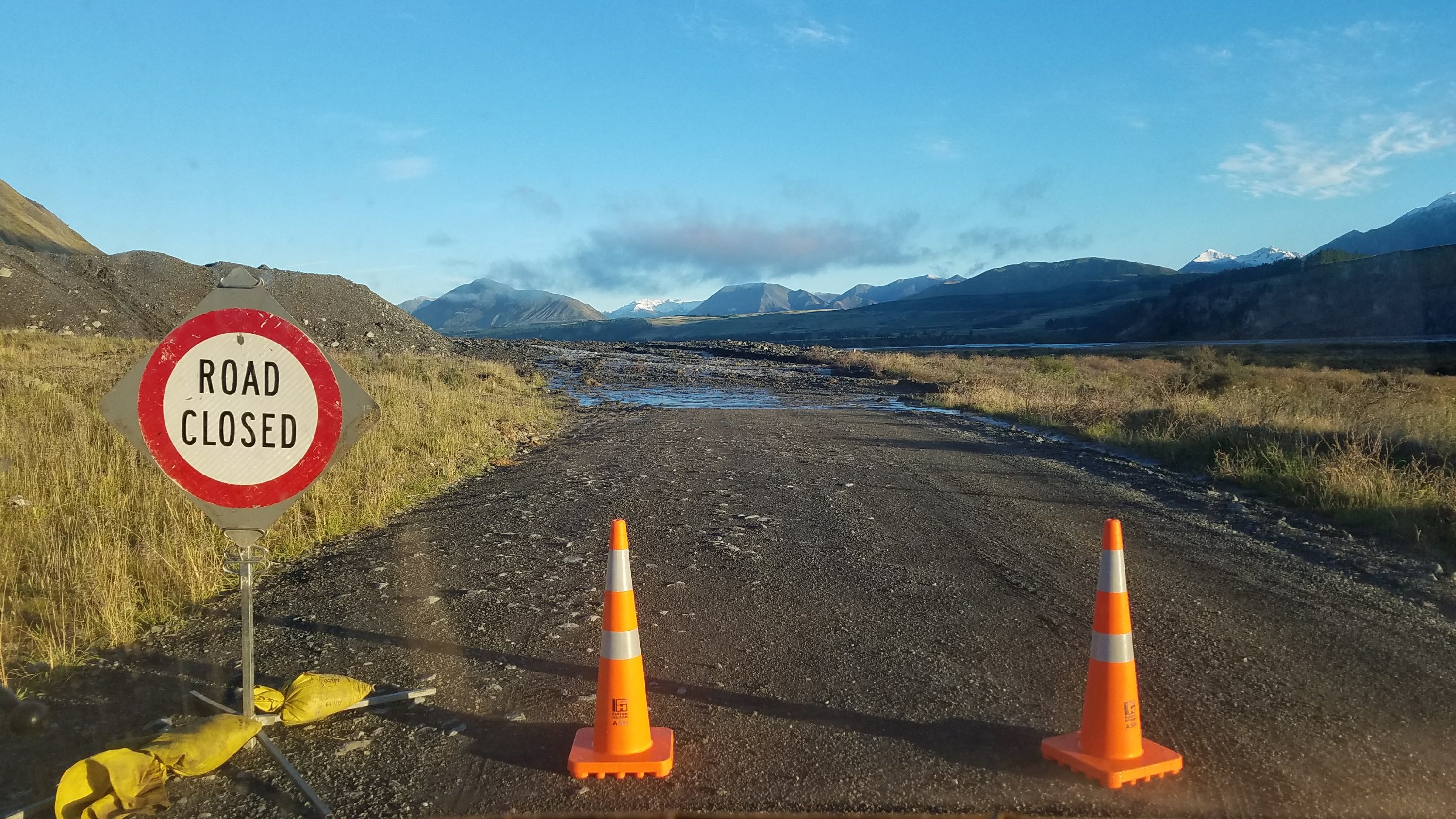 The first washout was easy to cross. These weren't so much washouts as they were places where tons of debris from a streambed had been deposited over the road. More like wash-overs. There were at least 5 or 6 along the way…I lost count. The worst, by far, was the one at aptly named Terrible Gully. This was the shale stream from the video. The massive amount of debris that had been deposited over the road looked like it would take years, not months, to clear. It was so impressive. And here we were walking over the very shale stream that just 24 hours ago would have spelled certain death.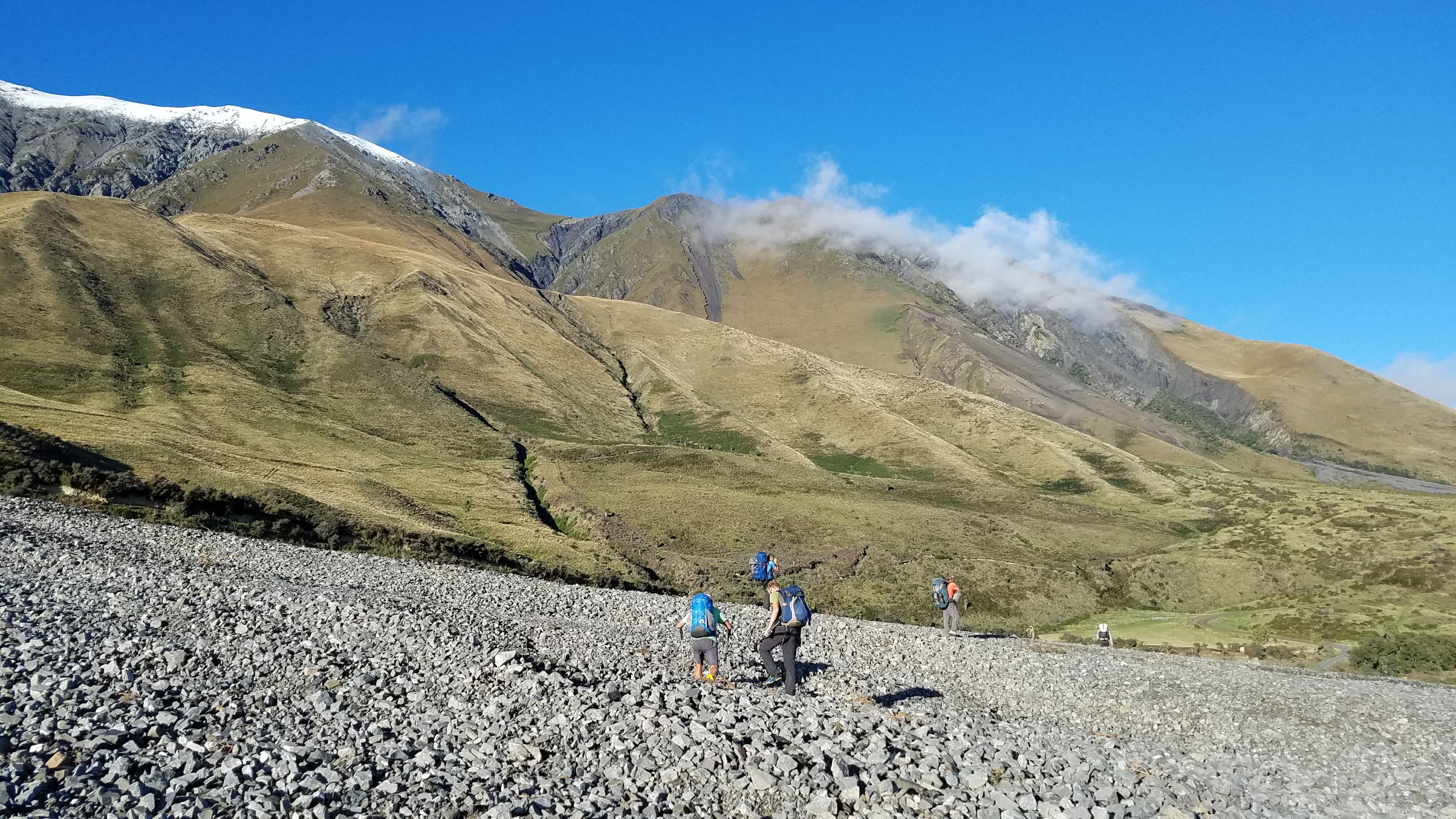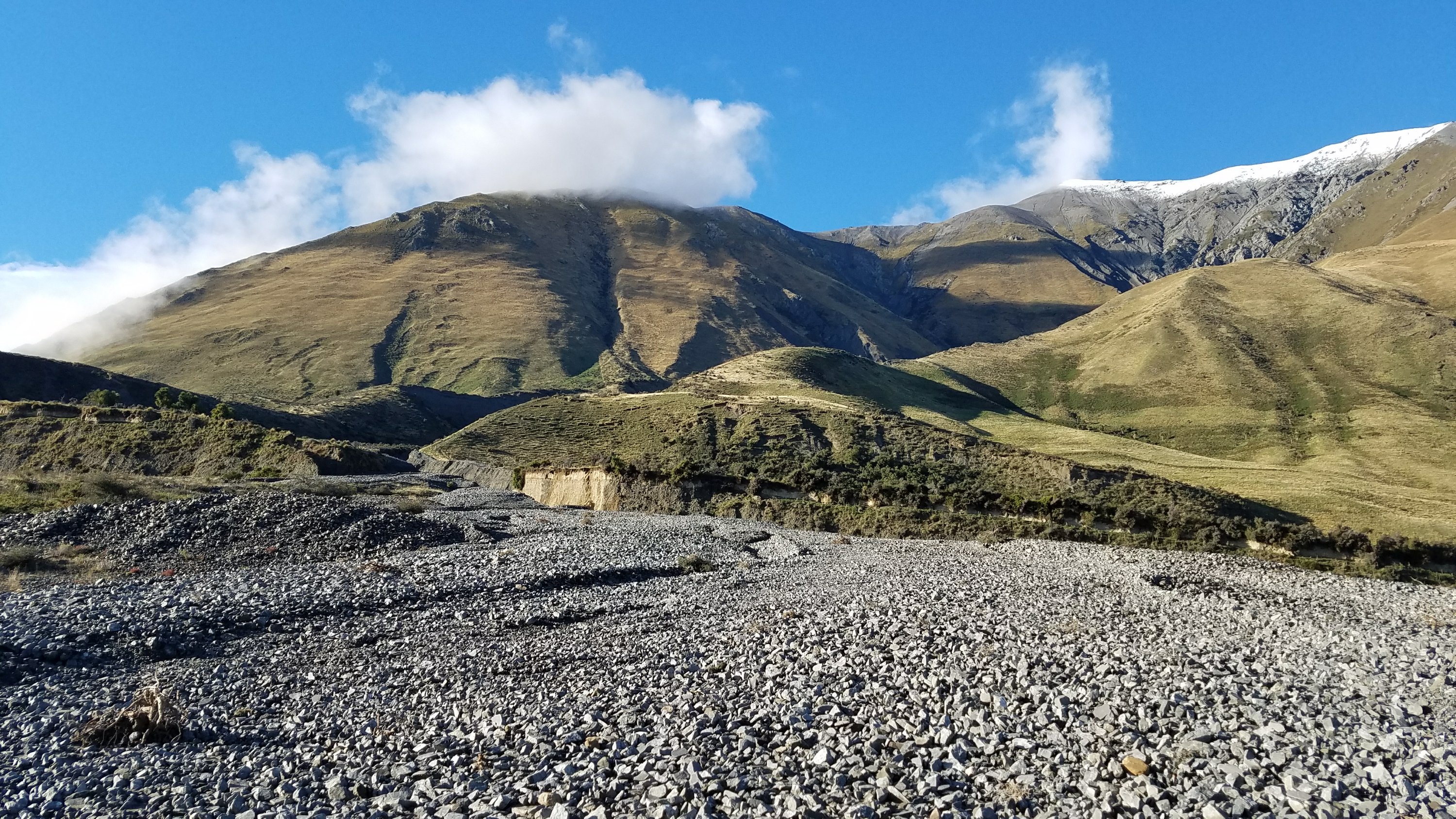 All was quiet today but we quickly found that the ground was like pudding with rocks mixed in. The mud between the rocks was still quite saturated with rain water. We had been warned that you can start sinking in, just like quicksand. Any disturbance can also set it in motion again.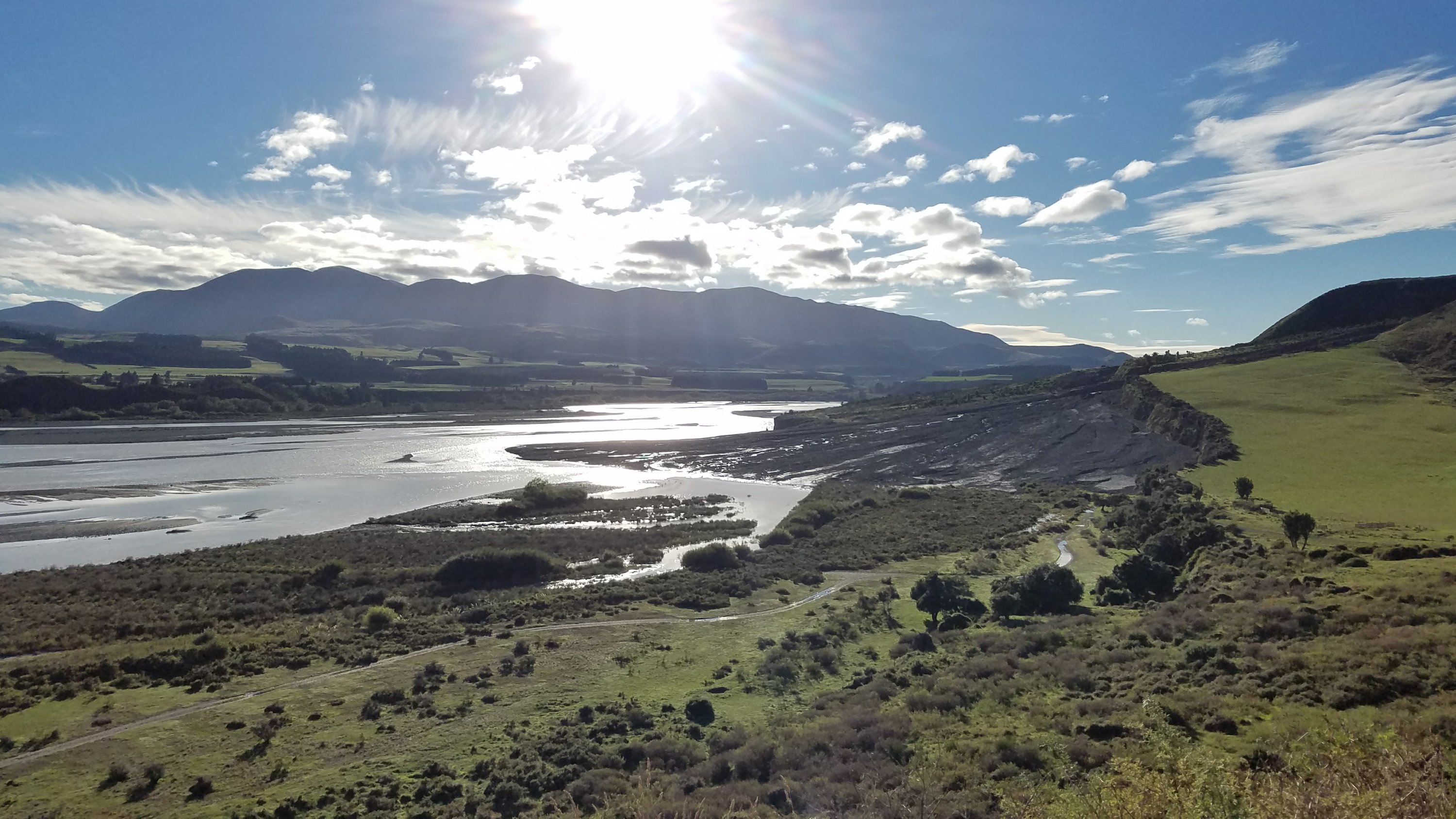 Fortunately, we knew it was passable because a few locals had just walked across. They had staged vehicles between the known problem areas and were headed for town. They said the road had only just been restored from the last tropical storm, Fehi, which occurred back on Feb 1st. Now it would be another month. Crazy.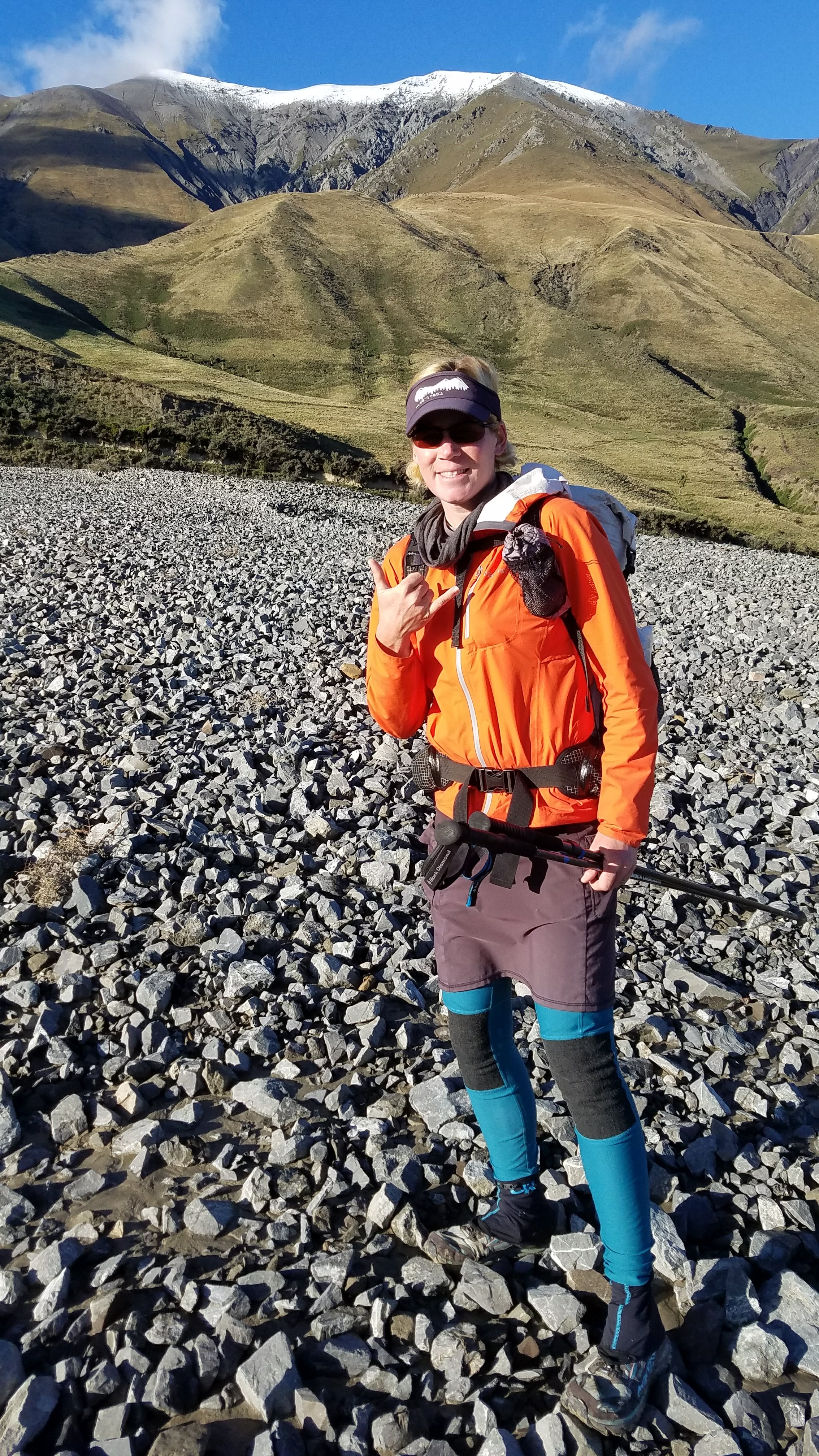 At least the road walk was one of the best I've done. The valley couldn't be more spectacular. Snowy mountains rising up 6,000 feet contrasted with the green pasture land and the wide rocky basin of the river. There were many sheep along, and on, the road, giving it that classic NZ look. It was a feast for the eyes and we couldn't stop taking pictures, which of course don't do it justice.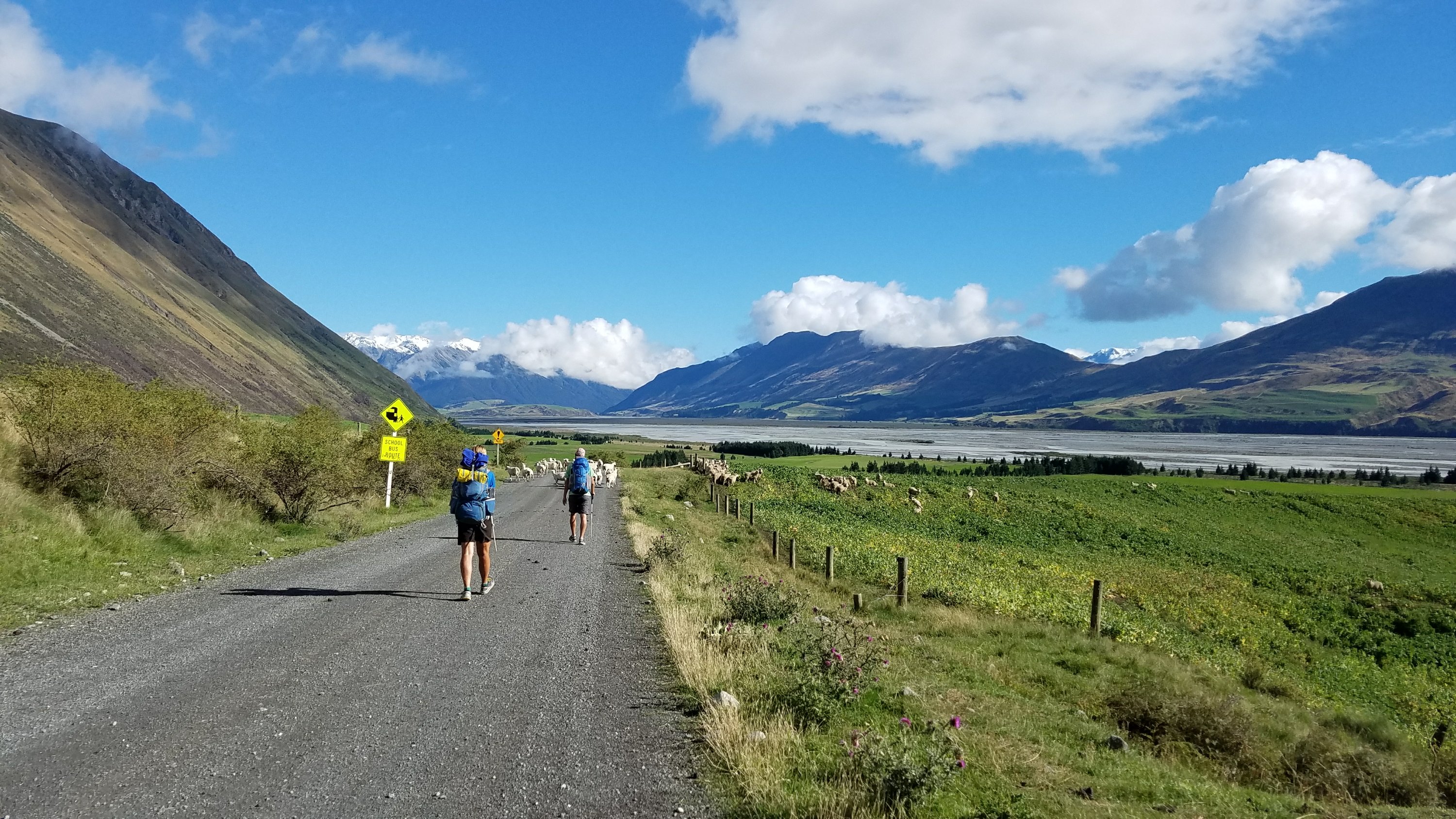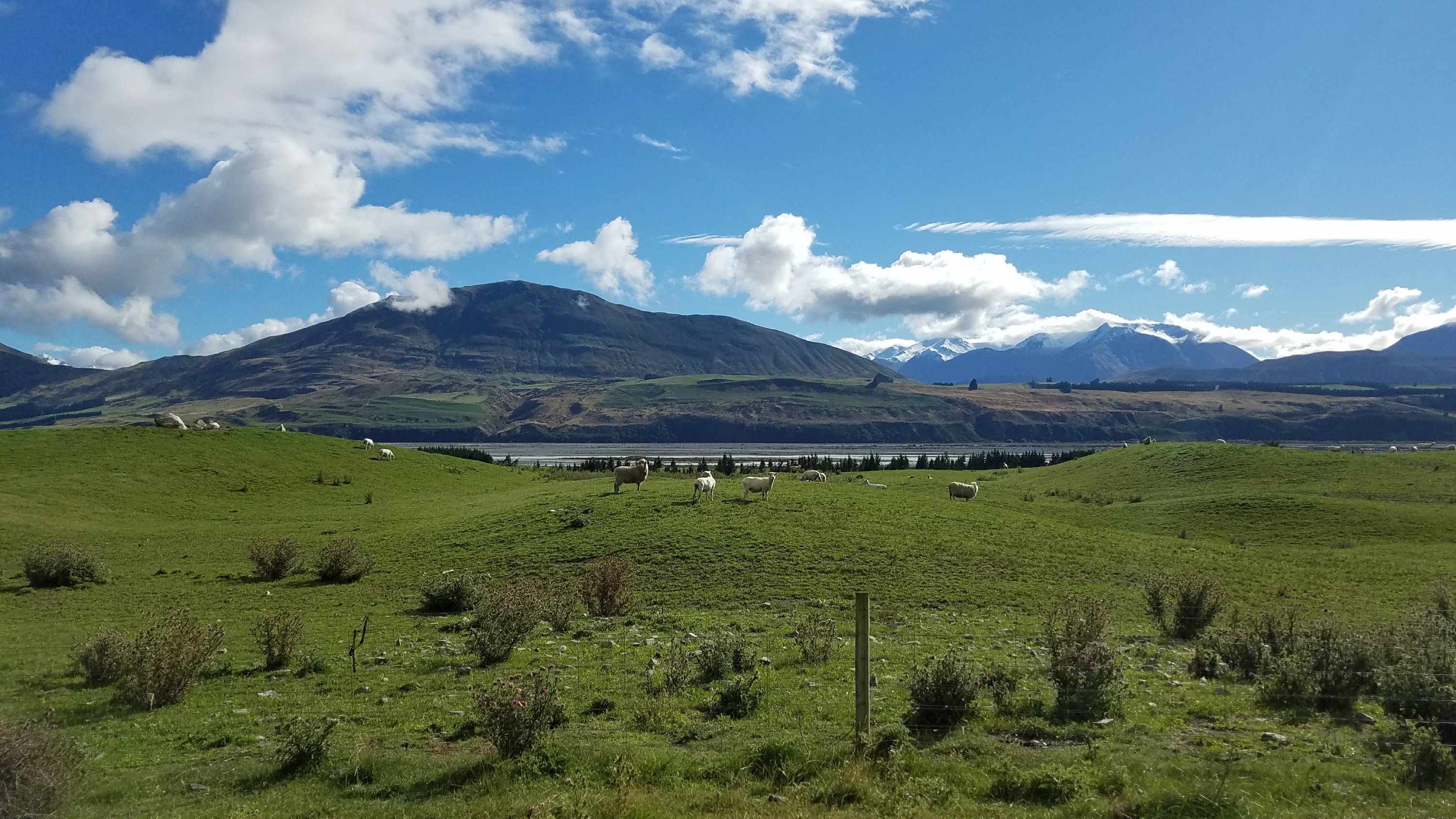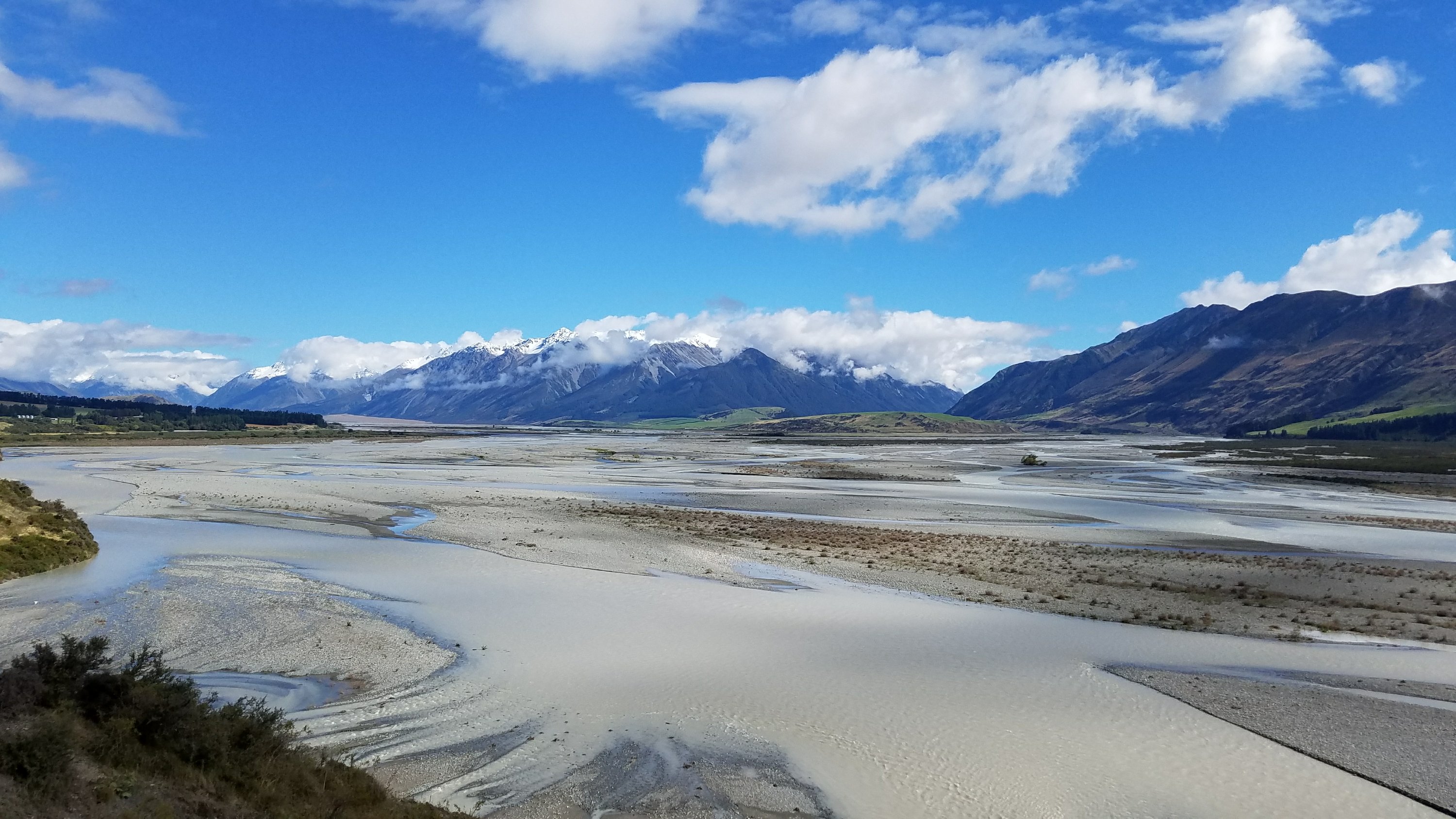 The 22 road kms passed quickly and we were at the trailhead by noon. Then we followed an old jeep track up to Turtons saddle. It was easy going, especially given the luxury of switchbacks. Also, because of the nice track, we were able to gawk at all the stupendous views. I'm running out of adjectives to describe how good the views were.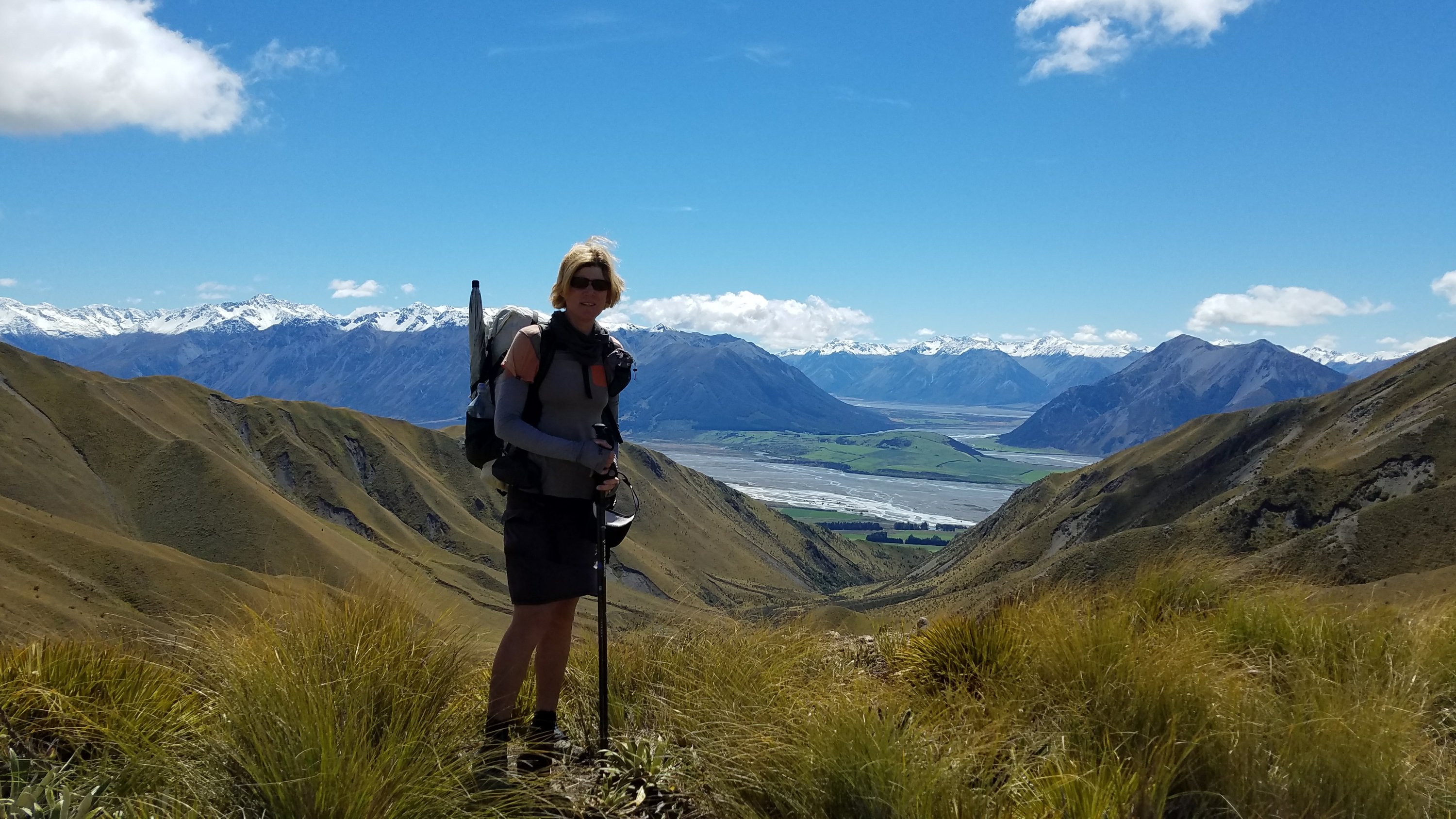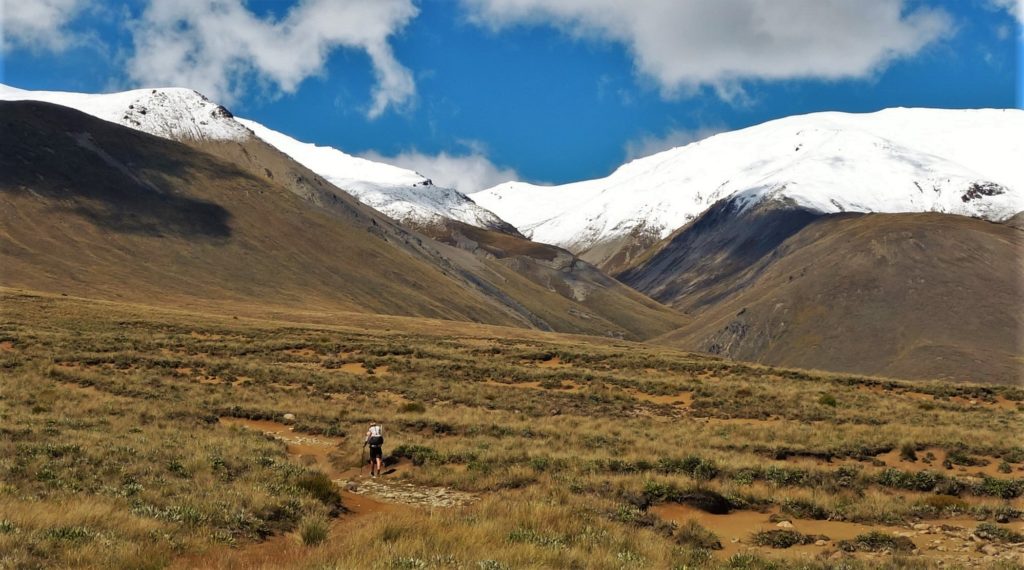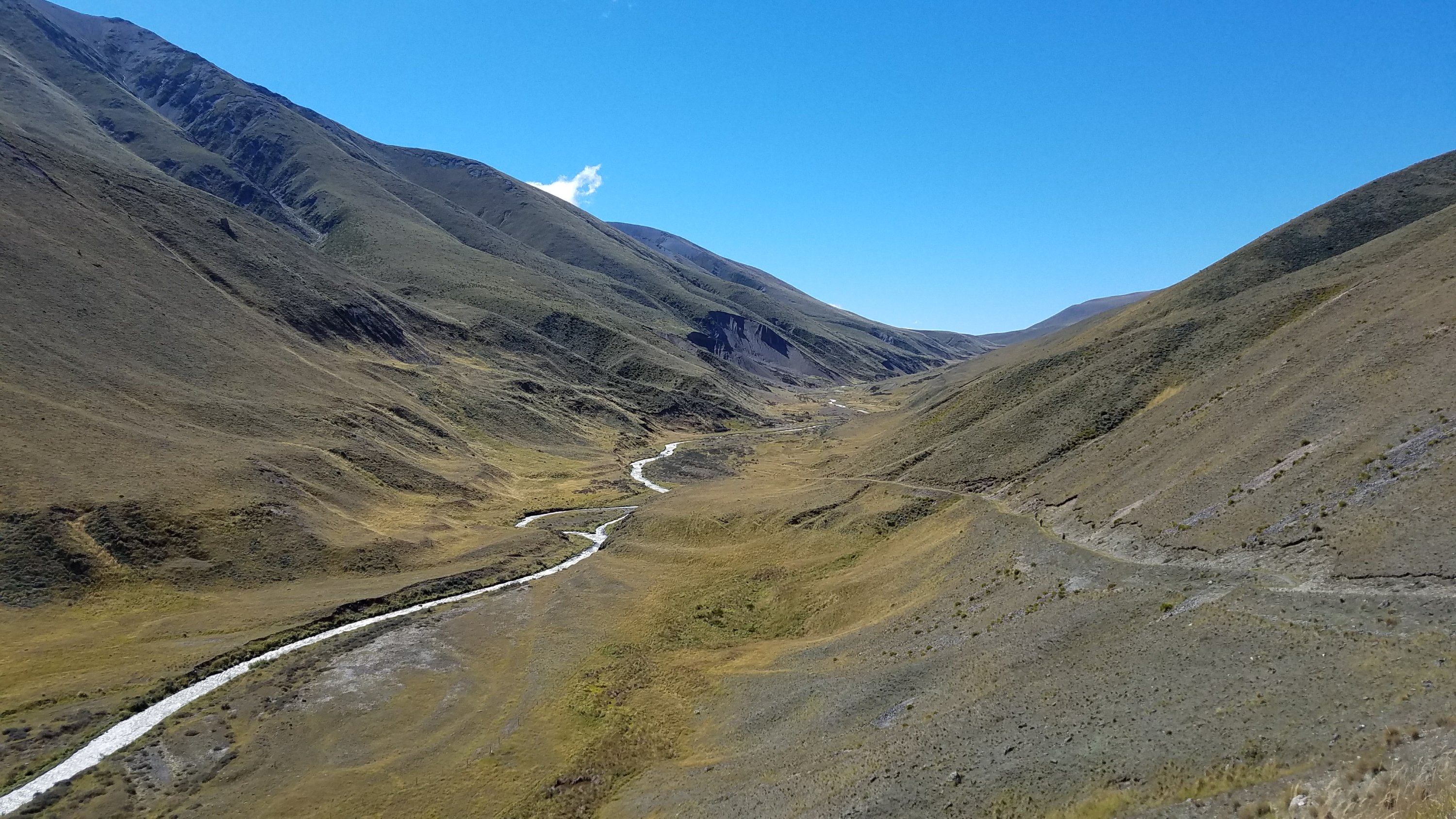 We dropped down to the first hut, A- frame hut…not very original on the name. There we read that one TA hiker, Ruslan from Russia, had ridden out the storm for 3 nights, by himself, no fireplace. He sounded like a crazy sort of fellow, but then, maybe no less crazy than ourselves. At least he stayed dry and didn't get washed away by the nearby stream—yes, huts have been washed away in storms! He did write that water completely surrounded the hut at one point. On this day it was dry and peaceful outside.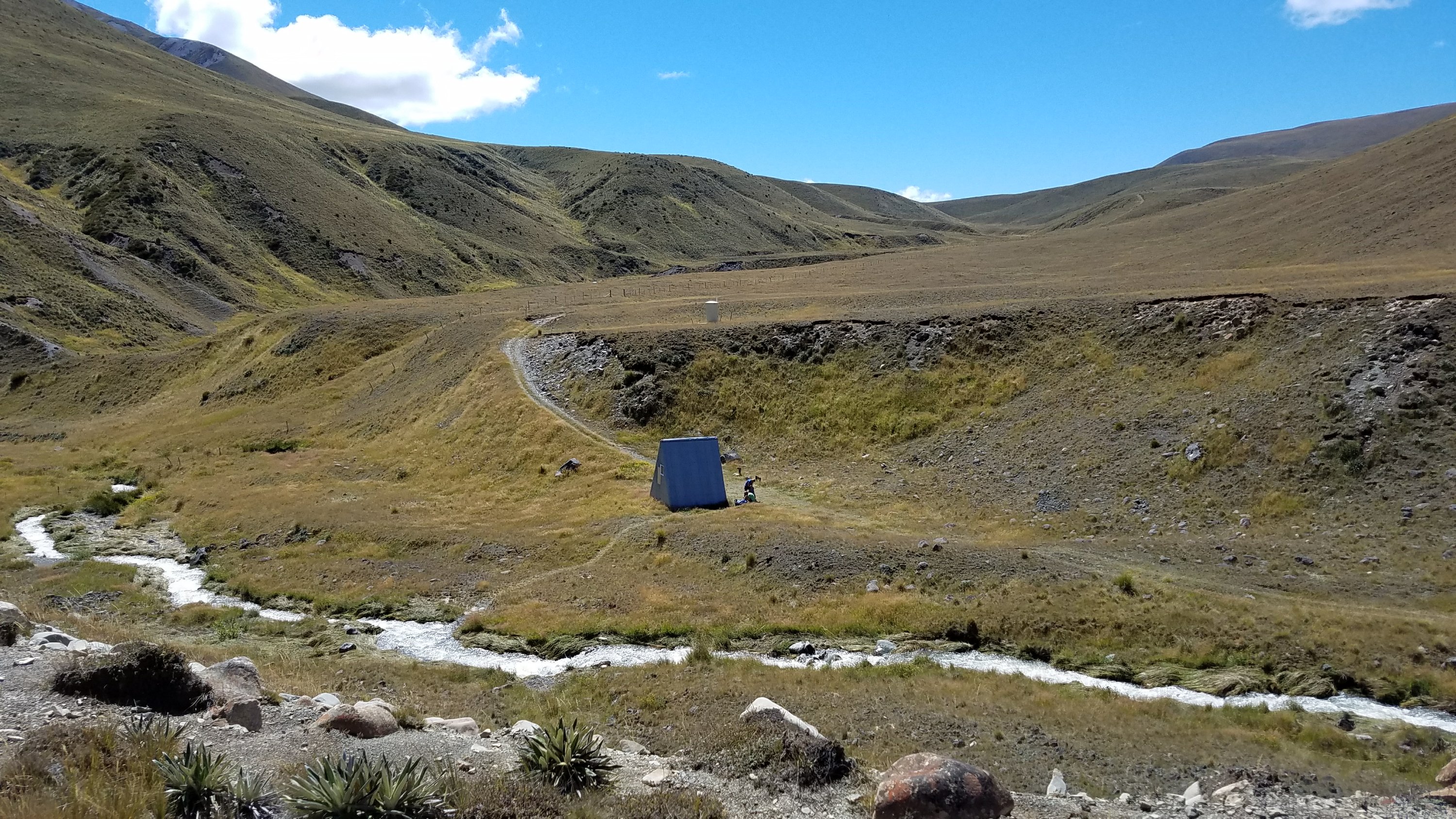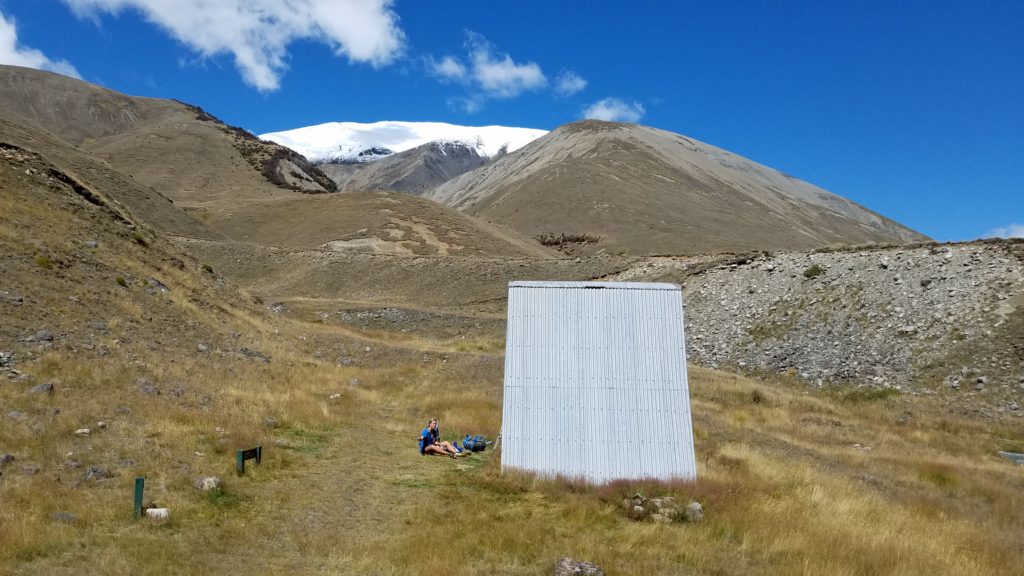 Next up, we had our first few crossings of Turtons stream. This would be our first test of how swollen the creeks were after the storm.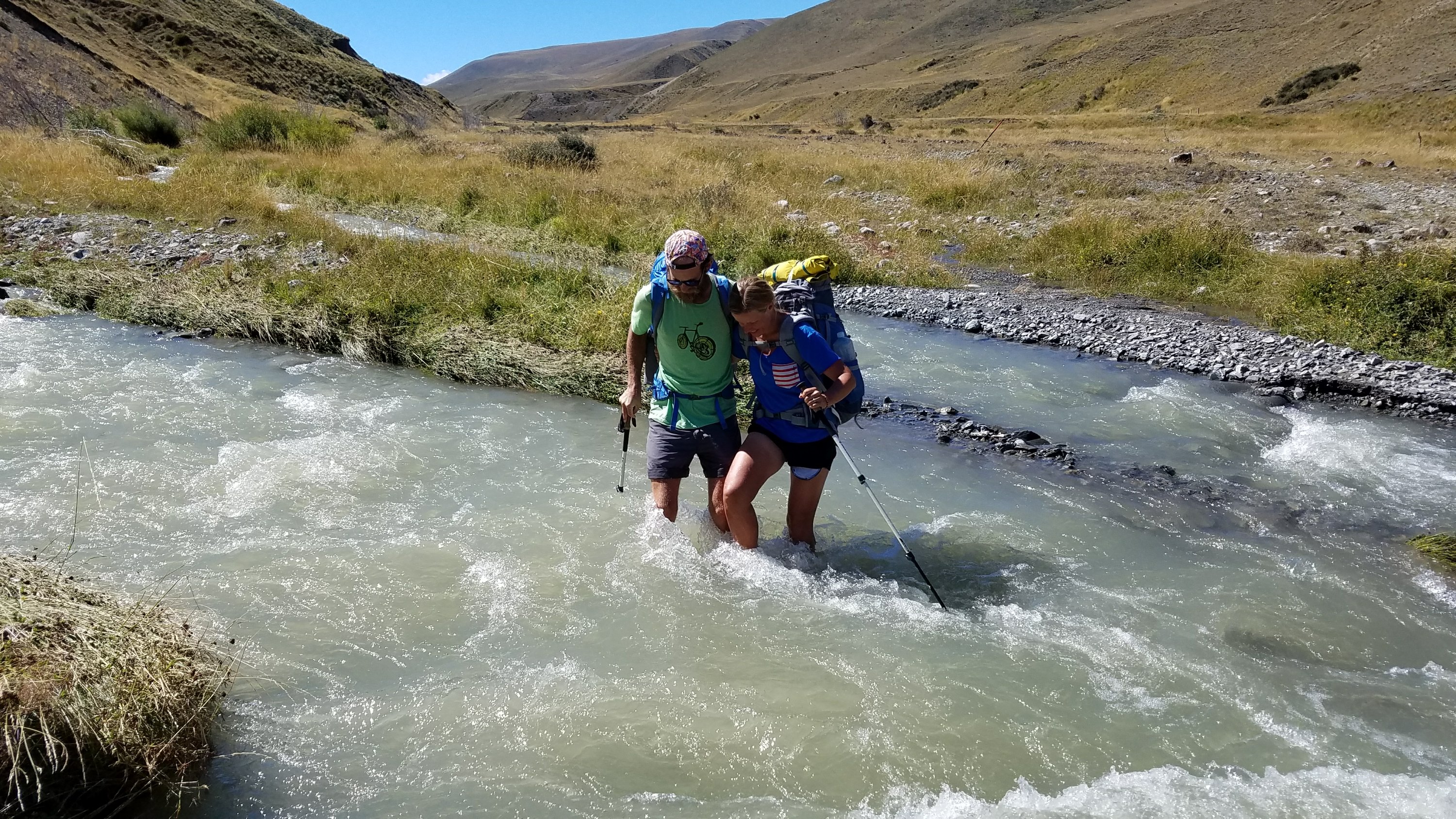 They weren't too bad so we kept going, up over a gorge, and back down to the last crossing of the stream. By then it had turned into a silty torrent that was quite intimidating. I saw that it split a little further down and went for that option. The main channel was up to my knees but I was quickly through. Everyone else passed safely and the hut was a short walk from there. It filled up quickly, as everyone from the bus except for the Japanese couple showed up. 8 persons in an 8 person hut. It was an older hut and quite drafty. I could tell it was going to be a cold night so I settled into my bag and easily went to sleep.