February 17th
Arthur's Pass Village
Mileage: about 3km walking to and from Punchbowl waterfall and around town.
I slept a bit fitfully overnight. First I was worried about the wind. I pitched my tent as close to some trees for a wind block but my tent was still getting shaken pretty badly. The DOC office later told me that they had gusts of about 60 mph. To add to the suspense over the wind, I would occasionally confuse a passing truck for a strong gust. Oh no, here comes another big one, then no, just a truck on the highway. Ha ha. You feel pretty vulnerable at times, living in a tent.
The rain started sometime in the early morning and the winds subsided, thank goodness. It was very heavy rain but I know my tent can handle rain. The only water I got inside was from the splash-back off the ground. The tent was literally sitting in a puddle at one point. When I came to check on it later in the day, I had a couple of teaspoons pooled near the head-end, which I easily soaked up with a napkin. Pretty good considering that it rained 6 inches during this one storm. There was also a lot of lightning around 6 am…a great alarm clock. The power got knocked out at the i-site in town.
After being woken by the thunder and waiting for a bit of a break in the rain, I escaped to the foyer of the backpacker building. There, I was able to do my morning routine and charge my phone. Later I discussed strategy with Tuomas and Anna. Given the weather and how hard we had pushed the day before, we were in no mood to resume hiking today. So we all checked in for another night. It was easy just to leave my tent pitched through the rain.
I didn't do a whole lot else worth describing in detail throughout the morning and afternoon. I had my bounce box stuff mixed in with my resupply food, so I did a little gear repair and replacement. I've already gone through two trekking pole straps. My 3rd pair of socks also already have holes. Stupidly, I forgot to add another umbrella clip to my backpack strap..I had a spare in the box. Just one has been working, so it will have to do until I get to Glenorchy, the next bounce box stop.
By 3 pm the rain had stopped and the clouds lifted. It all happened so fast. Suddenly there were blue skies. I walked over to check out the visitor's center and to read all about Keas at the Kea Kiosk.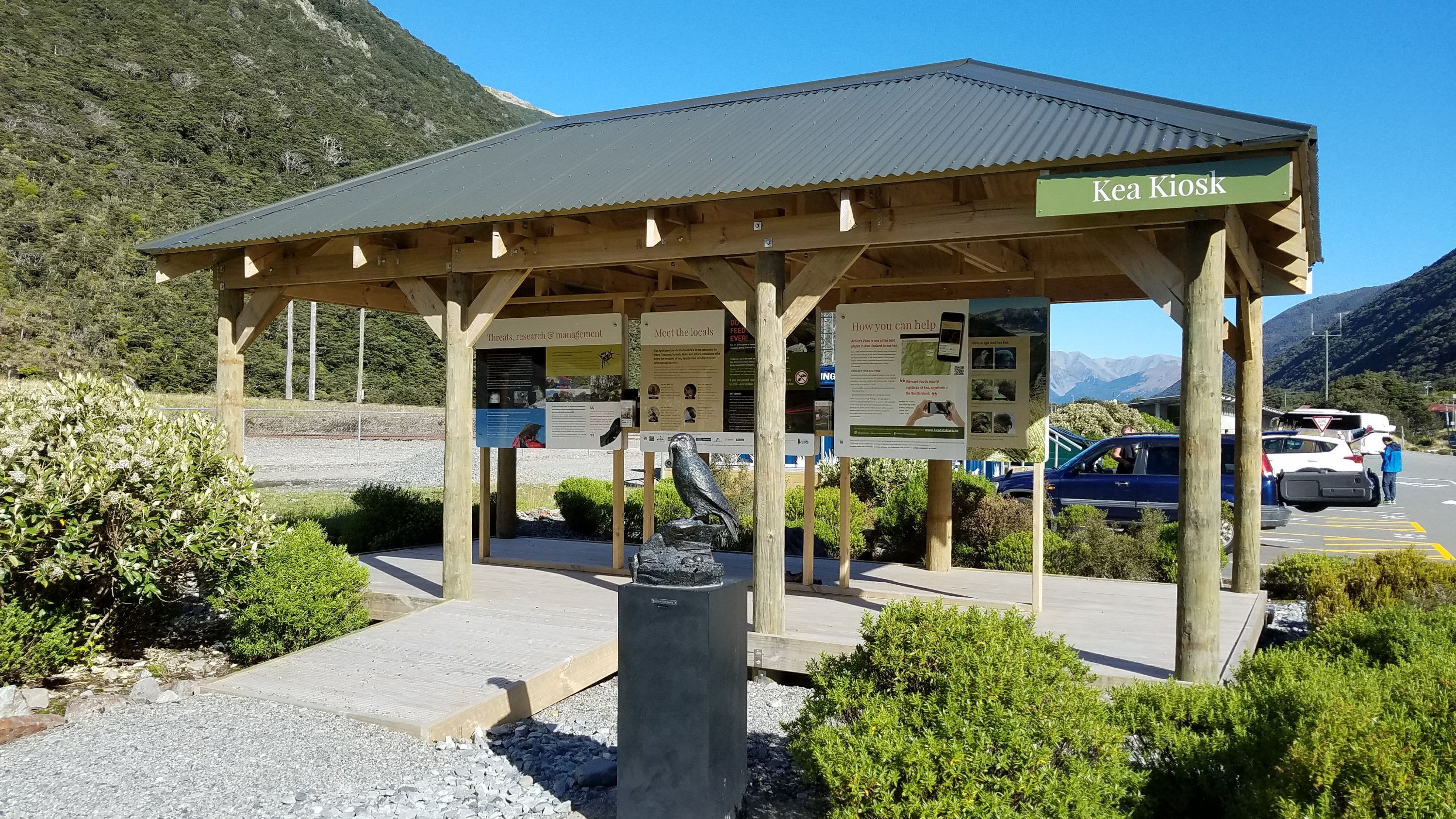 Keas are a native NZ bird and the world's only alpine parrot. The have a long and storied history, from having had a government bounty placed on them for eradication to now being endangered and highly protected. A similar story to wolves and bears in the U.S. They can be a nuisance, since they are very inquisitive and like to chew on things…cars, buildings, backpacker gear, and even sheep. There are now fewer than 3000 left…that's fewer than the number of wild kiwi! I saw a lot of keas during my first visits to NZ and I had no idea they were so much on the decline. It saddened me greatly to find this out. Hopefully efforts to increase their numbers will help. I do love these birds and it would be tragic to loose something so unique to this world.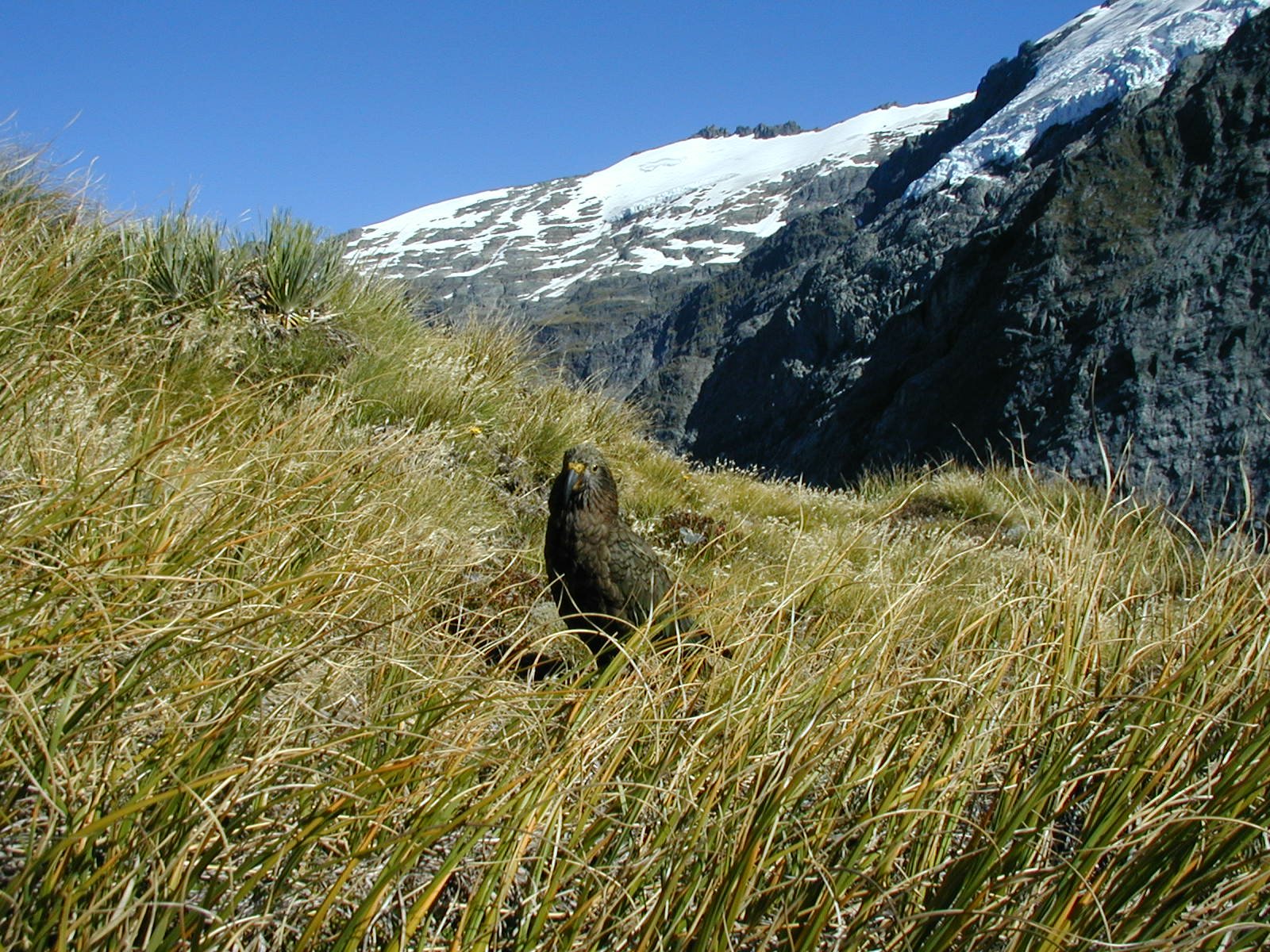 A kea from my trip in 2005
I went back to the hostel and convinced Anna to do a short hike up to Punchbowl falls. I'm glad we went since the falls were pretty splendid…high flow from all the rain, with the setting sun shining on them, complete with a rainbow. We got some good pics.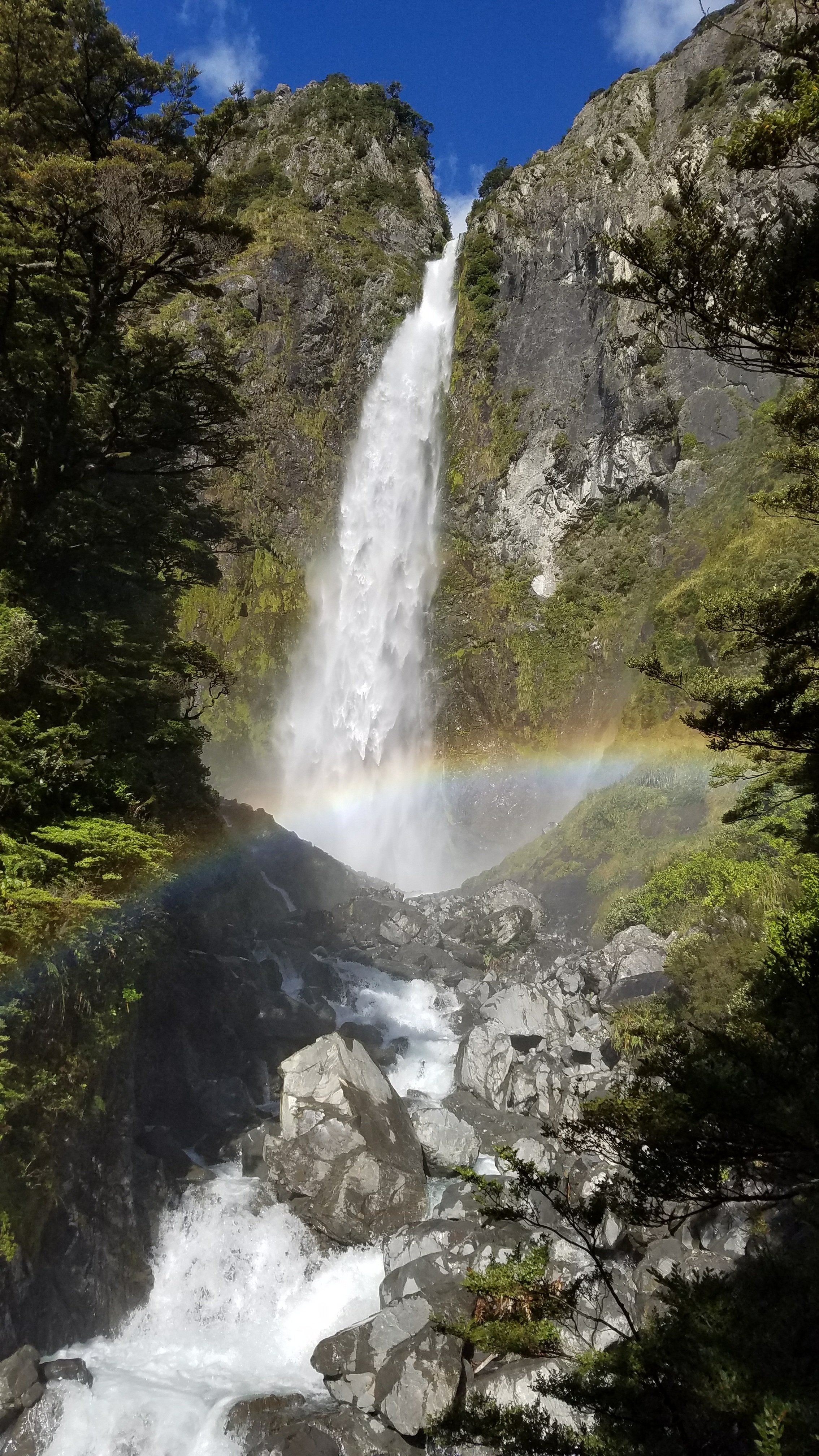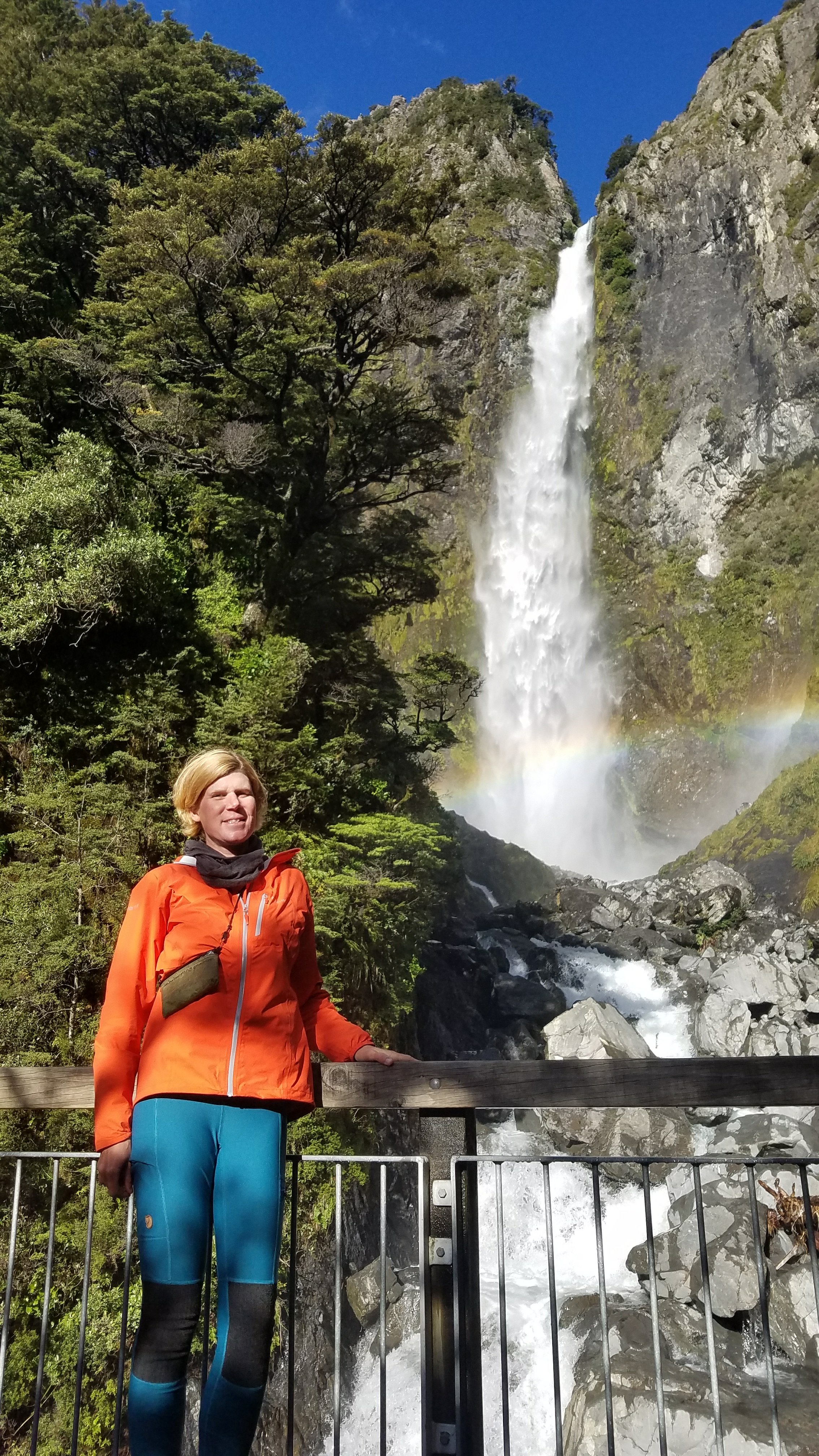 We walked back to town and I couldn't resist having an overpriced beer. I saved money by eating one of my trail meals, since I have way too much food for the next segment. A cyclone, or at least the remnants of one, is predicted to hit the SI on Tuesday. We plan to do the next stretch in just 2 days, departing tomorrow (Sunday). I have at least 4 days worth of food. I can't stand to throw it out, so I'm carrying it. That's the nice thing about a small baseweight…you can afford to carry additional stuff at times.
I settled into a much better night in my tent…dry and with a good chill in the air. I was able to enjoy my quilt for a change.