February 14th
Hope Kiwi lodge (km2120.5) – Hurunui No 3 Hut (km2147.5)
Mileage: 16.8mi/27km
It was a pretty easy day of mixed forest and valley walking. We left the hut around 8 am, with a goal of 27 kms for the whole day. Yep, I am taking it kind of easy.
Some have used the word "boring" to describe parts of this section but I would call it peaceful walking. The skies were a bit overcast, so the birds seemed very active. It was one of the best stretches for birds, in fact. I saw many fantails, tomtits, riflemen, bellbirds, and South Island robins. One bellbird was singing it's rich melody on a branch right above the track. I enjoyed watching how its body went through so many contortions to produce the various sounds. It is quite a feat for a little bird to produce such a rich melody, after all.
Then there were the cute little SI robins. These are a favorite of mine. They have round, plump bodies but a very small beak. This all sits on top of two impossibly skinny and long toothpick legs. They hop around a lot and are incredibly inquisitive. On this day, I encountered 2 that were running a tag-team cleaning station. I stood still while the first flew to land on my trekking pole, then hopped onto my shoe to pick at my gaiters. Then the other one picked at my other shoe. When Tuomas walked up, they moved over to his shoes. So adorable. They of course care nothing for human companionship, being only interested in catching insects…usually sandflies. It's an agreeable partnership, none-the-less.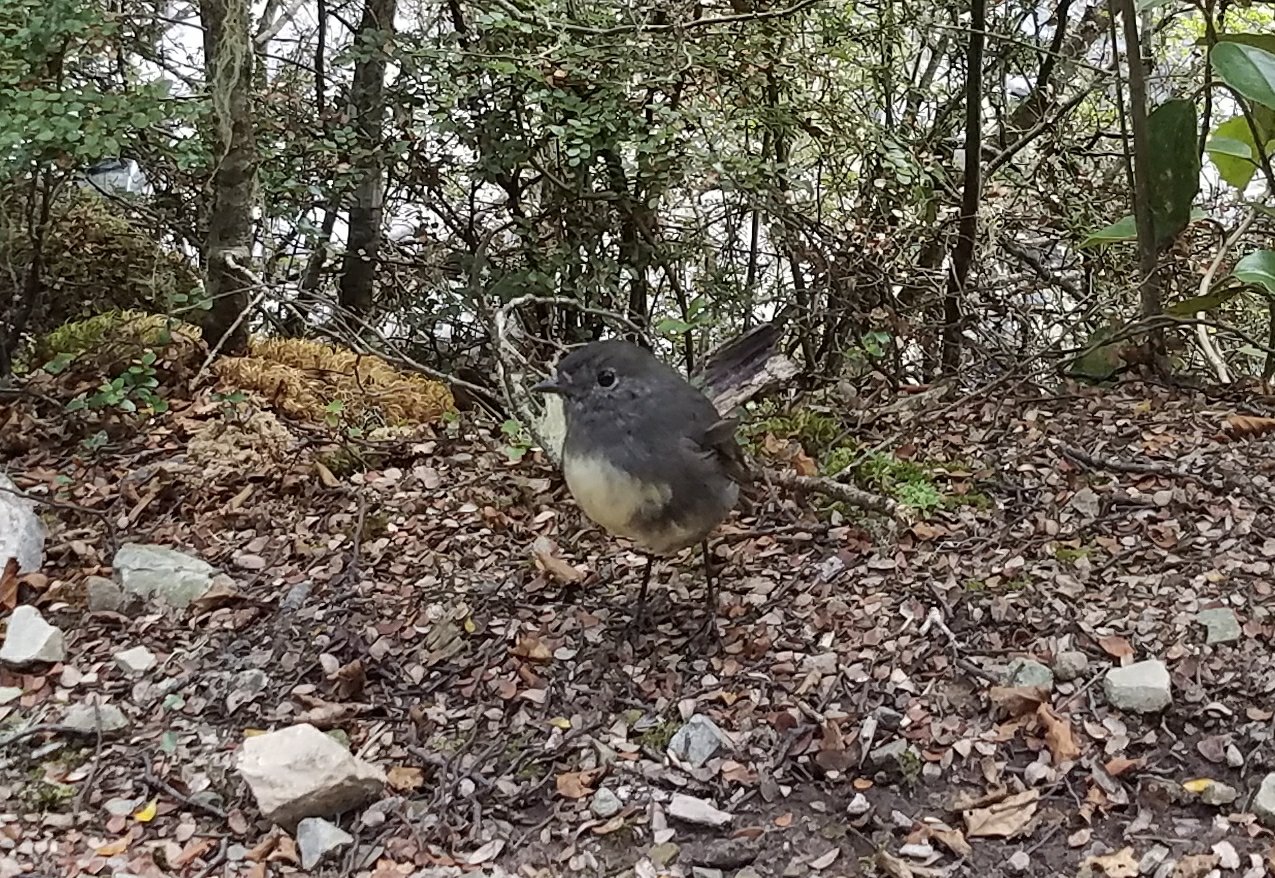 The ever charismatic SI robin.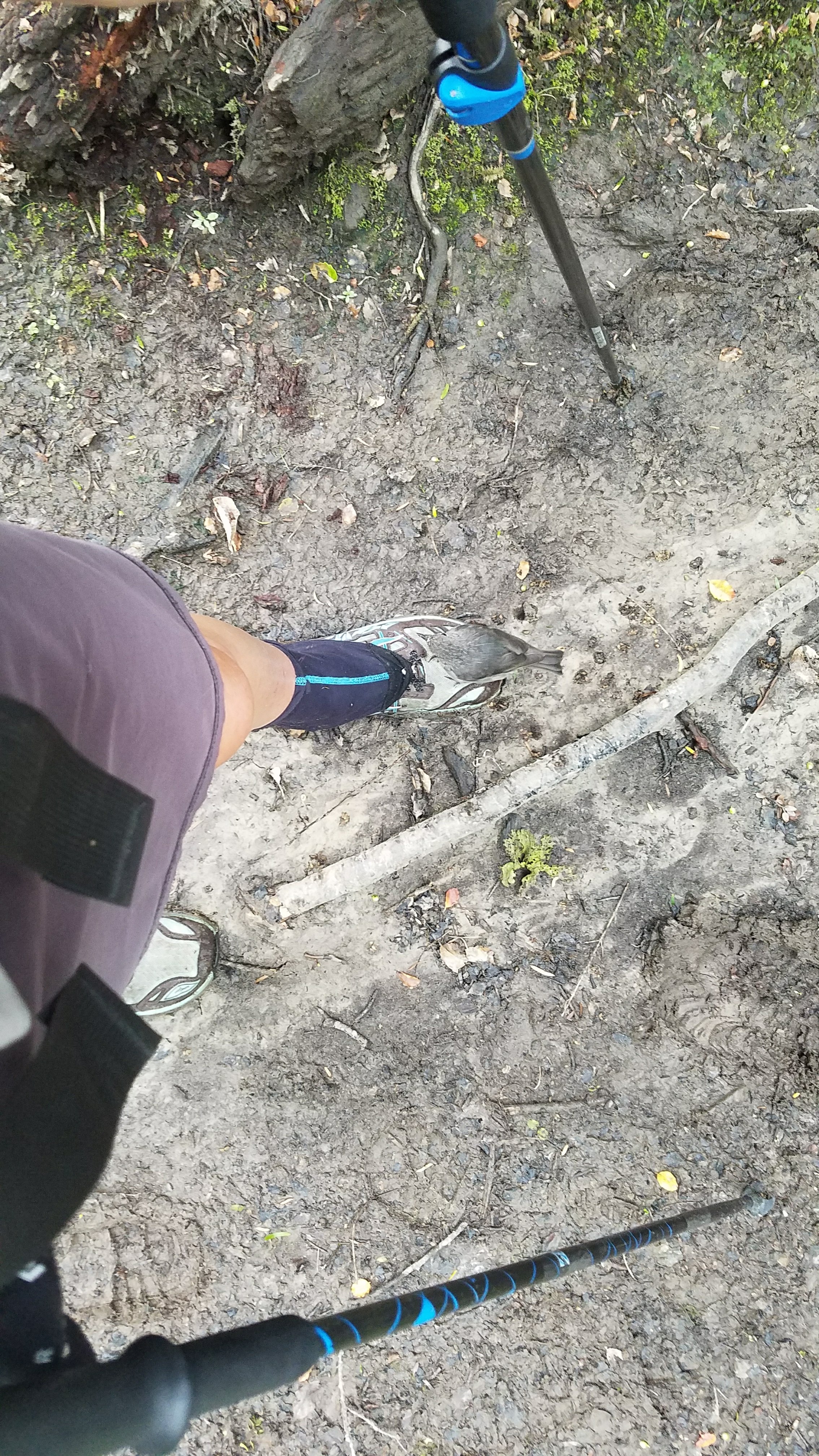 Zoom in to see the robin on my shoe.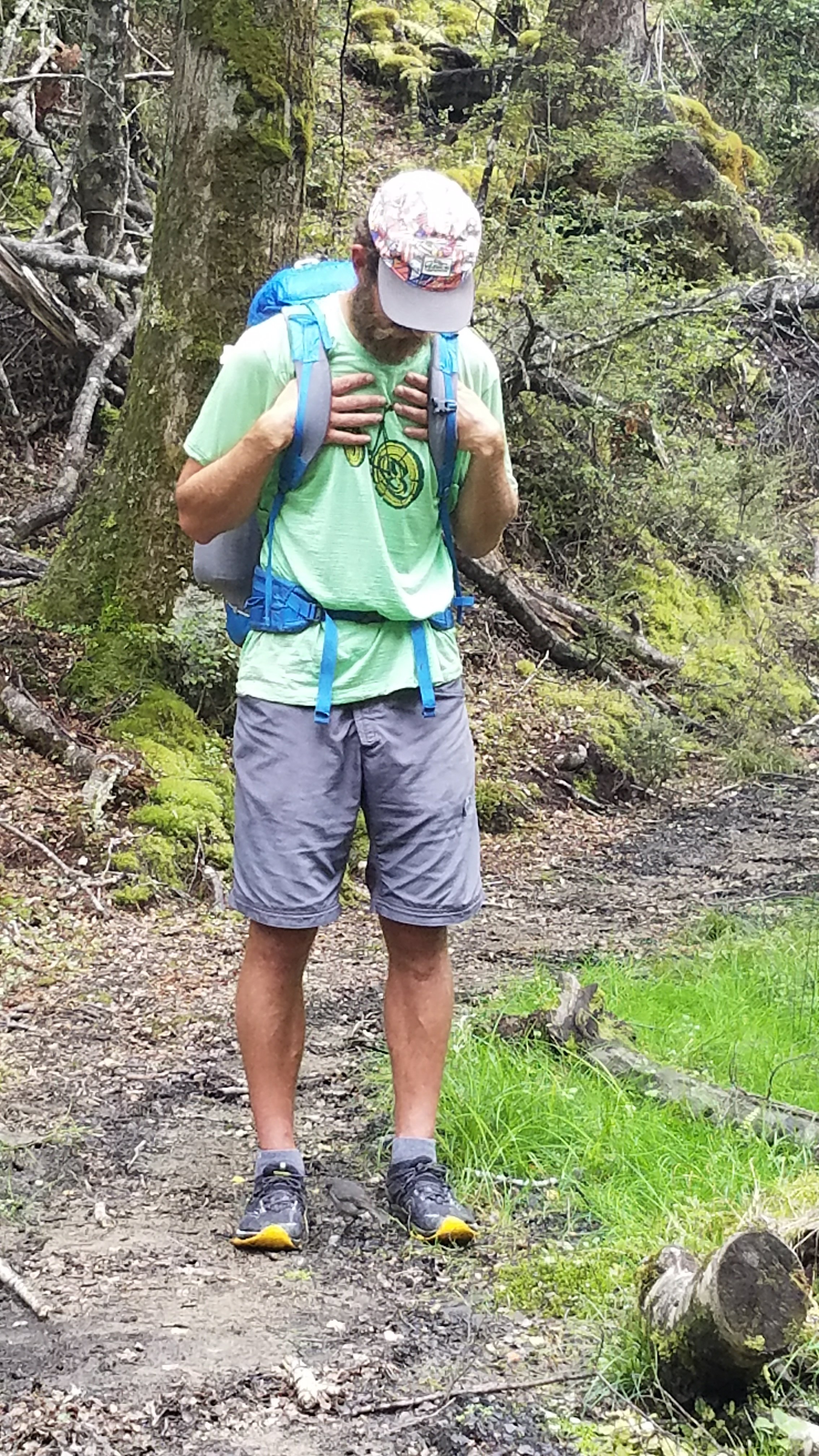 Tuomas starring down at the robin between his feet.
We crossed the Hurunui River on a very large swingbridge, then had lunch at Hurunui hut. It was a nice big hut. A few kms after the hut was a hot springs pool. We went up the trail to see it but did not go in. There are the same warnings about meningitis but no marshal around to scold you for immersing your head. But there are hoards of sandflies keeping a watchful eye, hoping you don't immerse too much either, the main reason we passed on the opportunity.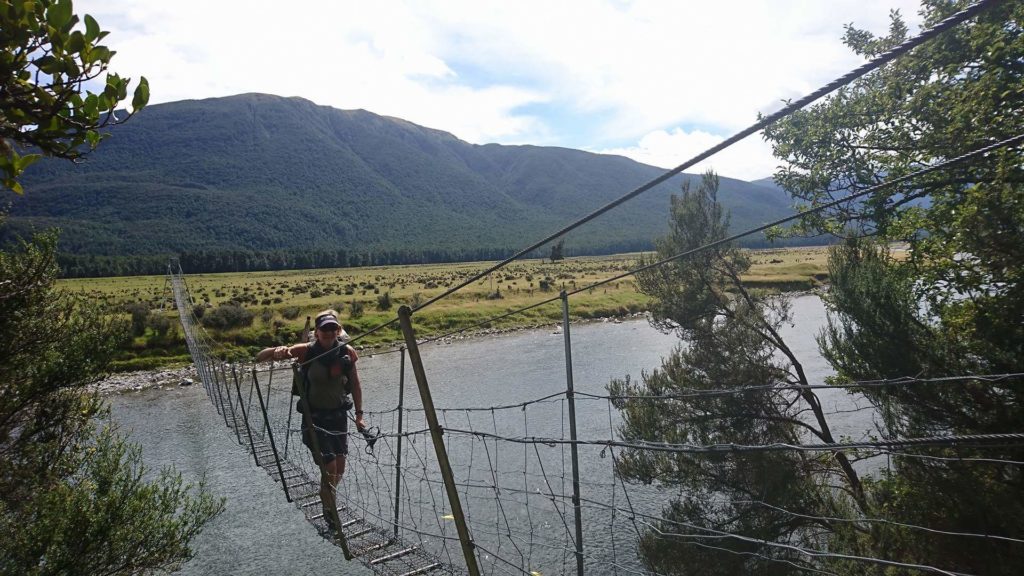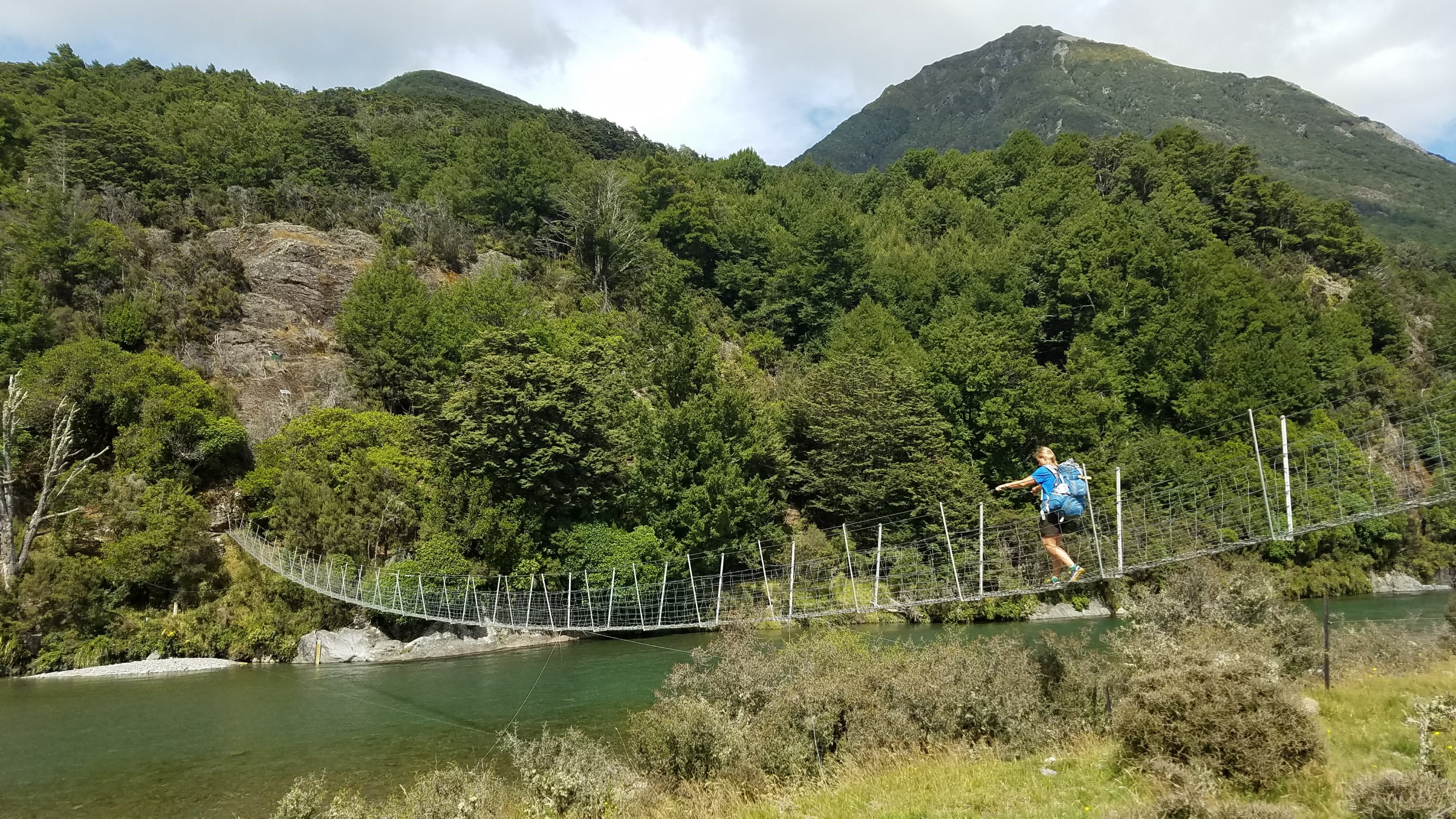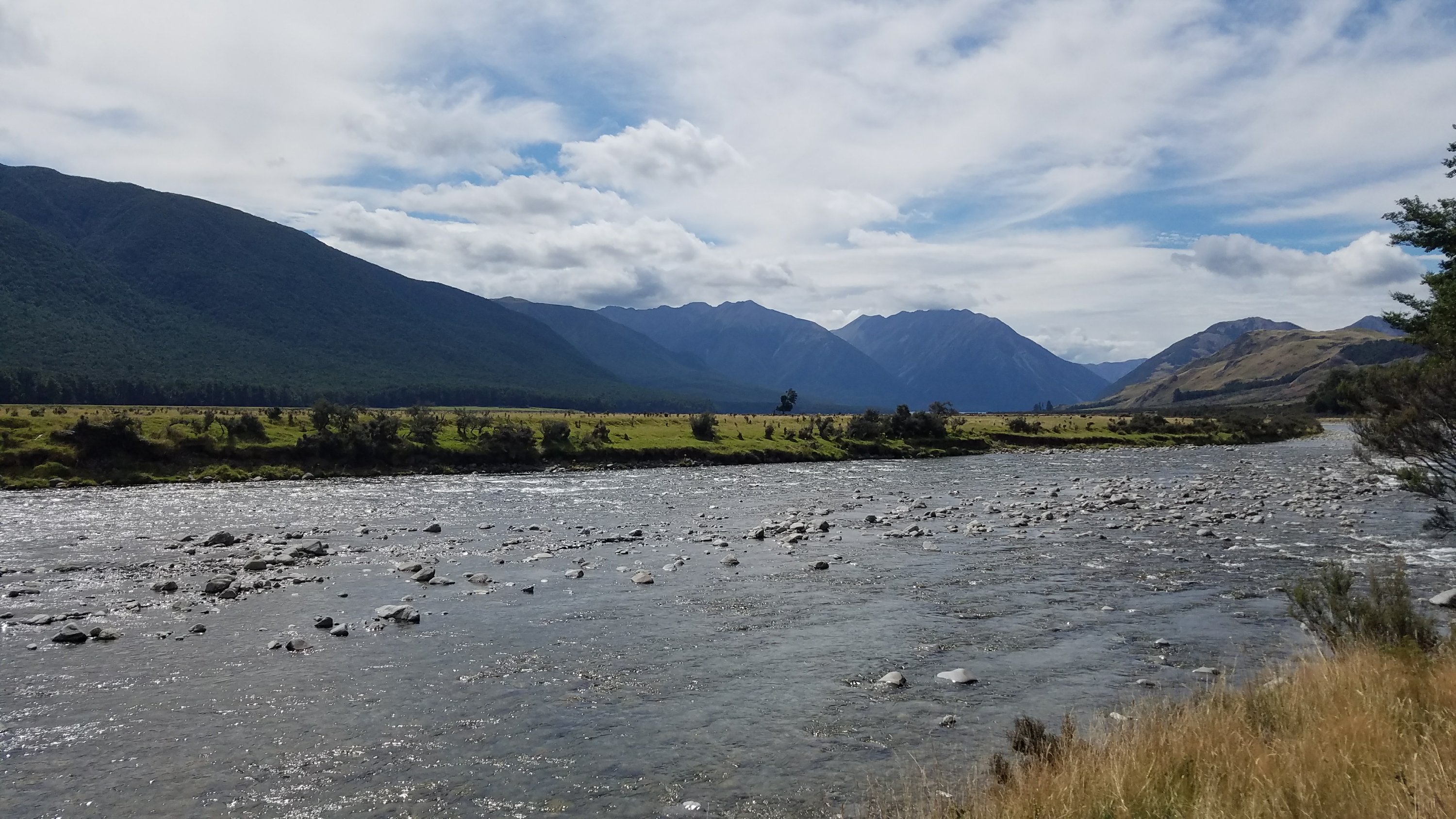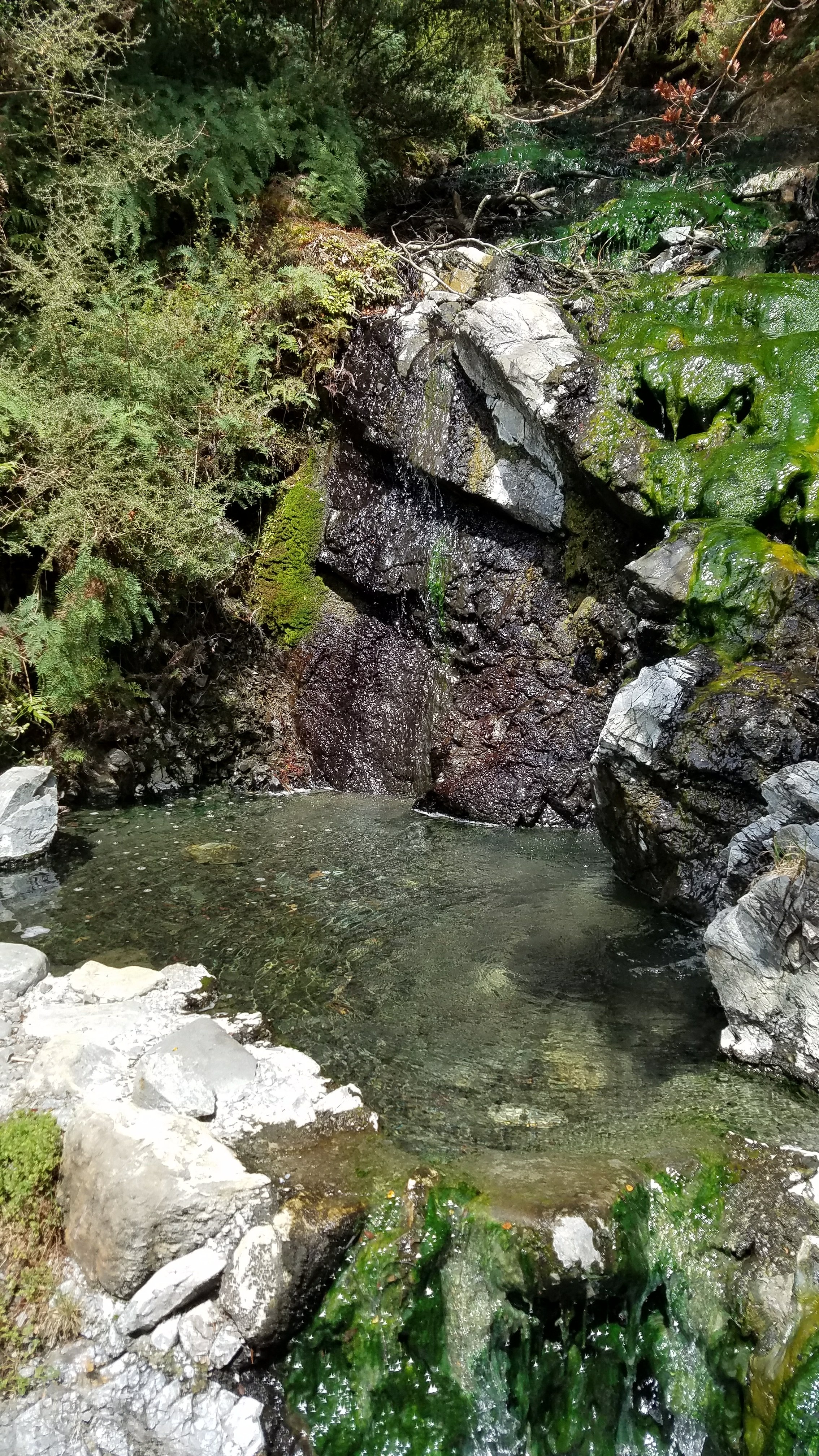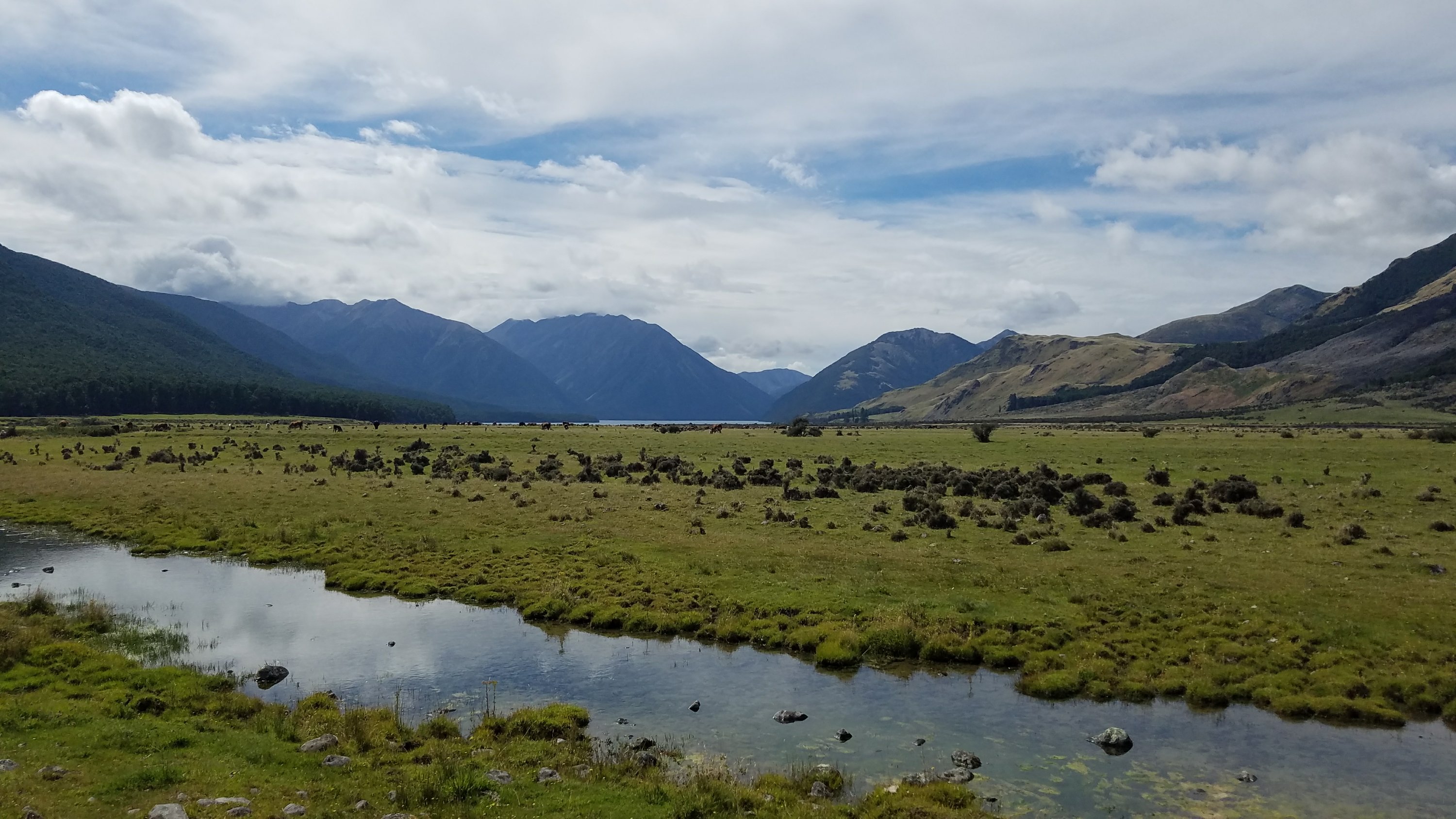 We arrived at the next hut plenty early for a river wash. Out on the river flats, with the wind blowing, the sandflies couldn't find me. I went upstream of some cows and when I came back, a big bull was in the trail. He was looking at me very intently, standing his ground, but finally moved off. On the TA, there's always some obstacle to overcome.
Back at the hut, I was inside making dinner when I heard a familiar voice outside. I had been expecting this moment for some time and was surprised that it took this long. I was just thinking on this day that if Connor didn't catch up to me soon, I probably wouldn't see him again. But sure enough, he had caught me. So instead of using the easy day to get up to speed on my blog, we spent the night catching up on our travels since the Tararuas. He has been doing some big days. It only took him 3.5 days to do the entire Richmond stretch, for instance. He has also been carrying lots of food and actually put on weight, since nearly starving himself in the beginning. It was great to see him again and I hoped he could slow down to our pace to hike together for a few days.
The boy is back.