September 11th, 2018
White Rock Creek mm 1167 to Five Lakes Creek mm 1136
Distance: 31 miles
0645-1830
I am really scratching by on this leg. As mentioned before, I have just enough food…or maybe not. I'm also carrying 2 nearly-empty fuel canisters. The one has lasted me since Etna (16 days) and the other News Feed gave me. My last pair of socks are starting to get holes and my shoes are done after more than 800 miles.
Then last night, I noted that my headlamp batteries were dying…they made it more than halfway! Then again, I barely used my headlamp for the first month, because of the long days. My quilt is also just barely cutting it. It was very cold overnight and I slept with most all my clothes on. Only 76 miles to go to Tahoe! I should just make it, I hope. Thru-hiking is a delicate balance of carrying only what you need and being crafty when those few things start to become impaired or fail you.
It took a cup of coffee and tea to get out of bed. I got kind of a late start. Then I made a lot of stops. First, I checked out a cabin named Peter Grubb hut. It had the longest long-drop outhouse I have ever seen. I of course had to give it a try.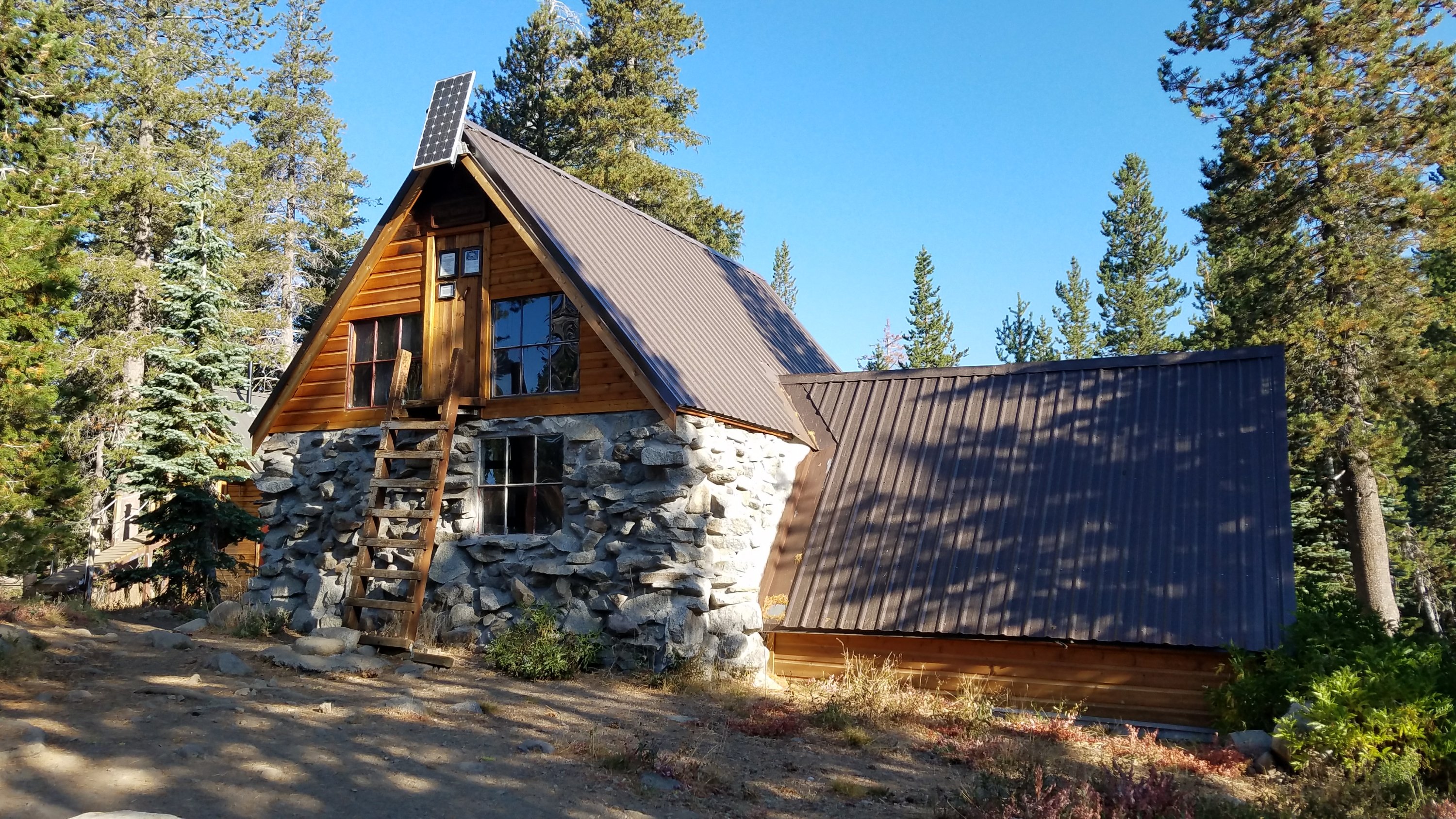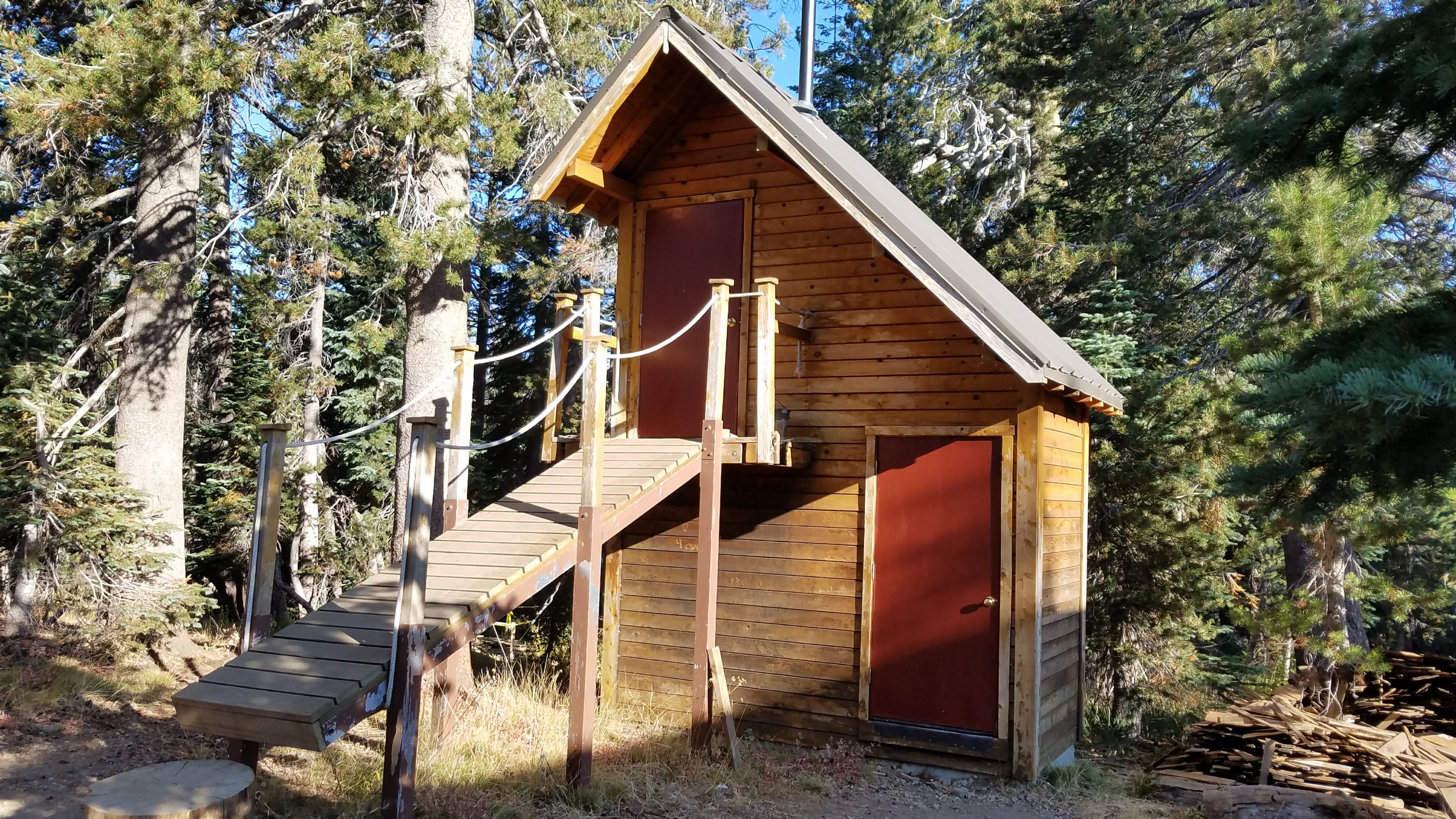 Then I stopped at the rest stop on I-80. There were vending machines containing lots of junk calories, but none would take any of my bills. I tried repeatedly to feed a dollar in, eventually just becoming infuriated. The drinking fountains didn't work and the water from the spigot outside tasted awful. Most disappointing rest stop ever.
I was looking at a map posted on the board outside when a passing trucker decided to be funny. "You can't get there from here," he proclaimed. Not the best pick-up line. I said to him confidently, "Actually, I can walk all the way from Canada to Mexico, and that's what I'm doing." He dismissed me as crazy and walked away.
I was happy to get away from the interstate and continued on to the next road, which was at the historic Donner Pass. Lo and behold, a trail angel, Reno Dave, was there handing out sodas and beer. I sat down to chat with him while I drank 2 sodas. Then Toad, Lator Gator, Suehenga, and Bella showed up. They were all going into Truckee from this point.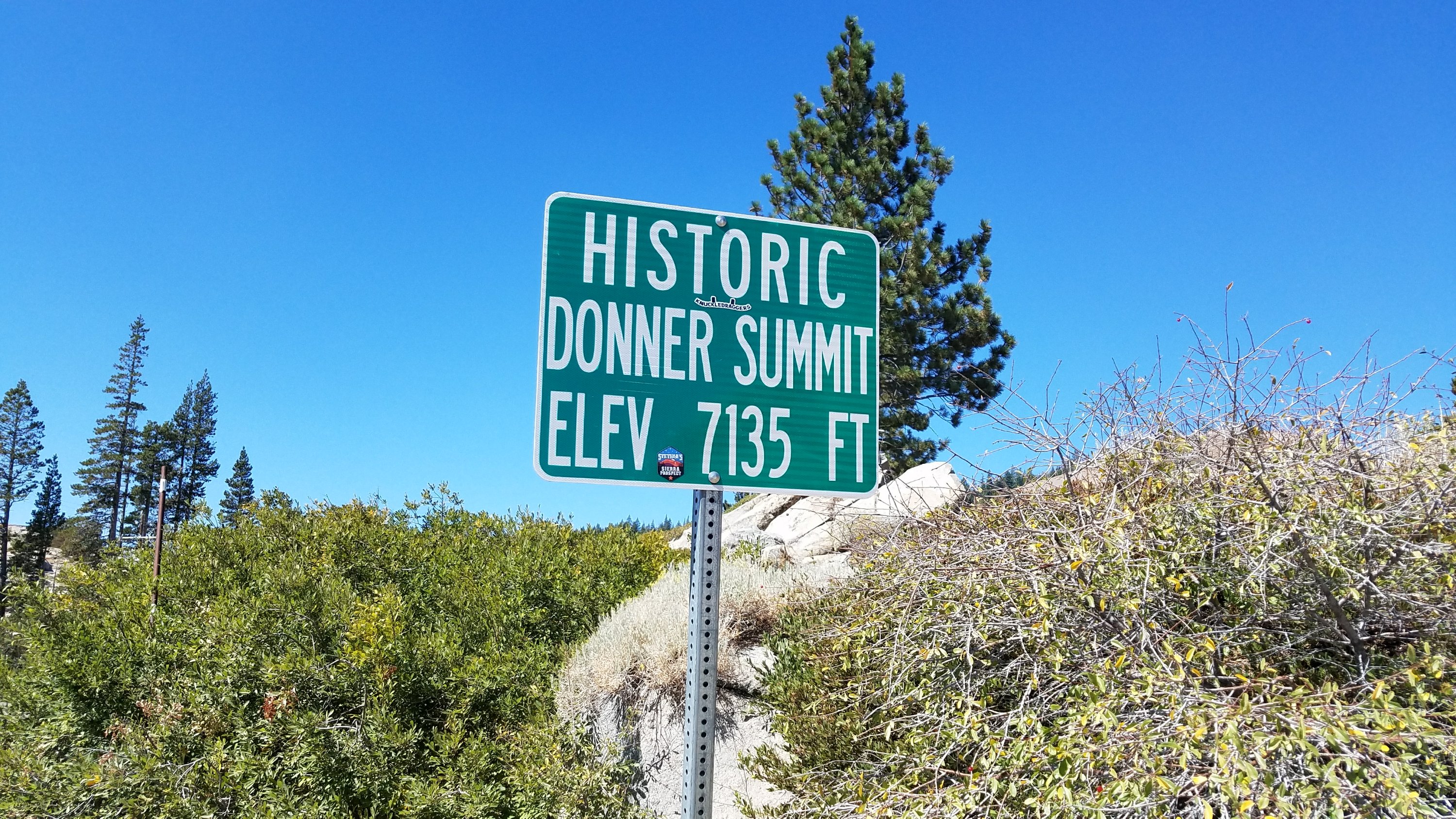 It had gotten really windy and Dave commented that I would be struggling to stay upright on the upcoming ridges. He also pulled up the forecast and it said the lows were going to be in the 30's the next 4 nights. Crap! The cold combined with the wind would make for some rough nights. I would need to be very careful that I camped in a protected spot.
I started up the trail, passing lots of day hikers. I traveled through a ski area and past Rollar hill, a historic point where they pulled settlers' wagons up and over using cables and oxen. This was the way the Donner Party was supposed to have come, before tragically being steered towards another pass. Going up and over these passes on foot seems easy now, but I have the benefit of a well worn and manicured trail and am not pulling a wagon. It is also not quite winter yet and there is no snow.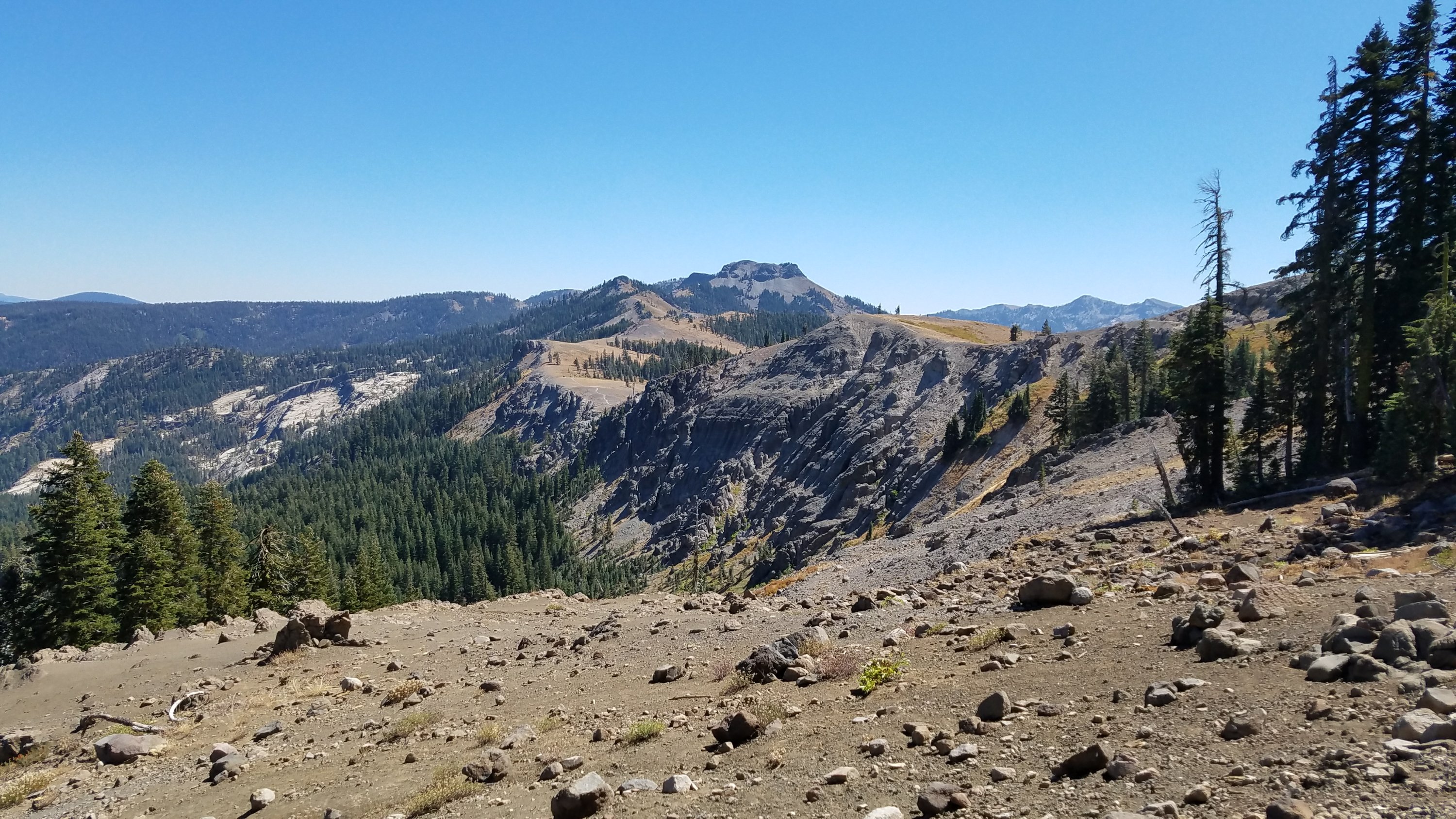 Then I got to the ridgeline and found the Dave wasn't kidding. The wind was absolutely howling! I was so happy for my trekking poles, otherwise it would have been hard to keep my footing. The wind was actually blowing my feet out of place as I tried to step down in the right spot each time. The trail went along the edge of the bluffs for miles and the wind tried hard to blow me over the side on many occasions. Sometimes it was a headwind and I had to struggle against it in loose sand and rock, going uphill. It was a battle but such conditions tend to just make me more determined.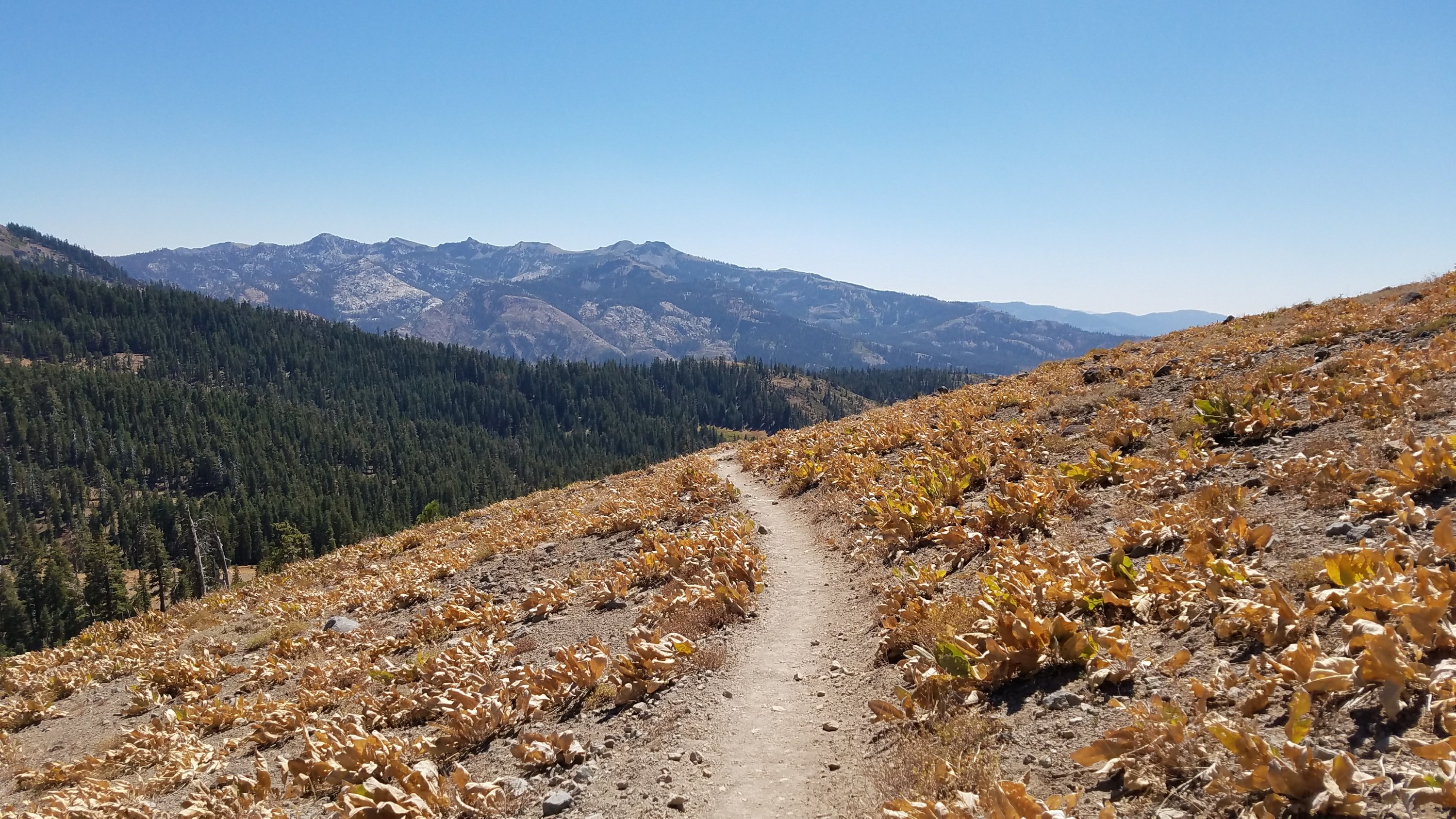 The surroundings were also gorgeous, so I didn't mind having to work hard. I took many breaks just to look around. There were so many features. I could look back to see the prominent bluffs above Sierra City. There was a deep canyon cutting through to the west, called Royal Gorge. And I could follow the line of I-80 east towards Reno. I'm sure I was looking at parts of Nevada. Then Lake Tahoe appeared. What a sight.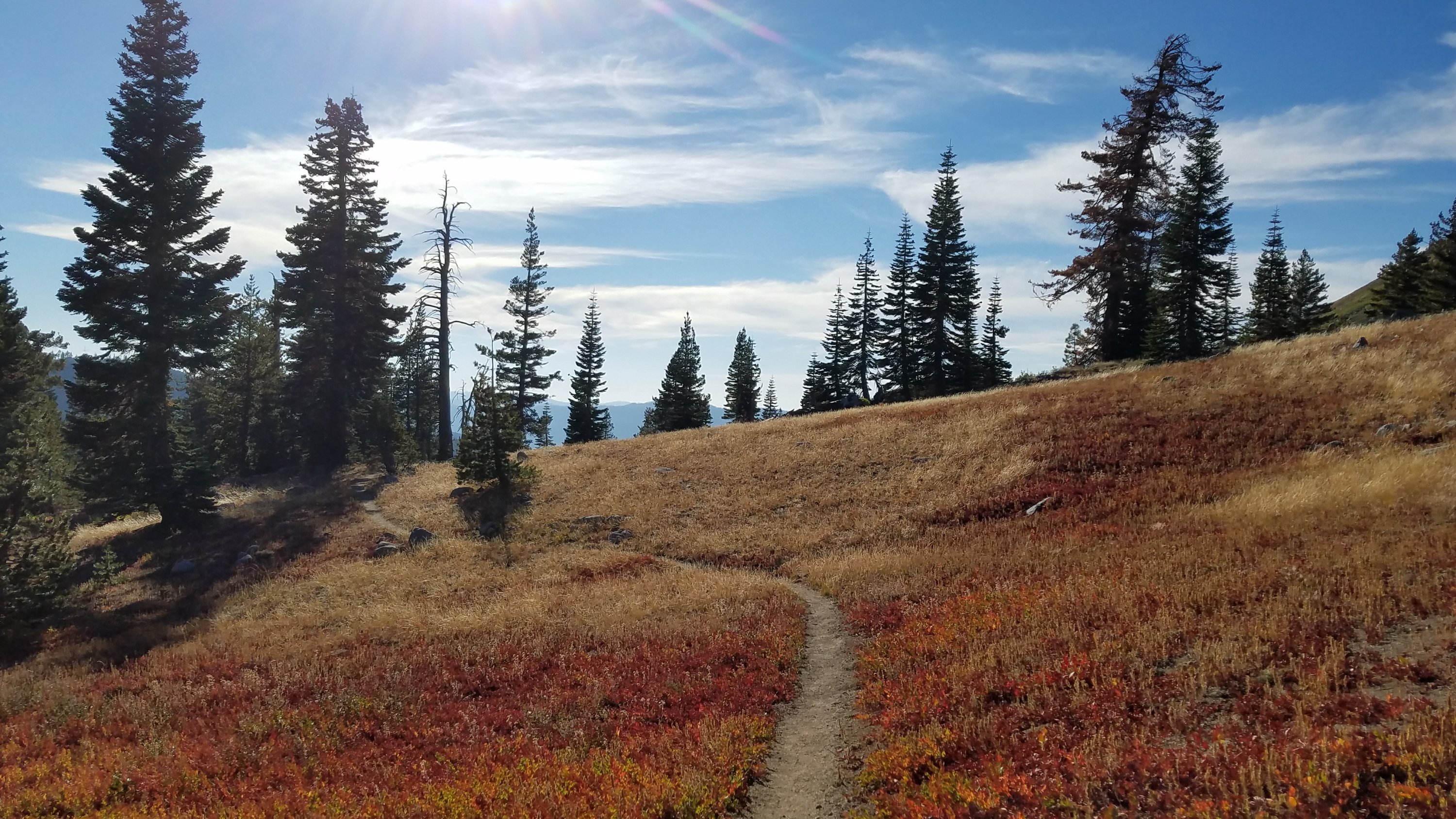 It was getting late in the day and I had lots of climbs still to do. I pushed hard, since I couldn't afford to still be hiking in the dark. At last, I dropped into a valley and got some relief from the wind. At my first potential campsite, the creek was bone dry. I had to move on 2 more miles, all the while going up.
At the next creek, I found a pretty protected site and also another hiker. Her name was Men's Shoes and she was really nice. I wanted to hang out but as I was already getting cold, I promptly went about my routine and ended up making dinner while wrapped in my tent and quilt. I was really worried about being cold overnight. I hoped the wind would die down.