February 5th
Slaty Hut (km1896) – Tarn Hut (km1917)
Mileage: 13mi/21km
This day involved a little bit of everything these rugged mountains have to offer. I was first surprised when I went outside early morning to use the bathroom. The moon and stars were out…clear skies! They held until dawn and I was quite excited when I left the hut at 8 am. It was also quite cold…low 50's and maybe into the 40's overnight.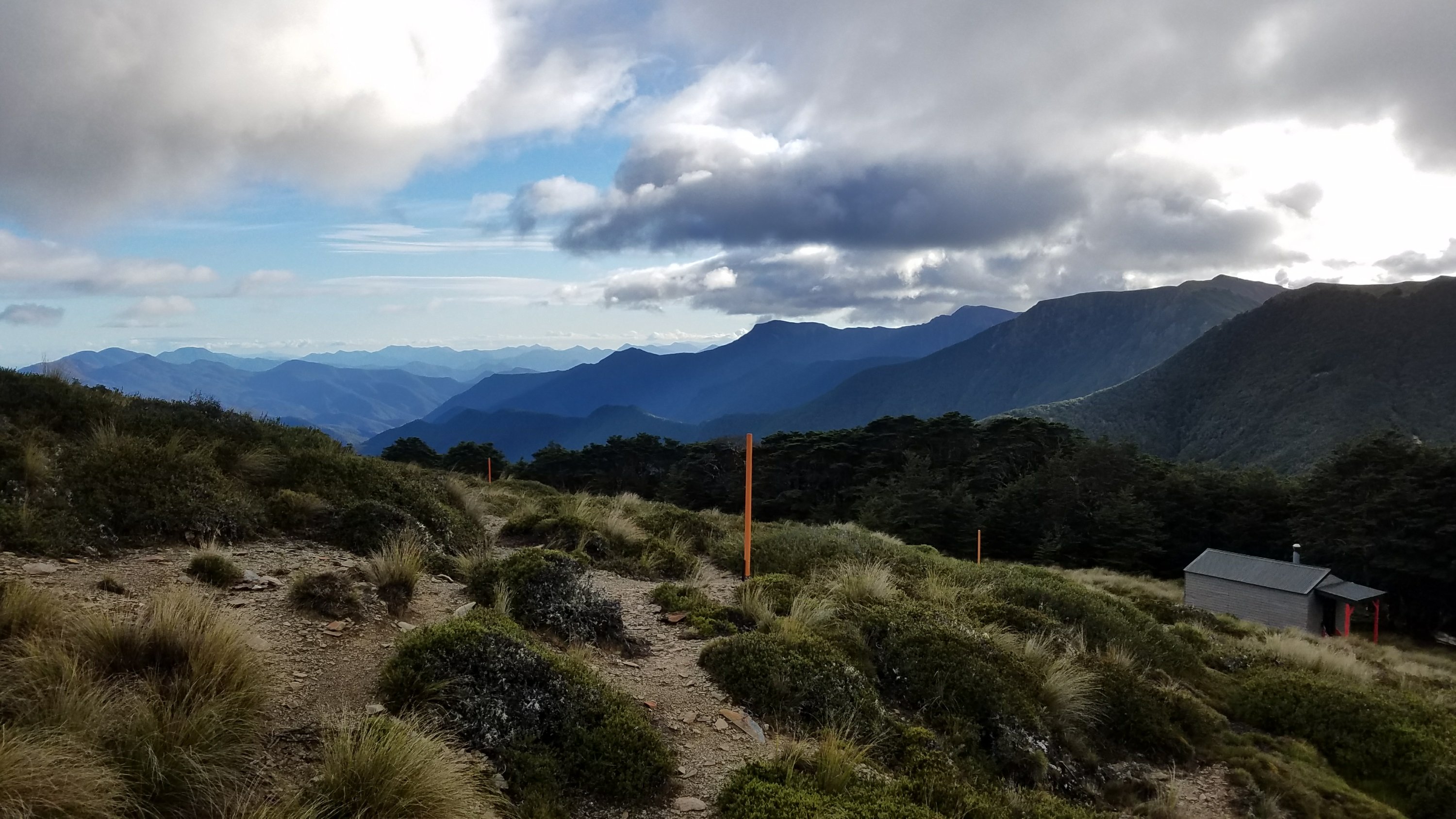 Everyone left around the same time and I matched Brian's pace, since his pack is even smaller than mine. He is from Seattle, WA and did most of the PCT. He is just doing a quick stop in NZ on his way home from Asia. He picked a hard track to break into NZ tramping but seems plenty fit and capable. He has the most minimalist shoes I have seen on the trail, a pair of innov8s.
We flew along the trail for the first 7 kms or so, following broad, open ridges. The cloudline was above us but covering the tops of the highest mountains. We savored the views, since it looked like we might not get any at the peaks. I could just make out the North Island and that made me happy, knowing that I had just been staring at these mountains from there a week ago. Amazing how far I've come (with the help of a ferry, as well).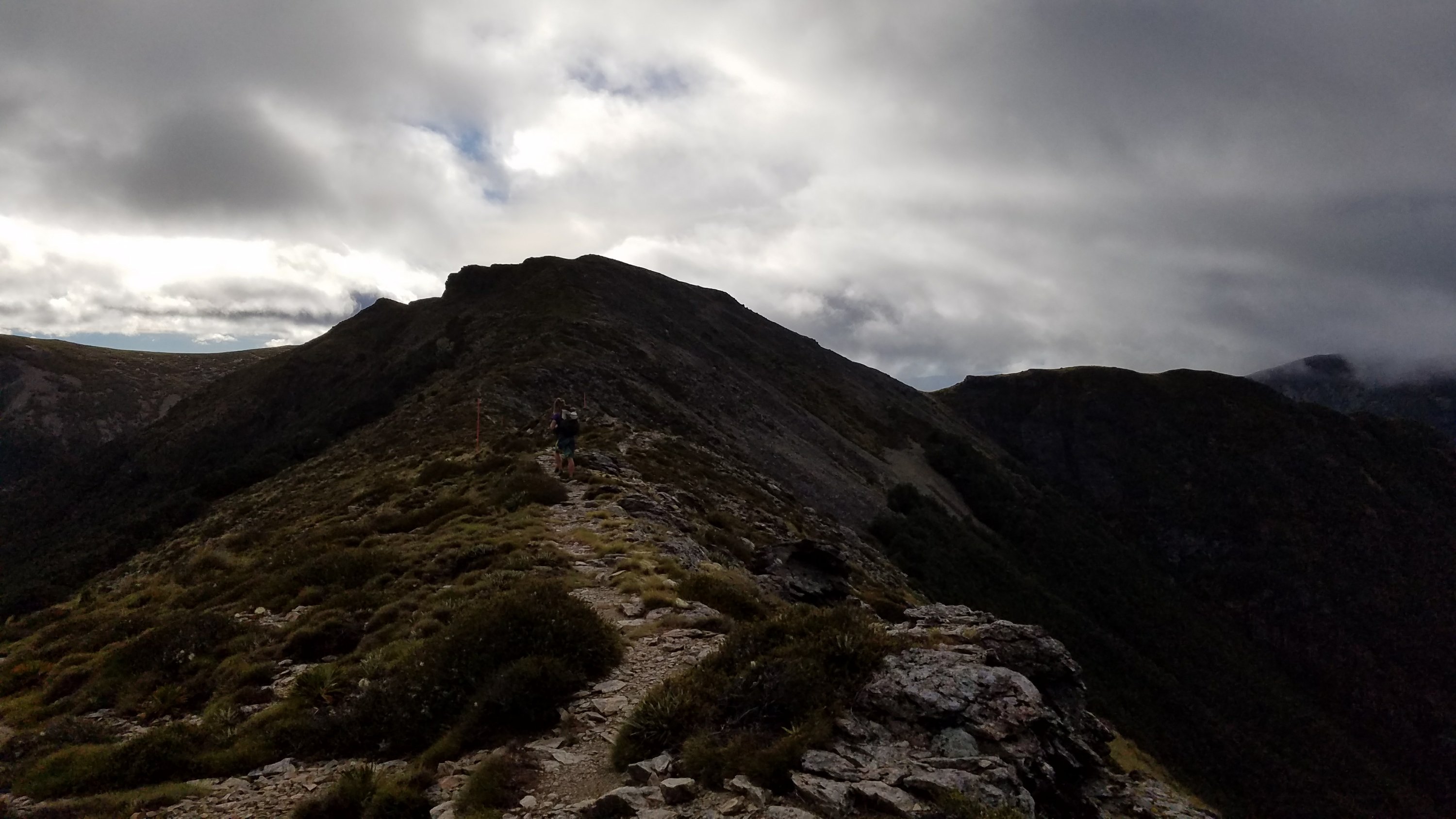 Then we started the climb to little Rintoul and Rintoul Senior. I had been catching glimpses of these mountains and could tell they were tall, rocky and steep. The very top is nearly 5700′ high.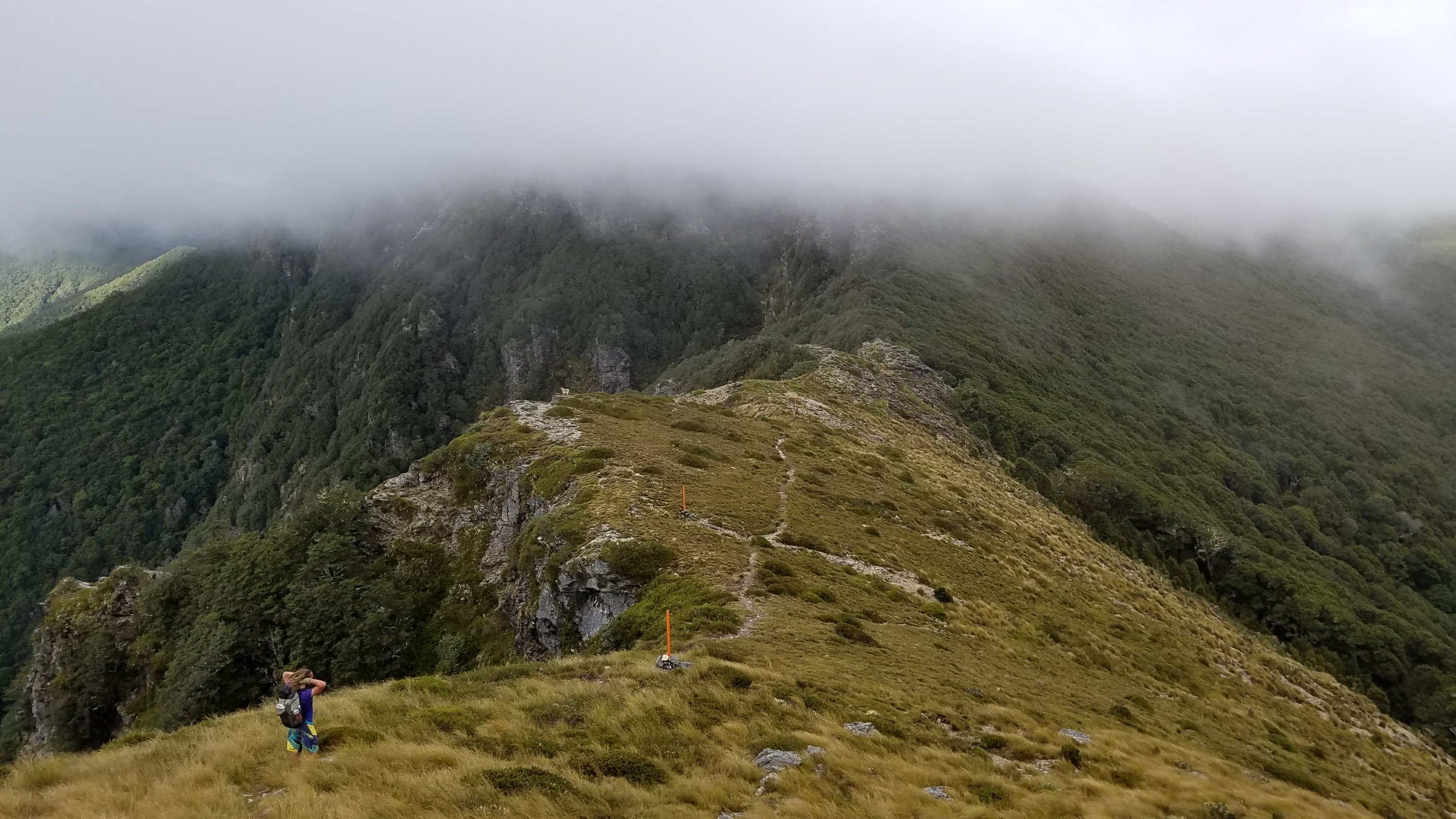 A very big mountain looms, though you can't see it.
As expected, the climbs were pretty grueling. Along the way, we passed about 7 hikers that had given up and turned around to go back. They cited lack of views, low vis, gusty winds, and slippery conditions. One was a SOBO TA walker that said he was going back into town to wait for better weather. It's NZ…he could be waiting until next year for a stretch of perfect conditions! He said the forecast called for nothing but rain the next few days. So I pulled up the forecast from 4 different sources and they all said something different but none called for steady rain for 2 days. One source even said that the next day would be exceptionally beautiful, or something to that effect.
I get that these mountains are to be respected for being prone to extreme weather, but sometimes there is an element of fear-mongering that takes hold of hikers. We tend to tell some tall tales. I've probably told a few myself. Another guy that we passed said the visibility at the top was down to 1 meter but we could see at least 30-50 meters at all times. The wind was also rumored to be gale force but there were only some strong gusts of maybe up to 25 kts. Yes, that can be a bit uncomfortable but is still doable.
One of the things you learn thru-hiking is how to just push on. Thru-hikers will eventually get caught out in all kinds of weather…it's the nature of living outside for months at a stretch. There were many times on the Colorado Trail that rain might have sidelined us for the whole day but we kept going. We were as smart and strategic about our travels in the high country as we could be, but what can you do when there are storms every afternoon, some days starting up around 9 am? It's a mental game, pushing yourself even when it's cold and rainy and you'd rather just stay inside a hut.
Everyone we passed must have questioned our small packs and skimpy clothing. Ultralighters are usually scantily clad, even in cold weather, since the strategy is to just keep moving to stay warm. Having too many layers from the onset just leads to many stops to shed them. Today I went the longest time wearing my raincoat over my t-shirt. I even contemplated putting on my rain skirt for warmth but never did. Seeing a guy in board shorts and t-shirt, then a girl wearing a skirt must have appeared being daft and unprepared. But my clothing choices were tested thoroughly in the Rockies this summer and I am confident in my layering strategies.
We also put our trail runners to the test. The majority of the tread over these two peaks was talus or scree… very sharp, ankle-eating rock. It's generally agreed that heavy boots are needed to traverse such stuff but I found my shoes to be perfectly suitable for me. Trekking pole placement is also tricky as it's easy to stick one between rocks and snap it. I barely used mine and just did a lot of rock hopping.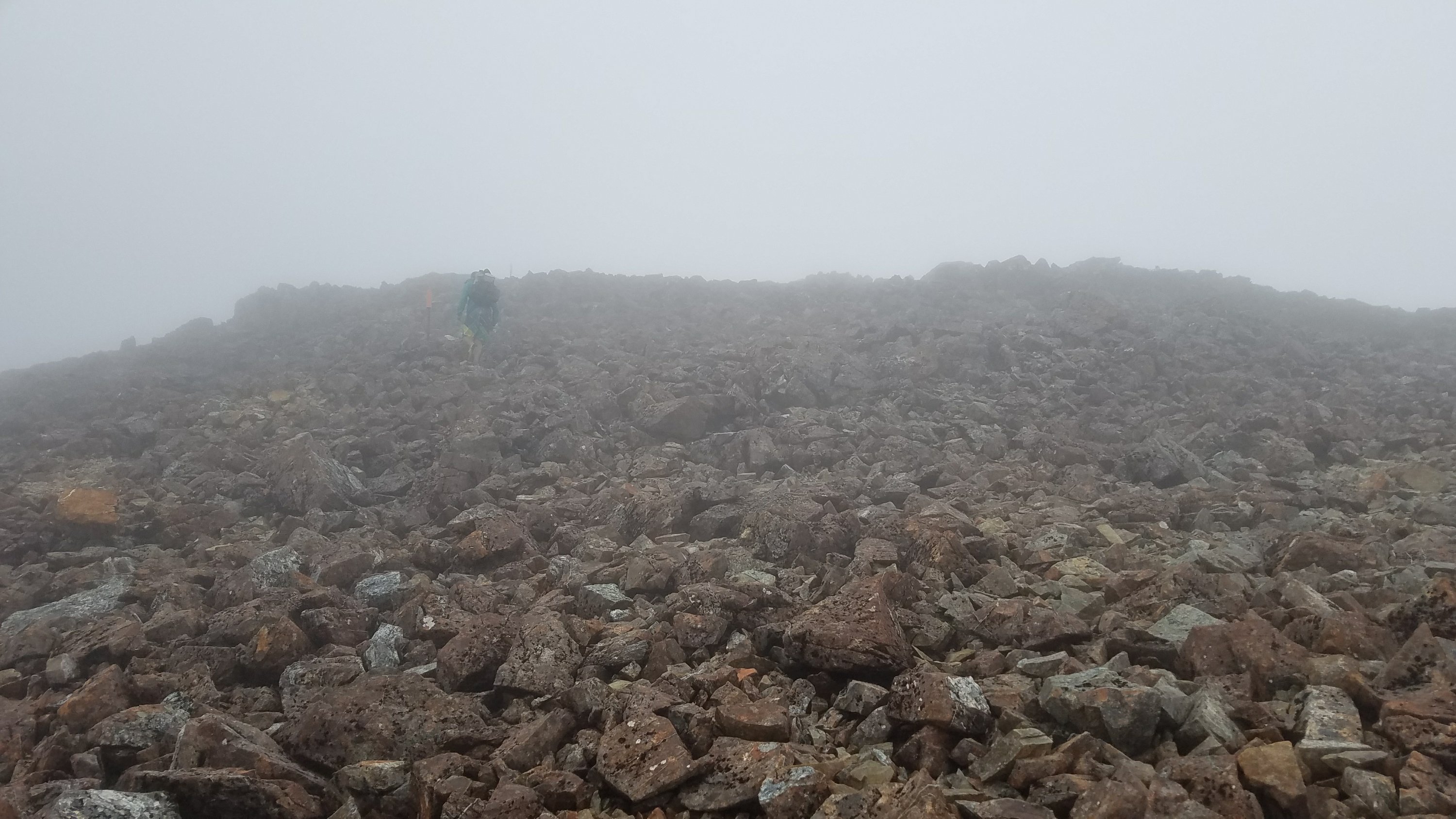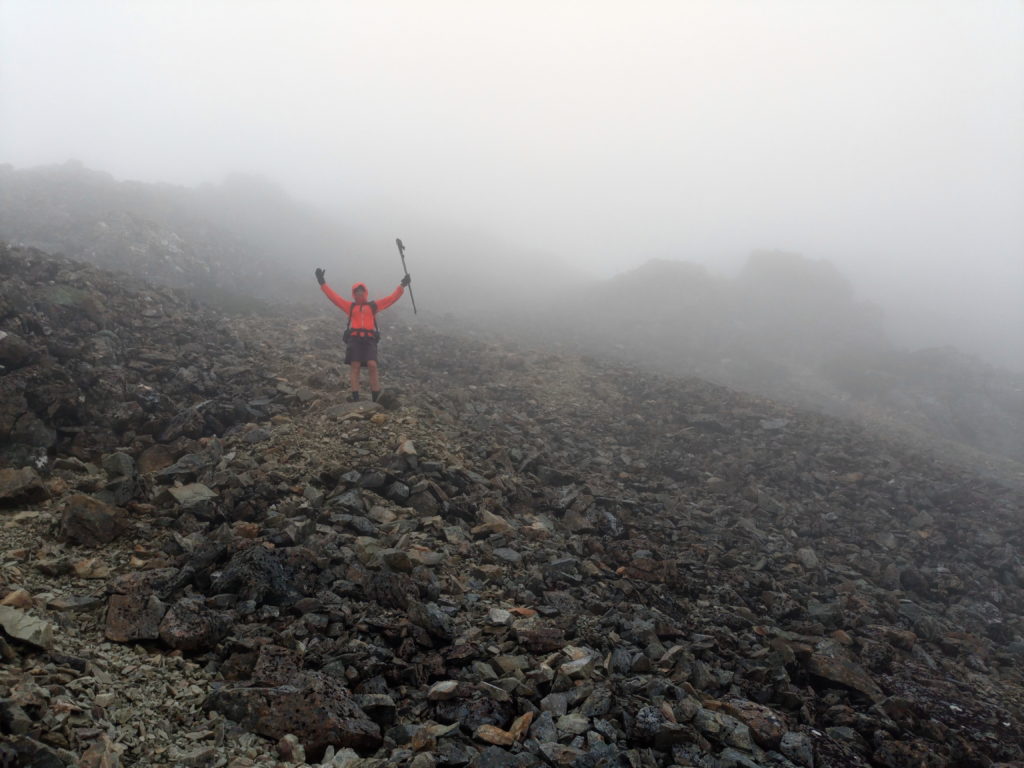 My best summit photo…in the mist.
We were happy to make it to the top of Mt Rintoul, even if there were no views. We immediately started down, which was fun because the trail followed what looks like an avalanche chute of coarse sand and it was like powder skiing. Take a step, lean back and slide about 3 feet. We descended more than 1500′ in 1 km, it was so steep. Looking back at the mountain later, I could see where we came down all the way to the hut and it looked incredible and very difficult. In a way, it was good that we were in the fog so that we couldn't tell just how big the mountain was or how long the drop-offs either side of the narrow trail were. I'll be honest, there were one or 2 eroded places that got my adrenaline pumping. I was glad that Brian was near the whole time, as it helped my confidence.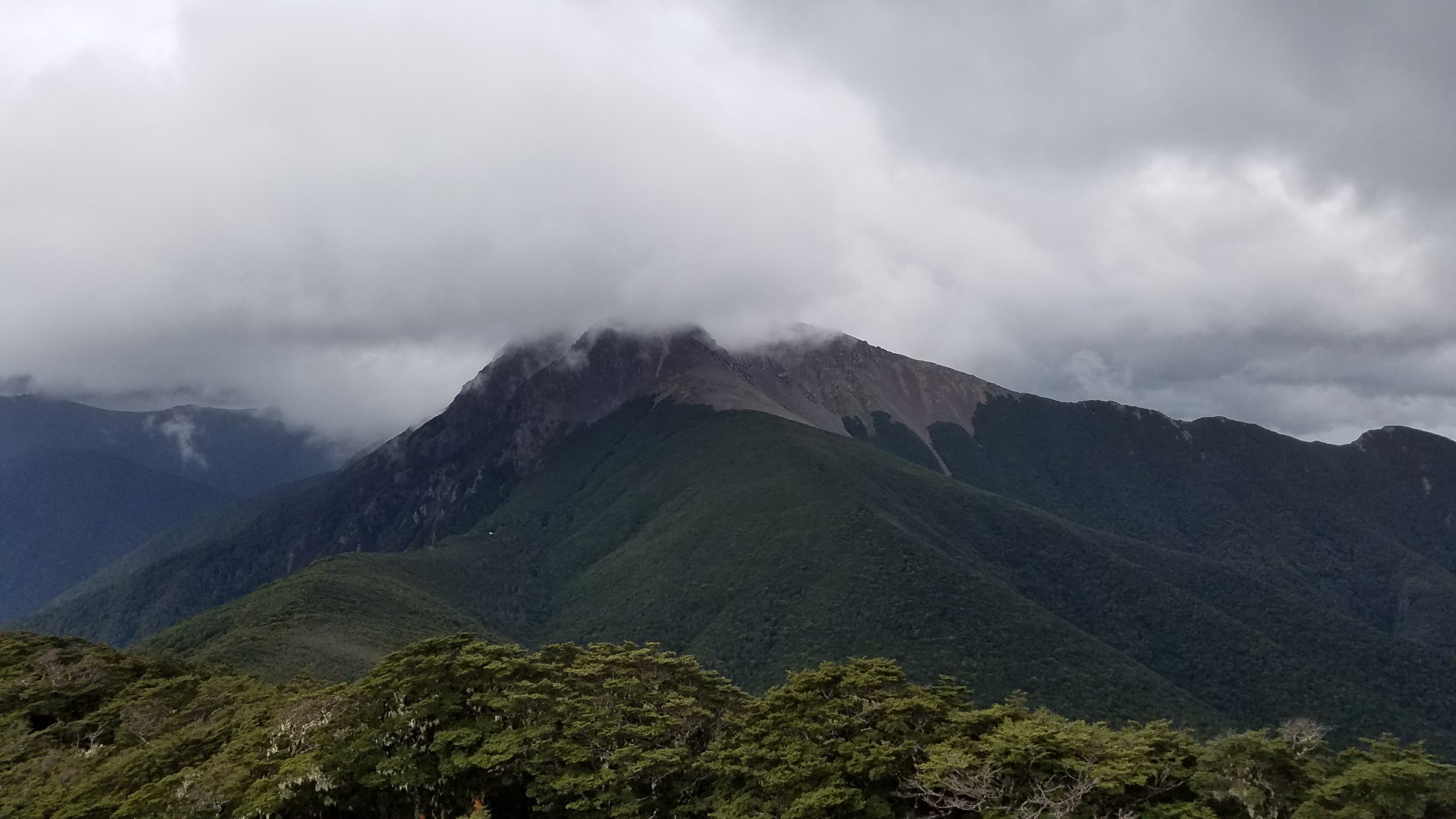 Looking back at the behemoth Mt Rintoul that we climbed and then came sliding down. The hut shows as a tiny white speck in a nook on the left side of the mountain
It was 1 pm when we arrived at Rintoul Hut, the perfect shelter for a lunch break. Temps inside were still in the 50's, or a least cold enough to see my breath. I got quite chilled and was anxious to move on. But I was not looking forward to another exposed section over Purple Top mountain. We began the 9 kms to the next hut around 1:45 and I was hoping it would only take 3 hours. It started to rain, just after I had stated that 'at least it wasn't raining', and I began to contemplate going back to Rintoul hut.
The rain was light and just a passing shower, thankfully. Perhaps because I was so chilled from the break and actually enjoying the climb, suddenly I realized that we were already near the top and that it was clear! Just like that, it was the easiest day and we flew up over the saddle. We were ecstatic to finally be able to see all around us. It was even sunny for a spell, yet still with a sprinkle of rain. So many conditions in such a short period, it makes your head spin.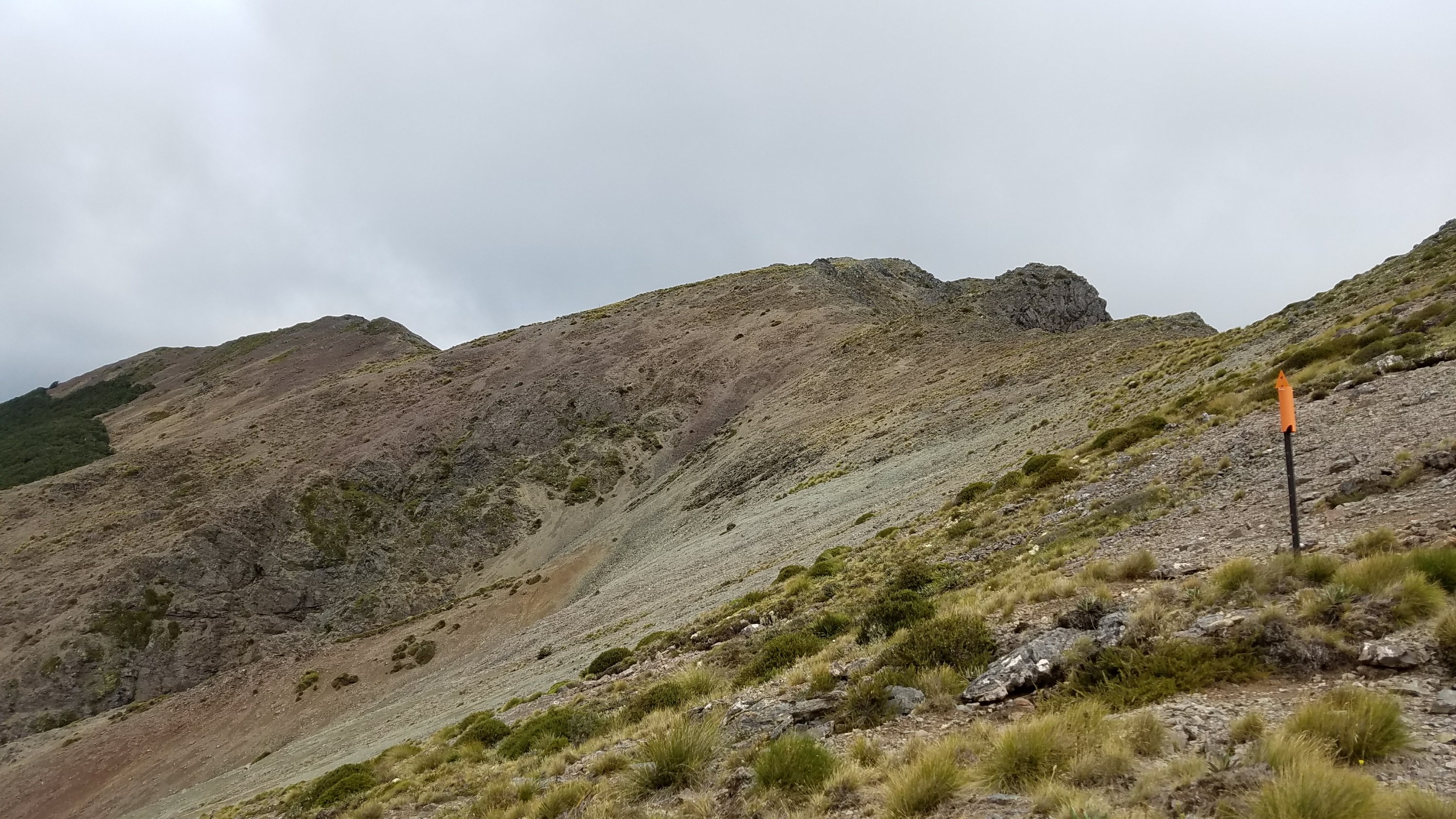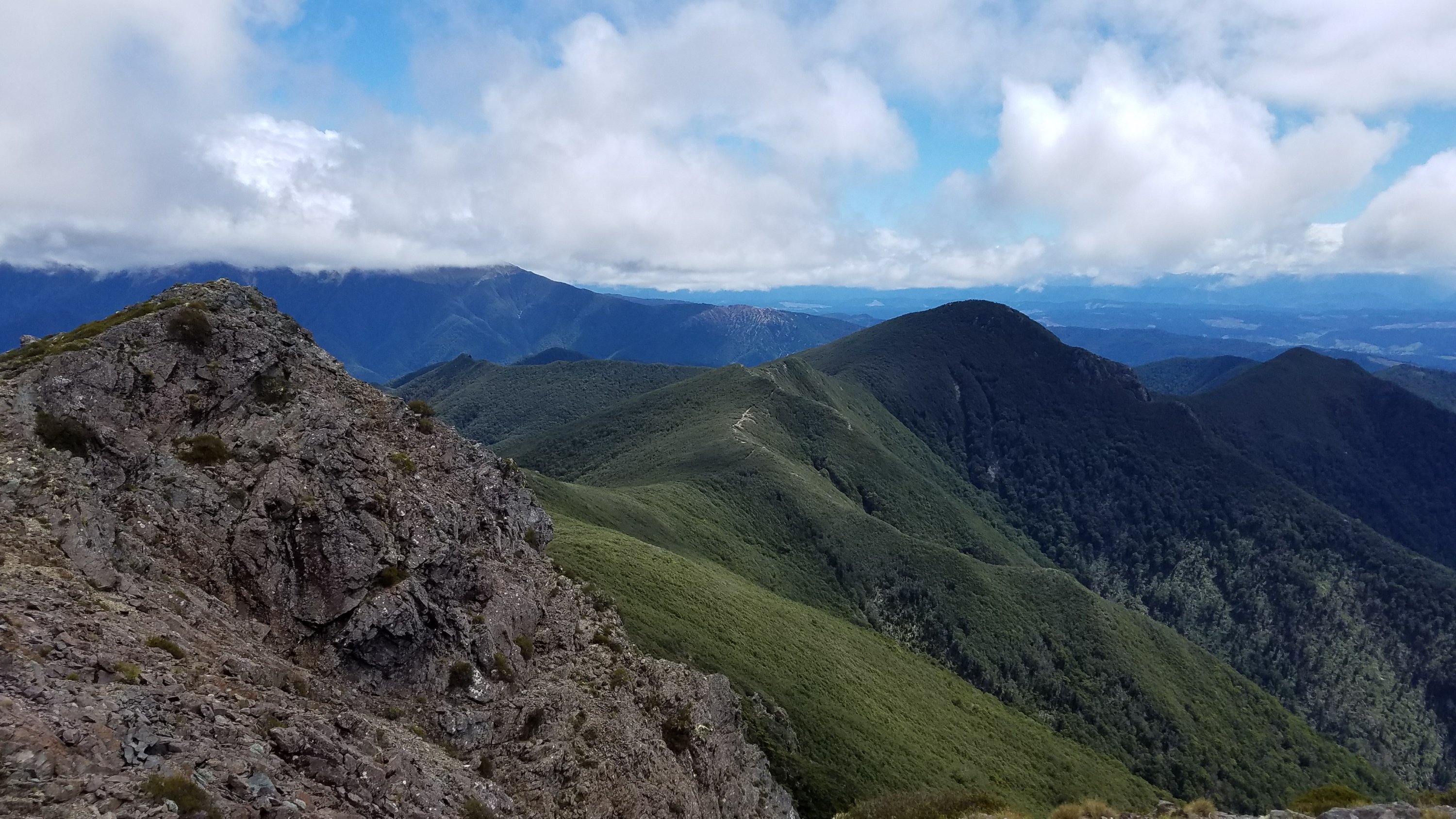 In this short distance today, I did about 5000′ of elevation gain and 6000′ of descent. Like in the Tararuas, those are some big numbers. No wonder I felt pretty exhausted by the end.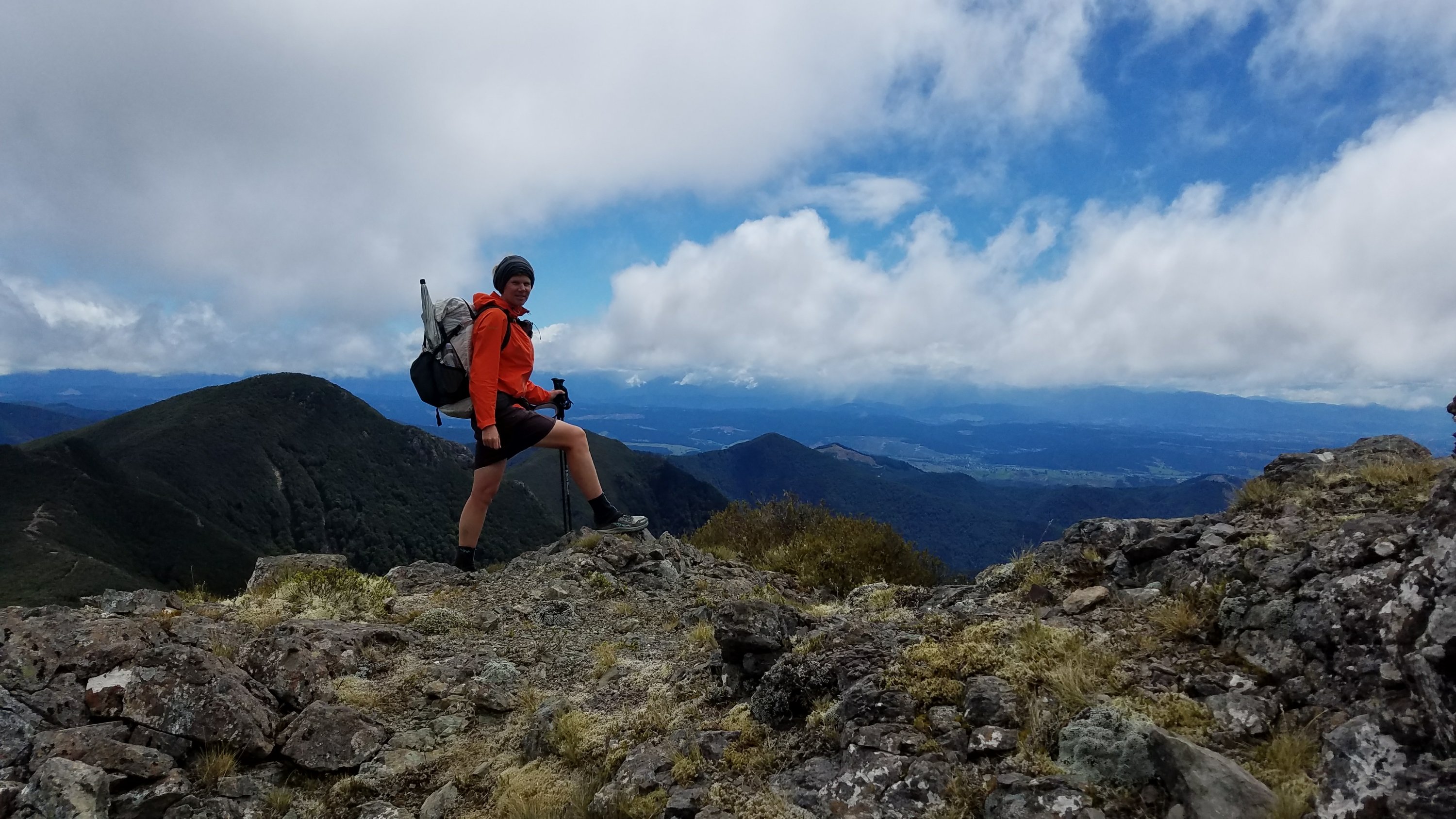 We descended to Tarn Hut, which is situated in a clearing next to a lake. As it was before 5 pm when we arrived, I had time to do some solar charging and rinse off in the lake. Very idealic. We met Yali from Israel there. He started the TA but is now just doing some of the better sections. He was a really friendly guy and even shared some of his Turkish/ Israeli coffee with me. Delish. Later Ian from Scotland joined us. He had the most elaborate dinner in making pizza wraps.
It was one of the smallest huts I've stayed in but very cozy with great company. The guys got a fire going and it was a nice contrast hearing the soft hiss and pops with the wind howling outside. Miraculously, once again, no one was a snorer. Happiness is a warm, quiet hut.