January 30th
Ship cove (km1734)-Queen Charlotte Track (km1741)
Mileage: 4.35mi/7km
I was up by 6 am trying to get all packed and moving. I stuffed-up (kiwi slang for screwed-up) my food calculations while at the supermarket the night before, ending up with a bunch of extras. For some reason I got it in my head that I was buying for the 6 day stretch through the Richmond Ranges, as opposed to the 4 day stretch from St. Arnaud. I could either carry the extra food or mail it to Havelock. I had two boxes plus the bag of extra food, plus my full pack to carry about 1 km to the train station, ride to the CBD and then onto the post office. I didn't see how I was going to carry all the extra stuff. Thankfully Rohan, on his way to work, saved the day. He carried a box and bag all the way with me. Thank you Rohan! At the post office, I was able to cram all my extra food into a $6 flat-rate bag, so it worked out well. This way I won't have to hitch back to Picton to resupply. I can probably get just a few more items I will need at the 4-square in Havelock.
On the other side of the spectrum, it cost $26 to mail the box to Arthur's Pass, because it's rural delivery. Ouch! At least the mail lady was really nice and most helpful. The mailings took me just 15 minutes but that already made me late for the 8:15 am check-in at the ferry, plus I still had a few kms to walk to get there. I started out at a brisk pace, thinking I was good. Around 8:30 and just as I was nearing the terminal, I got a call from the ferry company. The nice man said if I wasn't there in under a minute, I'd have to take the next ferry. I broke into a sprint and just squeaked in. Whew, that was close!
I had to check my pack last-minute and hoped my poles, bottles and other assorted items in the outside pockets would stay put (they did). On board, I immediately sought a coffee and couldn't resist a full breakfast for $18. This on top of the $58 ferry ride. It's been a long time since I had a heavy breakfast and I needed the fat. I weighed myself at the Hart's and found I was down to 127 lbs. I'm normally around 133 lbs. The more remote SI and longer resupplies are not going to make matters better. I stayed in one place, working on my blog the whole 3 hr ferry ride. Normally I would explore the ship and watch the scenery, but I wasn't in the mood. Really I just wanted to take a nap but there was nowhere to lay down.
Getting to the ferry was stressful and a close call. Getting to the water taxi in Picton couldn't have been any easier. I walked off the ferry and only had to go about 5 minutes to the taxi waterfront. I checked in and waited about 30 minutes until departure. I was taking the mail delivery taxi. The Beachcomber company offers a TA one-way rate of $50 to Ship Cove, the start of the Queen Charlotte Track (QCT). It's a good deal but requires a little extra time, as the boat has to go all over the sound delivering the mail to waterfront properties. I was also able to purchase the $18 QCT permit through the taxi company…a new price-gouging scheme, IMHO.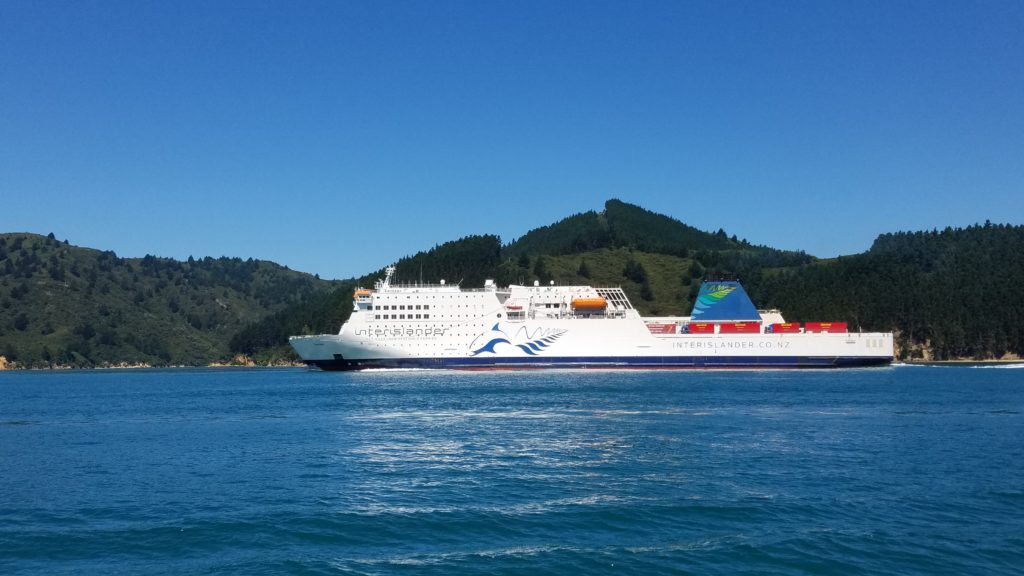 Passing the ferry on it's way back…same one I came across on. This is a much bigger ship than the one I took across 15 years ago. 
I made friends with Captain Julian (who was a dead-ringer for the kiwi version of Captain Shawn Lake on the UM FG Walton Smith). He was a great tour guide, with lots of funny local stories and antidotes. He let me pass off a few mail bags and I helped him schlep boxes of alcohol across the gangway (people appear to drink a lot in the sounds!). I went so far as to suggest that he let me dock the boat next, but he just smiled and said nothing. I had to try.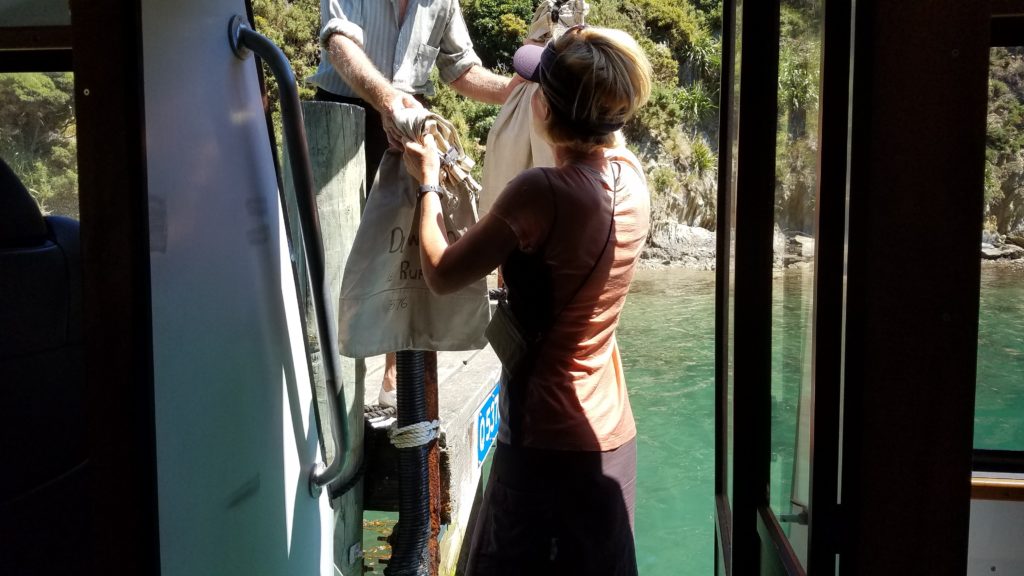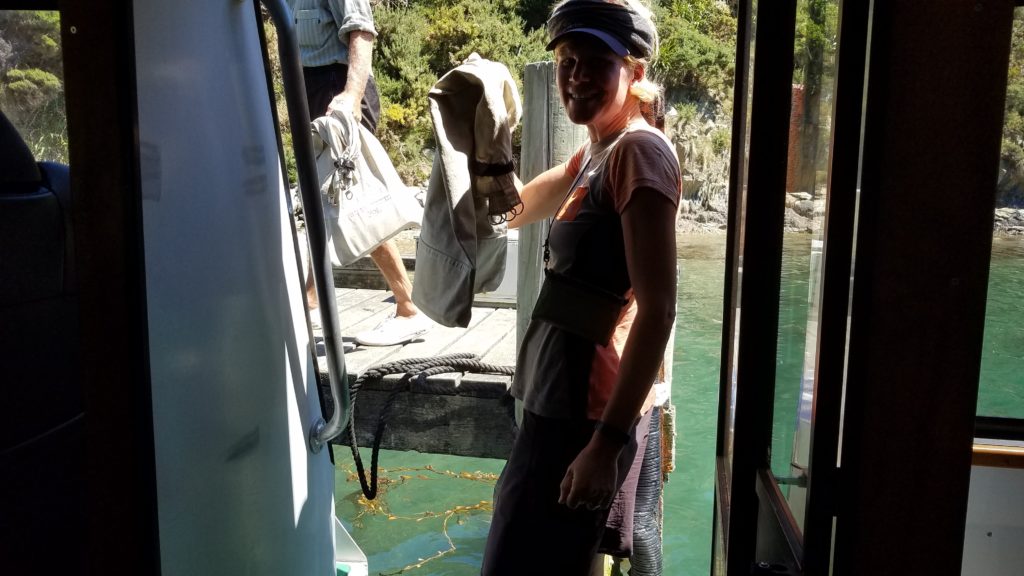 Mail delivery…maybe I could have a future as a kiwi postwoman.
Finally we arrived at Ship Cove, which is where Captain Cook landed 5 times during his many voyages. Here is my favorite quote from him: "They by no means seemed reconciled to the liberty we took in landing upon their coast." Well, I landed with no fuss and was amused by the memorial to him.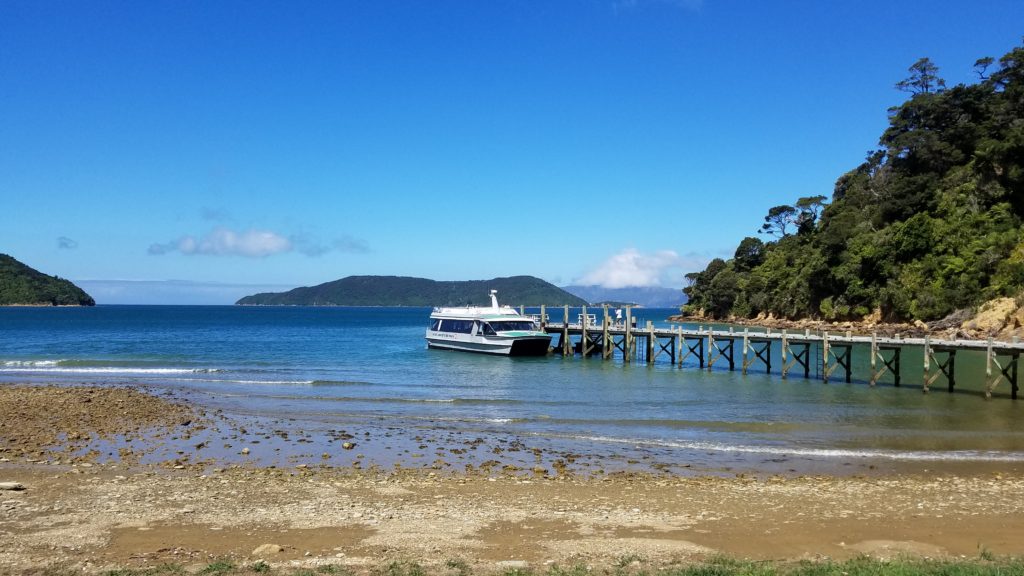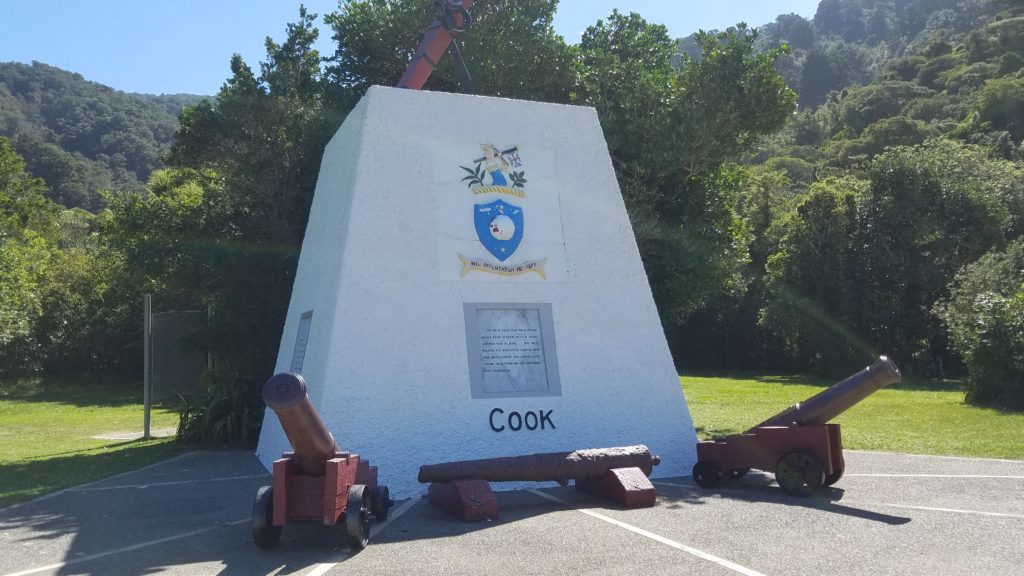 Finally I was ready to start hiking the SI! The QCT is 66 km of some of the smoothest, easiest track on the entire TA. The trail (more like a 4wd road much of the time) follows ridges and coastlines along the Marlborough Sounds, so it's very scenic. It isn't part of the Great Walk system but it's like one, just without the huts. There are many private lodges, resorts, and backpackers along the way, instead. People can hike without any gear or food, glamping as they go. I hiked it in 2003 in my Chaco sandals. The blister under my big toenail (which I got on The Northern Circuit/Tongariro crossing) was still healing. It was nice to see the track again.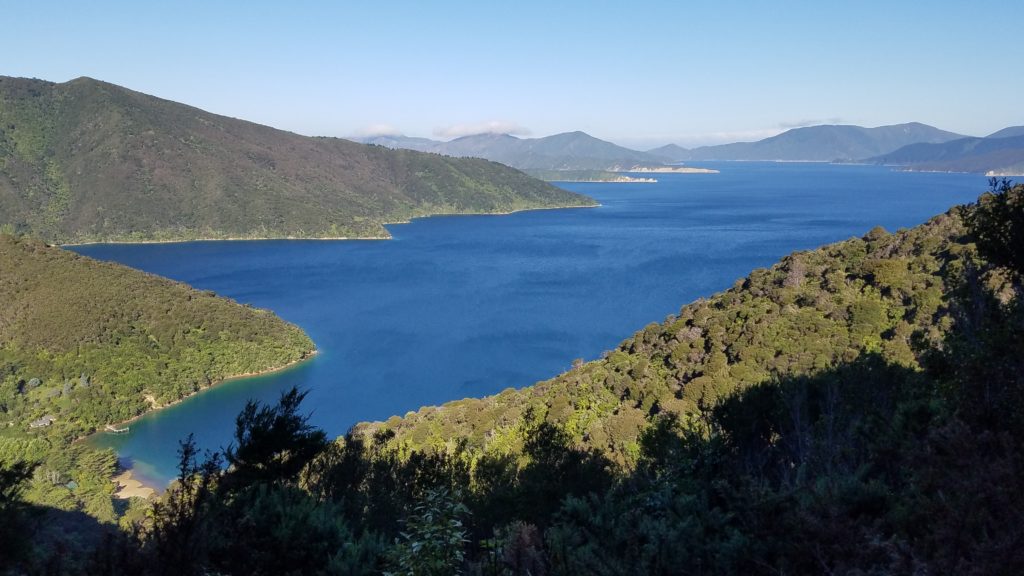 One of the first things I noticed was the overpowering buzz of the cicadas. It was loud enough to make my ears ring at times. They would be a factor throughout this section, with many actually crashing into me as I hiked. Kamikaze cicadas. I had to put my earphones in much of the hike, just to spare my poor ears. I also saw one deer, some goats, and a lot of Weka's. Many mistake them for kiwi, as they are also flightless and brown, but they are actually a type of rail. They have learned some bad habits from all the tourists feeding them on the QCT. They will steal your stuff any chance they get.  They kept creeping up on my campsites, looking for an opportunity. I gave them none but they sure are sneaky! They also know when they have been spotted and go diving off into the bush, but not before I caught this one in the act.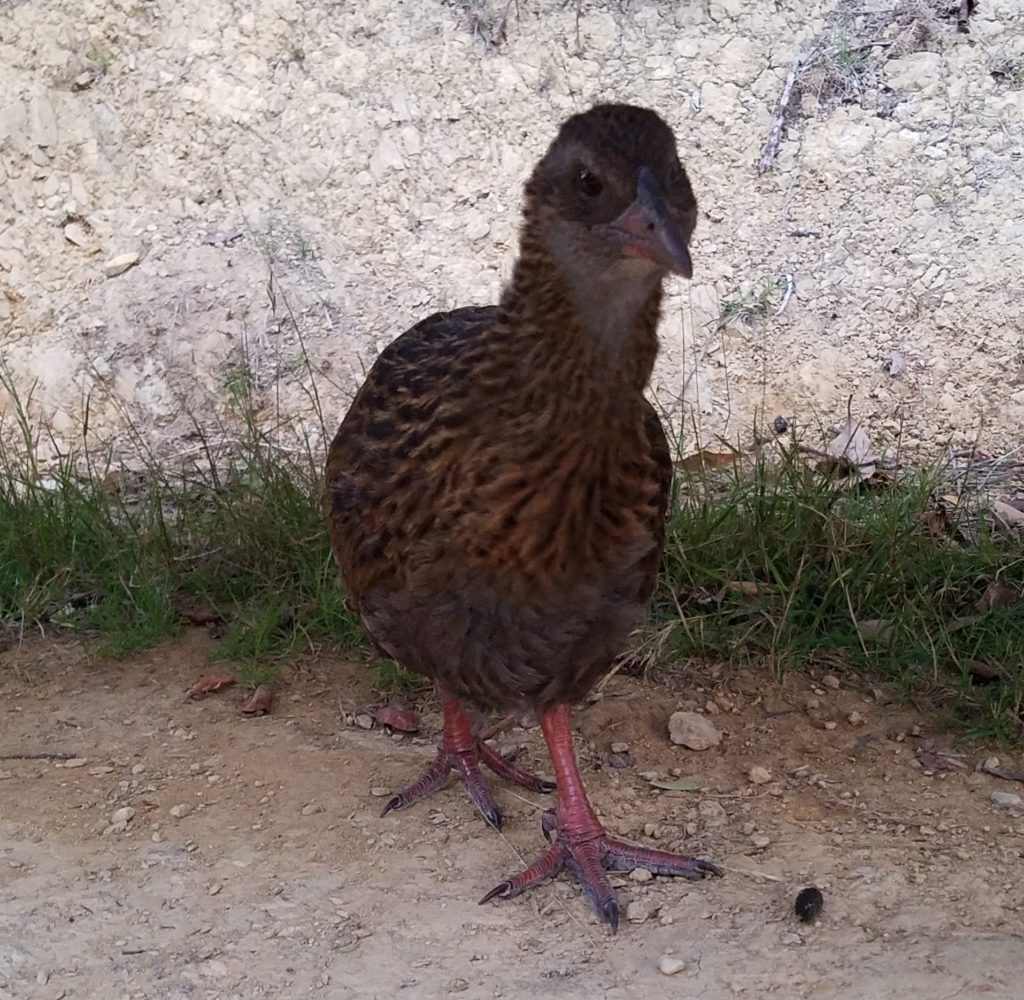 Cheeky weka!
I walked for a few hours, enjoying the clear, sunny weather and many views. Then I came to a beautiful spot and just had to settle down for the night. There were two picnic tables and benches and a bathroom. Plus an amazing view up Endeavor Inlet.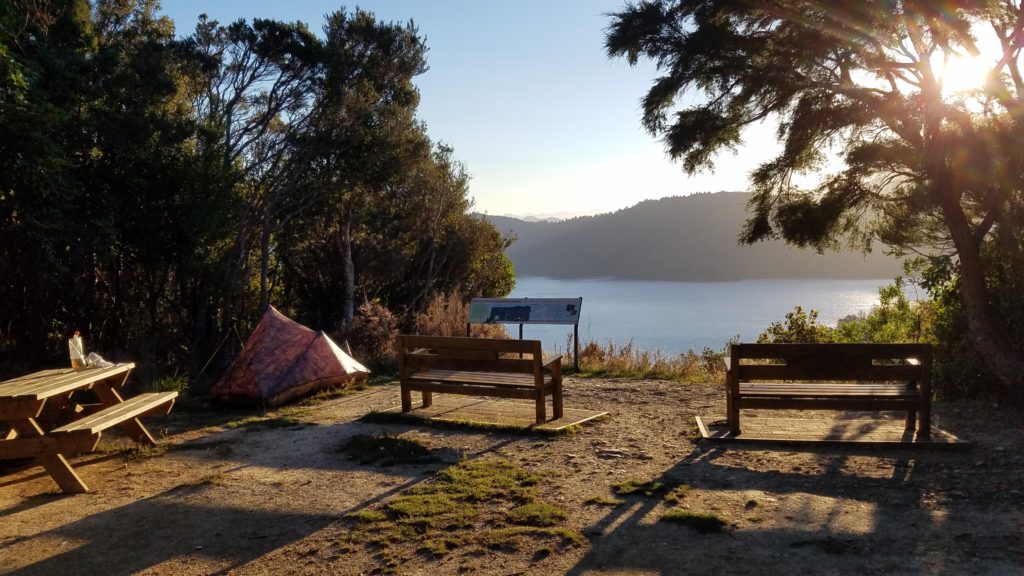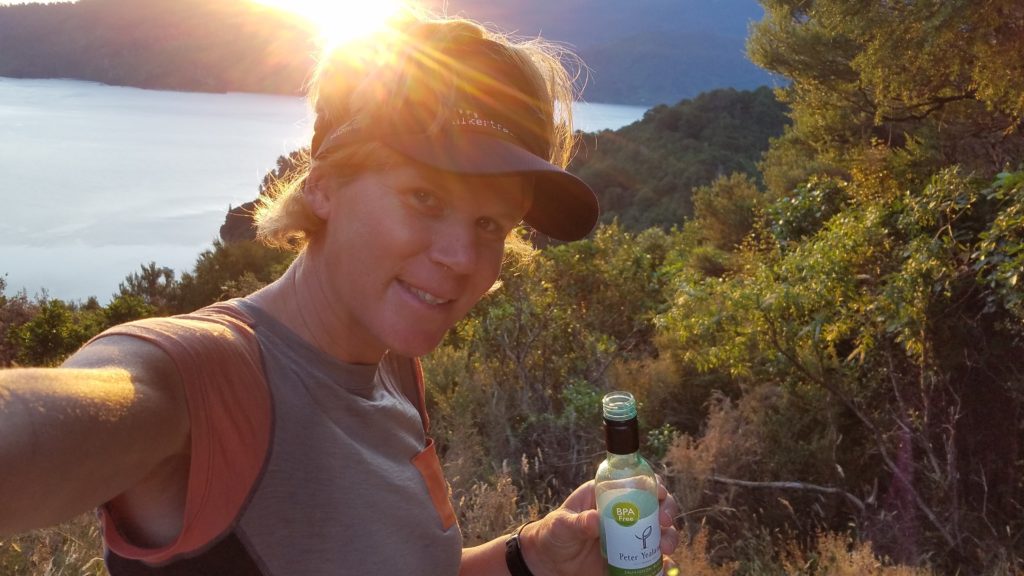 While in the store the other night, I got an inkling to buy a one-serving bottle of wine. This was just the moment I was somehow anticipating it would go with. Luckily the wind did not pick up overnight, as it was pretty exposed. Later, the full moon was shinning on the inlet and quite a sight to see. This was one of my favorite campsites yet, if not the best.