January 29th
Ngaio
Mileage: about 8km walking around
I had so many chores for today that I was somewhat dreading my first day off since Taumarunui. Like that last one, it was busy, busy. I woke up early just to write postcards, then set off for downtown so that I could pick up my bounce box. I couldn't get it yesterday because it was Sunday. I went to the post office only to discover that the box pickup location had changed to another office, back on the other side of town, from which I'd just come. At least I got the postcards in the mail.
I also had to visit the Icebreaker store in the area. Unlike the store the day before, they were glad to exchange my socks for new ones, no questions asked. Way to go Icebreaker! The store was on Cuba street.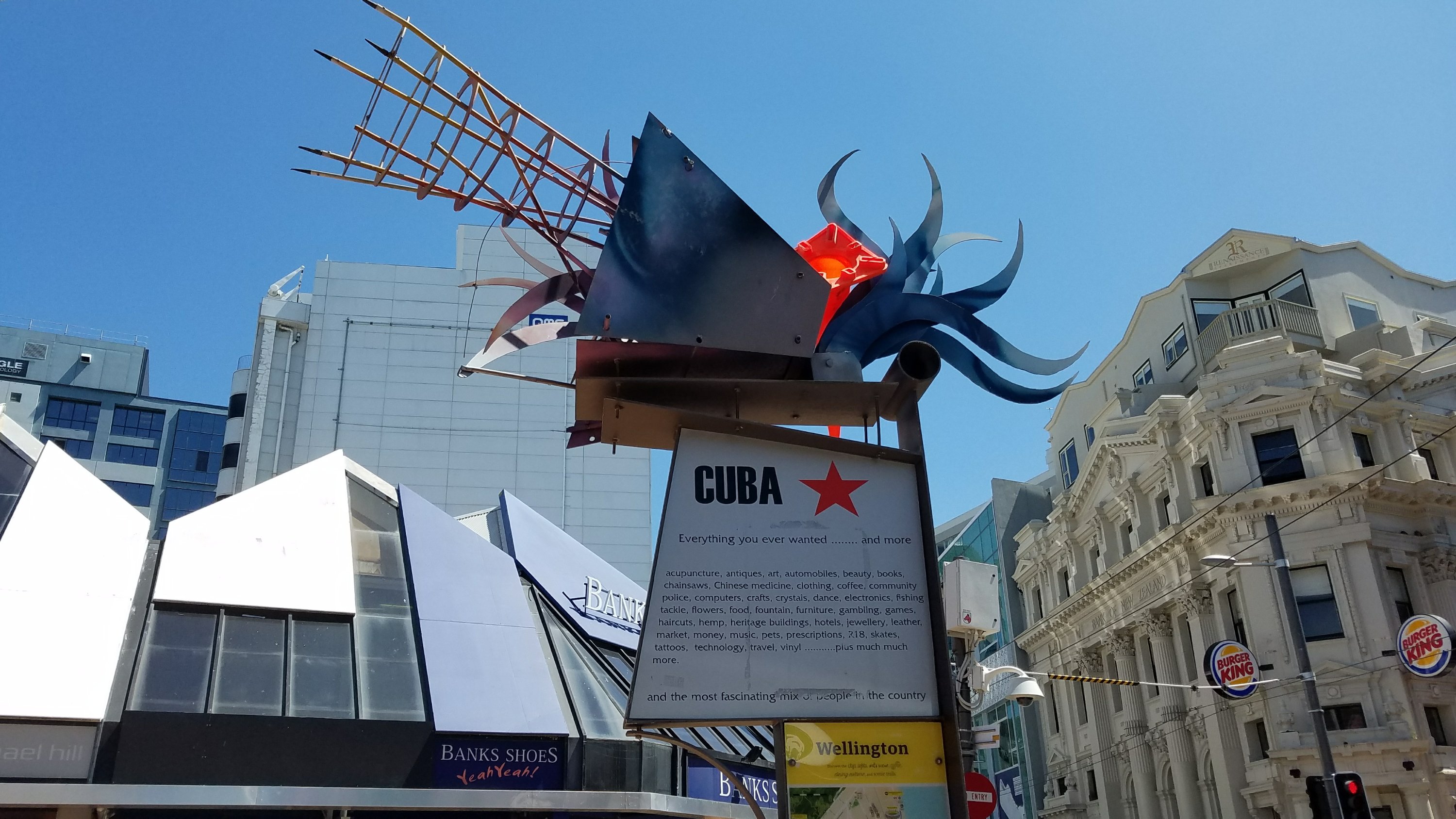 I did some more browsing around town and couldn't resist buying a Prana tank with a shelf bra, on a steep discount. I really don't need to be adding anything to my pack at this point but for awhile have been wishing I had an extra bra. We'll see, if I don't use it I can just add it to my bounce box.
I really thought I would be adding weight to my pack in the form of warmer clothes and maybe even my warmer quilt, in preparation for the higher, colder South Island. But it has been a record hot summer thus far, with no signs of letting up. So my kit, as it is now, is already overkill.
I had lunch and then finally picked up my box. At least it made it! I headed back to the Hart's and was surprised to find Sebastian and Eilean there. They had just made it in and were going to tent in the backyard. They had met Lois's parents, who live all the way up by Puhoi, so that's how they knew about her. What a small country!
I set about to do some gear repair and maintenance and before I knew it, it was already time for dinner. Lois cooked up a beautiful feast for the 7 of us. What kindness!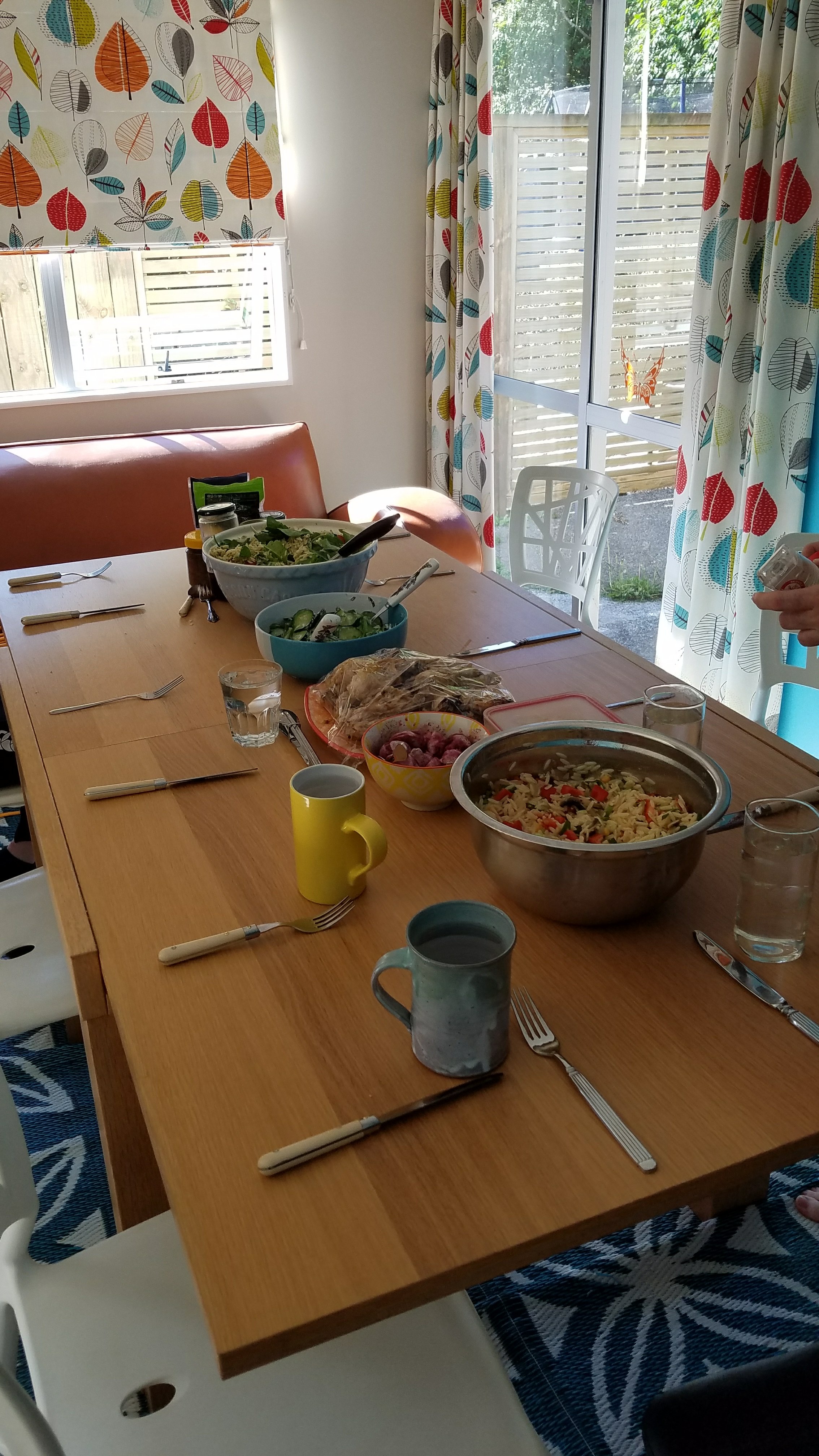 It was so nice to sit down with others at a table for dinner. A proper home for a change. Sorry I didn't get a picture of all of us eating.
After dinner, I still had to go grocery shopping. I had long ago given up on trying to shop and mail my resupply boxes the same day, hoping I would have enough time to mail stuff the next morning before leaving on the ferry. Buying food for so many days was mentally taxing enough. Then I had to carry it all back to the house, repackage everything, and sort it into 3 different piles: 2 resupply boxes and the stuff for the first 3 days on the Queen Charlotte Track. I abhorred this task, wishing I could just go to bed, I was so tired. But I had to get it done. I was up past midnight stuffing boxes and writing labels. Ugh!
I wanted to also do a summary of stats for the North Island. Here they are:
Days walking, paddling, and biking: 53
Zeros: 5
Days spent camping…Alone: 19, With just 1 other: 18
Accommodation types…
Tent freedom: 13
Tent DOC campsite free: 6
Tent DOC campsite paid: 2
Hut or shelter including WhioWhio: 5
Bed/couch in private home: 5
Tent homestay or private business free: 5
Tent homestay or private paid: 6
Tent backpacker/motel: 6
Tent holiday park: 5
Dorm/cabin paid: 2
Caravan paid: 1
Woolshed free: 1
Favorite trail: Mangawhai cliffs and/or Bream head
Best moments: start of trail at Cape Reinga, kauri sanctuary, sunrise at Dragon's Spell tree house, Top of Bream Head, Tongariro, rapids on Whanganui, bouncy pillow, all my pettings!
Worst moments: just getting shot at in South Auckland.
Approximate miles walked: 1076