September 2nd, 2018
Burney Mountain Guest Ranch mm 1410 to HWY 44, Old Station mm 1377.5
Distance: 32.5 miles plus several miles hiking to and around town and to the lava tube
0600-1900
What a day! I set my alarm for 0330 am and was on the trail by 0430 am. This plan was hatched by Flowers but we all thought it was a good idea. We had to hike the notoriously hot and waterless Hat Creek Rim. Two hours of walking in the dark was 2 hours we wouldn't have to do in the heat of the day. And we wanted to go 32 miles to Old Station, where water, beer, and food awaited us.
I enjoyed hiking in the dark. A half moon provided some light and my red headlamp just the rest I needed. I went behind Flowers, so that also made it easier. It was tricky to find the trail around some of the infrastructure like a fish hatchery and bridges but GPS made it feasible. Before long, the sun was coming up and we had already covered 6 or 7 miles.
We made it to a water cache that was 16 miles in by 0930 am. Halfway, but already it was starting to get hot. The longer we lingered there, the worse it would get. I drank lots while there and I only took 1.5 liters for the remaining 16 miles. We met a section hiker, Will, that was amazed we were carrying so little. He had budgeted on 1 liter for every 4 miles. Every liter weighs 2 lbs, so that adds up.
I'm lucky that I have a body plan for extreme heat and I don't hardly sweat. I can go a long time without even taking a sip. I actually finished the day with a little water left over and I was still having to pee regularly, so I was good. There was an old trail magic cooler with some water left inside, plus a spring down a steep trail along the way, but I didn't bother with either.
I did have foot problems, however. Holes developed in my socks around my Achilles area and my shoes began to bite into my skin. I had to stop to duct tape first the left, then the right, then the left again when the tape quickly came off. The trail was so dusty that the dirt was like sandpaper and also made it so the tape wouldn't stick. It was really annoying to be dealing with foot sores after all this time. I desperately need some new socks.
The trail followed the rim of what looks like a big rift zone. Or it could have been created by massive lava flows at some point. The whole area is very volcanic, as I had to step over lava rocks all day. There were great, sweeping vistas along the rim. I could see Mt Shasta in the distance to the north, the smoke rising from the Hirz fire, and the many volcanic peaks of the Lassen area, including Mt Lassen itself.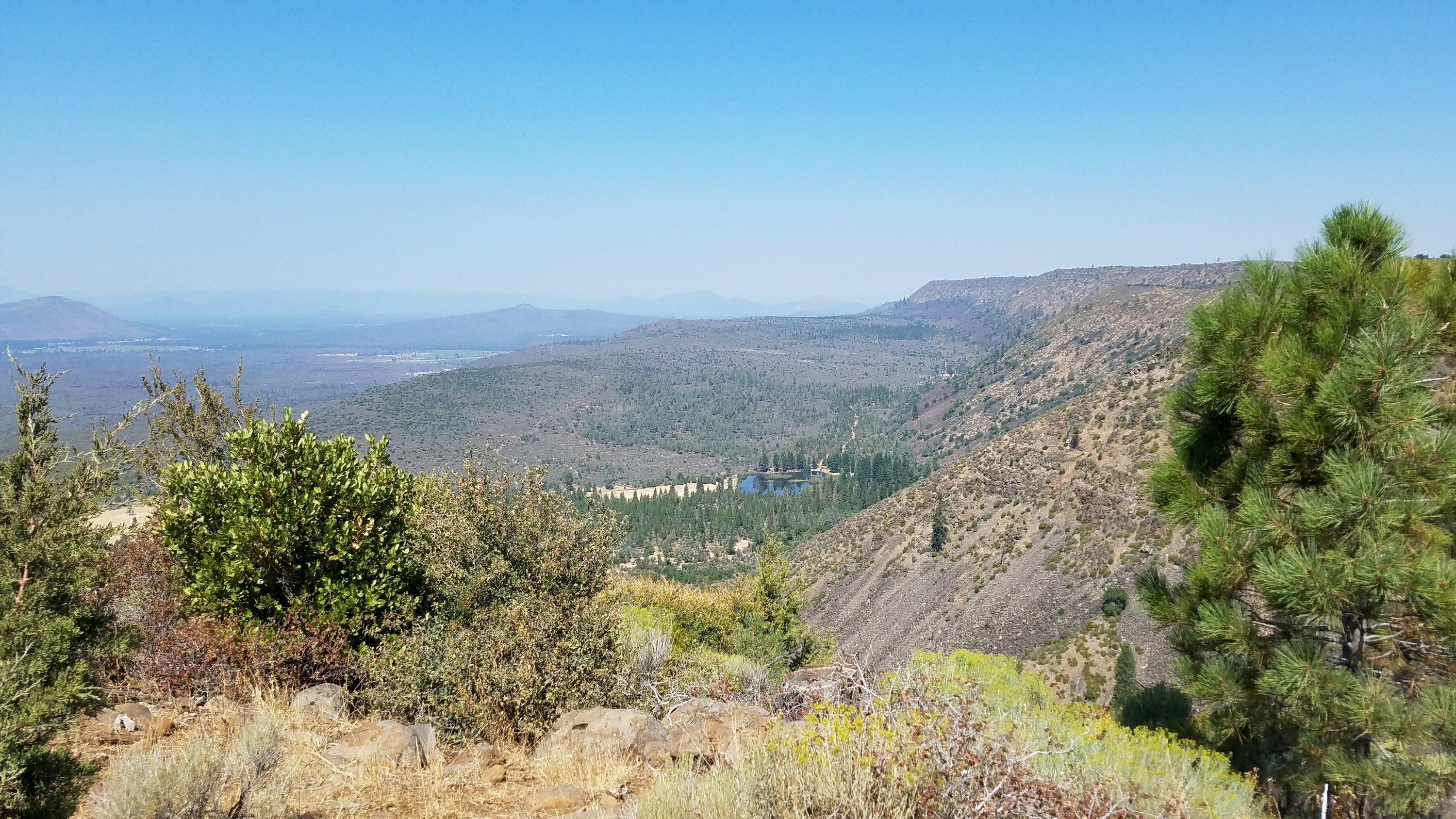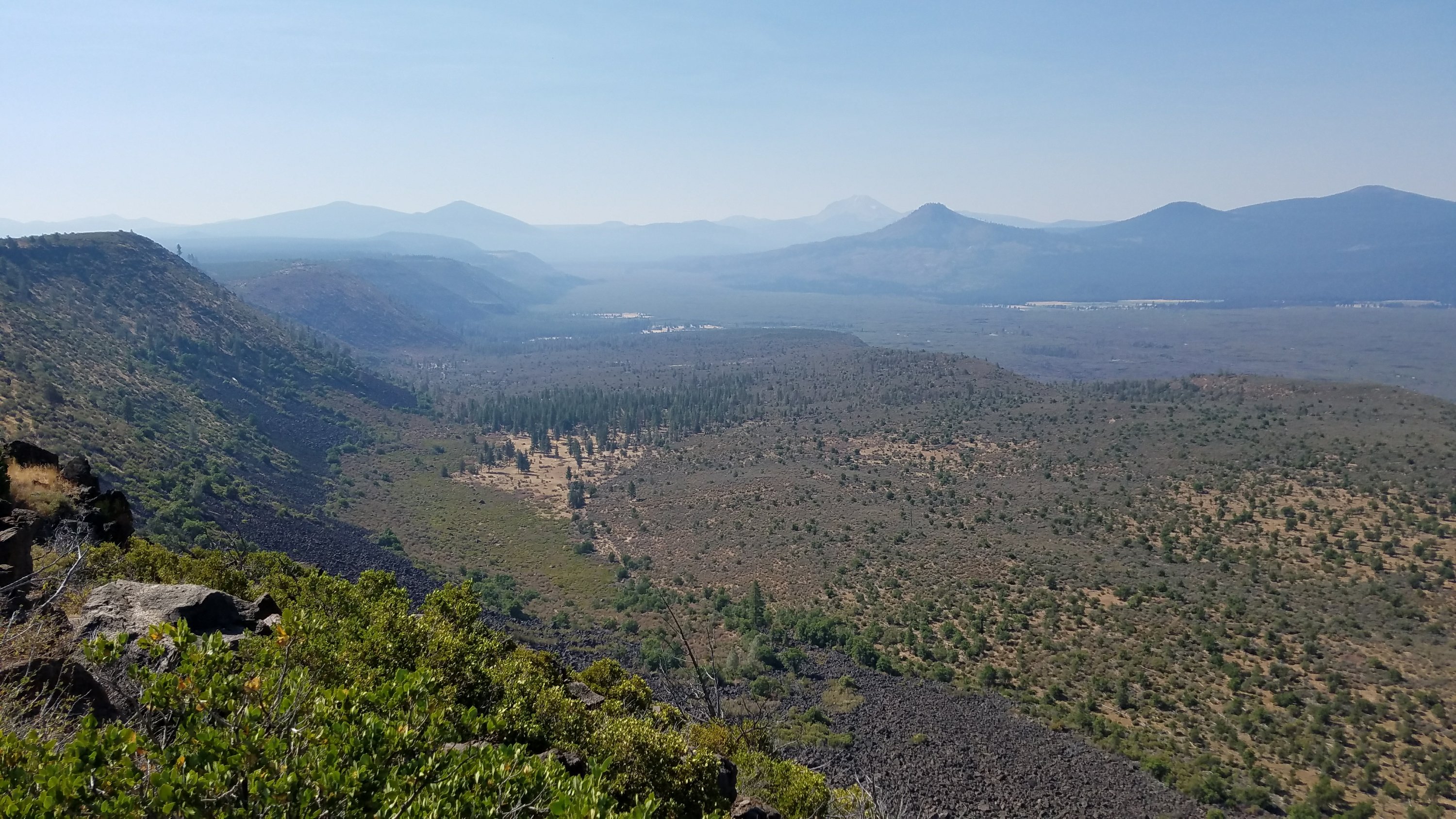 The Rim trail is also very exposed. I was in the sun all day so I had to create my own shade. I had been contemplating if carrying the umbrella all this time had been worth it and yes, today paid for the dead weight of the previous 50 some days. Just not having the sun beat down on my head makes such a difference.
The final 3 miles was tough, as I could see my destination from a lookout point. I came down from the rim and any notion of a breeze ended. I put music on and that carried me through all the way to the gas station. I did 32 plus miles by 3 pm! The gas station had 99 cent fountain drinks of any size, so I downed a liter of Mt Dew and an ice cream cone. Ahhh!
Flowers had arrived just before me and we went to JJ's cafe, which was only open until 5 pm. That was another motivation for an early start. I had a burger, a great reward for pushing so hard all day. I was feeling very drained afterwards. The heat really zapped my energy.
But I was not so tired that I couldn't go to see the nearby Subway Cave, a huge lava tube. We ditched our packs at the gas station and walked just under a mile along the road.
Flowers is an expert on lava tubes, and caves in general. He studied endemic insect communities deep underground in Hawaii. And he is obviously very much into caving. It was like having a personal interpretive guide in the lava tube.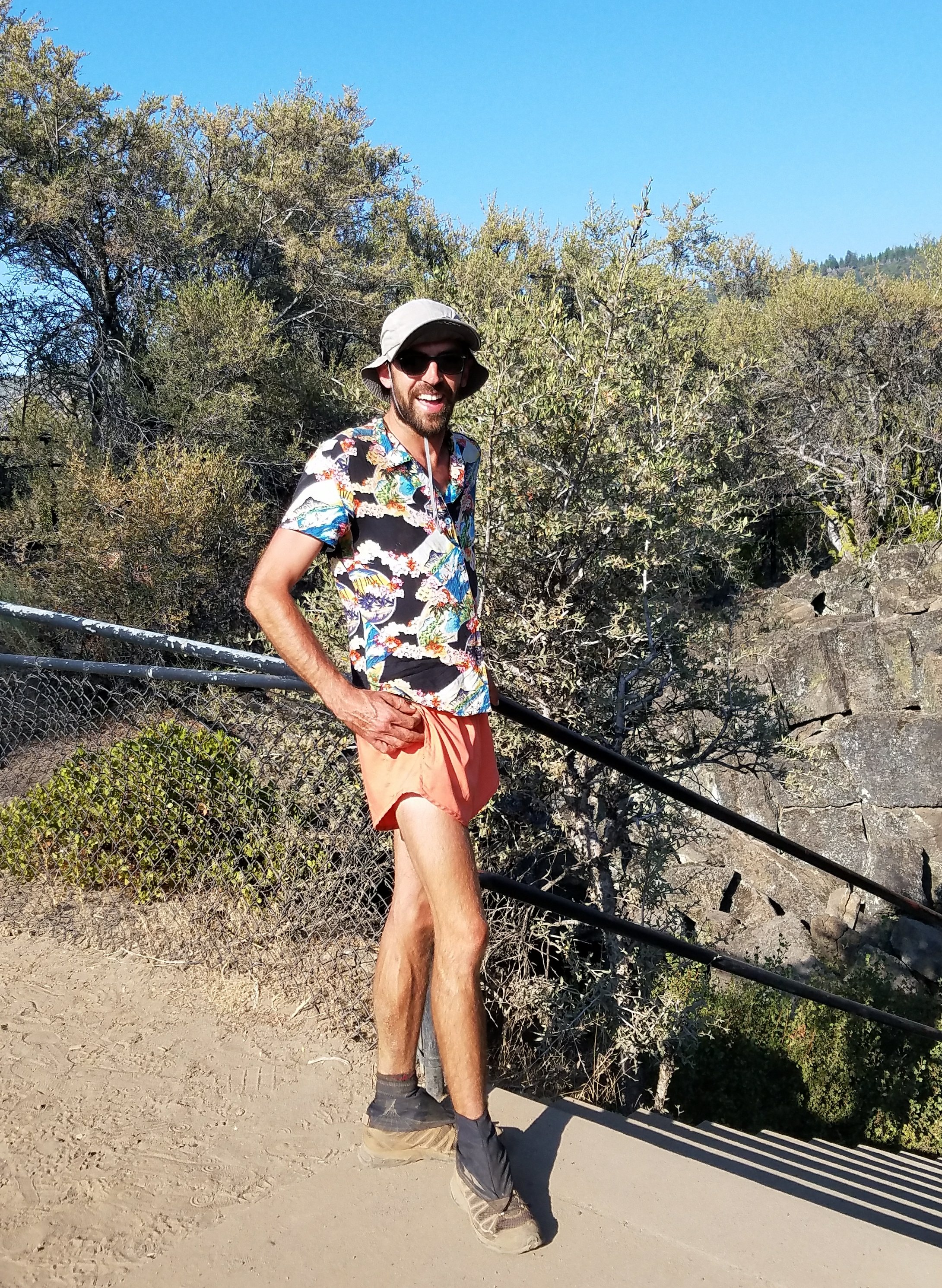 My lava tube guide, Flowers from Hawaii.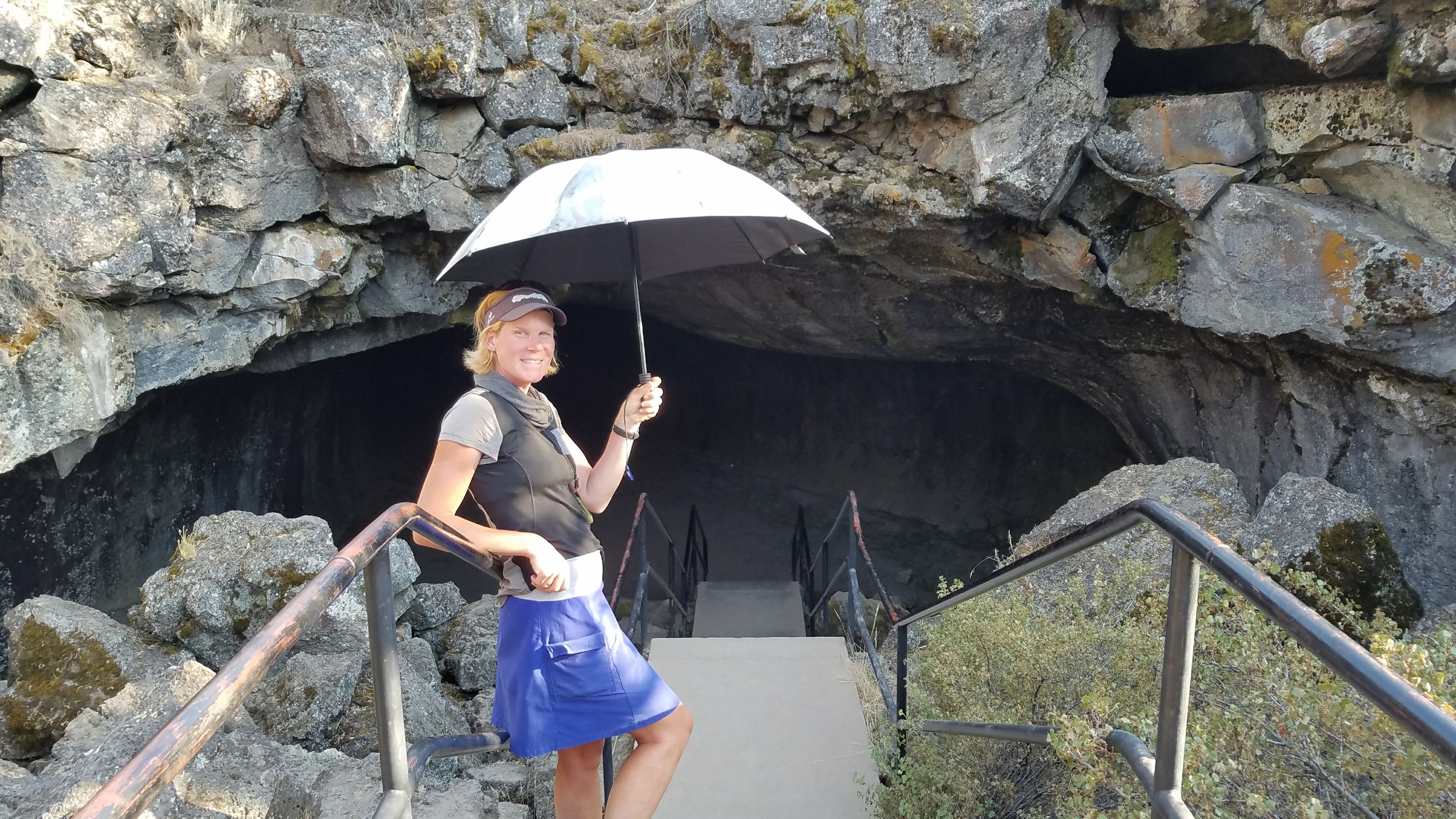 I couldn't really take good pictures inside, so I just have one of me at the entrance. We also forgot to bring our headlamps and were just going to use the lights on our phones (what amateurs!) but another visitor let us borrow his flashlight. The cave was so cool inside, maybe in the 40's, which was quite a relief after the hot day. Flowers said the temperature outside had topped off at 97 degree F (36*C) that day. No wonder I felt so wasted!
We went back to the gas station and set up camp right behind. They allow free camping for PCT hikers and in return we bought beers from them all night. I only had one but Dorothy and Suehenga also showed up and patronized the store. I stayed up way too late (9 pm) hanging out and then tried to get much need rest. I can't believe I crammed so much into one day!