January 26th
Pukeatua Track (km1630)-Paekakariki Holiday Park (km1662)
Mileage: 19.9mi/32km
I was really refreshed by a good rest in my tent, looking forward to a day that involved country roads, a river, an estuary, a beach, and then dunes. The morning was beautiful and started off with some friendly horses. This mommy even whinnied at me and baby was keen to nibble on my stuff. Does a baby horse count as a new animal petting?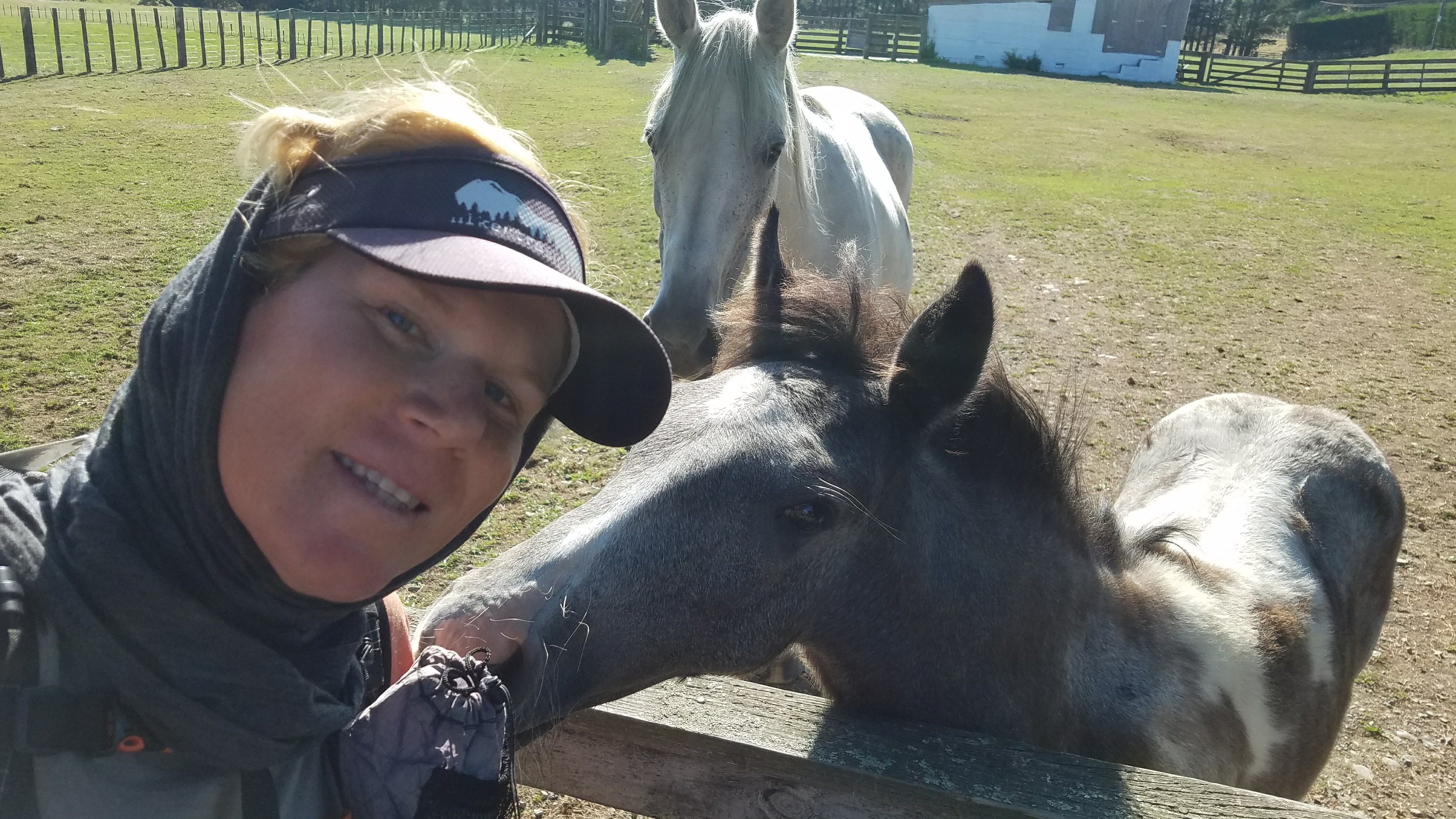 Well, if not, then I have a few more that definitely add to my count. I found this sign unexpectedly on the side of the road: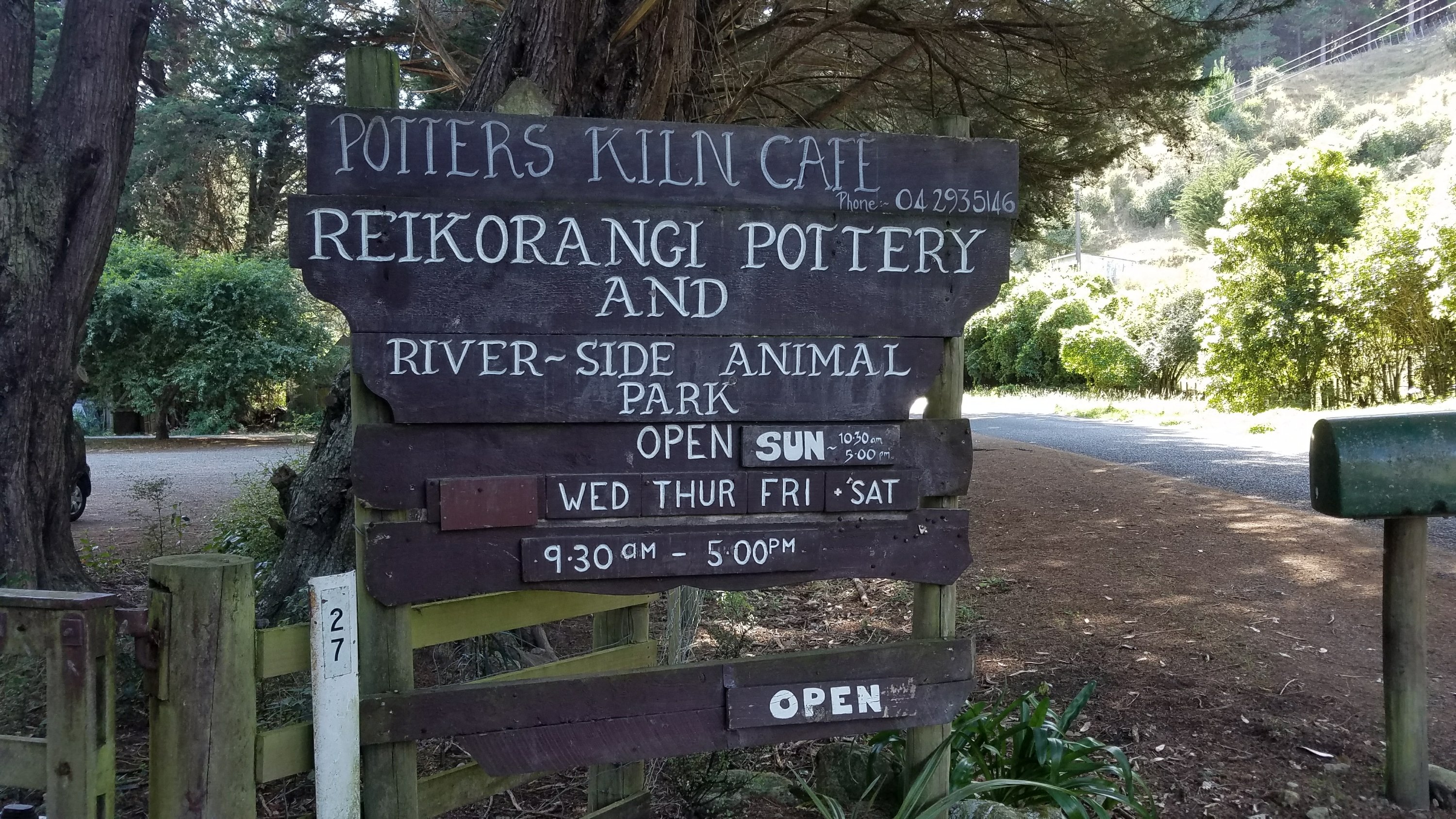 They had me at animal park. I could also here exotic shrieks emanating from the place and just had to check it out. I walked in to find a menagerie of domestic fowl. There must have been over a thousand chickens, ducks, geese, peacocks, Guinea hens, pigeons, and even some caged parrots. The proprietor, Jan, was out feeding them, creating quite a hurricane of feathered friends. I was in heaven.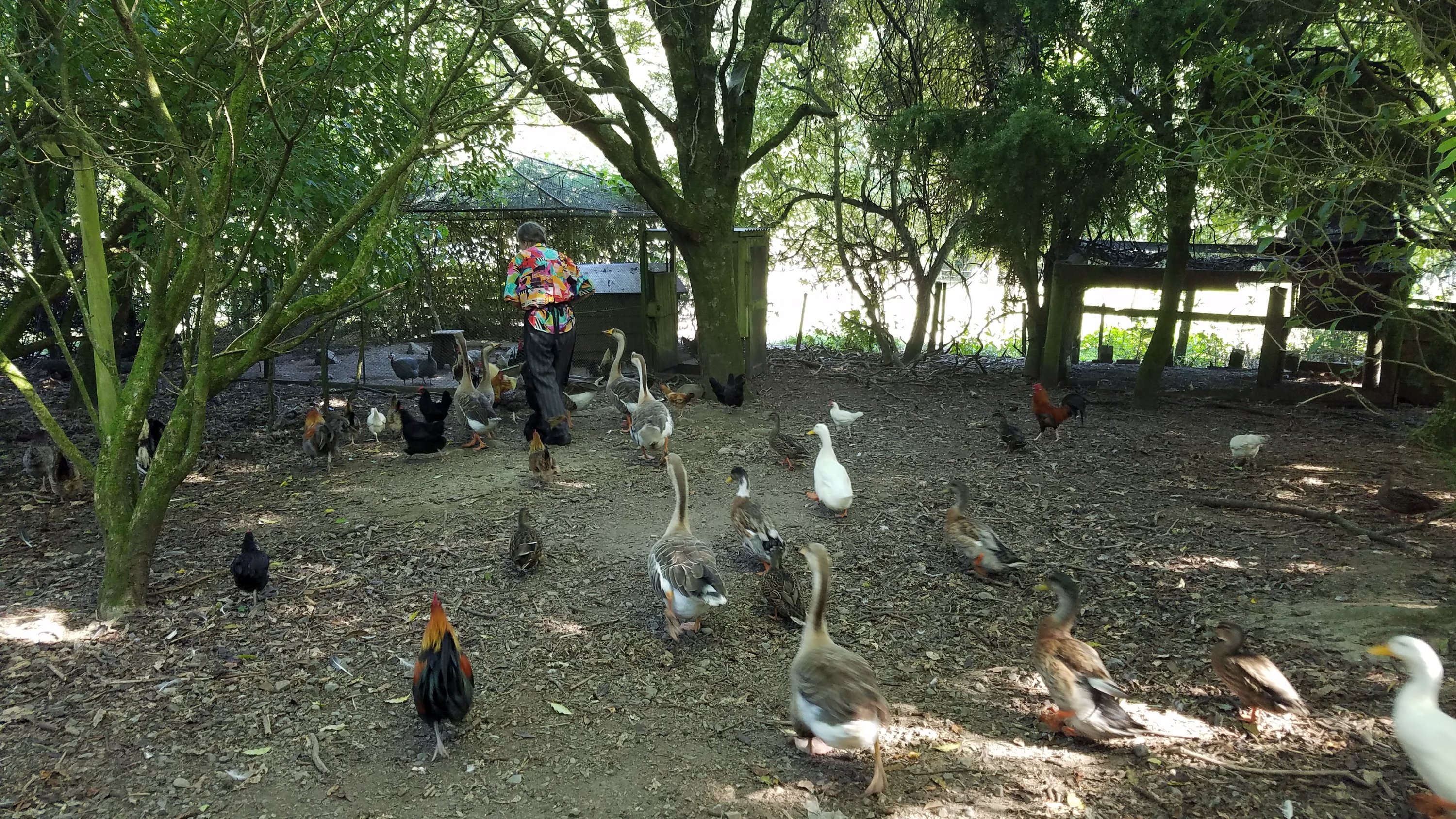 The geese immediately seemed keen for a scrap but backed down quickly when I called their bluff.
That's ok, I had my eyes on a bigger prize: a male peacock strutting around.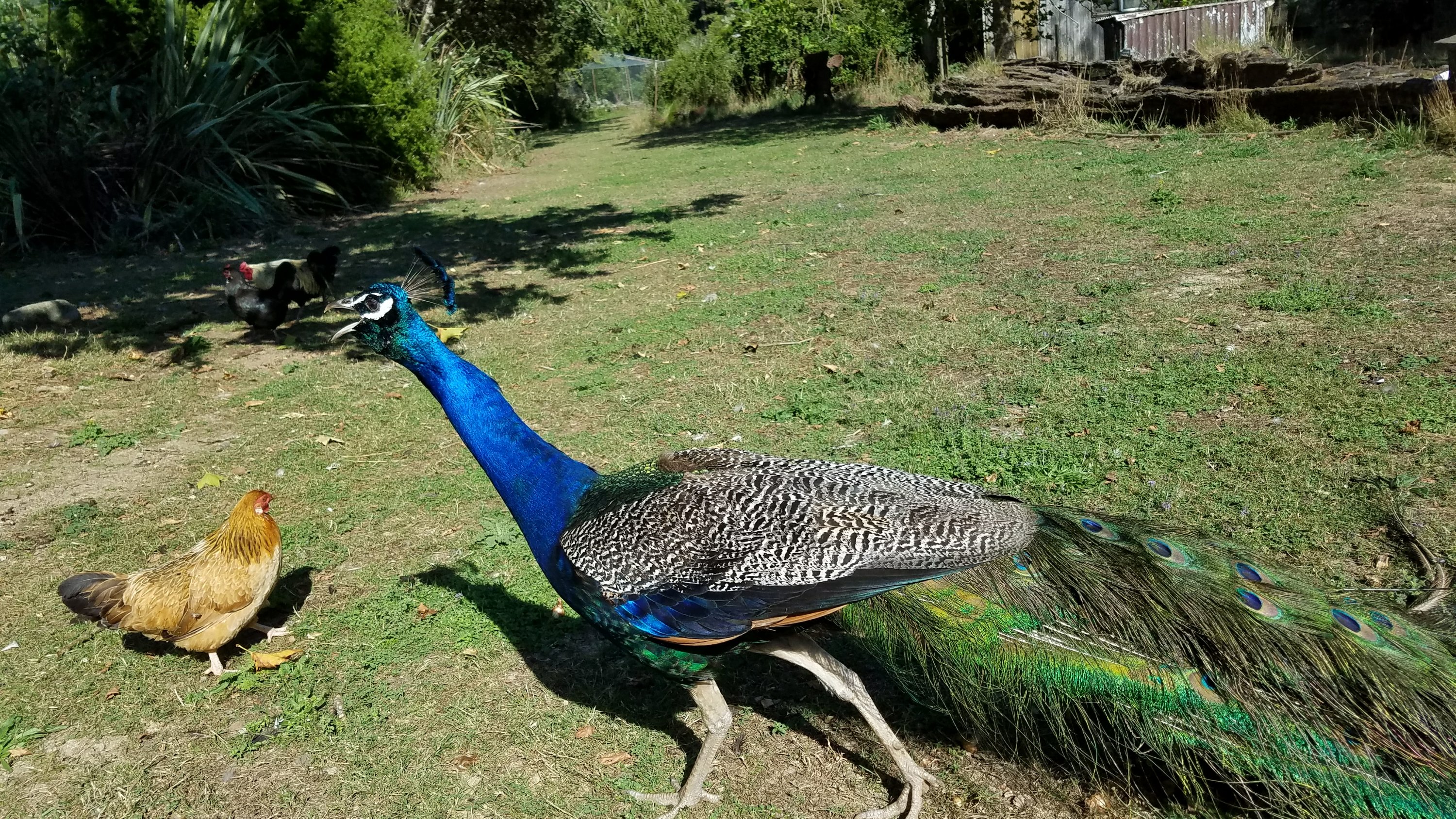 The memory of them crowing all night while we were camped on the Whanganui was still fresh in my mind and I wanted revenge. I've caught a peahen before, so I figured it was no sweat. I lured him in with some blackberries and the catching was the easy part. It was the holding on that proved difficult. I had no idea peacocks were so strong! He struggled, kicked and clawed and I paid for my cockiness with a bunch of scratches and tears in my clothing. Worse yet, my phone battery was so low that it went into some power-saving mode and I didn't get a picture. Yes, I deserved it. I could just hear my husband's voice chiding me "leave it alone!" I'll have to do some stitching later and will probably refrain from catching any more peacocks. But I did add a new animal to the petting list, albeit an unwilling one.
Next up was Opal the alpaca. Of all my pettings, this was the only one that has made me uneasy. I don't know the body language if an alpaca but something told me this one was on the verge of spitting at me. I let her sniff my hand but she kept putting her ears back and making nasally sounds that sounded like someone going hmmmmmmnnn. She was the funniest-looking thing. I'm still not sure if we ever became friends.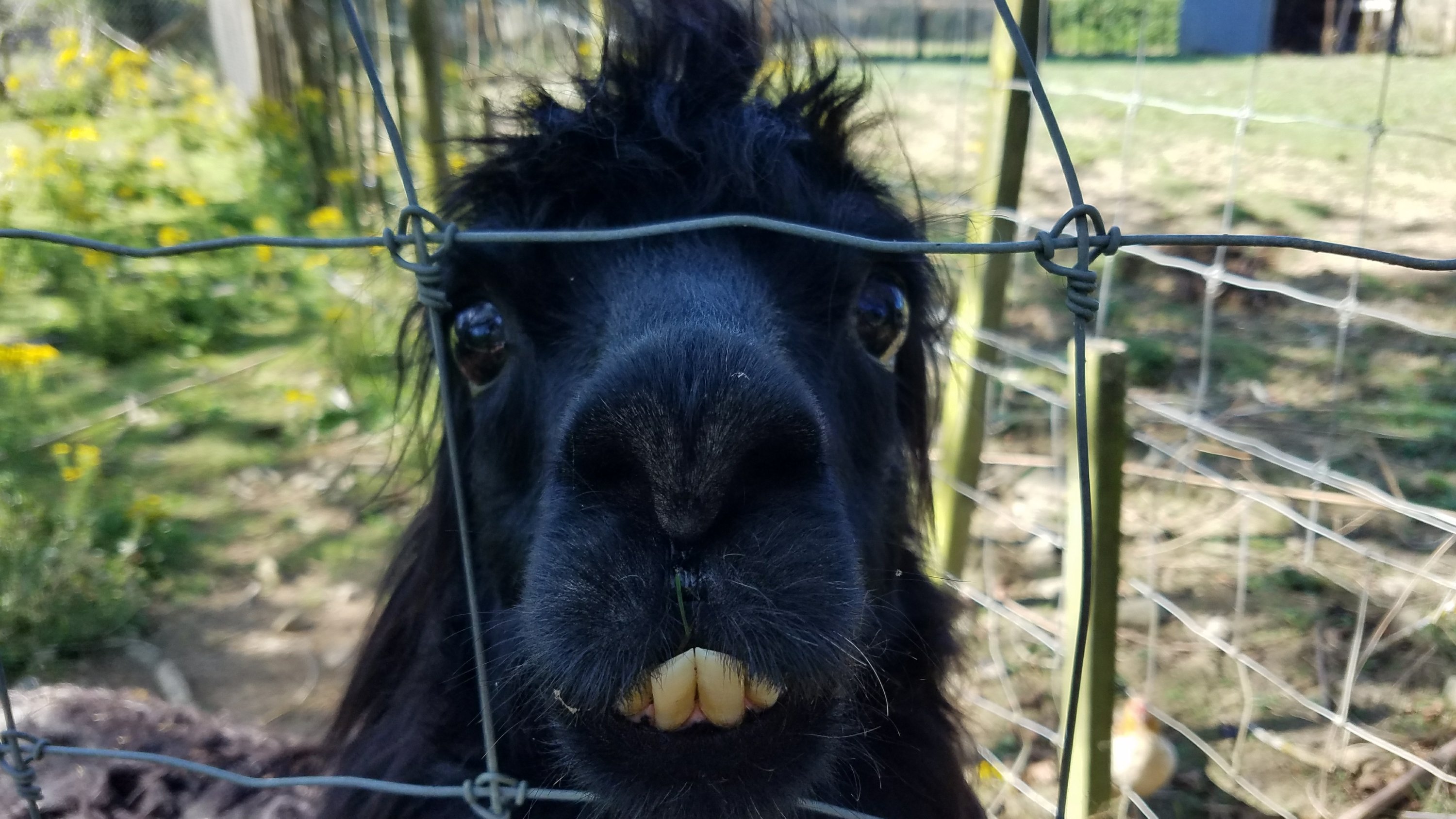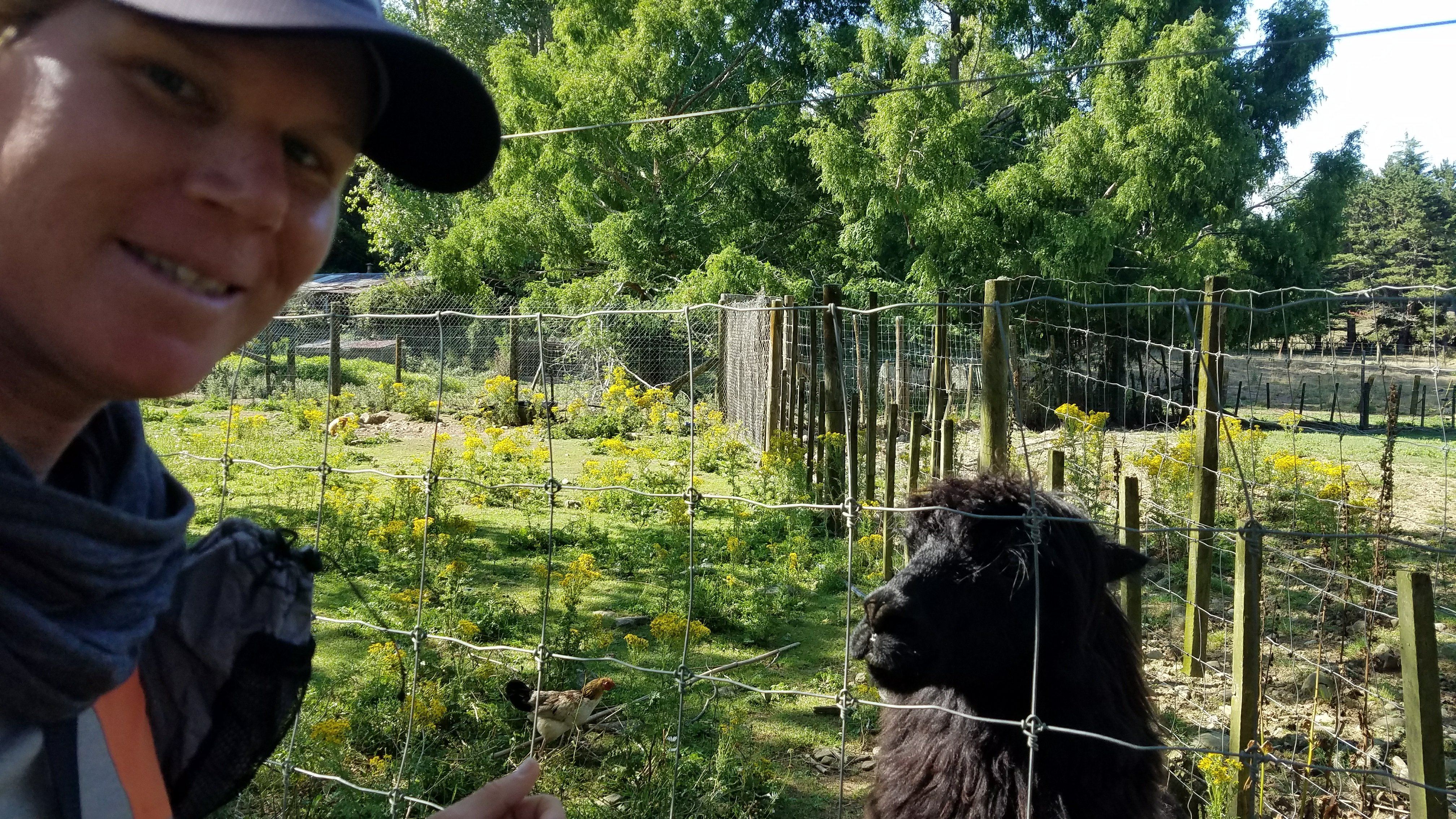 I finally found an animal that wanted petting…or rather scratching. This sweet little cockatoo was all for a good head scratch. She even bounced up and down in protest when I stopped.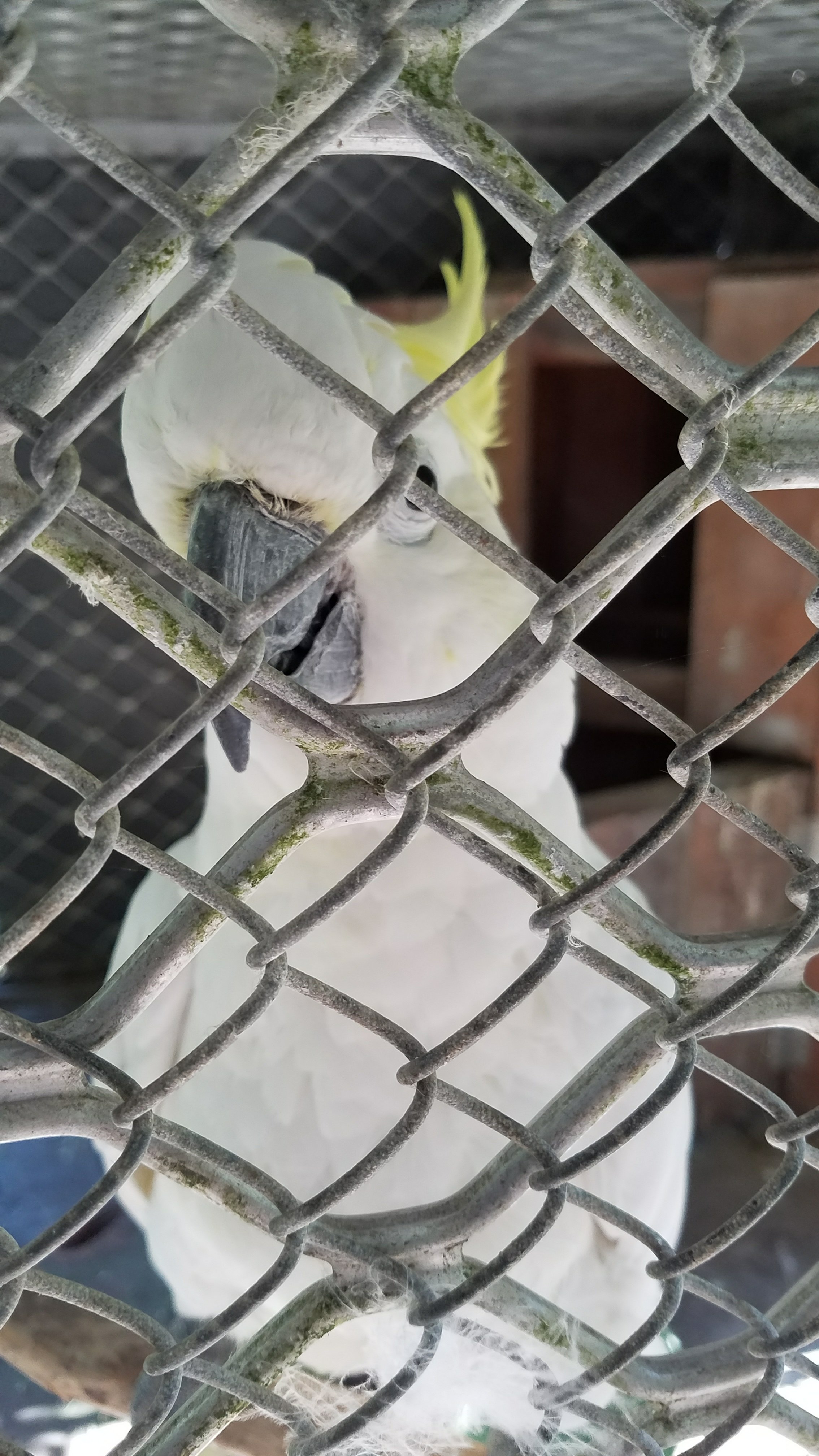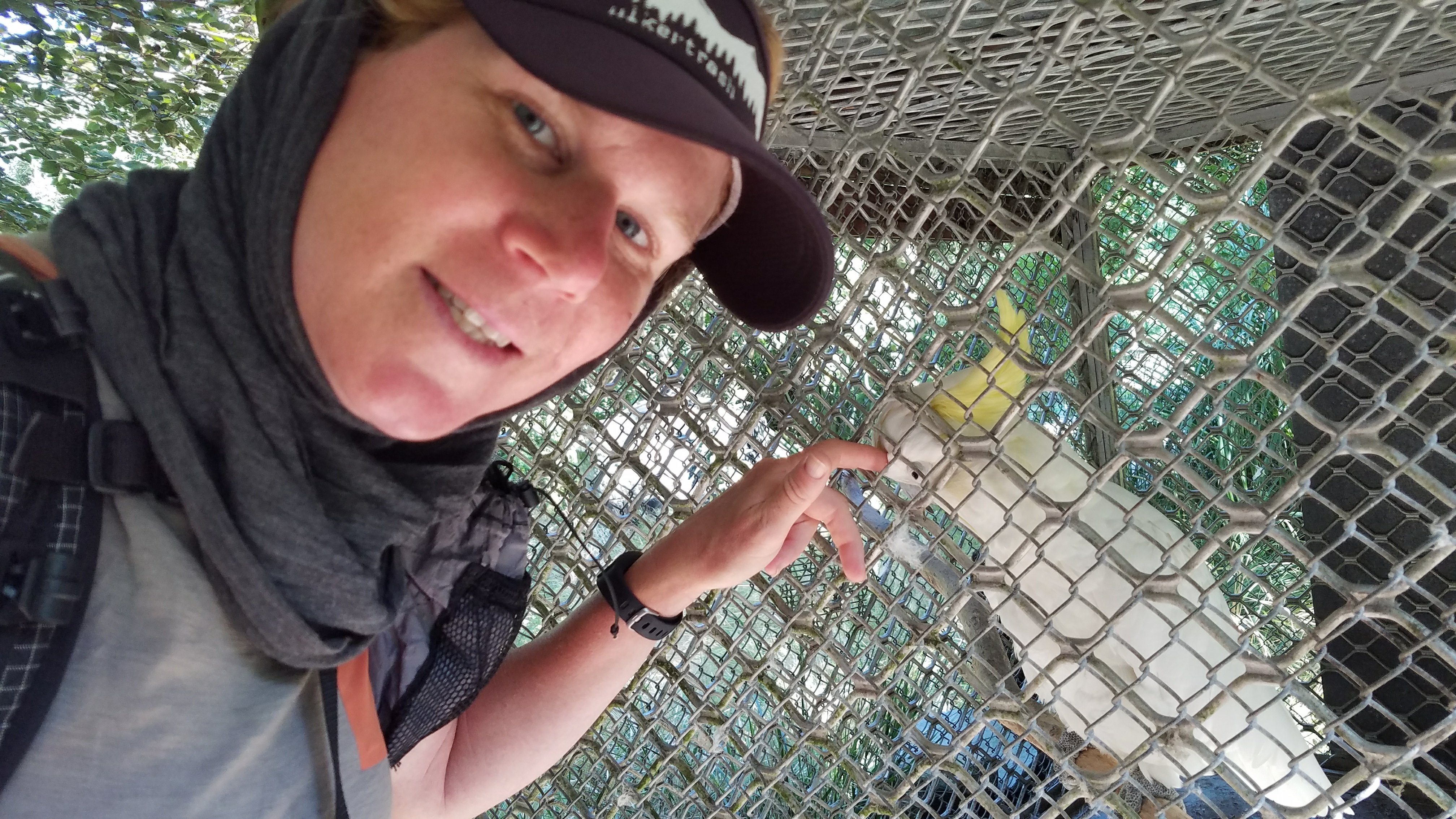 After all this excitement, I went inside to check out the cafe. Jan had earlier mentioned that she had to get her scones out of the oven…she had me at scones. I ordered a plain one with homemade jam and cream and it was heavenly…by far the best scone I have ever had. It's amazing how simple ingredients and just the right combination of sweetness, tartness, and creaminess can come together so perfectly. I highly recommend visiting just for a scone!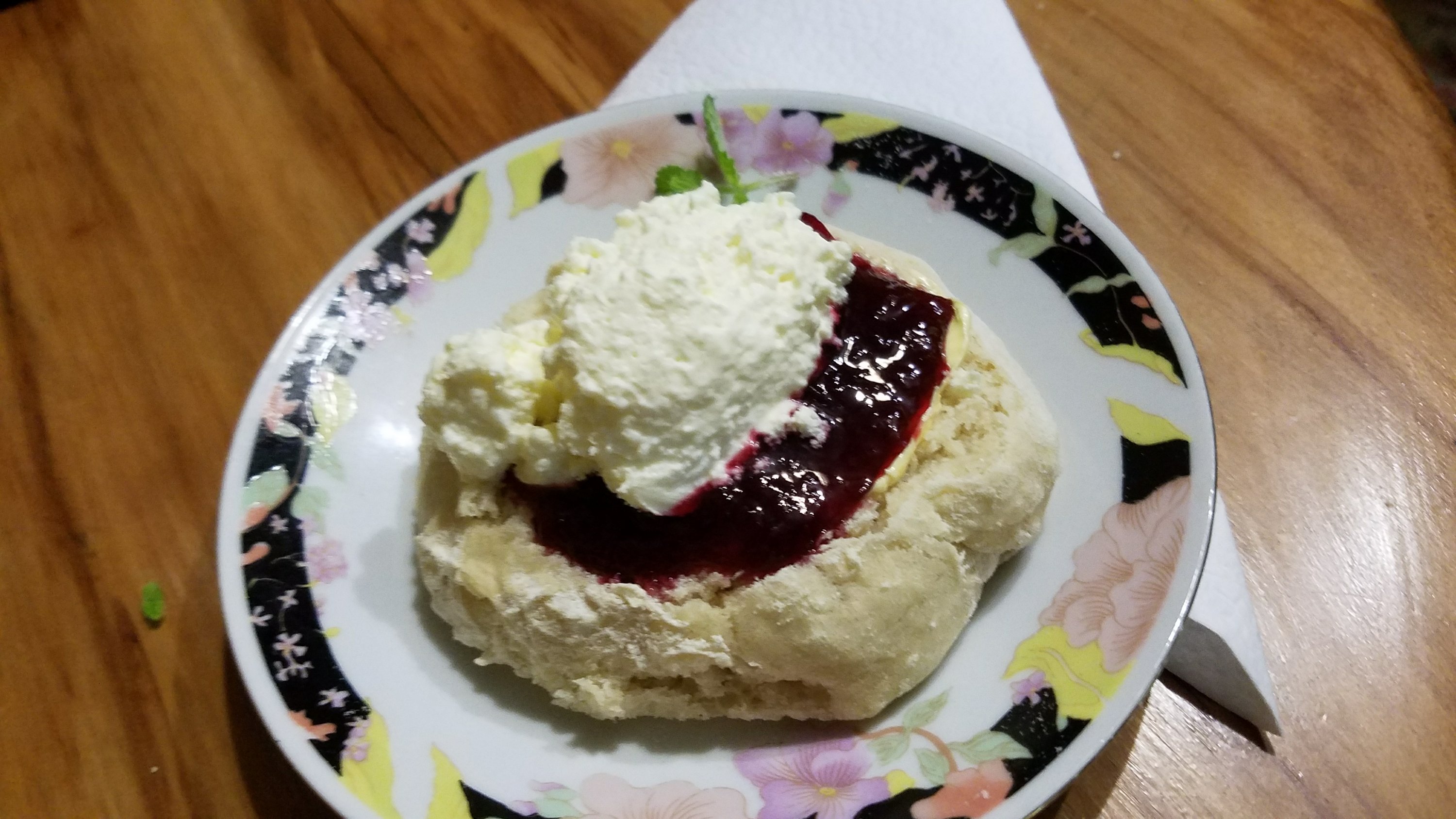 As soon as I was back on the road, a woman pulled over and offered a ride. I politely declined and she sighed, "another purist." I thought about all things I might have missed by taking more rides, including this little gem of a cafe and petting zoo. I was happy with my decision. Shortly after, another woman slowed and asked if I needed a ride.
I actually don't get offered rides all that often. I think that most figure if a woman wearing a skirt is walking a road, it's because she wants to and not because she can't get a ride. It is just so easy here.
I made it to the town of Waikanae and got a footlong Subway. I was actually thinking that my hiker hunger might have subsided some but before I knew it, I'd downed the sub, chips, and several refills of coke.
I continued along a wonderful multi-use path following the river and then the estuary to the beach. There were many parks and horse farms along the way. Kids were swimming in the river. I picked blackberries that are just starting to ripen. Views of Kapiti Island opened up. It was all so pleasant.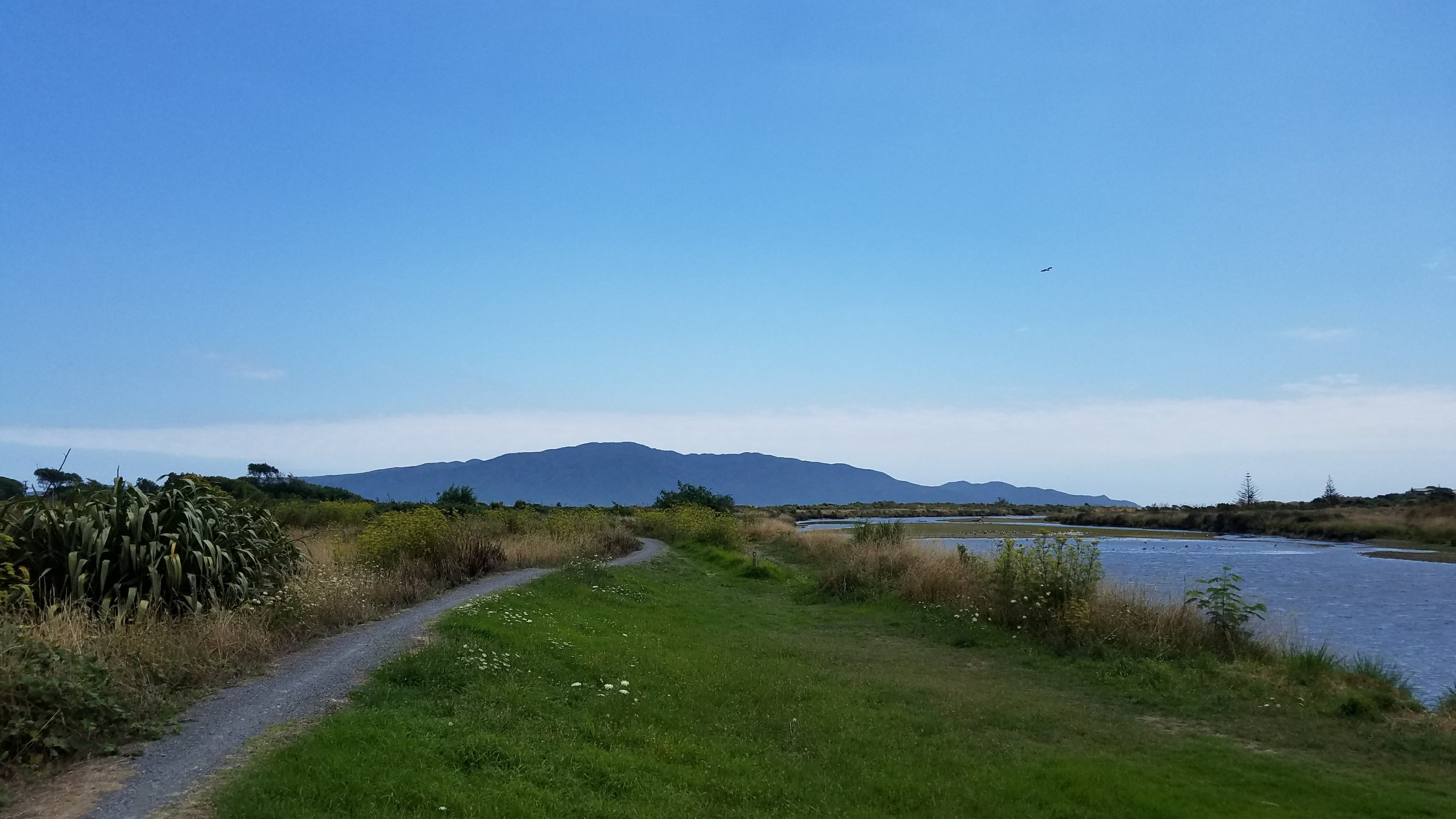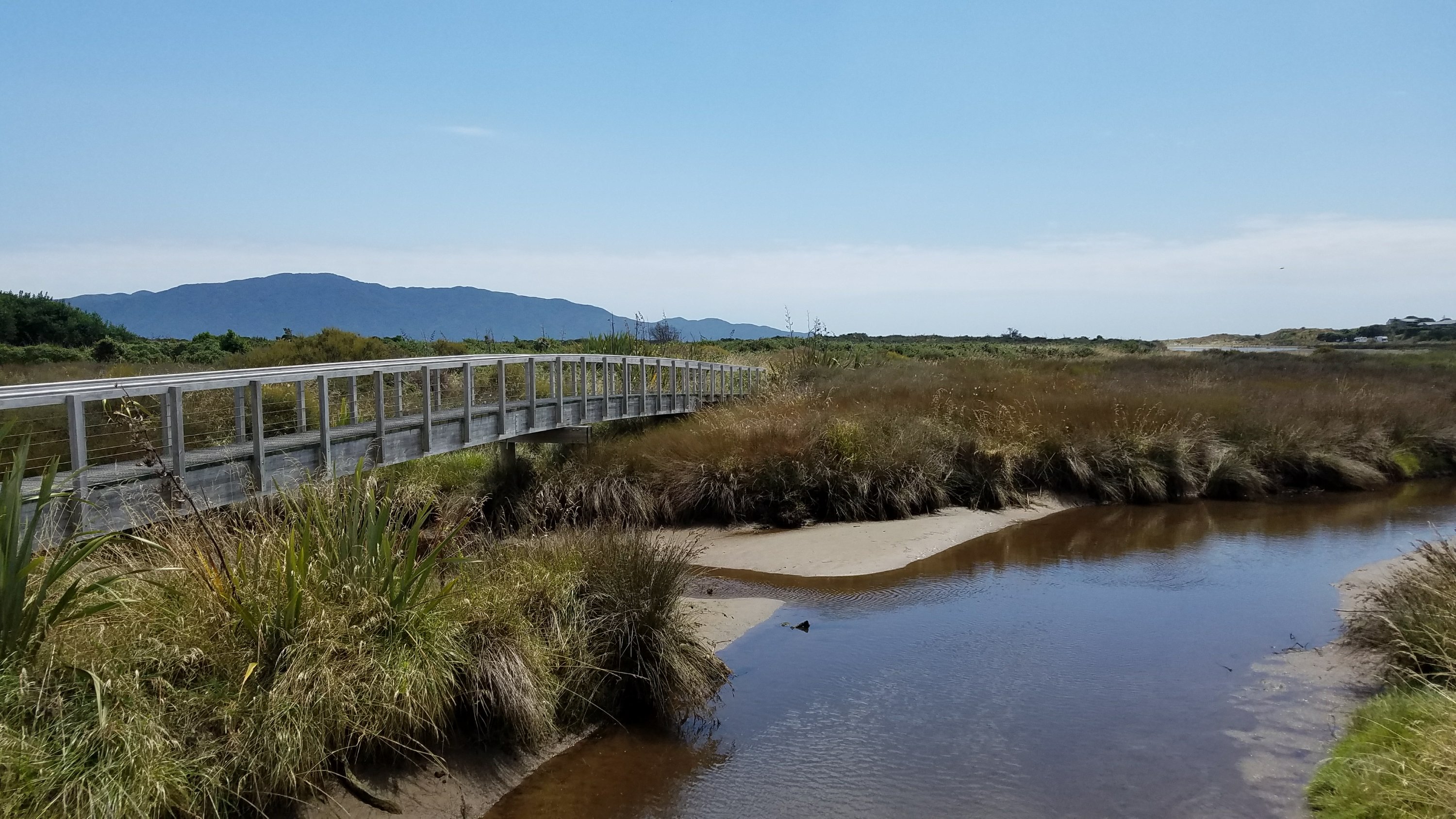 Once on the beach, the tide was low but there was a stiff southerly headwind at around 15 kts. At least one of the factors was in my favor. Towards the end of the day, the wind had died and the waves were lapping at the seawall. Then I wished the conditions were reversed once again, as it became pretty hot in the dunes.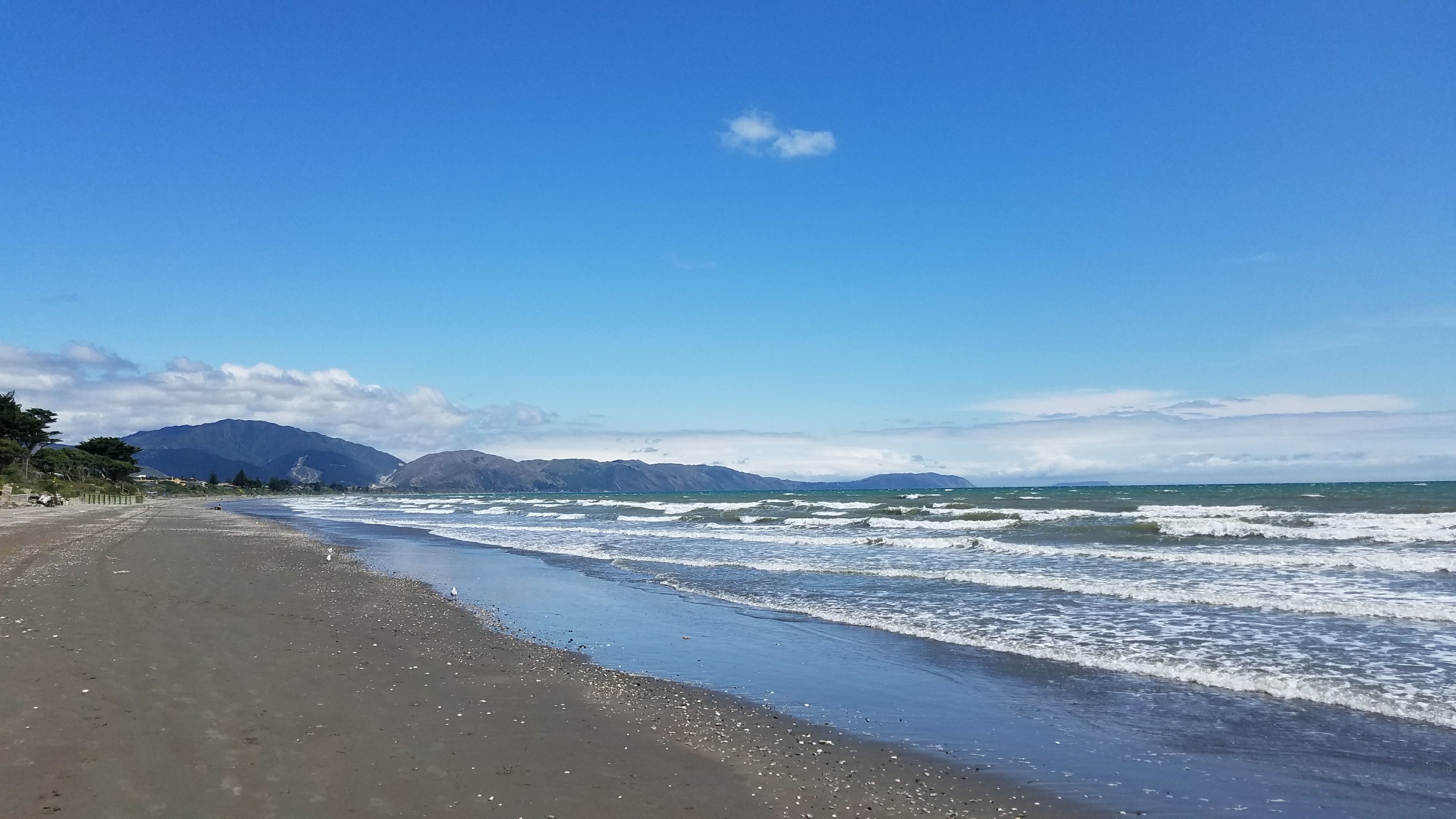 Several beachgoers stopped to chat. They all said they felt sorry for me, as there were record high temperatures this day. But it wasn't Miami-hot and I had on all my sun-coverings. The breeze was just enough to stay comfortable. People are used to much cooler weather here.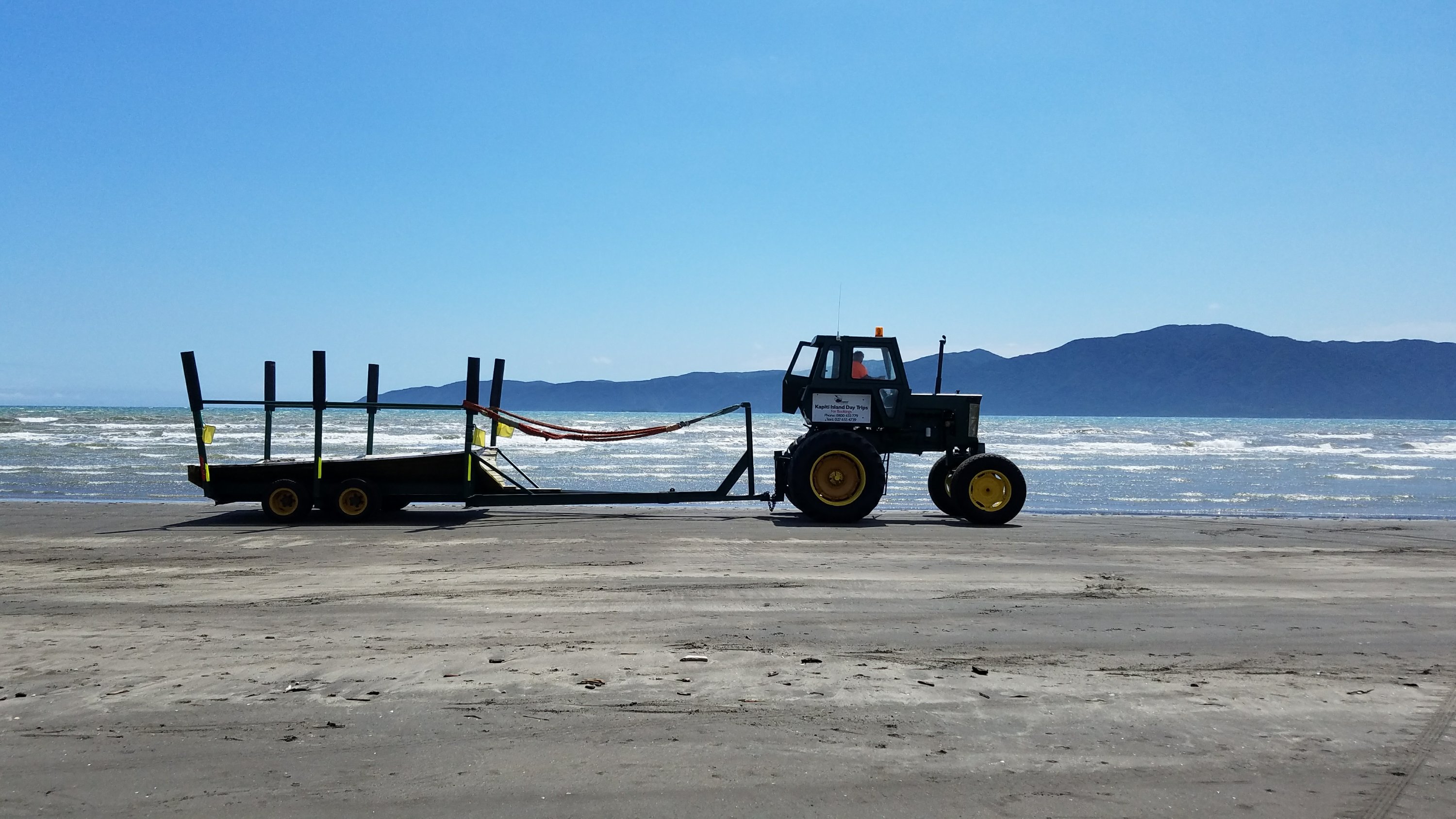 A rig waits for the tour boat to return from Kapiti Island. They launch and recover big boats right off the beach in NZ. Who needs a ramp?
The TA route moved slightly inland to Queen Elizabeth Park, which had a fantastic assortment of trails through the dunes.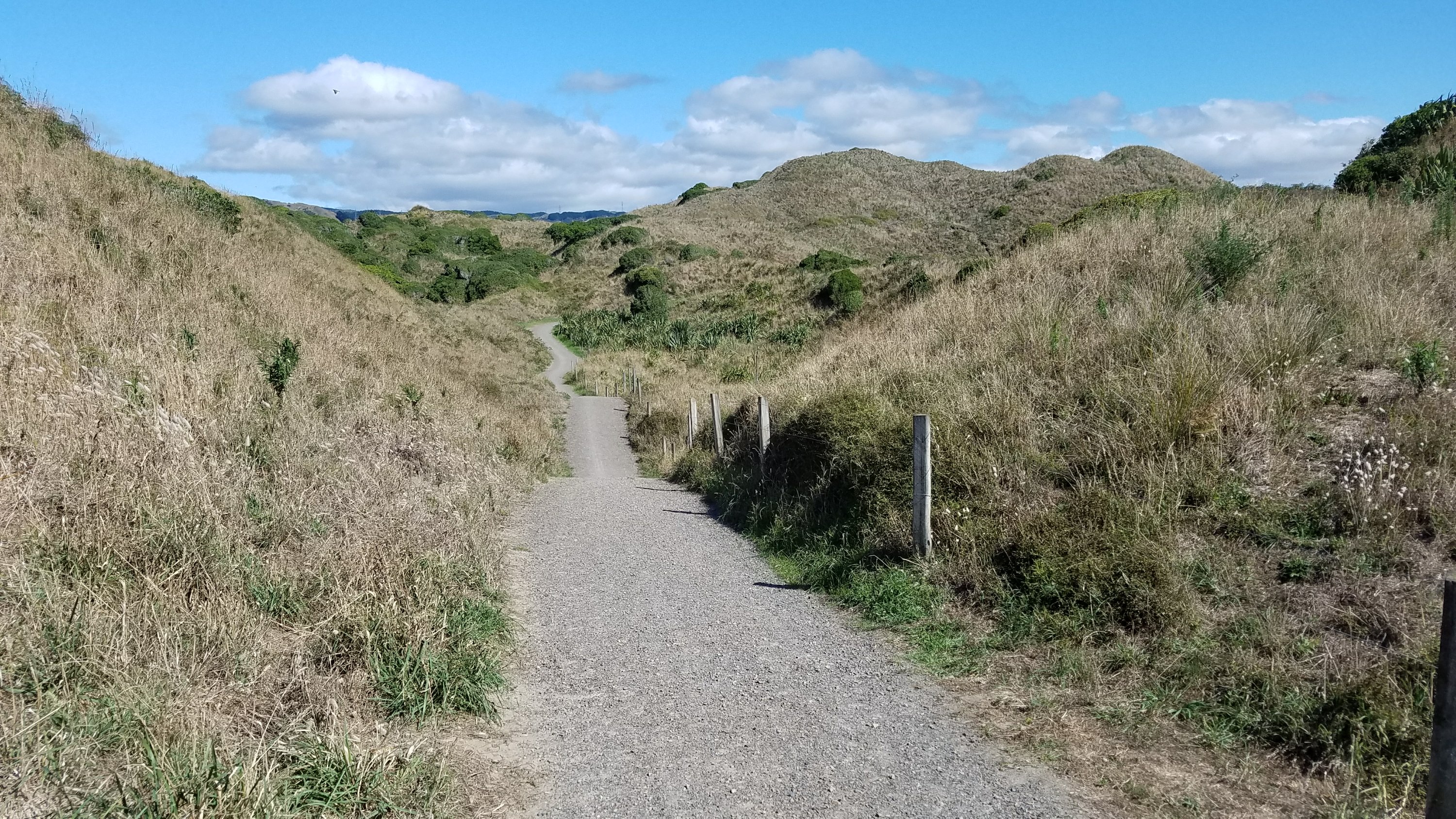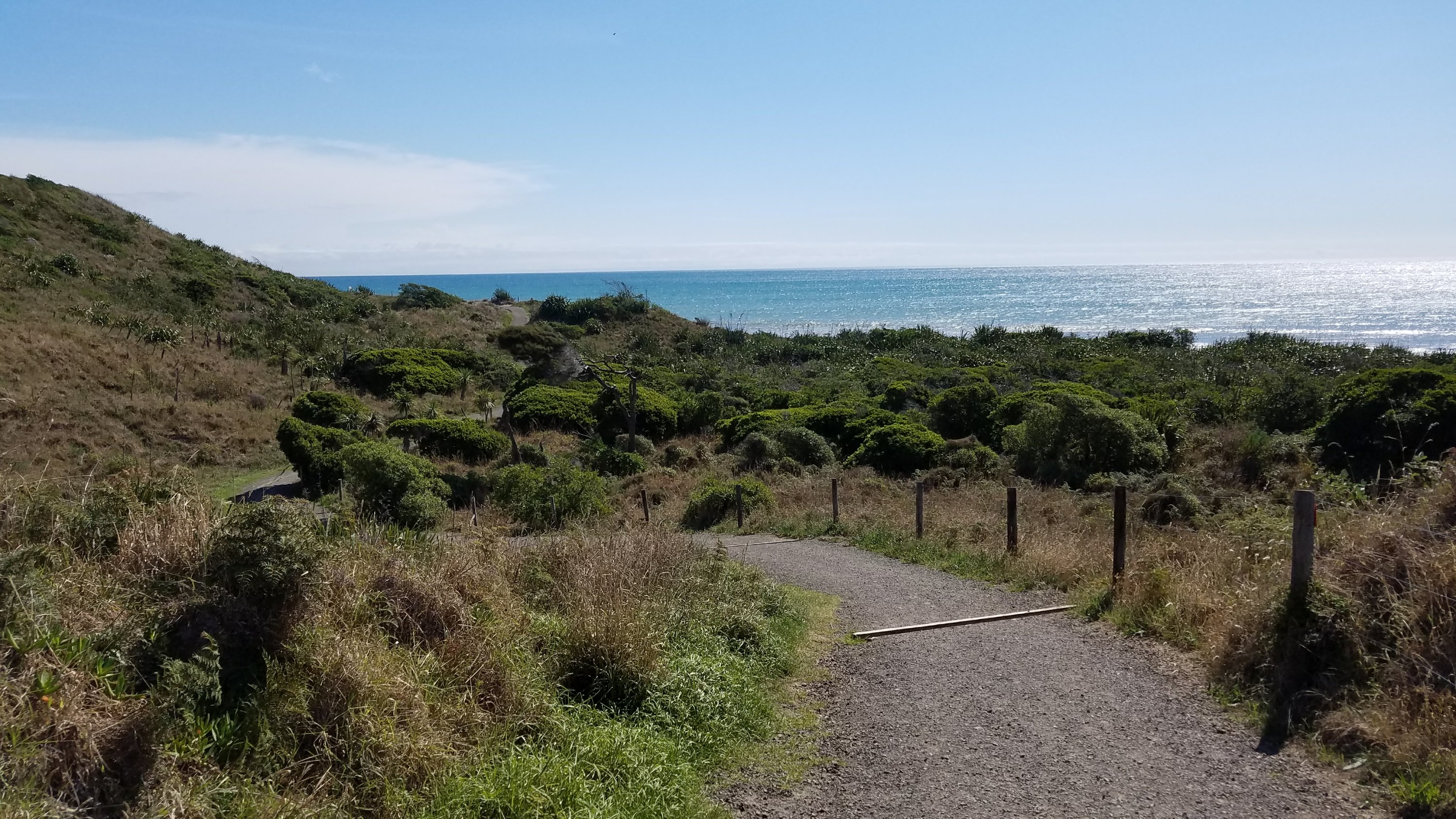 I was nearing my destination for the day, a holiday park in Paekakariki. A few weeks back, I had messaged a trail angel in Wellington, Lois, about staying with her family. She had responded that yes I could and to contact her again when I was a few days away. I had texted her this day and she informed me that her family had just hiked the Escarpment track and they were staying at the Paekakariki holiday park. What a coincidence! We agreed to meet up when I got in.
Once there, I threw up the tent hurriedly, as I still had one more important task to accomplish. In all the time walking beaches on the NI, I had not once gone for a swim in the ocean. It was high time I did, as this was the final beach. The water was surprisingly warm and it was a great way to wash my stinky clothes.
Back at the holiday park, I showered, cooked dinner, and finally linked up with Lois, her husband Rohan, and two teenage sons Stirling and Quinn. This was a serendipitous meeting indeed because it meant that I could give most of my stuff to Lois to take back to her home and then I could slack pack the rest of the way. I still had 72 kms to finish the NI but hatched a big plan that night. Of course, then I stayed up well past 11 pm chatting and then trying to blog. I needed more sleep for the day I had planned.