August 25th, 2018
Marble Valley cabin mm 1623.5 to Etna Road mm 1599.5
Distance: 24 miles
0600-1500
Today was about the oddest of combination of events, a mix of great trail and town shenanigans. I was in the mood to have a little fun, but more about that later. The trail did not disappoint, with alpine lakes, switchbacks and a roller-coaster of a day.
Perhaps one of the highlights was coming to Martin pond, which should have been named Salamander pond. It was choc-a-block with these red bellied salamanders, which I still haven't positively identified. I caught one in Oregon and couldn't resist catching (and then releasing) one from this pond.
I discovered that I could lure them over to the edge of the lake by dangling a frond of grass in the water. One comically tried to bite the grass but was neither quick nor voracious. I'm not sure how they ever catch anything. They are surprisingly easy to catch, since their skin is not slimy, but coarse like a reptile's skin. And they swim like fish in the water. So cool. I really like them.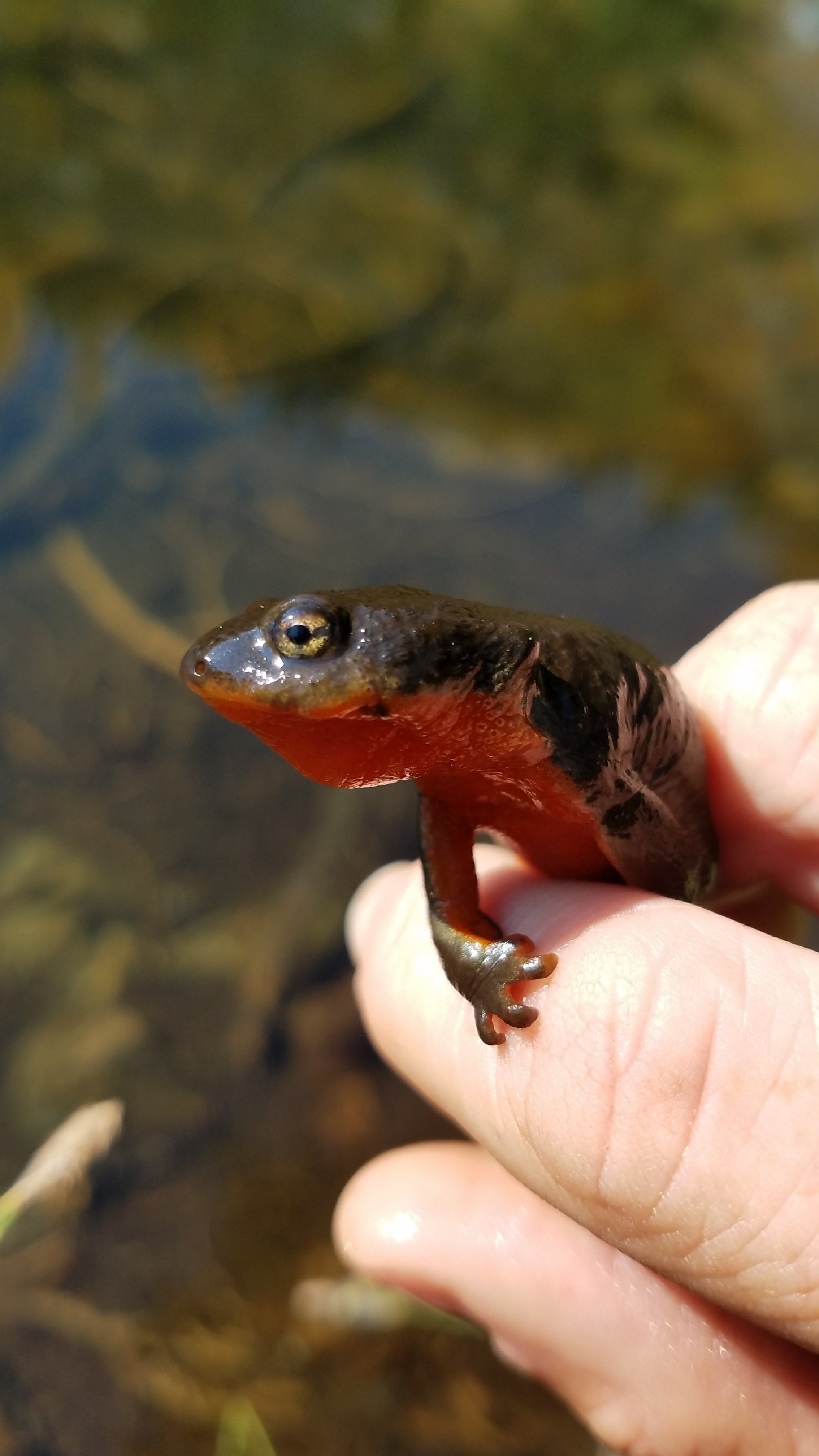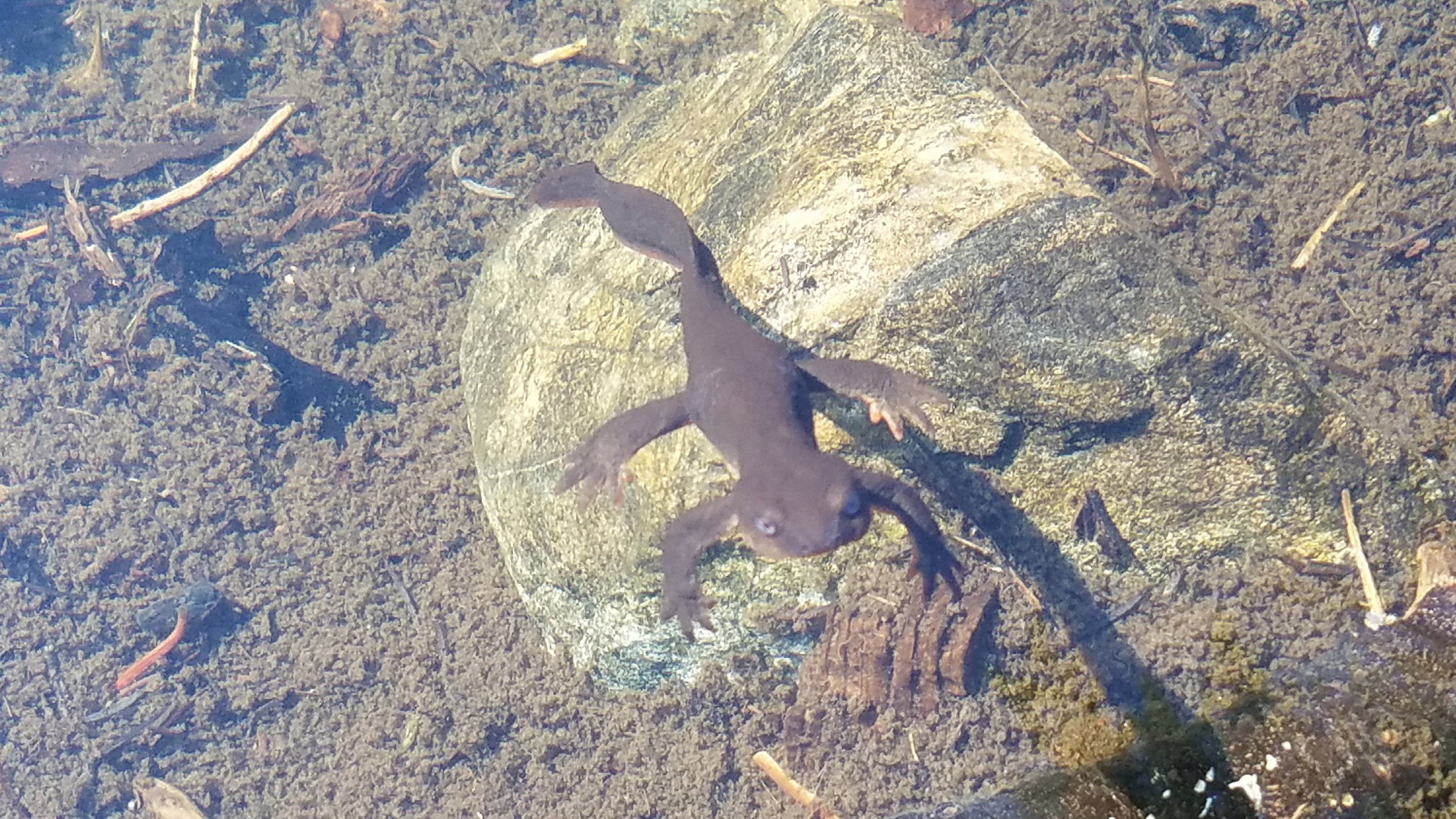 After that fun, I did another 15 miles along dry ridgelines. It was great walking and I was surprised when I made it to the HWY to Etna by 3 pm. Two other SOBO ladies joined me for the hitch to town. The very first vehicle to come along (after a very empty stretch) was a truck. The driver was quick to say that we could ride in the back provided we were ok with sharing it with a dead deer. I've had a lot of interesting hitches but this took the cake. Luckily hikertrash doesn't give a hoot about dead deer companions, just so long as it gets us closer to milkshakes.
In town, I popped into the coffee shop and met Orin and Tish, the owners of the shop. They grew up in Etna and just moved back. Orin had been laying pipeline for the oil and gas industry all these years and is happy to be in one place, learning how to be a barista now. I love hearing these stories and meeting the locals from these small towns.
Orin told me that Etna has a population of 600 but 2 breweries and 1 distillery. There is also a grocery, dollar store, hardware, and 2 hostels. Everything a hiker could need. It's not often that I visit a town smaller than the one I grew up in (Florence, CO) but this had so many attractions.
Orin is most welcoming of hikers and seemed genuinely pleased to see me come in. It was after their closing hours but that didn't deter him. I got an ice cream cone and he gave me samples of fresh-baked bread and later a coffee. He stocks other hiker supplies like candy bars for a buck and even a jetboil stove and darn tuff socks. There is also a hiker box to pick through. The place was great!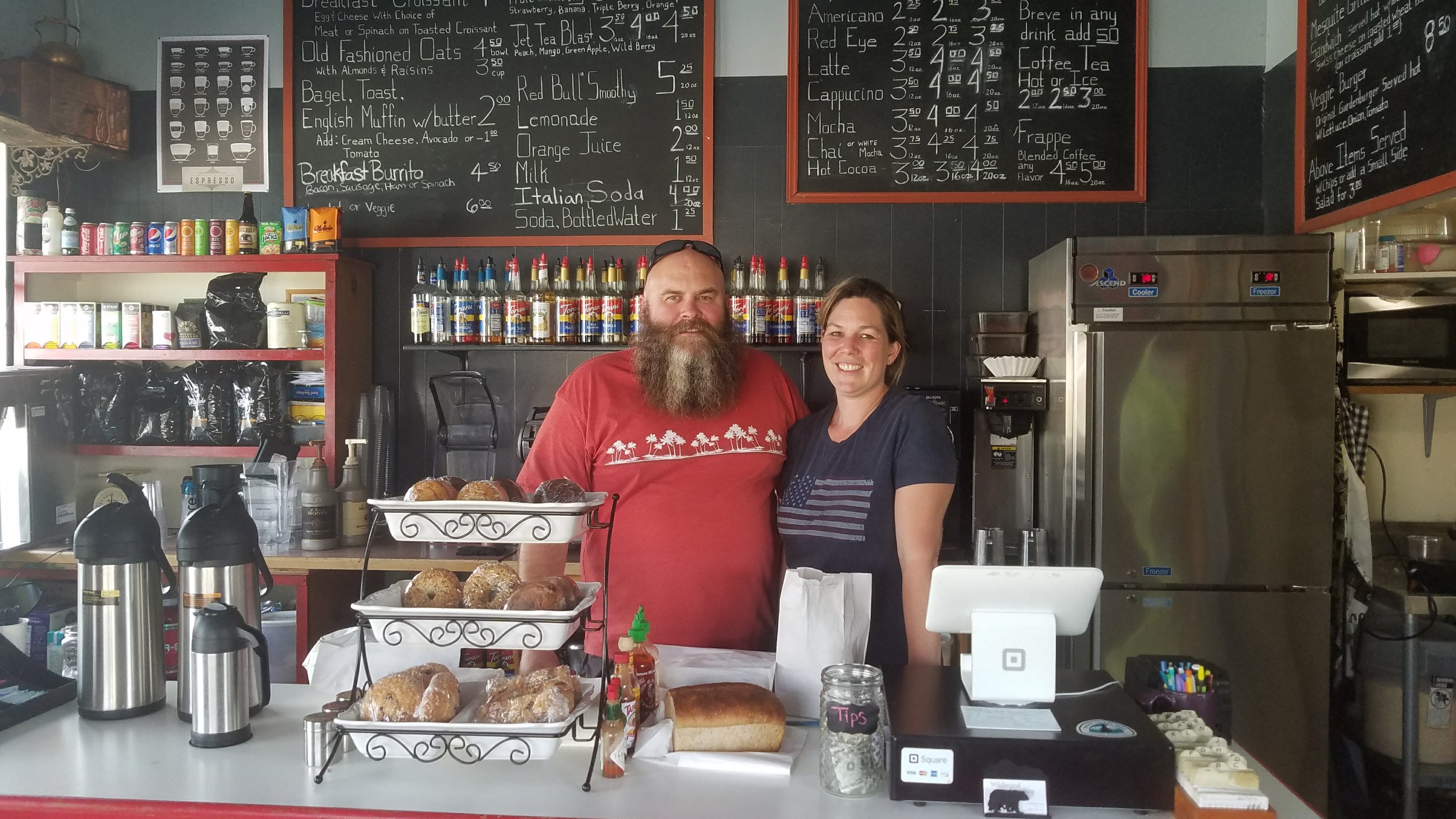 After getting all the best tips on town, I bid farewell and did my resupply shopping at the small grocery. It was just the kind of store I love, easy to navigate and get in and out of quick. I then checked into the hostel and did all my clean-up chores. A SOBO, Watermelon, was the only other one in the Hiker Hut bunkhouse.
While doing chores, I discovered that the lid on my cooking pot was stuck. I had tightened it at elevation and then come down to a much lower elevation. This happened before on the flight to New Zealand. I had to borrow a camp stove and big pot to make a hot water bath. After fiddling with it for almost an hour, we got the lid off. It was a NOBO, Boogie, that I have to thank for wresting it off.
After wasting so much precious time, I was late for dinner. I wanted to treat myself to a nice dinner and drinks at the distillery. I got there after 8 pm but they were at least still serving pizza. I wasn't all that hungry so I got a small one and also sampled their vodka and gin. The gin was delicious, with all sorts of spices, so I ordered a $12 gin and tonic. I know, it was like South Beach prices. The place even had a Mixologist. But this was only the second time I've even gotten a drink at a place while on the trail.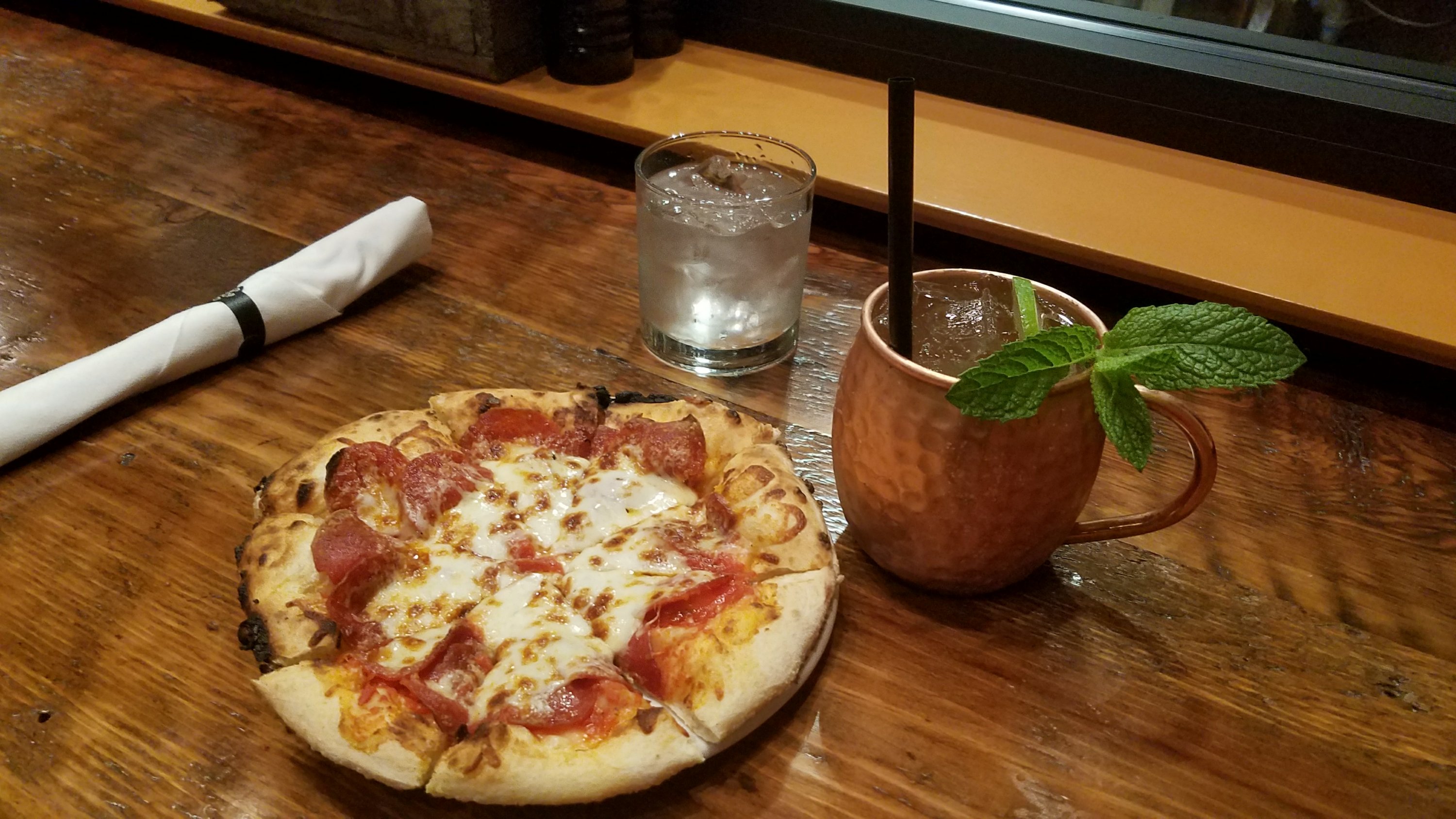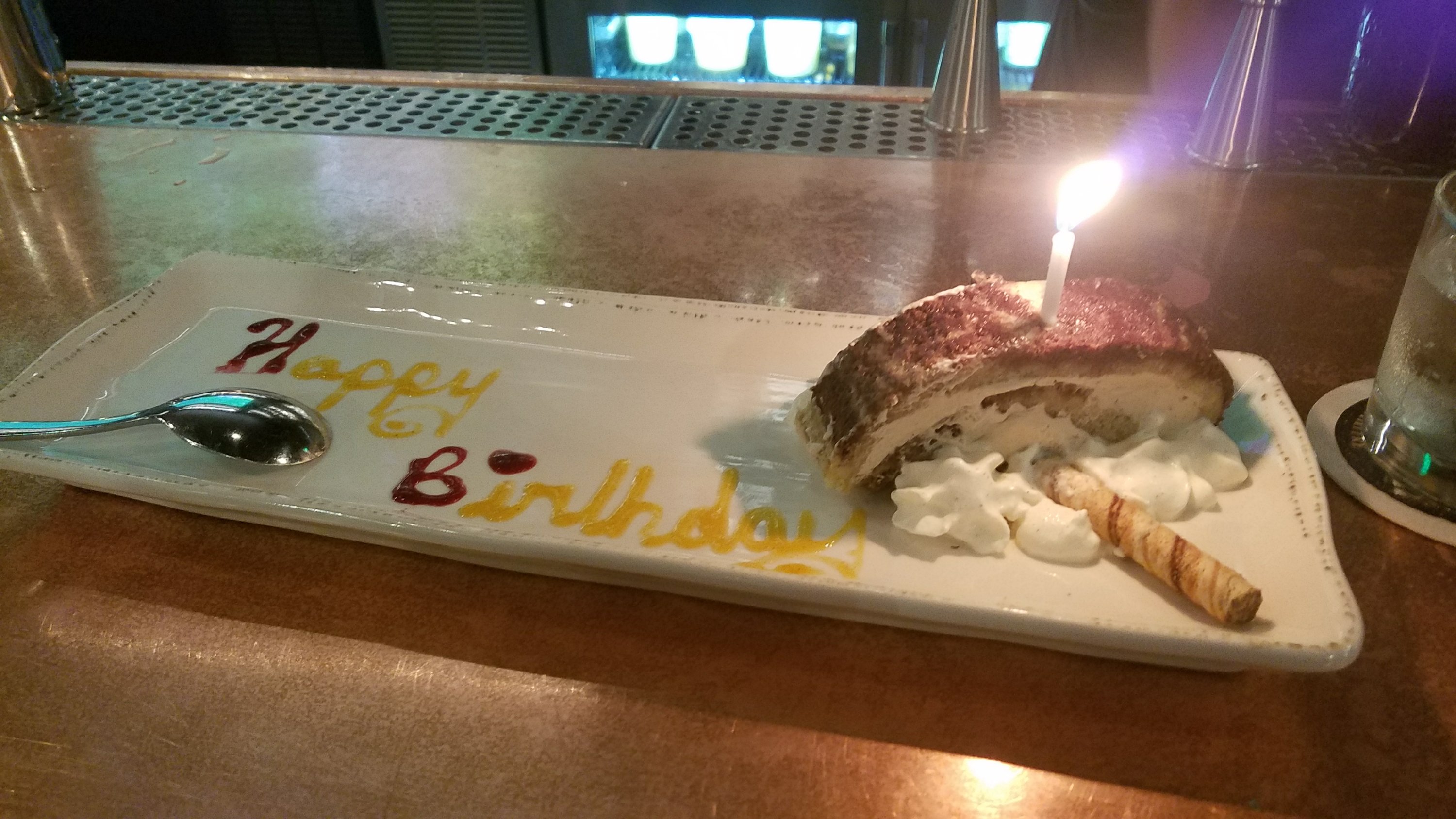 I joined the bar scene later on and might have made it known that a certain date was coming up. So I got a delicious dessert for free. I sat next to some lovely locals and had another gin on the rocks. It was a fun time and I stayed out way past my bedtime.
Walking back from town under the full moon, I took some pictures of the town. Not surprisingly, it was deserted at midnight.