January 20th
Wanganui Top 10 Holiday Park (km1397)-WhioWhio Hut, Palmerston North (km1505)
Mileage: 67.8mi/108km
What a fantastic and action-packed day this was. We woke up excited to be off early for our big cycling adventure. This was T3 of the TA triathlon, where we traded our paddles in for wheels…big fat mountain bike wheels. I know what 60 some miles on flat roads with a road bike feels like, since I used to ride that distance training for triathlons. Cranking a fat tire bike over rolling countryside with a pack on for that same distance was going to be especially taxing. Oh, and no bike shorts to protect my bum…what was I thinking when I cooked up this idea?
Well, not having to walk for 3 days straight on roads is the main thing. I know this is supposed to be a thru-hike but I reasoned that if it already involved a kayak/canoe section of over 150kms, why not a biking section on the long road stretch to Palmerston North? I later talked to a guy that regretted walking and putting all that stress from the roads on his feet. So I'm glad that I biked. After all, I incorporate and enjoy all these activities in my life at home.
I made a hearty breakfast of chicken breast, pad thai sauce, an onion, and rice. Good fuel for a grueling ride. We hit the streets, enjoying an easy roll along the river. One we got on the busy highway though, it all seemed uphill and with cars and big trucks moving at lightning speed. We had to ride about 18kms on the highway and all I can say is that at least it was over within an hour or so.
Connor took the first big hill by storm, leaving me in the dust. He was nice enough to wait at the top, then ride behind me the rest of the way, just to go my pace. The kid has an amazing engine, which motivates me to try to do my best to keep up. It's not often that I feel so physically inferior. He had even been outpacing me in the kayak the last few days…and that's supposed to be something I excel at!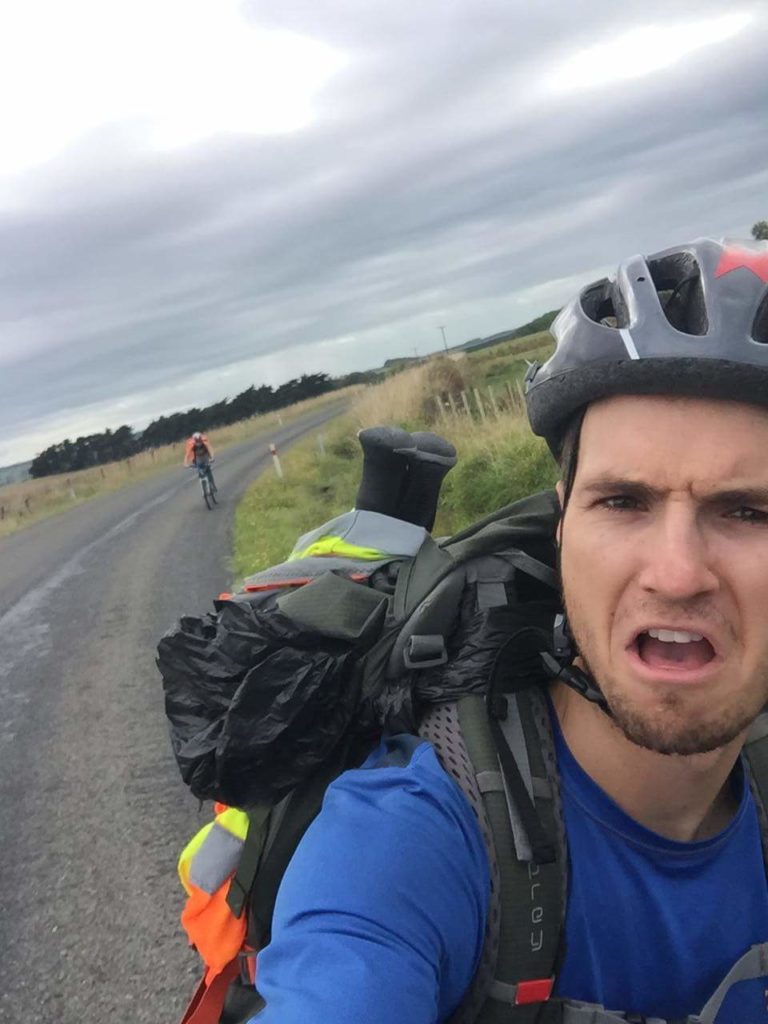 Connor later shared this funny-face picture with me in the background, trying to keep up!
Once off the highway and headed for a beach, we took it easy and enjoyed our surroundings. The countryside was lovely and the beach community very cute. We had a break at the beach campsite, then backtracked to a forest road running parallel to the beach. The 8km beach section was the only part of the TA route that we didn't ride, figuring the sand would be too soft. Fiona and Anthony rode the forest road already, just to prove that it was feasible. It was a nice road, all closed in by shady trees. It was good that we had mountain bikes for this one part, as it was a bit rocky and sandy.
By the end of the forest road, I was feeling pretty spent and doubtful I would last the whole way. Then we started heading in an easterly direction that was conducive with the prevailing winds being at our backs. Looking at the map, we would be on that heading for most of the day. My whole outlook improved, further aided by a farm stand with plums and lemons and then 2 scoops of my favorite ice cream in the town of Bulls.
Bulls has embraced its name by putting bull statues all over the town. I counted about six. Outside the fire station was my favorite bull with a sign reading "extinguish-a-bull."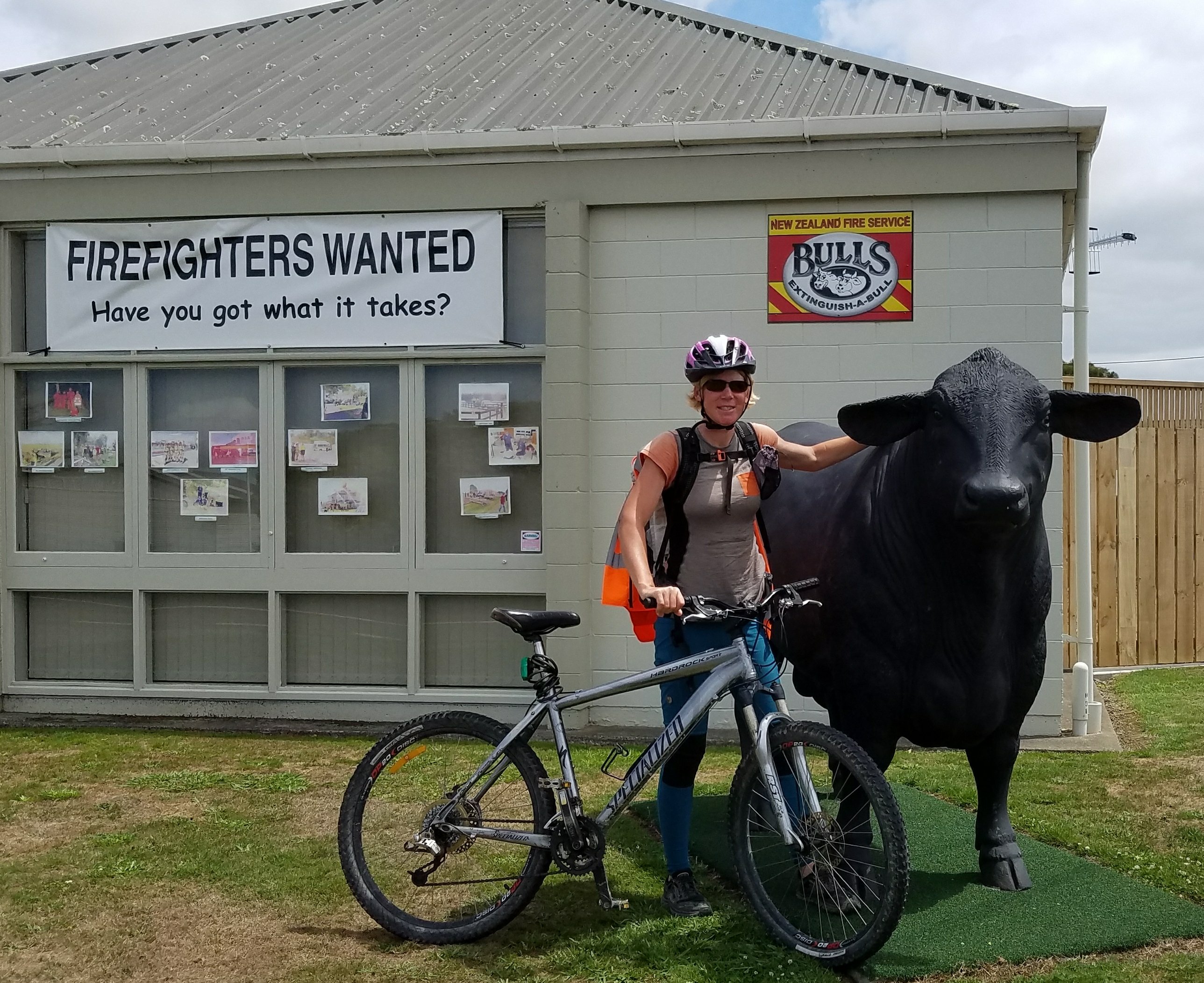 Yes, there were many plays on the ending 'able'. There is not much to the town but since SH3 and SH1 intersect there, a McDonald's and Subway both can be found. Somehow I managed to resist both and just be happy with the ice cream. The shop had a world map with an enthusiastic owner urging all visitors to pin where they are from. I was happy to be the first to pin Miami. Sorry I beat you to it, Jorge.
We were over halfway at this point and it was only noon. But it was incredibly hard to get back on the bike. I already had saddle sores and my knees were hurting. I raised the seat a bit to see if that would help. The guy at the ice cream store said it was mostly downhill to Palmy, so that was encouraging. But of course, the country roads out of town were rolling with lots of little climbs. The tail wind was amazing, though, and it made the whole day.
We rolled right past a reserve where most walkers camp for the second night. It was crazy to be covering so much distance so fast. The infamous mechanical advantage. We still saw everything we would have seen had we walked, but we also had to admit that it was a different experience on a bike. There isn't as much time to contemplate small details and you are less inclined to just stop at random things. There is also less opportunity to meet people. Though we still had our share of trail magic on this day.
We got to the second town of Feilding and couldn't resist taking a detour down the main street to ride circles around the town clock tower and roundabout. I joked that we were doing the Tour de Feilding, analogous to the Paris finish. Ha!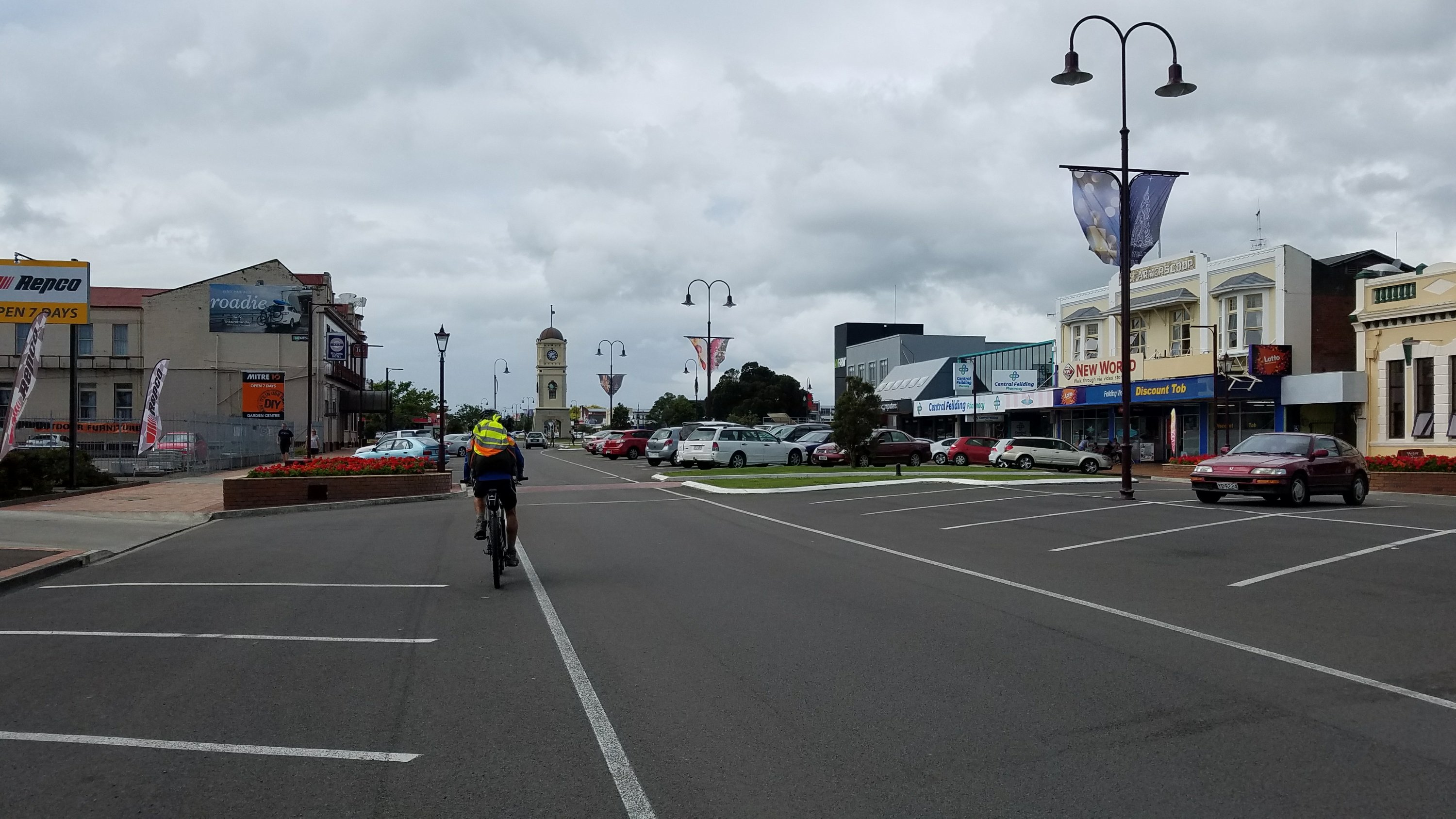 The towns in this region are all having a long weekend holiday. Apparently each region in NZ gets its own special time. Here there was an antique car show with music and food trucks. It was just winding down at 3 pm but we got to talk with sisters Tony and Sarah at the Firebird food truck. When we told them what we were doing, Tony first gave us gummy pythons (yes like worms only about a foot long). Then she pulled out all the leftovers from the day and gave them to us. Chorizo, blackbeans, falafel, and blackbean brownies. Incredible! Another trail angel. Much thanks to Tony and the Firebird for providing our delicious dinners that night!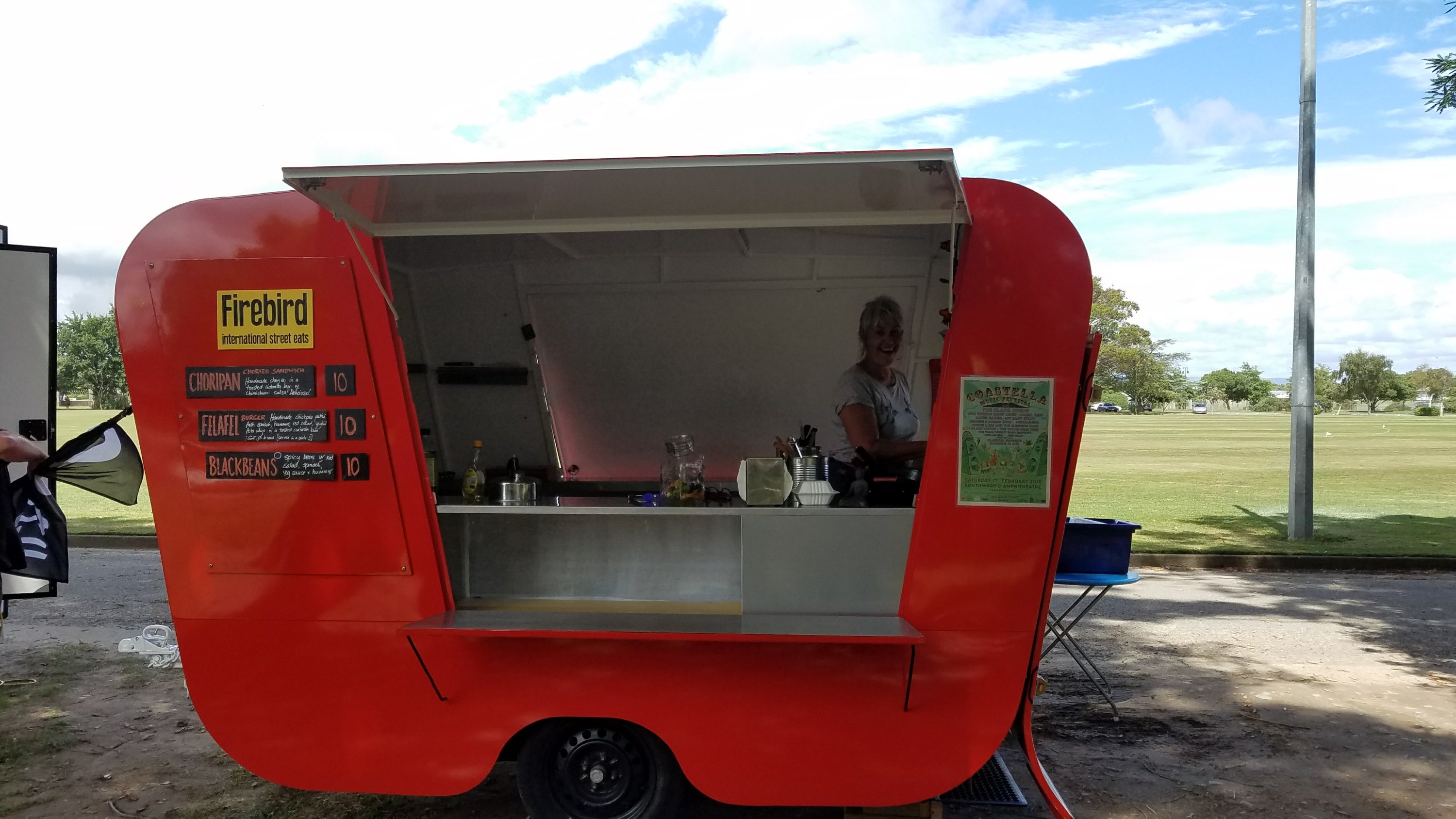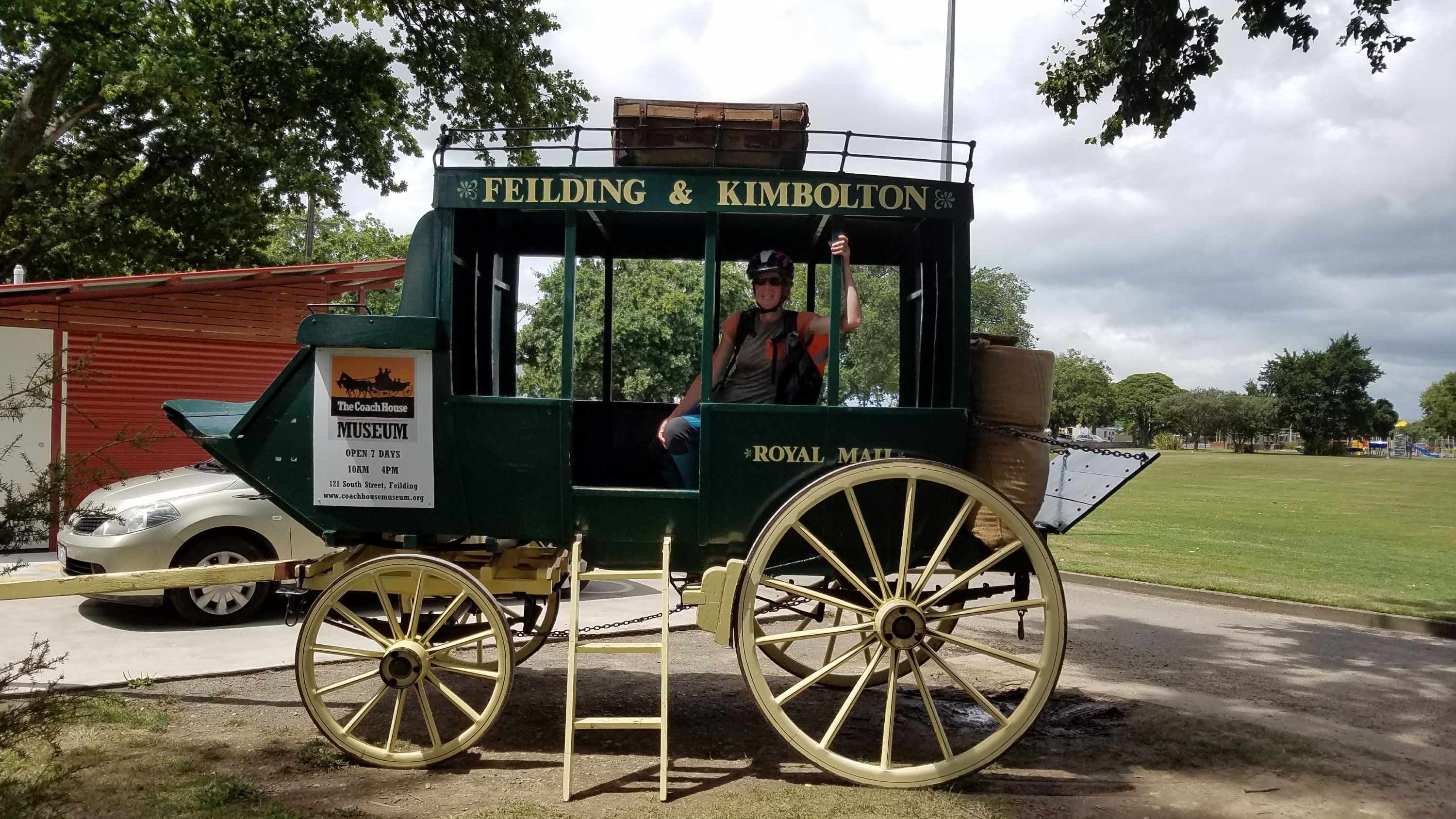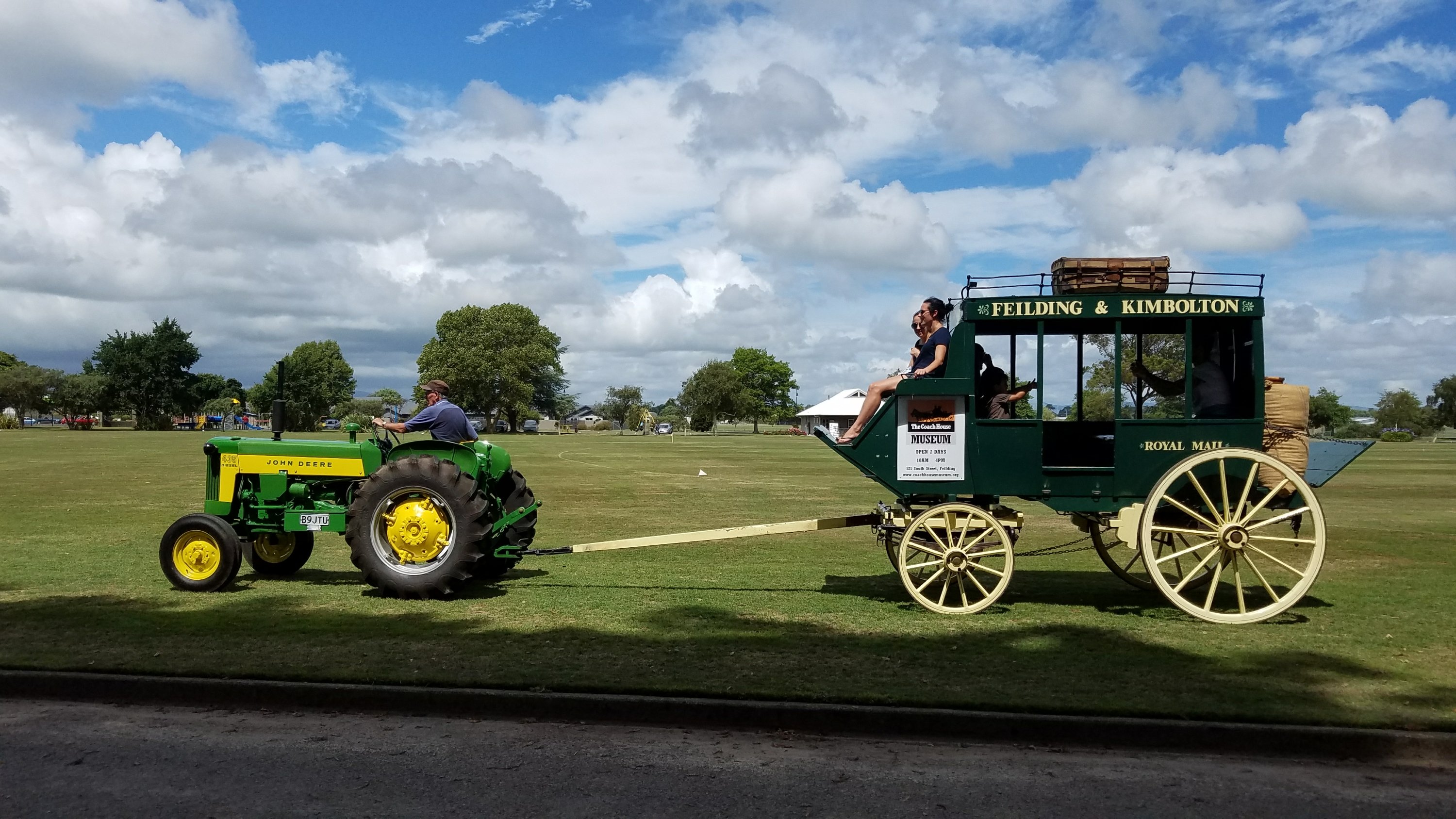 Free tractor rides! Could the day get any better?
Even though I had proclaimed no more stops, due to it being so painful to get started again, this was a good stop. We only had about 10kms more at that point and figured we'd be into Palmy by 4 pm. Well, we should have paid better attention to the notes because the route left the road and took us cross-country over 2 streams, a few paddocks, and 6 or 7 stiles. Like idiots, we followed where ever the markers took us. I could barely lift my bike over the fences and Connor helped once or twice. It's been good to have him along, not just for when I needed help but also for the motivation. He is always so positive.
We finally got back onto roads and breezed into Palmy on the riverside multi-use pathway. It was such a great way to begin and end the bike ride, cruising along the rivers. At km 1505 was a sign for the hut, indicating the route. Here's where it really got fun.
Fiona is passionate about many things: long distance hiking, the TA, the Whio (NZ native blue duck), and constructing things. This past year she built a replica DOC hut in their backyard and opened it to TA walkers. They accept donations, with all proceeds going to Whio conservation efforts. The hut is of course called the WhioWhio and is complete with replica DOC signs, designed by Anthony. They have even placed orange triangles (TA trail markers) all throughout the neighborhood, leading to their house. We had no trouble just following the markers home. To me, it is the most inspiring story and so in-line with my passion for birds and conservation.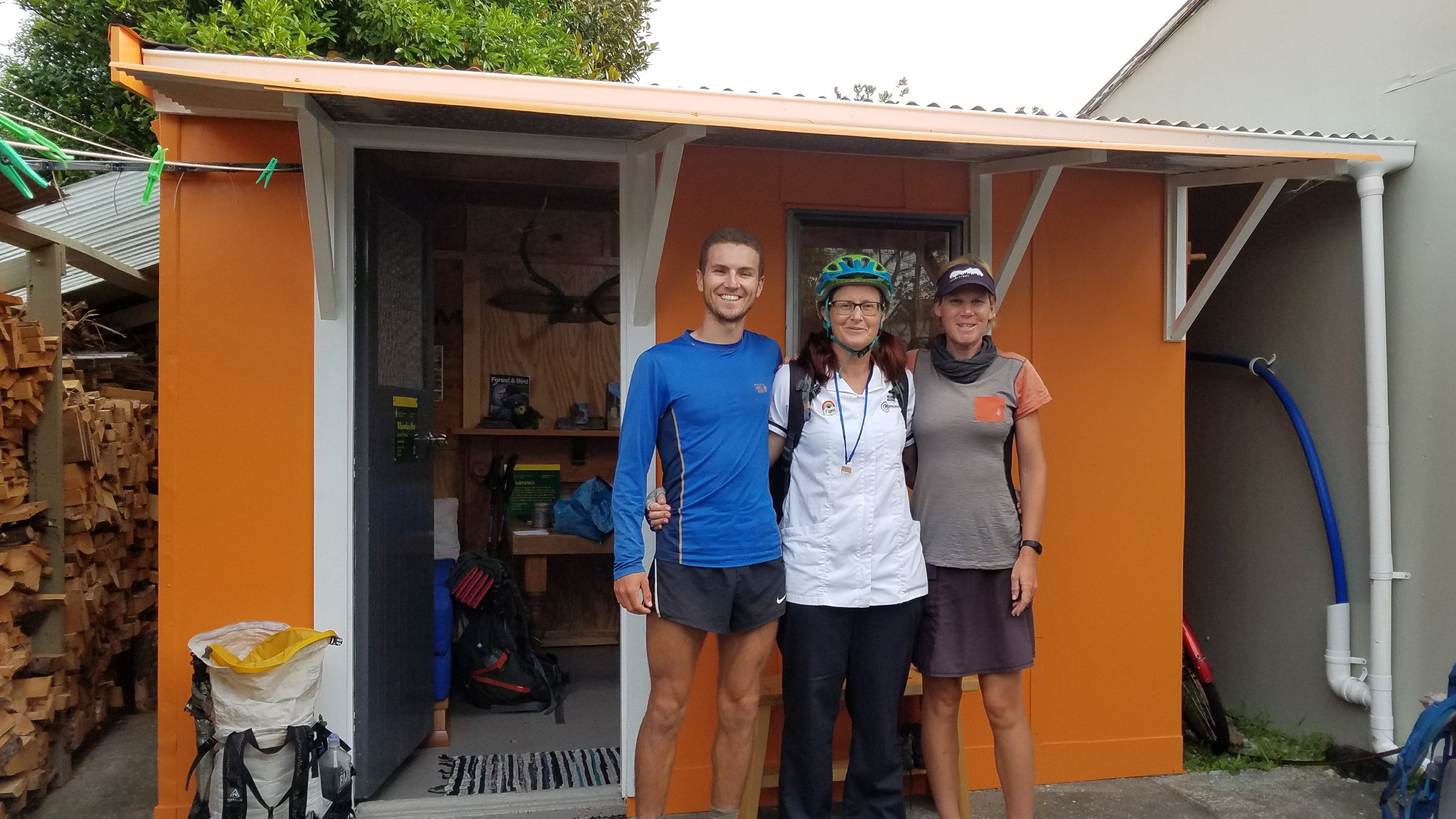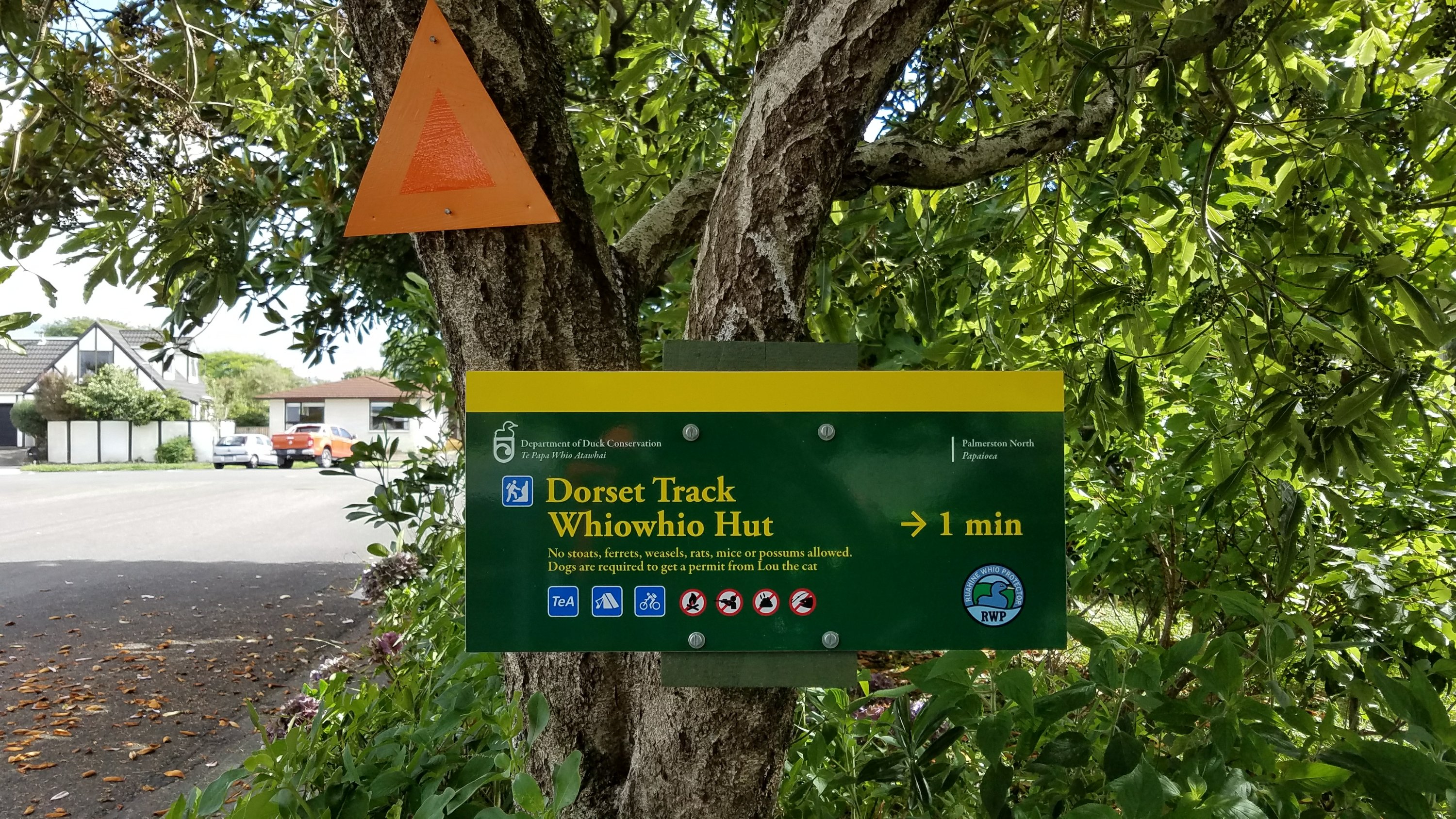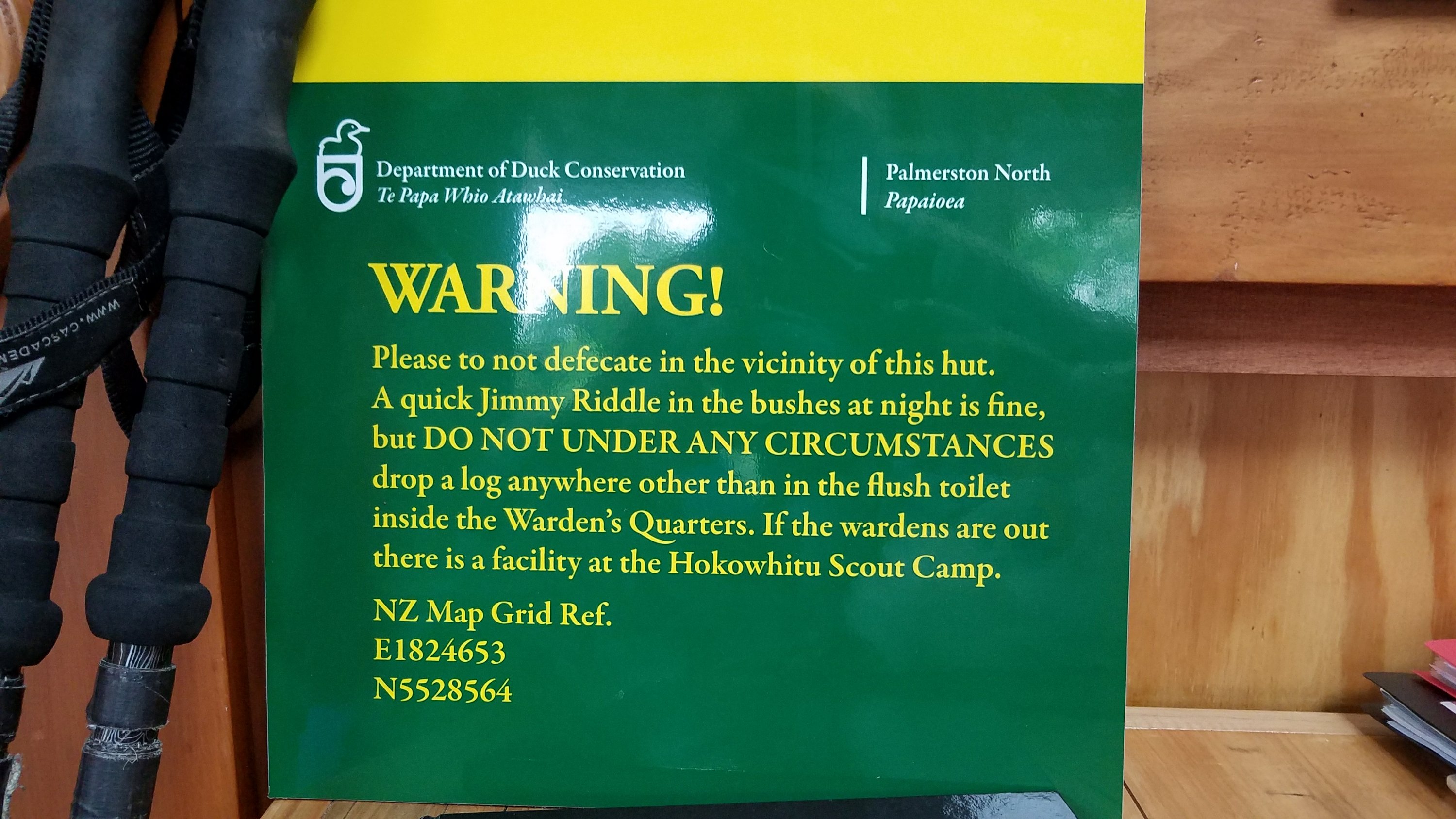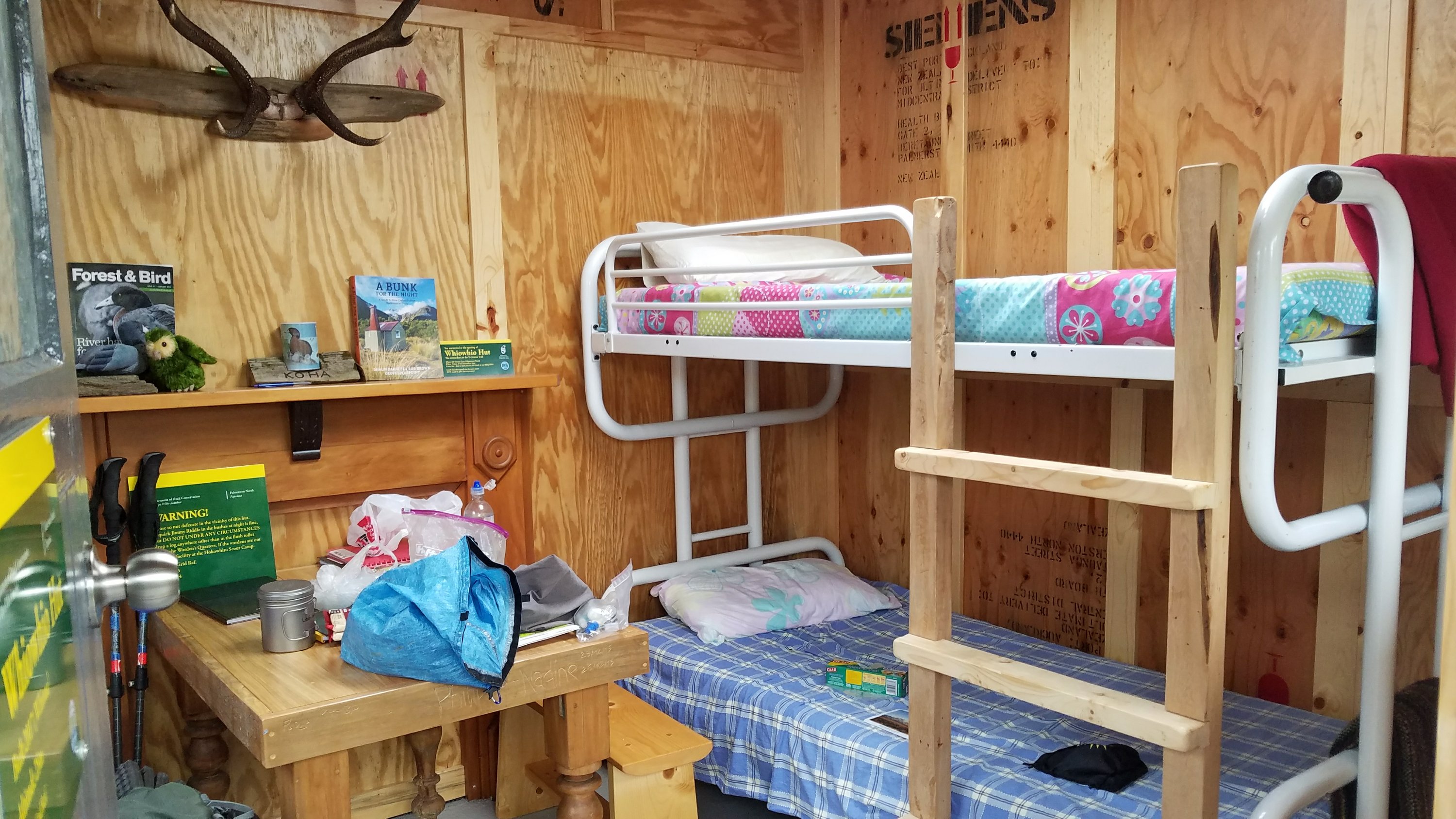 By the way, "wh" is pronounced as an "f", according to the Maori language, so Whio sounds like "fio." And the creator of this hut is Whiona (Fiona).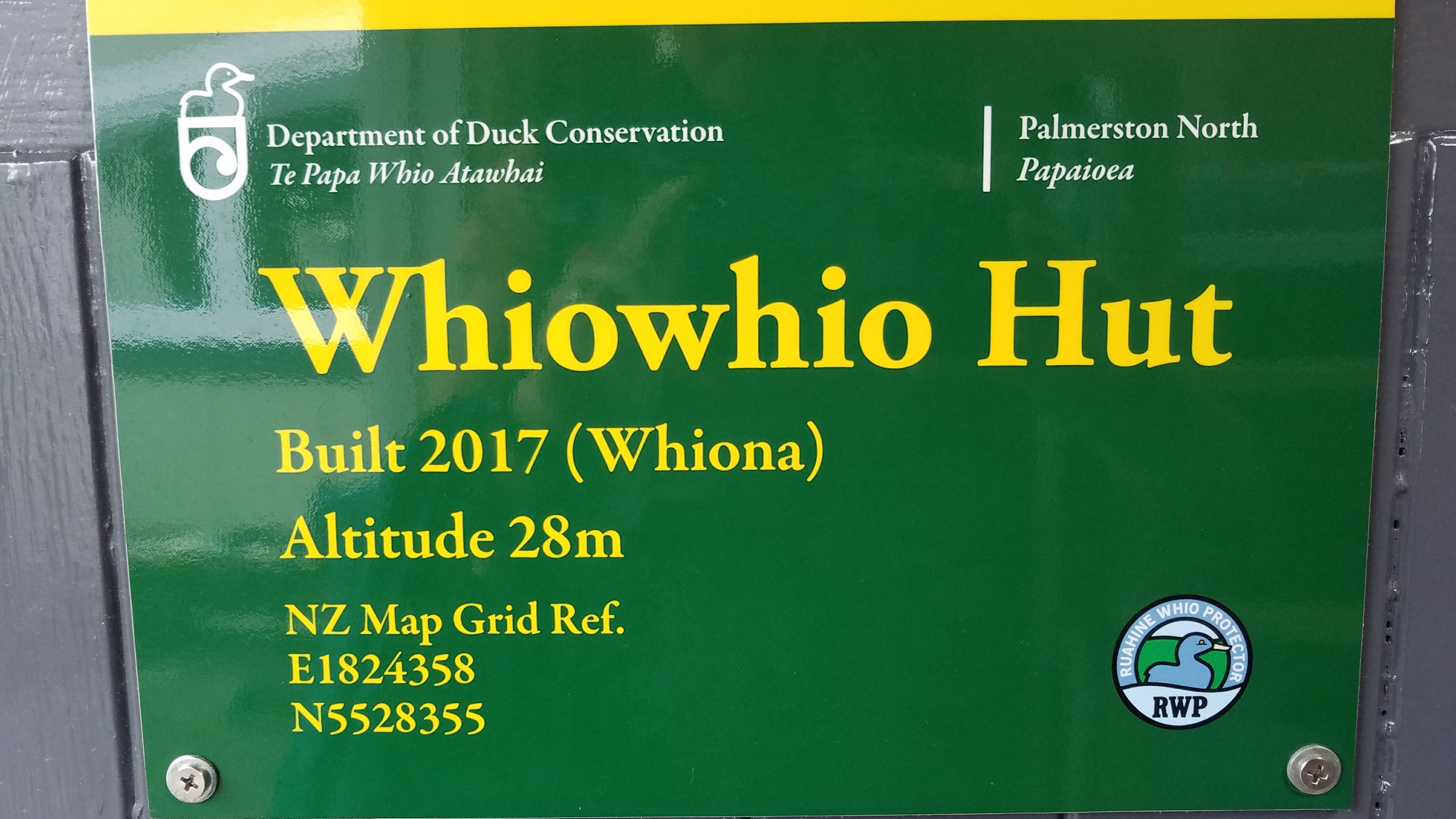 Fiona and Anthony were surprised that we made such good time on the bikes. Anthony promptly took our pictures for his hiker collage and then were we shown around their house and backyard. They invite guests inside to share their spare bathroom and only kitchen, which is just so gracious.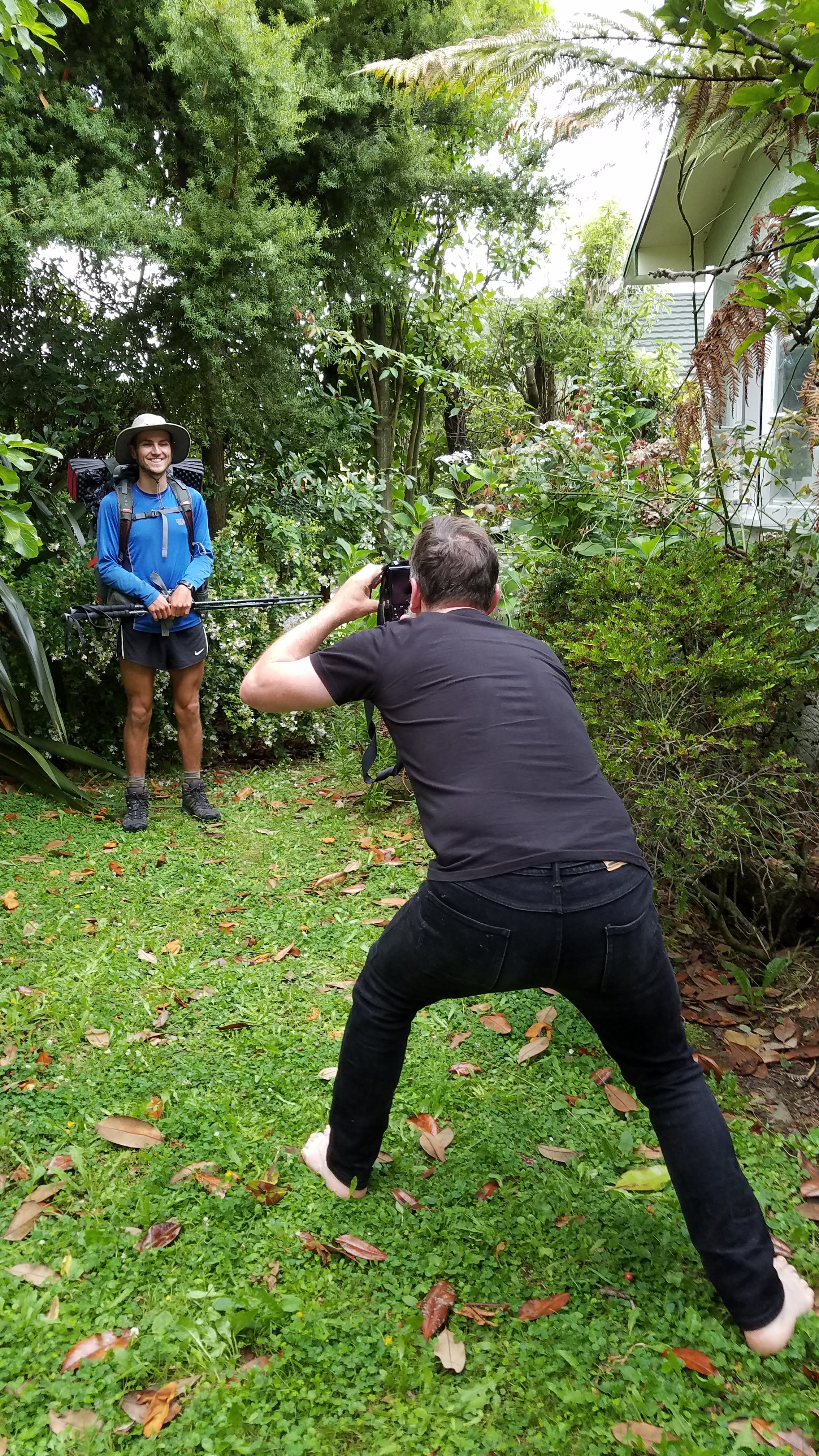 Another TA hiker, Kiwi Nic arrived just after us. She did the SI NOBO last year and is completing the NI NOBO this year. Fi and Anthony were also NOBO SI hikers a few years ago, so they had a lot in common with Nic. She is from Wanaka and gave us her and her brother's contact info for when we pass through later. She rode the bike that I rode back to Wanganui the next day.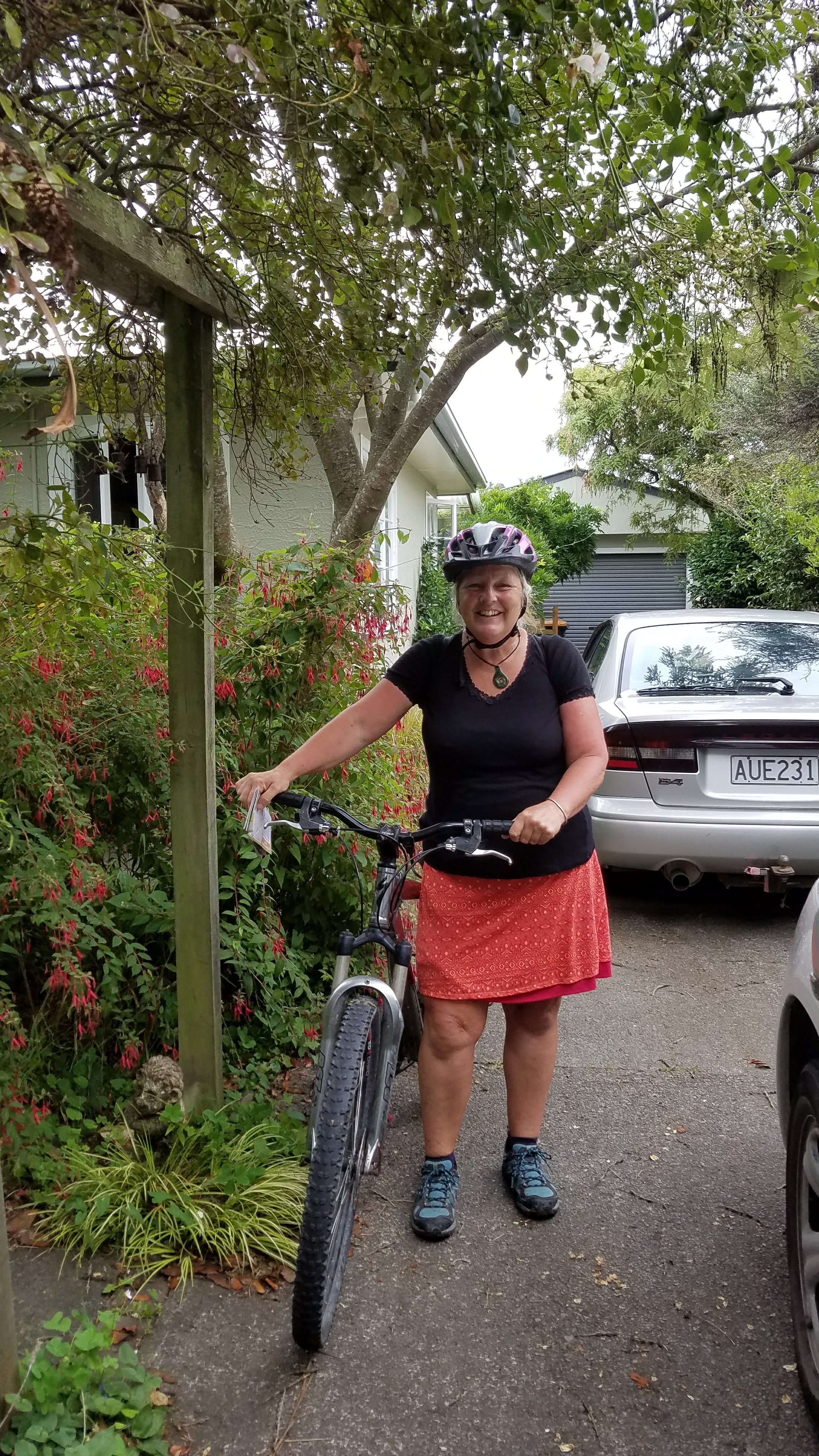 We all had tea together and then dinner later on. I had such a good time talking with Fiona. She is really interested in lightweight gear and is thinking about doing a long-distance hike in the U.S. And she knows her stuff when it comes to birds and bird research. She and Anthony are so young and energetic, yet they have 2 adult children. I was also very impressed by their commitment to go plastic-free. They have stopped buying anything that is packaged in single-use plastics and now make a lot of their own stuff. They are very forward-thinking people.
I wished that we had more time to hang out but I hadn't planned a zero day in Palmy and was anxious to get into the Tararua mountain range the next day. I hope to go back to visit again soon!