January 6th
Mangaokewa rd/SH 30 junction (km958)-Bogg Inn hut (km988)
Mileage: 18.6mi/30km
I was so ready to get back to walking this morning! But first I had to get back to where I had left off. It wasn't really feasible to find a ride to the remote road where I finished the river track 2 days ago, so I was just shooting for the start of the Timber Trial off SH 30.
Don gave Steffen and me a ride to the end of town. Just as soon as we got there, it started raining again. What luck. It's really hard getting a ride when it's raining. There were also almost no cars on the road on an early Saturday morning. Not long after, Mark (Too Tall) and Antje (Good Grip) walked up. The 3 Germans were going to hike the river section together.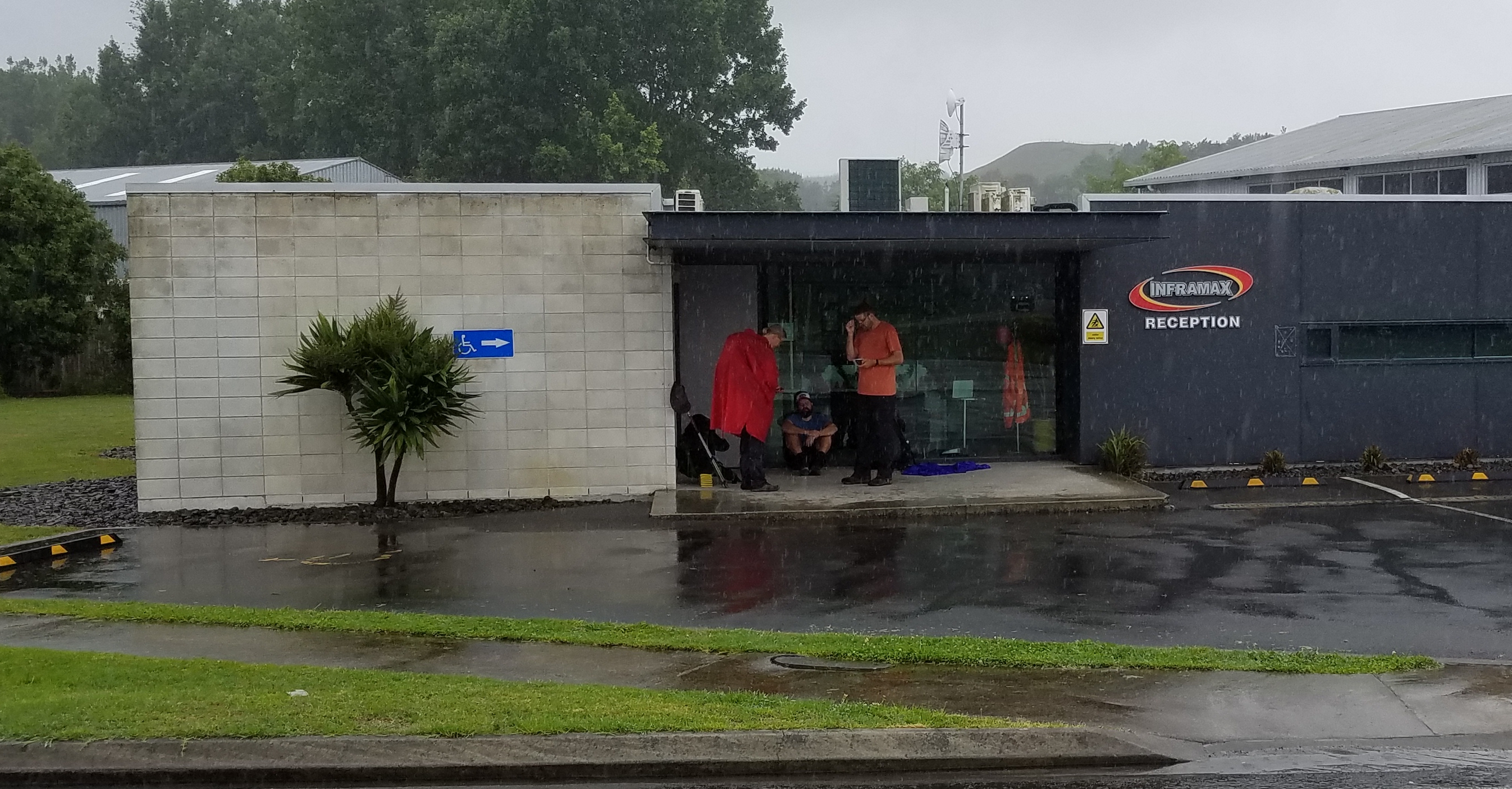 Waiting out of the rain.
Lucky for me, Oliver (who is German/Kiwi, go figure) pulled over and offered me a ride. He works on a farm that is just shy of the timber trail and has even posted ride offerings on the FB page, since he makes the drive nearly ever day. When we pulled up to his destination, I noted on my GPS that it was right where the TA's Mangaokewa gravel road met up with SH 30, to continue on for another 8 km. I felt guilty about skipping the gravel road walk (about 15 km in all), so I took it as a sign that I should at least walk the highway section and not just get another ride. I'm a glutton for punishment. Again, I plan to do some side trails to make up for any distances missed on roads. And counting up all the times I've gotten lost or done short side trips, I've already done a lot of extra distance.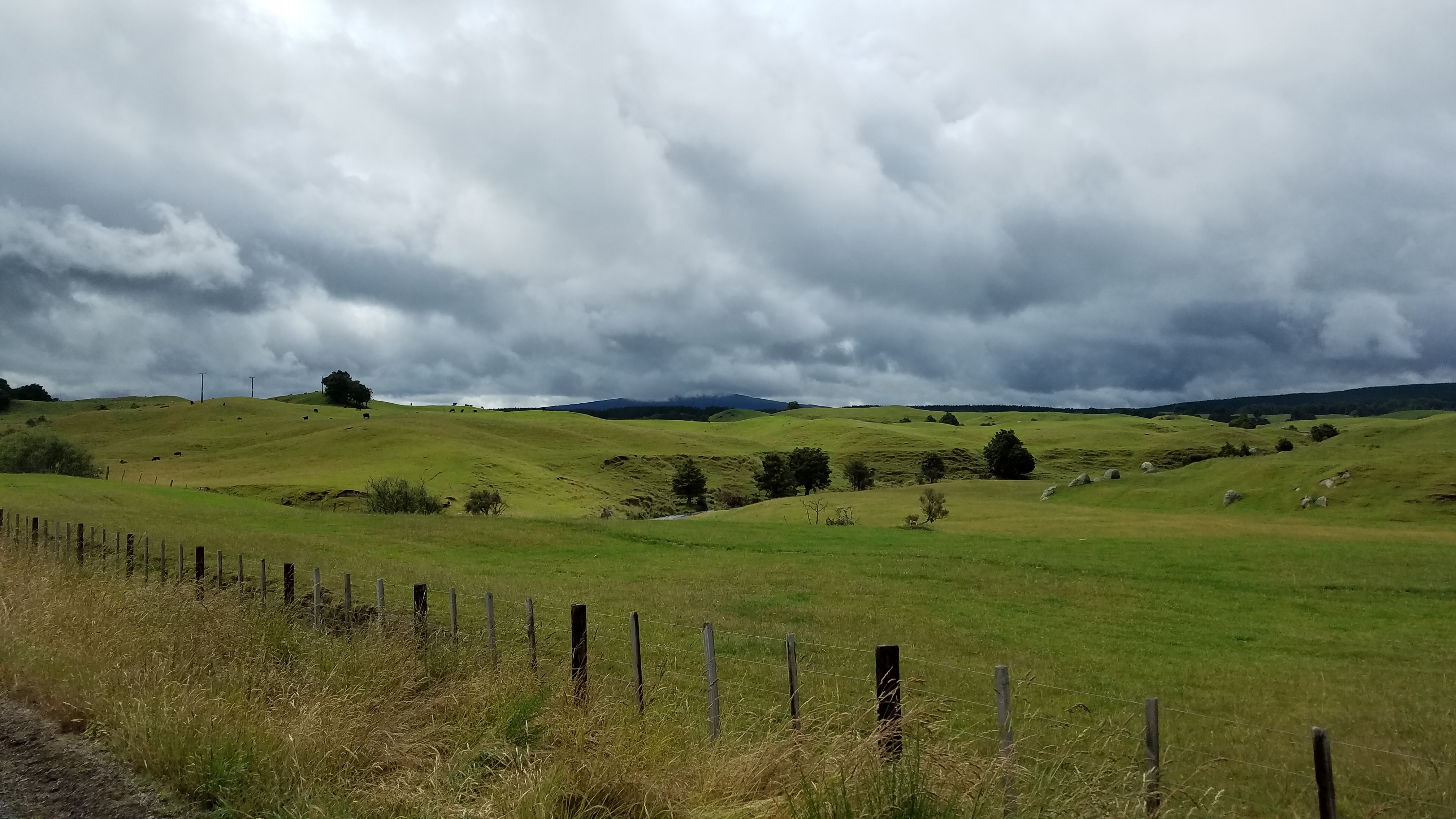 It was just past 10 am when I started walking. There wasn't much traffic on the highway and it went by fast. The approach offered some partial views of Mt. Pureora and gave the clouds time to burn off, so it was a good thing. I broke for lunch at the Timber Trail car park and then proceeded along one of the most beautiful trails I've seen thus far. It is a historical logging route. DOC has put a lot of work into building the trail as a bicycle path, complete with km markers and informational/educational signs. There are also over 30 bridges along the way, including several huge suspension bridges. It was really nice being able to look at all the plants and birds around me, as I wasn't as focused on my footsteps. I will be following this trail for 84 km over the next few days. Sweet!
It wasn't all Easy Street today. I took a detour to the summit of Mt. Pureora. With all the rain, the trail was an actual stream instead. So much for dry feet. But the views at the top were well worth it. I could see Mt. Pirongia, Lake Taupo, and the volcanoes to the south. It was good that I did the road walk because the mountain was all clouded over in the morning. In the late afternoon, the sky had opened up. I was also joined at the top by a couple out for a day hike, the only people I saw all day. It was perfect timing to get a few pictures taken. I felt lucky to have gotten the views. Judging by the green, mossy forest, this area gets a lot of rain. Finding water wasn't a problem today. It was everywhere along the trail and all the little streams were gushing.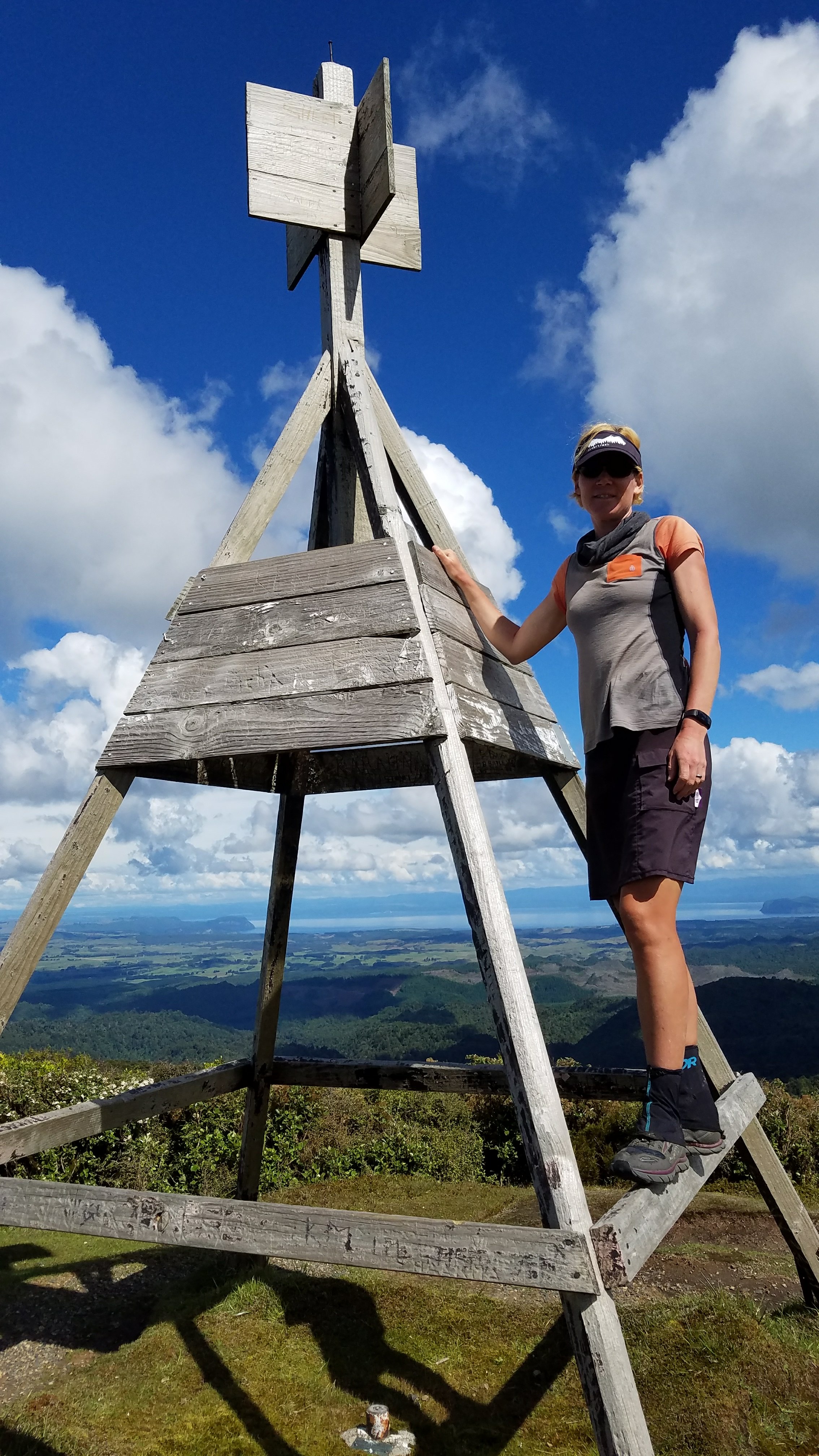 Quite a change from the rain and the mountain being clouded over in the morning.
Around 6 p.m., I arrived at Bog Inn hut. The name sounds pretty ominous and the rustic appearance makes it looks like something straight out of an axe murderer film. There's even a scull and antlers strapped to the porch. But I found no serial killers lurking inside and enjoyed a night in the hut by myself. It rained numerous times overnight and there's nothing better than listening to the sound of rain on a tin roof while you remain dry and cozy inside.