December 31st
Whatawhata (km816.5)- Pahautea hut, Mt Pirongia (km848.5)
Mileage: 20mi/32km
We got an early start this morning at 6:30 a.m. to ensure that we could make it to the mountaintop hut by the end of the day. It looked like a steep climb up Pirongia. We wondered just how many people would be up there. Best to get there reasonably early if we wanted a bunk. The brand new hut sleeps 20 people. The morning road walk flew by and shortly we were on farm tracks. This morning's petting was of a goat in her little goat hut. They are great for mowing the sides of the road.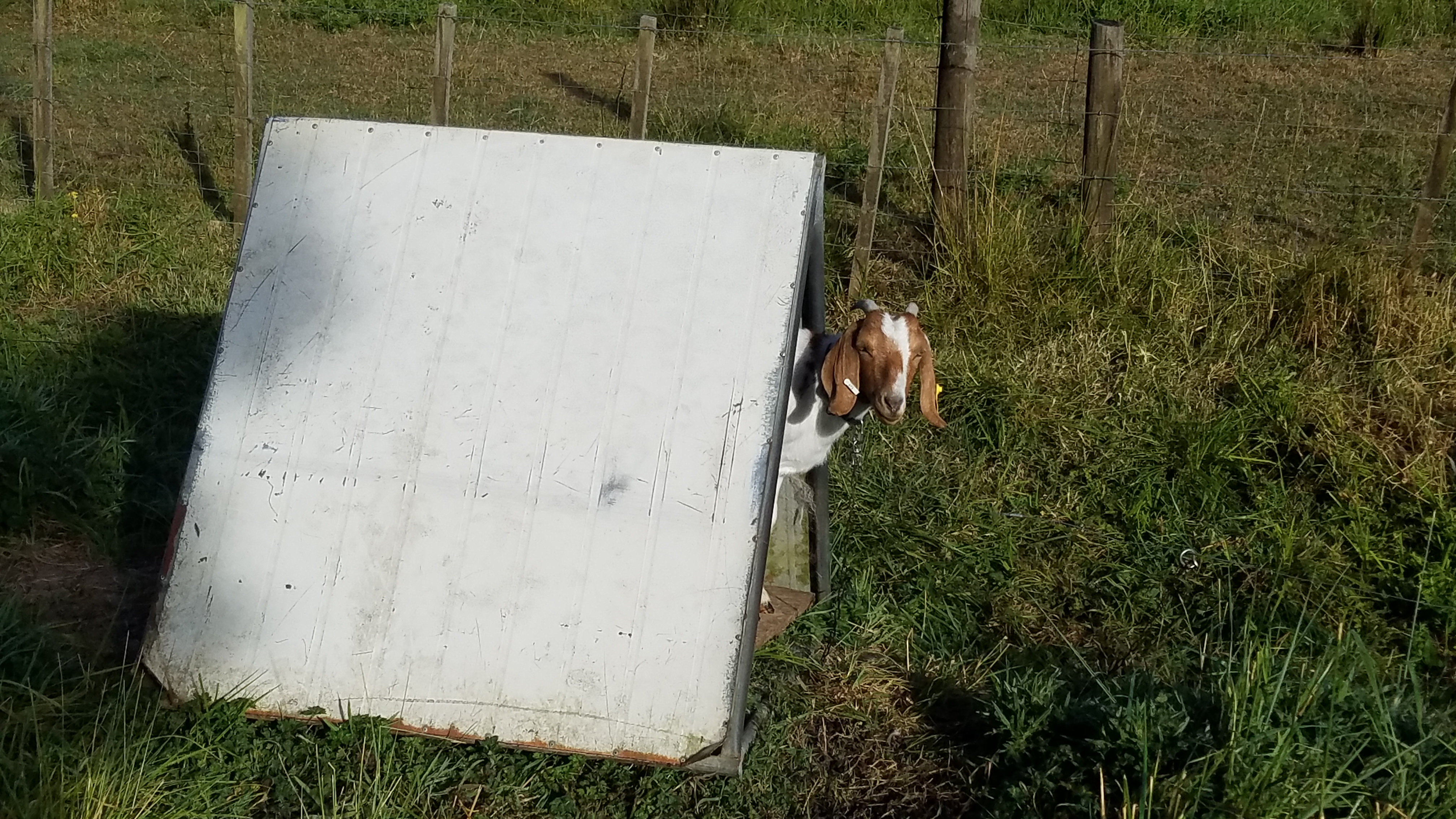 We spotted 2 backpackers up ahead who had the distinct profile of German hikers Too-Tall and Good Grip, who I first met on day 12. Sure enough, that's who they were. It was great to see them again. They had skipped the Auckland to Hamilton section, like so many have been doing. They also said that Steffen was up ahead, staying at the hut tonight. We walked through some really neat farmland with unique rocks and great views.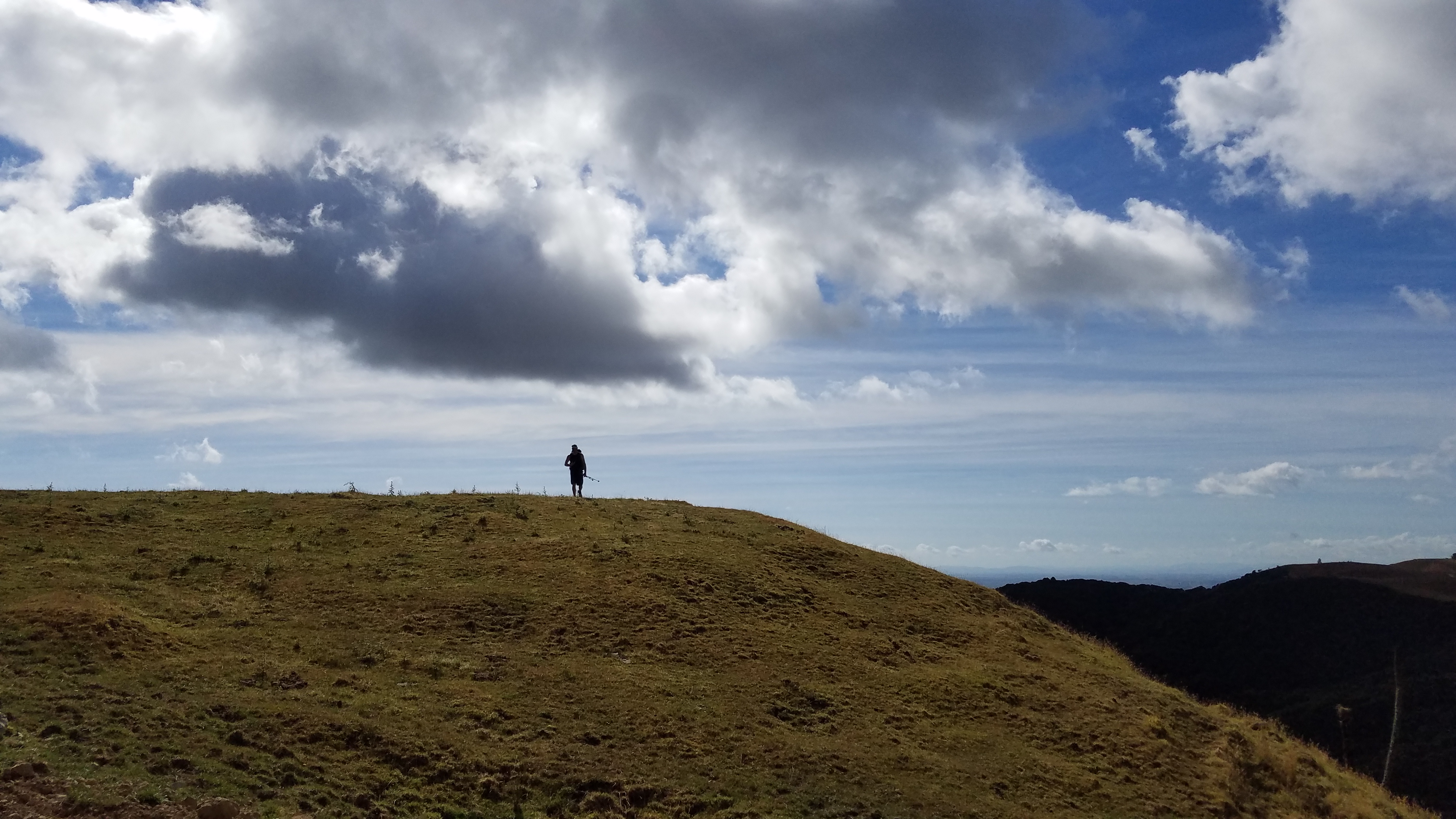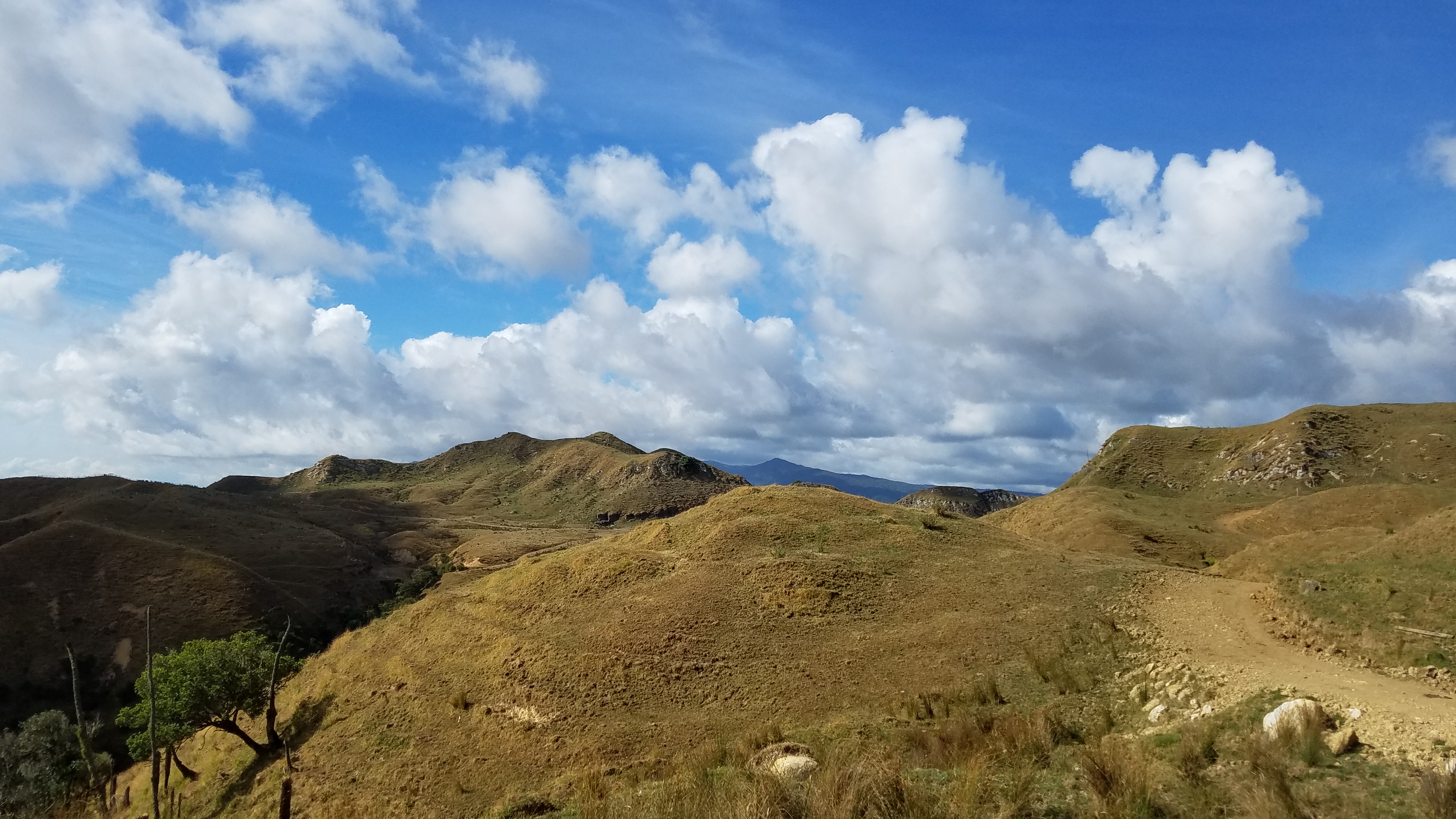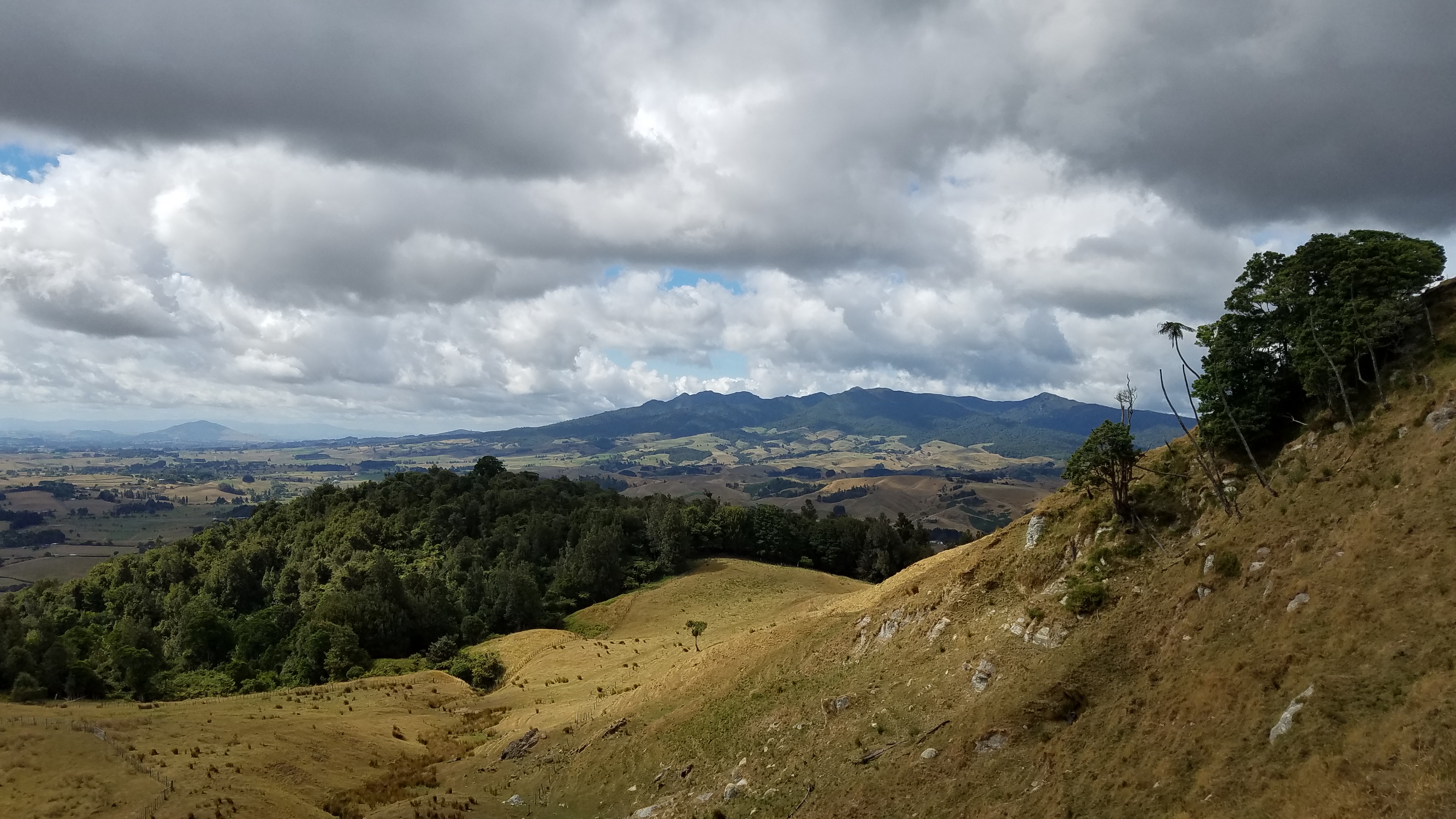 Mt Pirongia, our destination, in the distance.
There was a really nice swimming hole and stream track at the beginning of the Mt Pirongia Tirohanga track. I was really tempted to play on the rope swing but it was crowded and we had decided to have lunch at a nearby campsite instead. We worried about the significant number of cars in the trailhead parking lot…were all those people at the hut? We followed the stream for a few kms to the Kaniwhaniwa campsite, which was really nice with toilets, rubbish cans, picnic tables, fire rings and a huge grassy area for tenting.
We got water from the stream and it was interesting to see how everyone handled it differently. Mike just drank it straight and the German couple treated it with AquaMira drops. I used my Sawyer filter, just to be on the safe side. I have not filtered water when it comes from water catchment systems, like at the huts, but try to filter from stream sources, at least on the North Island. Before, on the South Island, I would just drink straight from the streams. But now I always have my lightweight filter with me, so it's best just to use it.
We all dried out our tents and had a leisurely lunch, since no one was very antsy to start the 3000′ climb. But once we did, I found it to be not as bad as I expected. The tread was nice and dry, even though I've read reports of it being muddy. There were great views at the top of many of the false summits. The viewing platform at the very top had 360 degree views. We could even see the hut not too far away. Unfortunately the clouds and haze obstructed some of the mountains further off.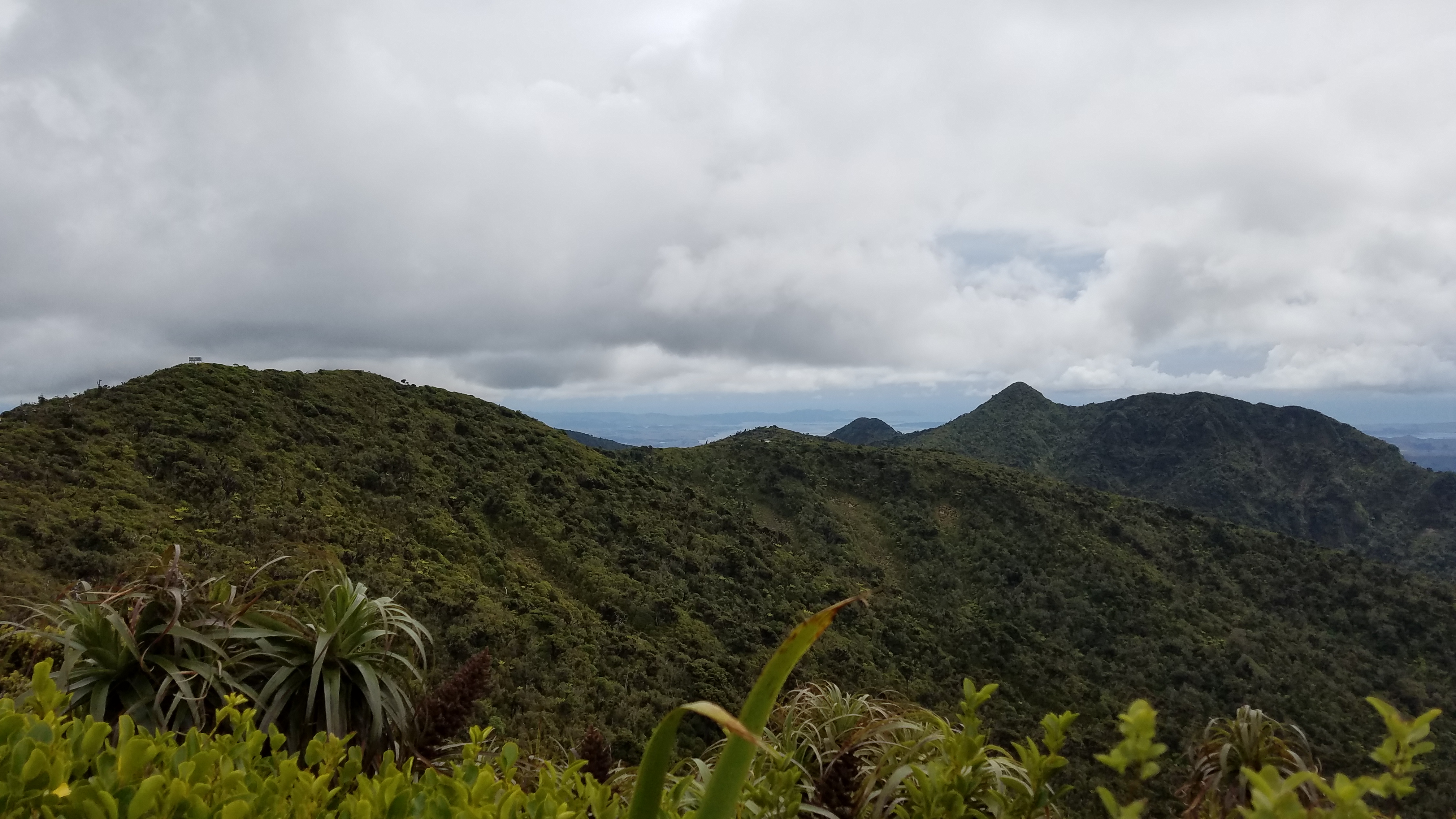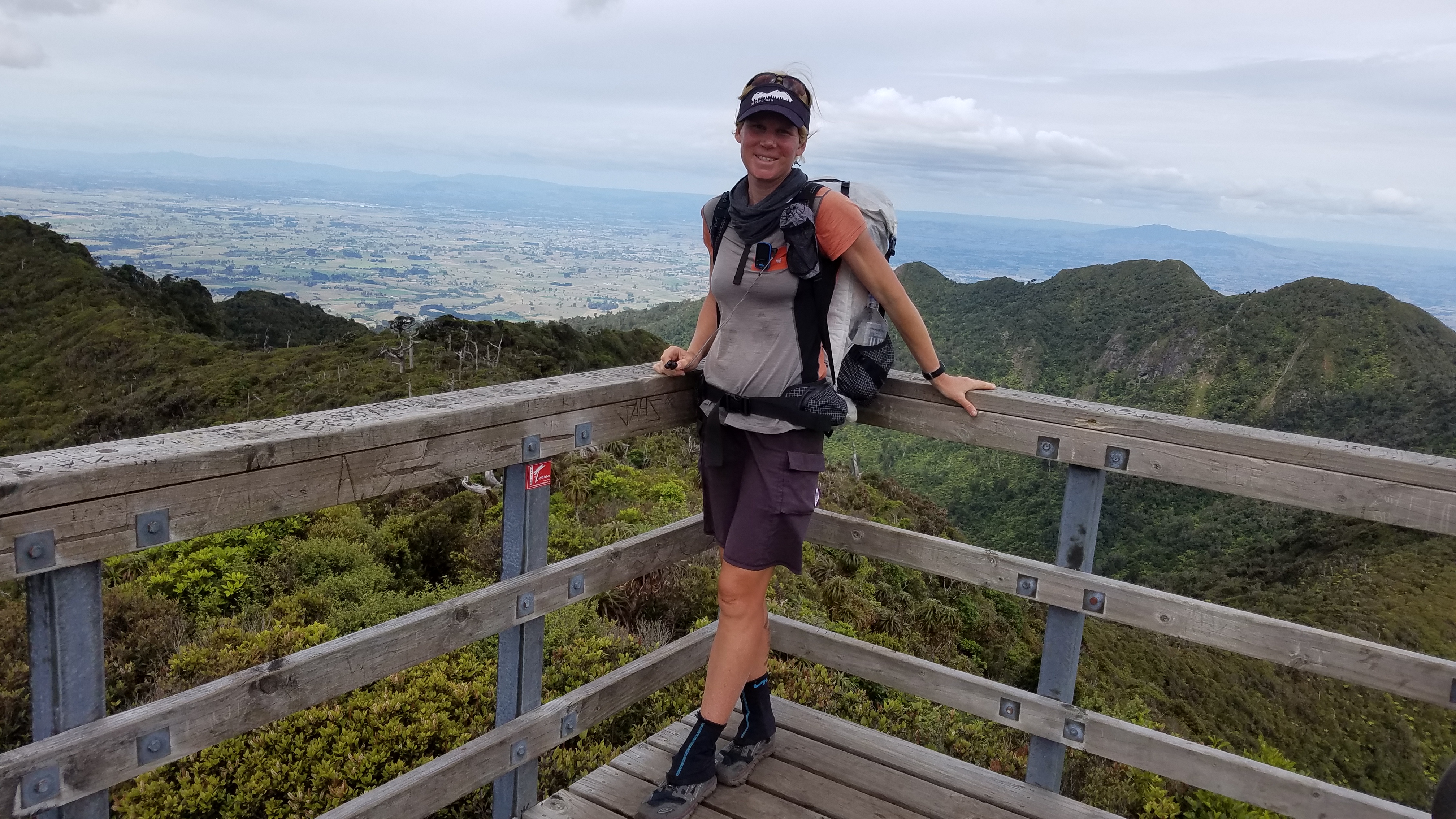 Again, these trails and mountain tops reminded me a lot of hiking in Hawaii. The vegetation and shapes of the ridgelines and peaks are similar. At the hut, we were none-too-surprised to find others but it wasn't a madhouse. Even still, it was enough that I decided to tent. I know that I just said I can sleep through anything…but not heaps of snorers. And besides, the tent pads were really nice.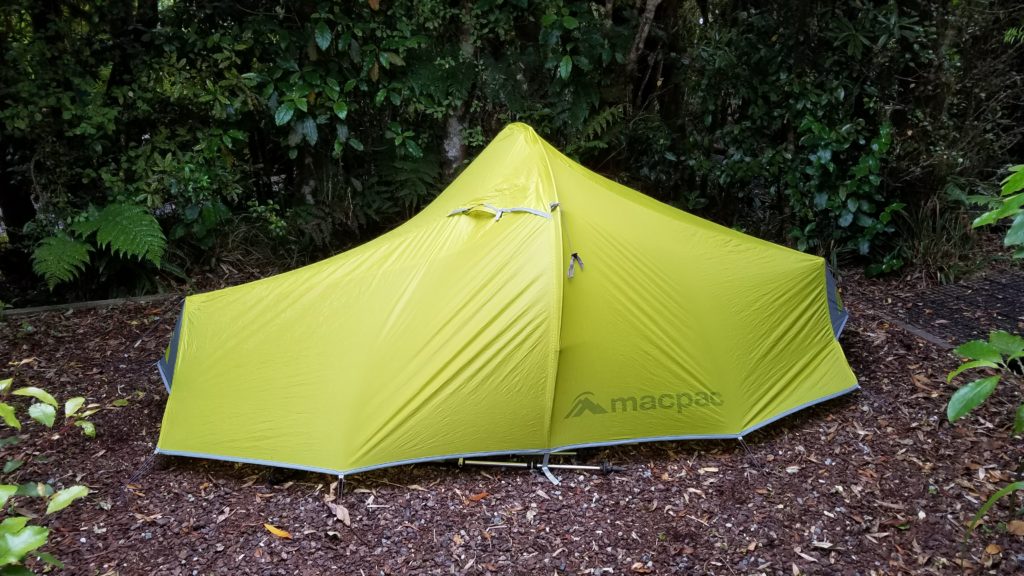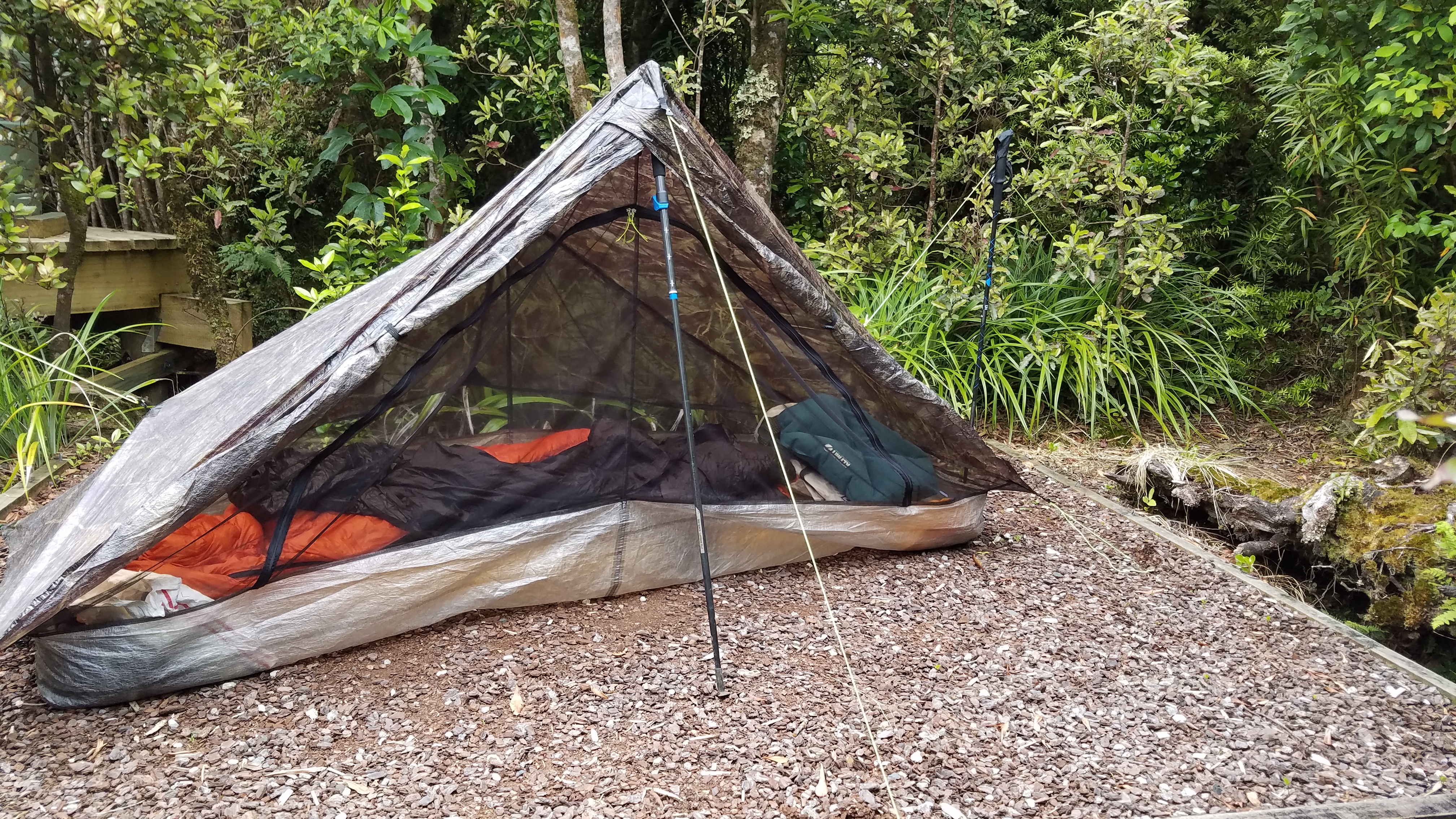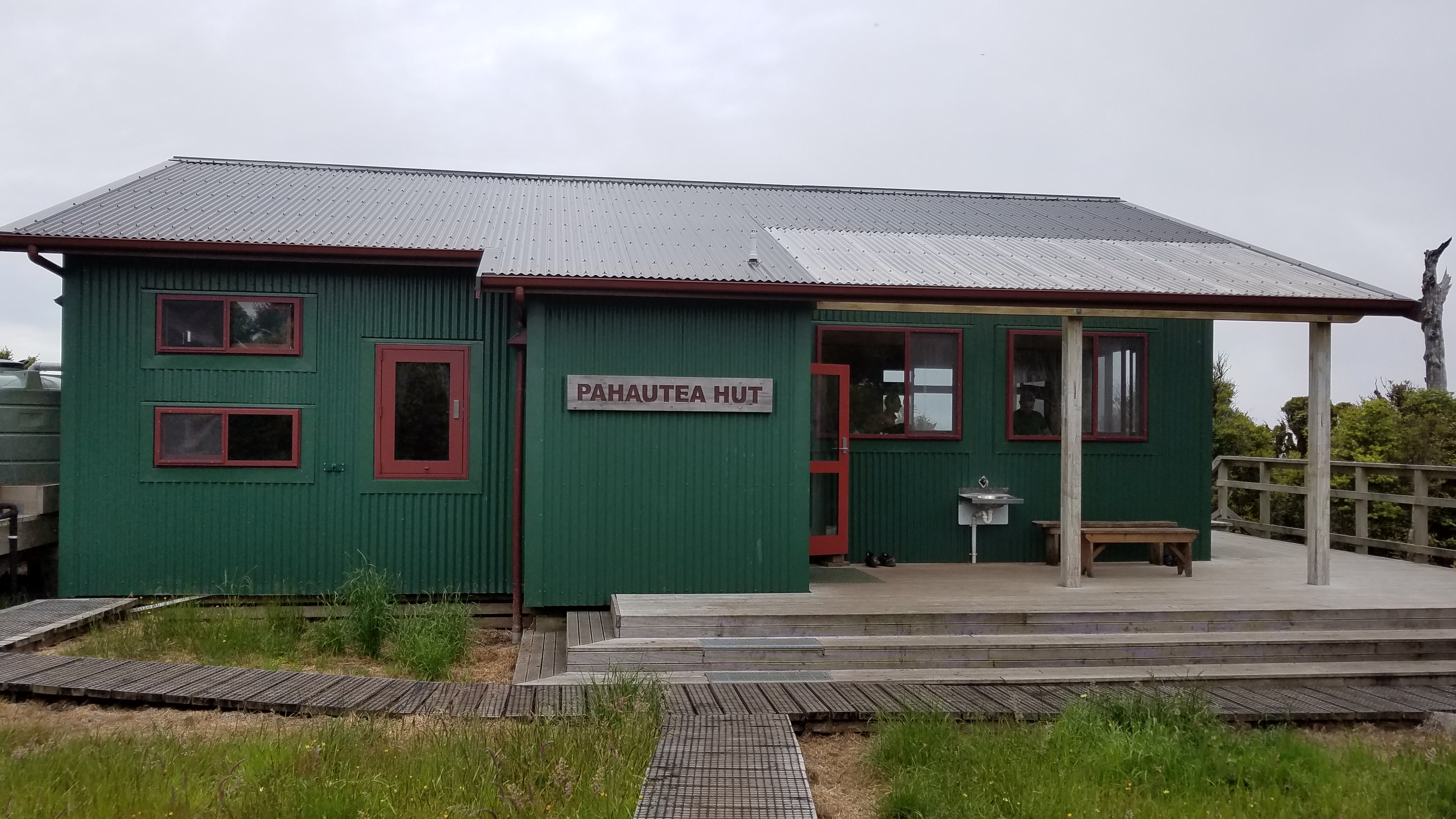 A beautiful new DOC hut, the first on the trail.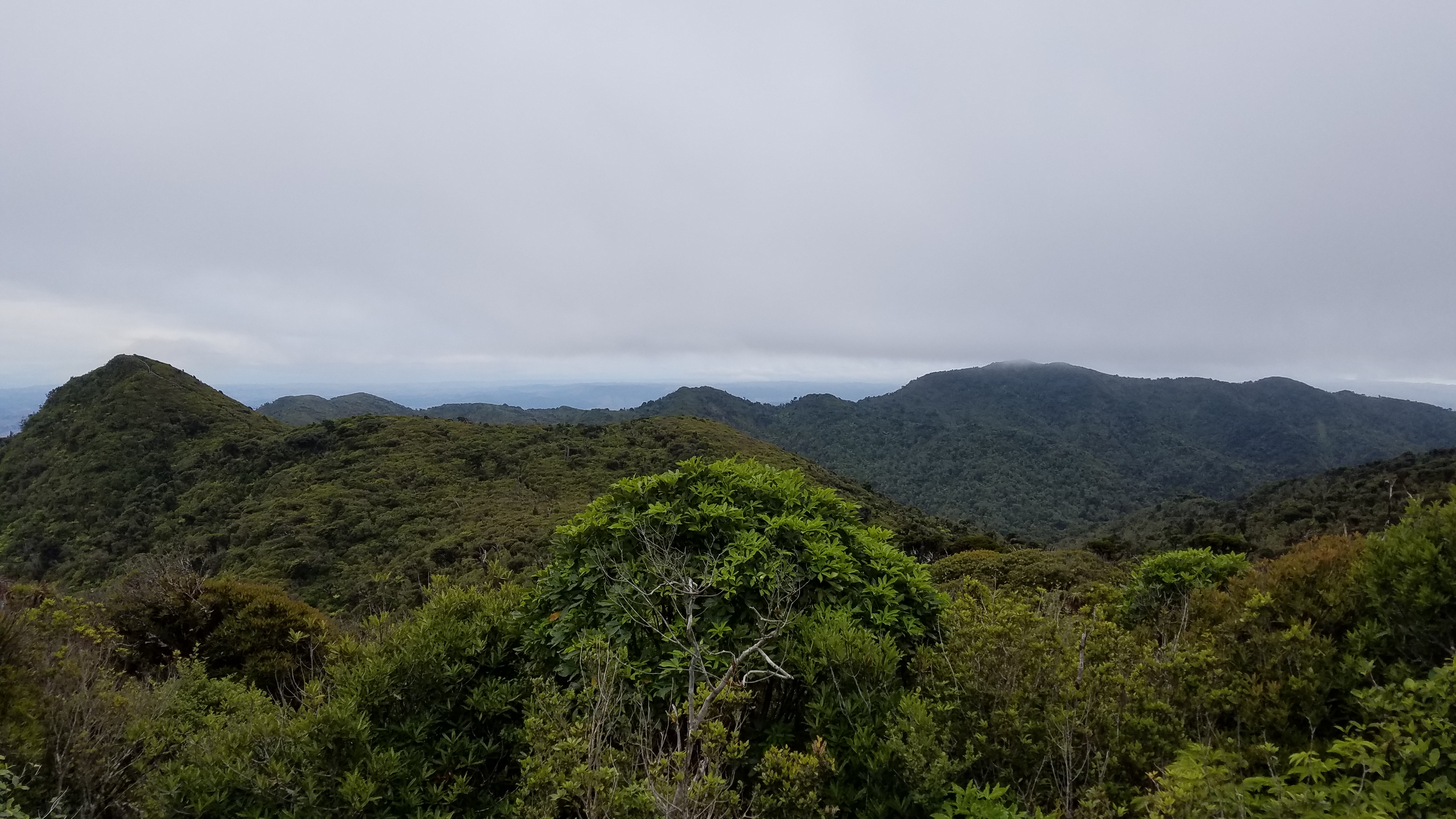 View from the hut.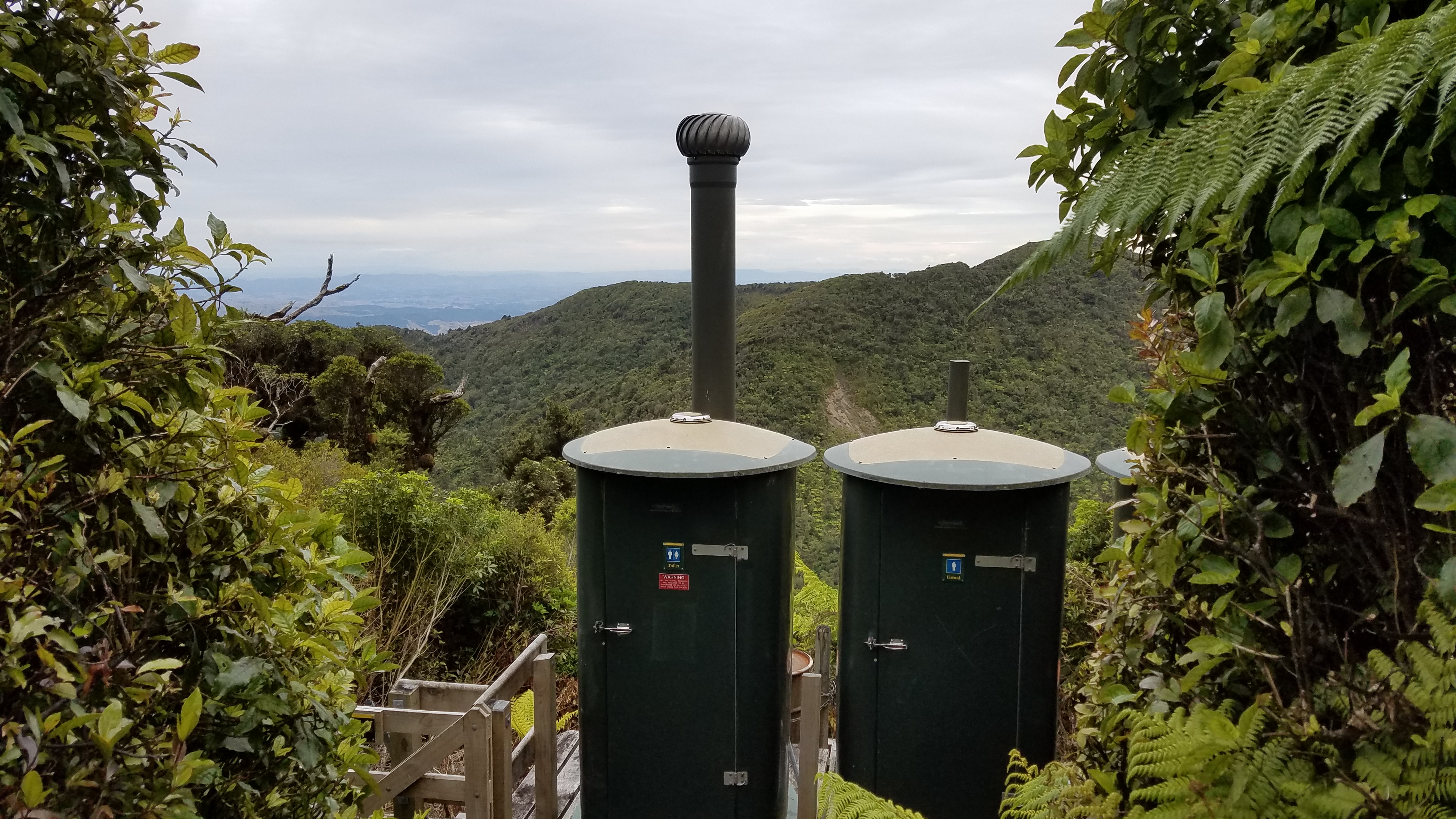 Even the toilets had a great view.
Even though I decided to sleep in my tent, I of course made good use of the hut's cozy main room. I didn't know what to expect for the holiday festivities that night, so I began making dinner and broke out one of my miniature bottles of wine. A few others had brought wine…maybe it would be a party?
Being that NZ is pretty much the first country in the world to ring in the New Year, and this being my first time here for this event, I at least wanted to stay up until midnight. This is a hard ask for a thru-hiker, whose normal bedtime is around 8 or 9 pm (also called hiker midnight).
Some locals sat down next to us and seemed game for a late evening. They had brought playing cards and Uno cards, so we had a way to pass the time. Around dark (9 pm), pretty much everyone else had gone to sleep. Luckily the hut had separate bunk rooms with doors. Then one by one, even members of our own small group started dropping off. By the end, there were just four of us awake for midnight and we didn't even do a countdown. I think I was in the middle of brushing my teeth or something. The views of the nearby towns had been obscured by clouds, so no fireworks either. Ah well, Happy New Year anyways! It was still a great place to be and in the company of some nice folks, enjoying nature.