August 2nd, 2018
Mm 2162 to Cascade Locks mm 2147
Distance: 15 miles
I was very motivated to get moving on this morning. For one, I woke up in a cloud and condensation was raining down on my tent. The longer I stayed, the wetter it was going to get. But more importantly, it was a town day and I had lots of new goodies awaiting me!
I was hiking by 0530 and enjoyed seeing the sunrise through the fog.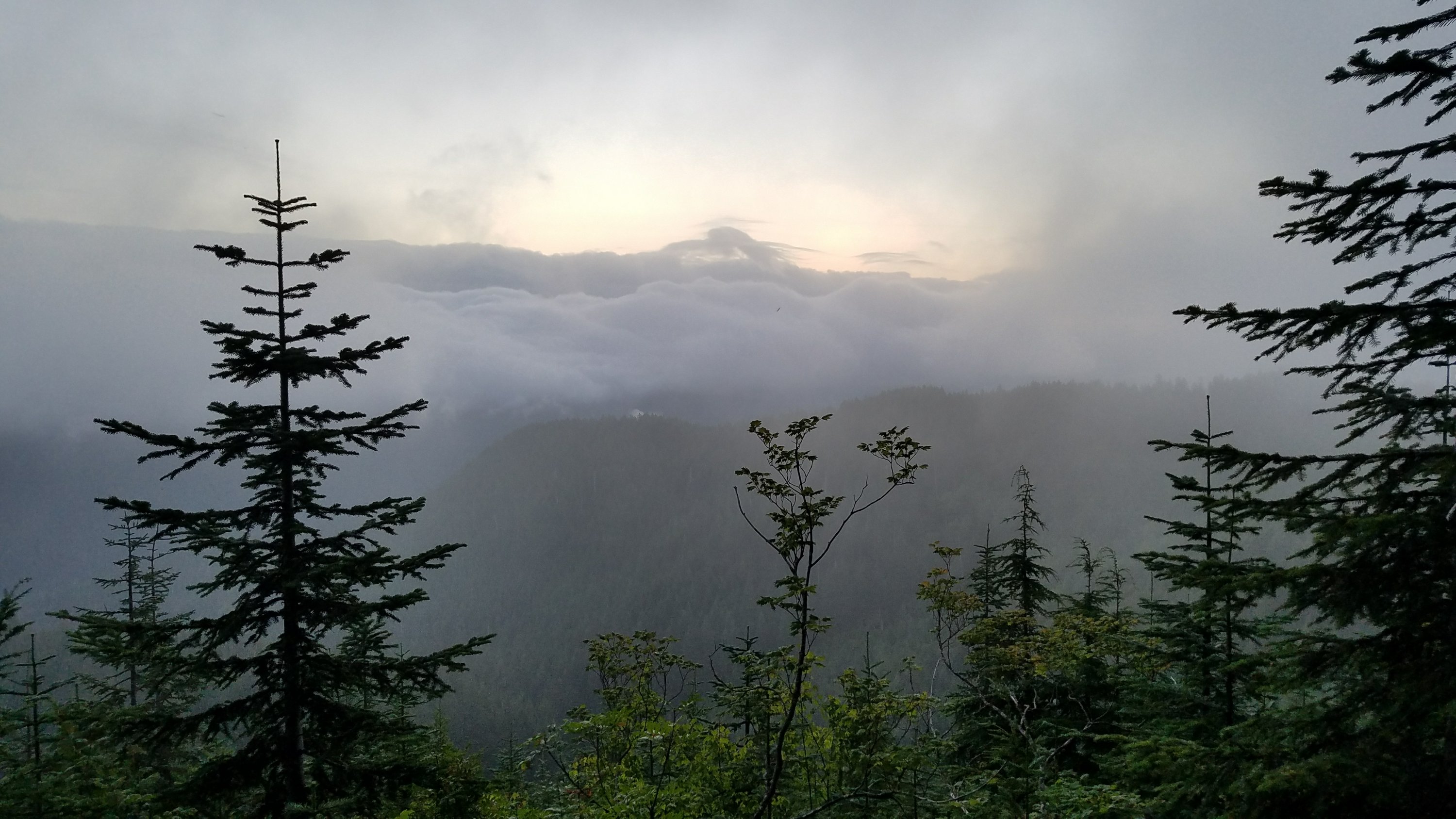 There were a lot of banana slugs on the trail, active while it was still humid. Poor things must have been drying out over the past few weeks. I met the first hiker at 0600 and passed a lot of tents along the way. I was glad that I hadn't continued on because every small tentsite was full. I was happy to find Skybird and Spatz with good sites at the largest area, just a few miles from where I had camped.
The trail went through some clearcut areas, which was eerie in the mist. I could hear machinery in the distance and the sound of splintering trees. I felt like I was in some dystopian movie. I was glad when the trail returned to forest.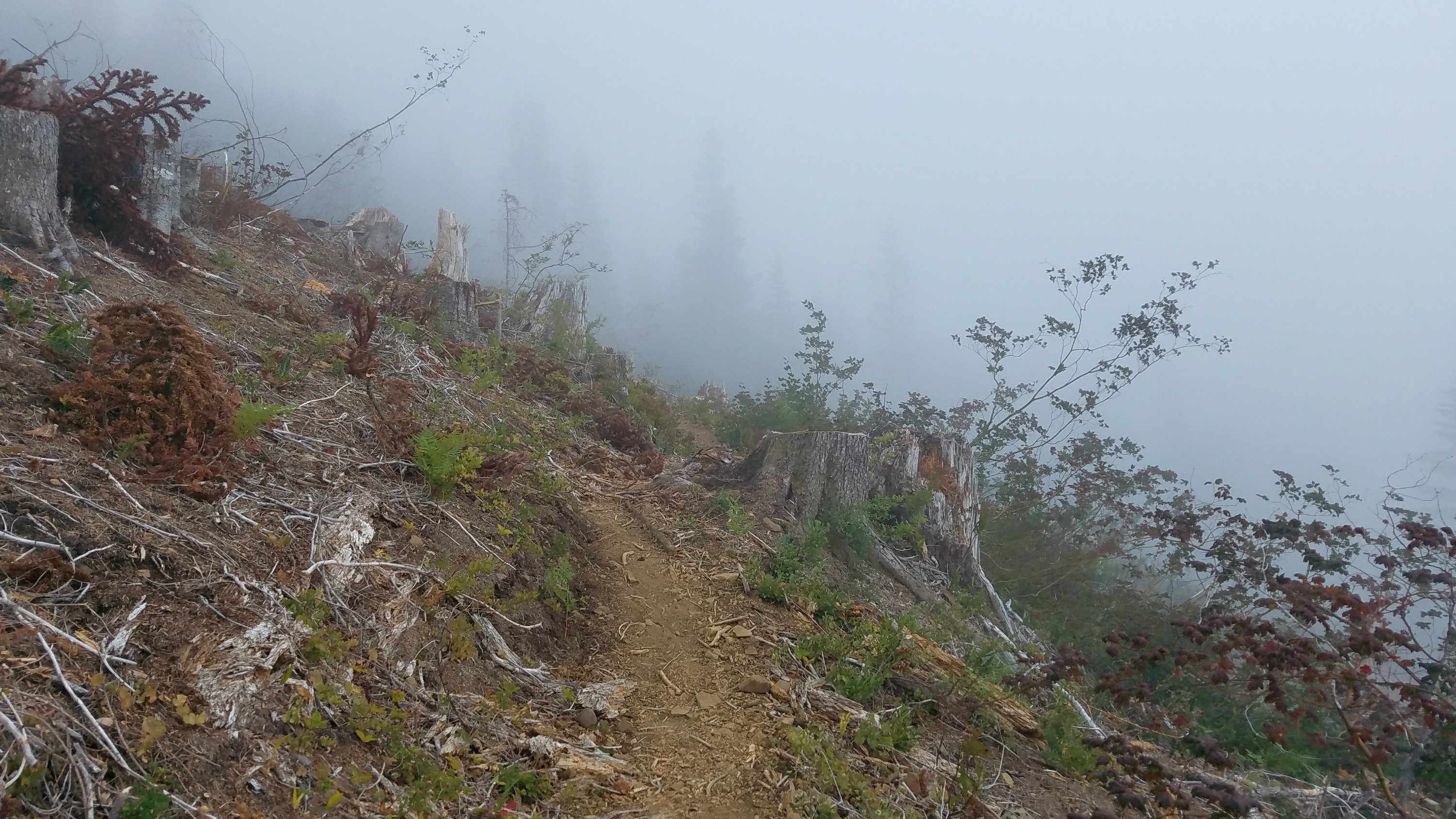 I was hiking fast but was actually overtaken by another SOBO, Dorothy, which surprised the heck out of me since I had my headphones on. I sped up to chat with him for awhile but then was stopped by fully loaded blackberry bushes (or at least that's my excuse for not being able to keep up with him). I ate blackberries for about 20 minutes and started feeling a little full, even. My fingers were stained purple and I probably had purple all over my face, too.
I was slowed down by all the rocks on the trail, as well. I had gotten spoiled by the nice soft trail through the forests the past few days. I still made record time getting into town…15 miles by 1030. I also crossed the 500 mile mark, which is usually quite an accomplishment to celebrate but not as much when you're on your 3rd thru-hike. At 500 miles in, I'm not even fully 1/5 done with this hike, which is a bit disheartening.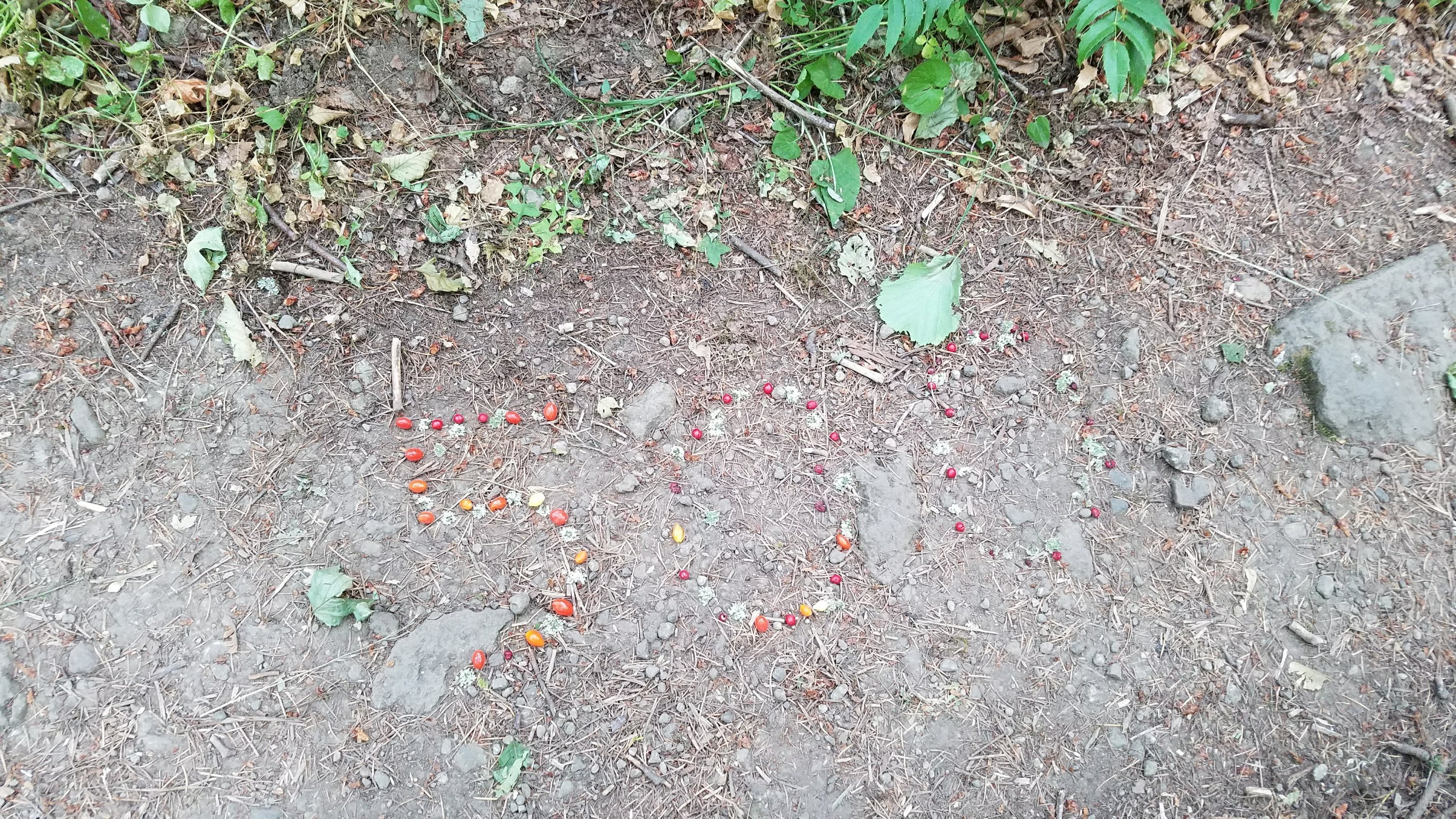 500 spelled out in berries on the trail.
I came to the Columbia River and crossed it via the Bridge of the Gods. This is where the heroic character in the movie/book Wild finishes her hike of the PCT, kind of neglecting to mention that it continues all the way through Washington, which I can assure you, is a large chunk to leave out.
Anyways, the bridge wasn't all that fun with the cars coming by and no shoulder, plus the wind whipping up under my skirt. I had to use one hand just to hold it down..my Marilyn Monroe moment. I didn't get any pictures crossing the bridge for fear of getting hit by a car or dropping my phone into the river. But I got pics of both ends.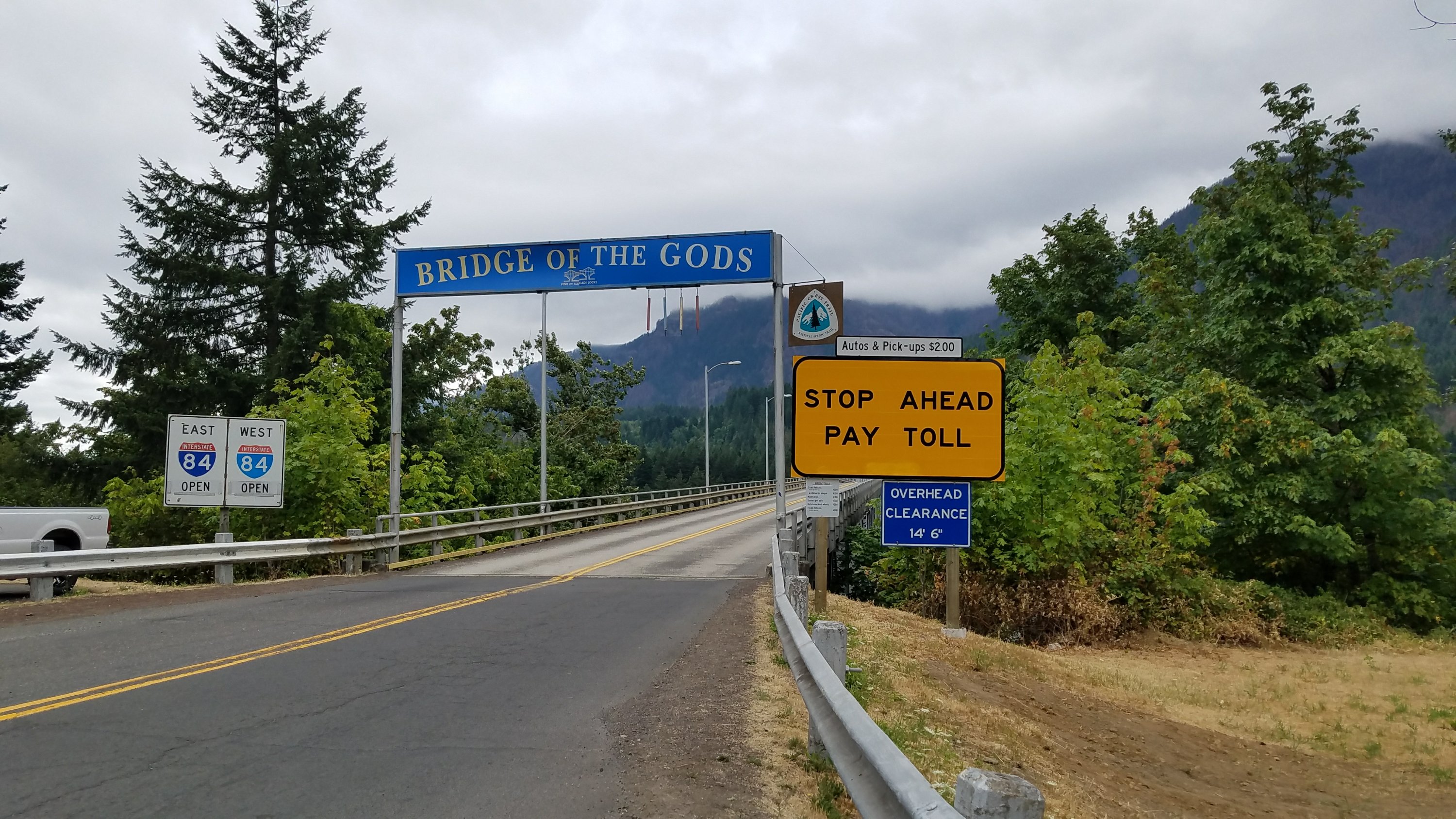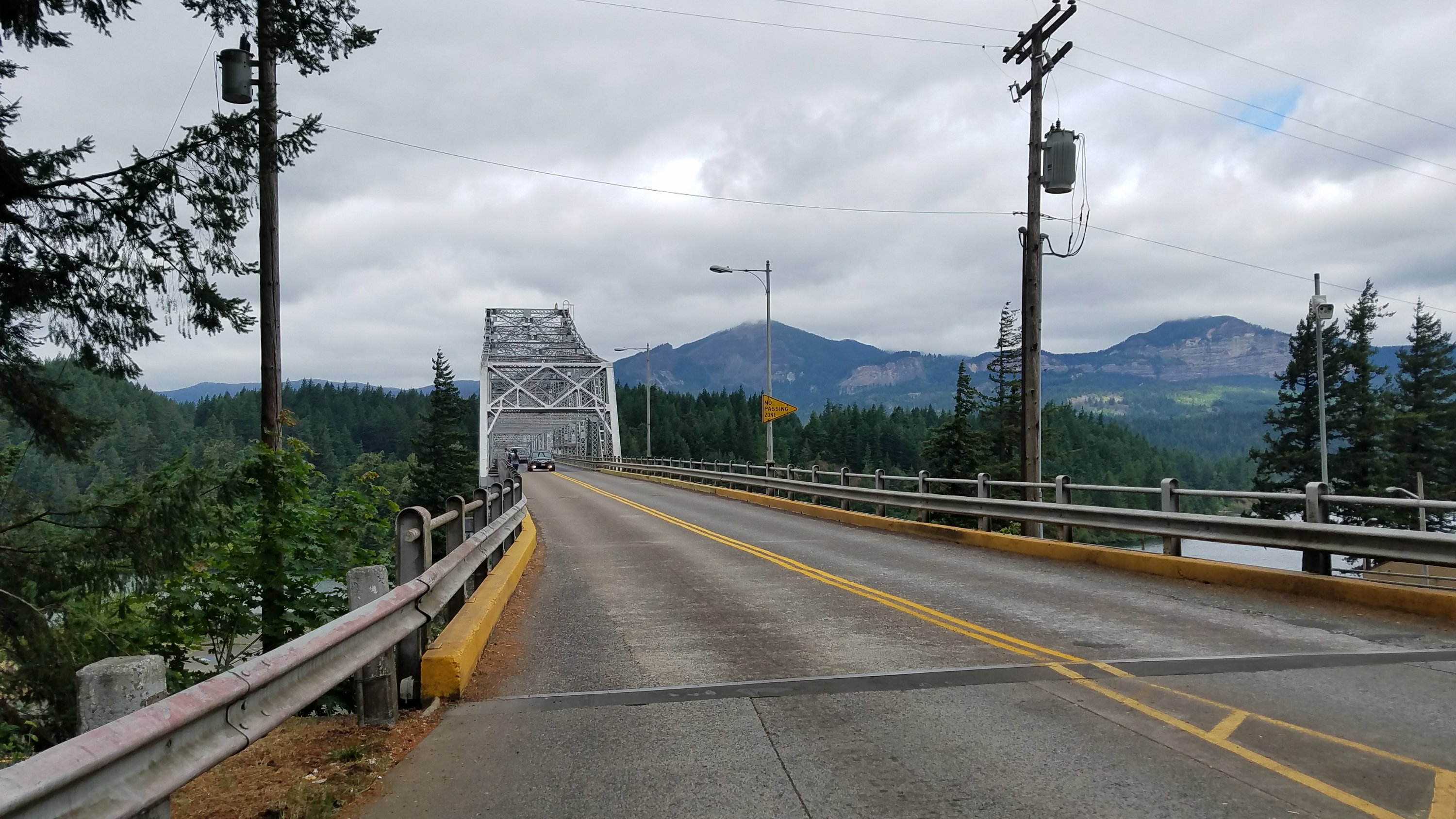 I made it to Oregon!
On the other side, I was greeted by a most unexpected fan club of more than 10 people. They were waving me over, holding up signs, and yelling CONGRATULATIONS! I was so confused but then Mom Susie explained that her daughter Ladybug was about to arrive, going north. But why not cheer everyone on! They also pushed a table full of goodies on me, including donuts, chocolate, and soda. I've been so lucky with trail magic.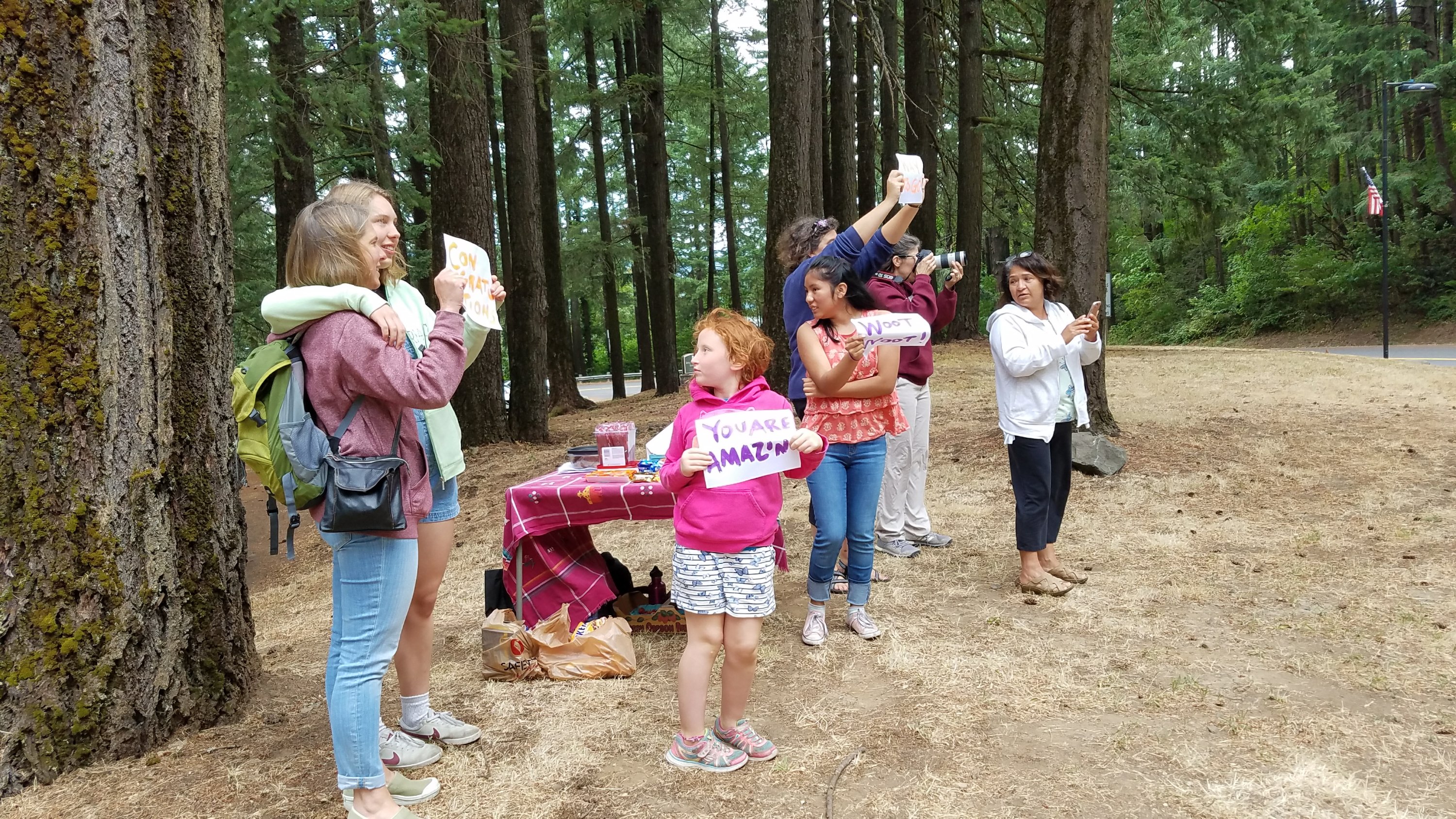 After seeing Ladybug arrive and the real party begin, I left the trail to go into the small town of Cascade Locks. I went straight to the Ale House to get my packages and also check the hiker boxes. I opened all my boxes and it was like Christmas. I got a new pillow, an item that was sorely missed over the past month. Also, I had new socks, a sports bra, and water bladder. So happy!
About the time I had gone through all the stuff, Skybird texted me to let me know that her mom was already in town and did I want to come back to Portland with them? After how much fun Trout Lake had been, I had decided to take her up on such a gracious offer.
On the way home, we stopped to get Philly cheesesteaks and ate them on the back patio. I inhaled mine. Having temporarily satisfied out hiker hunger, we could then concentrate on meeting Skybird's sister, Joanna, and check out the shower(s) in their awesome abode.
What a beautiful home on the outskirts of Portland we were treated to! And I was blown away by Shelly and Ray's hospitality. We later had steak dinner with all the fixings and root beer floats for dessert. I was so stuffed. We finished off the night soaking out feet in the hot tub and then resting peacefully on air mattresses. I even had my own room in the study. Does it get much better for a tired, hungry hiker? I think not.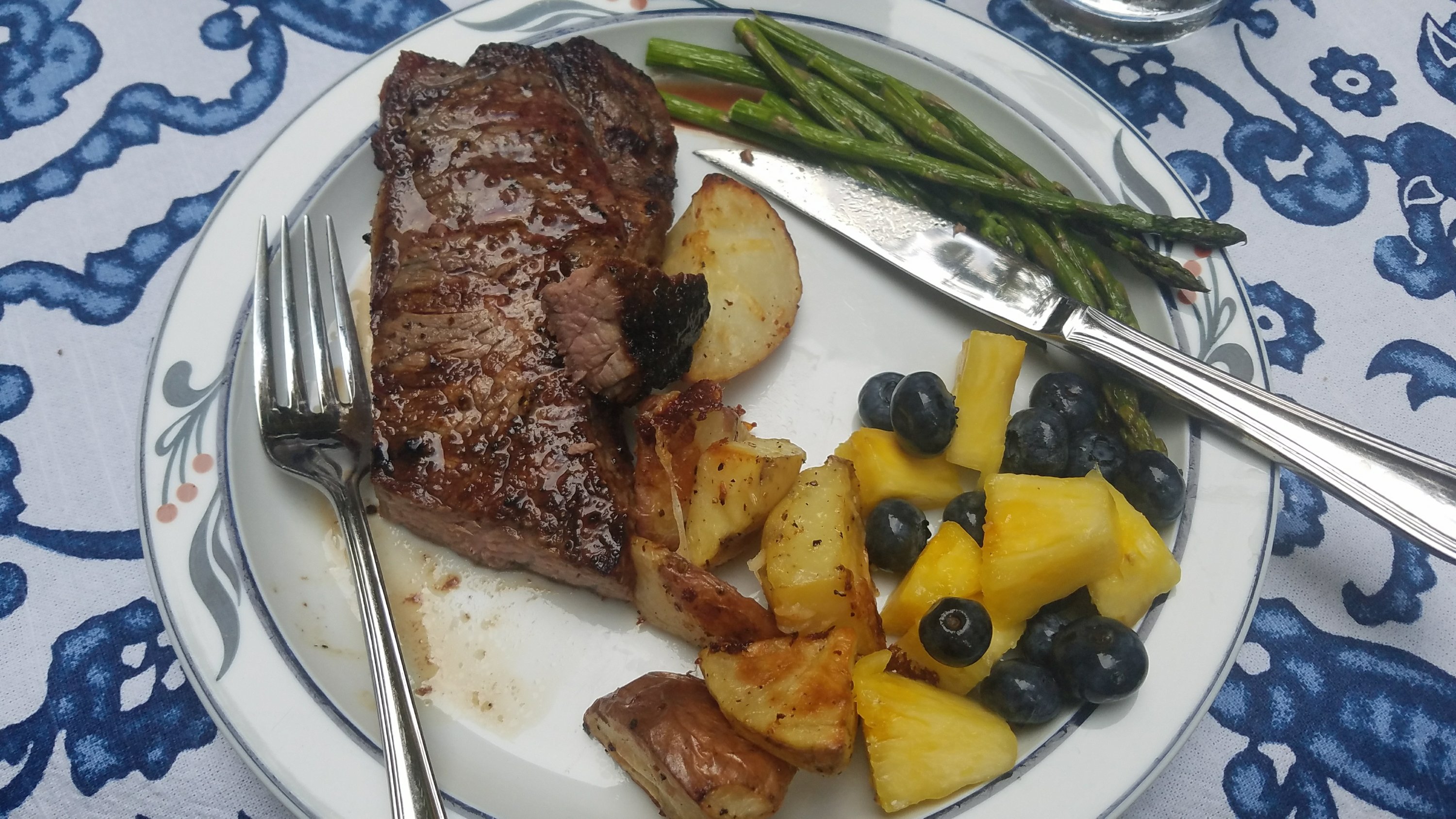 Mmmm, steak and fresh fruit!
I had planned to take my first zero the next day so this was only night 1 with the family. And already I was deeply indebted to them. I can't say thank you enough!