July 24th, 2018
Urich Cabin mm 2347 to Dewey Lake mm 2321
Distance: 26 miles
Today was fun and interesting.
First I woke just before 5 am to go outside to pee, then back up to the bunk to lay in bed for about 20 minutes. When I came back down to get breakfast started, about 30 elk had filed into the meadow. All in the short time since I had gone outside the first time. It was great watching them through the window while I drank coffee.
Also while I was lounging in bed, I shifted funny and tweaked my hip. There was now a sharp pain with each step and I wondered if I had just put my walking in jeopardy by something I did in my sleep. I took some vitamin I and hoped for the best.
I set out on the trail at 0615 and worked through the pain in my hip for the first two miles. Eventually it went away. The trail was nicely wooded but then entered a burn area for the next 10 miles. My timing couldn't have been better, since it was still early morning and not yet blazing hot. But there was a lot of deadfall to negotiate and anything I touched left black soot all over. My legs and feet were a mess. I finally got to the other side and a water source at 11 am, so I took an early lunch.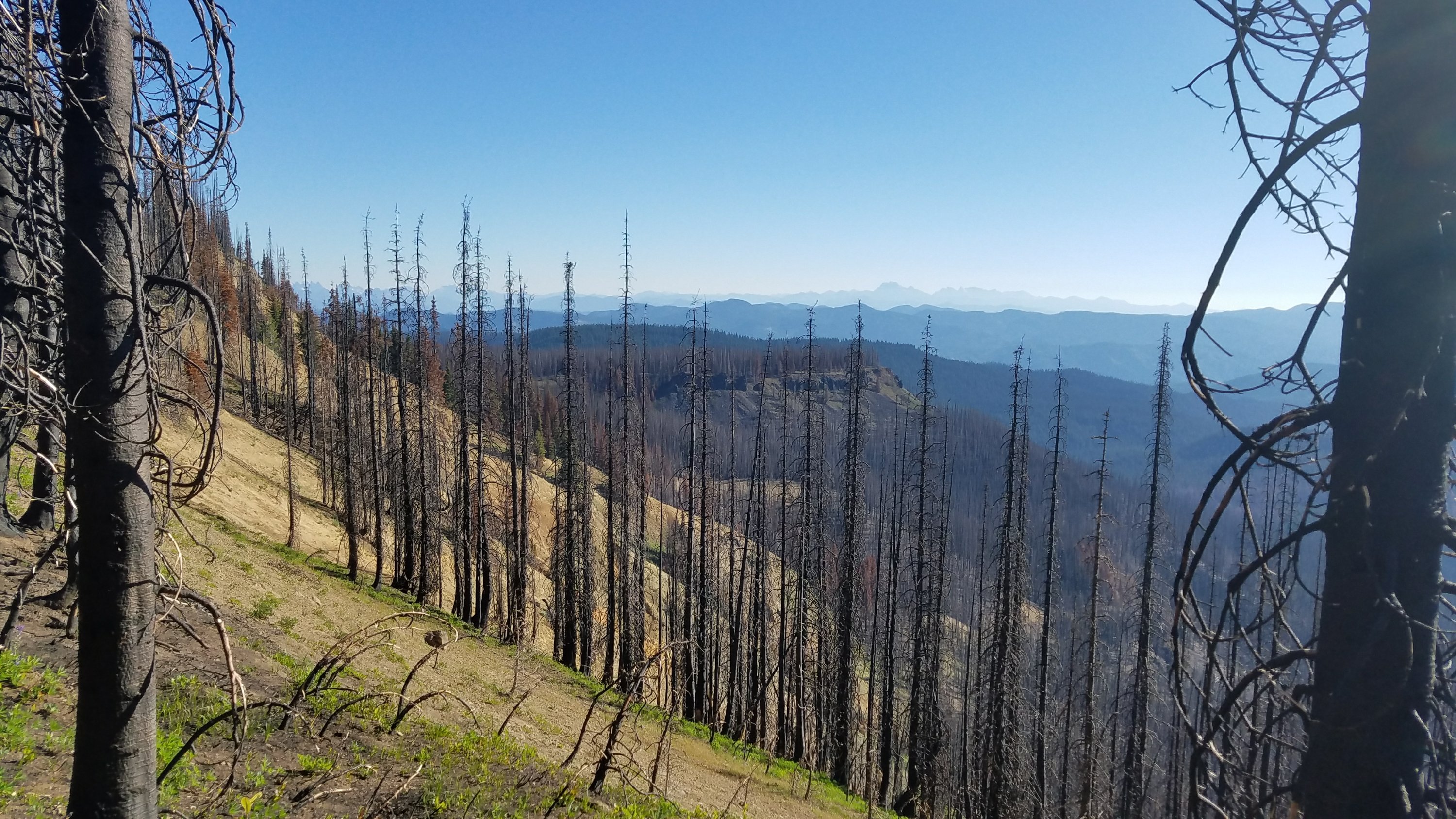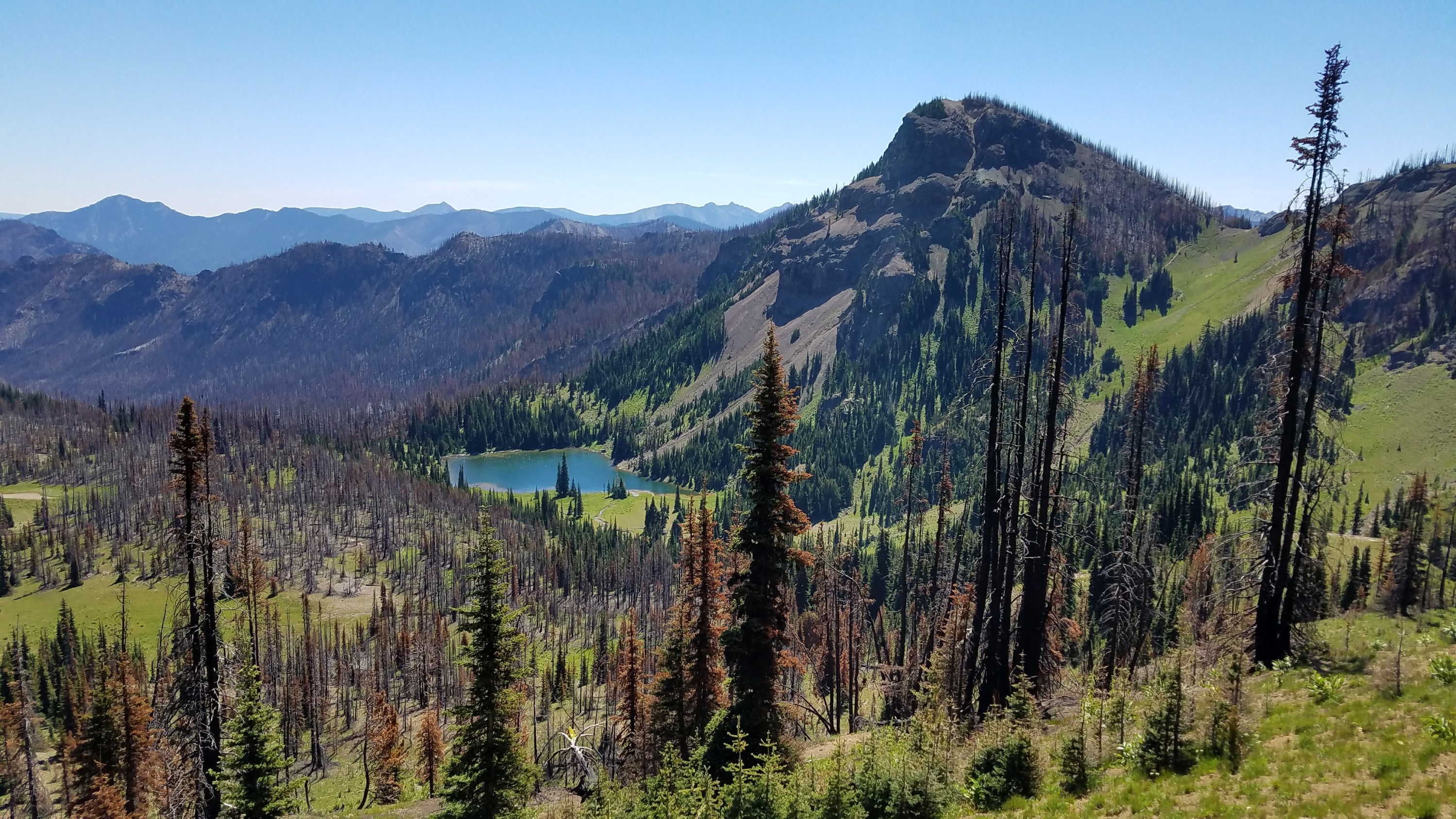 I had seen only 5 people going north in the morning and had yet to catch another SOBO in this whole section. I had been walking alone since Stevens pass, a week straight. It's funny because the reaction I get from a lot of people going north is that I am yet another SOBO, jeez! They assure me that there are 'hordes' just a day or half a day in front of me. The actual number fluctuates between 15 and 30.
There is growing contention over the PCT being too crowded and that is a big factor in why I am traveling southbound. Consider that they had to limit permits to 50 per day starting from Campo (Mexican border). That's 50 people starting out every day for nearly 2 or 3 months straight (March-May). Now that's a horde.
From my experience, I have been quite isolated. I have camped solo for 5 nights and been with just one other tent or person on 7 nights. With the exception of Snoqualmie Pass, I really haven't seen that many people even during the days. I feel as though I've been getting quite the wilderness experience. It's there for anyone to find if they play their cards right.
The trail continued on ridgelines so even though I was out of the burn, I was still in the sun. Then spectacular views of Rainier opened up and I forgot about the heat and my feet. I could also see Mt Adams and even just the tip of Mt hood. There were miles of open scenery and I was back in walking bliss…it occurs a lot on this trail!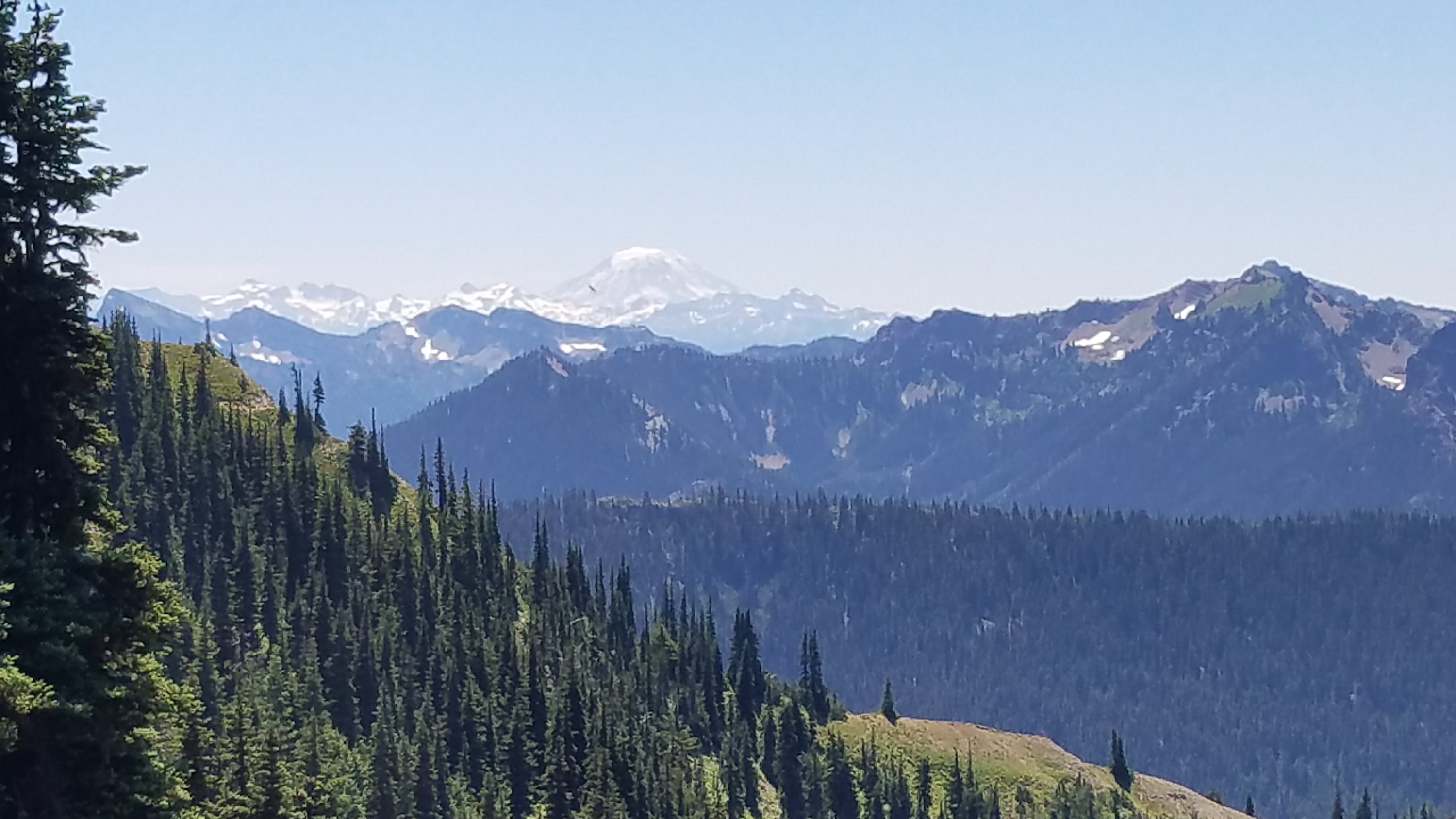 Mt Adams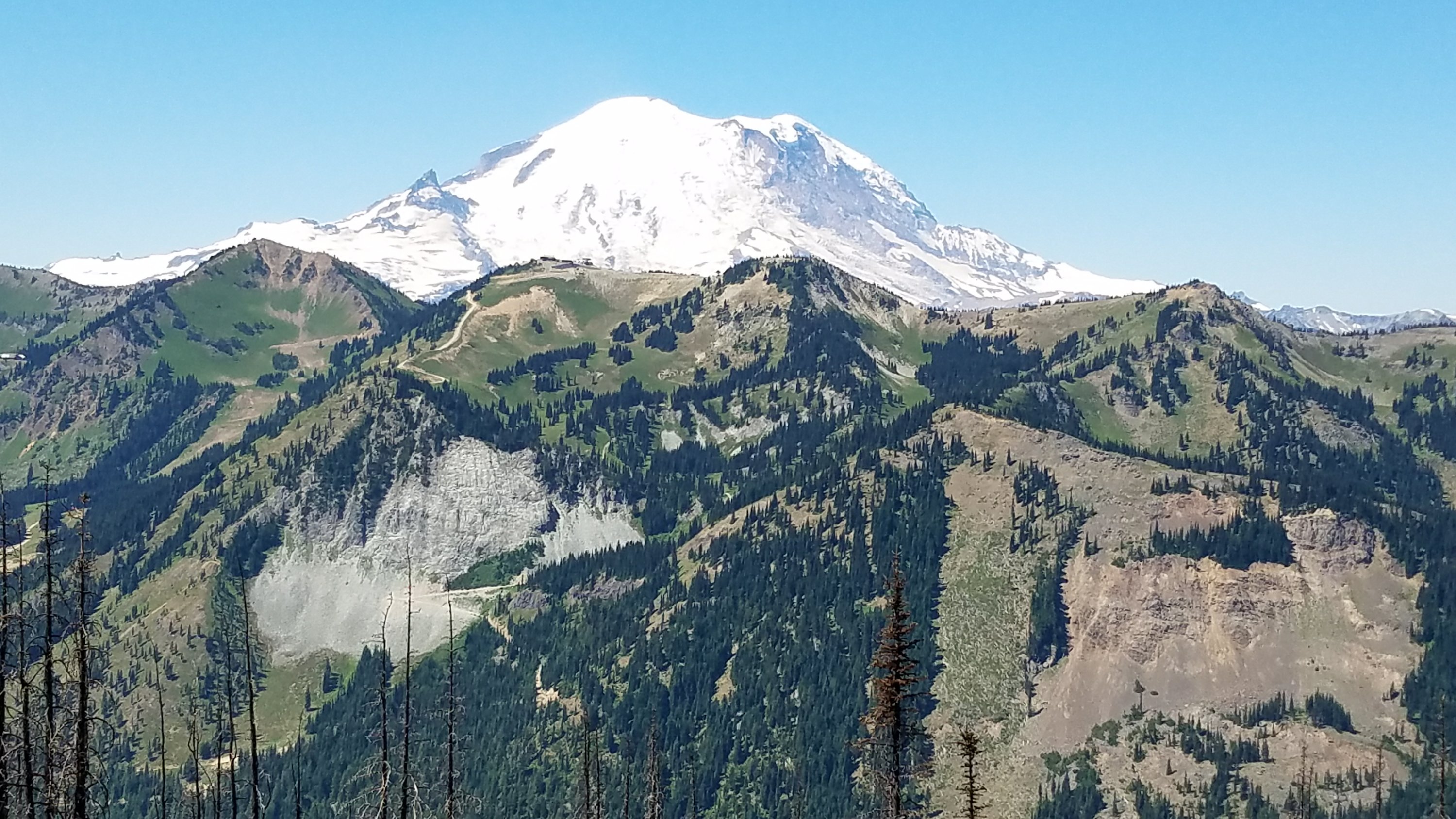 More Rainier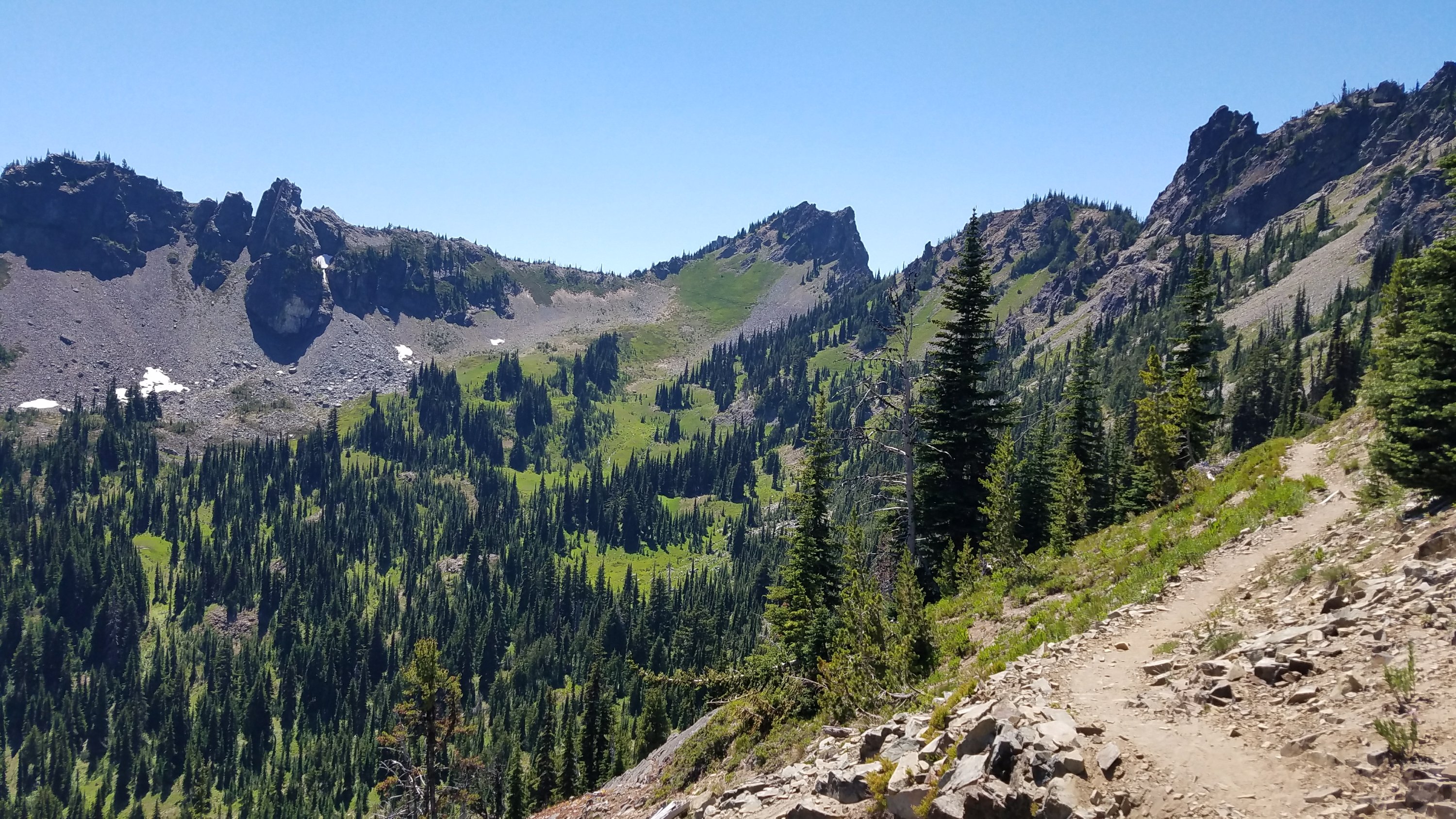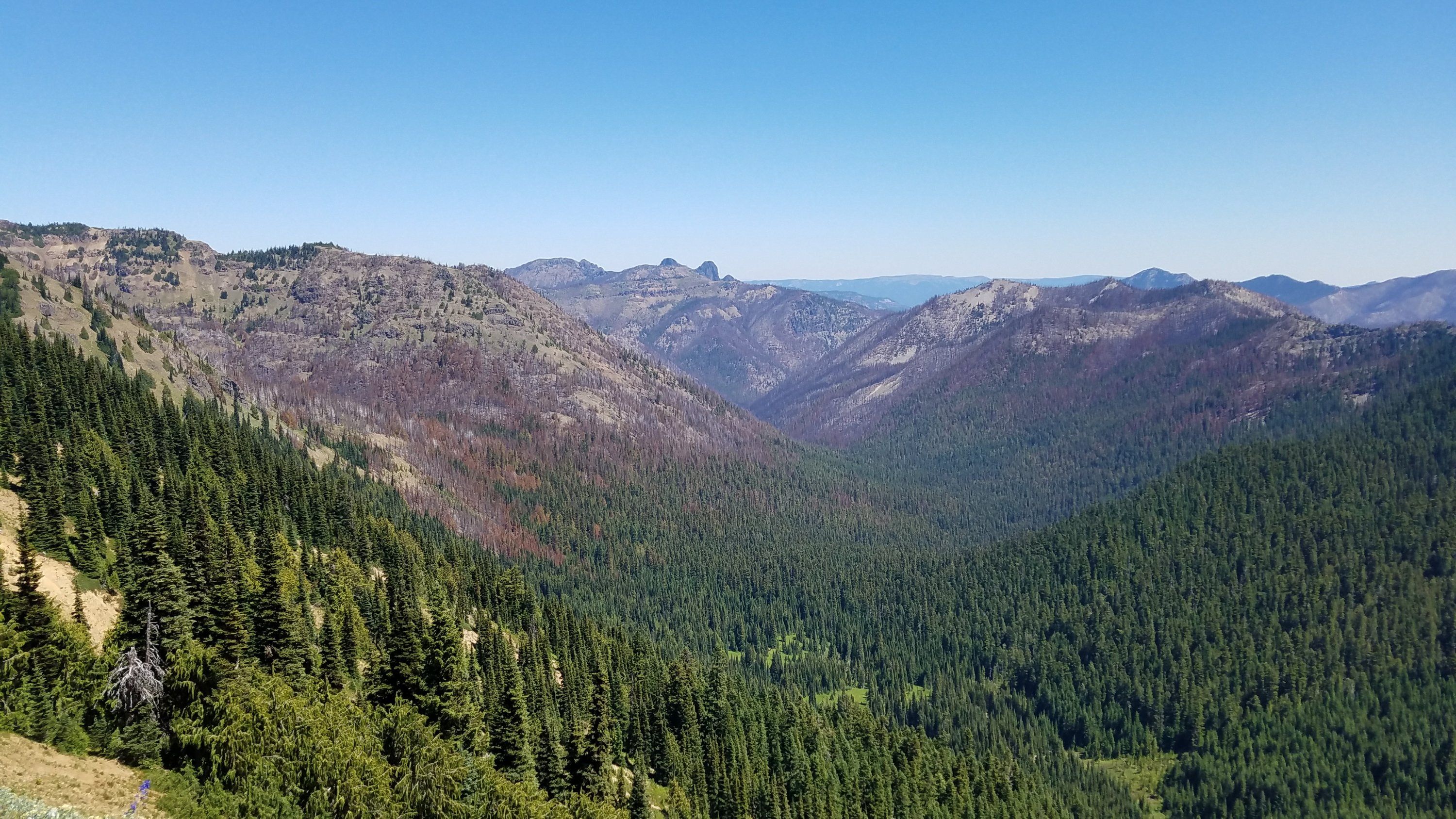 I came to Sheep Lake around 3 pm and finally the stars were aligned for a swim! I went in wearing all my clothes and Oh how wonderful it was to wash off all the grime from the trail. It's so dry and dusty that I get very dirty each day. In NZ I never got as dirty because I was constantly fording creeks and rivers. That or the rain washed me off.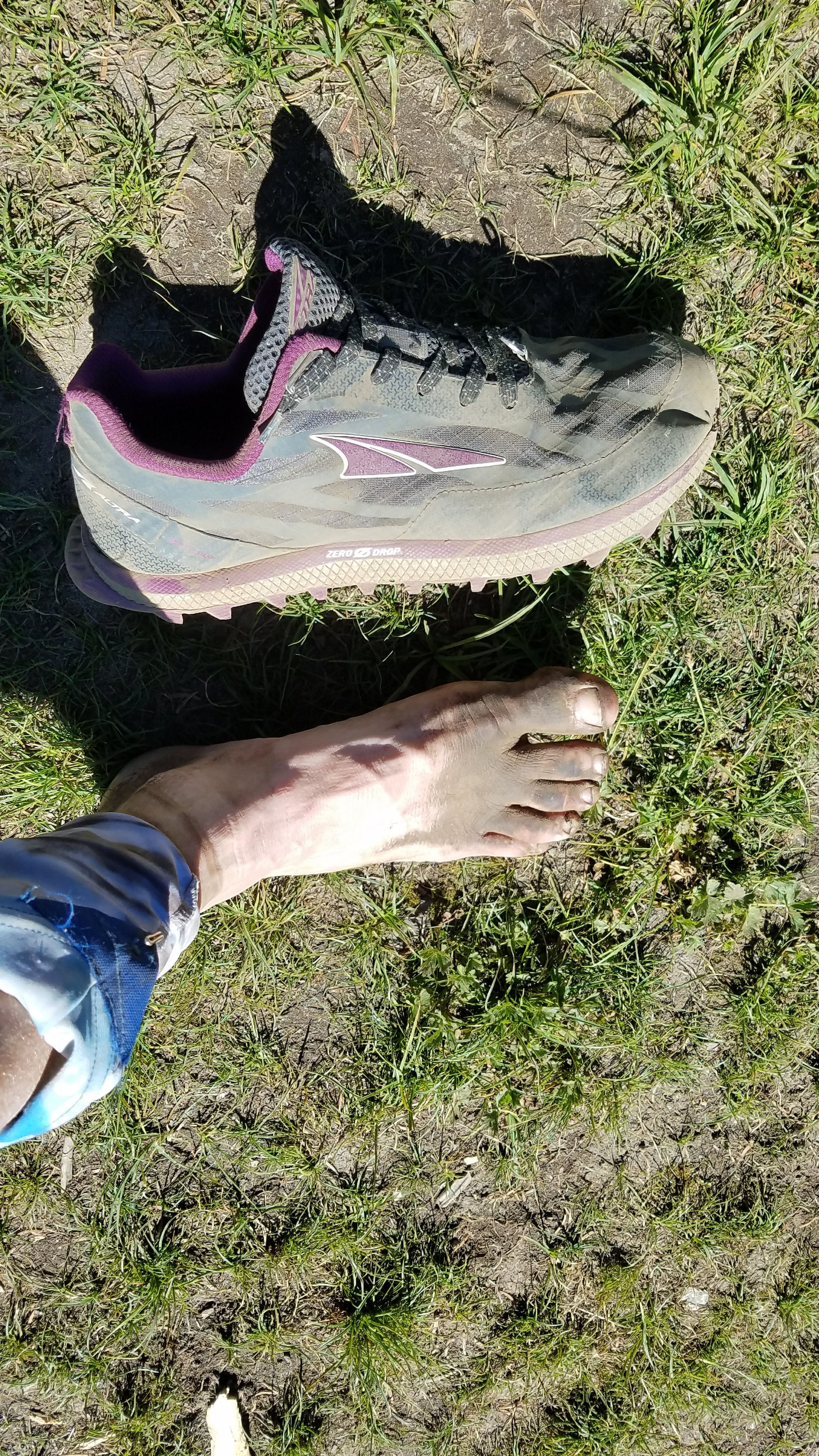 Very dirty feet from the trail…and I'm even wearing socks!
I continued on feeling very refreshed and came to Chinook pass, where there is a paved road. Wouldn't you know it, there was a couple from Yakima doing Trail Magic! Mike and Linda Sorenson's daughter, Han Solo, had hiked the trail the year before, so they have taken up the call as trail angels. They had WATERMELON, bananas, Gatorade, chips, protein bars, and cookies. I had a little bit of everything. Between the views, swim, and TM, the day was full of treats.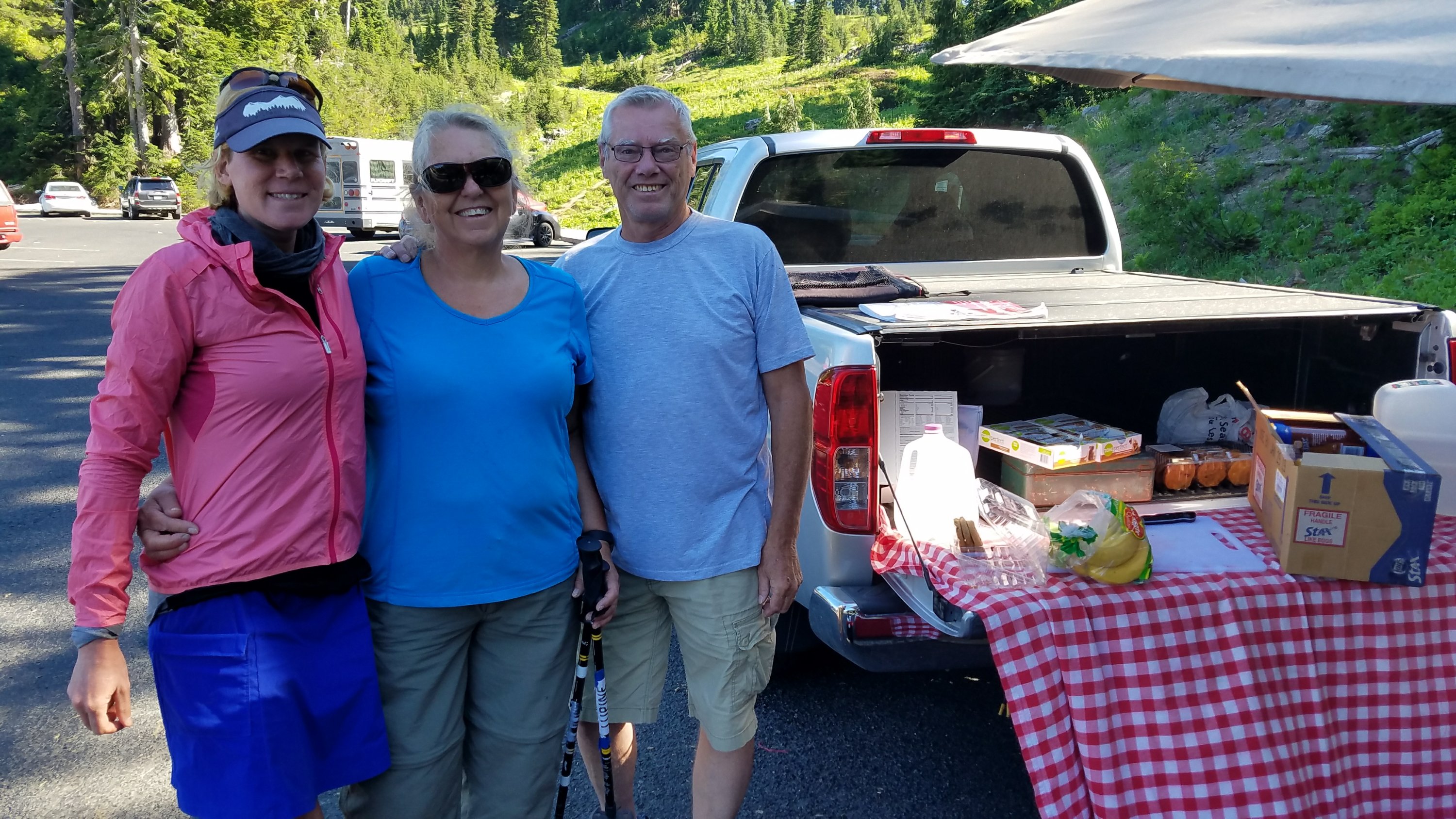 Wonderful people like these make the trail so much fun. ( I had my jacket on because of the mossies)

I still had 3 miles to go to my planned campsite, so I reluctantly continued on. I camped at Dewey Lake, where I anticipated horrible mossies. I was surprised to find that they weren't as bad as expected. I still did most everything in my tent but was able to go outside to stretch later on. What a great day!