July 21st, 2018
Mm 2404 to Snoqualmie Pass mm 2393
Distance: 11 miles
I just wanted to add that the day before involved 7900′ elevation gain and 5300′ loss. No wonder it felt so hard!
I was on the trail by 0630 am, despite a chilly start. I didn't sleep very well because it was so cold. I left most of my layers on until an uphill where the sun was hitting. The morning light on Rainier and the other mountains was again outstanding.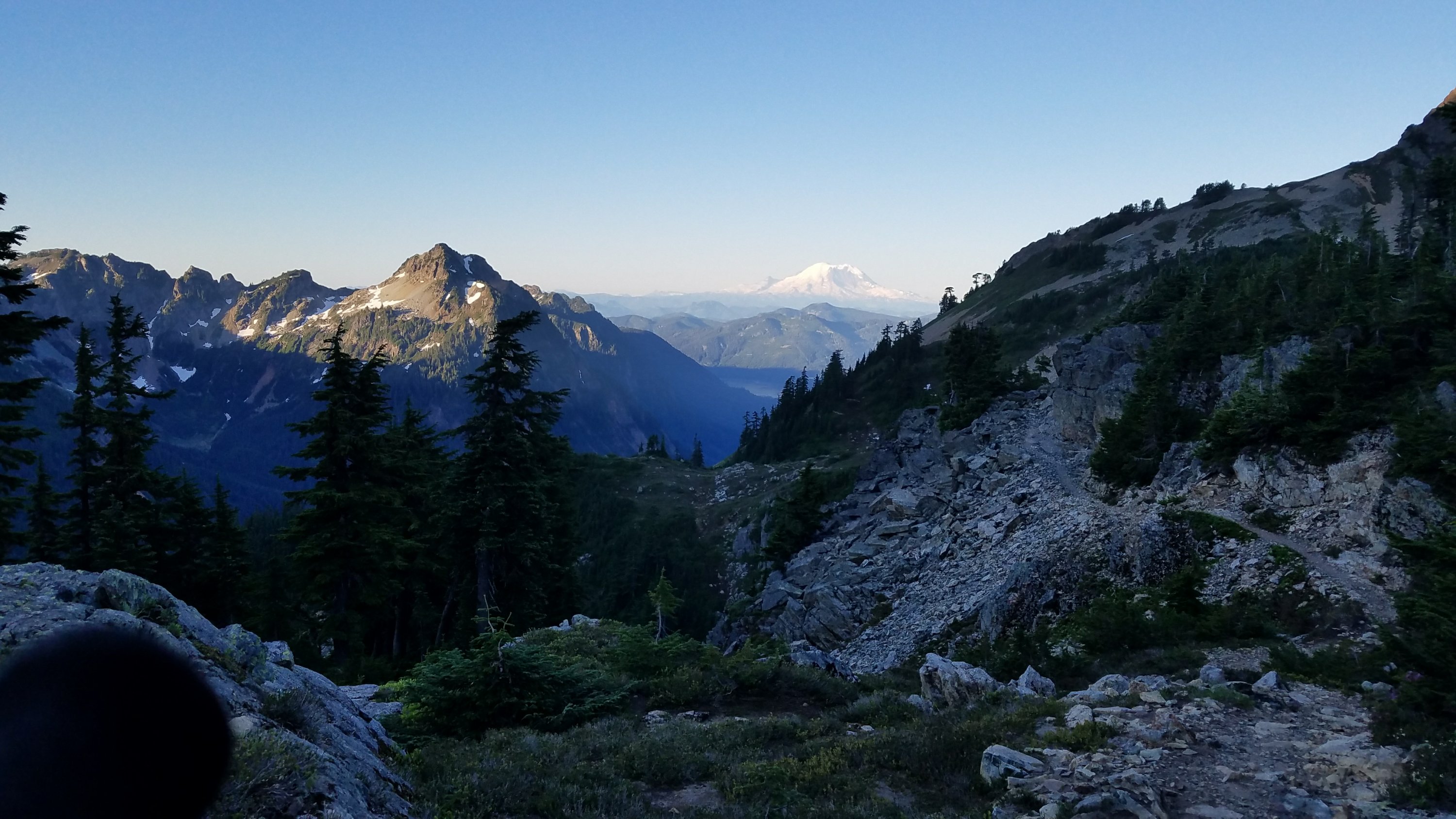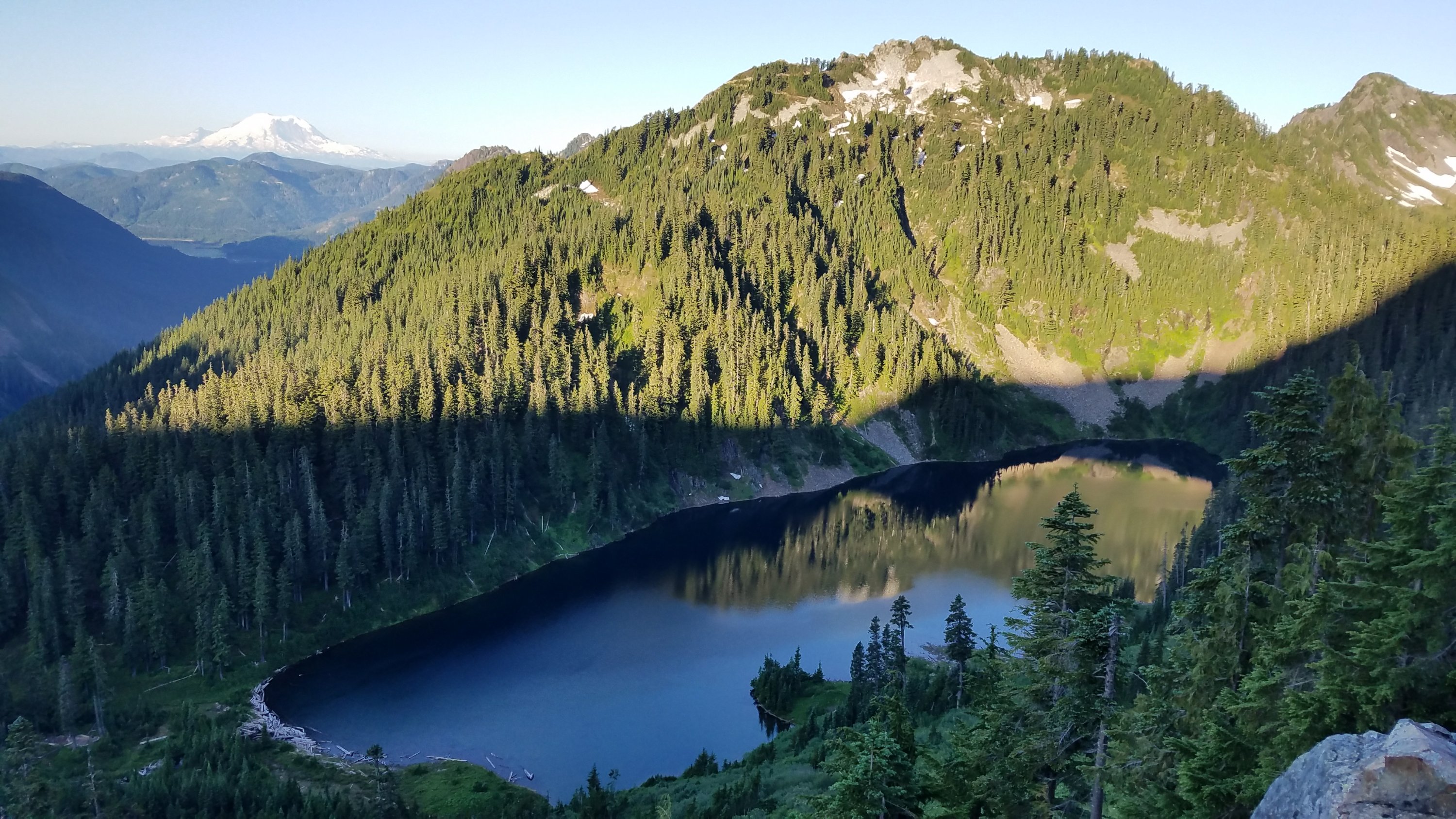 The day before I was able to see 3 of the volcanos. Rainier was obvious and based on the map, the other two were Mt Adams and Mt Hood, the latter of which is all the way in Oregon! That's about 140 direct miles and weeks into my future that I was able to see!
I met two women forest service rangers early on and we had a nice chat. They did their duty in reminding me about leave-no-trace principles and permits. After that was a train of people all coming from the nearby metropolis. First it was a bunch of trail runners. One guy tripped going downhill, did a superman faceplant, and came to a rest nearly at my feet. He was ok but really embarrassed. Hey, I've been there too.
I stopped to chat with some day hikers and the guy offered me bananas and half of his wrap. I gladly accepted the bananas but felt he should enjoy all of his wrap. Some trail runners saw this feeding taking place and tried to offer bars. I had to politely decline, as I am just a little sick of bars already. I had quite a bit of food left over from this last section and am still carrying some of the same snacks since Stehekin. But fresh fruit is always welcome.
In the remaining 6 miles downhill, I passed no fewer than several hundred people all on their way up to the 'catwalk.' This is a section of trail that appears to be carved out of a cliff face. It was really cool but crowded. Coming off this section on a Saturday morning was not the best timing.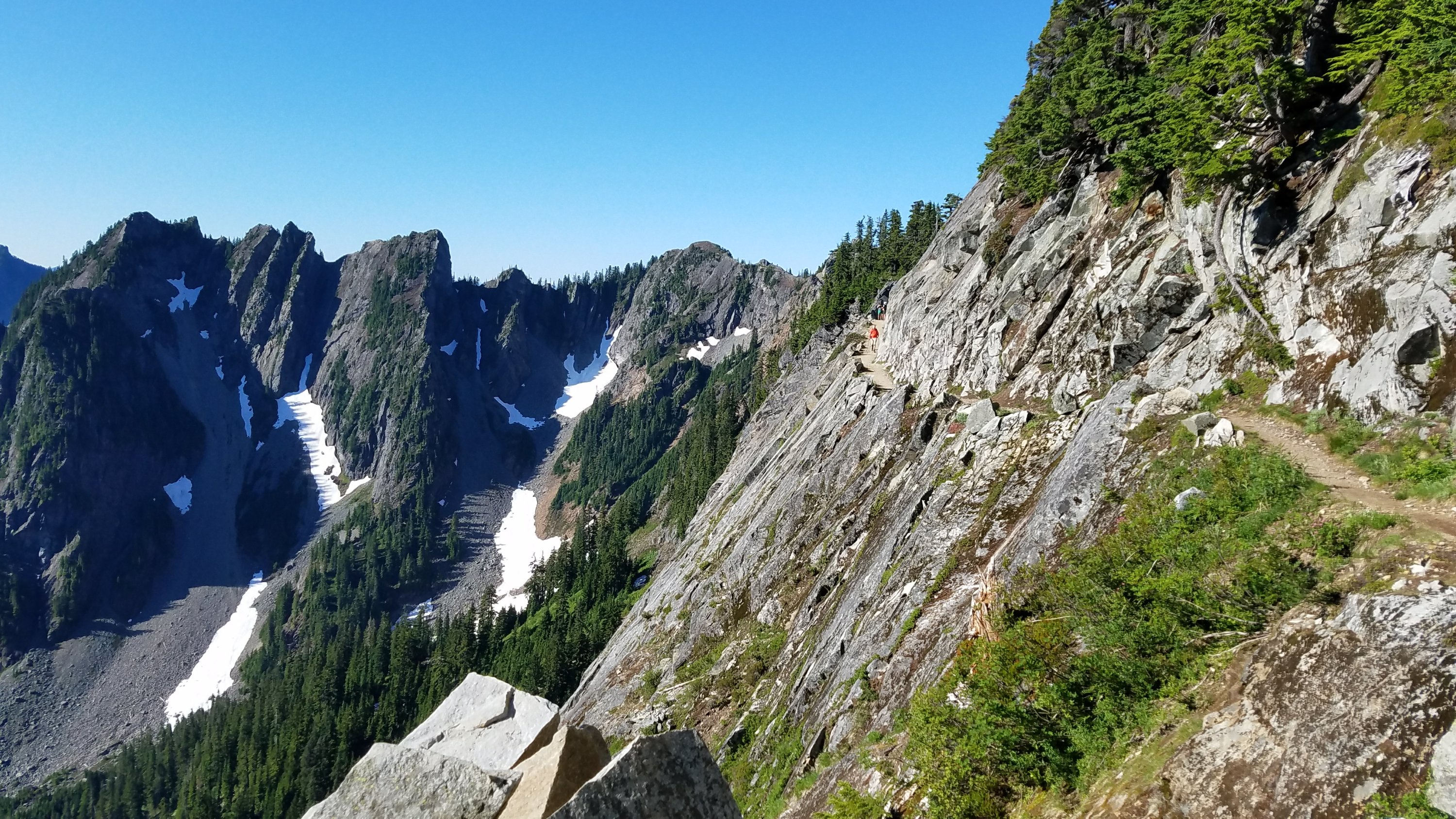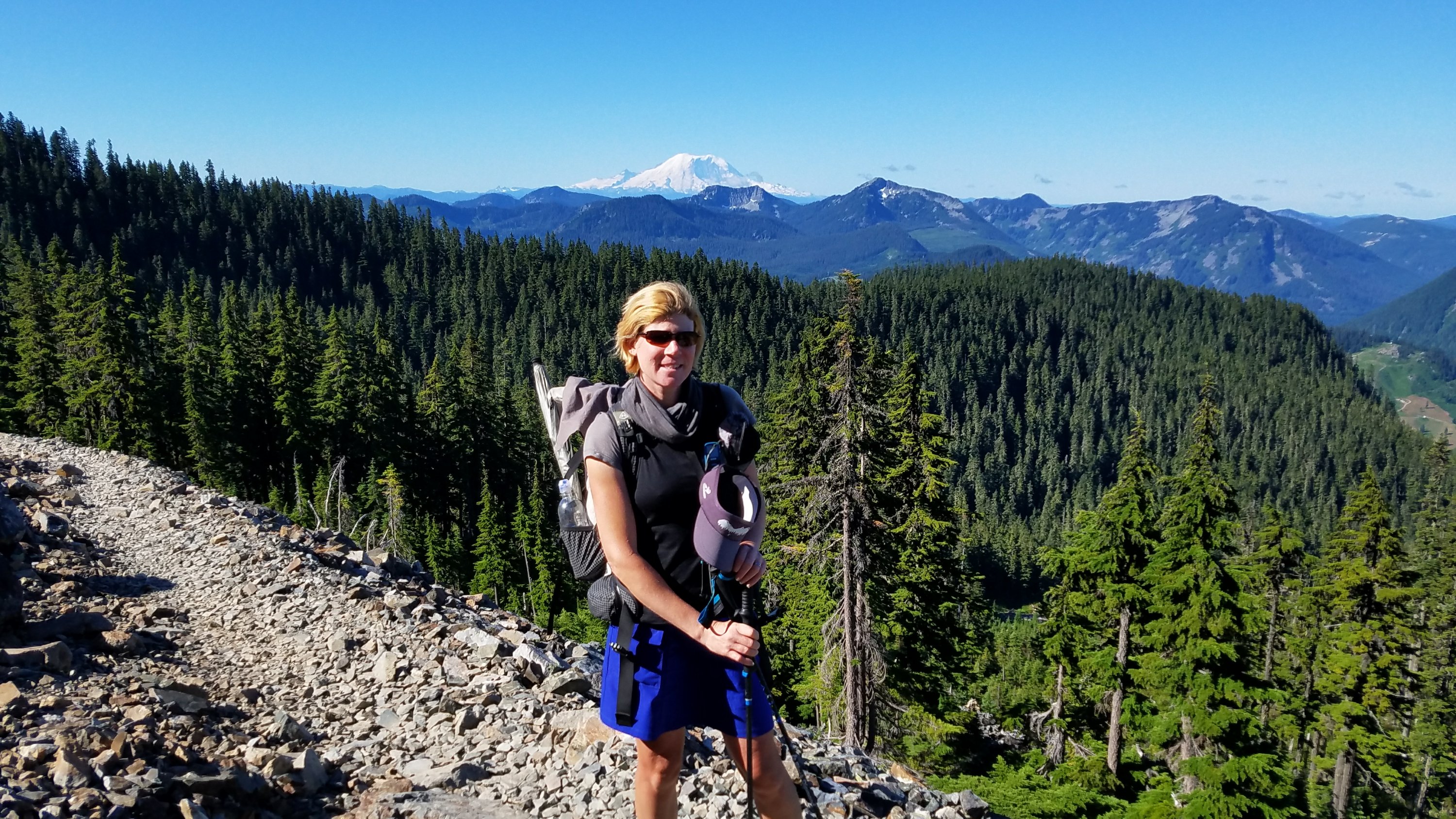 At Snoqualmie Pass, I quickly located the Chevron station and got my resupply box. The area is typical of an interstate exit with one gas station, one hotel, and a few restaurants. But there is also the Ardvark food truck that gives a free beer to hikers. I got my beer and also pork belly tacos. I'd been lusting over these for days. Plants showed up and sat down with me for a bit. He had stayed the night but was leaving soon. I wanted to set out with him but needed to sort out my resupply and rest a bit. I hoped I could catch up to him again.
Suddenly there was all sorts of drama when a car in the parking lot caught fire. Several people tried to put it out with fire extinguishers and buckets of water, to no avail. Finally the fire department came and dumped loads of foam on it and the surrounding cars. They also broke windows and took a grinder to the hood just to get it open. It was all very dramatic.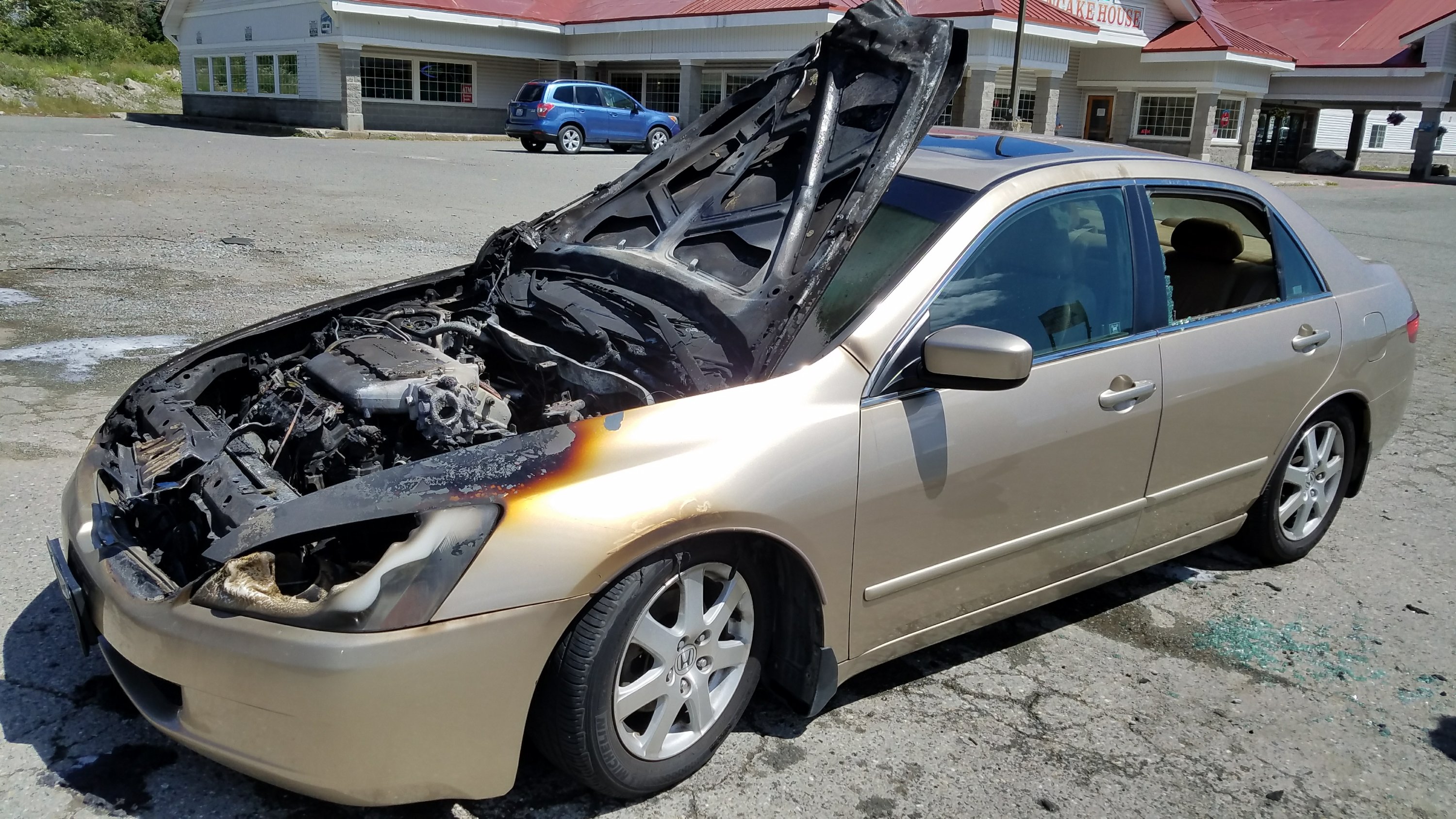 The car was totaled but at least the nearby cars were spared. The owners of a nice Audi SUV finally came back from their hike and wondered why their trunk was all wet on the outside. I just happened to be walking by at the time and showed them my video of what had gone down while they were out. They were in disbelief that their SUV almost got consumed by the flames. Then the owner of the burned car came up and started telling the story of how she and her partner had just stopped to get breakfast on their way to go golfing. At least the fire dept. rescued the clubs out of the trunk.
This was all a good reminder of how simple life on the trail is and that the 'real world' is full of stressful events.
I headed over to the Summit Inn to use their wifi and saw Andrew from New Orleans, a SOBOer that I had been leapfrogging the past few days. He was going to stay the night and asked if I wanted to split a room. He also offered some of his pizza that he got across the street. He had me at pizza.
It may seem weird to share a room with someone that is basically a stranger but to me it's no different than staying in a dorm room at a hostel. In this way, I at least got to pick my room mate. And of course, the room had 2 queen sized beds so we each had our own space.
I settled into my bed immediately and ate a slice of pizza. Staying overnight in a hotel was a welcomed break. I finally got to do laundry for the first time (not just handwash), take a long shower, shave, and have another meal at the food truck. Andrew and I saved some time and money by combining our wash and then were perplexed to discover that we had the same gray merino Buffs (neck gaiters). I had cut the tag off mine but then, so had he. We had no idea which was who's so finally we just made a 50/50 guess. I joked the we got our buffs crossed and I may very well be wearing his now.
I went to bed pretty early as usual and totally neglected to take advantage of the hotel's hot tub! Oh well, I didn't have anything to wear in it save for my underwear, but that hasn't stopped me before.