December 13th
Shelter on the Papakauri Stream (km274)-to mountain top campsite on the Morepork track (km307)
Mileage: 20.5mi/33km
The day begin with a little bit of trail and then a 13 km road walk. Once on the road, I began marveling at how pleasant it was. I was passing many quaint little farms and about every kind of livestock that you can imagine. There was even a herd of cattle crossing the road, which made for an interesting encounter. A few of the bulls were very curious!
Many TA walkers hitch the road sections, but I want to walk (or use some other method of human-powered travel, as is fit) to get across most of the country. Plus, I feel there are lessons to be learned from the road sections. It's interesting to see all the discards of humanity on the road side. NZ is quite a clean country in comparison to most but it's not entirely free of trash. It's also important to realize our far-reaching impacts from mechanized travel. I came across one today that was just heartbreaking. A harrier hawk had a tangle with either a car or powerline and was sitting on the roadside with a broken wing.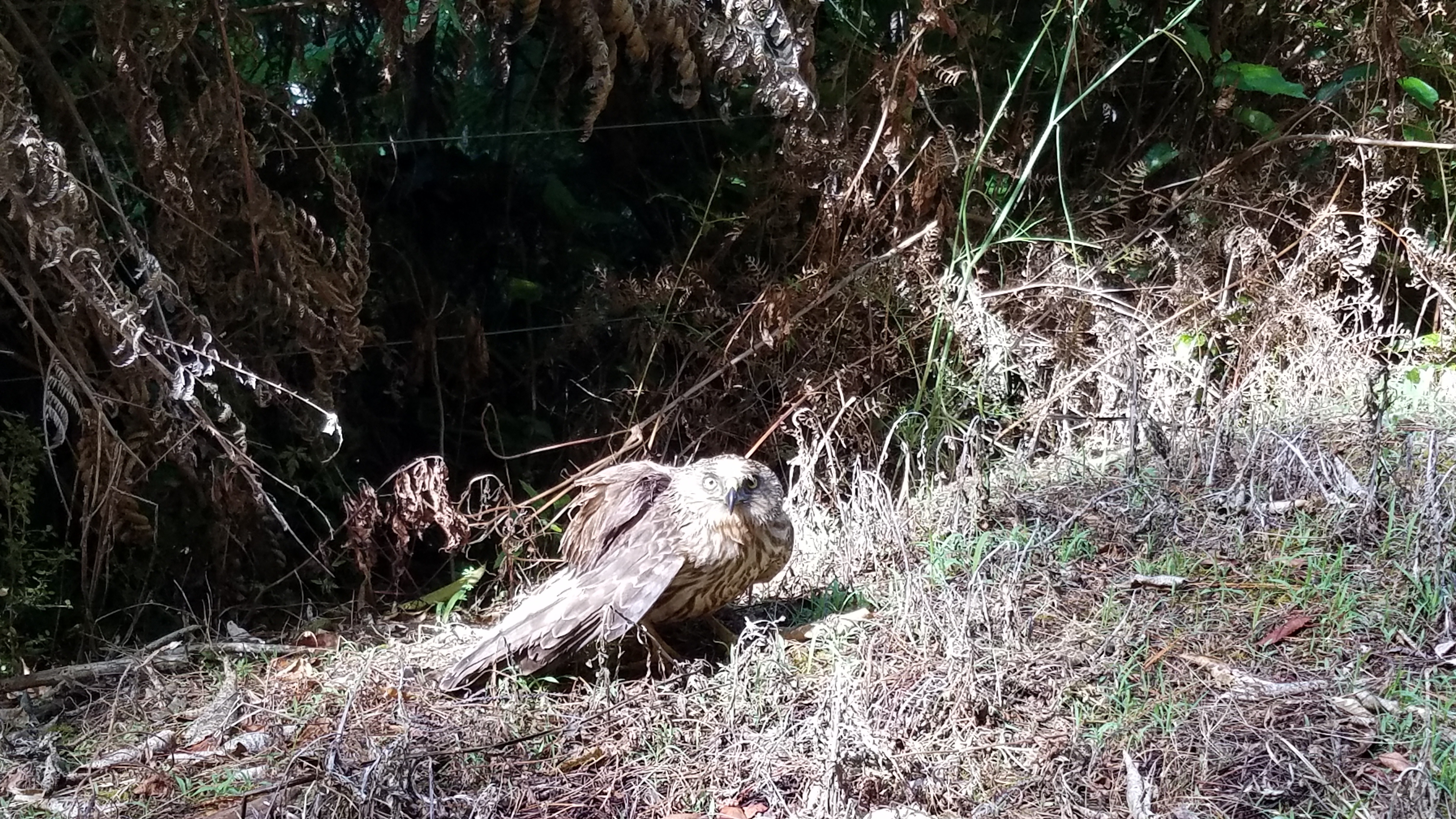 What could I possibly do to help it? But then I remembered I had visited a Bird Rehabilitation Center in nearby Whangarei the first time I came to NZ. I googled their contact info and gave them a ring. The nice man, Rob Webb, didn't have a way to make it out to where I was but suggested I try to wave down a passing car and see if someone local could drive the bird in. I waited for a while until a car came along and wouldn't you know it, Tony stopped and helped me catch the hawk. He said he would bring it into to the Center. In this small way, my walk on the road meant something more today. No one else but a walker would have ever spotted the hawk. So lets all hope it will be able to recover and be released to the wild again.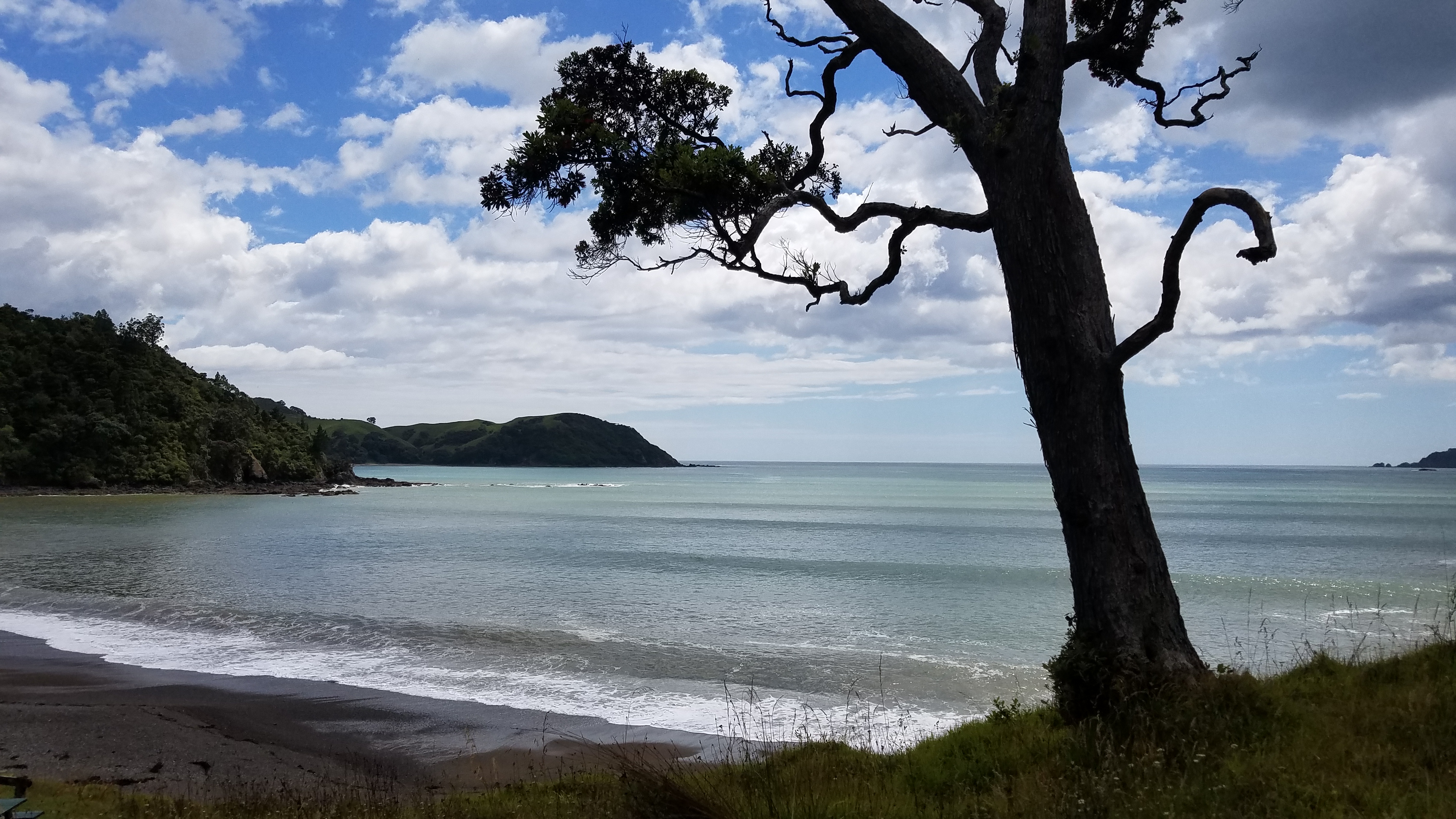 At the end of the road walk, I was rewarded with beautiful Helena bay. There was a picnic table perfect for a lunch break. Just as I was wrapping up, local resident Jock approached and offered water from his nearby batch (a small holiday house in NZ). He would have invited me in for lunch too, had I not just had mine. Again, I was very grateful because there appeared to be no water sources on the trail beyond.
As a whole, the Kiwis are the nicest and most hospitable people you will ever meet. I am continuously amazed how quickly they open their doors to complete strangers. There is little fear or hostility here.
The rest of the day was spent on fun up and down ridge walks in the bush. The Helena Ridge track is a new section of trail this year, so it was neat to be one of the first to hike it. It wore me out though. I walked until 5:30 pm, where I found Mike already camped at a nice grassy hilltop on the Morepork track. He had hitched a short section of the road earlier and ended up ahead of me. All the while, I thought he had fallen behind. The campsite was nice but there was no water. I'm having to ration water until I come to streams tomorrow. Such is life on the trail.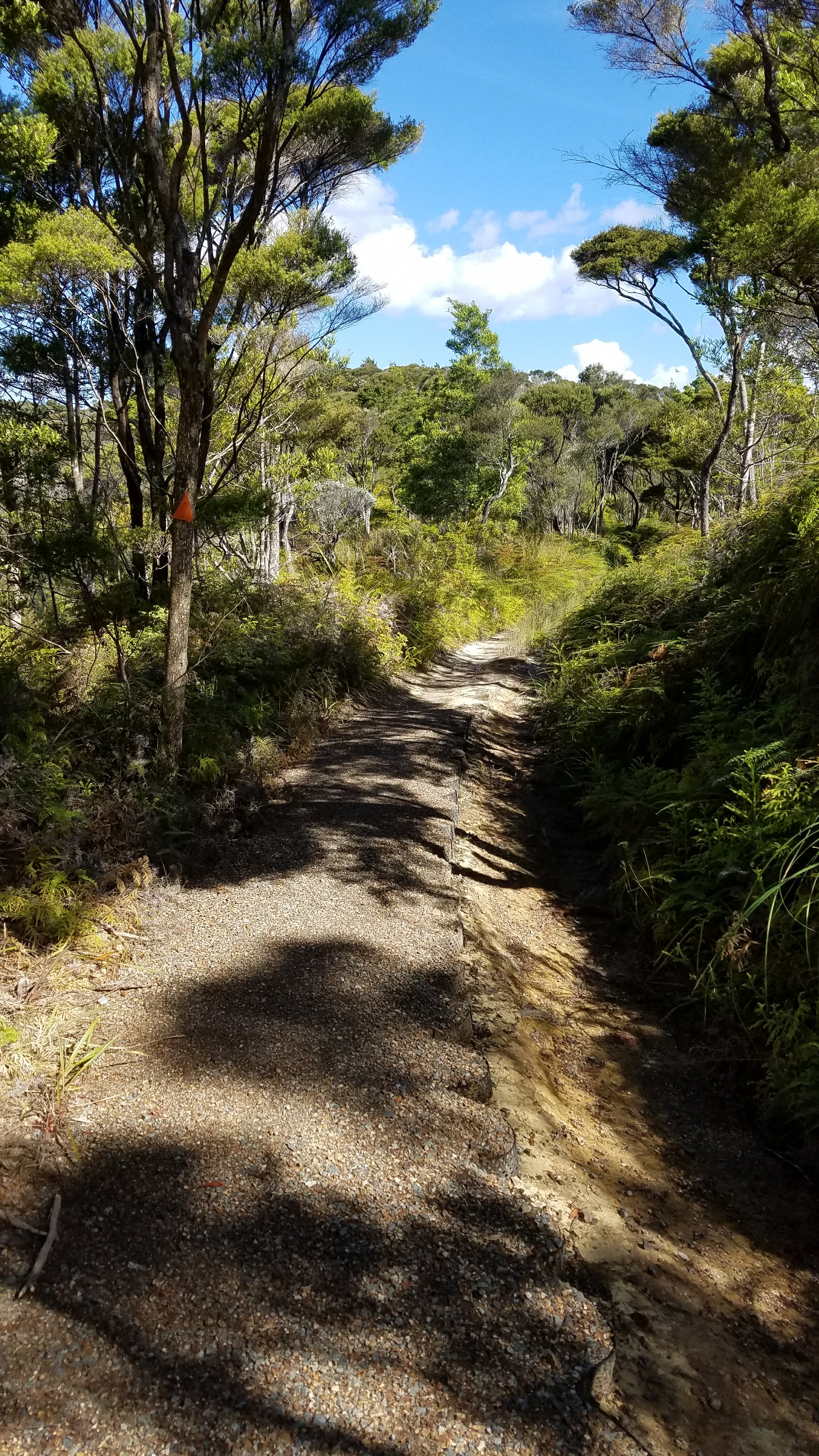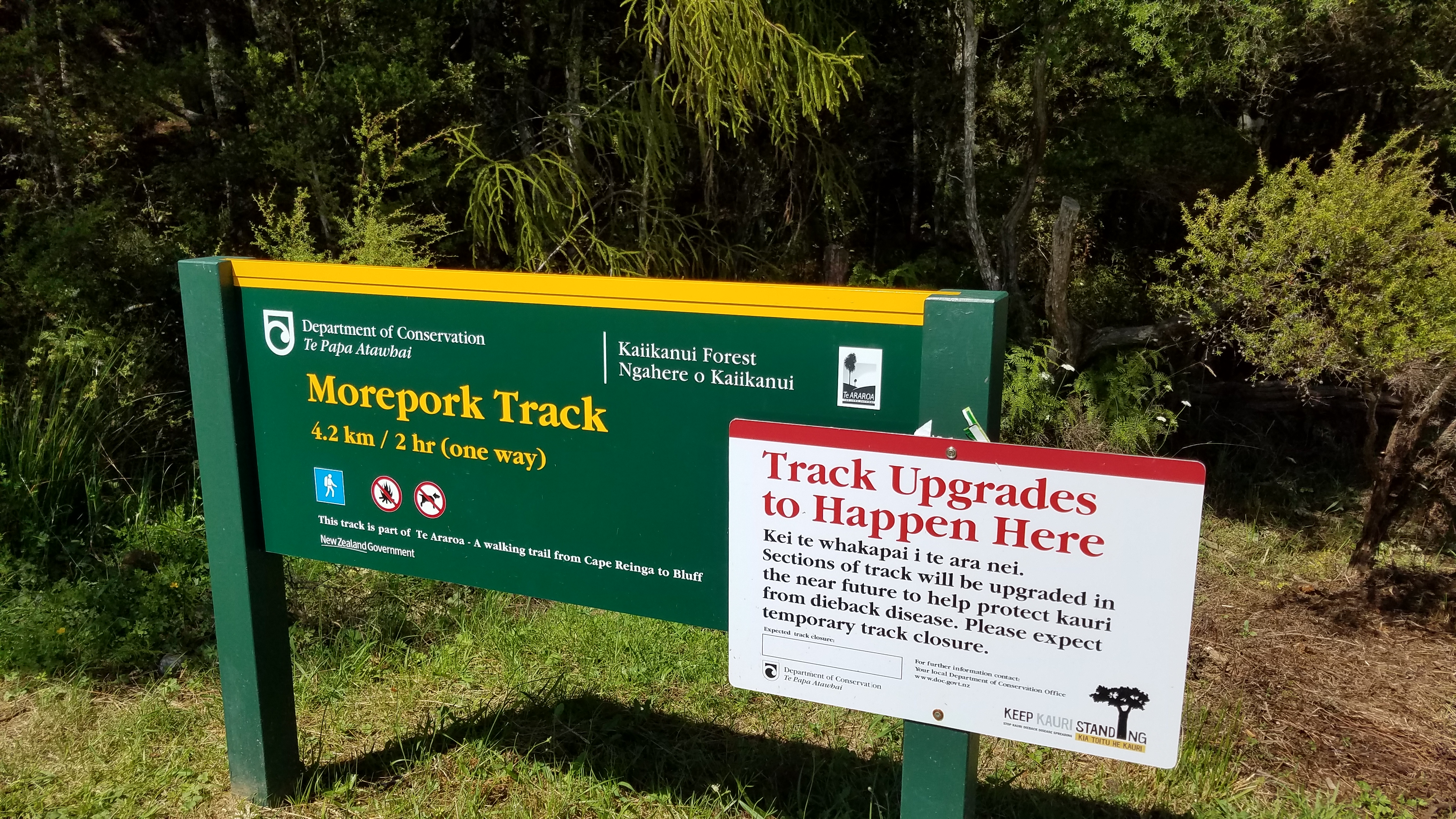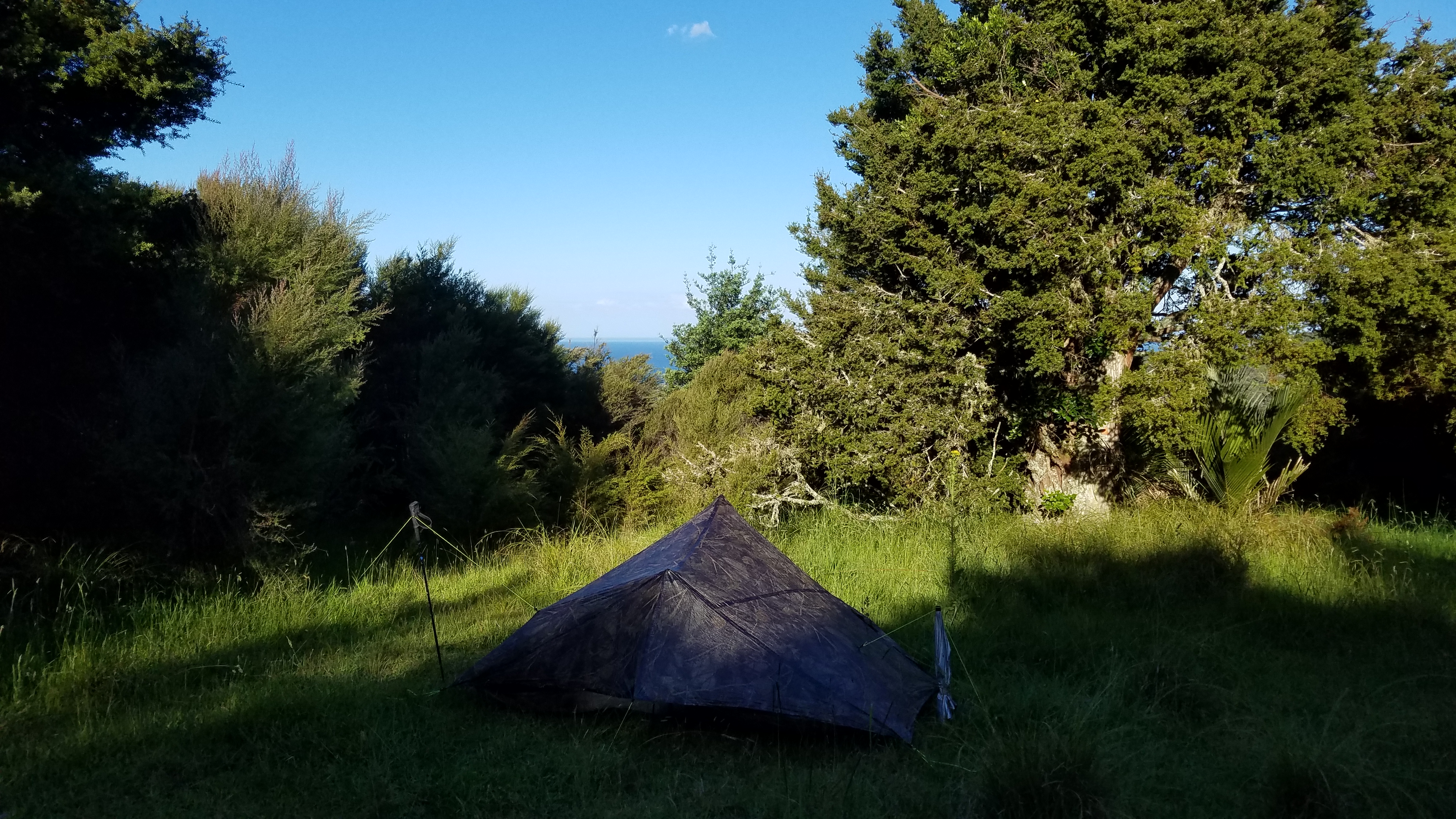 And true to the trail name, a Morepork was chanting right above my tent all night. I even got a glimpse of it flying in the night.