December 12th
Paihia (km248)-shelter on the Papakauri Stream (km274)
Mileage: 13mi/21km
Today had the widest assortment of walking yet. I slept in a bit, until 6 am!, but couldn't help myself from packing my stuff when I saw the blue skies outside. So much for a zero. I slept so well last night and felt rested and ready to hike. I did get roused briefly during the night by an unusual intruder…a local cat was trying to get into my tent, mewing and acting cute. No way was he going to mix with my down quilt and inflatable mattress/pillow but I did get up to go to the bathroom and then had a brief kitty-cuddle on the porch chair. The hostel had a computer, so I decided to try diddling around with stuff on my webpage in the morning. Right away I noticed that a plugin needed an update and once I did that, my mobile app stared working again. Hooray! So I was able to put up 4 day's worth of posts. I'm still way behind but it felt like a huge win…time to celebrate by hiking.
I had tried to arrange a water taxi split between 2 other hikers, Hannah and Simon from the US, plus Mike and I and whoever else we could find in town. But the boat was booked for the day, plus it was $150, not the $100 as stated in the trail notes. So we were left to take the $1 car ferry across to the peninsula and do the 21km alt road walk. The official TA route goes from Opua 10km straight down the end of the bay to Waikare inlet. The visionaries of the TA intended for walkers to kayak this section but it costs upwards of $100 pp to hire a kayak. Plus, many just aren't that comfortable in a sea kayak in open waters. I would have loved to do the kayak route but they don't rent to a single person. So I sucked it up on the road, all the while musing at what a beautiful day it was for a paddle. Oh well.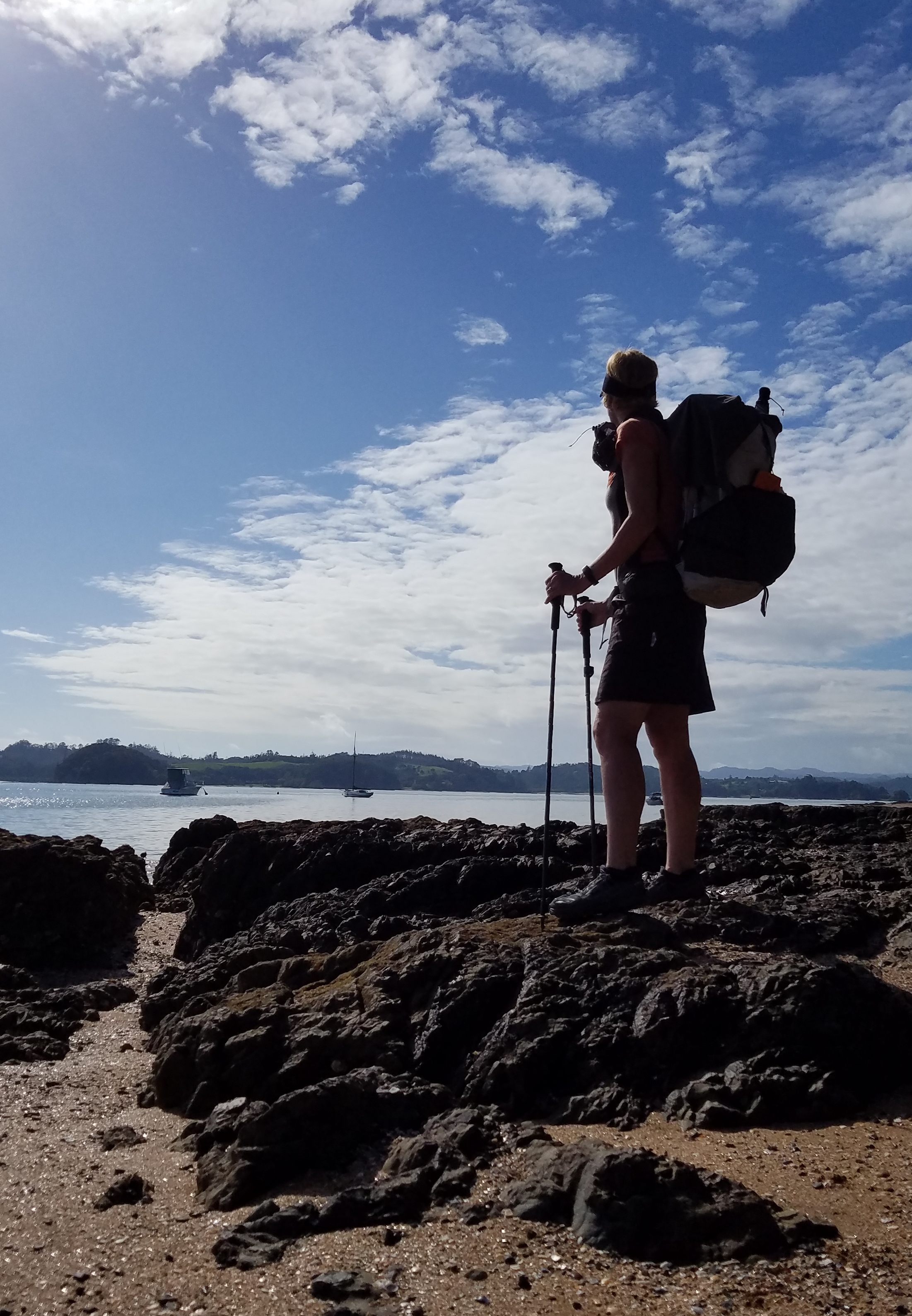 But first we had to get from Paihia to Opua. A quaint coastal path ended up being one of the best ever, with fantastic views, meanders in and out of the little bays, boardwalks through mangroves, and great tread all around. What a treat this was in the morning.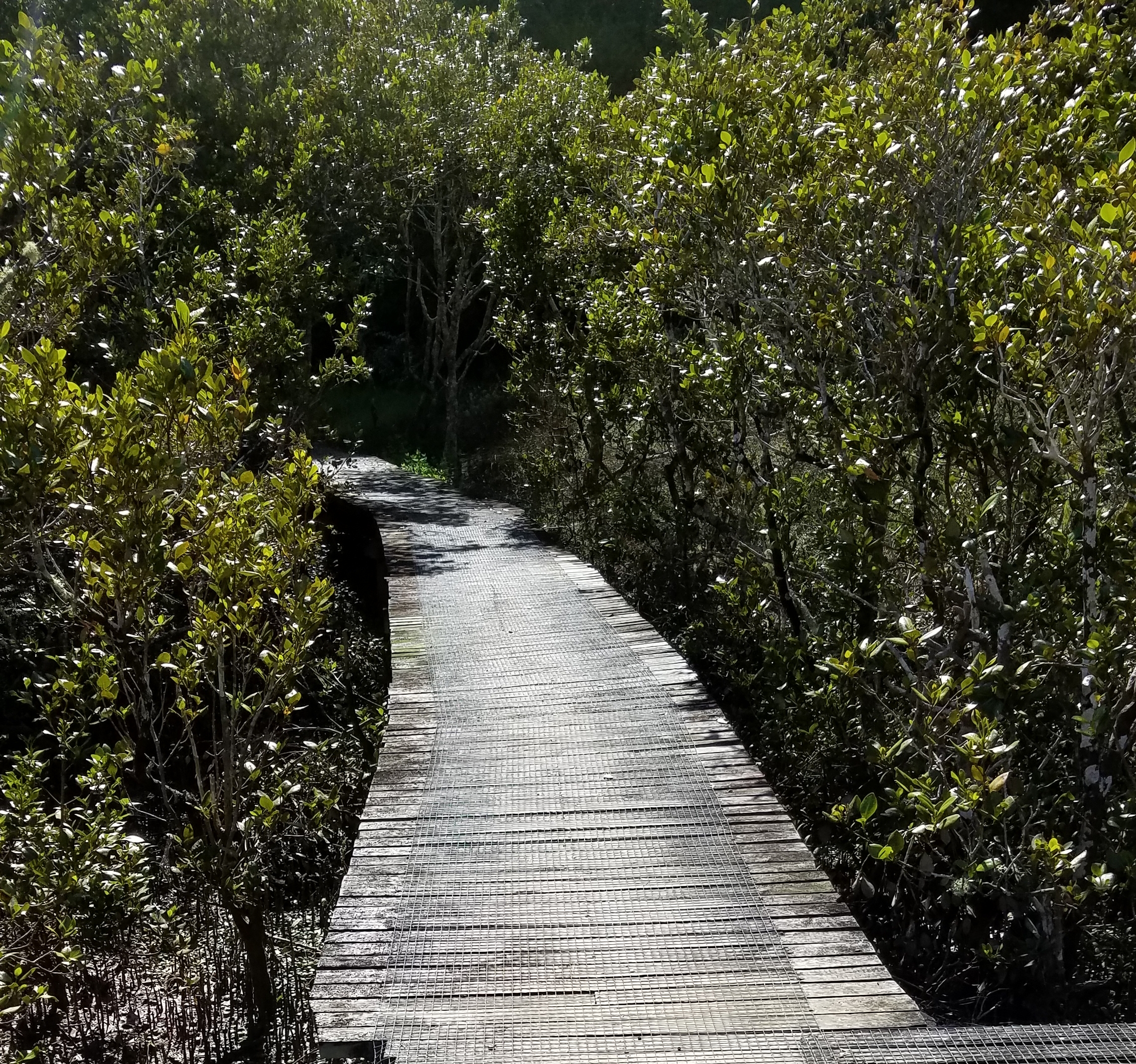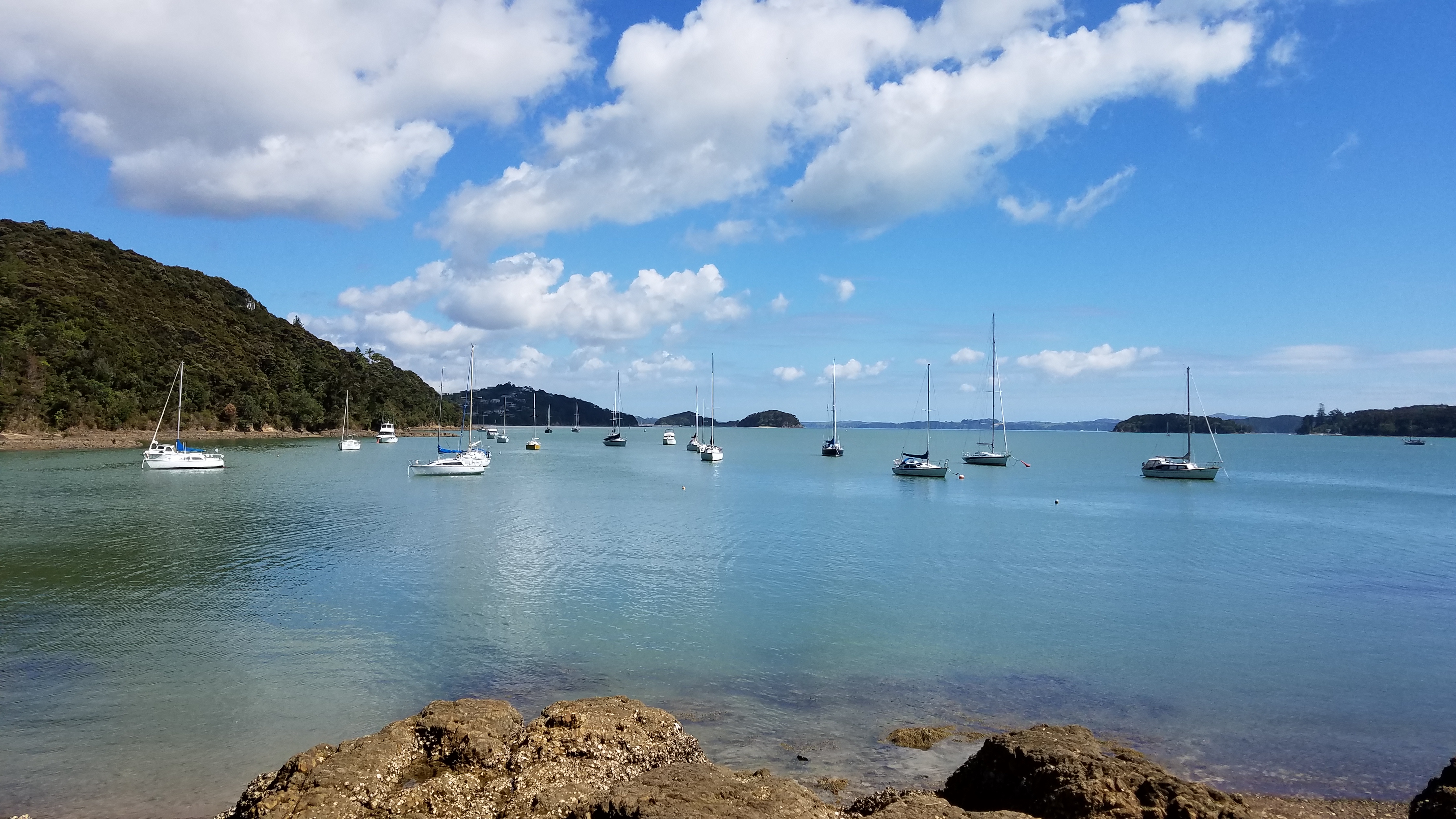 As we passed by a caravan park, a kiwi guy came running out excitedly and asked me if he could see my pack. He has been wanting to buy one but had never seen one in person. Kiwis are quite starved for UL gear, being that they have none of the many options Americans have and the cost to ship and import taxes are so exorbitant. It was great timing for him to get to feel-out the pack a bit before committing and he had lot's of questions. Finally his wife had to drag him away, probably annoyed that I was convincing him further to spend a lot of money on the pack. I highly recommend the pack, BTW.
We got to the ferry terminal and checked out the large general store. They had some good stuff! I got a salmon and cream cheese bagel, more chocolate and my new passion: passion fruit ice cream. Yum. Just what I needed to motivate for a long road walk. The ferry ride was only 10 minutes and then it was time to walk.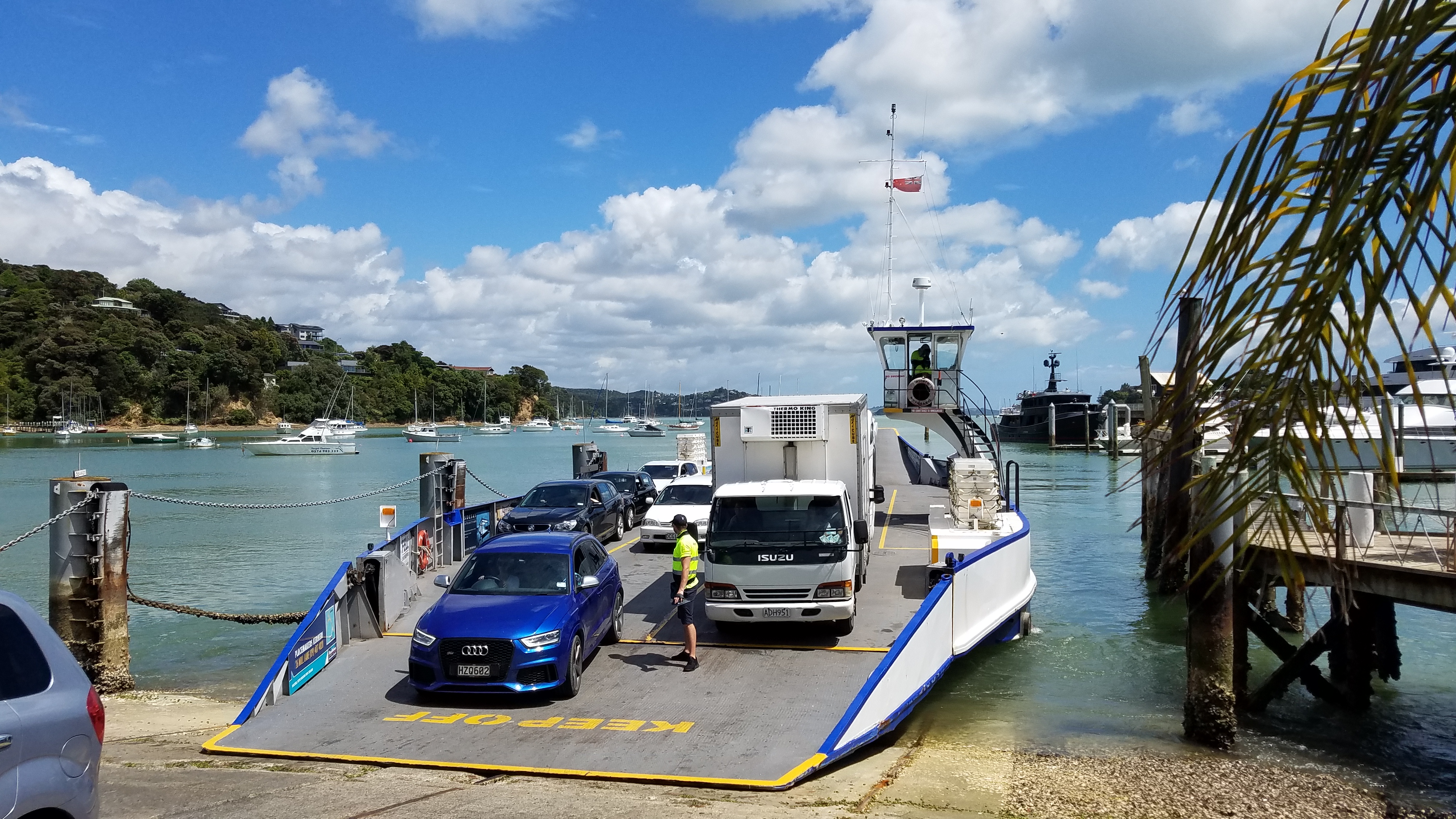 Since this road walk is not officially part of the TA route, we went with the strategy of walking the road but accepting a ride if someone offered. After about 1km, a car stopped and offered a ride, but he was only going 2km more along our route. We then walked a twisty, narrow road for about 10 kilometers, with quite a lot of traffic, before turning off on a gravel road. A small storm had formed by then and it had began to rain pretty heavy, but I was content under my umbrella. I was a bit concerned about the traffic and decreased visibility, however. So when a jeep rolled up with three people waving to get inside, one of them being Mike, I was more than happy to jump in. A very nice French couple gave us a ride all the way to the trailhead, including 3km of the official TA walking route. I would have felt bad asking them to stop and drop me off just to walk more road, so I went with the flow. We ended up walking more miles than the over-water route anyways.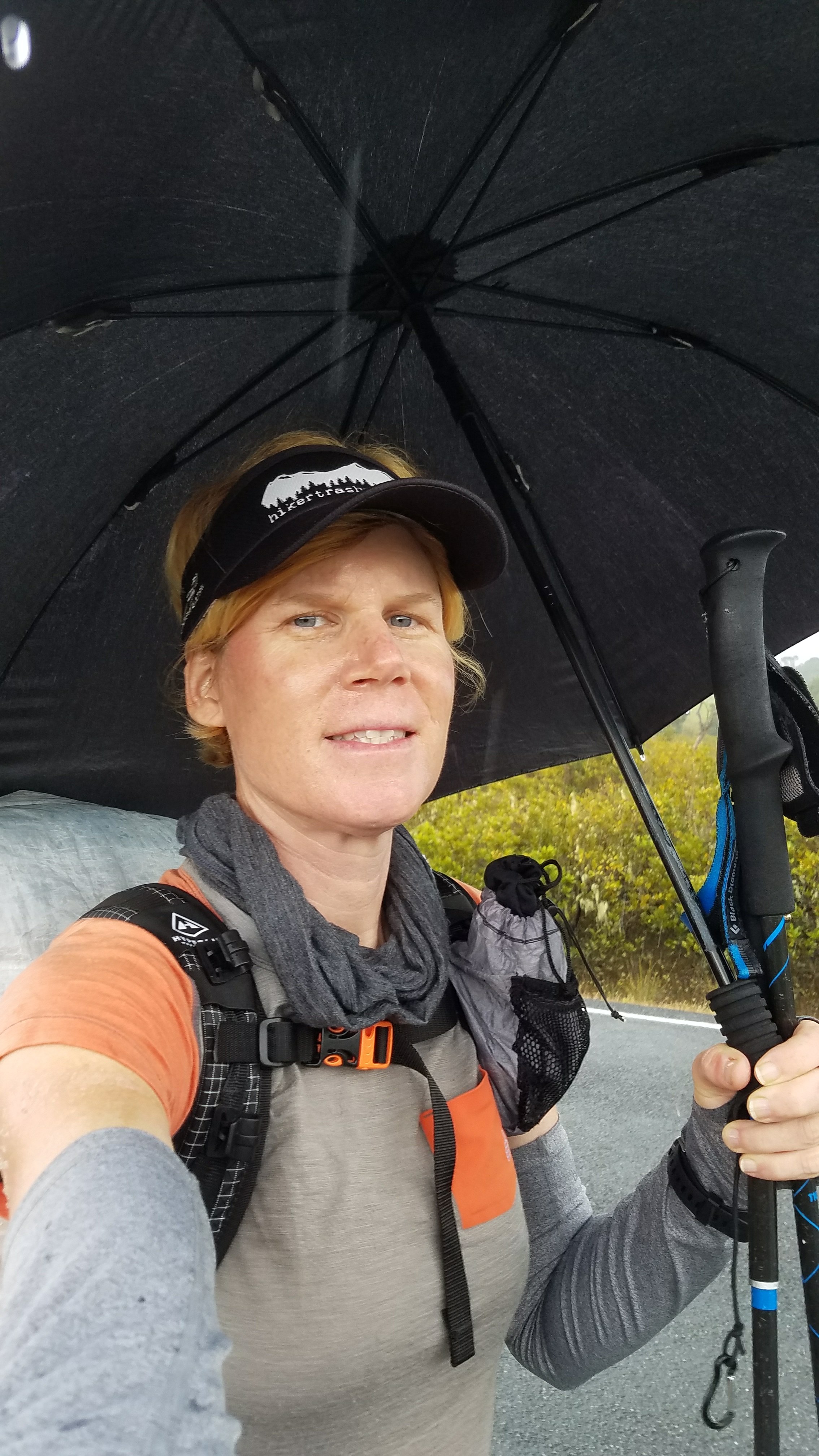 For our fifth and final method of travel for the day, we walked up the streambed of the Papakauri river for 4km. I know a lot of people don't like getting their feet wet but walking streams is one of my favorite kinds of trail. I even saw an eel. It was a great way to end the day and brought us to a DOC shelter at 5pm. I suspected that mosquitoes might be a problem so I pitched my tent. Good call. Still, it was nice to have the shelter to sit and cook dinner.