April 22nd, 2019
Mexican Border mm 0- Water Cache box 2 mm 26
Distance in miles: 26
0915-2000
I woke up with a migraine, not the best way to start off a trail, but it's such a common occurance that I just manage it. Everyone was up early for the 6:30 am shuttle. I was shocked when a strange guy walked into the breakfast room and said "hey Twig, how are you doing?" I had no idea who he was but somehow his voice sounded familiar. Then he said "it's me, Salty!"
About that time I had finally recognized his voice. We had started and finished the PCT within days of each other and hiked several times together in the desert. He had shaved his beard and so was unrecognizable. I didn't know he was doing the CDT and couldn't believe we were both starting the same day. Small world.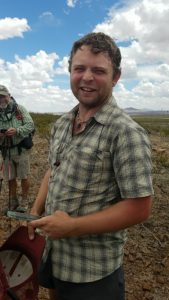 I had arranged a shuttle ride with Redwood the night before. He's a trail angel who is hanging around just to give rides to hikers that don't already have a CDTC shuttle reservation…they have been fully booked for the month. My roommate, Capt'n, had also shown up without a reservation and was partaking of Redwood's services (we of course paid him for the long trip, something like 170 miles RT). The more trails I do, the less I like to plan and just go with the flow instead. It always seems to work out for me. Serendipity.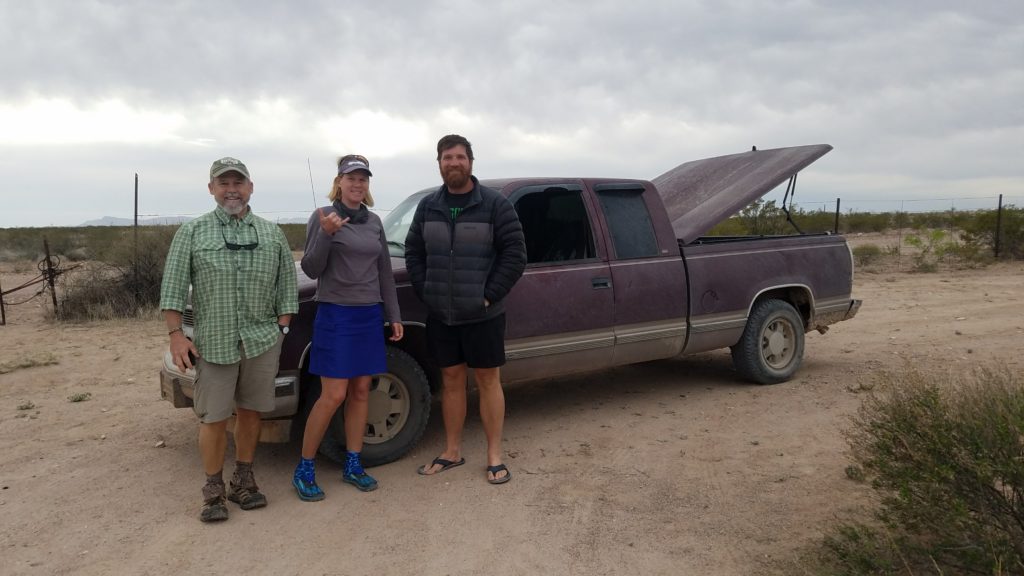 I had a back-up plan to simply walk south to the border, then get a ride north to Lordsburg on a shuttle. But it was more fun to start with the group going north. Radar and Lisa had also offered to drive me to the border but I didn't want to be a burden on them. I'll mention here that Lisa's trail name is Peru and they are featured in Wired's blog when she hiked the CDT in 2013. They are a great example of thru-hikers giving back to the hiker community. Radar does all the shuttle driving completely as a volunteer, with the proceeds going to the CDTC.
It's a 2.5 hr drive down to the border, about half of which is on a rutted dirt road. This is why most take the shuttle…a high clearance 4wd vehicle is best. Redwood's truck is not 4wd but it did the trick. Since it was just the 3 of us, we even got to stop at the Hachita rest stop for tourist pictures.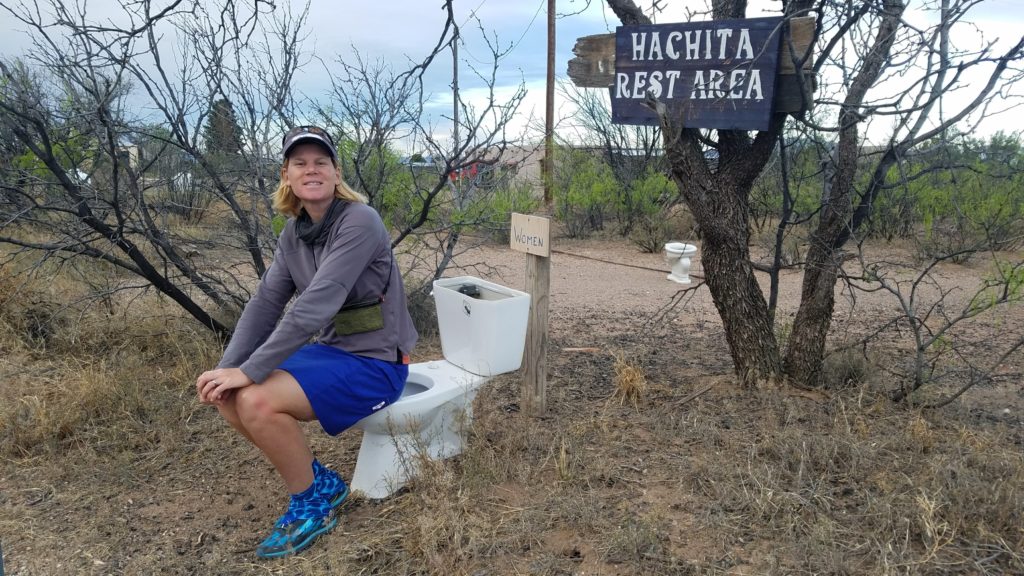 We were the last vehicle to arrive in the morning. The 14 hikers from the other 3 shuttles had gotten a chance to take pictures and most started hiking already. I would enjoy bringing up the rear and catching people all day. But first we had to take our obligatory monument pictures. I also scrambled through the gate/fence into Mexico to take a pee (just like I did at the Canadian border on the PCT). Unlike the PCT Mexican border in California, there was no wall.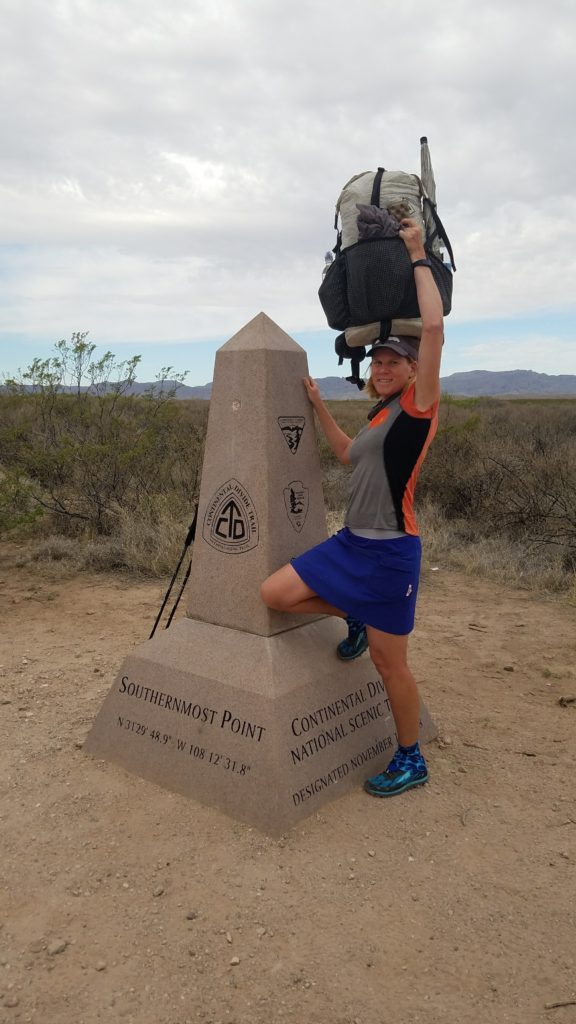 Setting off, I could see a line of hikers to the horizon. This is something new for me. I started the PCT late in the afternoon and was by myself for about a day (despite tons of hikers going both directions to tag the border). I started the TA also in the late afternoon with just one other that had been on the bus that day. The CDT is supposed to be pretty desolate but not this year, or at least not at the beginning. I was in a herd for once.
We quickly reeled in most of the hikers in front. I didn't finish the PCT all that long ago and it felt like this was just a continuation of the desert. It's nice that I can get back on the trail and feel like I didn't miss beat.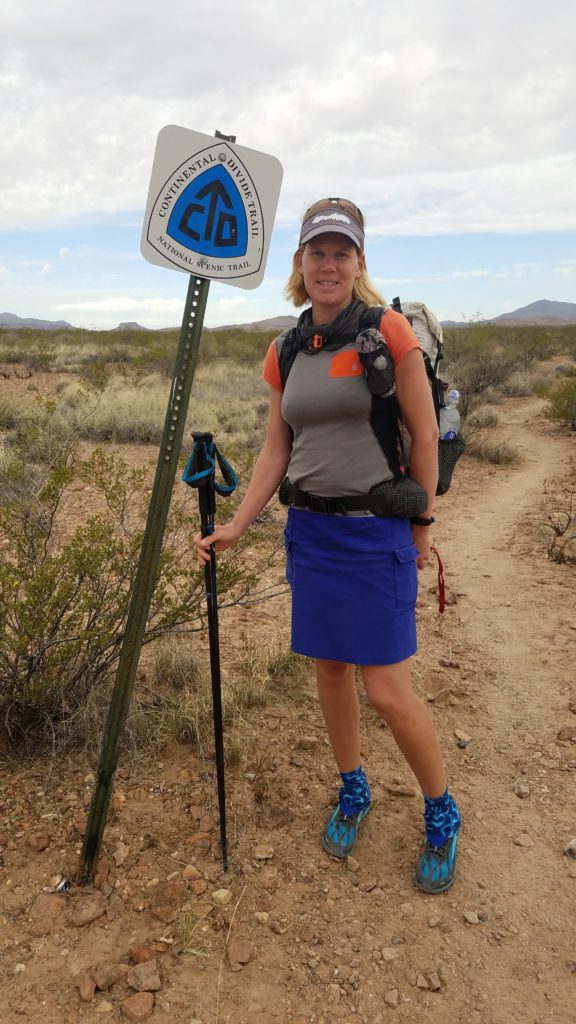 We took a break in a dry creek with a bunch of hikers under some limited shade. There was a girl with a long-haired dog, which I was very surprised to see. I hadn't heard or read about anyone being able to take a dog on the CDT before. Generally the lack of water sources is too limiting. I hope they stay safe.
We continued onto the first water cache at 14 miles in. I had started with 1.75 liters of water, which was more than enough. One of the shuttle drivers had been suggesting 6 liters to start with, which is a good idea for people that are inexperienced. But I am a seasoned camel. I drank another liter at the cache and filled my requisite 1.75 in bottle storage. My plan was to make it to the next cache for the night, which was another 12 miles.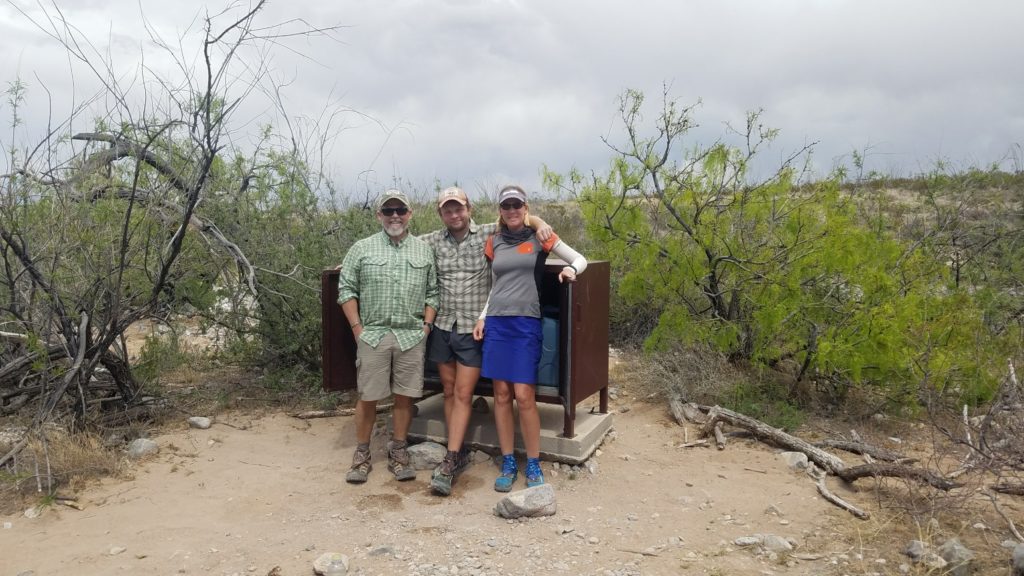 Salty and Capt'n were down with the plan, along with a new hiker named Matt. We worried that he might be pushing himself too much. A 25 mile day on the first day is really only for seasoned hikers or those that have trained a lot. We were walking a dirt road that ran parallel to the trail and it was getting pretty hot. After awhile, we passed a couple that was looking for a campsite and that gave Matt a good excuse to drop off.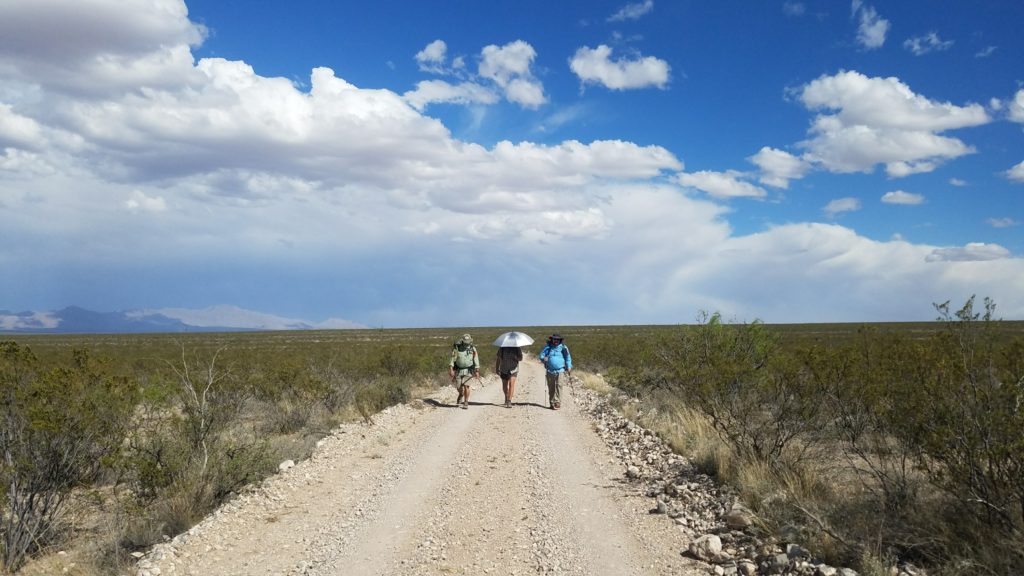 At the end of the day, we were ahead of all but one hiker that had started that day, Peanut (who I later found out had gotten dropped off by his dad well before everyone else). We had to walk into the evening to get to the cache but it was worth it. There were thunderstorms all around and the lightening show was fabulous. It was getting hard to find the trail markers in the failing light but I made it just in time.
A border patrol truck was parked nearby and as we were all having dinner, we saw some weird lights in the distance. We thought they might be hiker headlamps but the direction was wrong and the movement too erratic. Then they seemed to elevate and we concluded that they must be drones. For what, I can only speculate. But what did I care. I was fed, had tons of water, and ready for bed. What a great start!