December 3rd
Cape Reinga Lighthouse(0)-Twilight Beach campground (12km)
Mileage: 7.5/12km
All went according to plan today and my years of preparation have finally led to my reality…hiking the Te Araroa!
The bus from Auckland departed on time at 7:30 am and I sat in the front seat to get a good view and avoid getting motion sickness. I chatted with a nice kiwi man sitting next to me who was one of the bus drivers, getting a ride back home. Along the way, I checked my GPS to find that we were currently driving a part of route! I told the driver to look for me as I was walking the road in this section in a few weeks. I think he thought I was crazy. The scenery most of the way was farmland, rolling green hills, and ocean bays.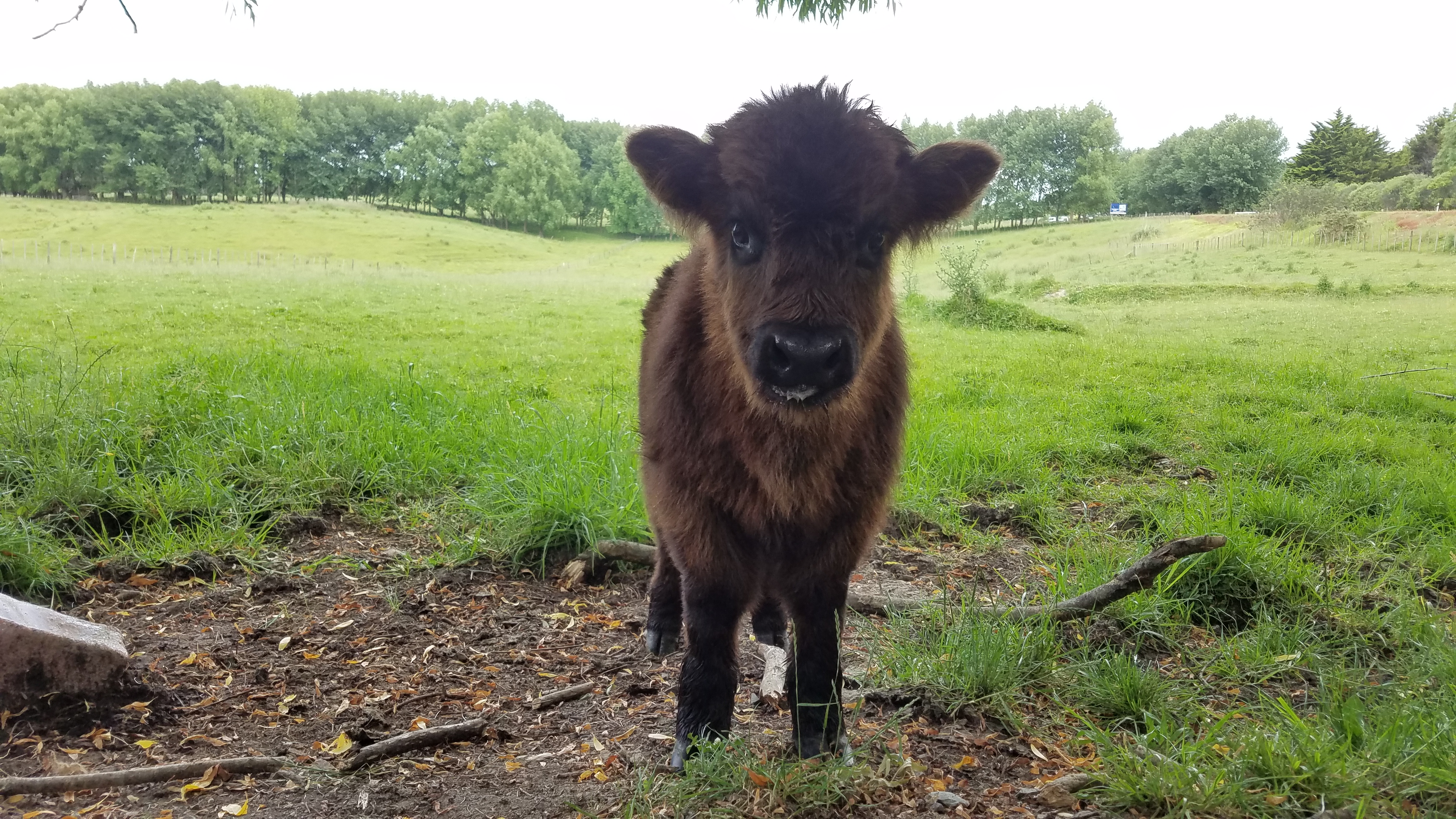 This adorable Highlands calf was at one of the stops. It looks like a baby buffalo.
We switched to a van in Kerikeri, which was conveniently next to a Subway restaurant. While getting a sandwich, I started talking with a guy I had identified earlier as a probable hiker. Sure enough, Damian from Australia was doing the TA. In addition to the public bus, he had hired a shuttle to take him up the rest of the way to the Cape for $80…ouch.
I had a different strategy. At a stop just before my final destination of Kaitaia, I got off and began hitching. The first ride brought me a few miles down the road to a small town, then another ride another few miles to the middle of nowhere where the lady had to turn off to her farm road. I waited for awhile there, worrying that I might be stuck. Finally I was able to hitch a ride all the way with a sweet British couple, Heather and Jacob. They had bought a caravan and were tiki-touring around the country, just as I had done 15 years ago. The drive up to Cape Reinga was beautify and we all had that "ahhh!" moment when we came over a rise and saw the ocean and dramatic bluffs. We laughed because earlier we had heard from a German guy that the Cape was "underwhelming". Some people are just never happy.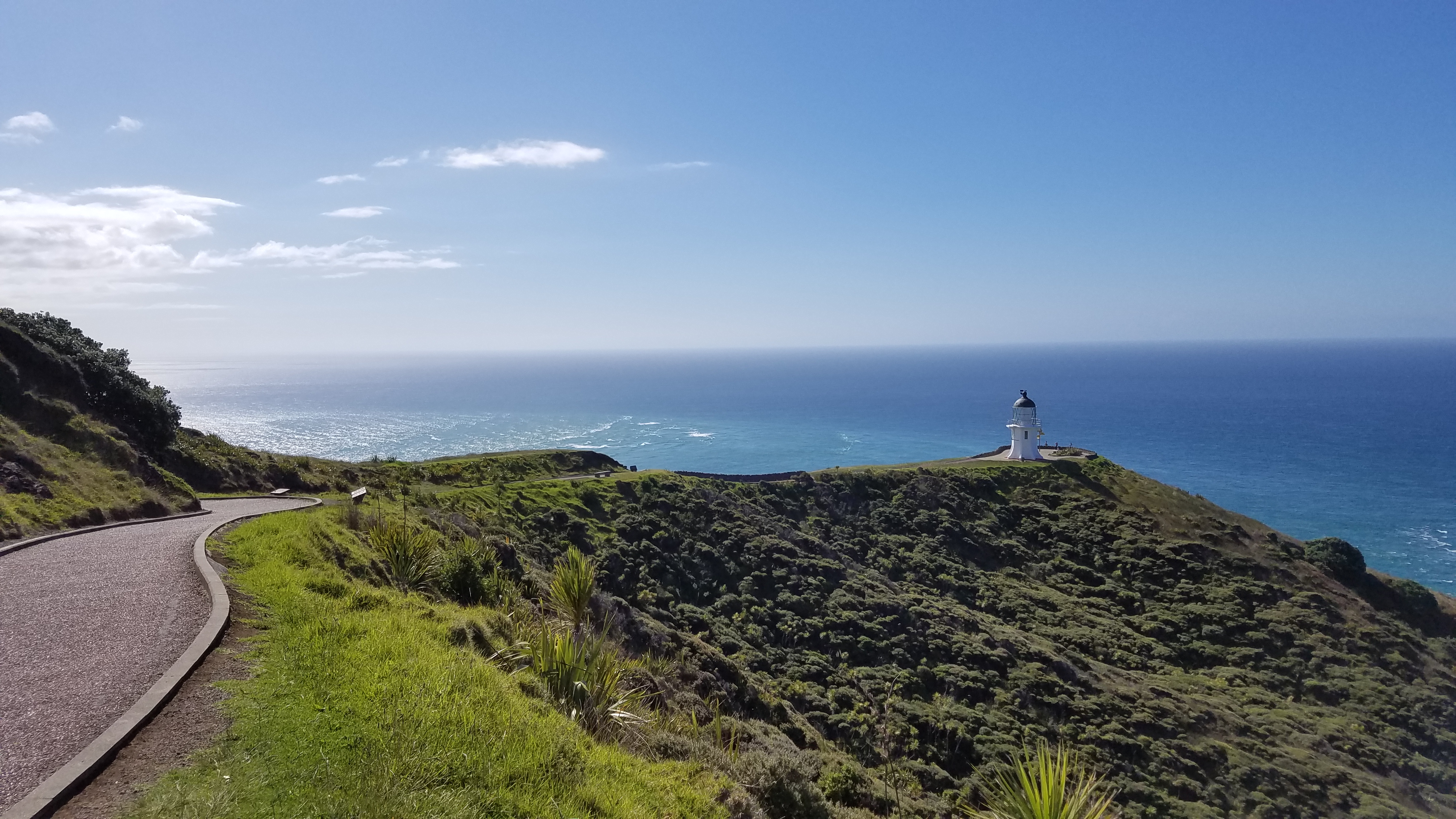 Arriving at the carpark, I saw Damian once again. We walked to the lighthouse and took the obligatory starting line pictures. Mind you, I have been here before so I already have some photos… from 14 years ago.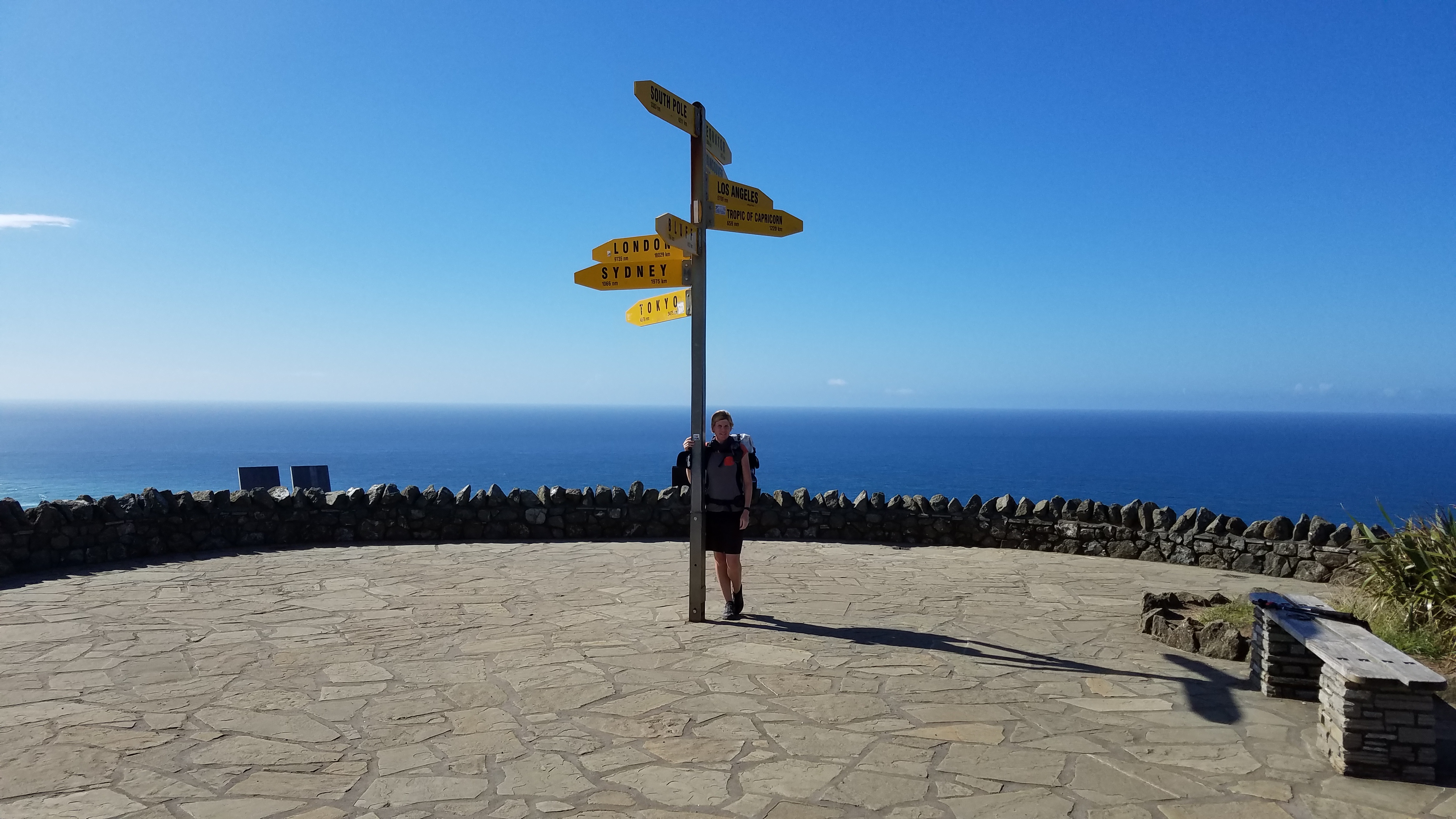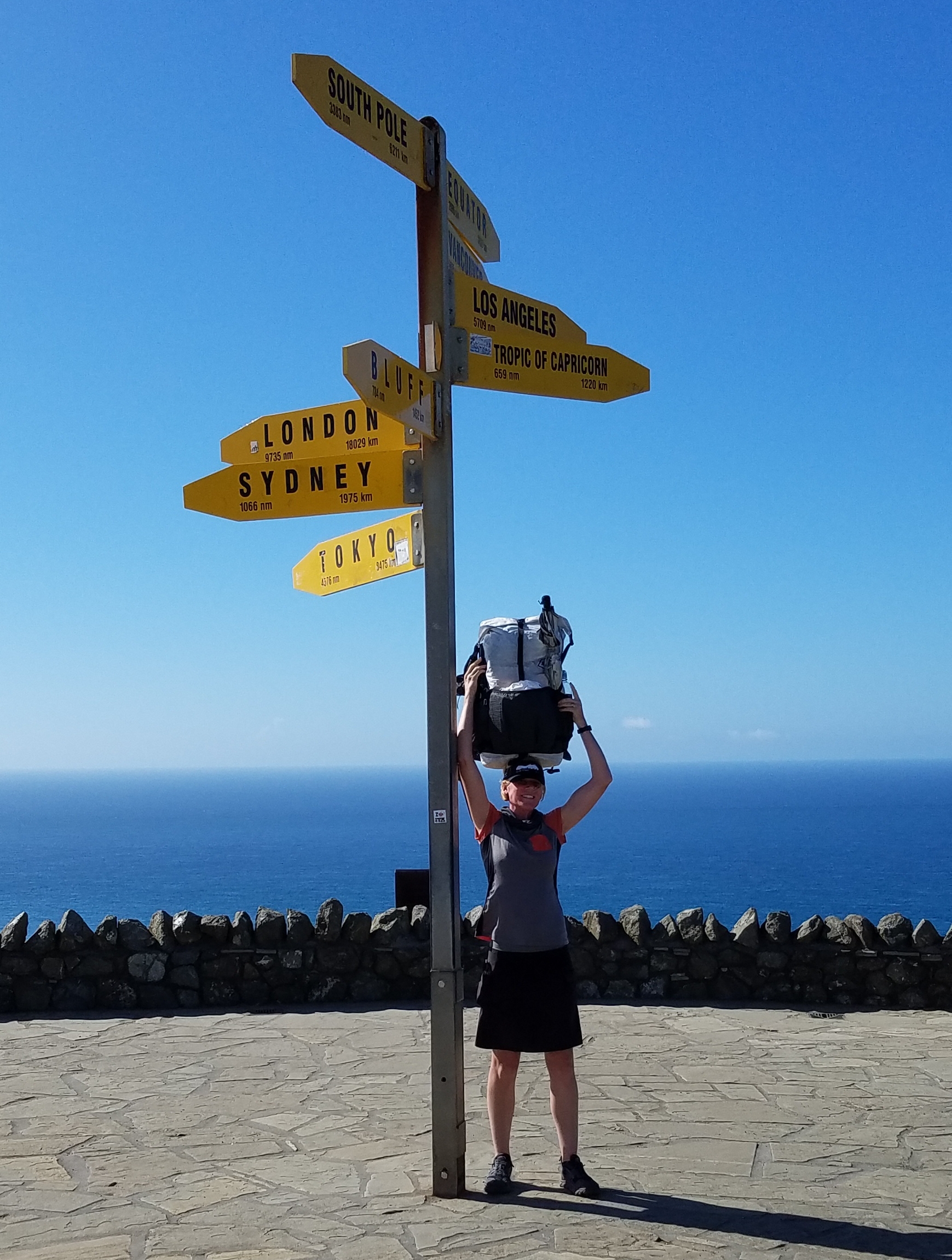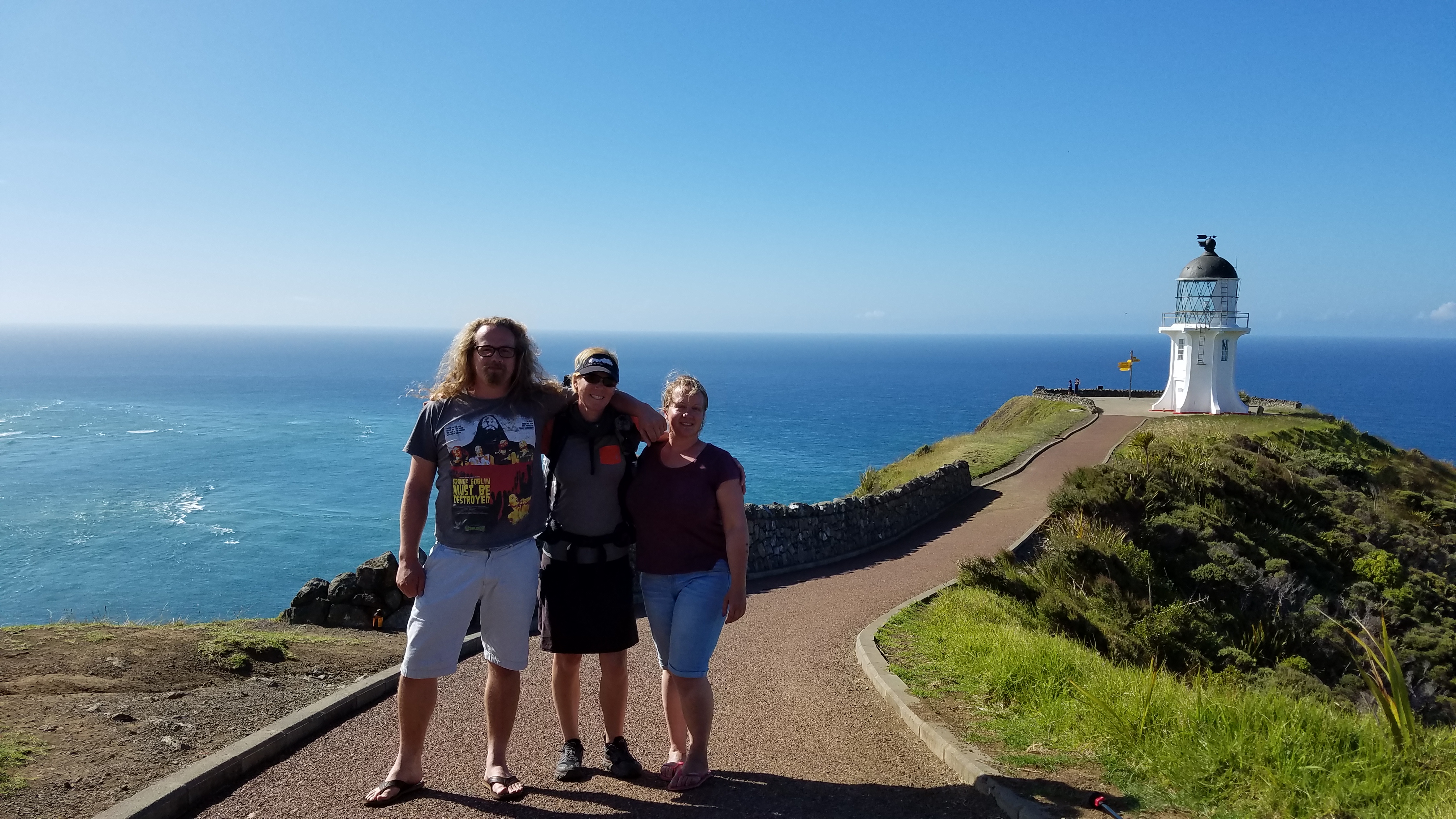 My caravan friends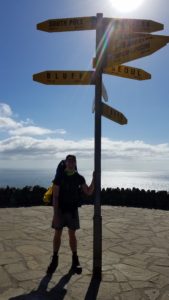 Damian in his starting line photo.
The signs are a feature at the end of the trail in Bluff too. Point to point, Bluff is 784mi/1452km but the trail is actually 1,890mi/3,041km from Bluff. I seemed to have convinced Damian to go with my ambitious plan to get to Twilight Beach camp that evening, so we set off around 5pm, expecting to take about 3hrs to do the 12km. It would be light until 9pm, plus a full moon was coming out later. The soft, late afternoon light and low tide made for a perfect time to be hiking this section.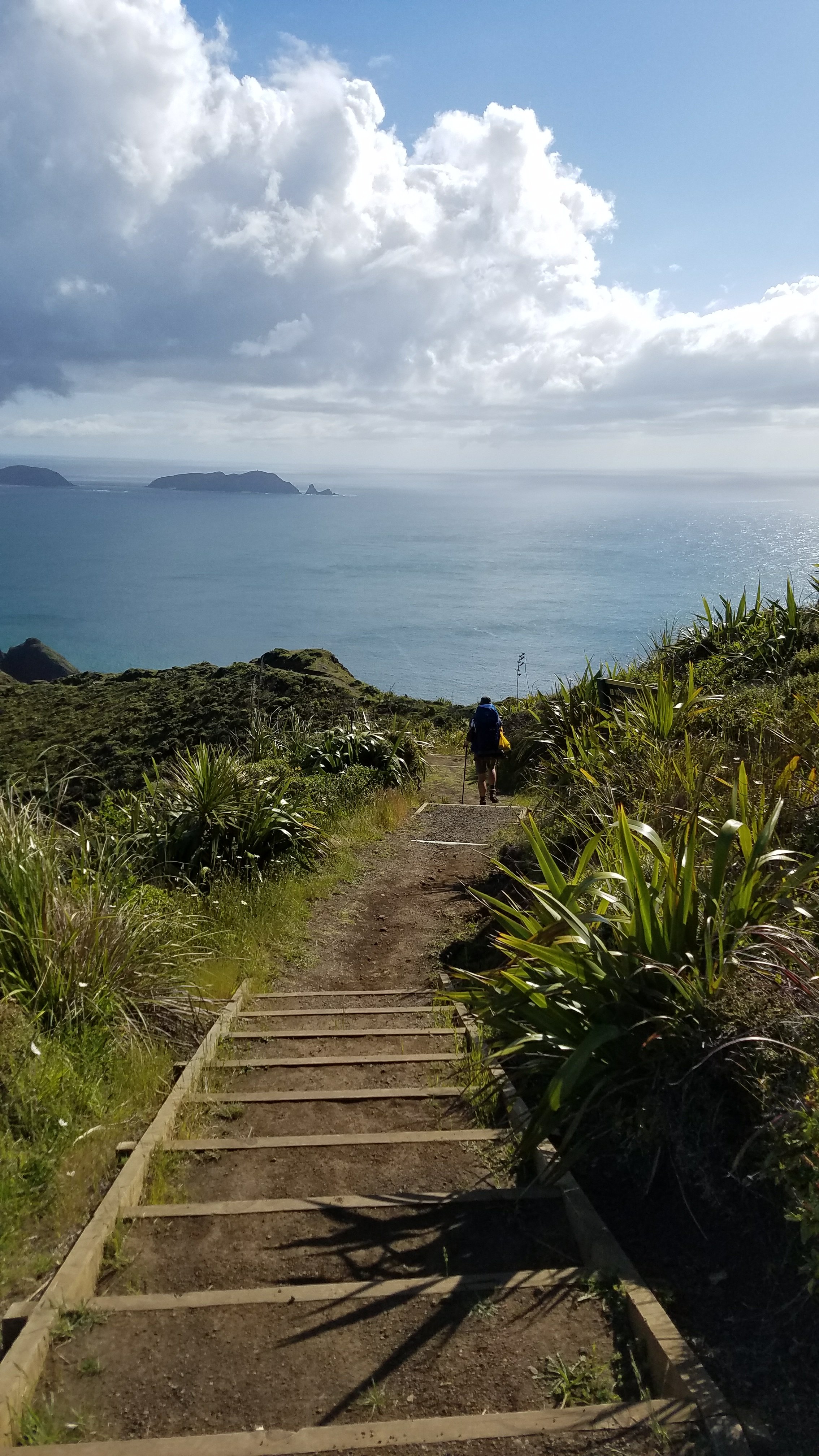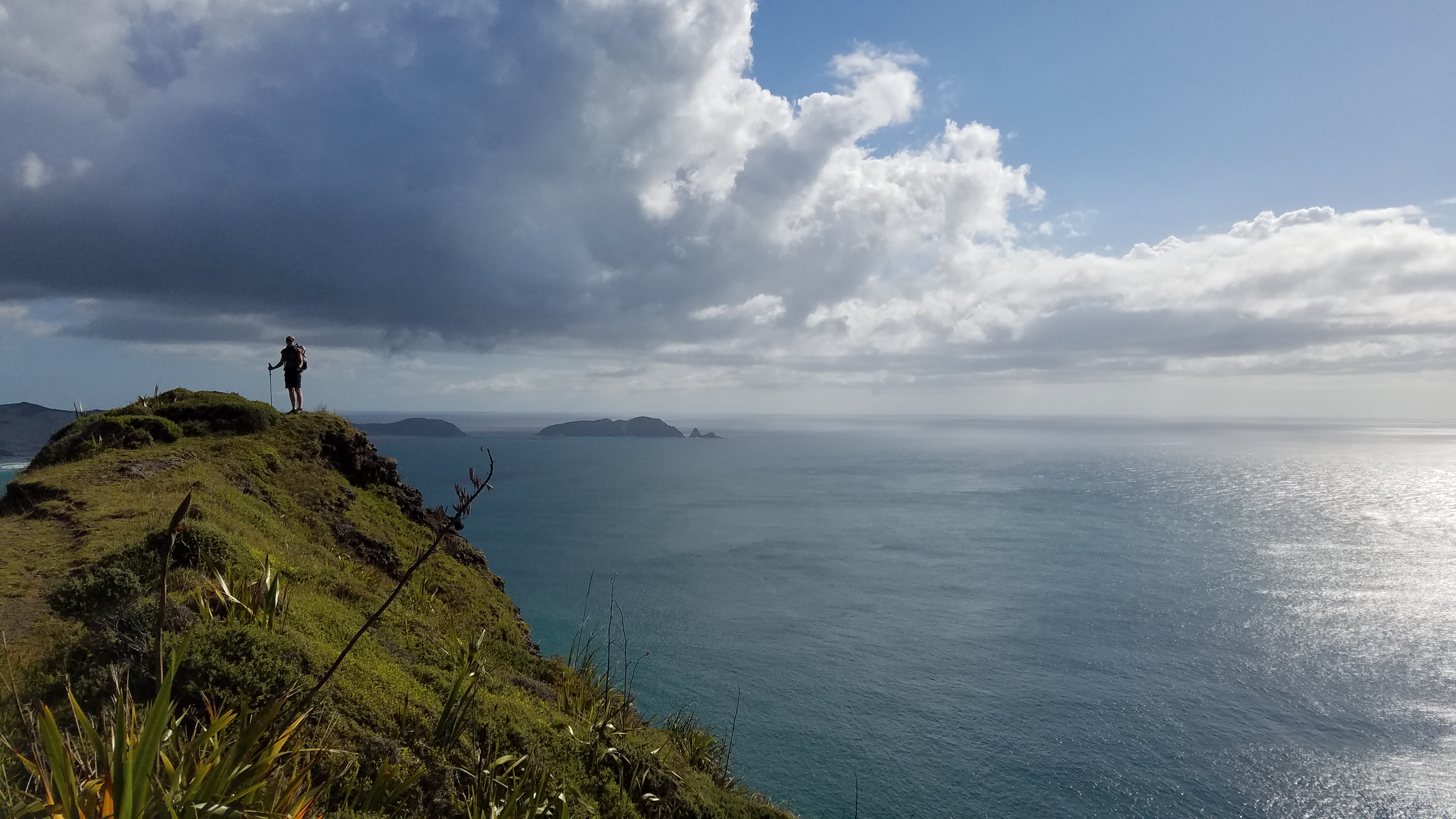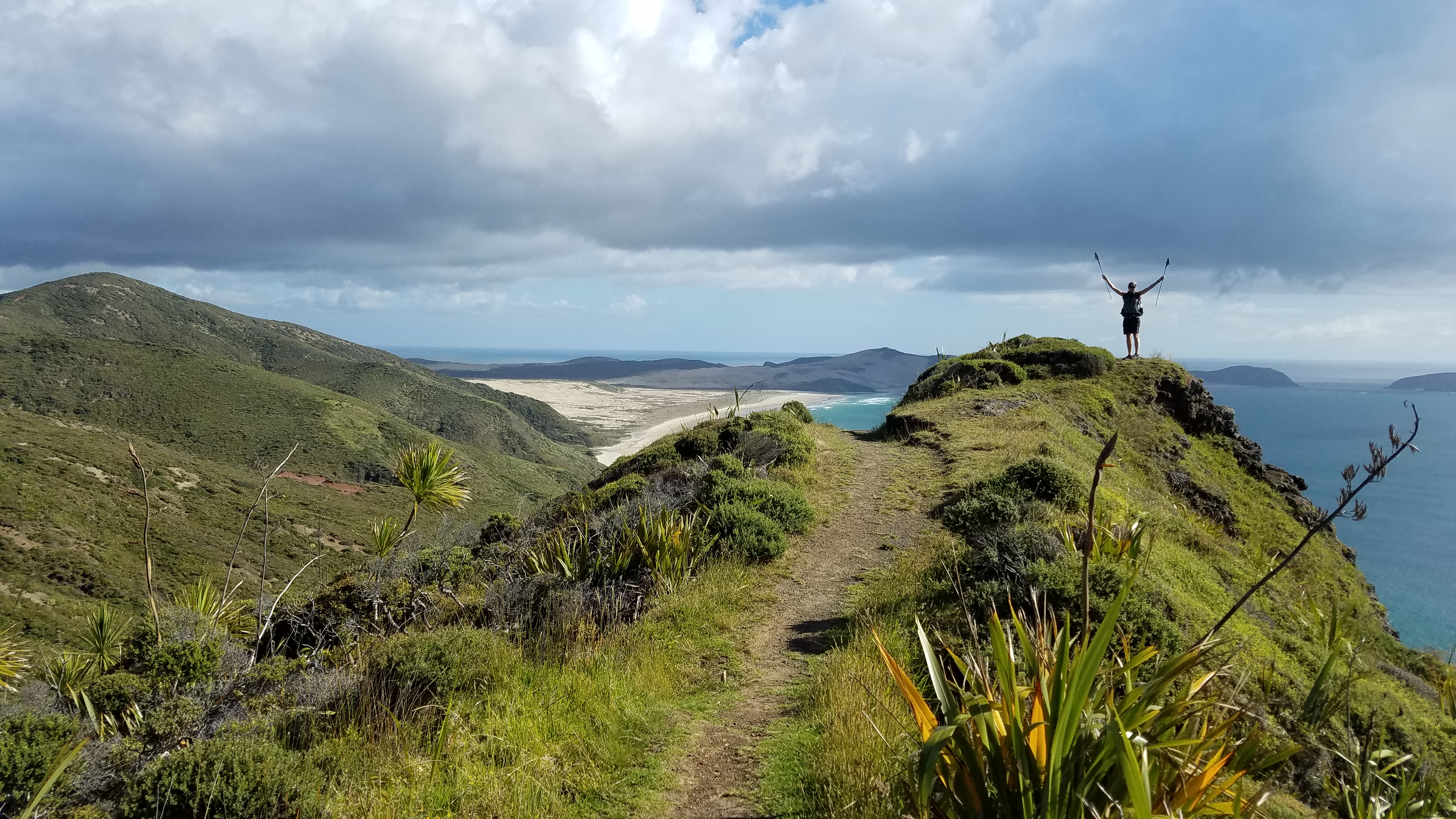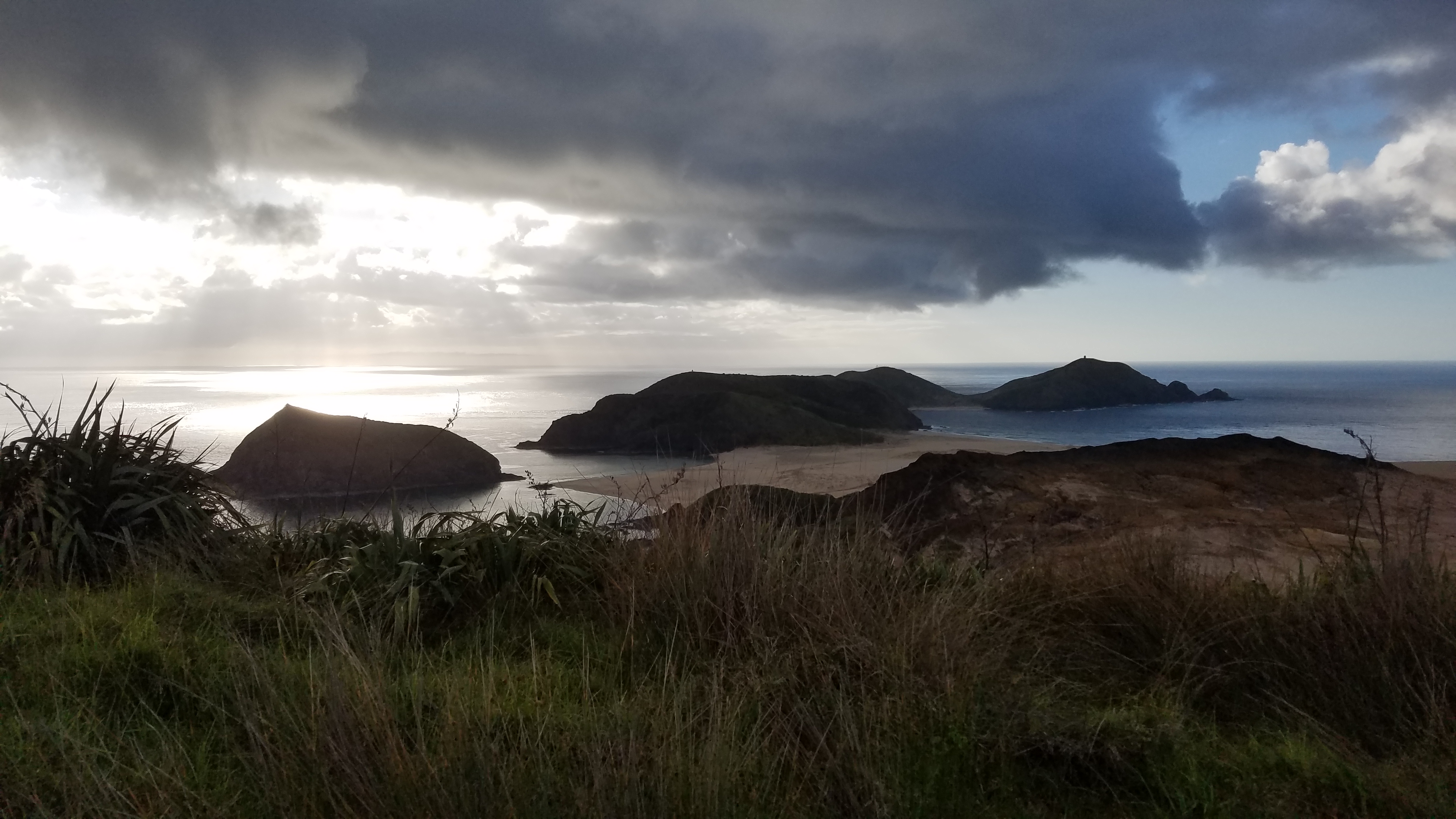 I felt truly lucky that all had worked out so well. I expected to be going through a lot of emotions starting off but in the company of another, it was just down to the business of hiking and talking about the route. I had even planned a playlist to listen to get me pumped up but it wasn't needed. It just seemed so natural to be hiking the TA. Finally this is my hike and not someone else's that I'm just reading about.
This first part was so great! The cliffs and beaches are breathtaking and the trail is generally good tread and marked. We got off track a bit following the beach too far, thinking we were just doing the low tide route, but quickly realized our mistake and got back on track. Damian fell behind a bit on an uphill, suffering from HPS (heavy pack syndrome), so I finally got to enjoy a solo hike with my playlist for the last 5km. I did some twirling and dancing on the beach, just out of pure happiness.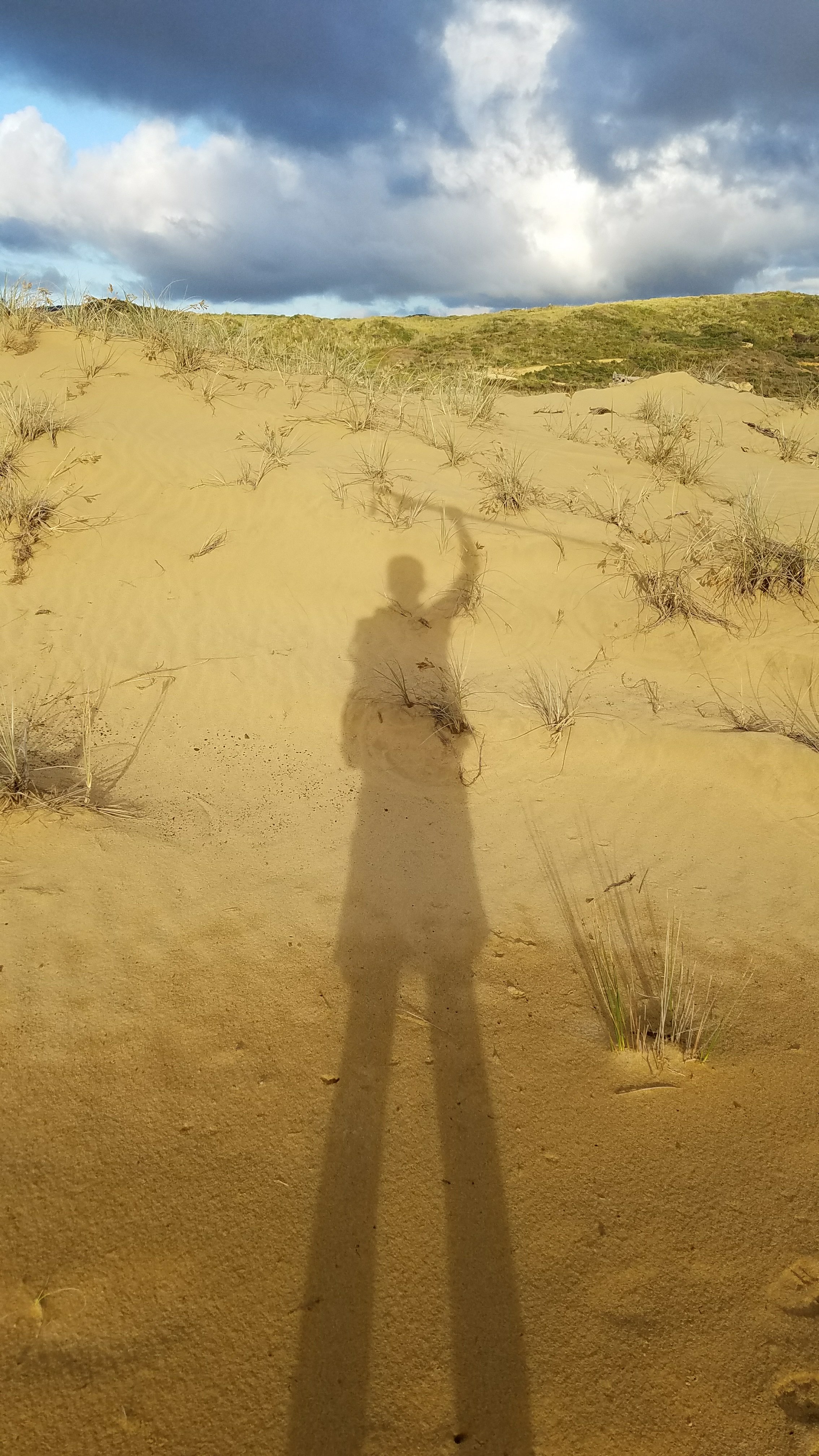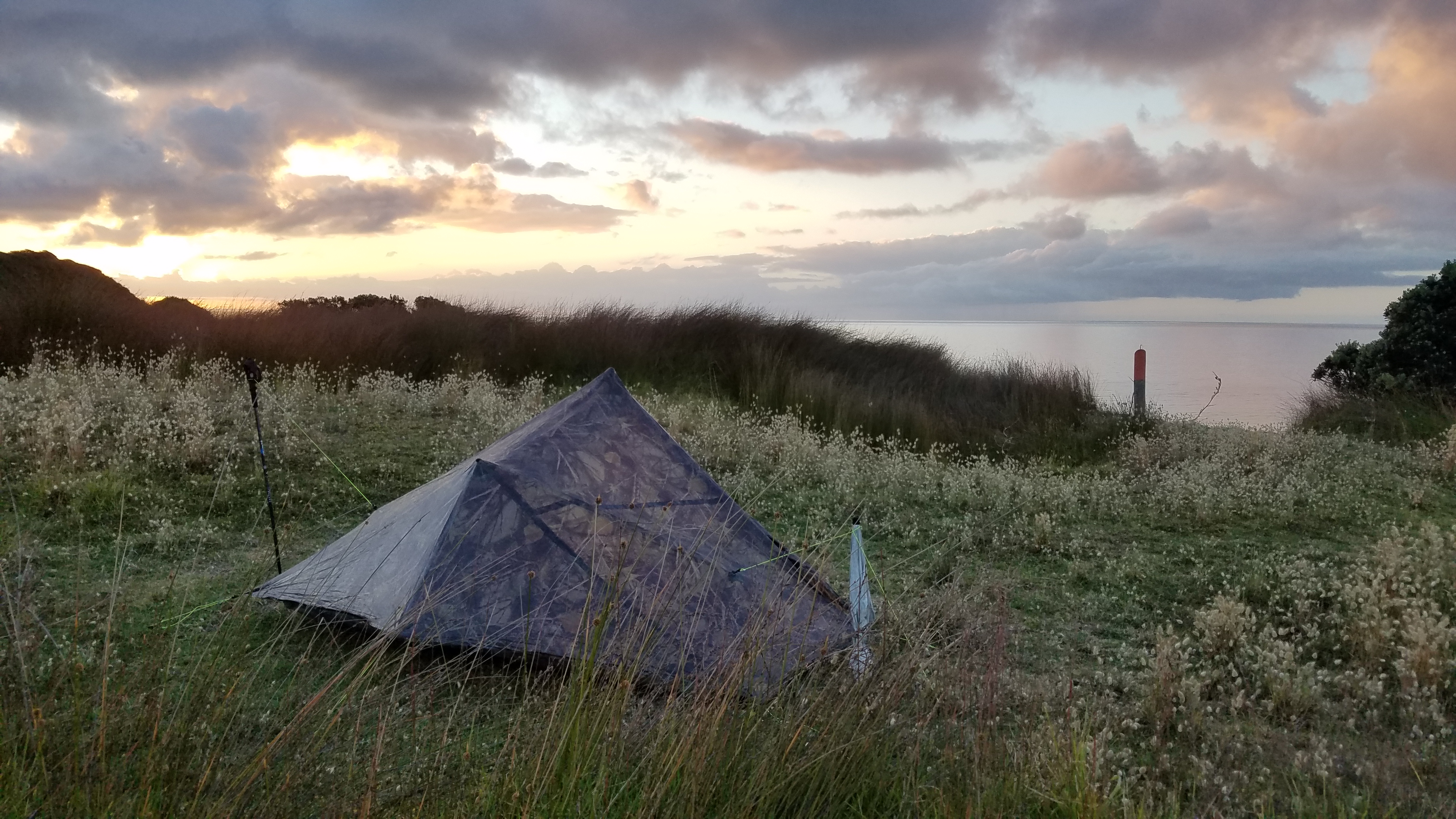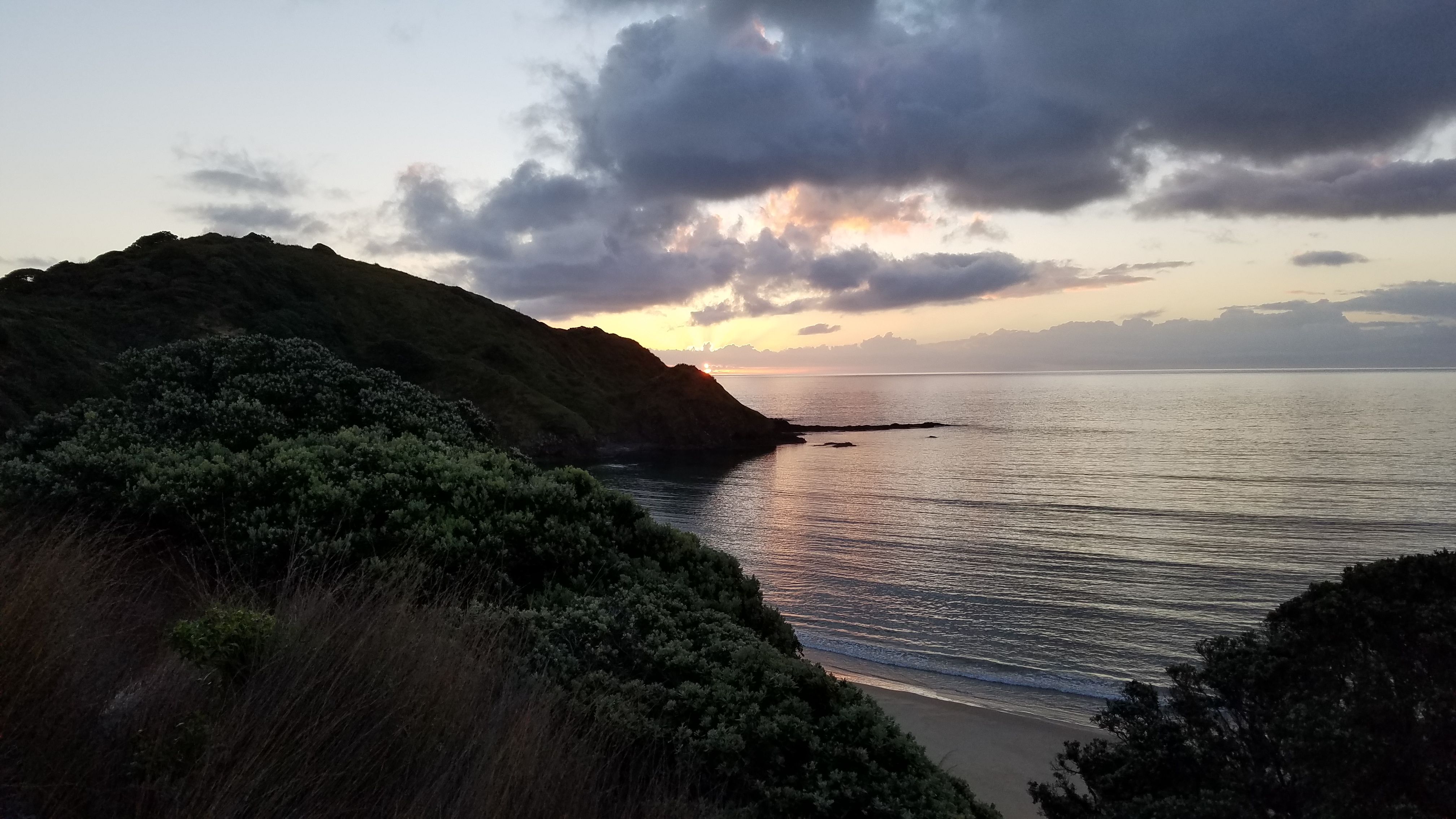 I made it to the DOC (Dept of Conservation) campsite just before sunset and had enough time to capture some awesome photos. There were 7 other hikers at the campsite, mostly TA'ers. Everyone was so excited. Some were going for a swim when I arrived but I had to get down to the business of setting up camp and eating dinner. The mosquitoes were really bad here, almost Florida levels, so it wasn't an evening for socializing much, unfortunately. There were 2 other solo girls from the states, Kess and Shannon, the latter of which has my exact same tent, even in camo color. So funny to come all this way and already find team Zpacks. I went to sleep around 10pm listening to the surf and trying to ignore the very bright full moon.