November 4th, 2019
Twin Tanks mm 688.4 to Casa Blanca Canyon mm 721.9
Distance in miles: 33.5
0615-1830
It gets chilly again overnight, seemingly because we're camped near a water tank. Once we climb out of the wash, it warms up considerably. The day starts off in the desert scrub but we'll climb into the Santa Rita mountains by the end, passing through some more enchanting grassy hills.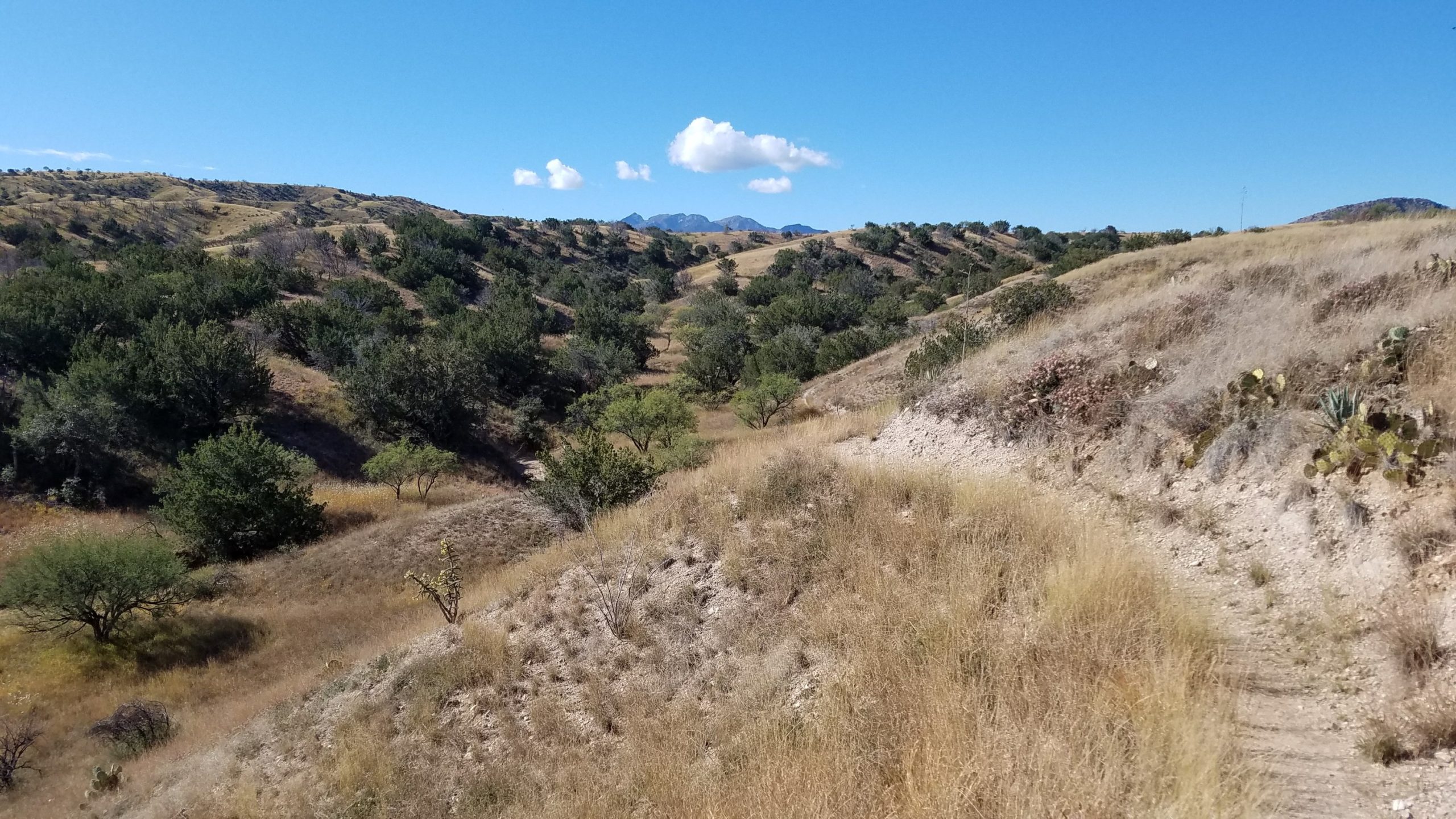 There are a lot of little ups and downs but it's very pleasant walking. These grasslands are not at all what I expected of southern Arizona and they're a real treat. I almost feel like I'm all the way back in Montana. What a surprise to be walking in such different terrain.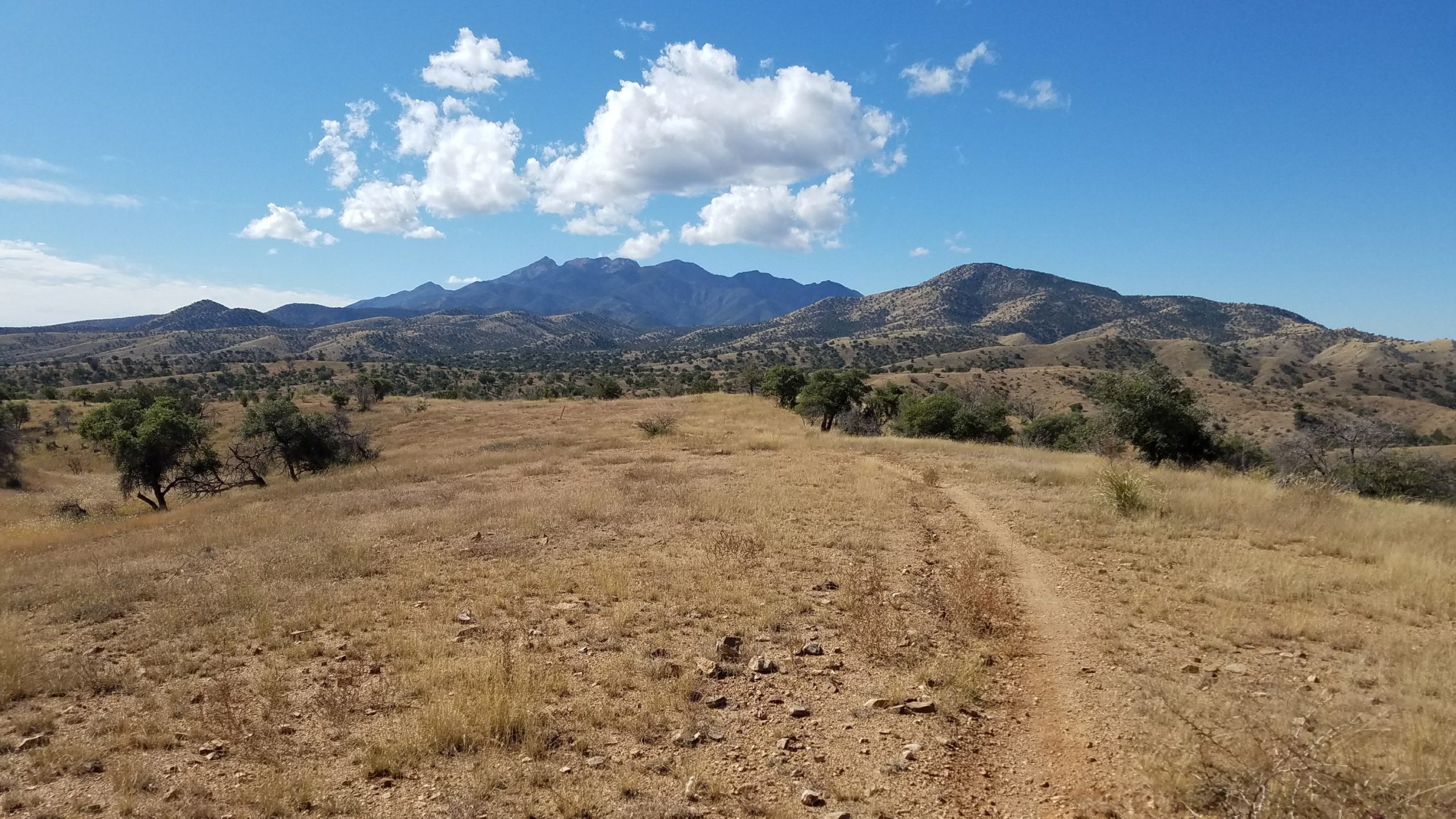 Water is still scare in the morning but we have a special cache waiting just for us at one of the road junctions. Back in Vail, a lady had responded to our FB post looking for a ride to the trailhead. The timing didn't work out but she also offered to drop off water for us at FR 62. Sure enough, 2 gallons are waiting for us with our names on them. I feel so special. We only need a few liters so we're able to leave the rest for Dan and whoever else is behind us. Even though I didn't get to meet her, here's a shout out to Pat –THANKS so much for the water!
Seriously, the trail angels, and people in general, along the AZT are some of the best! I have a long list to send thank-you letters to and/or recognize in a post at the end of my hike. The water caches have been especially critical.
Happy from our good fortunes, we continue through the hills, alternating some between trail and jeep roads. We come to Kentucky Camp, which is a historic adobe homestead and mining camp. There's a caretaker and one of the cabins can be rented by the night. Pertinent to us, there's a water spigot and picnic tables. I take a break to drink, rinse off and wet my clothes.
Four section hikers show just as I'm finishing. They're hiking north towards Tucson. They are nice but one of them starts swatting at the resident wasps and I have to take off…can't ruin my no-sting record!
We continue through more grassy hills and eventually wind our way into a canyon going up into the mountains. We collect water from Tunnel Spring, a real flowing stream, and look for a place to camp. We find none near the stream so we go further along an escarpment, following an old mining sluice for miles. The rock walls glow with lime green lichen in the fading light.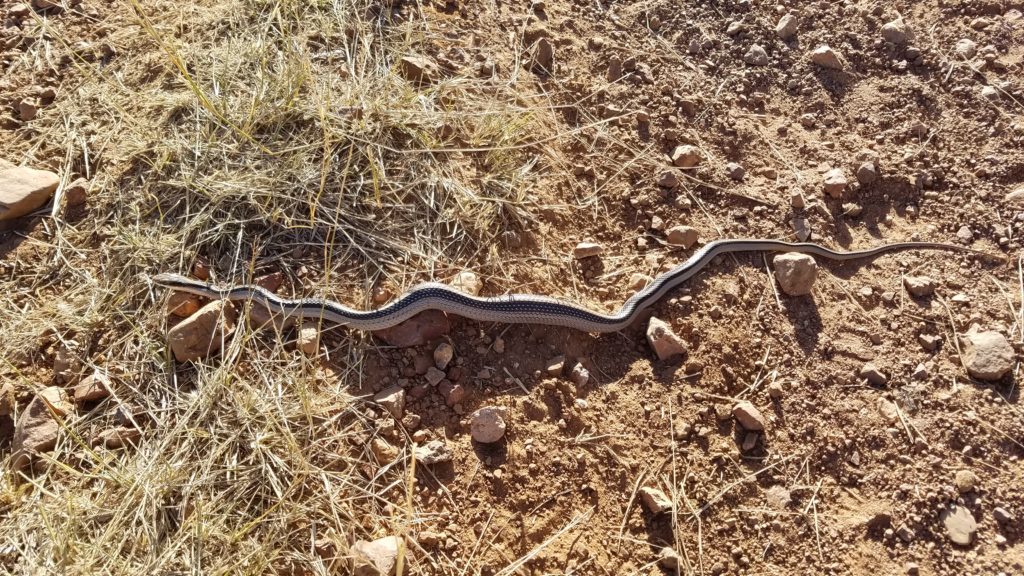 It gets dark on us before we can find a camp spot. So we become resigned to go as far as the next creek. I stubbornly refuse to stop to get my headlamp out so I hike closer and closer behind Stellar, trying to see the trail from his beam. This works for a surprising long time and it forces me to use my other senses to focus on the trail, to feel it through my feet. Let's hope there are no snakes.
We arrive at the creek to find nice, grassy spots. It's a really great site compared to so many dry ones we've had, too bad we don't get to enjoy it in the light of day. Luckily we're both proficient at setting up in the dark and soon are enjoying the comforts of our temporary home. I enjoy hearing the stream gurgling all night.