September 27th, 2019
Mm 2375.1 to mm 2410.9
Distance in miles: 35.7
0600-1830
Dogs bark and trucks rumble down the nearby highway all night long. I should have put my earplugs in but I sleep ok. It's an awful campsite but I would have paid $20 to tent right next to the highway if I stayed in town at the RV park. All the hotels looked a bit run-down and with a few creepy guys sitting outside their rooms, staring at me. No, I was better off escaping into the darkness outside of town.
I wake at 4 am, no longer able to ignore the dog's incessant barking. Seriously, how can a dog enjoy barking for hours? Don't they ever run out of breath? Why would the owners put up with that? Maybe everyone is too high on meth to care…ok, maybe that's a little harsh but this place has that feel to it. I start packing early, eager to just put miles between me and "civilization."
I stumble down the hill from my hiding place and begin walking the road, all in the pitch dark. About 10 cars drive by as I walk the remaining mile before the turn-off onto a dirt road. I have my headlamp on but I'm still not very visible, or expected, so I get off the shoulder into the bushes each time a car goes by. I pass a blinking fixture… it's like one of those holiday ornaments you see on lawns except that it's in the outline of 2 crosses and a ghostly figure. It's a modern twist on the classic roadside memorial, marking where someone died in a crash. It must be battery-powered and it's creepy AF! Man, do I want to be away from this place.
I'm so relieved to get to the dirt road. This is where I should have camped. It starts to get light and after a short time, the road turns into a singletrack trail. Now I feel completely at peace. I hear elk calling and birds singing. The serenity of the desert wilderness is back.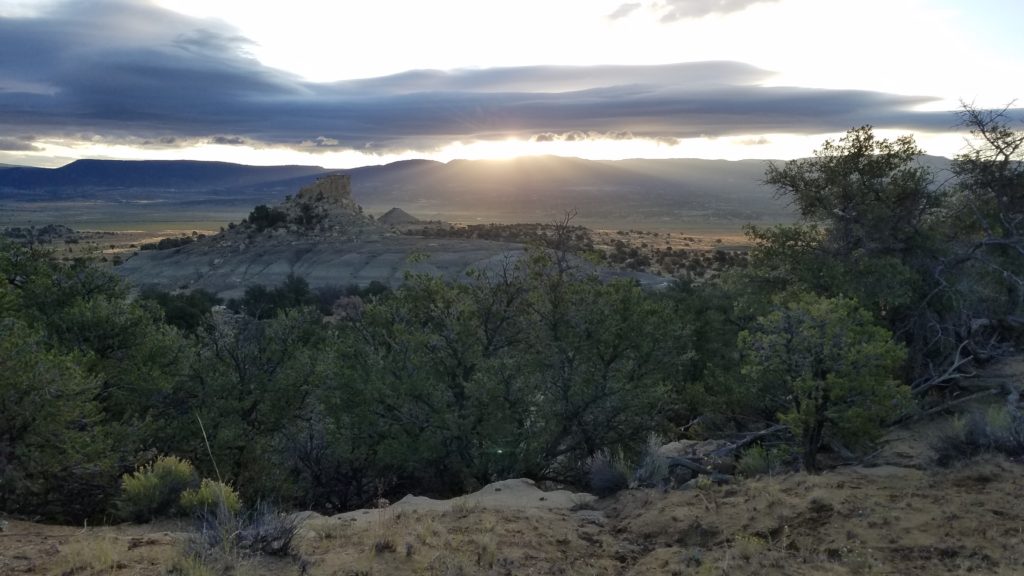 The trail climbs gradually to follow the rim of a canyon and this becomes the pattern for the day. I weave in and out, up and down these canyon lands. Sometimes I'm on top of an expansive rim, looking far out towards all the surrounding mountains. Sometimes I'm following along the base of the walls. It's a magical place, full of multi-colored rock, pinnacles, caves, and walls.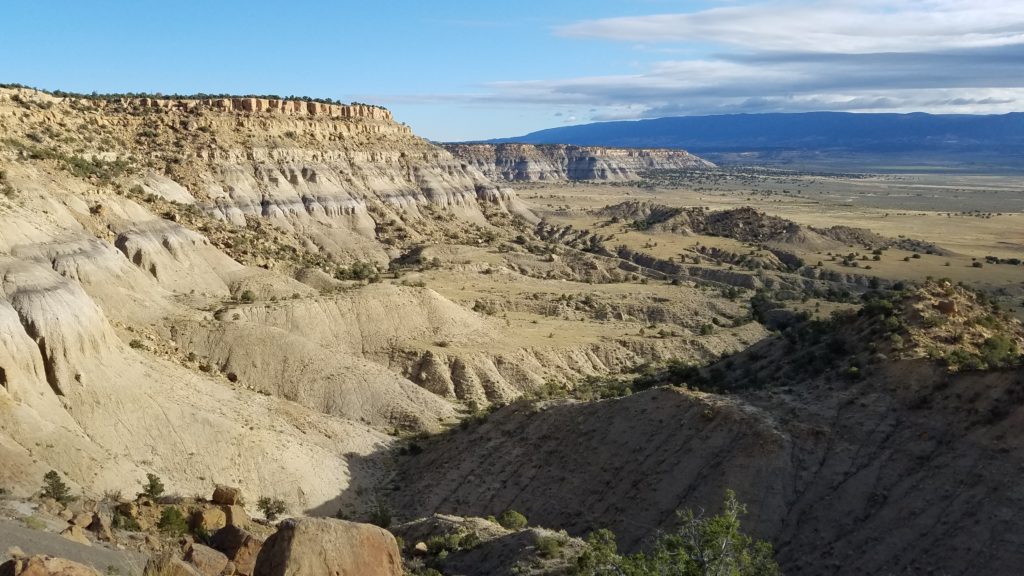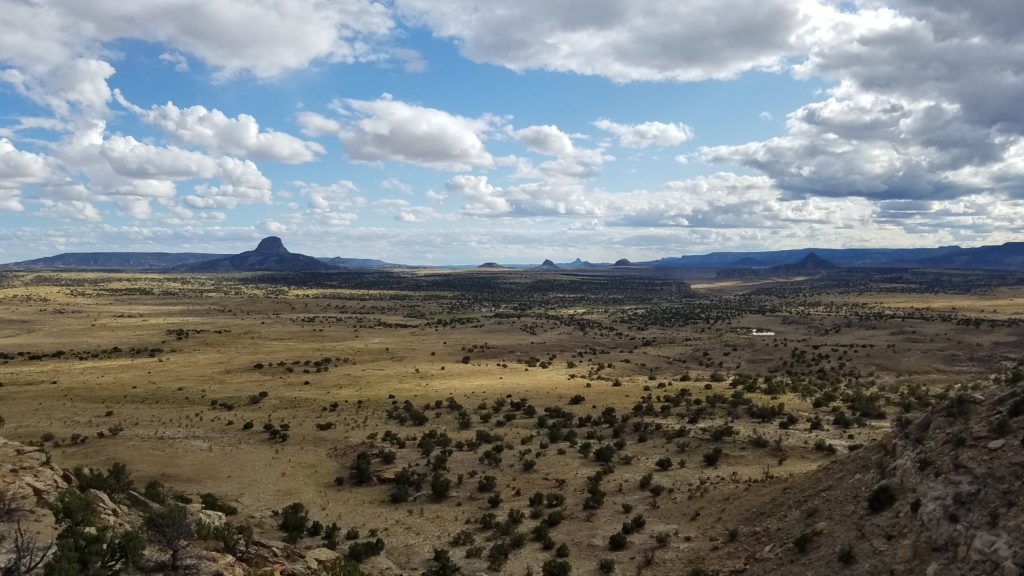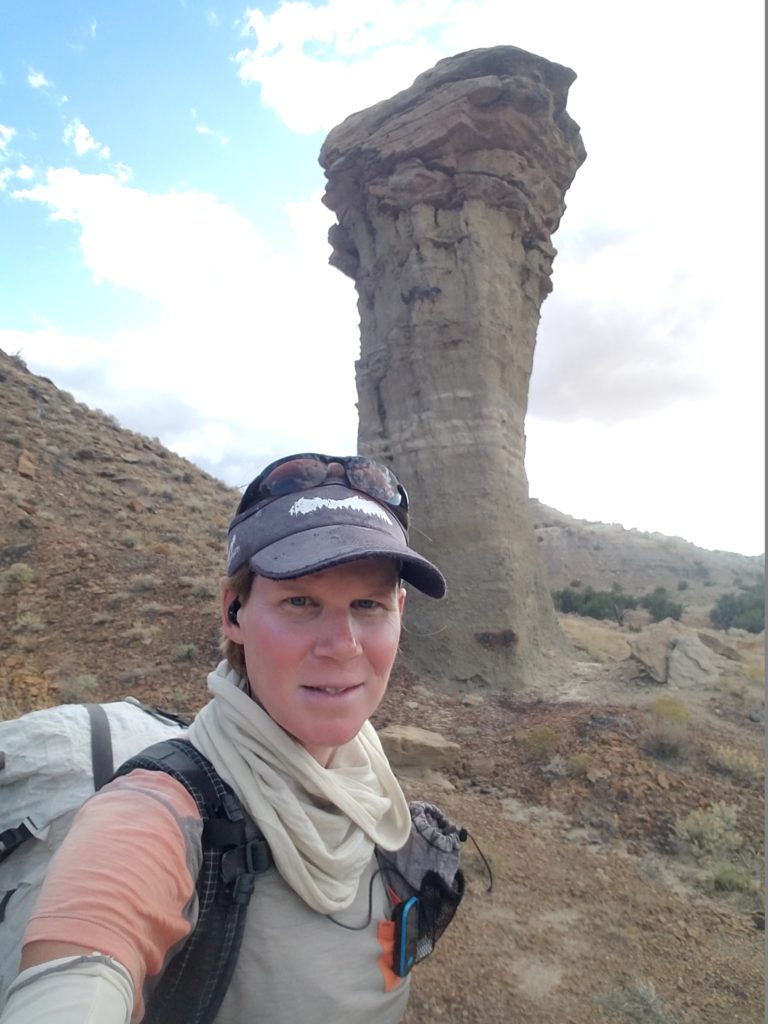 Much of the time I'm walking directly on slickrock sandstone. The trail is marked very well with cairns every 30 feet, so I find it easy to follow. There are even steps built into the rock in the steeper sections. I wonder about who built it and how long ago, wishing I could thank them. I find the route incredibly imaginative, weaving an enchanted path through this maze of rock.
I collect water at a spring mid-morning. It flows from a sandstone cavern. What an incredible place. Just after, I find a baby snake stretched across the trail. I think it's a bullsnake and definitely harmless. Still, it's a gentle reminder to be on the lookout for rattlesnakes (I don't see or hear a single one through this stretch, though I'm sure they're all around).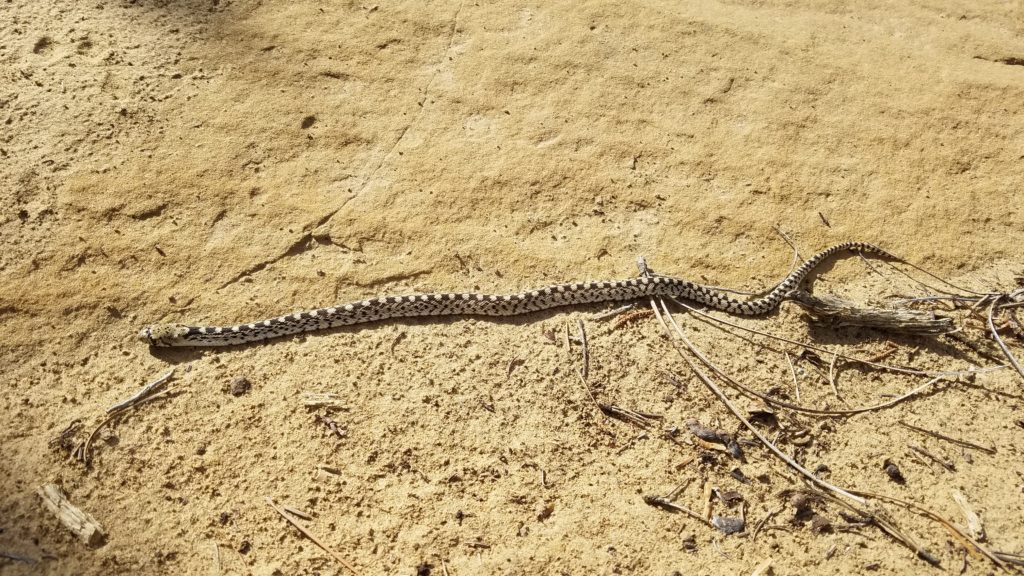 I pass 3 dayhikers around noon. Otherwise I don't see anyone else all day. The afternoon gets a bit toasty but I'm so entertained by the trail, I don't care. Around 3 pm, I come to the Trujillo Family water cache. They've been stocking the cache for about 5 years and are very passionate about it…they even have a Cache Facebook page. I collect about 3.5 liters and sign the registry. The last person to sign in was Diesel, a Dutch hiker that's completing the CDT over 2 seasons. She's hiking CO and NM this year and provides great detailed notes about all the water sources. She was at this cache on the 24th, 3 days ahead of me. I wish that I could catch up to her so that I could thank her in person for all the helpful water comments she leaves in guthooks.
Vortex was through on the 21st, so considering that he started 4 days ahead of me at the Canadian border, I've done a good job keeping up with him. Incredibly I count only about 5 SOBO's total in front of me…assuming they're true SOBOS and didn't flip around a bunch. Or they could be section hikers, who knows. Our signatures share the same page with some late NOBO's, including a Danish hiker, Bearghost, that I started with at the NM/Mexico border. He was Relentless's first roommate in Lordsburg. I know he was plagued by injury the whole time and I feel sorry for him. He signed in here on June 21st.
At the start of the day, I wondered if I might be able to walk 40 miles. But the terrain has not been a cake-walk, with many short and steep up-downs all day. It's especially rough once I add all the weight of the water. I settle on walking around 35 miles, finding a nice dry camp among some trees and in the sand. I have plenty of daylight to settle in and do some camp chores. The night is so warm that I just sit and watch the stars for awhile. I love this setting so much. I'm a desert rat, I realize. I'm made for these circumstances. I practically belong out here. As such, I've decided to hike the Arizona Trail after I finish at Grants. I'm just not ready to be done walking in the desert. Or at least that's what I tell myself as I succumb to a peaceful sleep.