September 16th, 2019
Piedra Pass mm 2131.2 to Wolf Creek Pass mm 2152.8
Distance in miles: 21.6
0620-1400
It rains all night long, which normally is a recipe for a good night's sleep but on this night, it stresses me out. I keep thinking of the high passes we still have to cross and how miserable the weather might be. I hope that it stops raining by the morning but it doesn't. I groan when my alarm goes off and I still hear a steady pitter-patter on my tent.
My Tent! It stays bone-dry all night with just a little condensation. I would like to stay in it all day until the weather improves but I have little food left. I also have no idea how long this weather will last. Poor Relentless. His tent is not as dry and he has even less food. We have to go for it. At least we'll have a dry roof in town, if we can make it.
It pains me to fold up my tent as I pack. The minute I let the pole out, there goes the last dry space for many miles around. I'm committed. The climb up to the first peak isn't as bad as I feared. It's only spitting rain and it almost looks like it's clearing up. We can see some of the nearby peaks and the scenery is mystical…it looks like I presume Greenland looks like. Even the trail is nice, with a gradual incline. My shoes are of course soaked (they were already wet from yesterday) but the rest of me is dry and warm.
As we head into the second high point of the day at 12,600′, the winds picks up and it becomes socked-in. All I can see is the inside of a ping-pong ball and the horizontal drizzle is thwarting my umbrella. I start to get a little cold and worried. As I head down from the pass, I have to bash through some willows, which absolutely soak me. Water is pouring off my body, deflected by my rain gear but further cooling me down. Then I get frustrated and anxious by all the slippery mud, puddles, overgrowth, cold, wind, PUDs, and crappy trail conditions. I have to let off some steam in the form of tears, which does make me feel a little better. I contemplate, are we in bad enough shape that I need to push my emergency button? No, this sucks but we're over the highest, most exposed points. We can make it the rest of the way. I've hiked in conditions like this before. We have plenty of options still. I'm even mostly dry underneath my rain gear.
It clears up some and I can feel the warmth of the sun. I finally stop to drink and eat, which helps us rally for the remaining miles. I regret missing the views from this last stretch, so I vow to come back to hike it again some day. We get to Wolf Creek Pass in record time, where it begins to rain again.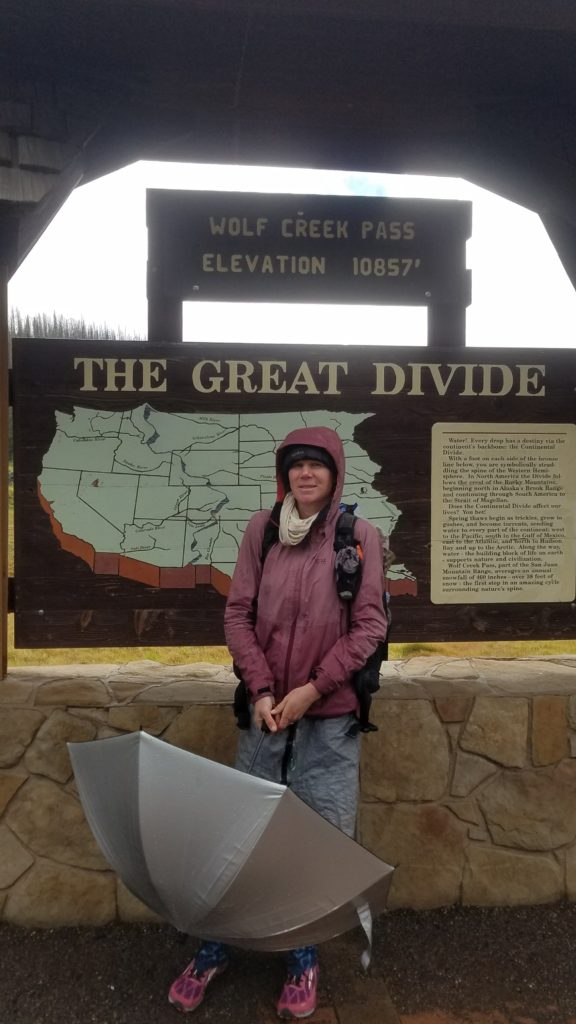 We are fortunate to get a ride to South Fork in no time at all…a kind man driving a Subaru, returning from a Buddhist Retreat. I always marvel that people will pick up soggy, muddy hikers in the rain but I guess if you've just been meditating about peace and love for a few days, you'd be inclined to. Bless him.
We're dropped off at a restaurant, where I select a table in the direct sunlight but also inside. We stay for awhile, just drying off. The rest of the afternoon entails all the normal town stuff.  South Fork is my new favorite trail town, mainly because it gets us out of the cold rain. We enjoyed an amazing stretch of perfect weather in the San Juans but there was a small penance to pay for it. Let's hope we are gifted with some more good weather for the remaining 70 miles of the the San Juans and Colorado. I'll even sacrifice some Chivas if it will appease the gods!