August 8th, 2019
Mm 1209 to mm 1240.6
Distance in miles: 30.2
0620-1840
Wow, today was such a turnaround from the day before. It was also the opposite of all the things I expected. Overnight, I started to seriously have doubts about doing the Cirque of the Towers alternate. I read Carrot Quinn's blog post from that day and she had the hardest time. I read it to Relentless and he up and decided not to do it. Plus, we didn't make our miles the previous day, leaving 5 more miles just to get to the alternate. The forecast is for thunderstorms and 50% chance of rain…not good for above-treeline, exposed passes.
I wake feeling pretty refreshed but still convinced that I shouldn't do the alternate. I don't want to do it alone and my body could use a bit of a break from all the uphill punishment. Still, it is one of the most scenic pieces of trail along this route. The sky is clear and it's a most beautiful morning. Screw it, I'm going for it!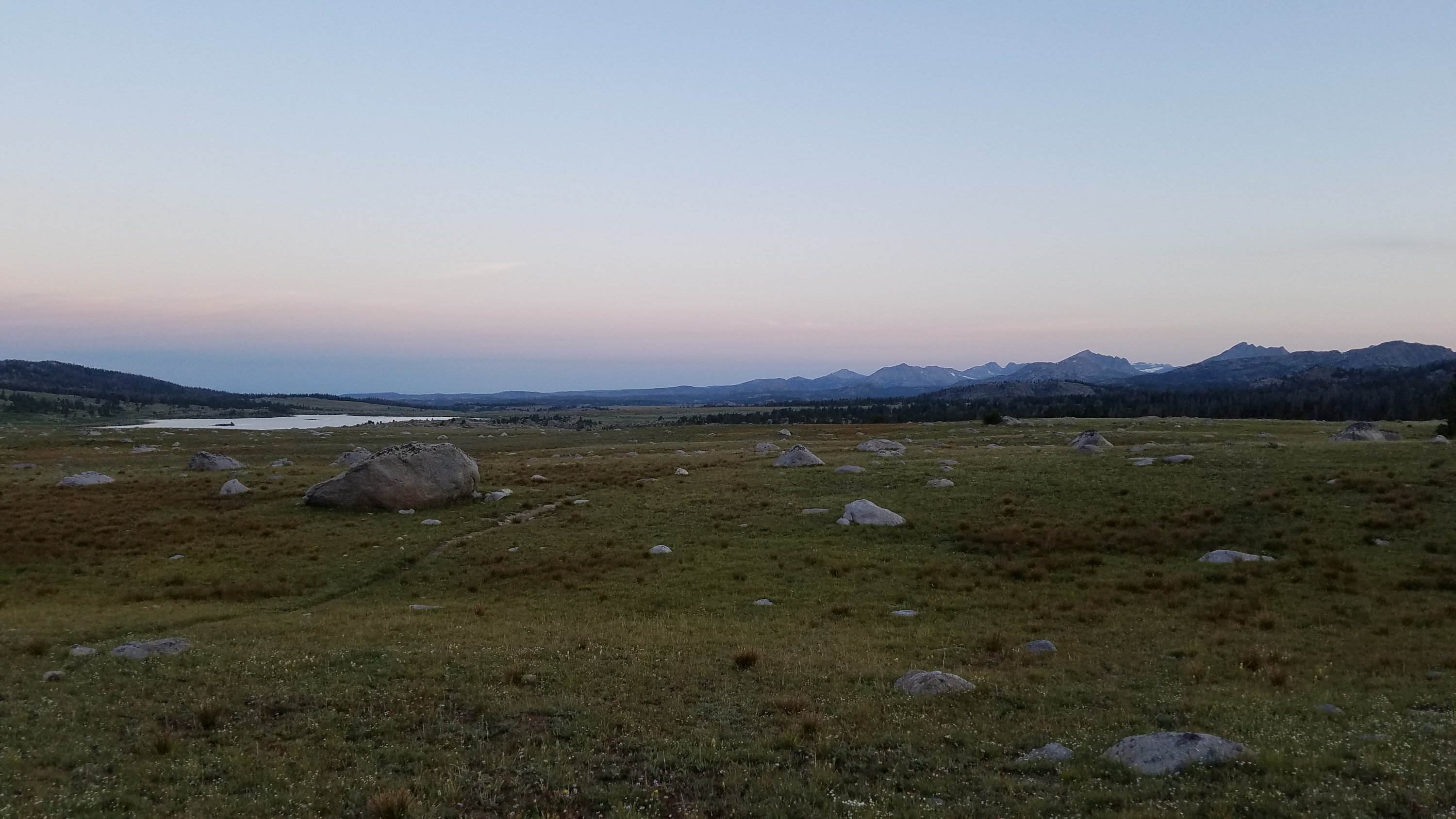 I explain my plans to Relentless and it's kind of an awkward parting. I think he feels a little confused or hurt, especially since I tell him not to wait up for me at the other end of the alternate junction. I have no idea how long the route will take me, even though it's a few miles shorter than the main route. I expect that the rough climbs will eat up a big part of my day and if there are thunderstorms, I may get stuck before a pass. We leave with the whole rest of our hike up in the air since he has already hiked the Great Basin and may just move forward down to Colorado. He misses his family and is feeling the urge to get this journey wrapped up already. I'm pretty sure I will see him again, though.
I make excellent time getting to the alt junction and up to the beginning of Texas Pass. I pass tons of people camping at the lakes along the way and chat with a NOBO lady for a minute. I get to the bottom of the pass just as a group of 10 are heading up. They make the navigation easy, as I can see the trail by the way they are all strung out along it.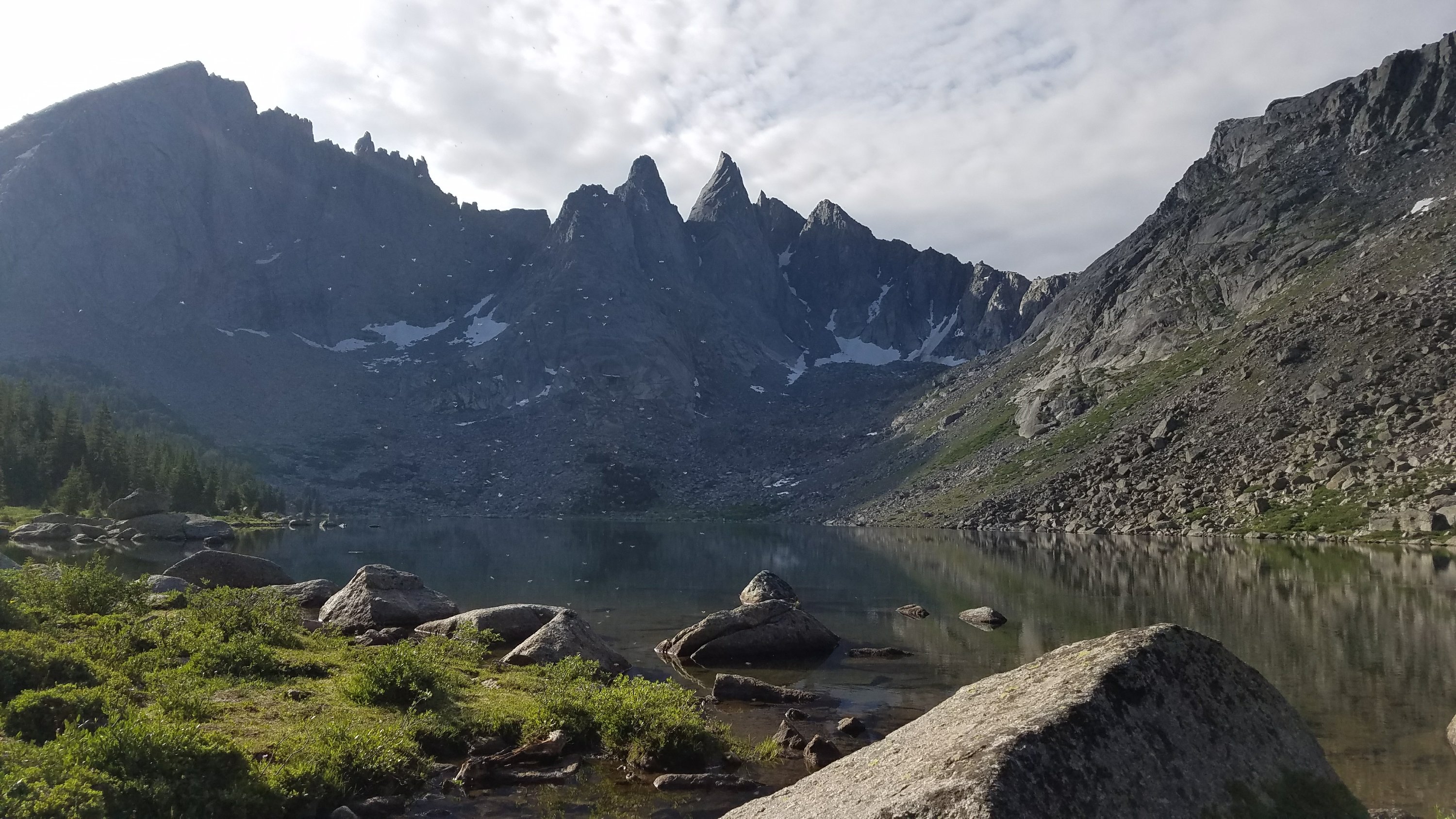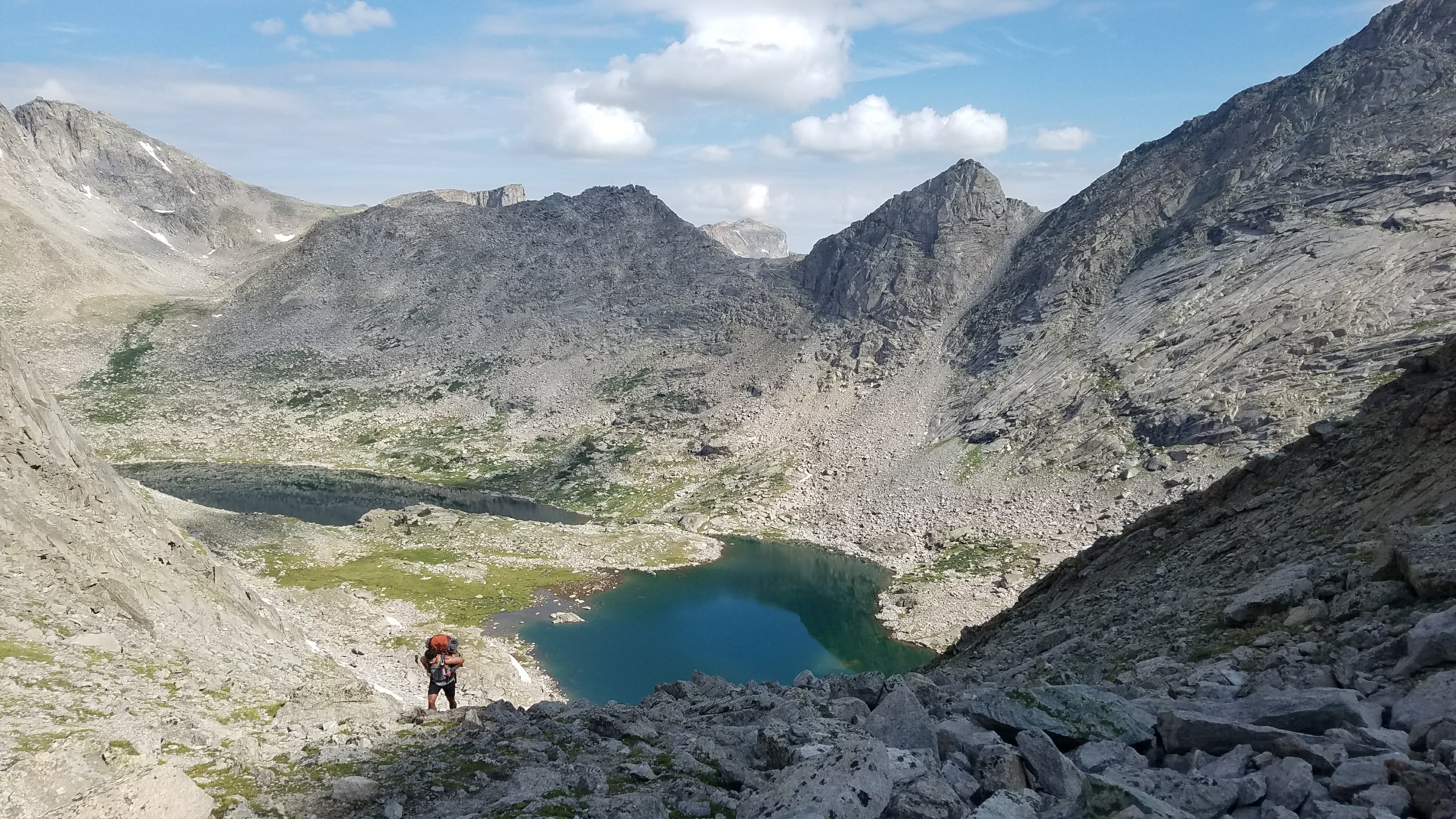 "Trail" is a loose term, as it's more like patches of slippery gravel amongst the scree and boulders. And it's straight up, rising 500′ in half a mile. But similar climbs in New Zealand and Montanaho have prepared me well for this. I get up on the balls of my feet and just dig in, relying heavily on my trekking poles as well.
I feel like I'm barely moving but I fly past one backpacker after another. Most have to stop to rest every few steps. I count to 60 steps to take a break but am able to make continuous steps after awhile. It's a lot of effort, I'm breathing hard and sweating, but I feel so strong. Having others around me helps. I'm the first to make it to the 11,500′ top, even though the group had a good 5-10 minute start on me. I pick off the last two at the very end, energetic kids in their teens or twenties. Ah, it feels so good to be a climbing goddess in my 40's.
I should mention that Relentless has decided on an alter-ego trailname for me. I am sometimes Rampage and today she has come out to kick some butt on these passes. I glide over the top and down the other side. I don't bother with trying to find the trail, I just go straight down. I surprise myself with how comfortable I feel going down the steep gravel and scree. The Te Araroa threw this at me so often that I'm used to it. It feels like Waiau pass in NZ.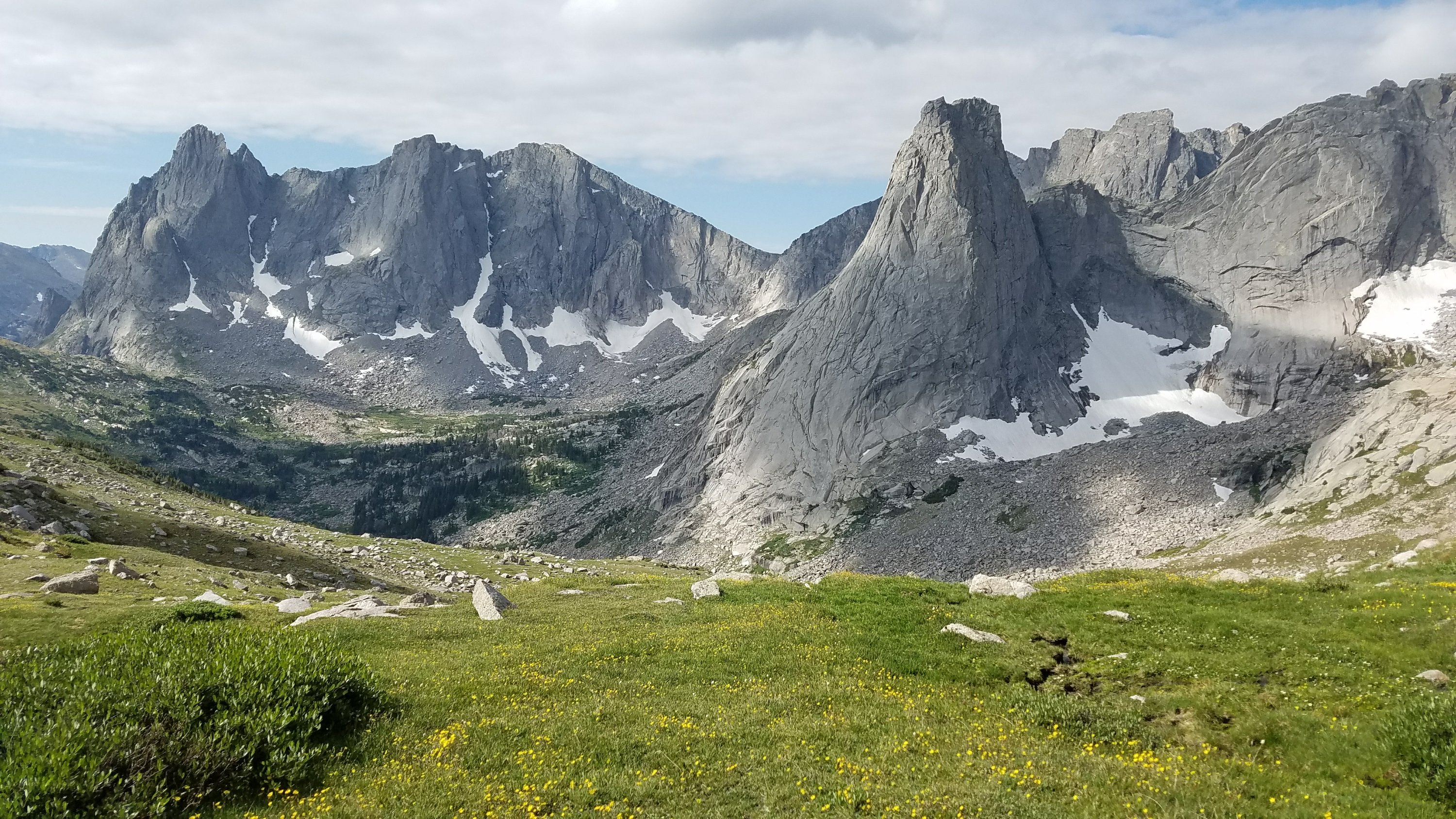 The views of all the tower-like peaks are awe-inspiring. Oh to be a rock climber and work my way up one of them. Nah, I'll stick with hiking. There are lakes everywhere and so too people! So may people. To think I was worried about being alone. There are day hikers as well as backpackers and I wonder where they have all come from. There's even a few dogs. I suspect they have come from Big Sandy lodge and a guy later asks if I am headed back to the parking lot. Mexico! I say exuberantly, leaving him bewildered.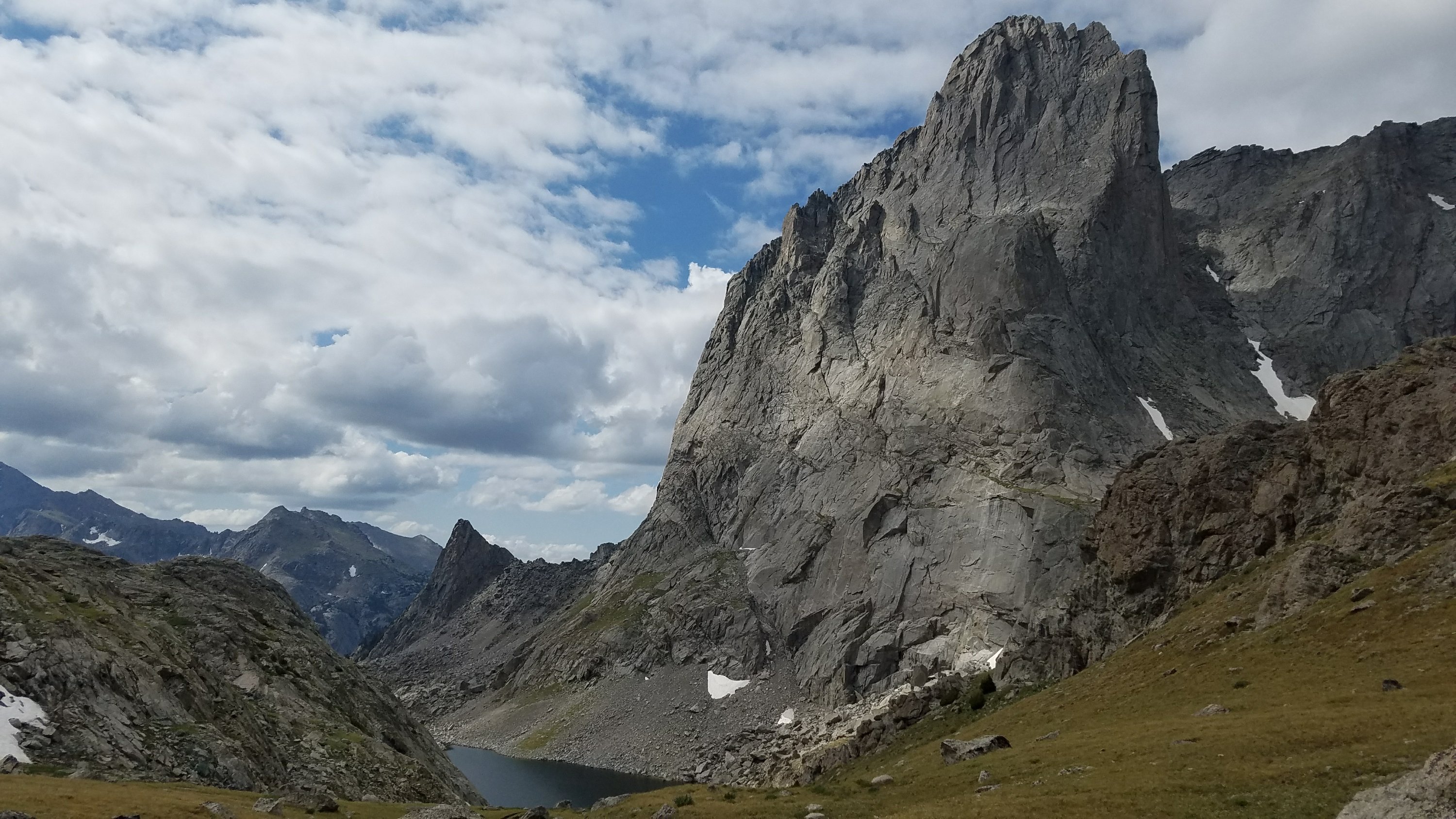 I go over Jackass Pass much more easily, as there are switchbacks. Then down around a series of rock-encased lakes. I have a short lunch near Big Sandy Lake and am then climbing again towards the last and biggest pass of the day above Temple Lake. This one rises about 1000′ in 0.7 miles, whew! I still feel great, especially after dumping some energy powders (caffeine) into my water.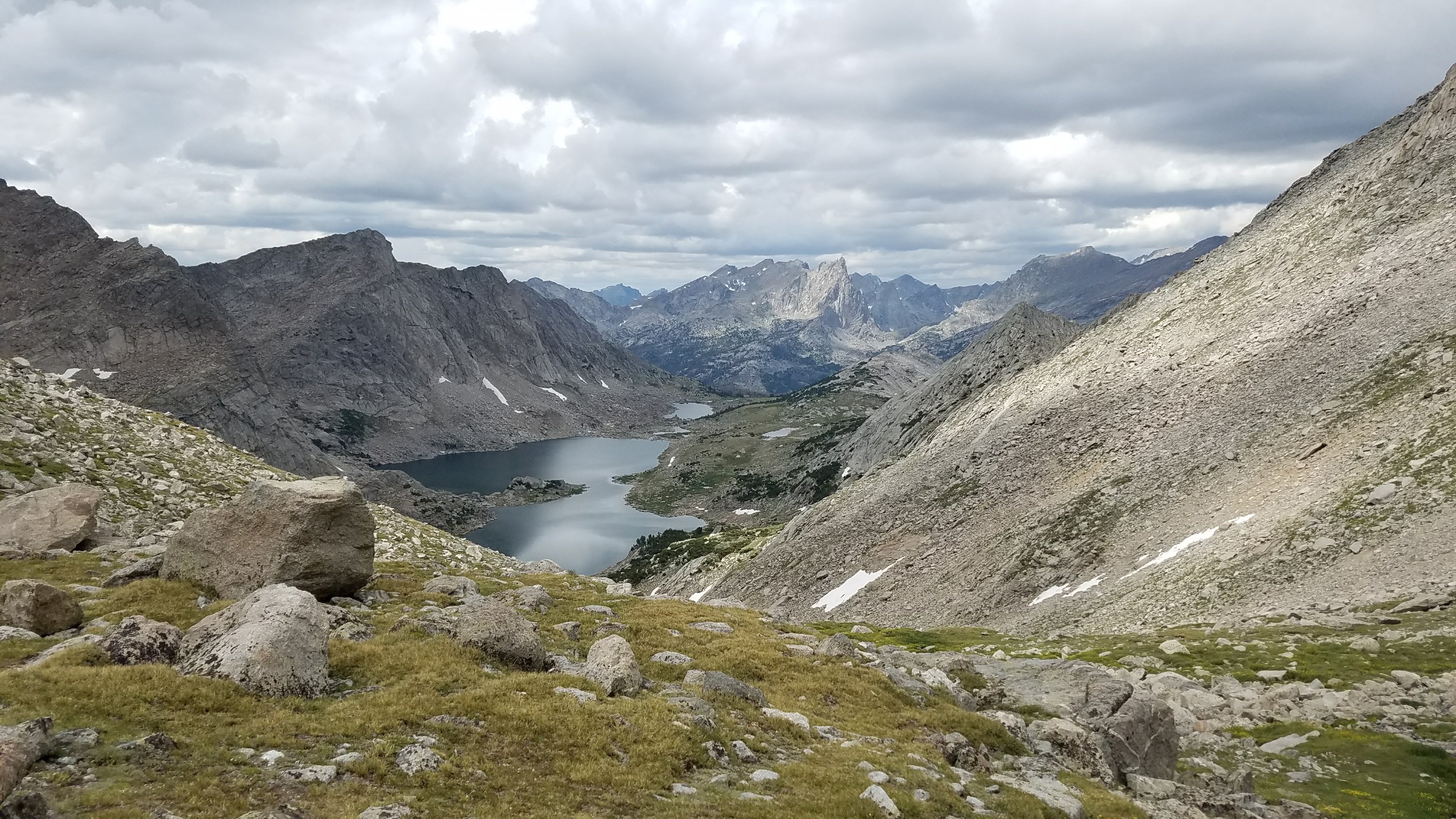 There are only 2 people that I meet while going up…they are going down. Then I run into 5 more coming up the pass as I head down the other side. These are the only people I see the rest of the day. This southern section of the alternate is not as popular and the trail fades in and out.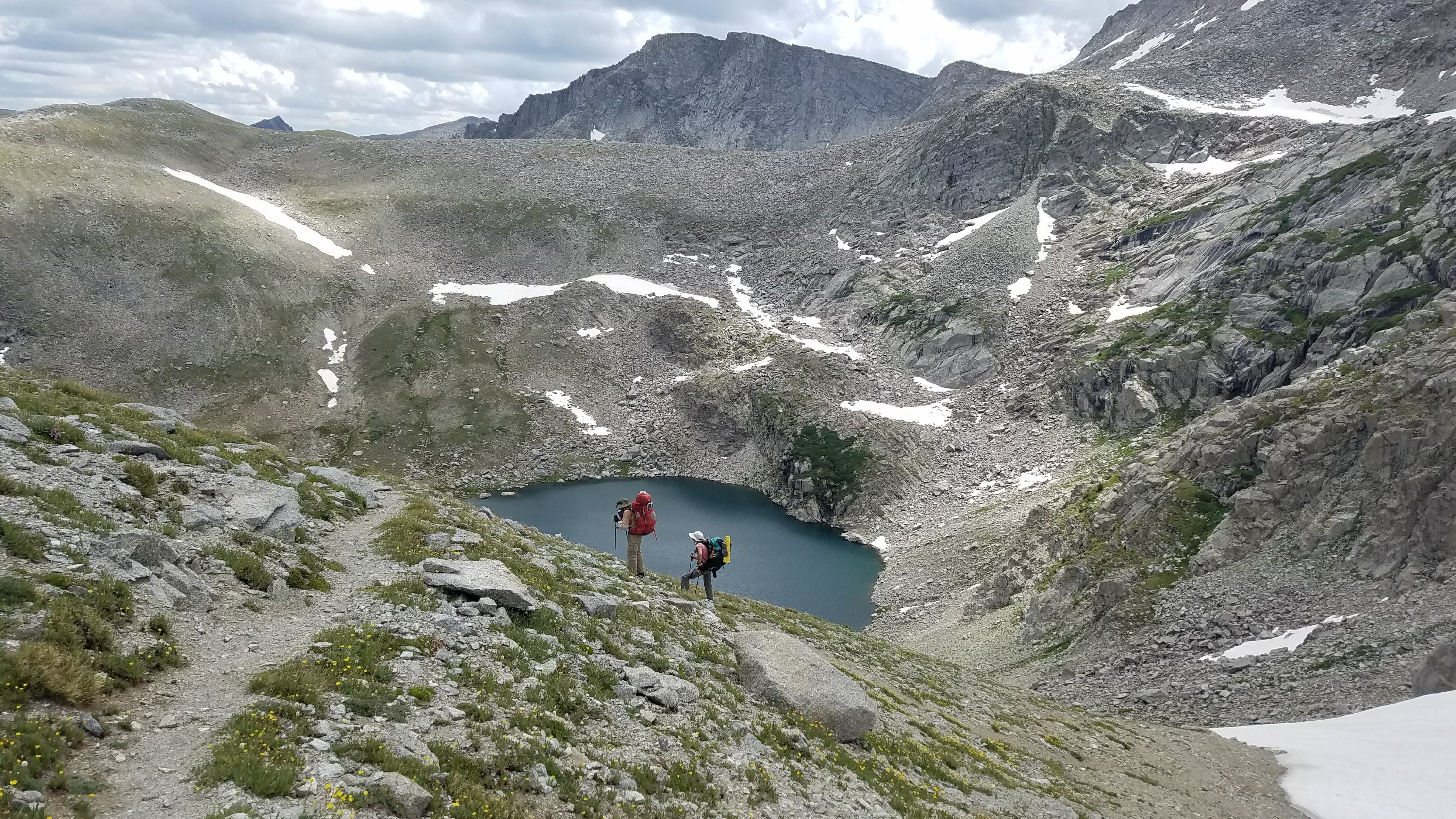 There are faint switchbacks in the steep gravel down the other side. Carrot's description speaks of a slip where the trail slides out for a few feet but I find the spot easy enough. I have a lot of trust in the tread on my shoes and with my poles. After all the hype, I was expecting some very challenging, type 2 fun conditions. Instead, I'm able to literally run down this pass. Type 1 fun all day. Were there snow, it would be very different but I'm only on a snow field for a short time on the first pass.
The trail follows the river valley down the rest of the day. It's a faint path through beautiful alpine meadow and then forest. It's pretty easy walking and I just love it. Around 4 pm it starts to thunder and then rain a bit. Man, am I glad it held off until now. There were clouds about all day but nothing dangerous. I got lucky with the weather once again.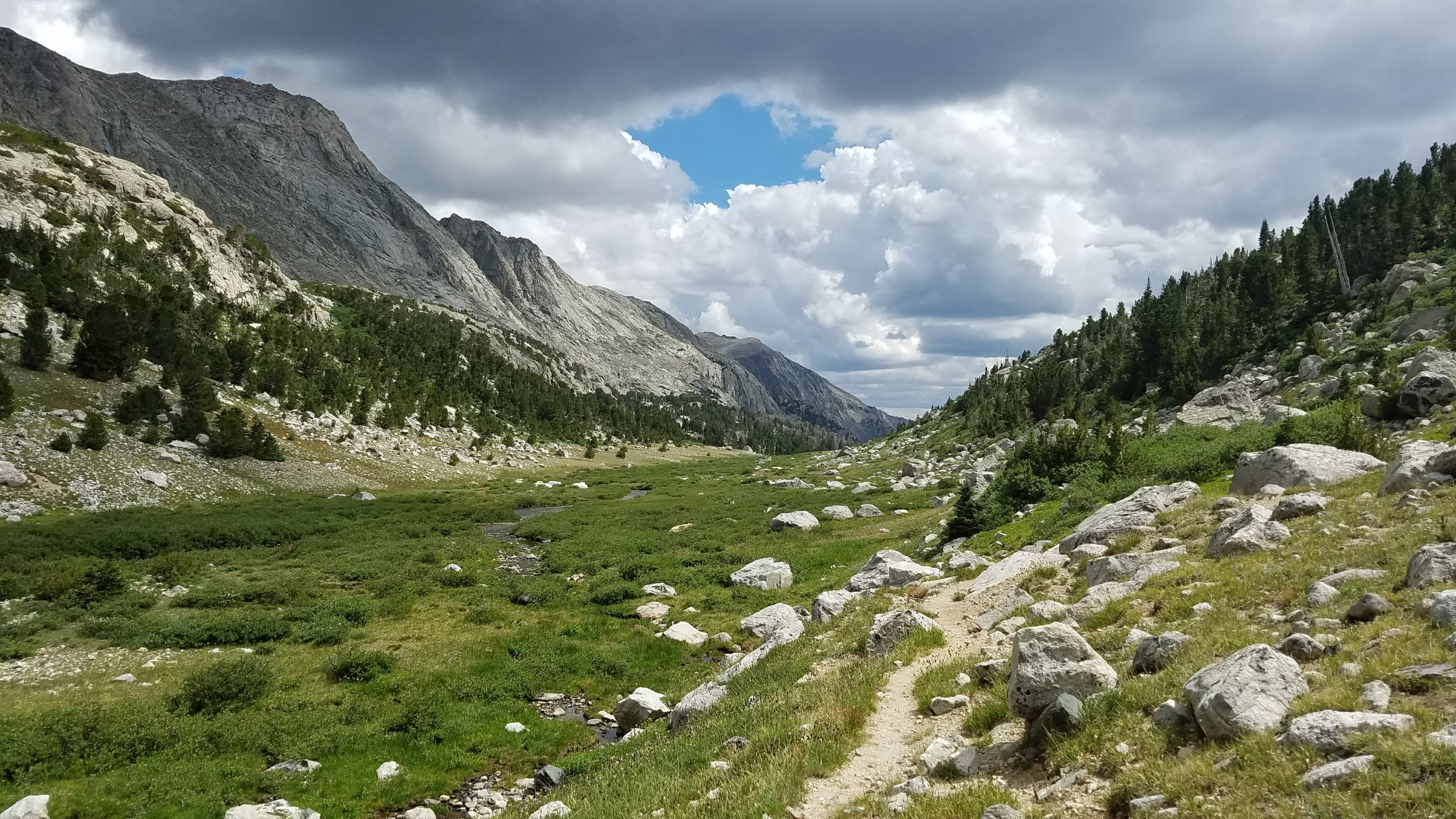 I reconnect to the main CDT and am like, now what? It's only 5 pm and I've gone 26.5 miles. I just didn't expect to make it this far. I don't see Relentless or his footprints, so I assume that I'm ahead. Well, might as well keep going south. I have to do another 600′ climb and finally my legs feel it. But then it's downhill all the way to camp. I've exited the wilderness area it seems, as I see signs of cows. Then I spook some hiding in the trees.
I get water at a creek and go a bit further for a dry spot in a regenerating forest. The site is open and the sun is still shining. I never dried out my tent from the wet morning, so this is perfect. Moreover, there are only a few mosquitoes, as compared to the thousands or so many previous nights. I'm able to sit on my front porch (front of my tent with the screen down) and just relax. It feels amazing.
I settle in for the night just as 2 NOBOs come by. They tell me they just saw some moose about half a mile away and ask about the Cirque. I casually mention how bad the bugs are to come. They brush it off, saying they've seen some bugs in Colorado already…not mosquitoes so much but some horse flies. I think back to the 2 horses I saw the other day, each with a cloud of about 50 horseflies and the owner going mad trying keep his stock from getting sucked dry. I guess I've seen some horseflies, too. Well, they'll experience it for themselves soon enough.