August 6th, 2019
Green River Lakes campground mm 1152 to mm 1180.5
Distance in miles: 28.5
0730-1830
After 2 zero days, I really want to hike today. But am I in any shape to do so? I wake up feeling quite ill, not surprisingly. I only got a few hours of sleep and I can't get up when my alarm goes off. Maybe I can just sleep another hour. It's light when I finally rally. I just want to pack up and go. No breakfast or coffee, I just want to move.
I walk by the party site on my way to the toilet. There's an epic mess and skinny bodies are wrapped in sleeping bags laying in the dirt everywhere. It's a sight. Since we're all thru-hikers, the rest can't but help wake with the sun, too. Everyone is starting to stir and shortly a spread of bagels, angelfood cake, and strawberries are laid out. At least I'm able to eat some before saying goodbye to everyone and hitting the trail.
Thank goodness for an easy trail the first 10 miles! It's flat and so manicured…I must be in an established hiking area…like the infamous Wind River Range. There are also heaps of people, some as big groups of 10 to 15. They're all very considerate in letting me pass and I get a few remarks about my small pack and fitness. This is amusing to me since I can't even close my pack with all the food I'm carrying and I'm hungover, moving relatively slow.
The trail follows along the Green River, which is indeed strikingly green from all the glacial silt. The valley is closed in by great monoliths of granite (most iconic of which is Square Top mountain that stands out in all my pictures) and everywhere there are huge boulders that have calved off from their faces. It kind of looks like Yosemite valley. I long for my kayak to paddle the placid river instead. But these miles are free ones…I barely notice them go by since I'm so distracted by the splendor. And huckleberries…there are lots of these ripe, delicious globes to distract me, as well.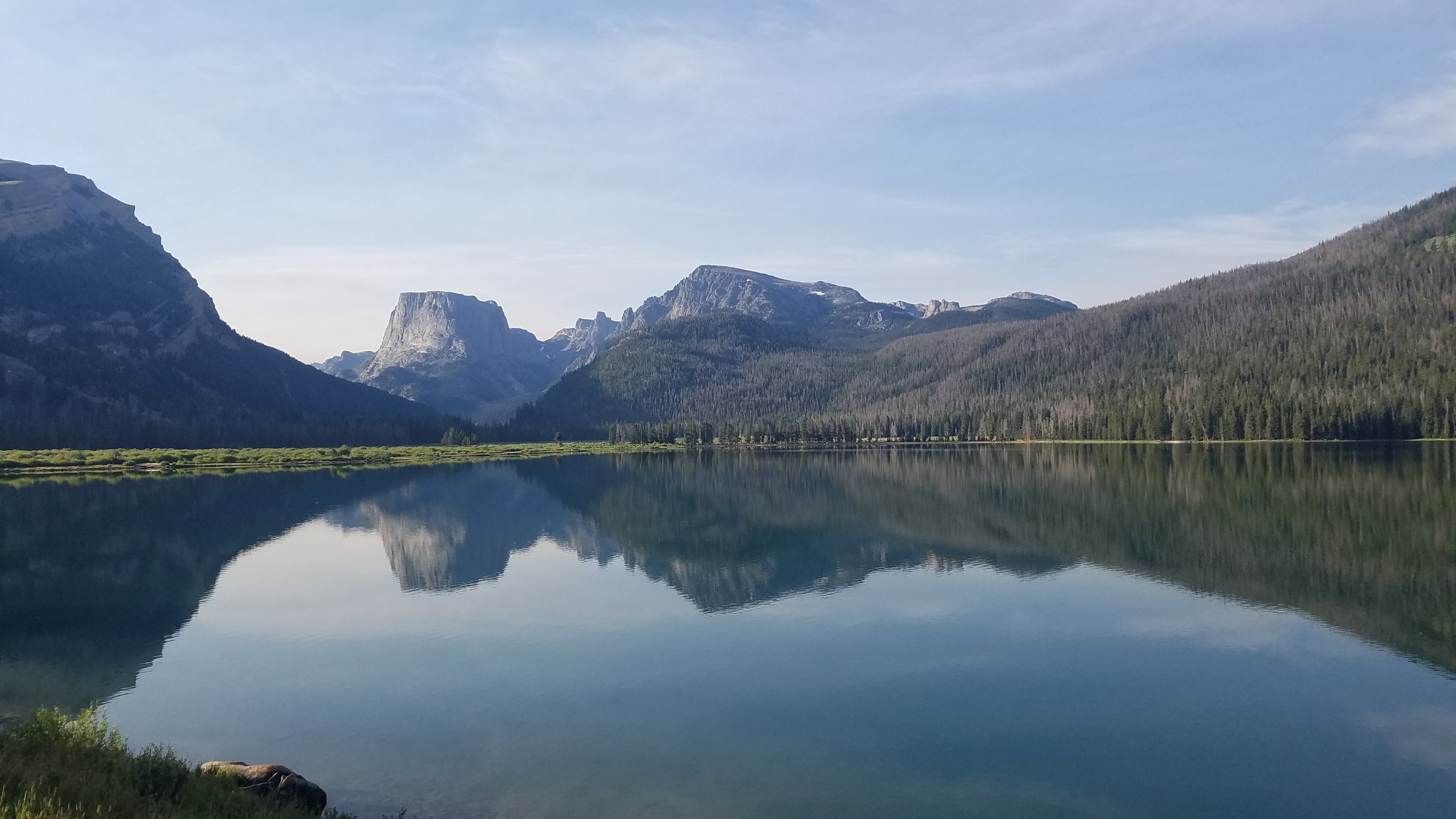 At the end of this grand valley, there's a big climb from 8000′ to 11000′, the highest point on the trail for me so far. I wonder how I can manage this today but by the time I start, I'm feeling back to normal. Passing even more people gives me a boost and the switchbacks offer an easy grade. At the top is a wonderland of rock and water, very similar to Desolation Wilderness in the Sierra Nevada.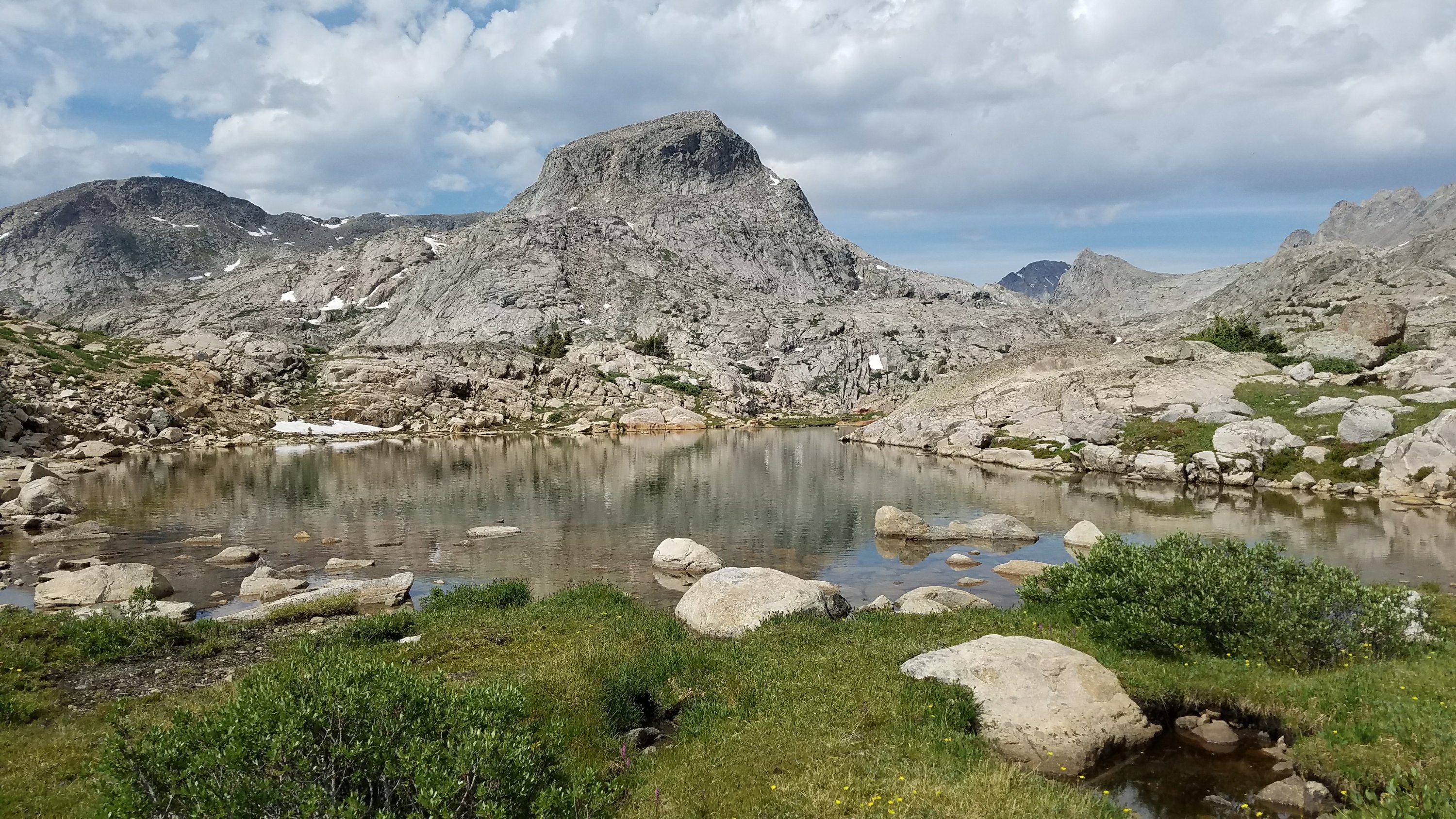 I travel all afternoon in this high alpine splendor. Over rock buttes and passes, past countless lakes that are full to capacity, rock-hopping along the trail where it's frequently flooded. There's hardly any snow left but I can tell there was a lot just recently. Standing water is everywhere. Which means bugs are everywhere. ALL the vampire bugs are here. They usually taper off by August, but not this year.
We camp near one of many lakes along the way, immediately having to take refuge in our tents. It's too bad that such a nice place is spoiled once again by all the bugs. I'm really looking forward to Colorado where I hope I will finally be free of mosquitoes.