Sunday July 30th & Monday August 1st, 2022
East Glacier, MT to Oroville, WA
500 miles, via the train, a bus, and 5 cars
Because the westbound Amtrak Empire Builder train only departs once a day in the evening, we had another day to spend in East Glacier. At first, I'd been eager to hop the train the same day that we got in, but shortly realized this was overly ambitious. We'd have needed to get all our chores done after hiking a half day, plus hitching to town. In addition, I needed several days just to catch up on my blog and other internet-related business. So a whole day in EG was just fine…even if there's not much in the way of amenities.
We'd heard rumors of a breakfast buffet at the giant tourist lodge in town, so Wolverine and I sniffed it out in the morning. The rumors were true, so we tucked in to make up for many lost calories. Normally buffets are a big waste of $$$ for me but not when I have hiker hunger. Over about 2 hours, I managed to put down 4 full plates. My favorites were the hashbrown scramble and bacon. It was a great buffet for $21, filling me up through lunch as well, so a great value, especially considering the cost of things in this remote outpost. I'd spent that much on just one plate the night before.
After, we washed our clothes in a real laundry machine…the first since Bonners Ferry. We'd soaked them in vinegar overnight just to tackle some of the smells. My hand washing attempt in Polebridge had left some of my stuff even smellier, as the clothes hadn't dried fully during the day, then apparently just festered bacteria overnight. The rest of the day was spent messing with gear and doing online tasks.
Speaking of gear, I've been dealing with a lot of mishaps and mistakes on this hike. First to go was my Uberlite Therm-a-rest. This was a brand new replacement for the one that delaminated while hiking the AT. Right off the bat, the replacement started doing the same thing. The baffles in the foot came apart in the first week! The problem progressed one baffle at a time to where I now had a huge bulge at my feet. I began the warranty claim in Bonners Ferry but it had taken several weeks to do all the back and forth with limited service, having to send pictures of the problem and later of the pad with the RA number written all over it with sharpie pen. ..they want proof that it's been marked or destroyed so one doesn't turn around and try to sell it, I guess. Little do they realize that a thru-hiker would have no time for such BS. Then they asked for a 10 day lead time in shipping a new one. With my upcoming logistics, this simply didn't work. Kudos to Cascade Designs for at least replacing the pad…I'm not unhappy with the company, just frustrated with the process and inconvenience.
So instead, I'd been on the phone since Eureka, arranging for another box from my partner, to be sent to Oroville with new shoes, my old women's Xlite Thermarest (purchased in 2014 with over 6k miles on it and still no problems), and a resupply of food. I hated to quit on my shoes after relatively (for me) few miles but I didn't want to take a chance of having shoe problems in the upcoming remote stretch. My first pair actually had more like 700 total miles from some previous use and were starting to get holes. This trail had been tough on them.
Additionally, I'd stupidly left my tent's ground tarp behind at my lunch spot on day 29. I'd taken it out to dry and simply forgot about it in the bushes. I would've had to walk 13 miles round trip to retrieve it and it just wasn't worth it. Luckily it's made out of inexpensive polycro plastic and I had spares at home, so not the biggest loss. In the meantime, I found an old silnylon ground tarp in the hiker box. I washed it and cut it to size to fit my tiny floor. It would do until I could get another box shipped. My next reasonable pick up point would be Concrete WA, over 250 miles away.
My worst problem was what to do about my broken trekking pole. The timing of it couldn't be worse. It was too late to get my other (reliable) poles sent to my next stop in Oroville and the next stop after that was 160 miles away at Ross lake. The resort recommends a 6 week lead-time to reliably send a package plus charges a $20 holding fee per package…so that wasn't happening either. It would have to be Concrete, and I was not about to go 250 miles with just one (unreliable) pole. The Pasayten wilderness was supposed to be a really rough section. I needed at least one pole to pitch my tent and really 2 to hike with, otherwise I get crooked. I was already out of whack from hiking 3 days through Glacier with only 1 pole. It killed me to see all the day hikers marching up to the tunnel with their poles strapped to the backs of their day packs…because you don't look cool if you don't have poles on your pack. They're just for show for most people but for me, they're an absolute necessity.
Even though I was going past an REI in Spokane, I didn't want to buy another set of poles. I'd just purchased a new set when I finished the AT…the ones I'd sent home in Eureka. My hope was to simply borrow one or 2 or find a slightly broken one in a hiker box. I put out a call on the PNT FB group page and within minutes had a source. A lady in Spokane offered to meet me in the morning to let me borrow her poles. I'd ship them back to her once I was able to get my BD poles back in Concrete.
Enough about gear. A nice local guy named Michael came by to use the commercial kitchen at Luna's in the afternoon, making his signature Indian bread tacos. So that covered dinner nicely. We ate the tacos while waiting for the train, which was over 2 hours late (all the more time to sleep on the train as opposed to in the uncomfortable Spokane station). The train ride was uneventful and pretty good, as I managed to get some sleep…not bad for $57. I felt pretty refreshed when we got to the station at 3 am (after we gained an hour again), plus it was great to have 3 companions to help watch our belongings and provide a better sense of security. It was our last time together, as Skunkbear and Sashay were continuing onto Seattle to section hike the Olympics.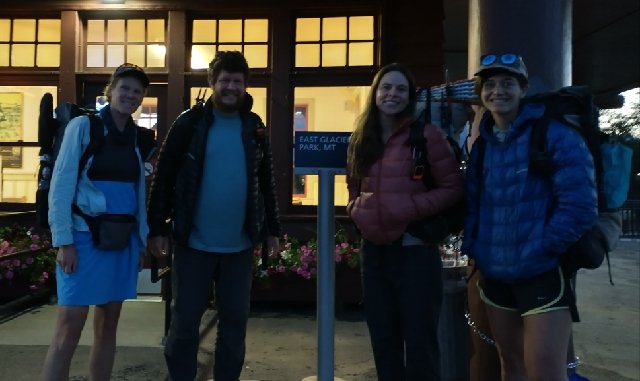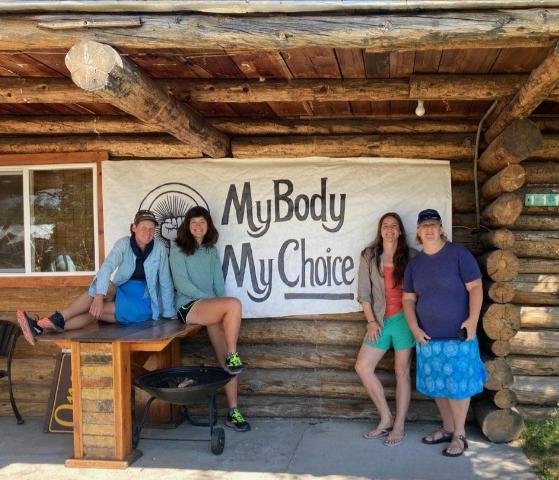 I met up with Alyssa at 06:30 am to get the poles, then went to a cafe with my friends for breakfast. We parted ways after, as Wolverine and I headed for the post office and REI (we both needed fuel). We took a bus to a park and ride, last bus stop north of town, so we'd have a better chance of getting a ride from the suburbs. This worked, as we were shortly picked up by a woman driving home. She dropped us off in the next town, where we got a ride with a man and his 3 kids going to the next town. And so on. We hopscotched our way past Kettle Falls, Republic, Tonasket, and finally to Oroville. It took us only 5 rides, which we picked up within 15 minutes each time.
Best of all, we got dropped off in Republic for lunch, since it was on the way and I was dying for another burrito bowl from Sitka Coffee. Travis remembered me and it was great to see him again. I'd promised I'd drag in other hikers and true to my word, I'd brought a friend…who also got the large burrito bowl and also agreed that it was one of the best things we'd eaten in a long time. This time around, I saved half of it for dinner. Travis thanked us with a free lemon bar…YUM!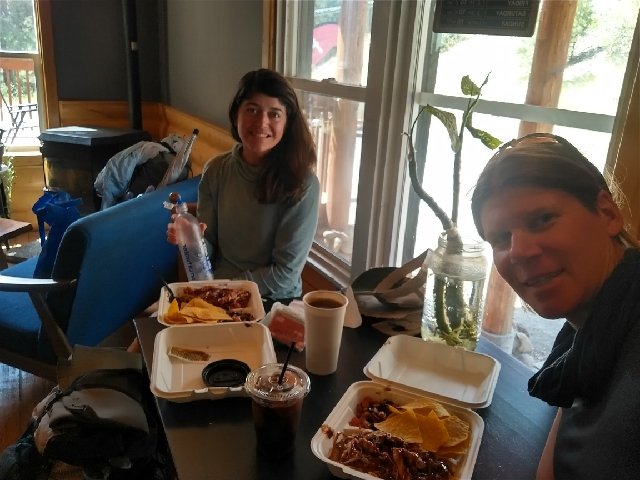 Our 4th ride was from a really nice lady with a really nice truck…she worked for the Chevy dealer in Tonasket. And our final ride was with a Canadian man, driving a van, who raced sailboats. He was returning from a regatta on the Columbia. He said he'd been nearly falling asleep earlier, so it was nice to have some company to wake him up. Glad I could be of some help. We made it all the way to Oroville for $2, the cost of the bus ride. We offered money to several rides but they'd refused. Earlier in Spokane, while I had my thumb out, a man had driven by offering me money…spare change for the bus I guess. I'd refused it and was a little disturbed that I looked that desperate. Spokane has lots of people down on their luck, so I was glad to get away from the city and back to the trail.
We went straight to the Camaray motel and were immediately back in the presence of our kind. Five sets of hikertrash were already hanging out in the small lobby, while the very hiker-friendly proprietor, Alison, lavished us with kindness. She had no rooms left and of course we hadn't made reservations since, given our hitching status, we didn't know if we'd even make it to Oroville in one day. Have no fear, she gave us a room that was reserved for a postman that only uses it during the day, provided we'd be out by 8 am the next day. That worked fine for us, since we planned to slack-pack a long road section early in the morning. She only charged us a fee for the cleaning of the room, so it was actually a really great deal! She also offered us locally grown cherries, apricots, and peaches. Best surprise, one of the hikers was originally from NY, as was Alison, so she'd made NY-style wings with complimentary beers to share with all the hikers. I was able to get my resupply box with all my goodies, too. What a sweetheart Alison is!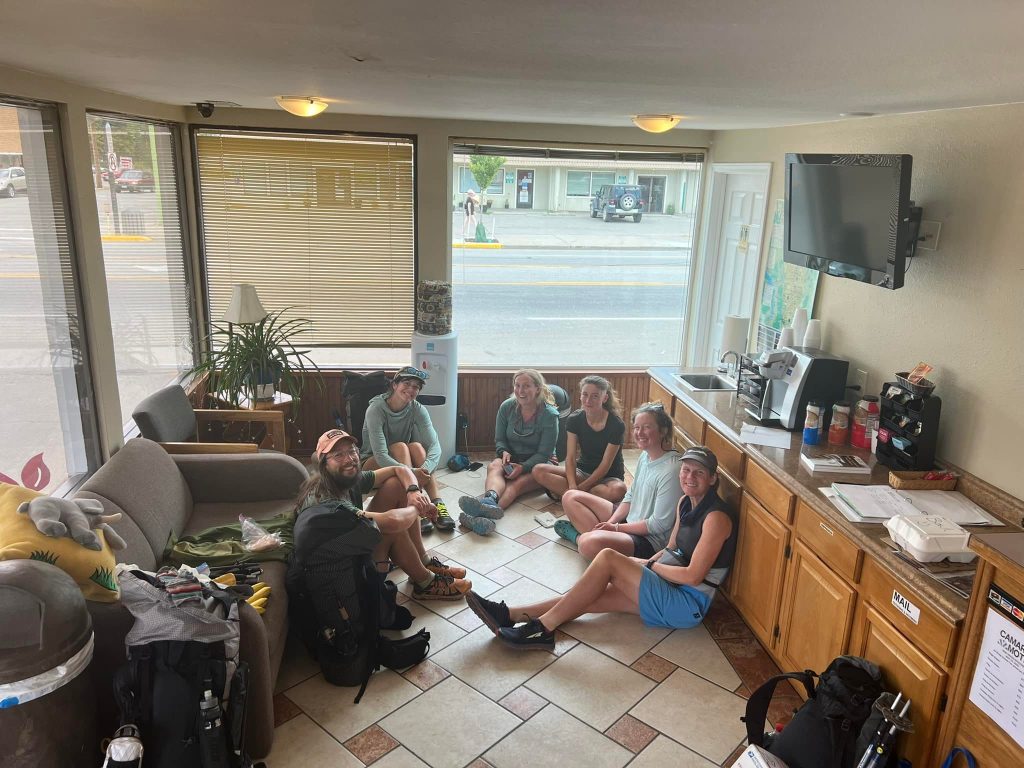 We met Karaoke, Chubby Bunny, Iguana, Carol & Mathias (the Original Germans). Some were hiking out that night and the rest the following day. We hoped we'd catch up to them in the next stretch. Oddly, we hadn't seen even one of them while hiking east. Later, we discovered that we'd passed the German couple on Lions Head ridge…they'd seen us but we'd been down lower when we passed. That's where the mysterious footsteps had come from. We'd also passed Karaoke that day, as she was with a group of 3 guys on the red line in the creek. These had been the first PNT WEBO's that started in GNP (besides the one outlier, Captain Jack, who was still weeks ahead). They'd set out at the end of June, similar to us. We'd all converged at Oroville, which for the 2 of us, was finally our time to join the WEBO's. It was kind of exciting. After a very long day and a somewhat sleepless night, I zonked out early. Flip-Flopping's hard work.