Sunday, August 21st, 2022, 0630-1930
Mt Zion Blue alt to Boulder Camp\Shelter, WEBO mm 1074, Section 9 Olympic Mountains
29 miles, Gain 7860′, Loss 4600′, elevation 5000′
My campsite was dead silent overnight..for the longest time I hadn't heard any bird song in the mornings. It was too quiet. Had the bird all migrated south already? I picked a good spot because my tent was mostly dry when I woke up. Fog filled the air and I could hear dripping noises throughout the forest. My tree did a great job protecting me. I was off somewhat late because it was still so dark. The days had been getting rapidly shorter…it happens quickly this far north. It was barely light by 6 am now. I was glad I'd be done in less than a week
I was greeted with a 2500′ climb, 1200′ of which was done in 1 mile…steep! My calves were burning. I only had a mile or so on the road, then was on sweet sweet trail the rest of the day. Man was it nice trail! The tread was almost bouncy from all the duff, like walking on one of those artificial turf playgrounds. A lot of the day was along singletrack lined by a mat of green moss. It was so beautiful and picturesque, with the sunlight filtering through the big trees. If I was a vampire in the Twilight series, I'd have been sparkling.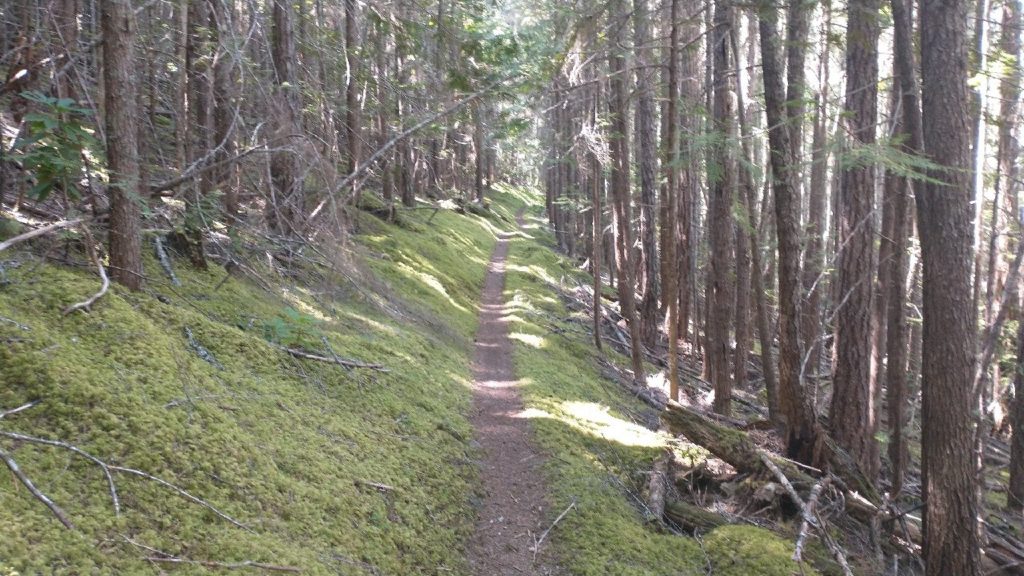 It took me awhile to get to the top of Mt Zion, moving slow. There were some good viewpoints but the valleys still were mostly covered in cloud. It's typical for the moisture from the sound to move into the peninsula at night, causing fog. That's why the area's a temperate rain forest. I missed a turn and ended up walking a fun trail along the spine of the mountain for a quarter mile. It ended in a cliff and I turned around, eventually finding the trail down. I passed 6 women day hikers, one with a little baby…get 'em started early! The Zion trail connected to another at the car park, which was a relief. I'd been hearing gunfire all morning and didn't wish to walk some road past the range.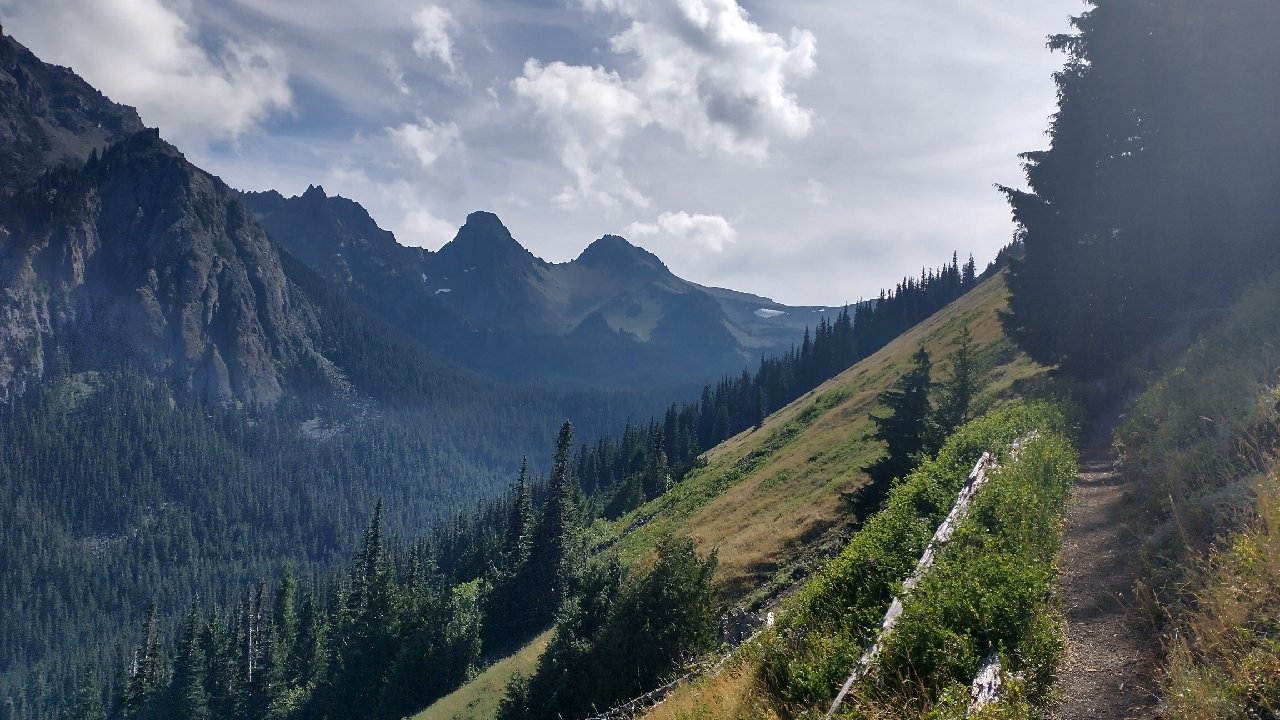 The rest of the day was very peaceful and pleasant. I hop-scotched with Quetzal all day and saw a handful of other day hikers and backpackers, but was surprised by how few people were out on a weekend. I stopped for lunch at a rocky outcrop, while a guy and his son came by on mountain bikes. They're such a common occurrence on the Colorado Trail but I'd only ran into maybe 6 on the entire PNT. We waved hello, happy to be sharing the trail. I came to another road intersection and the Tubal Cain trailhead, where I began a long ascent towards Buckhorn lake and Marmot pass. There were several primitive shelters along the way and some nice views up and down the valley. I ascended into the alpine in the late afternoon, stopping to take in the many views. I had only a few miles to go before reaching my intended campsite just before the park boundary, so I decided to have dinner at one of the beautiful overlooks. There were some great views down the valley towards the sound and Mt Baker, as well as views across to the Olympic peaks. Quetzal came by and helped me take some pictures. It was funny that after staying with so many other PNT hikers in town, we hadn't seen anyone else all day.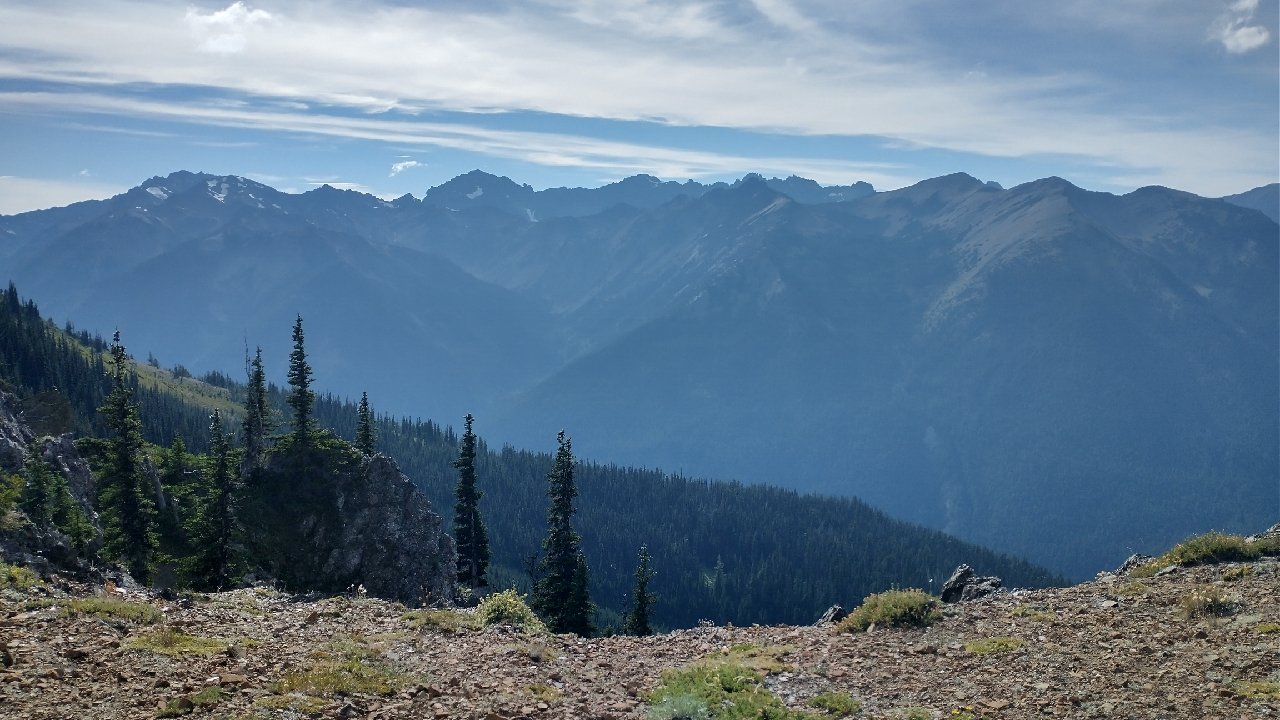 I finished the day with a glide down into camp. No one was at the shelter but I still elected to go a little further to some campsites in the trees. After dark, I heard some singing or chanting, which Quetzal later told me were backpackers arriving late. So I was really glad I went a little further. Plus, my site was out of view, flat, dry and duffy, just what I love. It was so good to be back on trails, despite a pretty big day of elevation gain.