Monday July 25th, 2022, 0620-1830
WAM Lookout to Red Meadow Lake, WEBO mm 74.4, Section 1 Rocky Mountains
31 miles, Gain 6030′, Loss 7500′, elevation 5550′
I managed to get some sleep despite the bugs but had a very hard time waking at 5 am. Wolverine had set her alarm and we were both happy to snooze for a bit longer. The days have already gotten shorter (plus we moved 1 hour ahead in Montana), so it was still dark at 5 am. A very urgent need for the privy got me moving and shortly after I was flying down the trail. I'd been hoping to see sunrise from the lookout but the day was overcast, so no chance.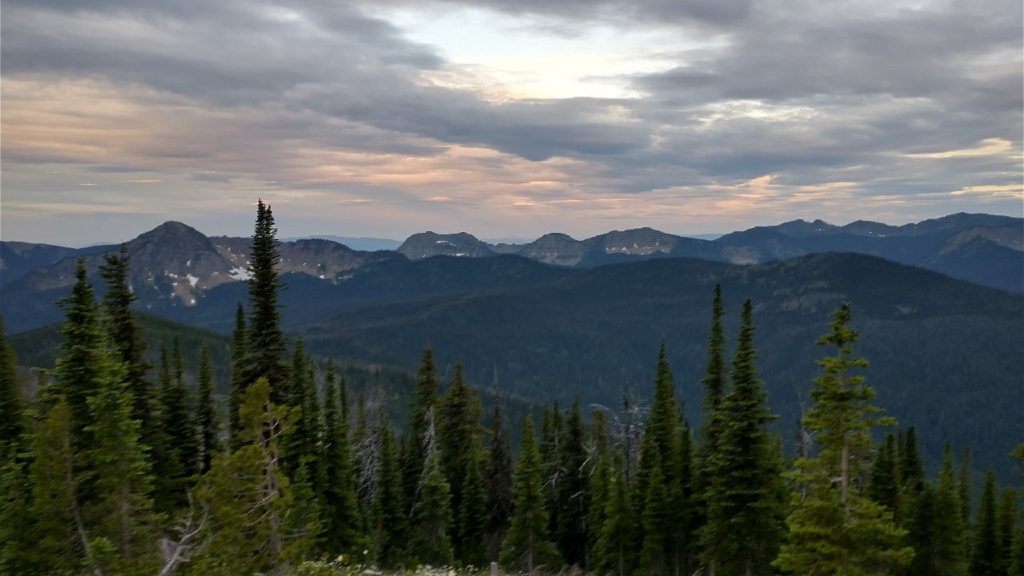 I was on a mission to put in a big day, despite a lot of climbing towards the end. A 14 mile dry stretch along the ridge deemed a long day…or a very heavy water carry. I'll walk big miles to avoid said water carry. Luckily the first 15 miles came very easily. It was a lot of downhill on an old road bed and then a gravel road. Two Forest Service trucks passed by but that was it for action in the morning. I began a gradual climb through a valley leading to Mt Locke. Again it was old road bed and pretty easy, though overgrown and wet in places. For some reason, many of the streams were lacking proper channeling and were running heavily down the trail. Some water bars would go a long way in improving this section.
I came to the last spring around 11 am, taking an early lunch break. I'd gone 15 miles already. I filled both my bottles and chugged a little, hoping this would last me the rest of the day. I knew I'd find snow along the way but probably not water. I'd also been hoping the overcast skies would persist but of course, it had become very sunny and hot. The trail climbed into a burn area and was hard to follow. There were also a fair number of blowdowns. Gaining the ridge, I went the short distance to the top of Mt Locke. It wasn't too special so I didn't linger. Then I met a woman at a saddle who was hiking half the trail this year. I couldn't talk long because the mosquitoes began to swarm. I could tell they were going to be a real problem for the foreseeable future. She was still wearing her head net, mid-day.
I also caught up to the German couple everyone had been telling us about since Bonners Ferry (the couple that gave us a hitch into town had also given them a ride). They were taking a break and looking thirsty…so was I. There were plenty of little snow patches, melting fast in the heat, but all the water seemed to be sinking into the ground rapidly. There was none to collect but then again, I didn't look too hard.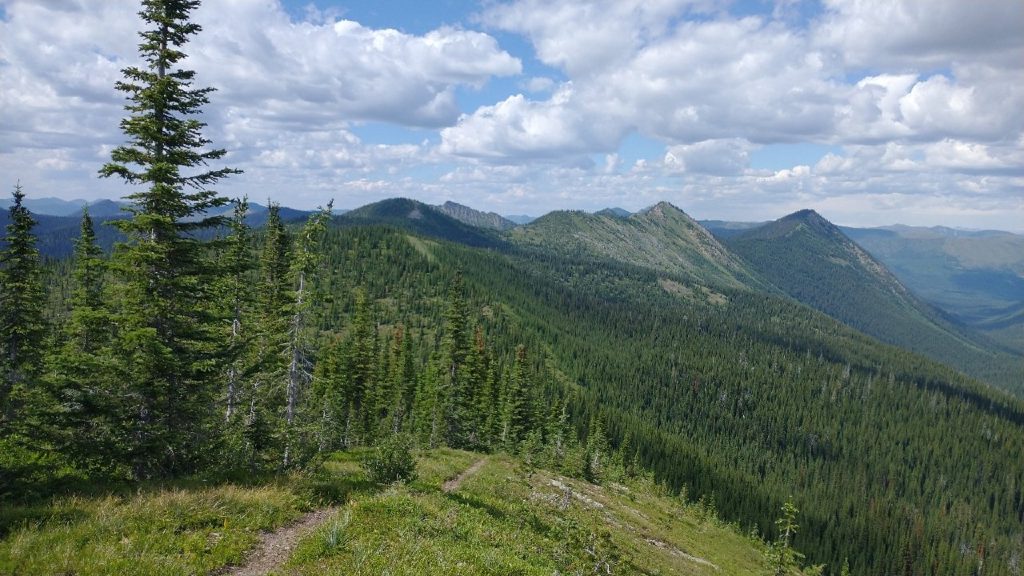 The trail began a series of roller coaster hills. Steep 500′ ups and downs, repeat, repeat. There were about 5 of these in a 4 mile stretch. I took a break on the 4th as it was reported to have cell service. It would be the last I'd have for awhile because there was none in the next stop, Polebridge. I called home to request some more items for a box I was having sent to Oroville. It's been stressful coordinating these things. With the pace of this hike and my inability to get much done in towns, a lot has taken a backseat…including this blog! I'm many days behind. Oh well.
Wolverine caught up and we did one last down and up together and finally we were heading all downhill for the day. We reached a road and then finally some water. We filtered as we walked because the bugs were so bad. They had been bad everywhere all day. I'd had horse flies, black flies, and mosquitoes all biting, then I'd gotten stung by a bee for only the second time ever…it could have also been just a very painful bite, I'm not sure. The bugs are really bad as a whole but nothing compares to the mossies when they get going in the evenings. Horrific. I had to put my head net on as we got to the road.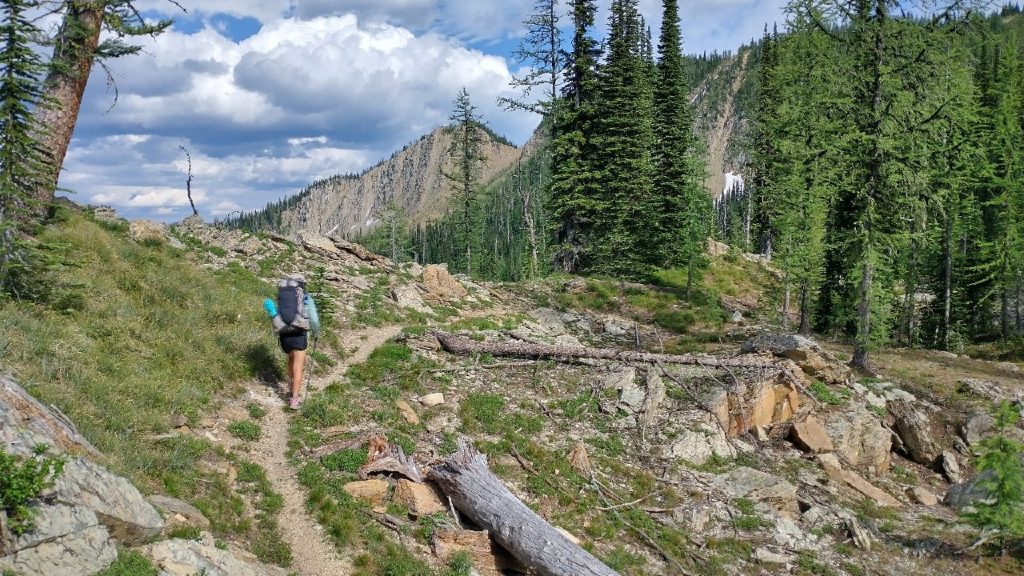 As there was no water at the road end, where we'd planning to camp, we kept walking. We decided to walk about half a mile off route to go to a campground at a lake. It was reported to be very buggy but had all the fixings; picnic tables, a privy, and bear boxes. It was a good call. The lake was beautiful, surrounded by mountains and with a nice breeze blowing into our faces, keeping the bugs at bay. I went for a swim right off the bat, finding the water relatively warm. It felt so good to wash all the sweat and grime from the day away. There was only one guy fishing nearby and a bikepacking couple pitched near the lake. I was surprised that such a beautiful campground was so empty in the middle of the summer.
We had dinner without having to fight bugs. I had a red curry and vermicelli concoction that I'd carried all the way from the Fiest creek resort hiker box. It was delicious! Just as we were finishing, it started to rain. There were no clouds directly overhead so it was a little weird and unexpected. I quickly retreated to my tent and settled in for the night. It rained hard just as it was getting dark. I'd be packing a very wet tent in the morning. But it was the first time it had rained in over 2 weeks. Not bad.