July 6th, 2018
Harts Pass mm 2622 to mm 2633
Distance: 11 m
I was awake early despite a somewhat late night, but I slept well and felt ready to go. Jon arrived around 8 am and we were off for the long drive to Hart's Pass and the trailhead. It went by quickly, with fantastic views of the mountains along the way. We saw a few backpackers on HWY 20 but they were hitching the other way.
We stopped in the tiny town of Mazama to check out the well provisioned general store and outfitter. There I saw a thru-hiker looking like he needed a ride up to the pass, so we offered one. Ratchet is on his 2nd PCT thru-hike and had already tried to get up to tag the border earlier in the week but was turned around by the snow. He came all the way back to town to get an ice axe. And here I was without an axe or microspikes, but I'd heard from many on the Facebook page that they weren't needed anymore.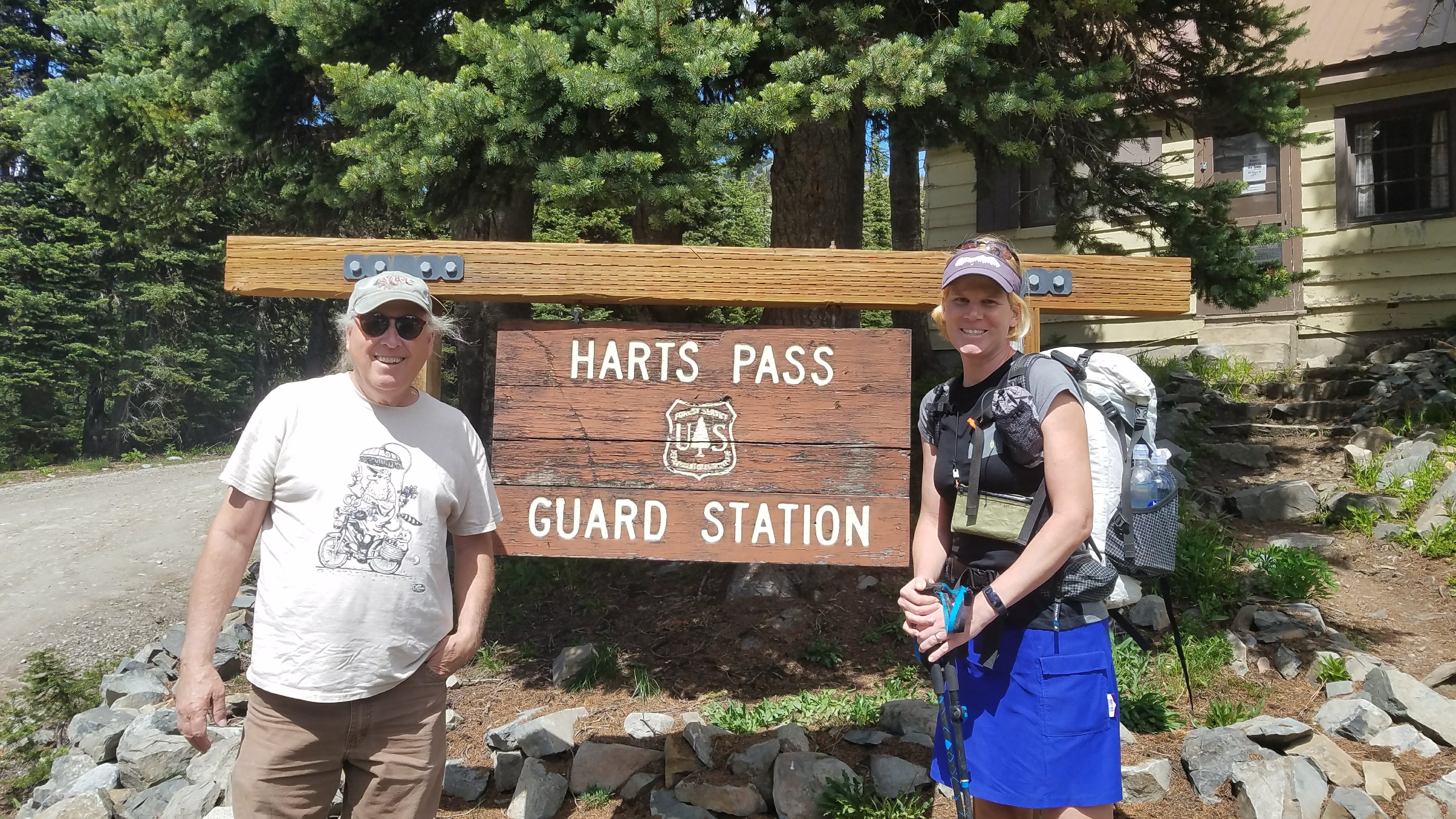 At Harts Pass, I had to say goodby to my gracious host Jon, but then I met a bunch more thru-hikers. The first questions that most people ask about my thru-hiking is: "do you do this by yourself?" The answer is yes and no. Within minutes on a trail like the PCT, you will be surrounded by other people. Around 6000 NOBO (northbound) hikers started the trail from the Mexican Border this year but there were only about 300 SOBOs. And don't forget all the people doing weekend and section hikes. That's a ton of hiking companions…too many in the case of the NOBOs, which is a big reason why I am going south. I generally like to hike solo but there are plenty of people to make friends with along the way and I was already off to a great start.
SOBOs on the PCT have to deal with some initial challenges. The US does not allow entry from Canada, so in order to start from the border, we have to hike 30 miles north from the nearest road at Hart's Pass. This extra mileage may seem like a turn-off but it was a real pleasure to cover this terrain twice, as it's some of the most beautiful trail I have ever experienced. Some people just go south from Hart's Pass, after all, the border is somewhat of an arbitrary point. But I'm glad I went the extra distance, it was definitely worth it. Plus, I got to be a NOBO for a short time (I have gone SOBO on my other thru-hikes, the Te Araroa and Colorado Trail, so now I feel like it's just my thing).
I stashed a return food cache at the ranger station and then a had a chat with the locals. A trail angel named Broken Toe was there with a hiker box full of food but I had plenty and didn't take anything. I set off at 1530, a bit later than I would have liked but ready to get some miles logged. The weather was perfect and the surroundings epic. It was so good to be back in the mountains.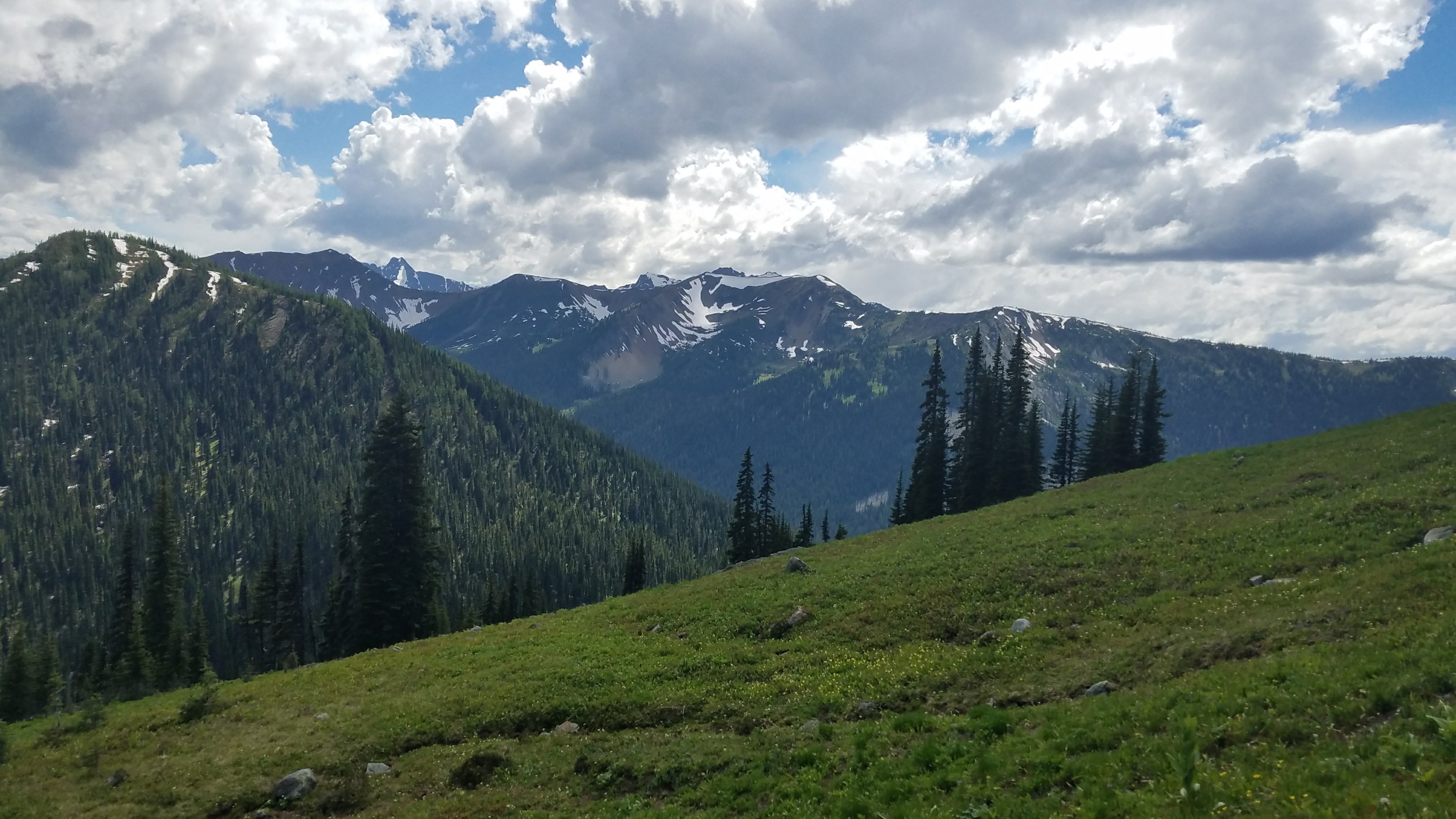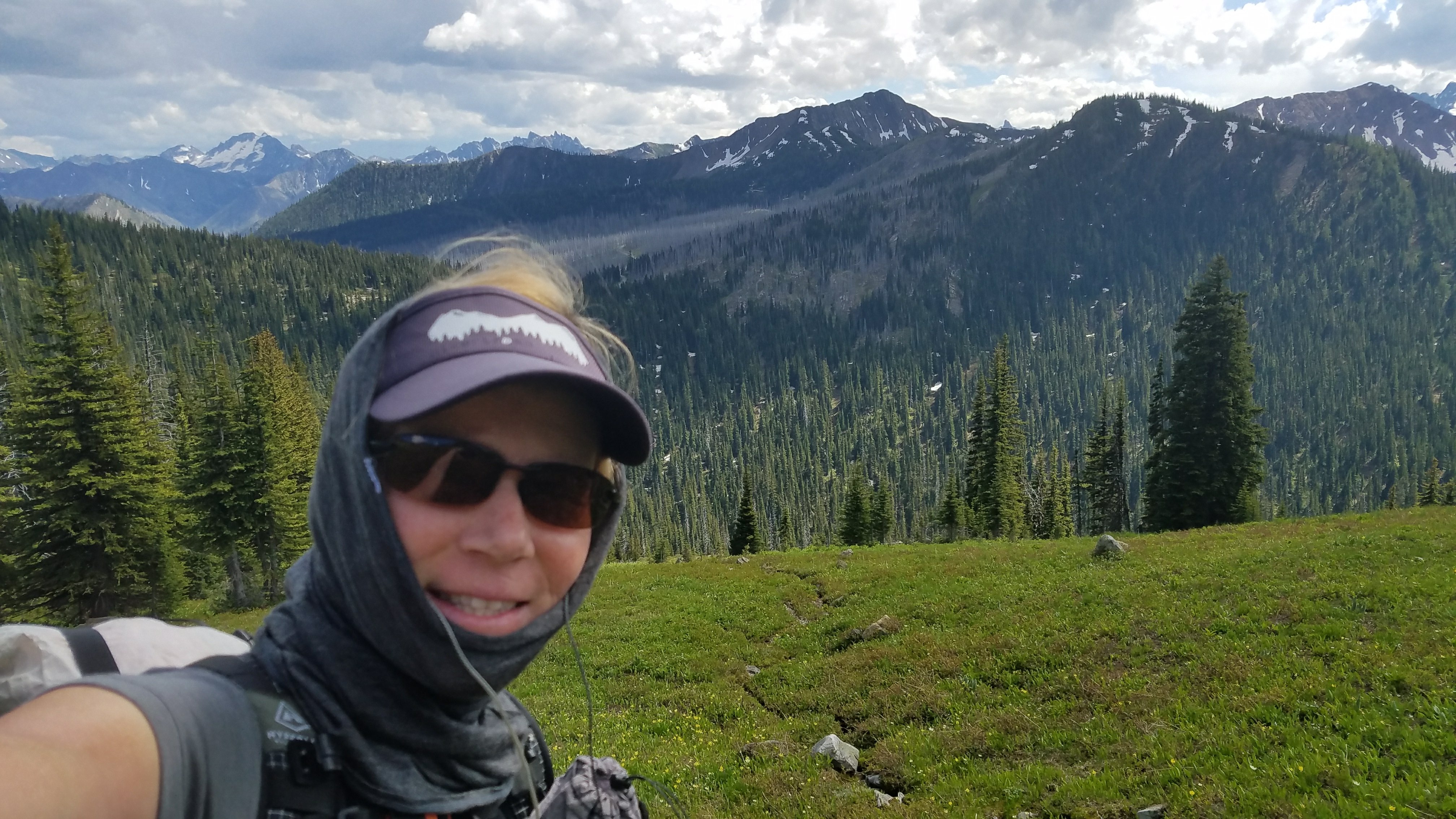 As I walked, no fewer that 15 hikers passed me going SOBO. It felt almost crowded on the trail. I wondered if I would ever see any of them again.
Around 1830, I heard some thunder and it got dark real fast. Then it just started pouring and out came my umbrella. Well, that didn't take long! My shoes were wet shortly after and I started feeling a little grumpy about not being able to make it even half a day with dry feet. Oh well, at least I'm used to it. Worse yet, it was looking like I was going to have to pitch my tent in the rain.
I walked several miles in the rain before finally finding a stream and then a campsite. There was one couple there but they were already shuttered up inside their tent. I never even got to talk to them. I began setting up and at least the rain subsided a bit.
I was making a ton of rookie mistakes while trying to get settled. I was rusty after 3 months off and the cold damp conditions didn't help. As I was trying to filter my water, I couldn't get any to pass through. The filter had been dry for several months and it takes time for the micro tubules to saturate and function properly. I was squeezing my water bag hard to force the water through when it just exploded…a giant hole opened up at the top seam. Funny that I had just completed a review singing praises for its durability and it failed on day 1. Classic. Technically, that water bag already had a whole thru-hike under its belt and I should have known better that it wouldn't survive another. It sucks real hard to loose such a key piece of gear but it wasn't a show stopper.
More importantly, my filter appeared to be toast. I was able to squeeze enough water through for that night and hoped I could borrow someone else's filter over the next few days. It looked as though I would need to make an unplanned stop as I came back by Mazama to purchase a new filter. Another lesson learned: I needed to test every bit of gear before starting out again.
At least I settled into a nice dry tent and slept well. It was a mixed bag of a beginning but it can't always be perfect.