Wed, Sept 23, 2020 , 0645-1800
Journey's End Trailhead to Hazen's Notch Camp, SOBO LT mile 17
18.6 miles
7100 gain, 6400 loss
We had to be out the door and on our way to the Canadian border by 0530 am. This wasn't just for our benefit, our hosts had very busy and productive lives and needed to attend a zoom work meeting at 0830 am. Luckily the 1.5 hr drive to the border went well and we were ready to start at the trailhead before 7 am. It was still a bit dark, this being my earliest first day start since 2017 on the Colorado Trail.
I didn't get a good night's sleep the previous 2 nights and felt a bit tired setting off. This quickly passed as my rhythm and familiarity with thru-hiking set in. I was elated, as always, to be starting a long trail…THE Long Trail. While the enormity and magic of my first day on Te Araroa would never be matched by another, I was still tremendously happy.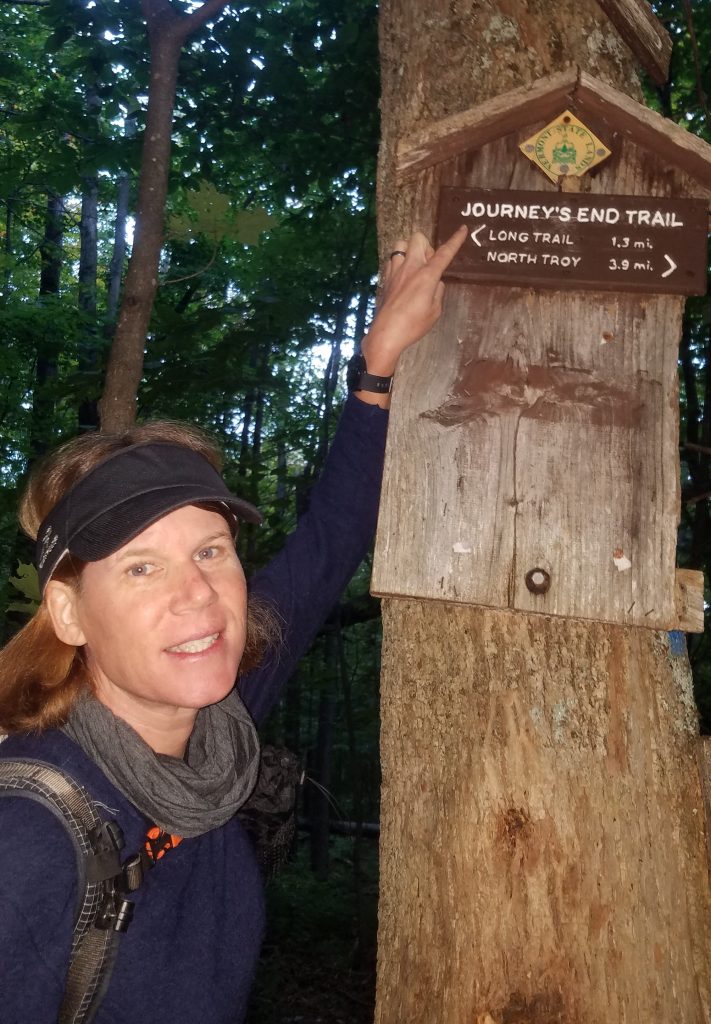 The day was bright and clear and the temperature already quite comfortable. The trail went up but not punishingly so. Quickly the first shelter appeared, one of over 60 on the LT. Two tents sat outside and a sleepy face peered outward from the shelter. We greeted Aspen and shortly discovered that he'd been hiking the AZT exactly 1 prior. I reasoned that I probably ran into him early in the trip, but wasn't sure. Day one, mile one, and I'd already met someone with a trail in common, go figure.
Technically I wasn't even on the LT yet but rather the 1.6 mile approach trail. We went uphill some more and were suddenly at the border. The 10 foot swath of cleared trees on either side, mandated by an international treaty, made it quite clear. I took my obligatory starter photo with the monument, plus pictures of all the signs around the area. With the typical northbound bias, the place was called Journey's End. For SOBOS, always going against the grain, it was the start.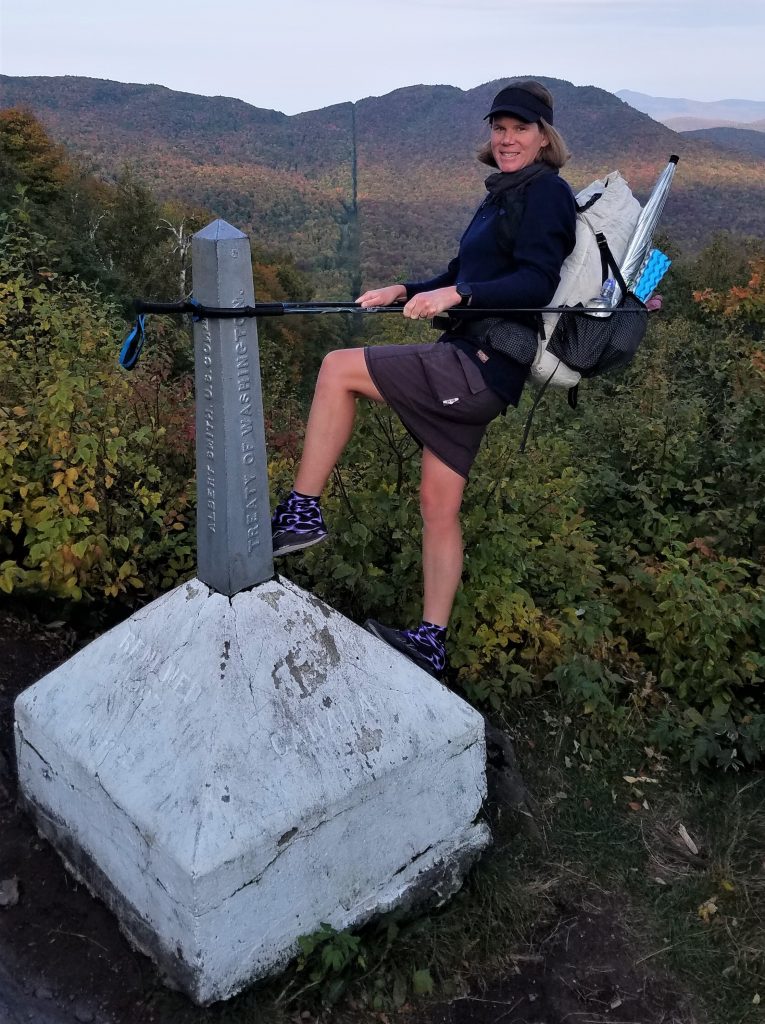 This is perhaps my favorite terminus picture of all time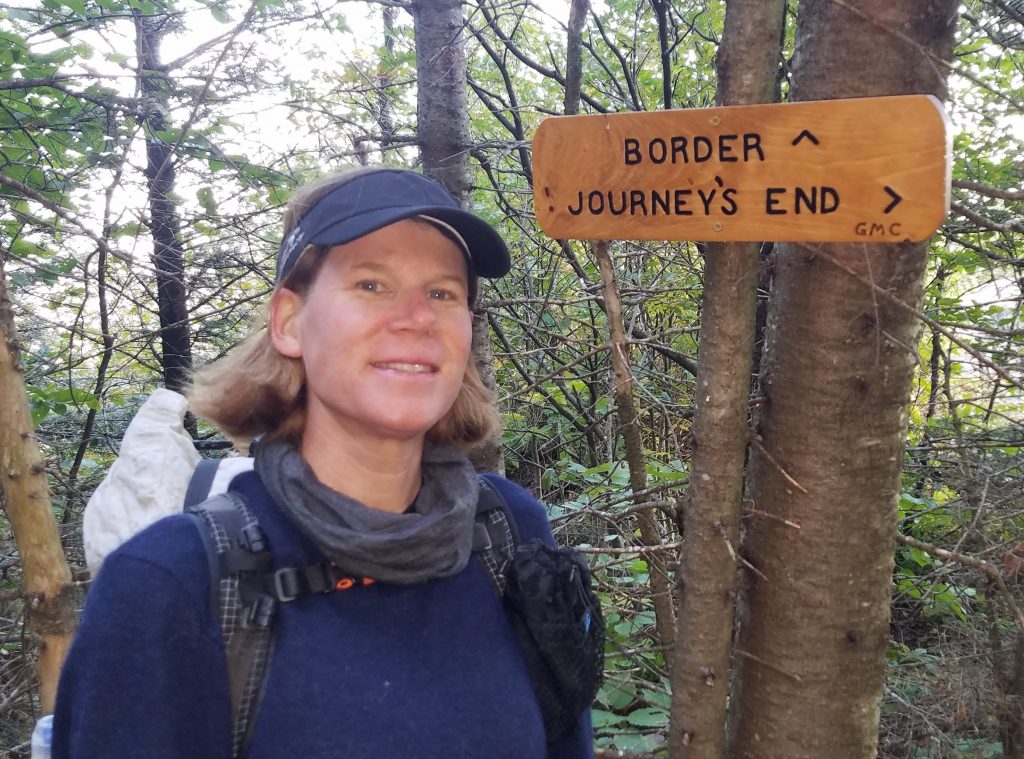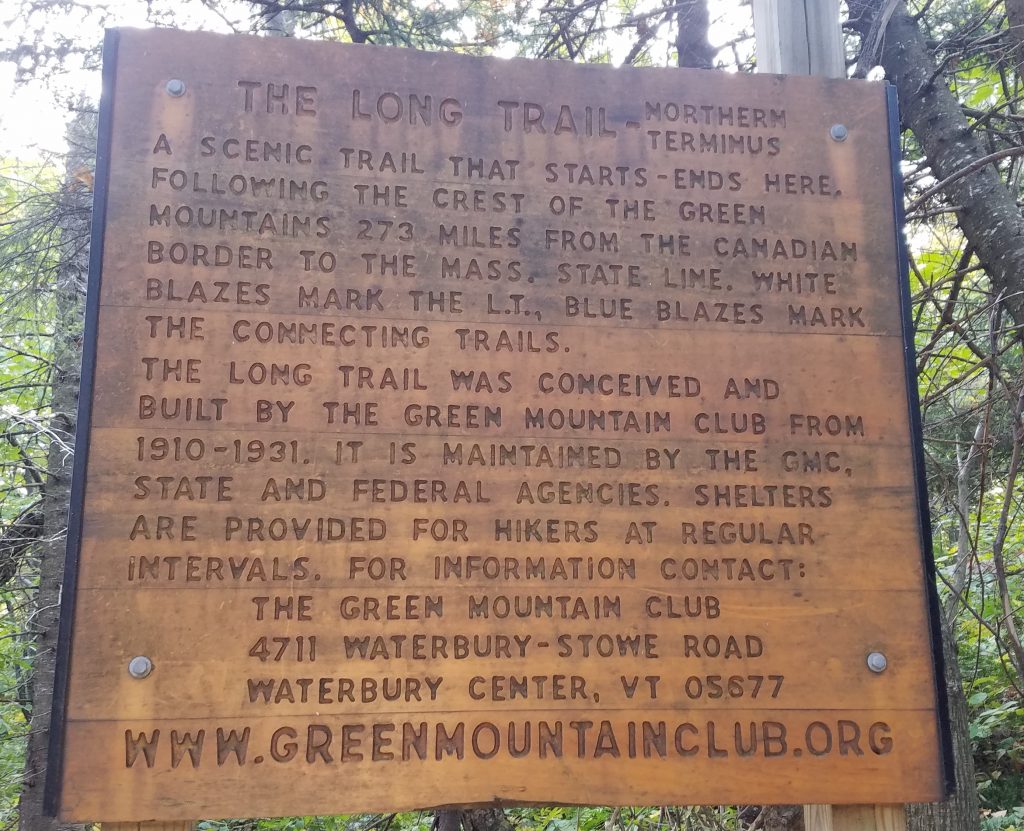 The trail began by rolling along a ridge, gradually climbing with many shorter, steeper ups and downs mixed in. I was on a high that lasted all morning. It was so good to be on a trail again. We came to a road crossing, the first of many every day. This was quite a change from the western trails that I was used to, which were generally a lot more remote and with fewer road crossings. We met a couple of guys on their way to finishing, getting resupplies from their parked car. They offered us food and informed us about donuts left ahead on the trail, opposite side of the road. We passed on the resupply offer, having so much already, but couldn't resist a pumpkin donut. This was the first random trail magic, only a few miles in.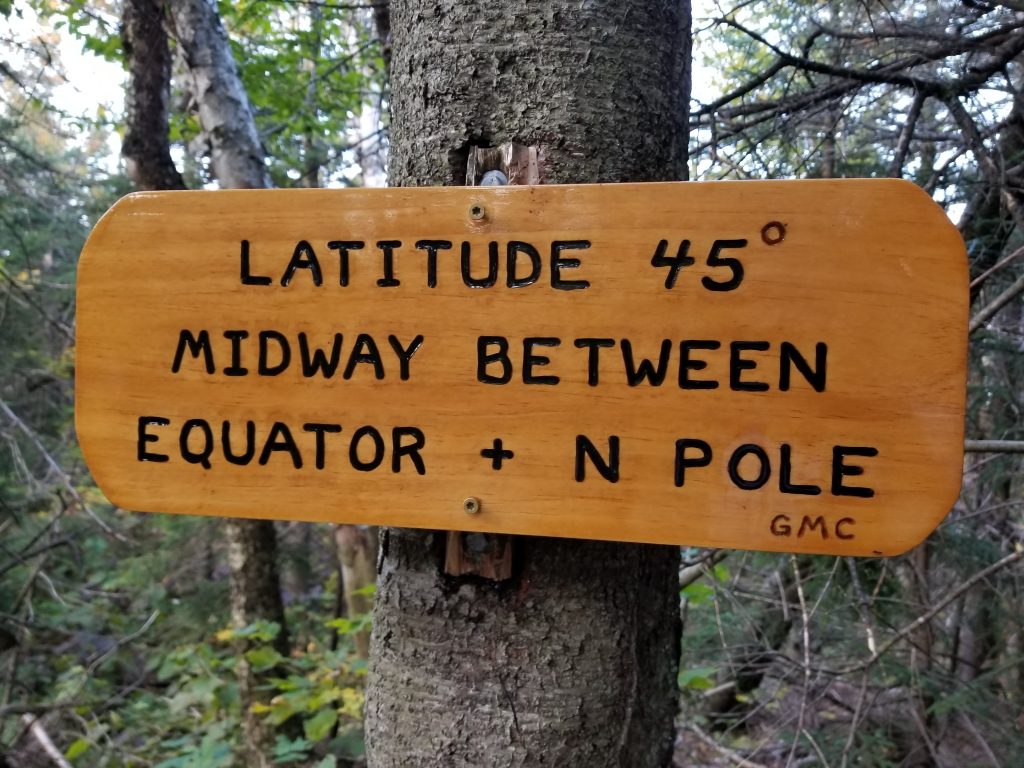 The trail made a pretty big climb to the double hump of Doll Peak, elevation 3,373′. What started as a really clear day suddenly turned pretty cloudy, so there wasn't much for views. I had lunch at another shelter named after Laura Woodward, 10 miles into the day. Despite feeling pretty good, the miles were coming rather slowly.
Next was a big climb to Jay Peak, 3,835′ high and one of the tallest in the state. There was a ski area building at the top, which was good since it was the only thing I could see. Otherwise it looked like the inside a ping pong ball and was pretty chilly. I passed over an open rocky ridgeline, which was probably pretty neat on a clear day. Supposedly one could see all the way to Mt Katahdin in Maine from here.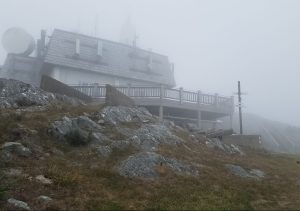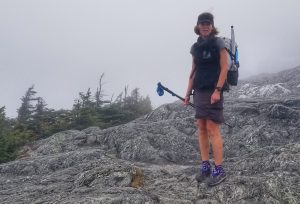 What happened to the beautiful sunny day I started out in?
Down we went to the next gap, catching glimpses of 3 more hilltops to the south that we had to clear before the end of the day.  None were near as tall as the last but together involved just as much climbing, maybe more. Several northbounders reported a lack of water at our planned campsite, so we grabbed some extra water to carry the last 5 miles. Oh how I loathed doing this, especially since my shoulders and back had started to hurt. The day was starting to become really hard.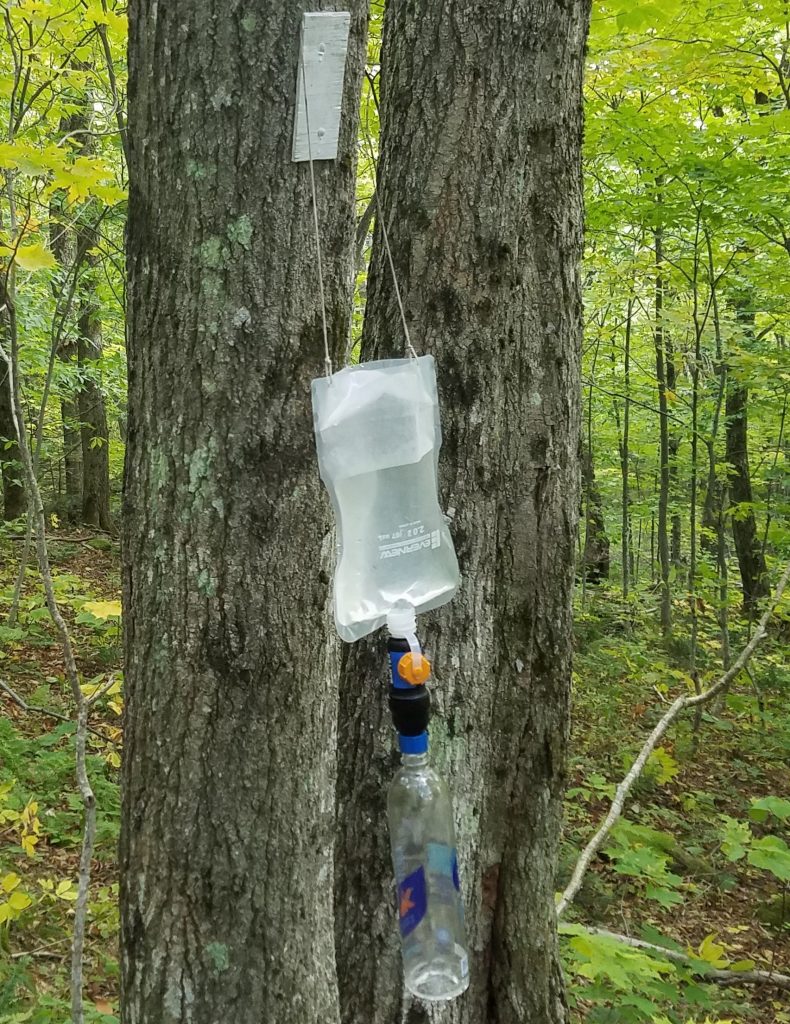 The Long Trail is marked by white blazes, just like the AT. These can also function as water filter hangers.
Going over Gilpin Mountain, Domey's Dome, and finally Buchanan Mountain, I was constantly checking my GPS to see the distance barely change. The climbs were so steep and rocky, I finally began to understand why people said this trail was so hard. I figured all the summer's 14ers would have prepared me better for this. My cardio was solid and my feet felt good, but man did my back hurt. Given the fall conditions and the need for extra thru-hiking essentials, I was carrying more than I did over the summer…plus the extra water.
Creative naming protocol…brings to mind the name Boaty McBoatface
The last 2 miles went so slowly, I was dying for the turn-off to camp. Upon arrival, I learned that the comments in Guthooks were BS. There was good water down the hill from the shelter, meaning I just humped several pounds of water needlessly. A SOBO can't ever trust a NOBO.
Thankfully my camp set-up went smoothly, like second nature at this point. I couldn't wait to sleep but was so sore already, I had to stretch first. Another hiker named Bottles made a small campfire nearby, so I joined him for a bit. He told me he was a backpack instructor and I was like, wait, you can get paid to do this stuff?
His buddy rolled into camp after dark, seeming all out of sorts and wasted from the tough trail. I ran some figures on the app and was surprised to see that my daily tally was the equivalent gain/loss of my 27 mile RT Barr trail hike to Pikes Peaks. This in just 18 miles. No wonder I was feeling so beaten up. Perhaps I'd need to lessen my expectations for mileage on this trail.