September 13th, 2018
Middle Velma Lake mm 1110 to HWY 50 mm 1091, then hitch to South Lake Tahoe
Distance: 19 miles, plus another 8 or so walking and riding around town
0600 – way too late
It didn't get down to freezing and the wind did subside quite a bit overnight. But it was still cold, with the occasional gust of biting air. I had to put my puffy on by midnight. I am really a wimp when it comes to the cold and I'm afraid I'm in for a rough September.
I was on the trail early, just in time to catch some alpenglow glow at Lake Fontanillis. It was a gorgeous morning and all the wind, rock and sky made it feel very primal. There were even whitecaps on the lake, so I was glad I didn't camp near there.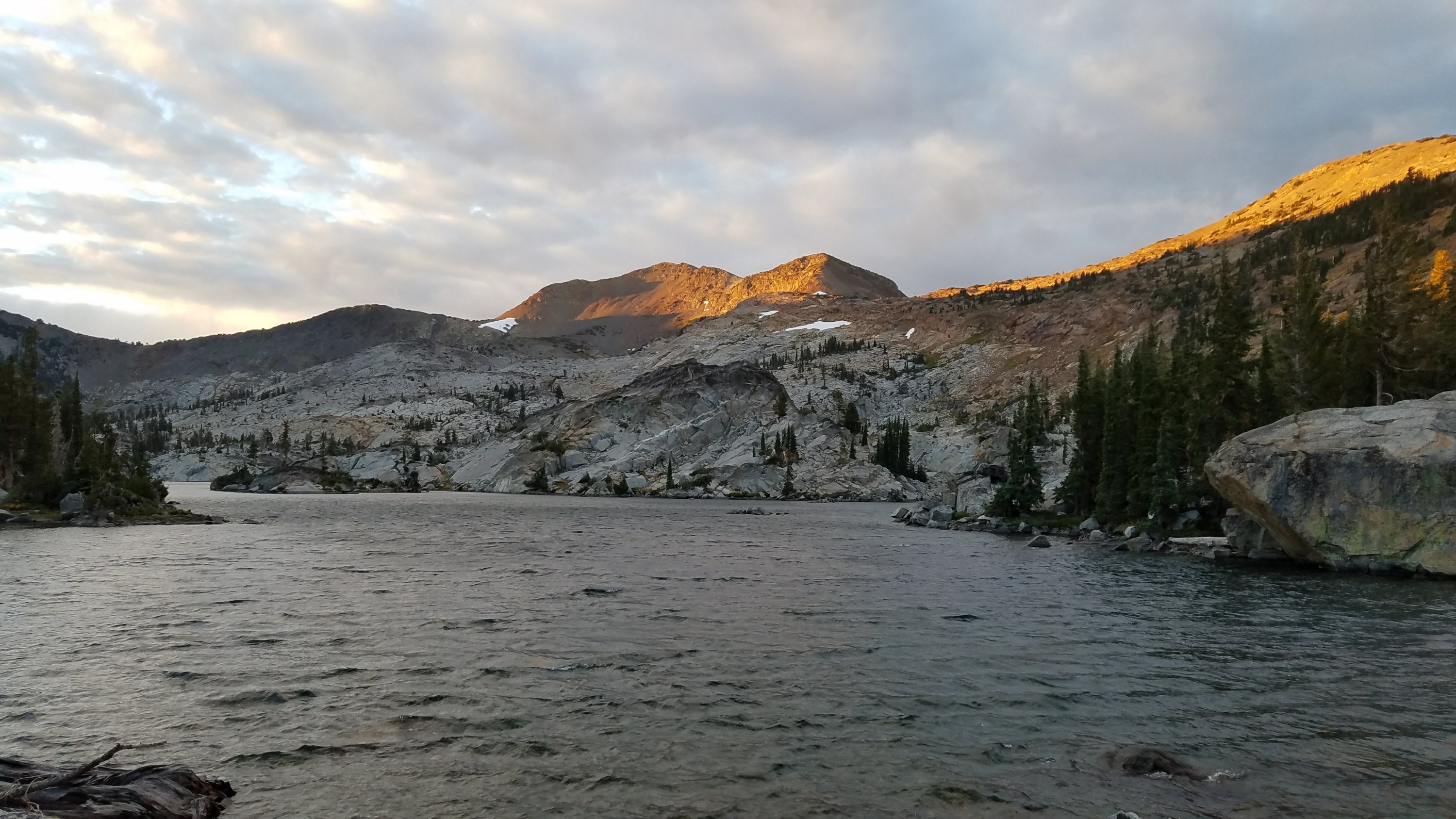 The climb up to Dicks Pass, 9377′, wasn't bad and I had it all to myself. Coming over the other side, the wind was fierce. It would have blown me over if I hadn't rescued with my poles. I passed a large group going up the pass and wondered how they would fare in the wind, given the sizable backpacks they all had.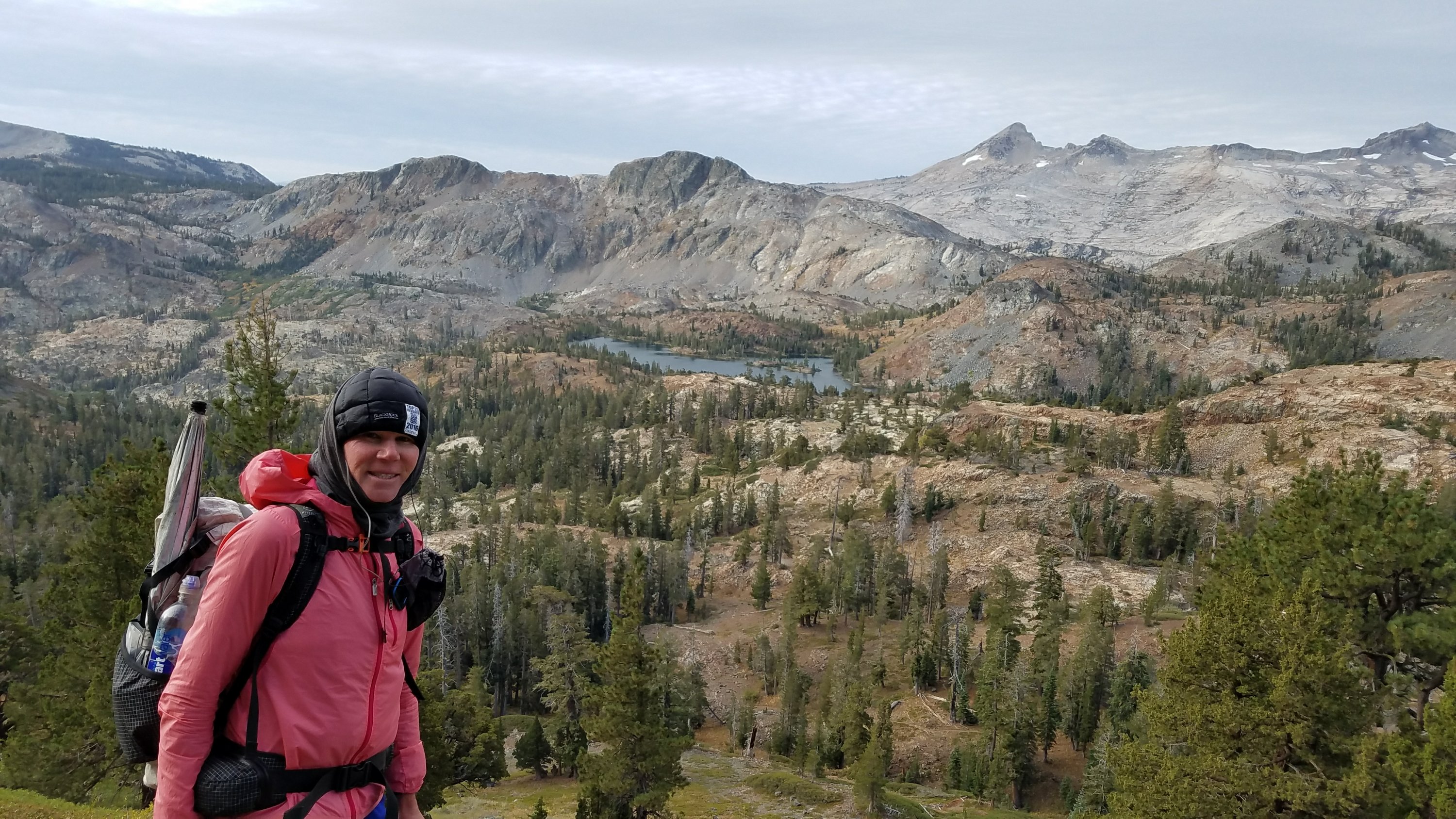 The scenery got even better going down, as I passed by numerous lakes. Lake Aloha was the best, stretching out along the base of Pyramid Peak and Mt Prince. The pictures don't do it justice but it's one of the most beautiful and unique mountain vistas that I have ever seen. The whole area is just one giant slab of granite. I was fascinated by all the little rock islands jutting from the lakes. It would be so much fun to explore them by kayak.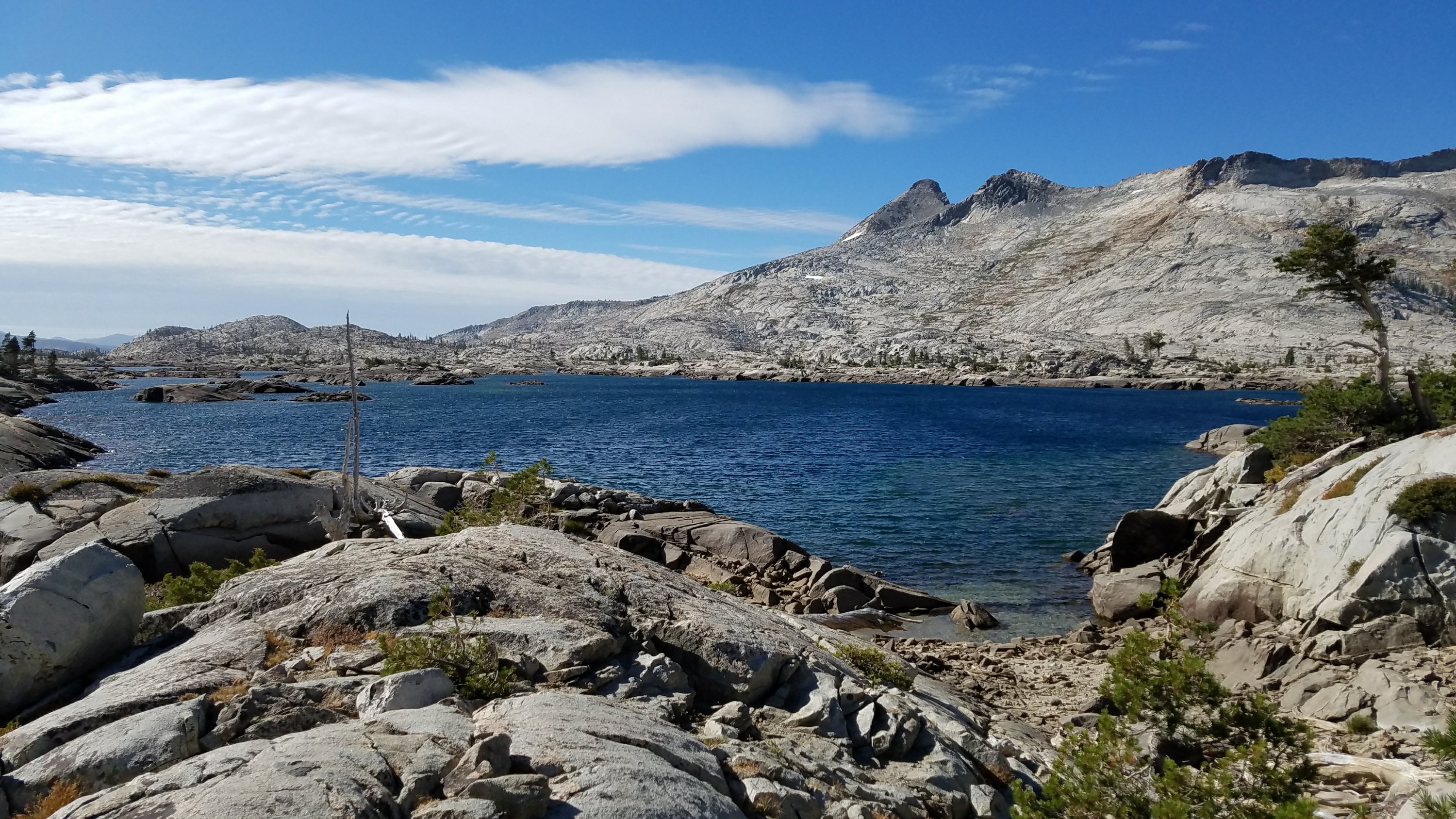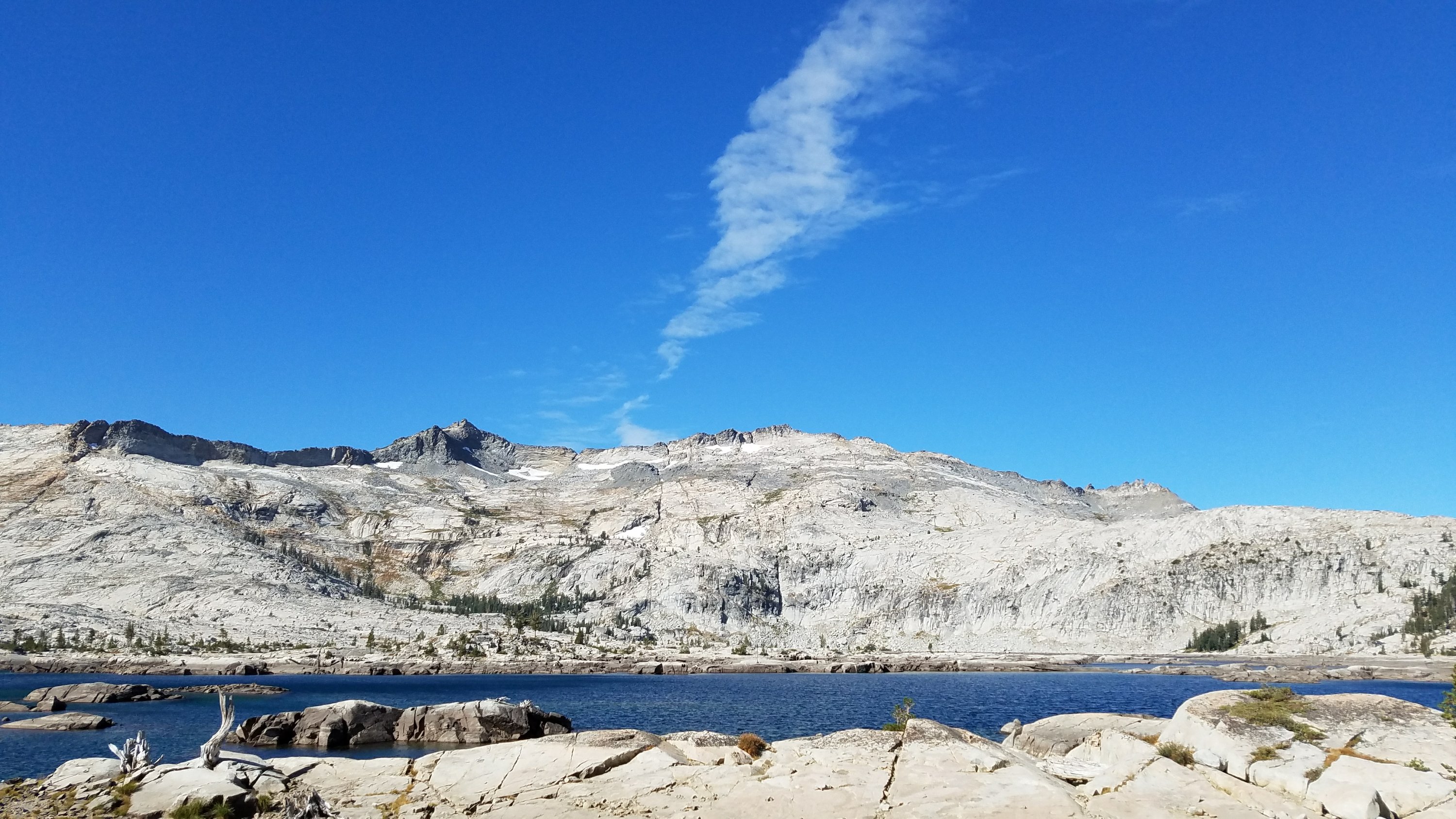 Desolation wilderness is one of the most visited wilderness areas in the US, but for good reason. The lakes and rocks are uniquely stunning and it is pretty easily accessible. The San Francisco Bay area sits just about 4 hours away.
The last lake of the day was Echo Lake, which had houses built along its shores. The trail passed right behind some of them and was clearly a popular day hike. The parking lot at the marina was full. A short connector trail led down to HWY 50 (the same highway that runs past where my parents live and is the halfway divider of the Colorado Trail).
I got a ride to Tahoe pretty quickly and was delivered straight to the PO. Unfortunately, it was the wrong PO for picking up packages; the other one was about 3 miles away. I took advantage of a nearby Subway to inhale a foot-long sandwich and then waited at the bus station for a bus that was very late, so late that they just moved it ahead to the next hour and it had to sit some more at the station.
Once going, I learned why the bus was so late…there was a traffic jam on 50 due to road construction. All the while, I knew I could have walked to the PO faster. But if you have already walked 20 miles for the day (and thousands before that), you'd be reluctant to walk more, too. At least I got all my packages, 4 in total. There was a box of food from my parents, my extra gear from home, an amazon order, and my bounce box. I stuffed as much as I could in my pack and carried the rest.
I had contacted a trail angel that offered to let me stay at her house. It was a mile away from the PO, so I hoofed it. She wasn't home yet so I dumped everything on the porch and set out for the main part of town. This was 3 miles distant, but without my pack, I didn't mind walking as much. I was able to finally exchange my darn tough socks at the local outfitter and then went for my free personal pizza (with proof of a PCT permit) at Base Camp Pizza. I also made sure to buy a few beers.
It was already 9 pm by then and I had to get back to the house where I was staying and meet my hosts. I didn't want to walk so I signed up to use one of the Lime bikes that were strewn all over the town. It was a great option and I got back to the house easily enough, even in the dark. I finally met Darcy and Doug, and their daughter Christine and son Chris. The was also a 1 yro grandchild, Avi, who was adorable. They made a place for me in the living room, which was really comfortable. It was so awesome just to suddenly be a part of their home. I took a nice hot shower and went to bed. It had been a long day.