December 9th
Apple Dam Campsite (km174)-Puketi rec area (km199)
Mileage: 15.5mi/25km plus 2.5 miles walking around the Kauri Sanctuary.
It was so quiet overnight, save for the occasional Morepork hooting. I woke up at one point thinking I was in a void. Down here, out of the way of the rest of the world, there are no jets flying overhead and no light pollution. But as soon as the sun begins to peak up at 5 am, all the birds come alive and it is impossible to sleep in. I wanted to get up early anyways to go visit the kauri sanctuary a few kilometers down the road. These are some of the biggest and oldest trees in the world and only found in NZ. They are so magnificent and revered that they even have individual names. Logging in the past 2 centuries took its toll on them but now they are all protected. Walking alone among them made me feel very humble. They tower hundreds of feet over the rest of the trees. One path led to a stump that must have been 20-30 feet wide. What folly to have ever cut down something so grand. At least now these Ents, I mean, kauri can live in peace.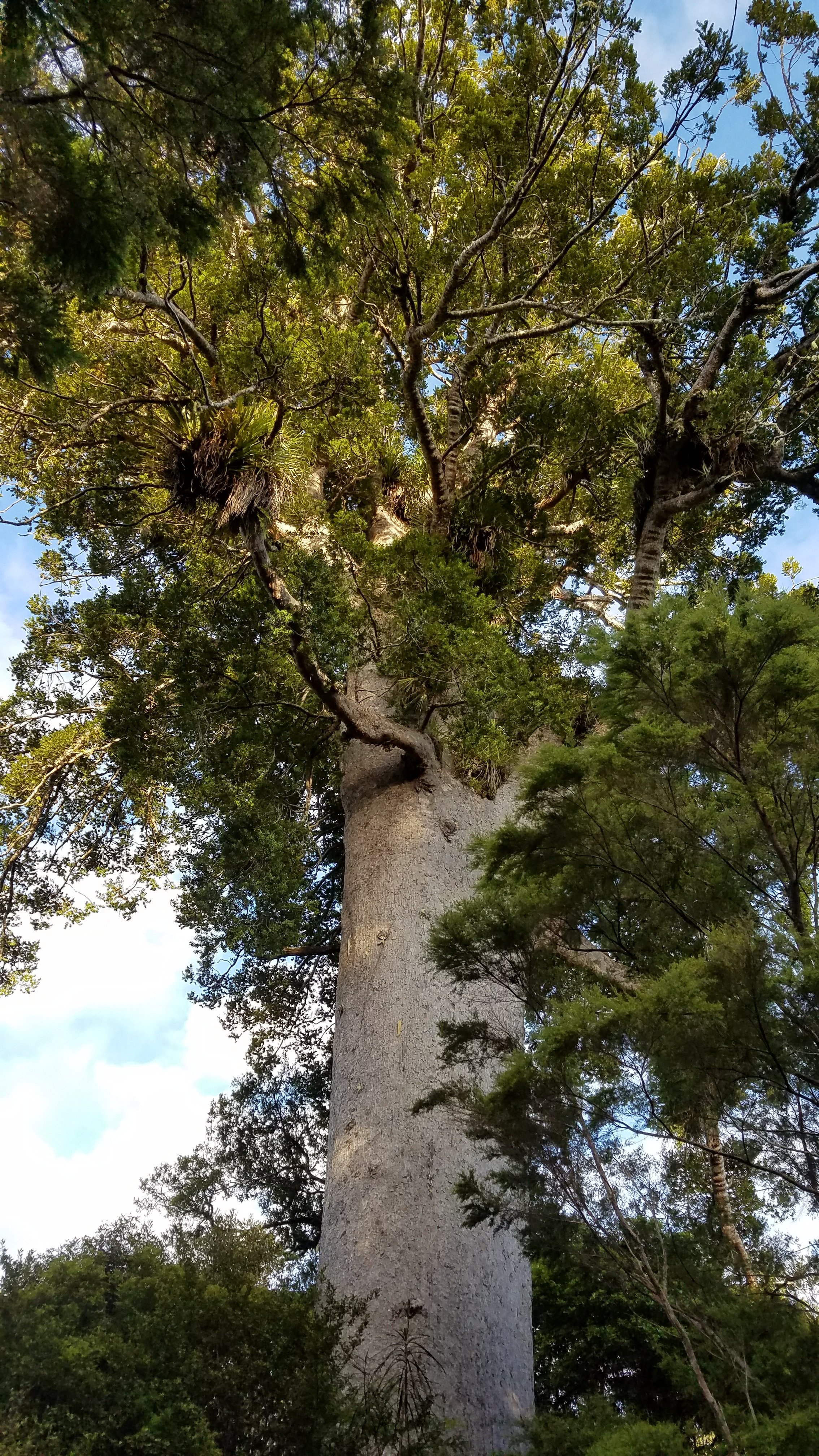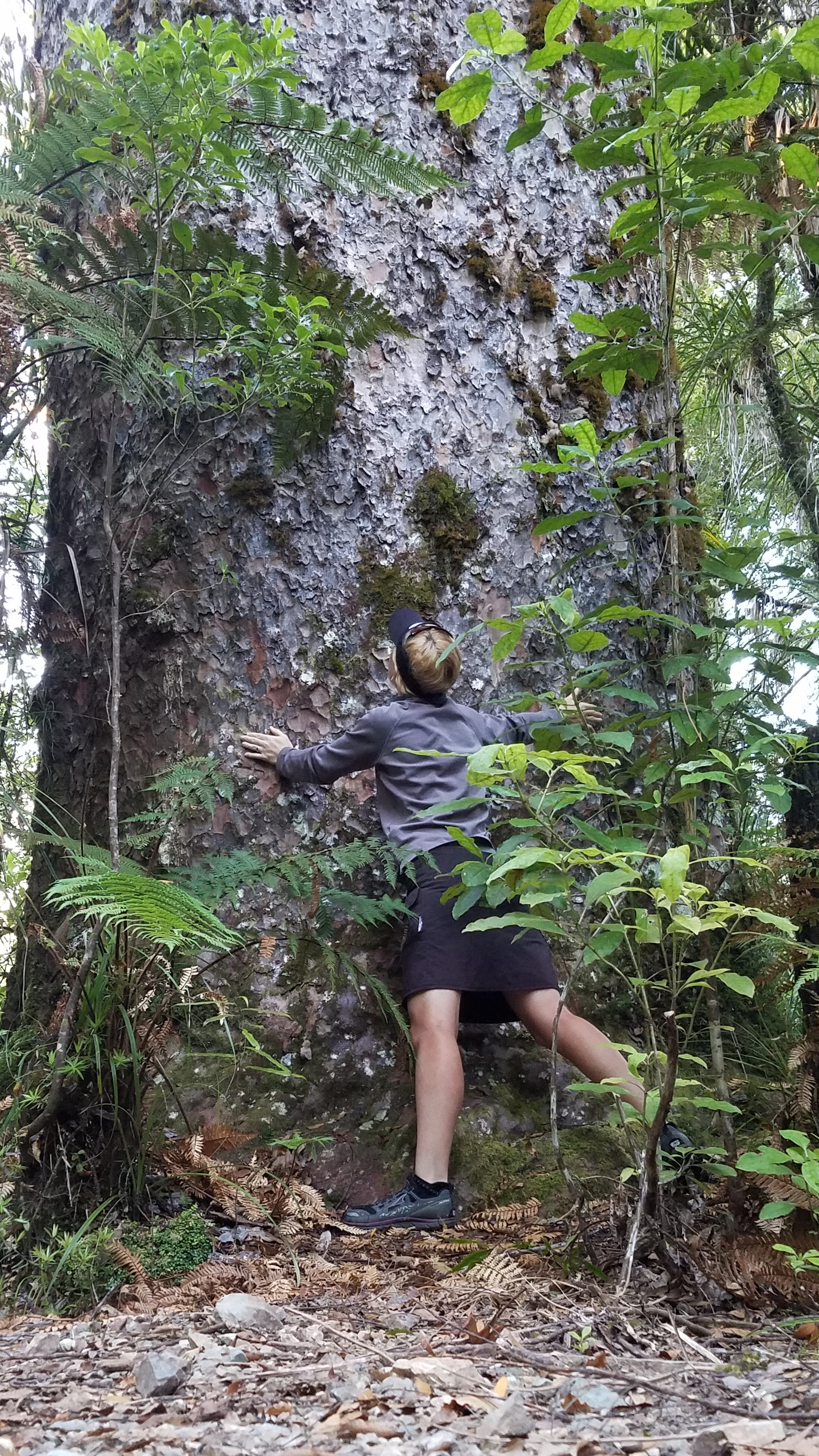 I was surprised that no other tourists came by while I was at the campsite all last night or this morning, especially since it's easily accessible by car. I had the whole place to myself and it was well worth the detour. According to my watch, I had already walked 2.5 miles before I even set out on the trail again at 7:45 am. I didn't have as far to push today. But I did have the Mangapukahukahu stream track to get through…it follows the actual stream bed down a narrow gorge and can be as much a challenge to hike as to pronounce. After another hour of gravel road, I came to the stream and knew it was going to be a pleasure. Unlike the acrobatics of yesterday, the only way to handle this was to plunge right in. Walking through water is no big deal for me (after all the hiking I've done in Florida) and much preferred over mud. The stream got a little over my thighs at the highest but was easy overall.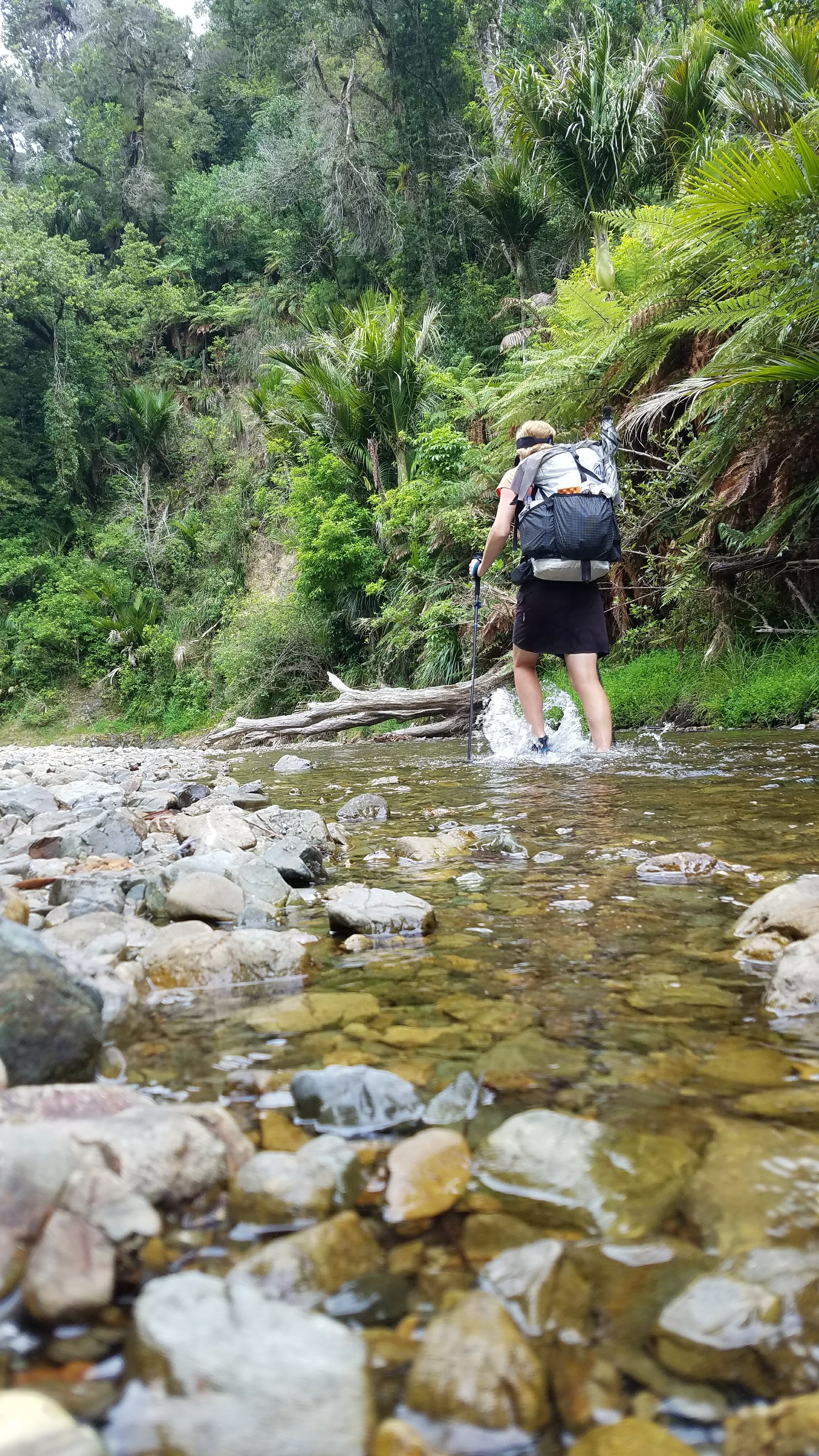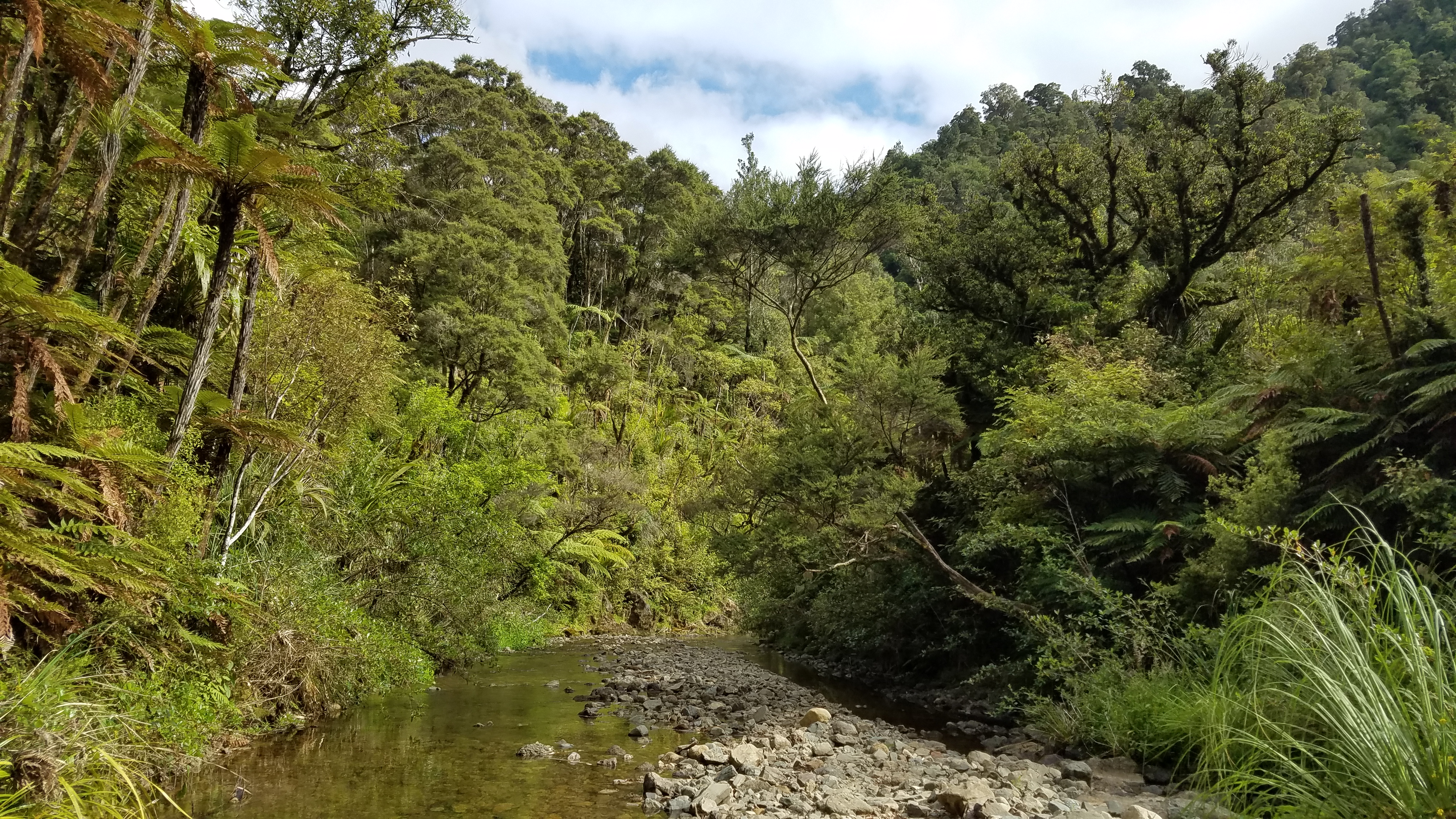 I was sad when it ended because then it was a few kms of strenuous sidling along slanted, eroded trail that went up and down constantly in short steep bursts. Along this section, I started to encounter many invasive species traps. Possums from Australia are by far the biggest nuisance in NZ. They were brought over to breed for their fur, escaped, and now the country has spent much time and money getting rid of them or at least keeping their numbers in check. In this case, the possum sticks its head into a baited trap and a spring release clamps down on the head. It makes for a pretty gruesome-looking aftermath. But don't feel sorry for them, they are a huge pest. I later saw traps with partial possum bodies and wondered what was eating them, since there's not really any other predators besides stoats (small weasels). I was told later that possums eat each other but that it might also have been pigs. They also eat just about anything, apparently, namely native vegetation, bird eggs, and birds. If you're not careful, they will steal your dinner out of your food bag, as I was unfortunate to find out once on a hike. Yep, possums in NZ just suck.
I also want to mention another uncomfortable thing about hiking through jungles and that is lots of spider webs. I have eaten a ton of spider webs over the past few days, since there never seems to be anybody in front of me to clear them. This morning I was quite surprised when a giant spider came into view out of the corner of my eye. I thought it was a character out of the Lord of the Rings but no, it was just a slightly large spider walking the rim of my visor. I gave it a pass and flicked it off. There is only one animal in New Zealand that can cause harm and that is the slightly poisonous white tailed spider. Apparently one TA hiker has already been unfortunate to get bitten by one this year.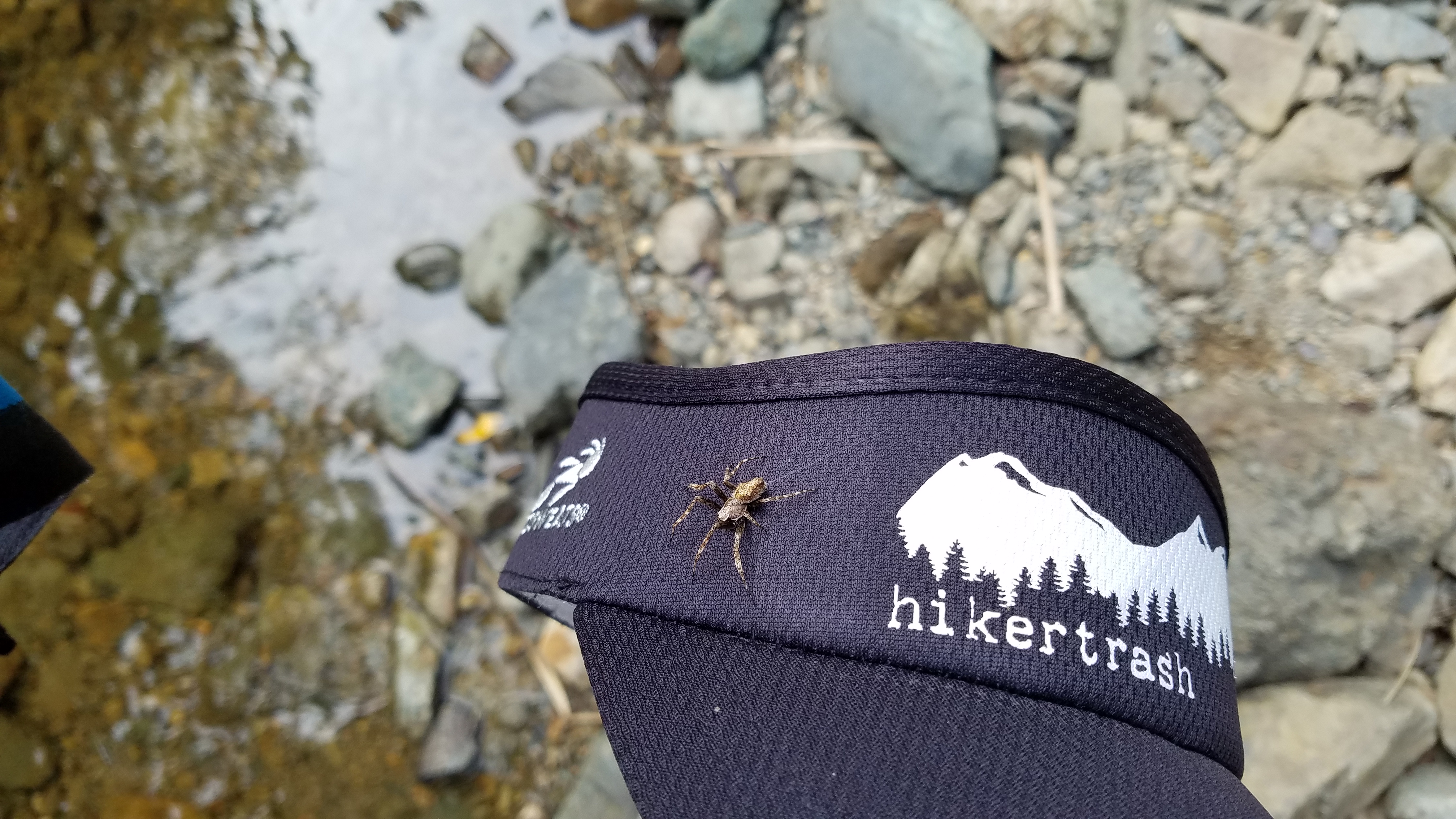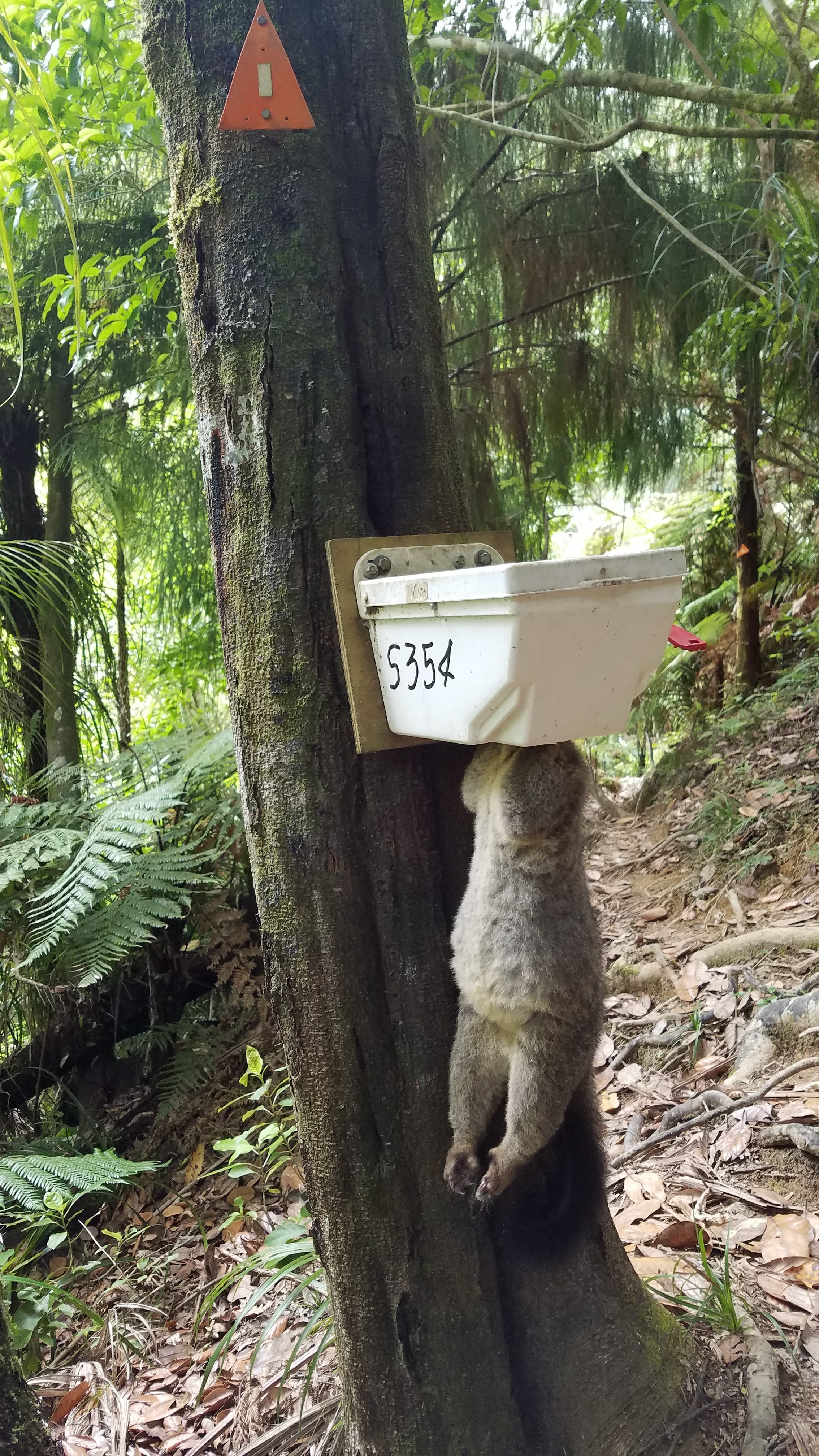 I sat down to enjoy a long lunch at the end of this final river section, as it was a long climb back up to a ridge after. Just as a I was packing up, another hiker appeared going the opposite direction. I was so shocked to see another person on the trail after not seeing anybody for 3 days. This guy had a huge travel backpack (not backpacking pack), a day pack on his chest, and was wearing jeans. He even tried to keep his shoes dry while crossing the river. I told him to not even bother, depending on which way he was going. He said he was bound for Cape Reinga (section hiking) and I wished him luck. He's going to have a very hard time in the forests the way that he is outfitted. He couldn't even name the campsite he was heading for, which I guessed was where I stayed last night. I'm continually surprised by the level of unpreparedness given these very difficult trails.
Just as I was trying to make sense of this guy, another hiker popped out of the forest, apparently a SOBO TA hiker. This was the guy I had been just behind the past 3 days, Lost Kiwi Mike (though he never gets lost). I should explain here that native New Zealanders are called kiwis, not to be confused with the kiwi bird, fruit, money, burger…. pretty much anything from NZ that also gets called a kiwi. Kiwi thru-hikers are like celebrities because they are so rare. Knowing such a treasure and starved for companionship, I immediately latched onto him. He seemed happy for the company too, having also been alone the past two days. Somehow I had leapfrogged him yesterday, as he stopped earlier than me and was stealth camping. Finally I had someone to ask all the questions about native flora and fauna that were burning a hole in my mind. And being a dairy manager from the North Island, Mike knows a lot about NZ's primary industry: farming. I learned everything I ever wanted to know about cattle and different practices of farming in New Zealand from Mike.
We got to the Puketi Rec area by 4 pm and found a lovely grass field in the sun to pitch our tents. This campground has very nice toilets, a cold shower, and a hut, but it has to be booked ahead of time and is $18. It is run by DOC (dept of conservation). There were mostly car campers here and oddly, a large rooster, making the rounds, begging for food and crowing to annoy people. BTW, in NZ, chickens are called "chooks". I couldn't help myself from catching him because, well, you all know I love harassing domestic fowl. And a big rooster is a prize, indeed. He was a sweet guy in-hand, even though he pretended to be tough. He did exert his revenge on me the next morning by crowing next to my tent. I think DOC pays him to rouse the campers early, so they move out in a timely matter.