January 15th
Whakahoro (km1245.5)- John Coull campsite
Mileage: 23.6mi/38km
It was so nice to have an easy day for once. I still got up early but I took my time having breakfast and then had time to go to the cafe for the wifi and electricity. It was foggy to begin with but cleared into a sunny day.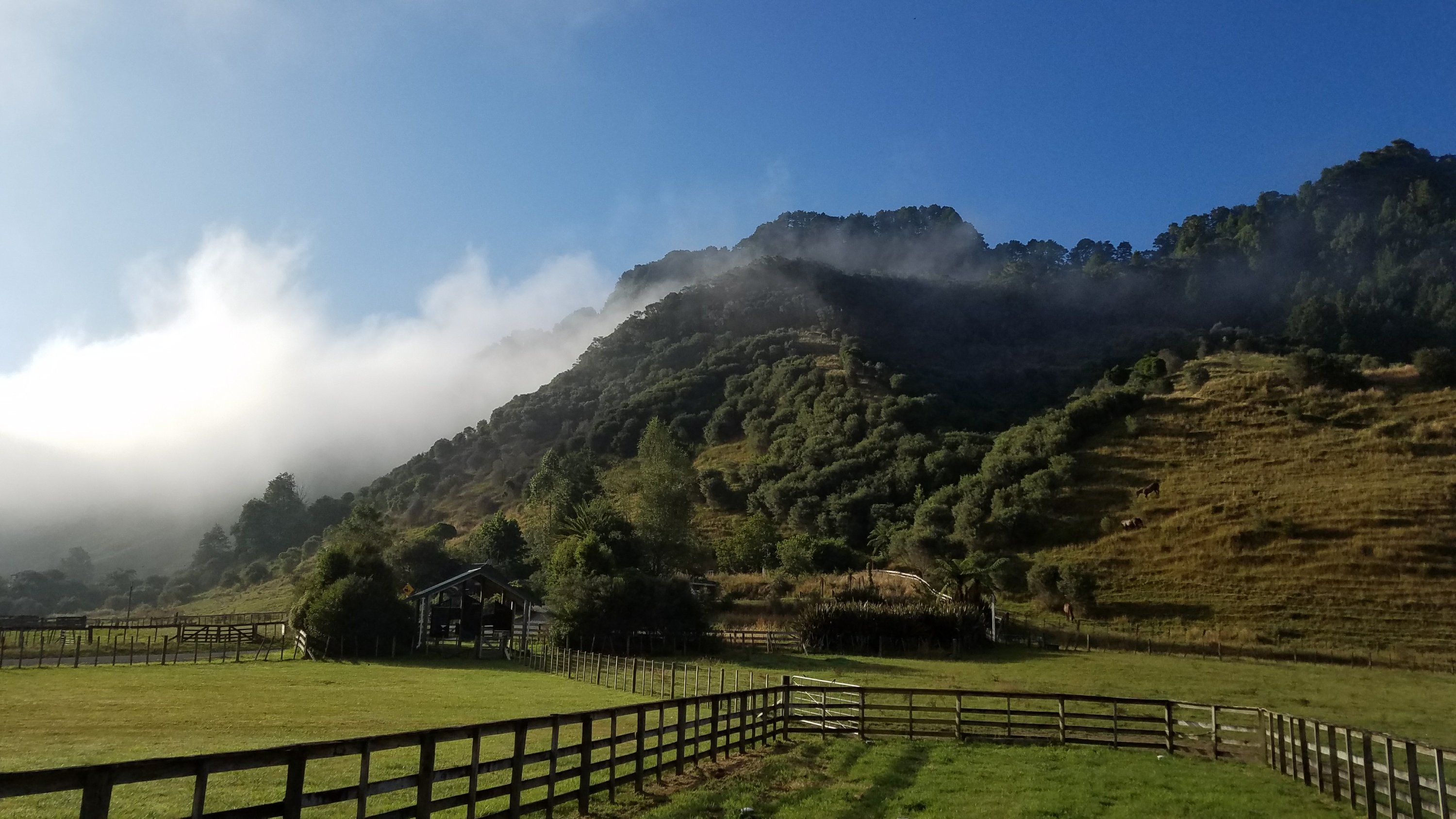 The outfitter was a tad late but I was glad for the extra time. I was also happy to see 2 Necky Looksha 14′ kayaks arrive, plus all our food bags. There were heaps of other people loading canoes but we were the only kayaks. We easily fit everything into the provided dry bags, listened to a safety briefing, and were shortly paddling. I gave all the outfitters a scare when I did my usual straddle-and-sit method for getting in the kayak. I started paddling away with my legs sticking out of the cockpit, in order to rinse off the sand, and one guy was yelling 'put your feet inside!' I'm sure they have to assume everyone is inexperienced. Good thing they didn't see me standing up in the kayak later on!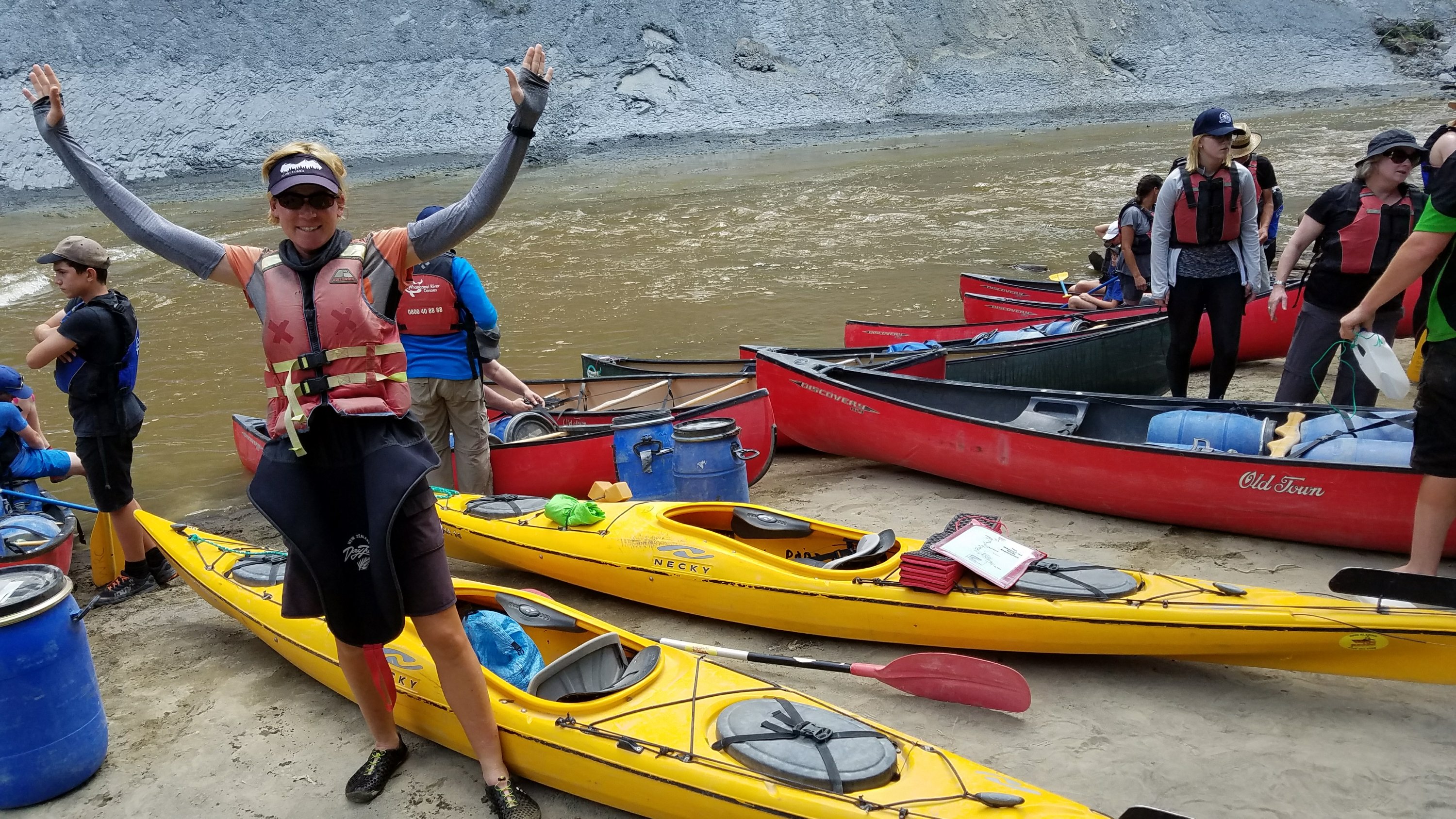 Just before leaving, I got to see my first Whio, the NZ blue duck. They are pretty rare, with about only 3000 birds left. They like clean, fast-flowing streams. Sorry I couldn't get a better picture but this one was sleepy.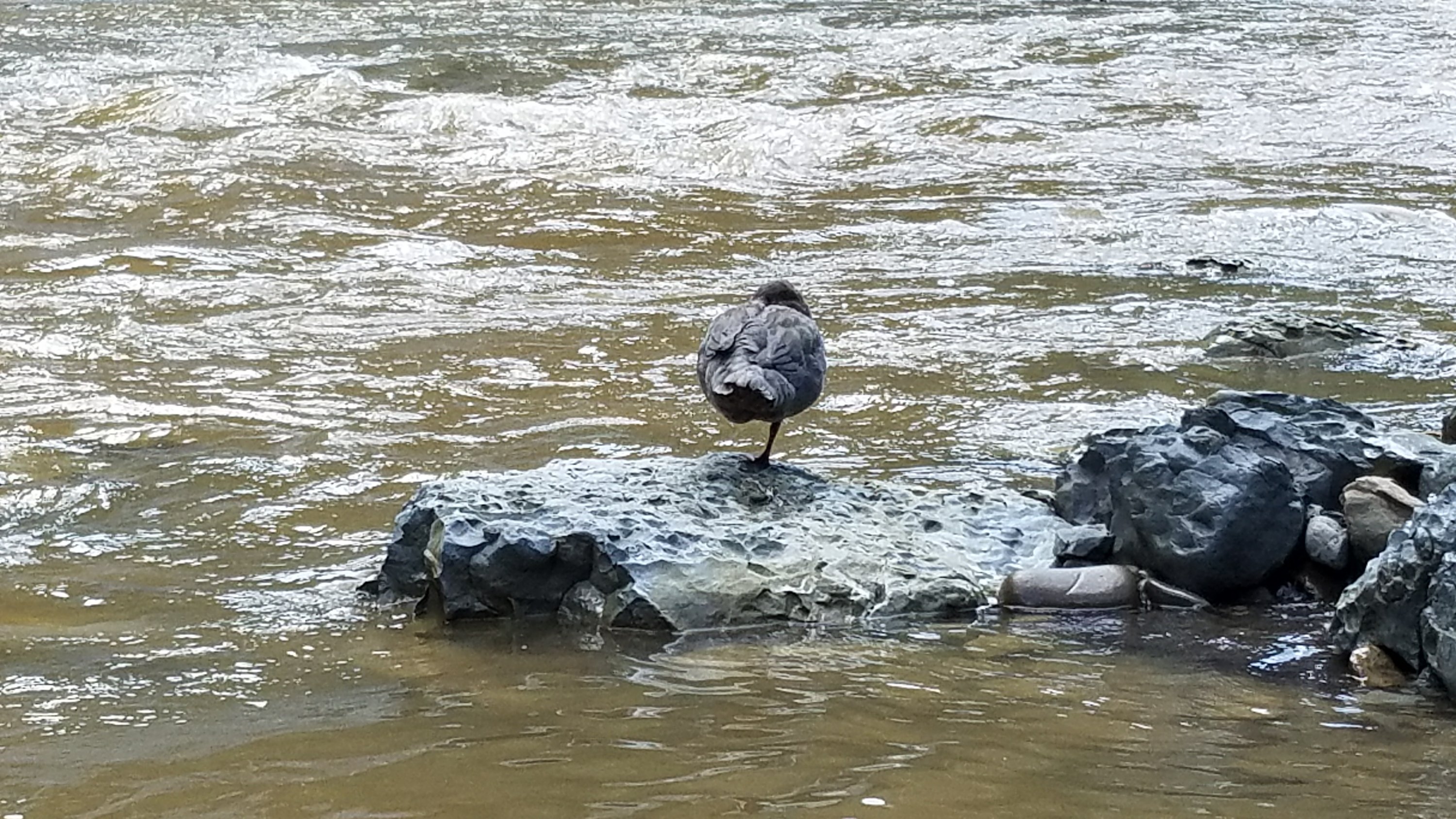 I wasn't sure about Connor's kayaking prowess so we settled into an easy pace to start. The river current was moving pretty fast, with little rapids interspersed at intervals enough to keep it fun. We did 10 km in just an hour, twice the speed I can walk. We were both decked out with spray skirts, life jackets, and rudders so we looked like proper sea kayakers.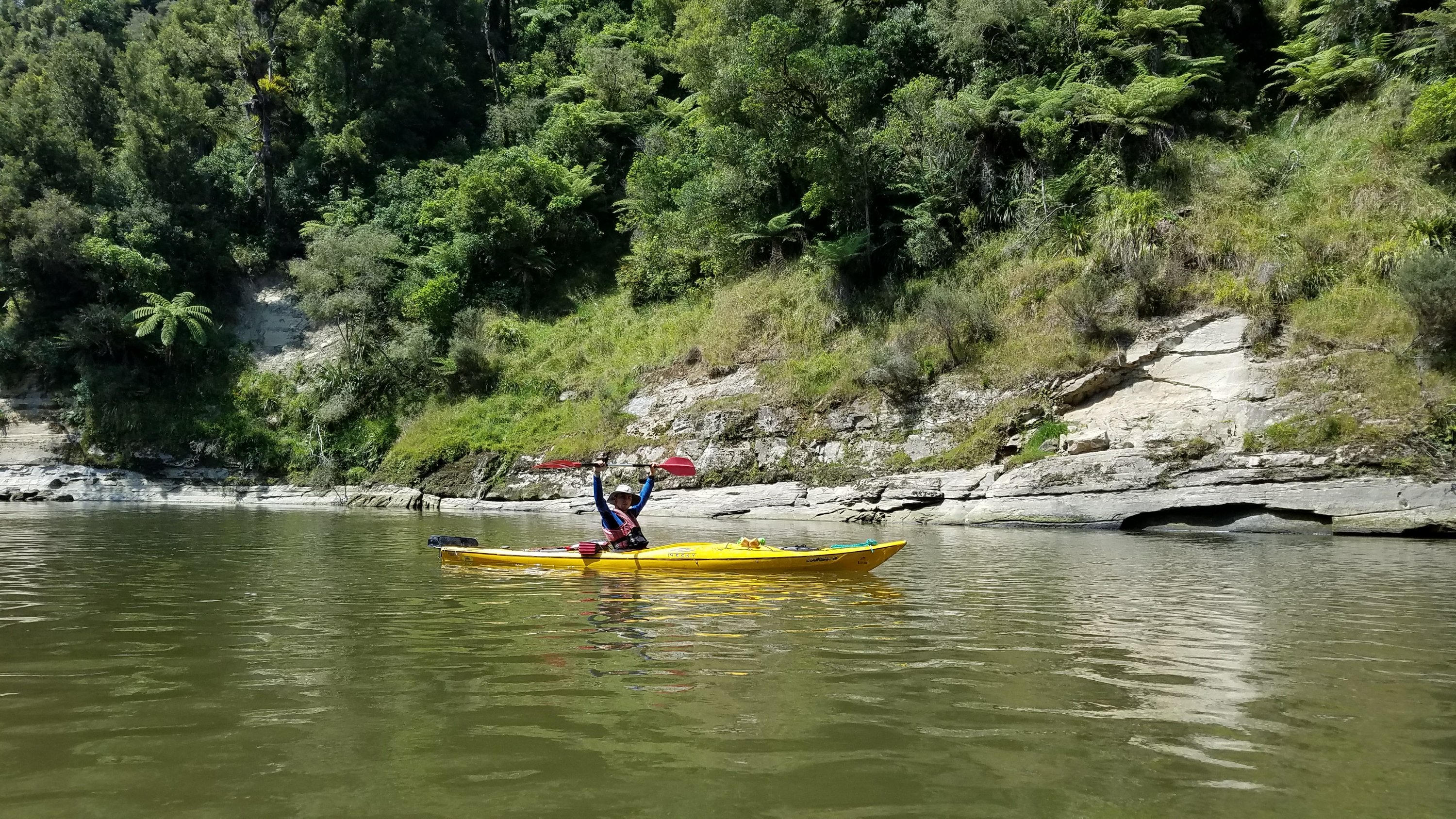 The only piece of equipment I didn't like was the paddle. It was very heavy and with water somehow getting trapped in the shaft and swishing back and forth with each stroke. Oh how I missed my Greenland stick! By the end of the day my hands were already hurting from the hard metal grips. But you can't have everything be perfect.
We made a few pit stops along the way and I went for a nice swim. It was amazing how much cleaner and refreshed I felt after, even though the river was a bit muddy from the recent rains. This was my first bath/shower since the swim on the 42 traverse, and almost a week since Taumarunui.
We stopped at a pretty cool cave, where unfortunately some people had scratched names and such into the back wall…hopefully not TA hikers this time 😉 The cave afforded some neat shots of the river.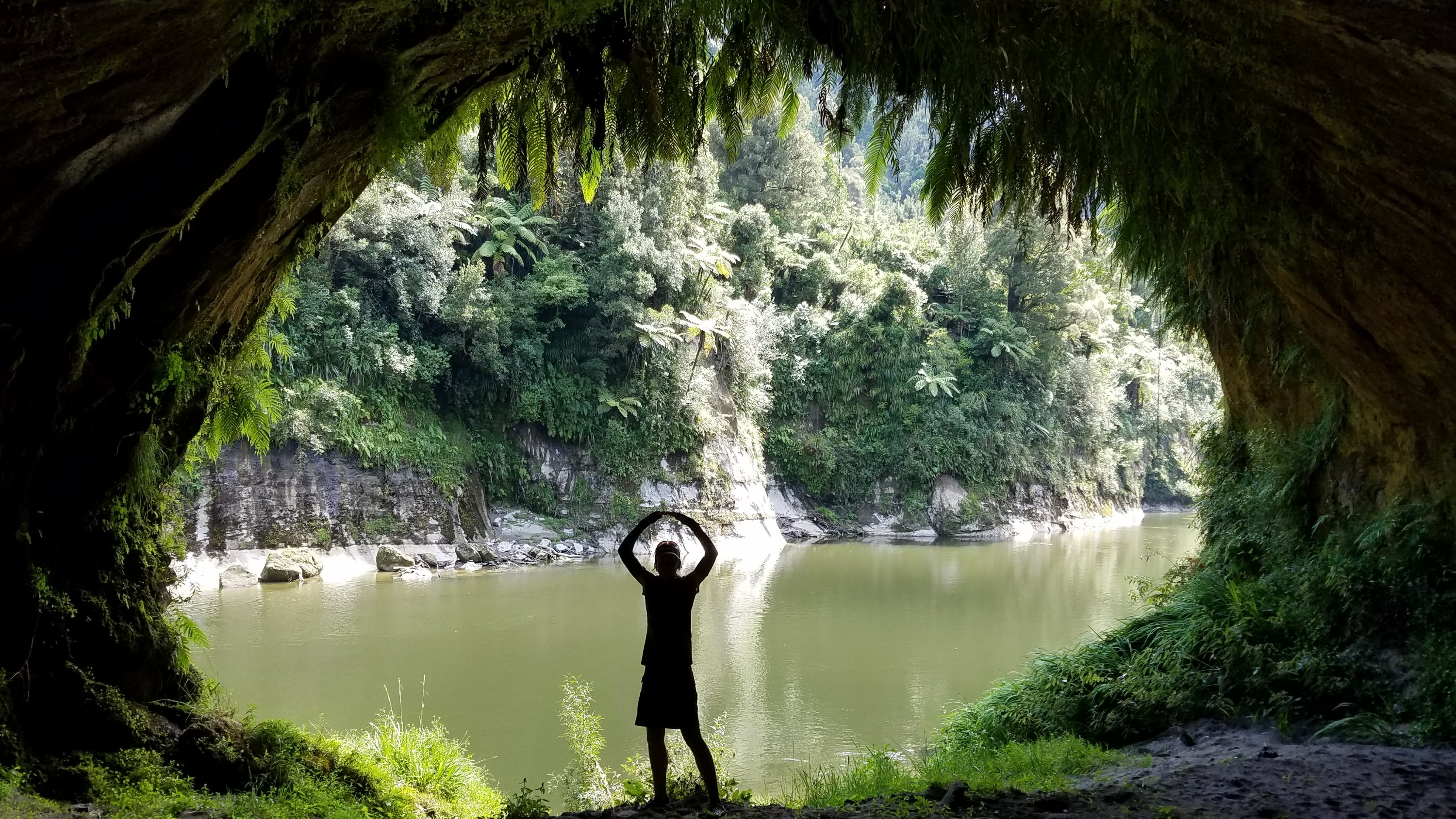 We were some of the first paddlers to arrive at the campsite, even though we didn't get started until about 11 am. We passed a number of canoes along the way. There were to be 22 people staying at the hut (fully booked) and 20 some tents, according to the hut warden. By the late afternoon, the boat dock area was quite full! The tents were all pretty close but there was enough room for everyone. I found a spot perched right on the river bank so I had a nice view. I love that I can leave one side of my tent open to look out on the river.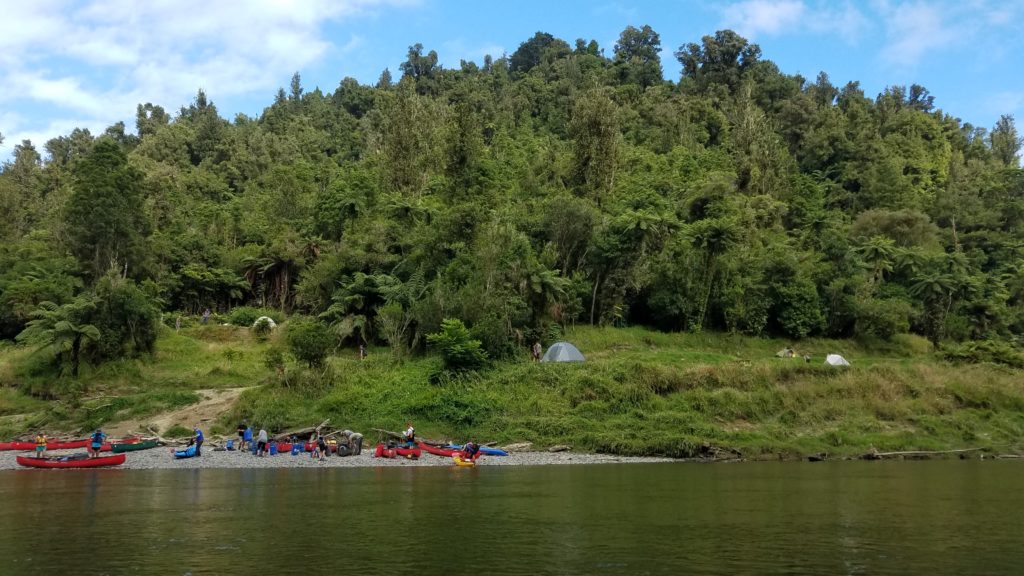 We finished the night hanging out with some of the other campers, cooking dinner, and making small talk. Graham and Troy were there as well. Graham even helped me bring up a few drybags. TA hikers looking out for one another. The sandflies were also out in force. Wearing just one layer of clothes is enough to stop them so I immediately changed into socks and tights. Thankfully there were few mosquitoes. Also no gators rumbling overnight. We're not in Florida anymore Todo, feel free to go for a swim!