December 15th
Nikau Bay Camp(km342)-Taiharuru Estuary/Tidesong B&B (km371)
Mileage: 18mi/29km
Despite having great accommodations, I didn't sleep very well all night. In settling into a real bed for the first time in weeks, I was thinking "ahh, this it it!" I was asleep almost immediately. But I woke again and couldn't get back to sleep. Despite bug screens and a bed net, the mossies were getting in and buzzing me. There were so many! By the morning, I was missing my tent. This is of course no knock on Nikau Camp, as James has done his best.
He invited me into his place for coffee and toast in the morning, another nice treat. He is a great conversationalist and host. I checked out more of his land, complete with kayaks, a garden, and egg-laying chooks. He has a really sweet view of the estuary from his house and just lots going for the whole place. I was on the fence about staying another day so that I could go kayaking up the river but felt my itchy feet again. Damian and Steffen were moving on so I went too.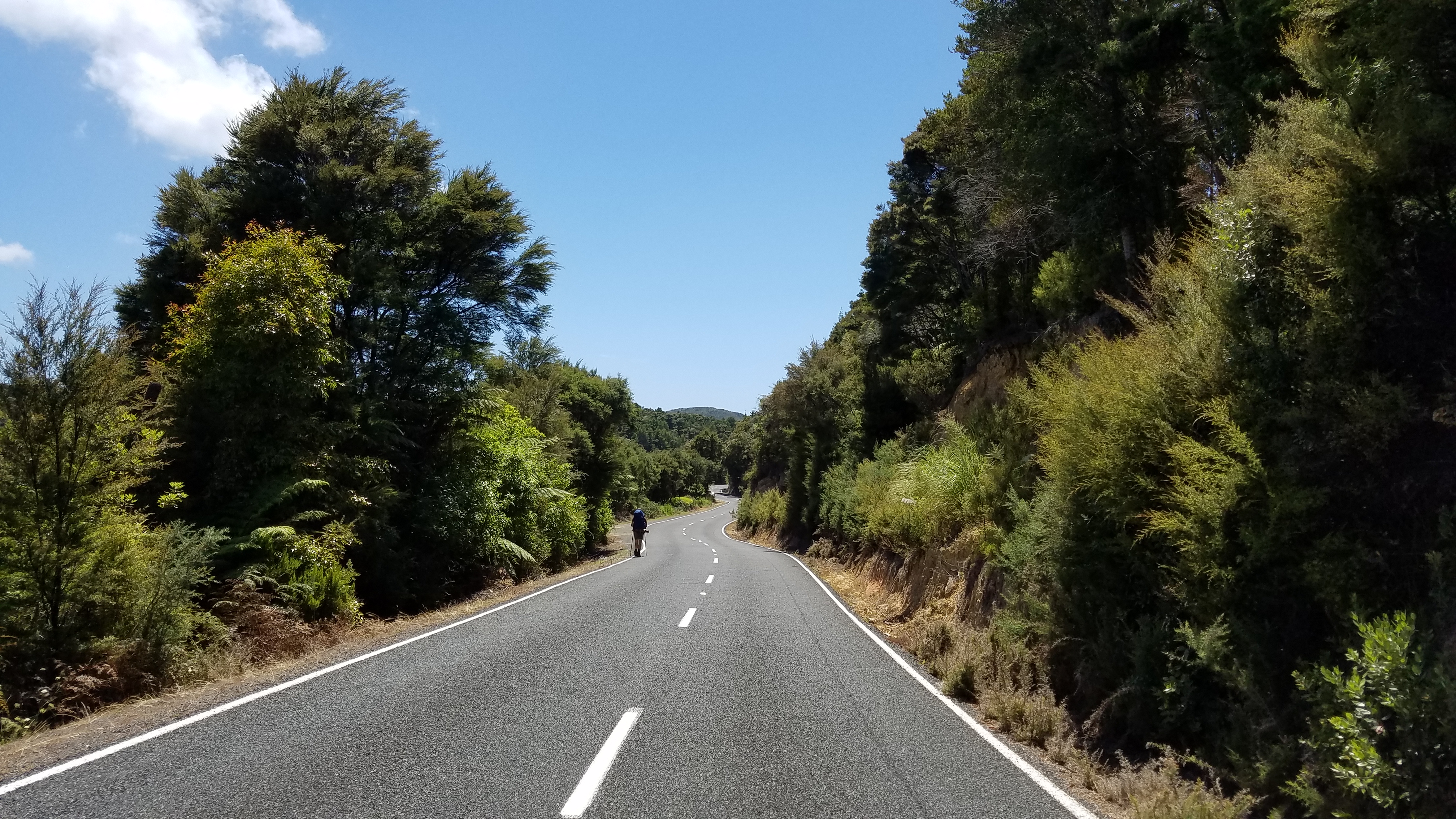 We passed through 7km of gravel road, then 4km of nice track along a few rivers and the Mackerel forest, a logging area. Back on a road again, I had just caught up to Damian at a point where a car was stopped. A man came out of the bush (he was removing invasive plants) and immediately invited us up to his house for cold drinks. We followed Derrick home like stray animals and met his lovely partner Ann. She brought out a huge tray of plums (from their tree) and orange slices and we sat at their porch table, trying not to stuff our faces too fast. I kept eating plum after plum, they were so good and I so starved for fresh fruit. (I hoped there would be a bathroom near where I was going next.) We had a wonderful conversation with them and then they gave us a tour of their garden. They like having TA hikers visit as they can meet people from all over the world. They have even put a sign down on the road inviting walkers up to their house. This is a good example of an invaluable experience that would be missed by hitching the road sections. I'm so glad that we stopped since it is just one more magical encounter with the locals to add to my growing list.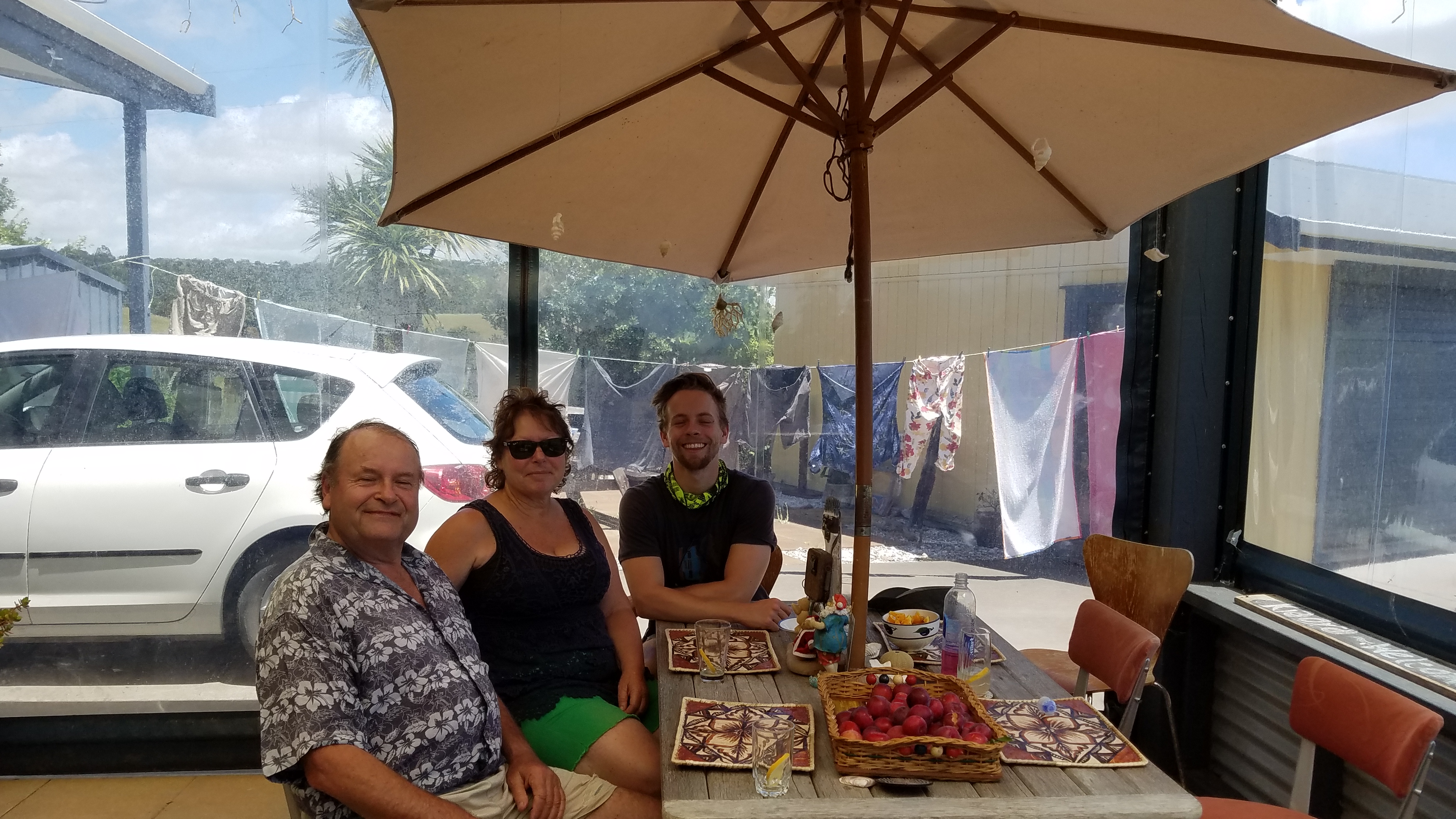 Derrick, Ann and Damian. See the big tray of plums? I didn't eat them all but wanted to.

We didn't want to leave but knew another renowned hosting opportunity awaited us at Tidesong B&B, our planned campsite. Unfortunately the direct route to this place relies on the estuary being at low tide and our lengthy stop blew that timing. We arrived just about an hour too late. We tried it anyway but it proved way too deep and muddy. So much for dry feet. We had to cut back to the main road and walk an additional 5km or so. Steffen had caught up to us and we all gutted it out. But it was worth it. Others have blogged extensively about Ross and Hugh's story (hosts of Tidesong) and there is even a documentary. In short, she gave him her kidney to save him and then she hiked the TA while he provided support for her. The walk aimed to increase awareness about kidney disease. Their main gig is the B&B but they have made a special little area just for TA hikers, complete with tent sites, a cabin, the best outdoors hot shower, loo, and bush trail with orange TA markers. It was all done with love, as seen in all the little details. All this for a meager $10 a night, just enough to cover expenses.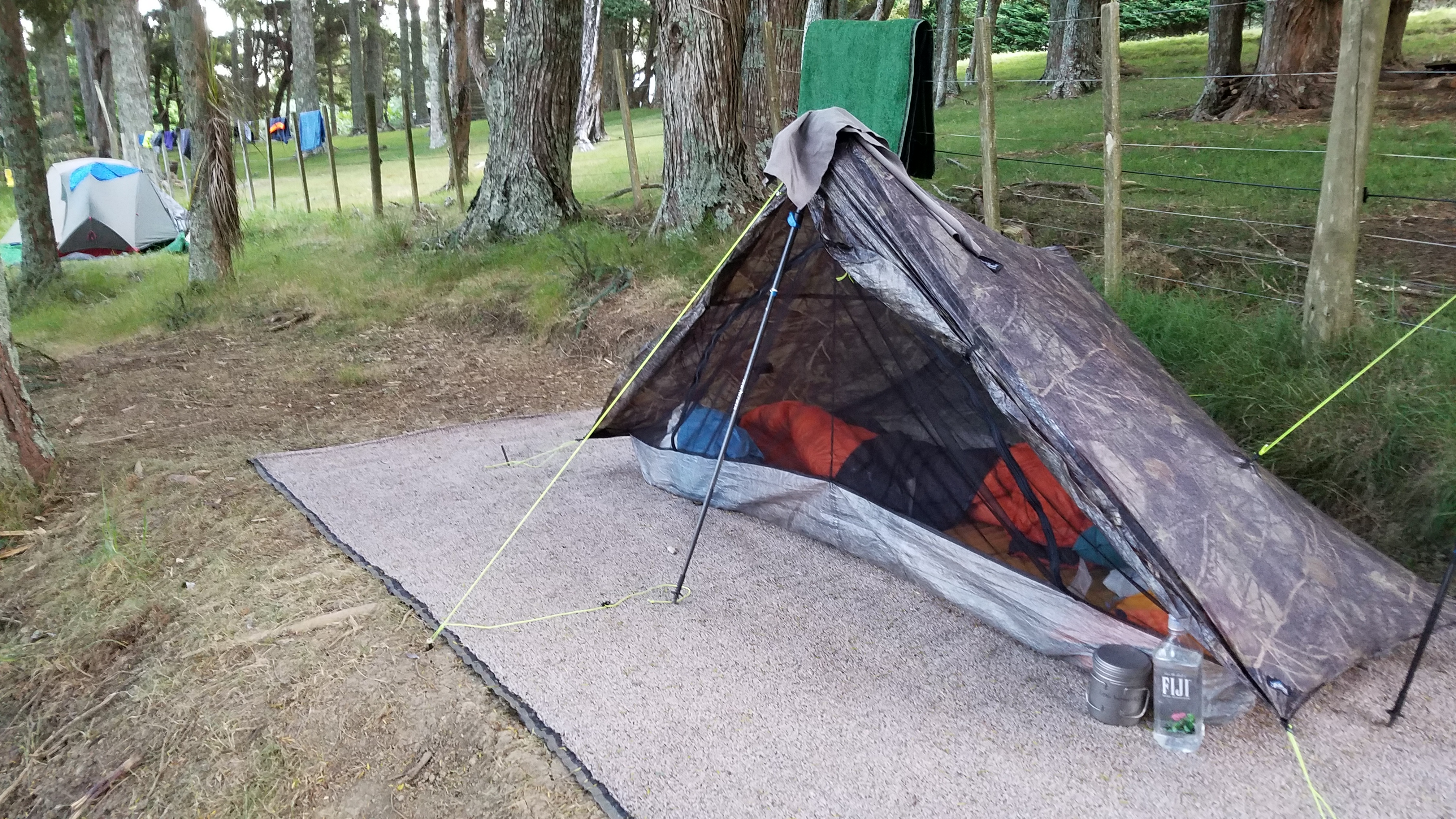 When we got in, they gave us all a cold beer, cakes, and trail mix while Hugh chatted with us on the veranda overlooking the estuary (Ross had to entertain the B&B guests). He invited us down to his garden, which looked like Eden, complete with white doves and ducks strolling around. This was my 3rd garden tour of the day. The Kiwis are a special lot, indeed. I had my boring backpacker food that night but was able to supplement with fresh greens from from the garden. Ironically, Steffen even had salad dressing. We all opted for the $10 breakfast in the morning and went to sleep dreaming of it.