October 23rd, 2018
Spitler TH to mm 168.5 (rejoining PCT after closure) to Muirwood mm 145.5
Distance: 23 miles plus 4.7 miles to town
0830 – 2000
I'd arranged to meet Lorraine, the Trail Angel, at 8 am and the grocery opened at 7 am, so I went there to get a breakfast burrito. I also ate a huge pecan cinnamon roll that I got at a bakery the day before. It was as big as my 2 hands. I was so stuffed after all this food that I barely ate anything until the afternoon. With all these town stops, I was no longer loosing weight and may have actually be gaining.
I met Lorraine and was shortly at the trailhead. I found out that she lived in Jupiter, FL for 20 years and worked as a vet. Thank you so much for the ride Lorraine! Driving the route, I was glad that I didn't try to walk. The roads really were treacherous. Plus, we had to pass through the recent Cranston fire. It had nearly burned the whole town down and was started by an arsonist throwing flares out the window along the highway. So sad.
I started up the side trail and immediately ran into another SOBO, Zappy, who I had last met in Ashland. He had zeroed in Idyllwild and had just gotten dropped off by another Trail Angel. We hiked together for most of the day and the miles passed quickly. We had to ascend quite a bit to get back on the PCT, then dropped again out of the mountains and back into rolling hills of scrub. It turned into the desert again and would probably remain so for the remainder. There were no more high elevation segments.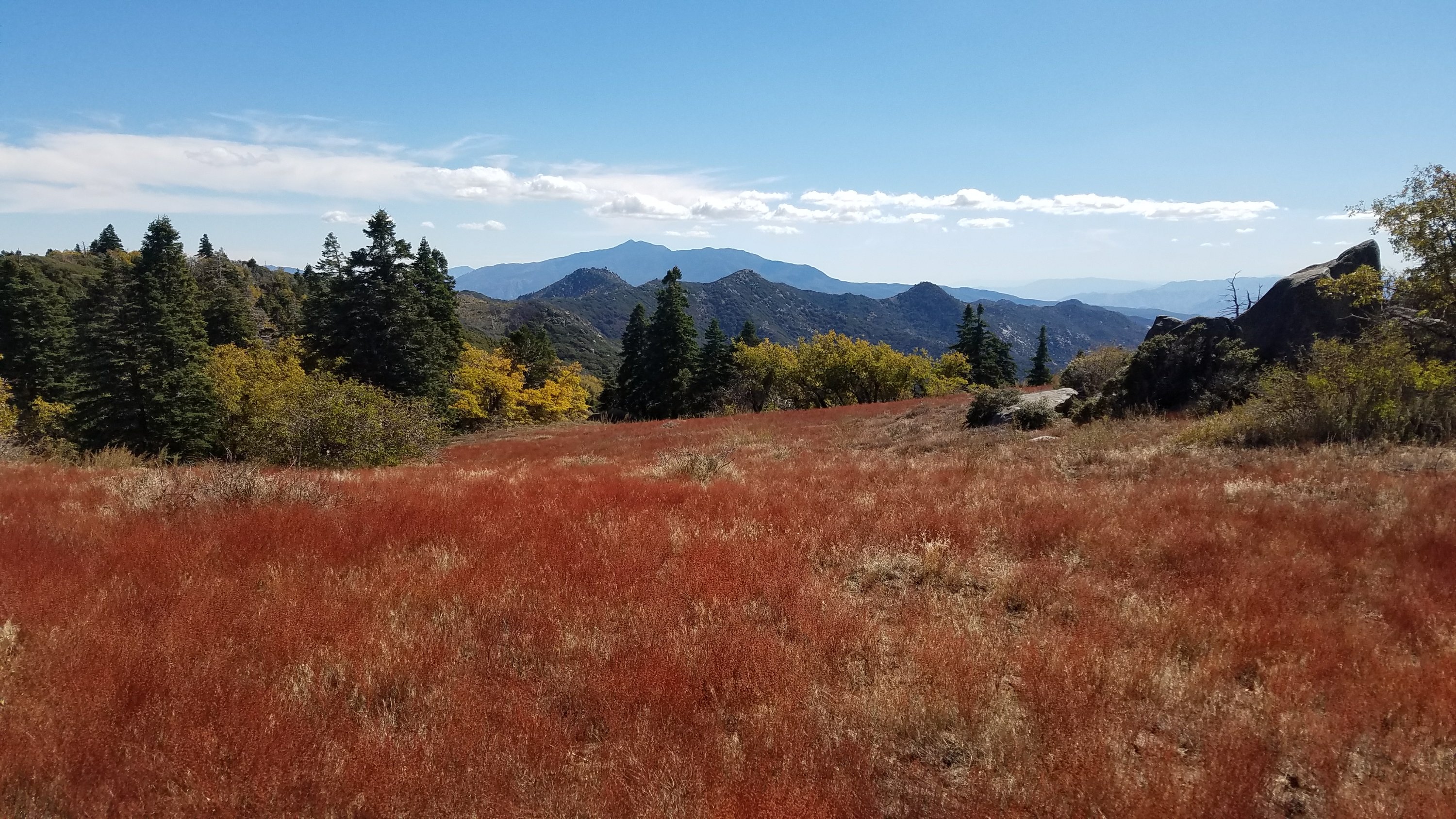 A beautiful transition
I saw one of my favorite animals scurrying across the trail: a horny toad or rather, a horned lizard. I would have never seen it if it hadn't moved, they are so cryptic.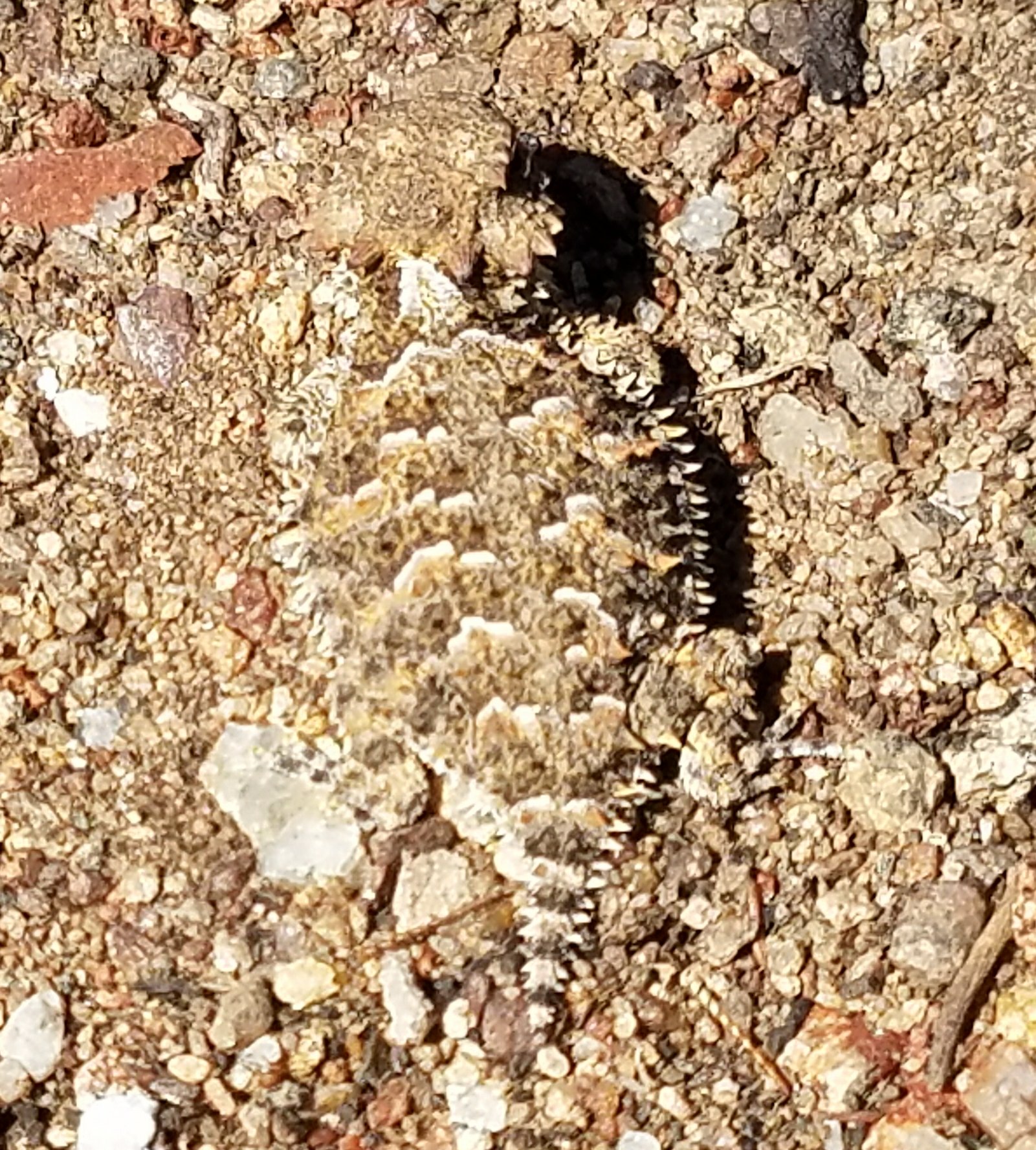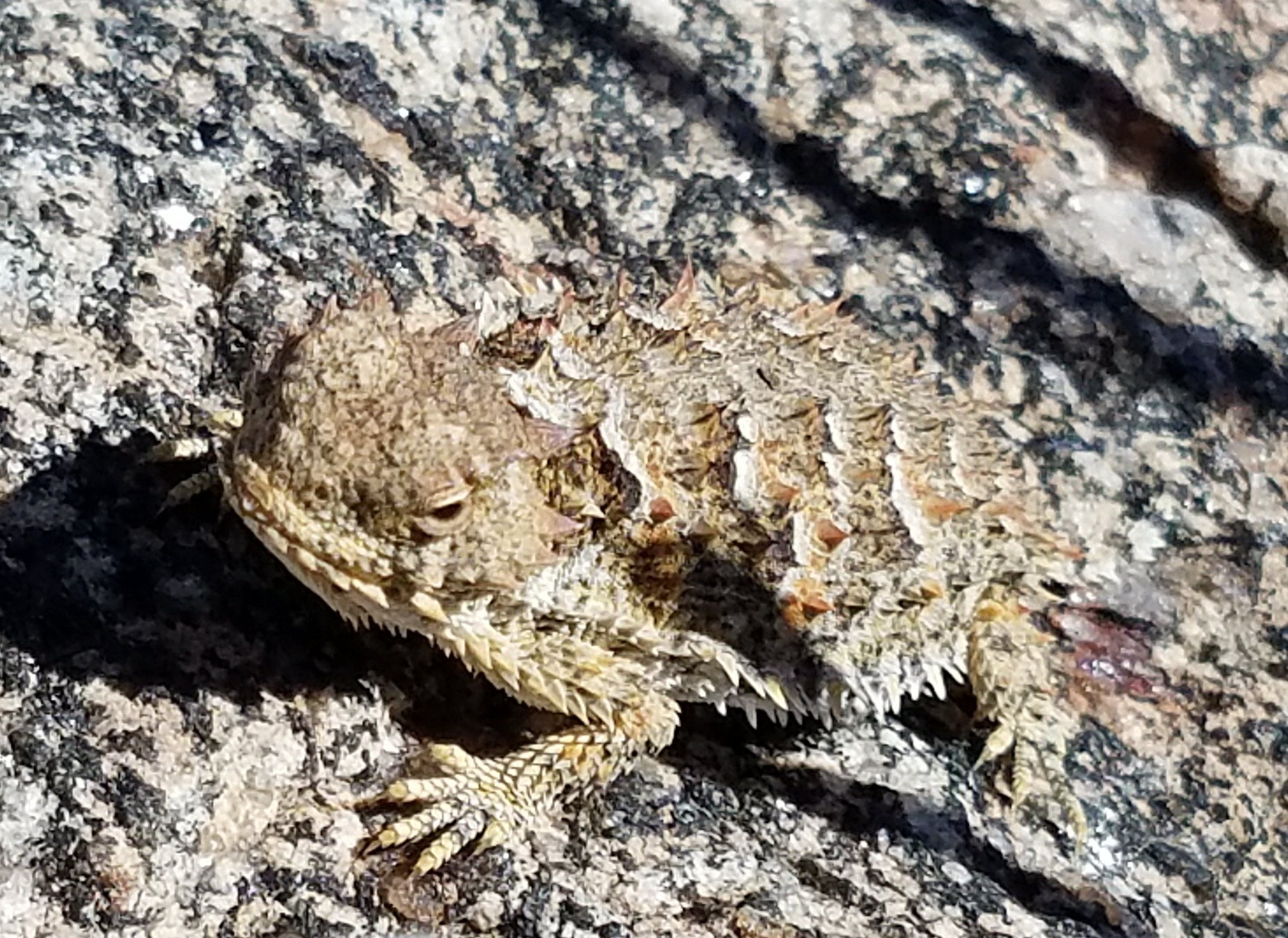 What a cute little bugger!
I needed water in the afternoon and had to walk a quarter mile off trail down to a spring and trough. This next section's water sources were mostly tanks, cisterns, and caches, a lot of which were a good ways off trail. We walked on through the sunset…which was stunning in the desert. The nearly-full moon came up to provide enough light to walk by. It was incredibly beautiful and a comfortable temperature.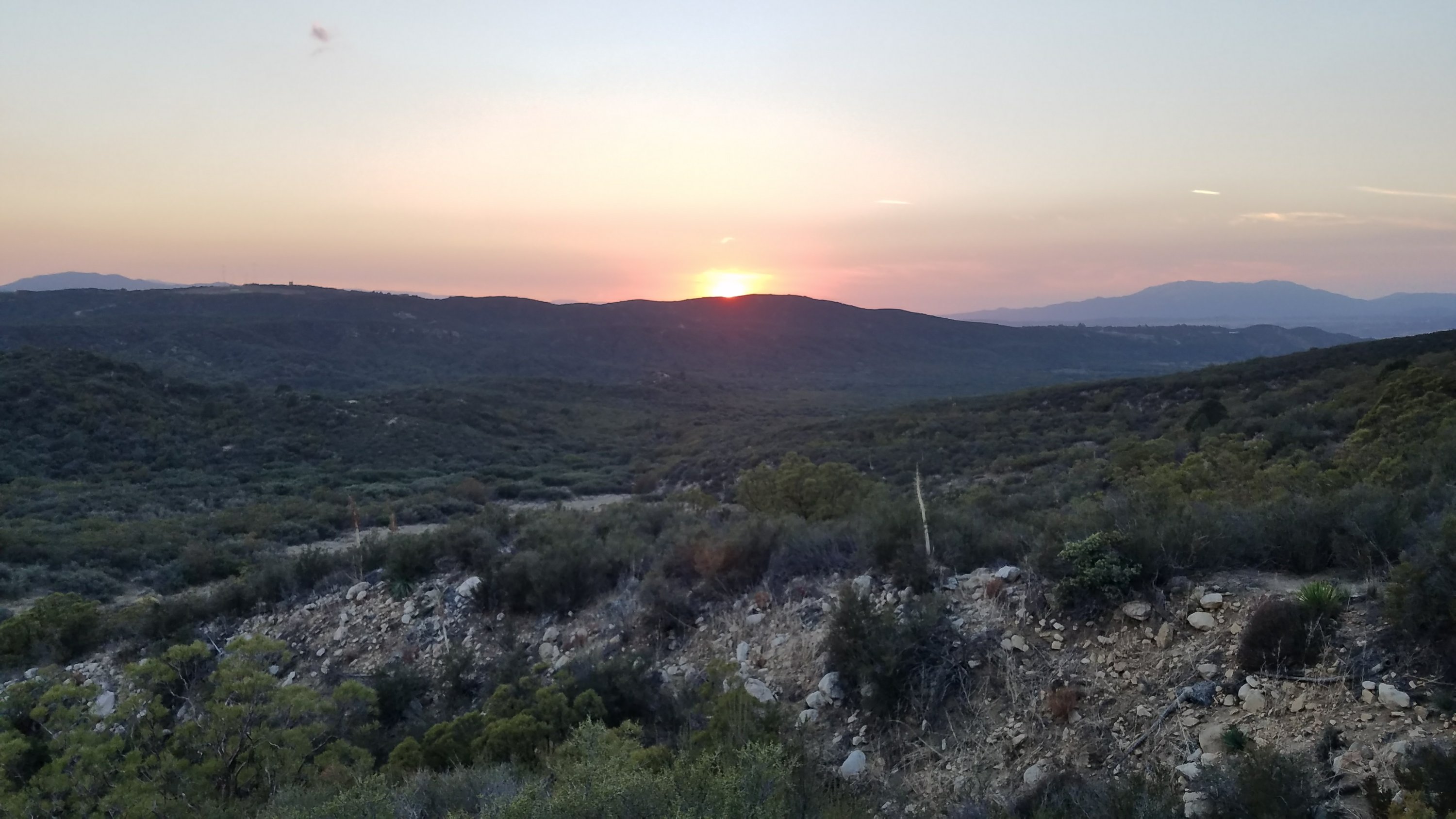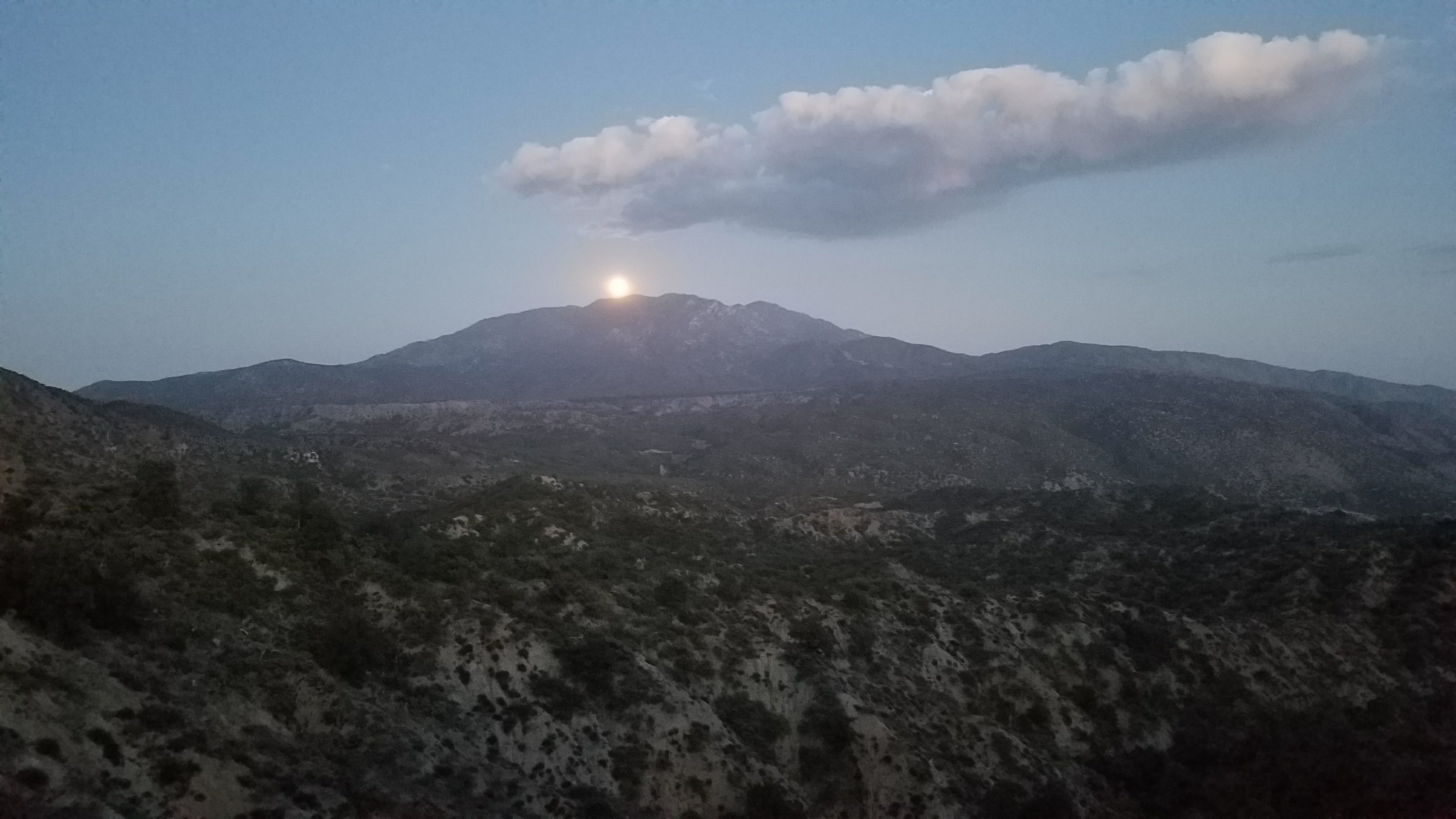 A double whammy…sunset and moonrise.
We came to our destination for the night, a water tank/picnic area named Muirwood. Whoever maintained this cache was a real fanatic for literature. There were life-sized cut-outs of Thoreau, Muir and Whitman, along with quotes. There was also a little box library with free print-outs of Whitman. What a cool place to spend the night, haunted by the ghosts of such interesting characters! The randomness and oddity of the trail never ceased to amaze me. What an adventure this had been.