March 20th
Invercargill (km3008) – Bluff (km3040), minus a final road-hitch
Distance: 10mi/16km
It's strange how things turn out so differently from how you imagine them to be. I pictured walking into Bluff as a magical, sunny, tear-jerking, prideful, joyous event and it was none of those. Well, it was a tear-jerker but mostly I just felt numb.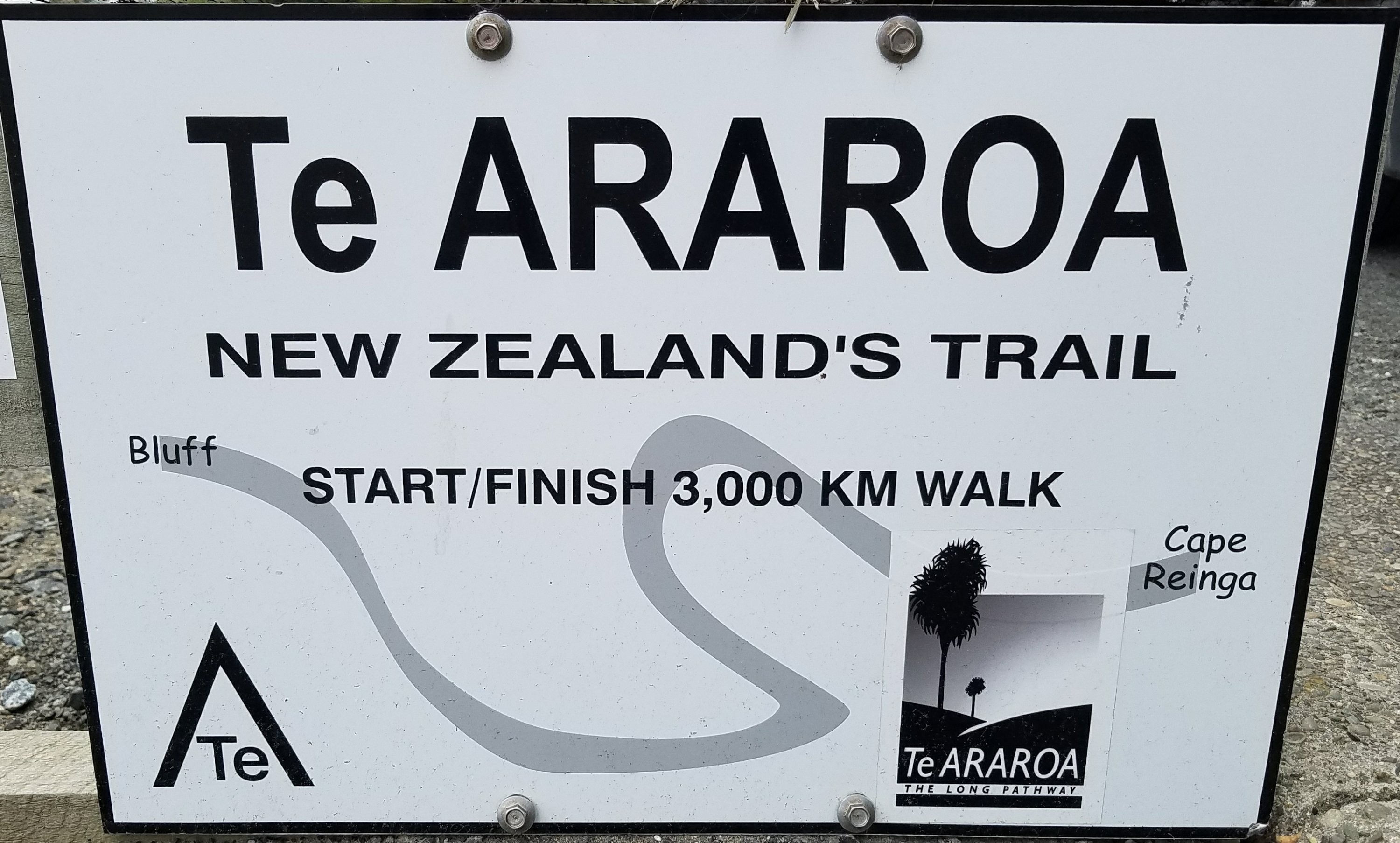 It rained all night but the day actually started out promising when I woke up with a bit of an appetite. My aches and pains from the fall were healing just fine but my stomach was a big unknown. I was able to eat some toast and drink some tea, but that was it.
We all walked from the BnB down to the estuary, which the trail follows for about 10 kms. About 5 kms into the walk, the mental game got the best of me. I kept dwelling on my illness and began feeling more and more nauseated. Once the doubt crept in, I couldn't shake it. I just didn't want to walk anymore. I guess I just couldn't, really. I shouldn't have been so hard on myself. I was legitimately sick and should have just stayed in bed. But it felt terrible not to be able to walk the whole way on the last day with my friends.
My pace slowed and I was having a hard time fighting through the tears and pain in my stomach. My friends tried to walk with me but I implored them to just go on. I wanted to be alone. There was no bail-out along the estuary so I had to stumble along for another 5 km beyond the point that I was done. Many times on a long trail, there is no choice but to walk. Most thru-hikers have to push through the pain at some point. Mine just came at the very end. I stopped multiple times to let the waves of sickness pass, and crept along as slow as I could go. One foot in front of the other.
There were some unnerving icons of my journey in the last km. First, I came across a sparrow with a broken wing. I immediately thought back to the hawk that I was able to help rescue months ago. But on this day, I felt helpless. I could barely help myself. All I could do was sit down next to it and mourn its misfortune. A lot could be said of the symbolism of then and now.
Just after this, I noticed a few small plastic boxes on the side of the trail. For some reason, I stopped to pick one up and found it full of air pellets…for an air gun! Were these similar to what was fired at me Christmas morning? How strange to find such mementos now. I picked up both boxes and walked to the highway in a stupor.
I had a few choices of what to do next. I should have just gone back to Invercargill and slept the rest of the day. But my madness over the trail drove me on. It was too easy just to stick out my thumb in the direction of Bluff. A car quickly pulled over but before I even got in, I asked the guy if he could use some air pellets. Naturally he was perplexed but he did indeed shoot airguns and was happy to take the pellets off my hands. Maybe this was all a sign that it was ok to finish the TA in this manner.
It turned out that Graeme has a daughter that lives in Denver and he goes to Colorado quite often to visit. He is refurbishing a house in Bluff and plans to move in soon. He even offered to drive me back to Invercargill at the end of the day but I wasn't sure when we would all be done. It was great to meet another local with something in common and not such a bad way to pass the time on the way to Bluff.
But as I watched the figures of my friends flash by the side of the highway, it broke my heart. I was not a part of this crazy pilgrimage in the end, this sadistic walking of a state highway. Why was I even sad about missing such a horrid walk? So many people hitch all the highways, yet it was all I wanted to be able to do. Having this singular, driving goal for so many months has really messed with my head.
Once in Bluff, I entertained myself by stopping by the medical clinic. I knew there was nothing they could do for me but I went to appease everyone else. Sure enough, the doctor spoke with me for about 5 minutes and concluded I had a stomach bug. No tests or prescriptions. Just rest and fluids. No kidding.
I then curled up in a ball on the lawn in front of the town hall and took a nap. Everyone arrived around 2 pm and I walked with them the last 2 kms to Stirling Point. While they all went straight to the signpost, I went straight to the toilets…which were out of toilet paper, to boot. Good thing I had most of the contents of my pack with me.
At the signpost, I sat down in a corner and had a good sob. I can't describe what I was feeling. Loss? Regret? Sadness. I imagine that other thru-hikers sometimes feel this….numbness? There were so many other emotions that I should have had in this moment, but it was all overshadowed by my blah state-of-being and the misery of the past few days.
I got a good pep-talk from my friends. They knew how devoted I had been to the trail and that I had walked 99% of it. And I knew it. And I also realize that even if the final destination of a thru-hike becomes such a grandiose, all-consuming thing (ie Mt. Katahdin), in the end, it turns back to being all about the journey getting there…sing it, Aerosmith!
Life's a journey not a destination
And I just can't tell just what tomorrow brings

It's Amazing
With the blink of an eye you finally see the light

It's Amazing
When the moment arrives that you know you'll be alright
So there you have it. I put on a smile, took a few sips of Champaign, and took the obligatory pictures. I did it.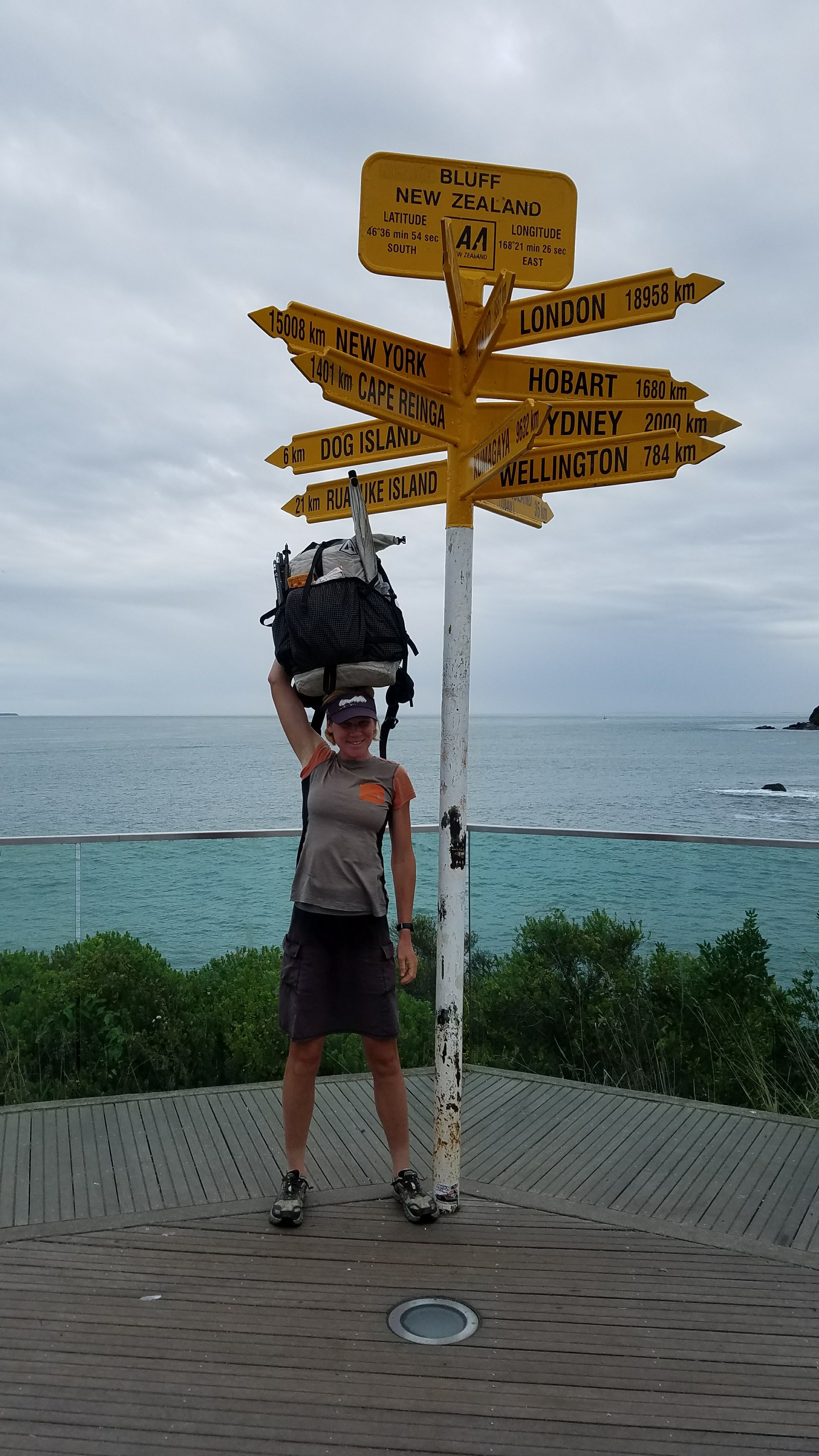 And here's a fun comparison photo of me being indifferent when I first visited this spot in 2003…maybe because the site wasn't so posh back then. Or maybe because I hadn't walked the length of a country to get there, yet.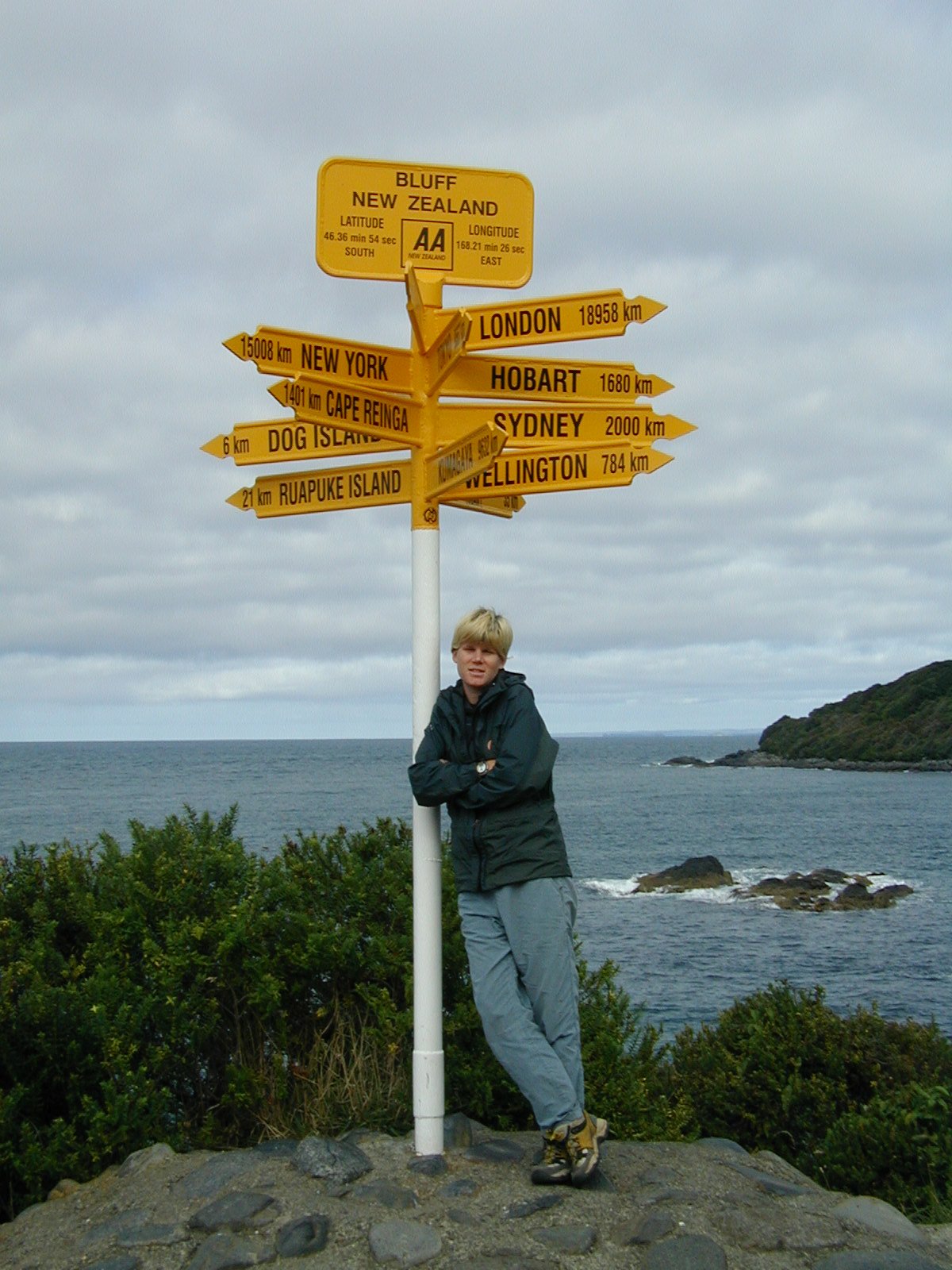 And a cute 'de-motivational' poster to sum things up.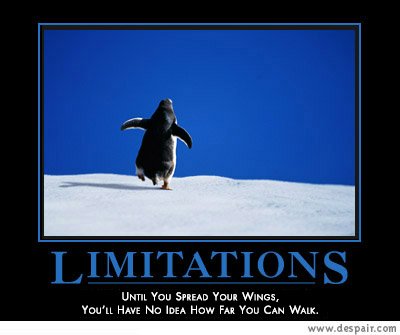 Until you spread your wings, you'll have no idea how far you can walk.
It's not the end, either. There will be plenty more walking, both in New Zealand and in the US and abroad. This is just the beginning for me.
Thank you to all my followers for sharing in my journey. I will try to post some updates as to my health and activities in upcoming days. For now, I need to rest.