October 14th, 2018
North Fork Station mm 436 to Three Points trailhead mm 403
Distance: 33 miles
0640 – 1800
Everything was soaked in the morning and I packed a very wet tent. But the sky was clear and we were treated to a unique scene. There were clouds in the valleys, making it look like the ocean had come in to swallow everything but the mountain peaks. We were now atop a series of islands. It was a stunning sight to behold.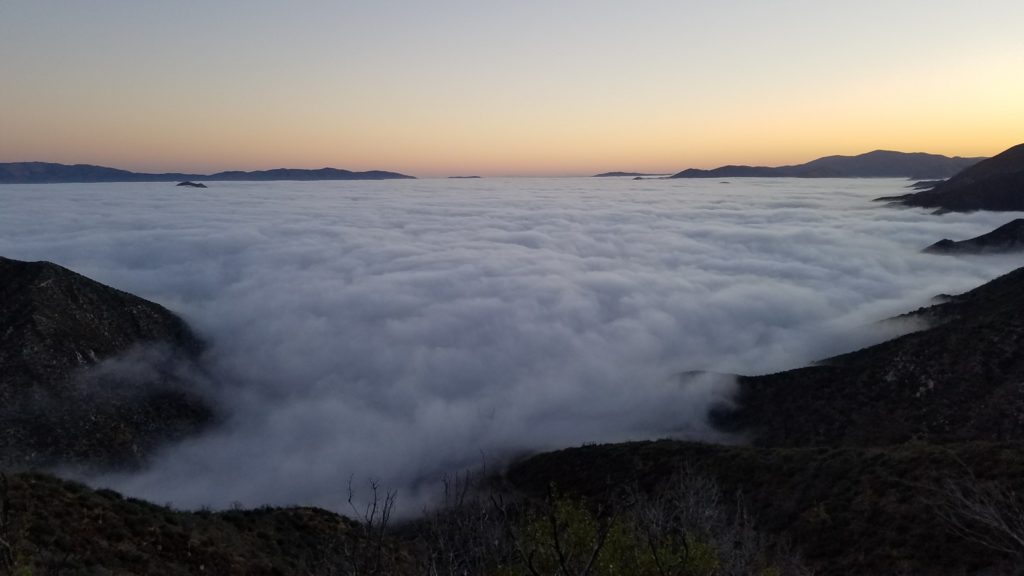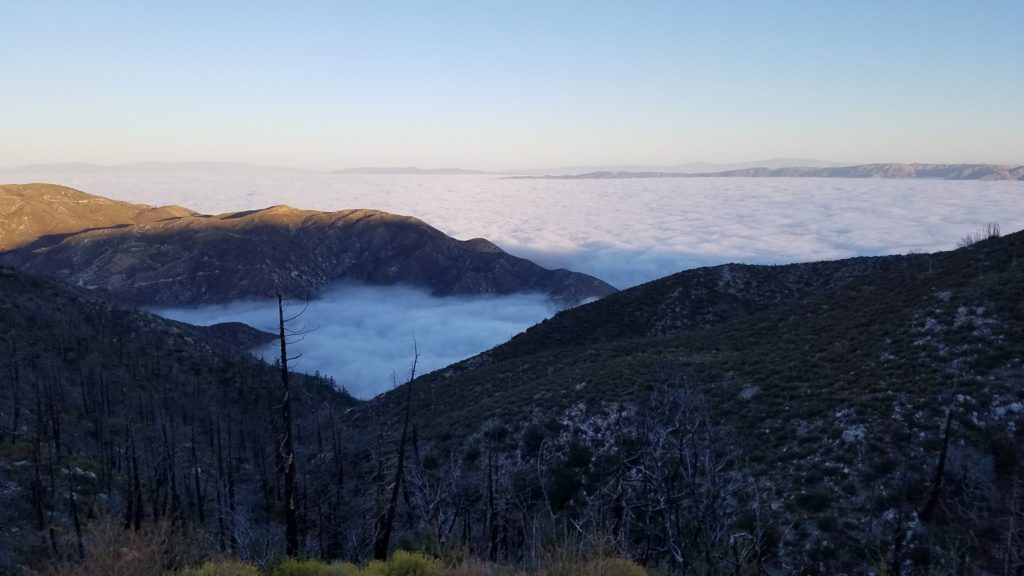 We climbed and descended a lot today…8100′ up and 6500′ down. It was tiring but at least it stayed relatively cool all day. For lunch, we came to a trailhead with a water spigot…the first water since our camp 17 miles back. Kuba and Alpine were there, along with 3 guys: Ken, Gustavo, and Temoc.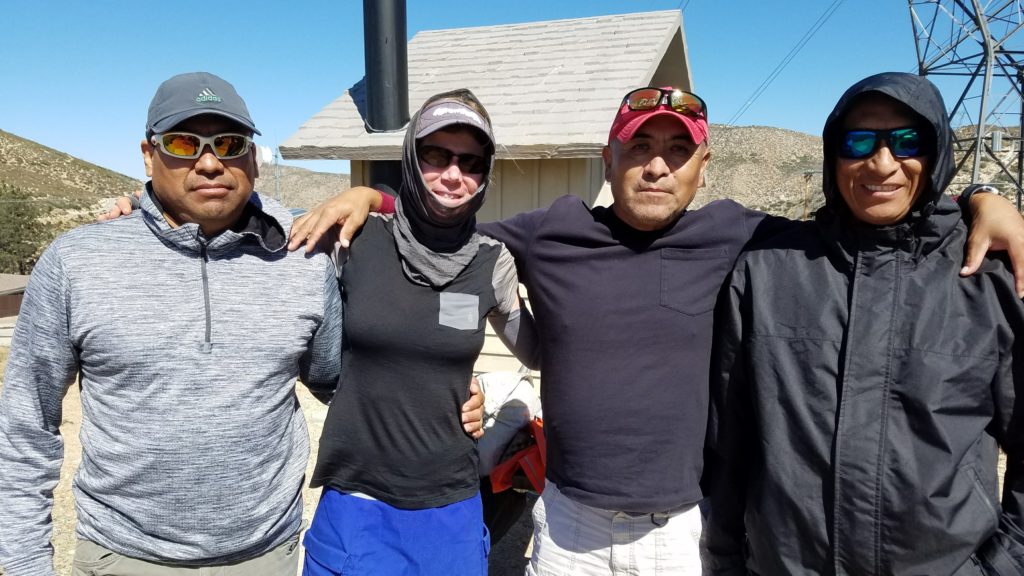 They were self-described trail runners and seemed to know every switchback on the PCT by heart. They had consequently run into a lot of thru-hikers. They could best be described as a PCT hiker fan club, as they were absolutely exuberant about us hikers. They hadn't expected hikers this late in the season, but they still scrounged together what they had and gave us bananas and an avocado. Fruit is always greatly appreciated. We had a nice conversation over lunch, while my tent dried in the sun. It was hard to say goodby but Ken said we might see them again at our planned destination for the night.
As for the rest of the day, we continued to be on the lookout for Poodle Dog bush. It is a plant the can produce skin irritation and rashes, just like poison ivy.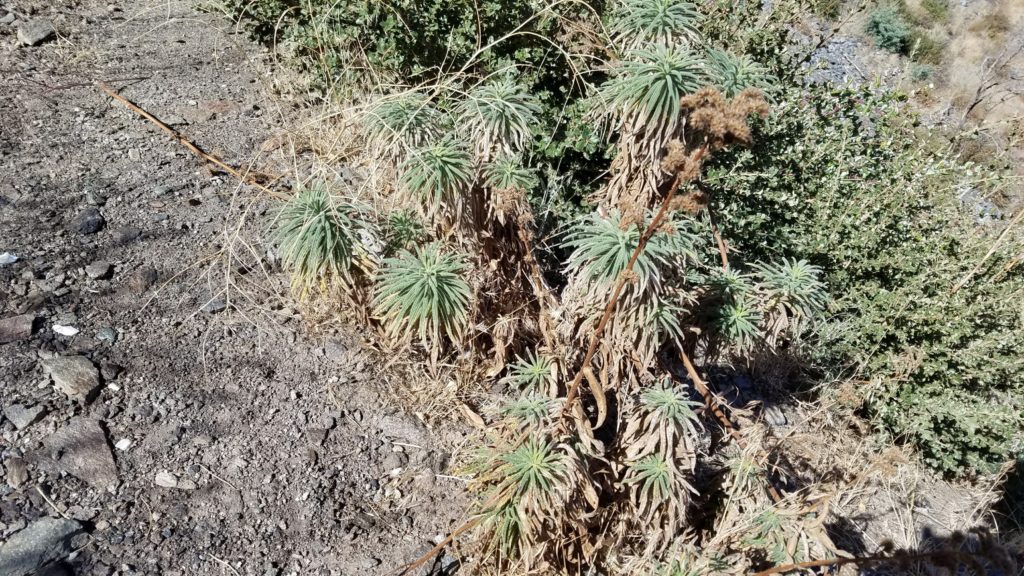 The trail was overgrown in many places but thankfully most of this stuff had been sprayed with an herbicide. I saw a roadrunner at the top of a hill. Then there was a really neat section with giant yucca plants. Many had flowered, sending up 10′ to 15′ tall stalks. They appear to die after flowering. Finally there was a tiny spring that we could collect water from. I took just a liter since I still had plenty from lunch.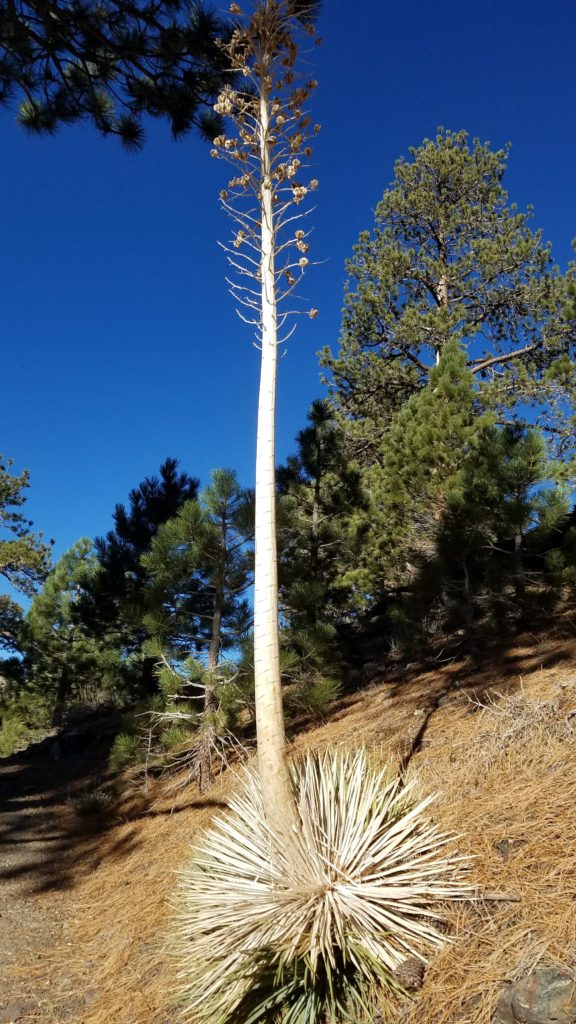 It was a pretty lofty goal to make it to the planned trailhead but we rolled in just as it was getting dark. Sure enough, our fan club was there, offering each of us a coke. Kuba and Alpine had also decided to camp. We had dinner at a picnic table together and the guys gave us what they had left…chips, bread, and a whole bottle of orange juice. This was the food they had brought for themselves, so it was so nice of them to donate all they had. I felt bad about eating dinner in front of them but they were going to drive somewhere to eat later.
It was getting cold and time for bed. We said goodby to our new friends and I was shortly asleep, despite a bit of nearby road noise and some creepy drive-bys in the parking lot. I had pitched my camo tent off in some bushes and was fairly confident of being unseen. Besides, there were 3 other SOBOs nearby, whose tents were out in the open. They would attract any attention first. It's good having company.